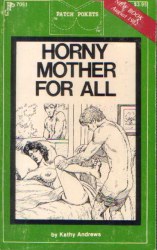 ---
---
Kathy Andrews
Horny mother for all
CHAPTER ONE
Mary sprawled back on a padded lounge and gazed over the huge pool. The hot sun glistened down, making the water sparkle. Beside Mary was her best friend Carol.
Both were single, divorced about the same time, and each struggled to raise a son. They were close enough to talk about their troubles, and they visited each other almost daily.
But now, taking their first vacation since divorce, they didn't seem to have much to say.
Perhaps it was the languid atmosphere of the beach-side resort. Or perhaps it was because, for the first time in a long time, they felt relaxed.
Each wore quite attractive bikinis. Both women had the bodies for bikinis, and, drew the eyes of many male vacationers. They were both aware that almost any man here was theirs for the asking. Yet they wanted nothing to do with the men.
"That idiot son of mine is going to break his fool neck," Carol murmured lazily.
Mary glanced at the high diving board and saw Carol's son, Tom, ready to plunge from the springy tip. Tom was a good swimmer and was developing into a diver, so she saw no danger in his actions. Carol wasn't really concerned either.
"Why do you say idiot, Carol?" she asked, smiling at her friend. Carol had this habit of talking frankly at times, but Mary knew it was for shock value only.
"Because the shit is getting interested in girls," Carol replied. "And being interested in girls is making him show off, take chances."
Mary saw three or four girls watching Tom. She understood quite well. She had dreaded the day her son, Steve, became interested in girls. She felt a protective need to keep him as long as possible. She didn't want him to grow up, to leave her. Steve was all she had in the world.
---