---
---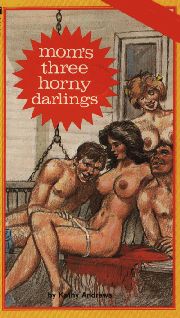 Kathy Andrews
Mom_s three horny darlings
CHAPTER ONE
Wearing her tiniest bikini, Susan Carter slumped with hot water swirling and bubbling about her neck. The hot tub was one of her better investments, she thought. With her eyes closed, head tilted to the sun, she opened her legs to feel the water swirling between them.
Her thigh touched that of her son, Bob.
Again, as it had happened before, she felt something like an electrical shock against her flesh. She tingled at the point of contact. She moaned softly, almost lazily, as the lips of her pussy twitched. The swelling of her clit seemed squashed inside the tight crotch of her bikini, but the sensation felt so very good.
The water was very clear, and if it had not been swirling and bubbling, it would have been transparent. But sh didn't need to see that her son was jacking off. She could feel the movement of his thigh against hers, and a peek at Bob's face revealed what he thought was his secret.
It amused Susan, knowing Bob jacked off every time they were in the tub together, his legs touching hers. But it excited her, too. She had wanted to grab his cock in her hand, finish it for him, but so far she hadn't had the courage. It wasn't because she worried what Bob would think of her. He loved her very much, as did her other son, Billy, and her pretty daughter, Pamie. What worried her most was the fact she might not be able to turn his cock loose once she had his prick in her hand.
Peeking through slitted eyes, she saw Pamie and Billy sitting a few feet away, sipping Cokes. Billy, like Bob, wore boxer trunks with wide legs. But Billy's back was toward her. Pamie sort of slumped in her redwood chair, knees wide apart. Susan's eyes moved up between Pamie's slim, smooth thighs. She gazed at the tightness of her daughter's bikini crotch, Pamie's cunt seemed to puff outward sweetly, with a visible indentation of her cunt slit. The tiny halter barely cupped those sugary little titties, and Pamie's nipples were uninhibitedly pointed against the fabric. They were small tits, but flawlessly shaped, firm, just enough to fill a hand.
With her mind turning toward erotic delights, Susan looked out over the valley. The house sat almost on the peak of a medium-sized hill, and at night they could see the lights of the village. It was a beautiful area, and Susan had purchased it a few months after her husband died.
It was early spring, yet the weather was almost like the middle of summer. The sun was very hot, boiling down on the raised deck where the hot tub was located.
Susan felt Bob's thigh pressing a little harder against hers, and she peeked at his face again. He was resting his head on the deck, eyes closed, making very soft sounds of self-induced pleasure. She watched his face a moment, feeling her tits swell in the tight cups of her halter. Her cunt was throbbing now. She rested her right hand on her son's thigh and heard a soft gasp come from him. But he was so involved in pleasure, he didn't stop jerking on his cock.
---