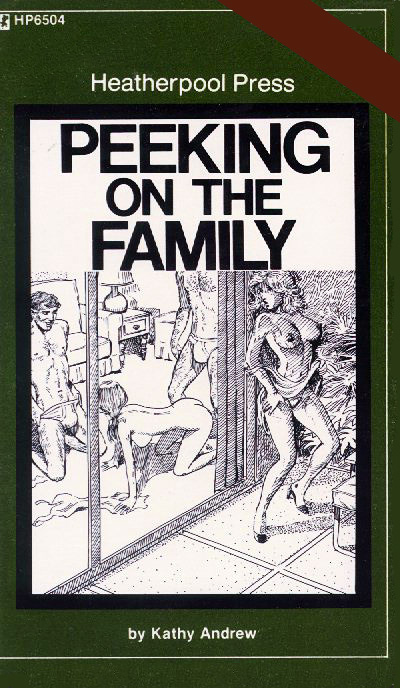 ---
---
Kathy Andrews
Peeking on the family
CHAPTER ONE
Cock. Cunt. Fucking.
The words tumbled through Honey King's mind like a roaring fire as she moved slowly along the sidewalk. Her eyes moved constantly, searching for that one window with a light in it.
This desire to watch someone fucking was so powerful in her she could not resist the urge to go out each night, hoping desperately to see it. She did not know when this desire first came to her, built it finally burned so hotly that it became all consuming.
Last night she had found one young boy jacking off.
The boy had been on his bed, stark naked, when she peeked into the window. He had been gazing at the centerfold of a magazine, a picture of a naked, lovely woman. He jacked off furiously. He had been lying on the bed facing the window, and Honey had seen his lovely cock and sweet balls clearly. She had watched him as his fist pumped faster and faster, then all that pearl-white come juice had gushed from his piss hole, splashing on the sheets of his bed. The boy then did something that surprised and excited her tremendously. He had licked up his come juice.
Later, she watched a girl who had not been all that pretty, but was still attractive in a sexual way. She had overly large titties that were tipped by long brown nipples. She had been slightly chubby, and with one of the thickest patches of cunt hair imaginable.
Honey had squatted near the window and watched this girl undress. The girl had undressed as if she were a stripper on a stage, humming to herself. She had paused, still wearing panties, her hips arched forward. Her mouth moved as if she was speaking, but the window was closed and Honey could not hear any words.
The girl had peeled away the crotch of her panties and did an awkward bump and grind, her expression lewd. The she had removed her panties and sat on the edge of her bed, knees wide, and began to finger-fuck herself almost violently.
Honey had watched her own cunt throbbing sweetly, as the girl used both hands. She fucked herself with a finger and rubbed at her clitoris with another. When the girl came, her body had shuddered as if she had had a very fantastic orgasm.
And after that, Honey spied on two teenagers in a living room. After much heavy kissing and hugging, they finally gin down to the nitty-gritty as Honey peeked in at them. The boy's cock was nice and long, with a lovely smooth head, dripping with excitement. The girl had opened his pants and jacked him while he fingered her pussy beneath her skirt. But just as they were getting ready to fuck, a car had pulled into the driveway, frightening them and Honey. Although she was concealed between the window and a thick bush, she had squatted there trembling until she had the chance to slip away quietly.
---