---
antique
Martin,
George
R.R.
A Dance with Dragons: A Song of Ice and Fire: Book Five
en
Martin,
George
R.R.
calibre 0.8.9
12.7.2011
69c112a0-06a1-4b57-8552-95481e0dd913
1.0
BY GEORGE R. R. MARTIN
A SONG OF ICE AND FIRE
Book One: A Game of Thrones
Book Two: A Clash of Kings
Book Three: A Storm of Swords
Book Four: A Feast for Crows
Book Five: A Dance with Dragons
Dying of the Light
Windhaven (with Lisa Tuttle)
Fevre Dream
The Armageddon Rag
Dead Man's Hand (with John J. Miller)
SHORT STORY COLLECTIONS
Dreamsongs, Volume I
Dreamsongs, Volume II
A Song of Lya and Other Stories
Songs of Stars and Shadows
Sandkings
Songs the Dead Men Sing
Nightflyers
Tuf Voyaging
Portraits of His Children
Quartet
EDITED BY GEORGE R. R. MARTIN
New Voices in Science Fiction, Volumes 1–4
The Science Fiction Weight-Loss Book
(with Isaac Asimov and Martin Harry Greenberg)
The John W. Campbell Awards, Volume 5
Night Visions 3
Wild Card I–XXI
A Dance with Dragons is a work of fiction. Names, characters, places, and incidents either are the product of the author's imagination or are used fictitiously. Any resemblance to actual persons, living or dead, events, or locales is entirely coincidental.
Copyright © 2011 by George R. R. Martin.
Endpaper and interior maps
copyright © by Jeffrey L. Ward
Heraldic crests by Virginia Norey
All rights reserved.
Published in the United States by Bantam Books, an imprint of The Random House Publishing Group, a division of Random House, Inc., New York.
BANTAM BOOKS and the rooster colophon are registered trademarks of Random House, Inc.
LIBRARY OF CONGRESS CATALOGING-IN-PUBLICATION DATA
Martin, George R. R.
A dance with dragons / George R. R. Martin.
p. cm — (A song of ice and fire; bk. 5)
eISBN: 978-0-553-90565-6
I. Title.
PS3563.A7239D36 2011
813'.54—dc22    2011015508
www.bantamdell.com
v3.1
this one is for my fans
for Lodey, Trebla, Stego, Pod,
Caress, Yags, X-Ray and Mr. X,
Kate, Chataya, Mormont, Mich,
Jamie, Vanessa, Ro,
for Stubby, Louise, Agravaine,
Wert, Malt, Jo,
Mouse, Telisiane, Blackfyre,
Bronn Stone, Coyote's Daughter,
and the rest of the madmen and wild women of
the Brotherhood Without Banners
for my website wizards
Elio and Linda, lords of Westeros,
Winter and Fabio of WIC,
and Gibbs of Dragonstone, who started it all
for men and women of Asshai in Spain
who sang to us of a bear and a maiden fair
and the fabulous fans of Italy
who gave me so much wine
for my readers in Finland, Germany,
Brazil, Portugal, France, and the Netherlands
and all the other distant lands
where you've been waiting for this dance
and for all the friends and fans
I have yet to meet
thanks for your patience
A CAVIL ON CHRONOLOGY
It has been a while between books, I know. So a reminder may be in order.
The book you hold in your hands is the fifth volume of A Song of Ice and Fire. The fourth volume was A Feast for Crows. However, this volume does not follow that one in the traditional sense, so much as run in tandem with it.
Both Dance and Feast take up the story immediately after the events of the third volume in the series, A Storm of Swords. Whereas Feast focused on events in and around King's Landing, on the Iron Islands, and down in Dorne, Dance takes us north to Castle Black and the Wall (and beyond), and across the narrow sea to Pentos and Slaver's Bay, to pick up the tales of Tyrion Lannister, Jon Snow, Daenerys Targaryen, and all the other characters you did not see in the preceding volume. Rather than being sequential, the two books are parallel … divided geographically, rather than chronologically.
But only up to a point.
A Dance with Dragons is a longer book than A Feast for Crows, and covers a longer time period. In the latter half of this volume, you will notice certain of the viewpoint characters from A Feast for Crows popping up again. And that means just what you think it means: the narrative has moved past the time frame of Feast, and the two streams have once again rejoined each other.
Next up, The Winds of Winter. Wherein, I hope, everybody will be shivering together once again.…
—George R. R. Martin
April 2011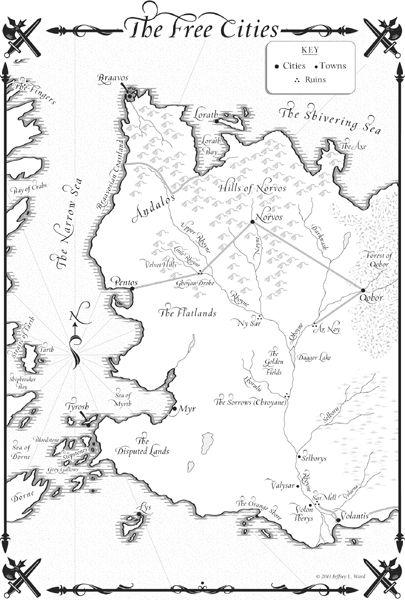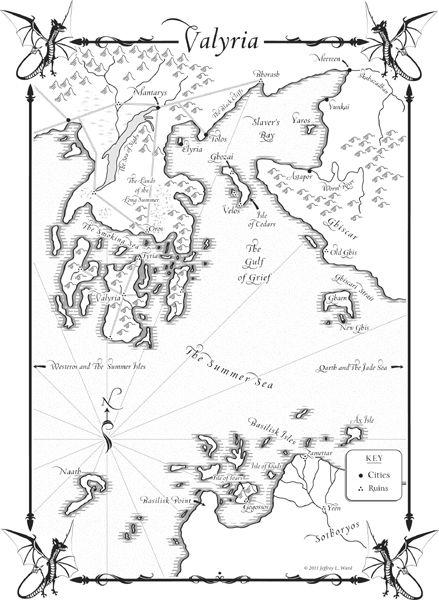 Contents
Cover
Other Books by This Author
Title Page
Copyright
Dedication
A Cavil on Chronology
Map
Prologue
Tyrion
Daenerys
Jon
Bran
Tyrion
The Merchant's Man
Jon
Tyrion
Davos
Jon
Daenerys
Reek
Bran
Tyrion
Davos
Daenerys
Jon
Tyrion
Davos
Reek
Jon
Tyrion
Daenerys
The Lost Lord
The Windblown
The Wayward Bride
Tyrion
Jon
Davos
Daenerys
Melisandre
Reek
Tyrion
Bran
Jon
Daenerys
The Prince Of Winterfell
The Watcher
Jon
Tyrion
The Turncloak
The King's Prize
Daenerys
Jon
The Blind Girl
A Ghost in Winterfell
Tyrion
Jaime
Jon
Daenerys
Theon
Daenerys
Jon
Cersei
The Queensguard
The Iron Suitor
Tyrion
Jon
The Discarded Knight
The Spurned Suitor
The Griffin Reborn
The Sacrifice
Victarion
The Ugly Little Girl
Cersei
Tyrion
The Kingbreaker
The Dragontamer
Jon
The Queen's Hand
Daenerys
Epilogue
Appendix
Acknowledgments
About the Author

PROLOGUE
The night was rank with the smell of man.
The warg stopped beneath a tree and sniffed, his grey-brown fur dappled by shadow. A sigh of piney wind brought the man-scent to him, over fainter smells that spoke of fox and hare, seal and stag, even wolf. Those were man-smells too, the warg knew; the stink of old skins, dead and sour, near drowned beneath the stronger scents of smoke and blood and rot. Only man stripped the skins from other beasts and wore their hides and hair.
Wargs have no fear of man, as wolves do. Hate and hunger coiled in his belly, and he gave a low growl, calling to his one-eyed brother, to his small sly sister. As he raced through the trees, his packmates followed hard on his heels. They had caught the scent as well. As he ran, he saw through their eyes too and glimpsed himself ahead. The breath of the pack puffed warm and white from long grey jaws. Ice had frozen between their paws, hard as stone, but the hunt was on now, the prey ahead. Flesh, the warg thought, meat.
A man alone was a feeble thing. Big and strong, with good sharp eyes, but dull of ear and deaf to smells. Deer and elk and even hares were faster, bears and boars fiercer in a fight. But men in packs were dangerous. As the wolves closed on the prey, the warg heard the wailing of a pup, the crust of last night's snow breaking under clumsy man-paws, the rattle of hardskins and the long grey claws men carried.
Swords, a voice inside him whispered, spears.
The trees had grown icy teeth, snarling down from the bare brown branches. One Eye ripped through the undergrowth, spraying snow. His packmates followed. Up a hill and down the slope beyond, until the wood opened before them and the men were there. One was female. The fur-wrapped bundle she clutched was her pup. Leave her for last, the voice whispered, the males are the danger. They were roaring at each other as men did, but the warg could smell their terror. One had a wooden tooth as tall as he was. He flung it, but his hand was shaking and the tooth sailed high.
Then the pack was on them.
His one-eyed brother knocked the tooth-thrower back into a snowdrift and tore his throat out as he struggled. His sister slipped behind the other male and took him from the rear. That left the female and her pup for him.
She had a tooth too, a little one made of bone, but she dropped it when the warg's jaws closed around her leg. As she fell, she wrapped both arms around her noisy pup. Underneath her furs the female was just skin and bones, but her dugs were full of milk. The sweetest meat was on the pup. The wolf saved the choicest parts for his brother. All around the carcasses, the frozen snow turned pink and red as the pack filled its bellies.
Leagues away, in a one-room hut of mud and straw with a thatched roof and a smoke hole and a floor of hard-packed earth, Varamyr shivered and coughed and licked his lips. His eyes were red, his lips cracked, his throat dry and parched, but the taste of blood and fat filled his mouth, even as his swollen belly cried for nourishment. A child's flesh, he thought, remembering Bump. Human meat. Had he sunk so low as to hunger after human meat? He could almost hear Haggon growling at him. "Men may eat the flesh of beasts and beasts the flesh of men, but the man who eats the flesh of man is an abomination."
Abomination. That had always been Haggon's favorite word. Abomination, abomination, abomination. To eat of human meat was abomination, to mate as wolf with wolf was abomination, and to seize the body of another man was the worst abomination of all. Haggon was weak, afraid of his own power. He died weeping and alone when I ripped his second life from him. Varamyr had devoured his heart himself. He taught me much and more, and the last thing I learned from him was the taste of human flesh.
That was as a wolf, though. He had never eaten the meat of men with human teeth. He would not grudge his pack their feast, however. The wolves were as famished as he was, gaunt and cold and hungry, and the prey … two men and a woman, a babe in arms, fleeing from defeat to death. They would have perished soon in any case, from exposure or starvation. This way was better, quicker. A mercy.
"A mercy," he said aloud. His throat was raw, but it felt good to hear a human voice, even his own. The air smelled of mold and damp, the ground was cold and hard, and his fire was giving off more smoke than heat. He moved as close to the flames as he dared, coughing and shivering by turns, his side throbbing where his wound had opened. Blood had soaked his breeches to the knee and dried into a hard brown crust.
Thistle had warned him that might happen. "I sewed it up the best I could," she'd said, "but you need to rest and let it mend, or the flesh will tear open again."
Thistle had been the last of his companions, a spearwife tough as an old root, warty, windburnt, and wrinkled. The others had deserted them along the way. One by one they fell behind or forged ahead, making for their old villages, or the Milkwater, or Hardhome, or a lonely death in the woods. Varamyr did not know, and could not care. I should have taken one of them when I had the chance. One of the twins, or the big man with the scarred face, or the youth with the red hair. He had been afraid, though. One of the others might have realized what was happening. Then they would have turned on him and killed him. And Haggon's words had haunted him, and so the chance had passed.
After the battle there had been thousands of them struggling through the forest, hungry, frightened, fleeing the carnage that had descended on them at the Wall. Some had talked of returning to the homes that they'd abandoned, others of mounting a second assault upon the gate, but most were lost, with no notion of where to go or what to do. They had escaped the black-cloaked crows and the knights in their grey steel, but more relentless enemies stalked them now. Every day left more corpses by the trails. Some died of hunger, some of cold, some of sickness. Others were slain by those who had been their brothers-in-arms when they marched south with Mance Rayder, the King-Beyond-the-Wall.
Mance is fallen, the survivors told each other in despairing voices, Mance is taken, Mance is dead. "Harma's dead and Mance is captured, the rest run off and left us," Thistle had claimed, as she was sewing up his wound. "Tormund, the Weeper, Sixskins, all them brave raiders. Where are they now?"
She does not know me, Varamyr realized then, and why should she? Without his beasts he did not look like a great man. I was Varamyr Sixskins, who broke bread with Mance Rayder. He had named himself Varamyr when he was ten. A name fit for a lord, a name for songs, a mighty name, and fearsome. Yet he had run from the crows like a frightened rabbit. The terrible Lord Varamyr had gone craven, but he could not bear that she should know that, so he told the spearwife that his name was Haggon. Afterward he wondered why that name had come to his lips, of all those he might have chosen. I ate his heart and drank his blood, and still he haunts me.
One day, as they fled, a rider came galloping through the woods on a gaunt white horse, shouting that they all should make for the Milkwater, that the Weeper was gathering warriors to cross the Bridge of Skulls and take the Shadow Tower. Many followed him; more did not. Later, a dour warrior in fur and amber went from cookfire to cookfire, urging all the survivors to head north and take refuge in the valley of the Thenns. Why he thought they would be safe there when the Thenns themselves had fled the place Varamyr never learned, but hundreds followed him. Hundreds more went off with the woods witch who'd had a vision of a fleet of ships coming to carry the free folk south. "We must seek the sea," cried Mother Mole, and her followers turned east.
Varamyr might have been amongst them if only he'd been stronger. The sea was grey and cold and far away, though, and he knew that he would never live to see it. He was nine times dead and dying, and this would be his true death. A squirrel-skin cloak, he remembered, he knifed me for a squirrel-skin cloak.
Its owner had been dead, the back of her head smashed into red pulp flecked with bits of bone, but her cloak looked warm and thick. It was snowing, and Varamyr had lost his own cloaks at the Wall. His sleeping pelts and woolen smallclothes, his sheepskin boots and fur-lined gloves, his store of mead and hoarded food, the hanks of hair he took from the women he bedded, even the golden arm rings Mance had given him, all lost and left behind. I burned and I died and then I ran, half-mad with pain and terror. The memory still shamed him, but he had not been alone. Others had run as well, hundreds of them, thousands. The battle was lost. The knights had come, invincible in their steel, killing everyone who stayed to fight. It was run or die.
Death was not so easily outrun, however. So when Varamyr came upon the dead woman in the wood, he knelt to strip the cloak from her, and never saw the boy until he burst from hiding to drive the long bone knife into his side and rip the cloak out of his clutching fingers. "His mother," Thistle told him later, after the boy had run off. "It were his mother's cloak, and when he saw you robbing her …"
"She was dead," Varamyr said, wincing as her bone needle pierced his flesh. "Someone smashed her head. Some crow."
"No crow. Hornfoot men. I saw it." Her needle pulled the gash in his side closed. "Savages, and who's left to tame them?" No one. If Mance is dead, the free folk are doomed. The Thenns, giants, and the Hornfoot men, the cave-dwellers with their filed teeth, and the men of the western shore with their chariots of bone … all of them were doomed as well. Even the crows. They might not know it yet, but those black-cloaked bastards would perish with the rest. The enemy was coming.
Haggon's rough voice echoed in his head. "You will die a dozen deaths, boy, and every one will hurt … but when your true death comes, you will live again. The second life is simpler and sweeter, they say."
Varamyr Sixskins would know the truth of that soon enough. He could taste his true death in the smoke that hung acrid in the air, feel it in the heat beneath his fingers when he slipped a hand under his clothes to touch his wound. The chill was in him too, though, deep down in his bones. This time it would be cold that killed him.
His last death had been by fire. I burned. At first, in his confusion, he thought some archer on the Wall had pierced him with a flaming arrow … but the fire had been inside him, consuming him. And the pain …
Varamyr had died nine times before. He had died once from a spear thrust, once with a bear's teeth in his throat, and once in a wash of blood as he brought forth a stillborn cub. He died his first death when he was only six, as his father's axe crashed through his skull. Even that had not been so agonizing as the fire in his guts, crackling along his wings, devouring him. When he tried to fly from it, his terror fanned the flames and made them burn hotter. One moment he had been soaring above the Wall, his eagle's eyes marking the movements of the men below. Then the flames had turned his heart into a blackened cinder and sent his spirit screaming back into his own skin, and for a little while he'd gone mad. Even the memory was enough to make him shudder.
That was when he noticed that his fire had gone out.
Only a grey-and-black tangle of charred wood remained, with a few embers glowing in the ashes. There's still smoke, it just needs wood. Gritting his teeth against the pain, Varamyr crept to the pile of broken branches Thistle had gathered before she went off hunting, and tossed a few sticks onto the ashes. "Catch," he croaked. "Burn." He blew upon the embers and said a wordless prayer to the nameless gods of wood and hill and field.
The gods gave no answer. After a while, the smoke ceased to rise as well. Already the little hut was growing colder. Varamyr had no flint, no tinder, no dry kindling. He would never get the fire burning again, not by himself. "Thistle," he called out, his voice hoarse and edged with pain. "Thistle!"
Her chin was pointed and her nose flat, and she had a mole on one cheek with four dark hairs growing from it. An ugly face, and hard, yet he would have given much to glimpse it in the door of the hut. I should have taken her before she left. How long had she been gone? Two days? Three? Varamyr was uncertain. It was dark inside the hut, and he had been drifting in and out of sleep, never quite sure if it was day or night outside. "Wait," she'd said. "I will be back with food." So like a fool he'd waited, dreaming of Haggon and Bump and all the wrongs he had done in his long life, but days and nights had passed and Thistle had not returned. She won't be coming back. Varamyr wondered if he had given himself away. Could she tell what he was thinking just from looking at him, or had he muttered in his fever dream?
Abomination, he heard Haggon saying. It was almost as if he were here, in this very room. "She is just some ugly spearwife," Varamyr told him. "I am a great man. I am Varamyr, the warg, the skinchanger, it is not right that she should live and I should die." No one answered. There was no one there. Thistle was gone. She had abandoned him, the same as all the rest.
His own mother had abandoned him as well. She cried for Bump, but she never cried for me. The morning his father pulled him out of bed to deliver him to Haggon, she would not even look at him. He had shrieked and kicked as he was dragged into the woods, until his father slapped him and told him to be quiet. "You belong with your own kind," was all he said when he flung him down at Haggon's feet.
He was not wrong, Varamyr thought, shivering. Haggon taught me much and more. He taught me how to hunt and fish, how to butcher a carcass and bone a fish, how to find my way through the woods. And he taught me the way of the warg and the secrets of the skinchanger, though my gift was stronger than his own.
Years later he had tried to find his parents, to tell them that their Lump had become the great Varamyr Sixskins, but both of them were dead and burned. Gone into the trees and streams, gone into the rocks and earth. Gone to dirt and ashes. That was what the woods witch told his mother, the day Bump died. Lump did not want to be a clod of earth. The boy had dreamed of a day when bards would sing of his deeds and pretty girls would kiss him. When I am grown I will be the King-Beyond-the-Wall, Lump had promised himself. He never had, but he had come close. Varamyr Sixskins was a name men feared. He rode to battle on the back of a snow bear thirteen feet tall, kept three wolves and a shadowcat in thrall, and sat at the right hand of Mance Rayder. It was Mance who brought me to this place. I should not have listened. I should have slipped inside my bear and torn him to pieces.
Before Mance, Varamyr Sixskins had been a lord of sorts. He lived alone in a hall of moss and mud and hewn logs that had once been Haggon's, attended by his beasts. A dozen villages did him homage in bread and salt and cider, offering him fruit from their orchards and vegetables from their gardens. His meat he got himself. Whenever he desired a woman he sent his shadowcat to stalk her, and whatever girl he'd cast his eye upon would follow meekly to his bed. Some came weeping, aye, but still they came. Varamyr gave them his seed, took a hank of their hair to remember them by, and sent them back. From time to time, some village hero would come with spear in hand to slay the beastling and save a sister or a lover or a daughter. Those he killed, but he never harmed the women. Some he even blessed with children. Runts. Small, puny things, like Lump, and not one with the gift.
Fear drove him to his feet, reeling. Holding his side to staunch the seep of blood from his wound, Varamyr lurched to the door and swept aside the ragged skin that covered it to face a wall of white. Snow. No wonder it had grown so dark and smoky inside. The falling snow had buried the hut.
When Varamyr pushed at it, the snow crumbled and gave way, still soft and wet. Outside, the night was white as death; pale thin clouds danced attendance on a silver moon, while a thousand stars watched coldly. He could see the humped shapes of other huts buried beneath drifts of snow, and beyond them the pale shadow of a weirwood armored in ice. To the south and west the hills were a vast white wilderness where nothing moved except the blowing snow. "Thistle," Varamyr called feebly, wondering how far she could have gone. "Thistle. Woman. Where are you?"
Far away, a wolf gave howl.
A shiver went through Varamyr. He knew that howl as well as Lump had once known his mother's voice. One Eye. He was the oldest of his three, the biggest, the fiercest. Stalker was leaner, quicker, younger, Sly more cunning, but both went in fear of One Eye. The old wolf was fearless, relentless, savage.
Varamyr had lost control of his other beasts in the agony of the eagle's death. His shadowcat had raced into the woods, whilst his snow bear turned her claws on those around her, ripping apart four men before falling to a spear. She would have slain Varamyr had he come within her reach. The bear hated him, had raged each time he wore her skin or climbed upon her back.
His wolves, though …
My brothers. My pack. Many a cold night he had slept with his wolves, their shaggy bodies piled up around him to help keep him warm. When I die they will feast upon my flesh and leave only bones to greet the thaw come spring. The thought was queerly comforting. His wolves had often foraged for him as they roamed; it seemed only fitting that he should feed them in the end. He might well begin his second life tearing at the warm dead flesh of his own corpse.
Dogs were the easiest beasts to bond with; they lived so close to men that they were almost human. Slipping into a dog's skin was like putting on an old boot, its leather softened by wear. As a boot was shaped to accept a foot, a dog was shaped to accept a collar, even a collar no human eye could see. Wolves were harder. A man might befriend a wolf, even break a wolf, but no man could truly tame a wolf. "Wolves and women wed for life," Haggon often said. "You take one, that's a marriage. The wolf is part of you from that day on, and you're part of him. Both of you will change."
Other beasts were best left alone, the hunter had declared. Cats were vain and cruel, always ready to turn on you. Elk and deer were prey; wear their skins too long, and even the bravest man became a coward. Bears, boars, badgers, weasels … Haggon did not hold with such. "Some skins you never want to wear, boy. You won't like what you'd become." Birds were the worst, to hear him tell it. "Men were not meant to leave the earth. Spend too much time in the clouds and you never want to come back down again. I know skinchangers who've tried hawks, owls, ravens. Even in their own skins, they sit moony, staring up at the bloody blue."
Not all skinchangers felt the same, however. Once, when Lump was ten, Haggon had taken him to a gathering of such. The wargs were the most numerous in that company, the wolf-brothers, but the boy had found the others stranger and more fascinating. Borroq looked so much like his boar that all he lacked was tusks, Orell had his eagle, Briar her shadowcat (the moment he saw them, Lump wanted a shadowcat of his own), the goat woman Grisella …
None of them had been as strong as Varamyr Sixskins, though, not even Haggon, tall and grim with his hands as hard as stone. The hunter died weeping after Varamyr took Greyskin from him, driving him out to claim the beast for his own. No second life for you, old man. Varamyr Threeskins, he'd called himself back then. Greyskin made four, though the old wolf was frail and almost toothless and soon followed Haggon into death.
Varamyr could take any beast he wanted, bend them to his will, make their flesh his own. Dog or wolf, bear or badger …
Thistle, he thought.
Haggon would call it an abomination, the blackest sin of all, but Haggon was dead, devoured, and burned. Mance would have cursed him as well, but Mance was slain or captured. No one will ever know. I will be Thistle the spearwife, and Varamyr Sixskins will be dead. His gift would perish with his body, he expected. He would lose his wolves, and live out the rest of his days as some scrawny, warty woman … but he would live. If she comes back. If I am still strong enough to take her.
A wave of dizziness washed over Varamyr. He found himself upon his knees, his hands buried in a snowdrift. He scooped up a fistful of snow and filled his mouth with it, rubbing it through his beard and against his cracked lips, sucking down the moisture. The water was so cold that he could barely bring himself to swallow, and he realized once again how hot he was.
The snowmelt only made him hungrier. It was food his belly craved, not water. The snow had stopped falling, but the wind was rising, filling the air with crystal, slashing at his face as he struggled through the drifts, the wound in his side opening and closing again. His breath made a ragged white cloud. When he reached the weirwood tree, he found a fallen branch just long enough to use as a crutch. Leaning heavily upon it, he staggered toward the nearest hut. Perhaps the villagers had forgotten something when they fled … a sack of apples, some dried meat, anything to keep him alive until Thistle returned.
He was almost there when his crutch snapped beneath his weight, and his legs went out from under him.
How long he sprawled there with his blood reddening the snow Varamyr could not have said. The snow will bury me. It would be a peaceful death. They say you feel warm near the end, warm and sleepy. It would be good to feel warm again, though it made him sad to think that he would never see the green lands, the warm lands beyond the Wall that Mance used to sing about. "The world beyond the Wall is not for our kind," Haggon used to say. "The free folk fear skinchangers, but they honor us as well. South of the Wall, the kneelers hunt us down and butcher us like pigs."
You warned me, Varamyr thought, but it was you who showed me Eastwatch too. He could not have been more than ten. Haggon traded a dozen strings of amber and a sled piled high with pelts for six skins of wine, a block of salt, and a copper kettle. Eastwatch was a better place to trade than Castle Black; that was where the ships came, laden with goods from the fabled lands beyond the sea. The crows knew Haggon as a hunter and a friend to the Night's Watch, and welcomed the news he brought of life beyond their Wall. Some knew him for a skinchanger too, but no one spoke of that. It was there at Eastwatch-by-the-Sea that the boy he'd been first began to dream of the warm south.
Varamyr could feel the snowflakes melting on his brow. This is not so bad as burning. Let me sleep and never wake, let me begin my second life. His wolves were close now. He could feel them. He would leave this feeble flesh behind, become one with them, hunting the night and howling at the moon. The warg would become a true wolf. Which, though?
Not Sly. Haggon would have called it abomination, but Varamyr had often slipped inside her skin as she was being mounted by One Eye. He did not want to spend his new life as a bitch, though, not unless he had no other choice. Stalker might suit him better, the younger male … though One Eye was larger and fiercer, and it was One Eye who took Sly whenever she went into heat.
"They say you forget," Haggon had told him, a few weeks before his own death. "When the man's flesh dies, his spirit lives on inside the beast, but every day his memory fades, and the beast becomes a little less a warg, a little more a wolf, until nothing of the man is left and only the beast remains."
Varamyr knew the truth of that. When he claimed the eagle that had been Orell's, he could feel the other skinchanger raging at his presence. Orell had been slain by the turncloak crow Jon Snow, and his hate for his killer had been so strong that Varamyr found himself hating the beastling boy as well. He had known what Snow was the moment he saw that great white direwolf stalking silent at his side. One skinchanger can always sense another. Mance should have let me take the direwolf. There would be a second life worthy of a king. He could have done it, he did not doubt. The gift was strong in Snow, but the youth was untaught, still fighting his nature when he should have gloried in it.
Varamyr could see the weirwood's red eyes staring down at him from the white trunk. The gods are weighing me. A shiver went through him. He had done bad things, terrible things. He had stolen, killed, raped. He had gorged on human flesh and lapped the blood of dying men as it gushed red and hot from their torn throats. He had stalked foes through the woods, fallen on them as they slept, clawed their entrails from their bellies and scattered them across the muddy earth. How sweet their meat had tasted. "That was the beast, not me," he said in a hoarse whisper. "That was the gift you gave me."
The gods made no reply. His breath hung pale and misty in the air. He could feel ice forming in his beard. Varamyr Sixskins closed his eyes.
He dreamt an old dream of a hovel by the sea, three dogs whimpering, a woman's tears.
Bump. She weeps for Bump, but she never wept for me.
Lump had been born a month before his proper time, and he was sick so often that no one expected him to live. His mother waited until he was almost four to give him a proper name, and by then it was too late. The whole village had taken to calling him Lump, the name his sister Meha had given him when he was still in their mother's belly. Meha had given Bump his name as well, but Lump's little brother had been born in his proper time, big and red and robust, sucking greedily at Mother's teats. She was going to name him after Father. Bump died, though. He died when he was two and I was six, three days before his nameday.
"Your little one is with the gods now," the woods witch told his mother, as she wept. "He'll never hurt again, never hunger, never cry. The gods have taken him down into the earth, into the trees. The gods are all around us, in the rocks and streams, in the birds and beasts. Your Bump has gone to join them. He'll be the world and all that's in it."
The old woman's words had gone through Lump like a knife. Bump sees. He is watching me. He knows. Lump could not hide from him, could not slip behind his mother's skirts or run off with the dogs to escape his father's fury. The dogs. Loptail, Sniff, the Growler. They were good dogs. They were my friends.
When his father found the dogs sniffing round Bump's body, he had no way of knowing which had done it, so he took his axe to all three. His hands shook so badly that it took two blows to silence Sniff and four to put the Growler down. The smell of blood hung heavy in the air, and the sounds the dying dogs had made were terrible to hear, yet Loptail still came when father called him. He was the oldest dog, and his training overcame his terror. By the time Lump slipped inside his skin it was too late.
No, Father, please, he tried to say, but dogs cannot speak the tongues of men, so all that emerged was a piteous whine. The axe crashed into the middle of the old dog's skull, and inside the hovel the boy let out a scream. That was how they knew. Two days later, his father dragged him into the woods. He brought his axe, so Lump thought he meant to put him down the same way he had done the dogs. Instead he'd given him to Haggon.
Varamyr woke suddenly, violently, his whole body shaking. "Get up," a voice was screaming, "get up, we have to go. There are hundreds of them." The snow had covered him with a stiff white blanket. So cold. When he tried to move, he found that his hand was frozen to the ground. He left some skin behind when he tore it loose. "Get up," she screamed again, "they're coming."
Thistle had returned to him. She had him by the shoulders and was shaking him, shouting in his face. Varamyr could smell her breath and feel the warmth of it upon cheeks gone numb with cold. Now, he thought, do it now, or die.
He summoned all the strength still in him, leapt out of his own skin, and forced himself inside her.
Thistle arched her back and screamed.
Abomination. Was that her, or him, or Haggon? He never knew. His old flesh fell back into the snowdrift as her fingers loosened. The spearwife twisted violently, shrieking. His shadowcat used to fight him wildly, and the snow bear had gone half-mad for a time, snapping at trees and rocks and empty air, but this was worse. "Get out, get out!" he heard her own mouth shouting. Her body staggered, fell, and rose again, her hands flailed, her legs jerked this way and that in some grotesque dance as his spirit and her own fought for the flesh. She sucked down a mouthful of the frigid air, and Varamyr had half a heartbeat to glory in the taste of it and the strength of this young body before her teeth snapped together and filled his mouth with blood. She raised her hands to his face. He tried to push them down again, but the hands would not obey, and she was clawing at his eyes. Abomination, he remembered, drowning in blood and pain and madness. When he tried to scream, she spat their tongue out.
The white world turned and fell away. For a moment it was as if he were inside the weirwood, gazing out through carved red eyes as a dying man twitched feebly on the ground and a madwoman danced blind and bloody underneath the moon, weeping red tears and ripping at her clothes. Then both were gone and he was rising, melting, his spirit borne on some cold wind. He was in the snow and in the clouds, he was a sparrow, a squirrel, an oak. A horned owl flew silently between his trees, hunting a hare; Varamyr was inside the owl, inside the hare, inside the trees. Deep below the frozen ground, earthworms burrowed blindly in the dark, and he was them as well. I am the wood, and everything that's in it, he thought, exulting. A hundred ravens took to the air, cawing as they felt him pass. A great elk trumpeted, unsettling the children clinging to his back. A sleeping direwolf raised his head to snarl at empty air. Before their hearts could beat again he had passed on, searching for his own, for One Eye, Sly, and Stalker, for his pack. His wolves would save him, he told himself.
That was his last thought as a man.
True death came suddenly; he felt a shock of cold, as if he had been plunged into the icy waters of a frozen lake. Then he found himself rushing over moonlit snows with his packmates close behind him. Half the world was dark. One Eye, he knew. He bayed, and Sly and Stalker gave echo.
When they reached the crest the wolves paused. Thistle, he remembered, and a part of him grieved for what he had lost and another part for what he'd done. Below, the world had turned to ice. Fingers of frost crept slowly up the weirwood, reaching out for each other. The empty village was no longer empty. Blue-eyed shadows walked amongst the mounds of snow. Some wore brown and some wore black and some were naked, their flesh gone white as snow. A wind was sighing through the hills, heavy with their scents: dead flesh, dry blood, skins that stank of mold and rot and urine. Sly gave a growl and bared her teeth, her ruff bristling. Not men. Not prey. Not these.
The things below moved, but did not live. One by one, they raised their heads toward the three wolves on the hill. The last to look was the thing that had been Thistle. She wore wool and fur and leather, and over that she wore a coat of hoarfrost that crackled when she moved and glistened in the moonlight. Pale pink icicles hung from her fingertips, ten long knives of frozen blood. And in the pits where her eyes had been, a pale blue light was flickering, lending her coarse features an eerie beauty they had never known in life.
She sees me.

TYRION
He drank his way across the narrow sea.
The ship was small, his cabin smaller, but the captain would not allow him abovedecks. The rocking of the deck beneath his feet made his stomach heave, and the wretched food tasted even worse when retched back up. But why did he need salt beef, hard cheese, and bread crawling with worms when he had wine to nourish him? It was red and sour, very strong. Sometimes he heaved the wine up too, but there was always more.
"The world is full of wine," he muttered in the dankness of his cabin. His father never had any use for drunkards, but what did that matter? His father was dead. He'd killed him. A bolt in the belly, my lord, and all for you. If only I was better with a crossbow, I would have put it through that cock you made me with, you bloody bastard.
Belowdecks, there was neither night nor day. Tyrion marked time by the comings and goings of the cabin boy who brought the meals he did not eat. The boy always brought a brush and bucket too, to clean up. "Is this Dornish wine?" Tyrion asked him once, as he pulled a stopper from a skin. "It reminds me of a certain snake I knew. A droll fellow, till a mountain fell on him."
The cabin boy did not answer. He was an ugly boy, though admittedly more comely than a certain dwarf with half a nose and a scar from eye to chin. "Have I offended you?" Tyrion asked, as the boy was scrubbing. "Were you commanded not to talk to me? Or did some dwarf diddle your mother?" That went unanswered too. "Where are we sailing? Tell me that." Jaime had made mention of the Free Cities, but had never said which one. "Is it Braavos? Tyrosh? Myr?" Tyrion would sooner have gone to Dorne. Myrcella is older than Tommen, by Dornish law the Iron Throne is hers. I will help her claim her rights, as Prince Oberyn suggested.
Oberyn was dead, though, his head smashed to bloody ruin by the armored fist of Ser Gregor Clegane. And without the Red Viper to urge him on, would Doran Martell even consider such a chancy scheme? He might clap me in chains instead and hand me back to my sweet sister. The Wall might be safer. Old Bear Mormont said the Night's Watch had need of men like Tyrion. Mormont might be dead, though. By now Slynt may be the lord commander. That butcher's son was not like to have forgotten who sent him to the Wall. Do I really want to spend the rest of my life eating salt beef and porridge with murderers and thieves? Not that the rest of his life would last very long. Janos Slynt would see to that.
The cabin boy wet his brush and scrubbed on manfully. "Have you ever visited the pleasure houses of Lys?" the dwarf inquired. "Might that be where whores go?" Tyrion could not seem to recall the Valyrian word for whore, and in any case it was too late. The boy tossed his brush back in his bucket and took his leave.
The wine has blurred my wits. He had learned to read High Valyrian at his maester's knee, though what they spoke in the Nine Free Cities … well, it was not so much a dialect as nine dialects on the way to becoming separate tongues. Tyrion had some Braavosi and a smattering of Myrish. In Tyrosh he should be able to curse the gods, call a man a cheat, and order up an ale, thanks to a sellsword he had once known at the Rock. At least in Dorne they speak the Common Tongue. Like Dornish food and Dornish law, Dornish speech was spiced with the flavors of the Rhoyne, but a man could comprehend it. Dorne, yes, Dorne for me. He crawled into his bunk, clutching that thought like a child with a doll.
Sleep had never come easily to Tyrion Lannister. Aboard that ship it seldom came at all, though from time to time he managed to drink sufficient wine to pass out for a while. At least he did not dream. He had dreamed enough for one small life. And of such follies: love, justice, friendship, glory. As well dream of being tall. It was all beyond his reach, Tyrion knew now. But he did not know where whores go.
"Wherever whores go," his father had said. His last words, and what words they were. The crossbow thrummed, Lord Tywin sat back down, and Tyrion Lannister found himself waddling through the darkness with Varys at his side. He must have clambered back down the shaft, two hundred and thirty rungs to where orange embers glowed in the mouth of an iron dragon. He remembered none of it. Only the sound the crossbow made, and the stink of his father's bowels opening. Even in his dying, he found a way to shit on me.
Varys had escorted him through the tunnels, but they never spoke until they emerged beside the Blackwater, where Tyrion had won a famous victory and lost a nose. That was when the dwarf turned to the eunuch and said, "I've killed my father," in the same tone a man might use to say, "I've stubbed my toe."
The master of whisperers had been dressed as a begging brother, in a moth-eaten robe of brown roughspun with a cowl that shadowed his smooth fat cheeks and bald round head. "You should not have climbed that ladder," he said reproachfully.
"Wherever whores go." Tyrion had warned his father not to say that word. If I had not loosed, he would have seen my threats were empty. He would have taken the crossbow from my hands, as once he took Tysha from my arms. He was rising when I killed him.
"I killed Shae too," he confessed to Varys.
"You knew what she was."
"I did. But I never knew what he was."
Varys tittered. "And now you do."
I should have killed the eunuch as well. A little more blood on his hands, what would it matter? He could not say what had stayed his dagger. Not gratitude. Varys had saved him from a headsman's sword, but only because Jaime had compelled him. Jaime … no, better not to think of Jaime.
He found a fresh skin of wine instead and sucked at it as if it were a woman's breast. The sour red ran down his chin and soaked through his soiled tunic, the same one he had been wearing in his cell. The deck was swaying beneath his feet, and when he tried to rise it lifted sideways and smashed him hard against a bulkhead. A storm, he realized, or else I am even drunker than I knew. He retched the wine up and lay in it a while, wondering if the ship would sink. Is this your vengeance, Father? Has the Father Above made you his Hand? "Such are the wages of the kinslayer," he said as the wind howled outside. It did not seem fair to drown the cabin boy and the captain and all the rest for something he had done, but when had the gods ever been fair? And around about then, the darkness gulped him down.
When he stirred again, his head felt like to burst and the ship was spinning round in dizzy circles, though the captain was insisting that they'd come to port. Tyrion told him to be quiet and kicked feebly as a huge bald sailor tucked him under one arm and carried him squirming to the hold, where an empty wine cask awaited him. It was a squat little cask, and a tight fit even for a dwarf. Tyrion pissed himself in his struggles, for all the good it did. He was crammed face-first into the cask with his knees pushed up against his ears. The stub of his nose itched horribly, but his arms were pinned so tightly that he could not reach to scratch it. A palanquin fit for a man of my stature, he thought as they hammered shut the lid. He could hear voices shouting as he was hoisted up. Every bounce cracked his head against the bottom of the cask. The world went round and round as the cask rolled downward, then stopped with a crash that made him want to scream. Another cask slammed into his, and Tyrion bit his tongue.
That was the longest journey he had ever taken, though it could not have lasted more than half an hour. He was lifted and lowered, rolled and stacked, upended and righted and rolled again. Through the wooden staves he heard men shouting, and once a horse whickered nearby. His stunted legs began to cramp, and soon hurt so badly that he forgot the hammering in his head.
It ended as it had begun, with another roll that left him dizzy and more jouncing. Outside, strange voices were speaking in a tongue he did not know. Someone started pounding on the top of the cask and the lid cracked open suddenly. Light came flooding in, and cool air as well. Tyrion gasped greedily and tried to stand, but only managed to knock the cask over sideways and spill himself out onto a hard-packed earthen floor.
Above him loomed a grotesque fat man with a forked yellow beard, holding a wooden mallet and an iron chisel. His bedrobe was large enough to serve as a tourney pavilion, but its loosely knotted belt had come undone, exposing a huge white belly and a pair of heavy breasts that sagged like sacks of suet covered with coarse yellow hair. He reminded Tyrion of a dead sea cow that had once washed up in the caverns under Casterly Rock.
The fat man looked down and smiled. "A drunken dwarf," he said, in the Common Tongue of Westeros.
"A rotting sea cow." Tyrion's mouth was full of blood. He spat it at the fat man's feet. They were in a long, dim cellar with barrel-vaulted ceilings, its stone walls spotted with nitre. Casks of wine and ale surrounded them, more than enough drink to see a thirsty dwarf safely through the night. Or through a life.
"You are insolent. I like that in a dwarf." When the fat man laughed, his flesh bounced so vigorously that Tyrion was afraid he might fall and crush him. "Are you hungry, my little friend? Weary?"
"Thirsty." Tyrion struggled to his knees. "And filthy."
The fat man sniffed. "A bath first, just so. Then food and a soft bed, yes? My servants shall see to it." His host put the mallet and chisel aside. "My house is yours. Any friend of my friend across the water is a friend to Illyrio Mopatis, yes."
And any friend of Varys the Spider is someone I will trust just as far as I can throw him.
The fat man made good on the promised bath, though. No sooner did Tyrion lower himself into the hot water and close his eyes than he was fast asleep. He woke naked on a goose-down feather bed so soft it felt as if he had been swallowed by a cloud. His tongue was growing hair and his throat was raw, but his cock was as hard as an iron bar. He rolled from the bed, found a chamber pot, and commenced to filling it, with a groan of pleasure.
The room was dim, but there were bars of yellow sunlight showing between the slats of the shutters. Tyrion shook the last drops off and waddled over patterned Myrish carpets as soft as new spring grass. Awkwardly he climbed the window seat and flung the shutters open to see where Varys and the gods had sent him.
Beneath his window six cherry trees stood sentinel around a marble pool, their slender branches bare and brown. A naked boy stood on the water, poised to duel with a bravo's blade in hand. He was lithe and handsome, no older than sixteen, with straight blond hair that brushed his shoulders. So lifelike did he seem that it took the dwarf a long moment to realize he was made of painted marble, though his sword shimmered like true steel.
Across the pool stood a brick wall twelve feet high, with iron spikes along its top. Beyond that was the city. A sea of tiled rooftops crowded close around a bay. He saw square brick towers, a great red temple, a distant manse upon a hill. In the far distance, sunlight shimmered off deep water. Fishing boats were moving across the bay, their sails rippling in the wind, and he could see the masts of larger ships poking up along the shore. Surely one is bound for Dorne, or for Eastwatch-by-the-Sea. He had no means to pay for passage, though, nor was he made to pull an oar. I suppose I could sign on as a cabin boy and earn my way by letting the crew bugger me up and down the narrow sea.
He wondered where he was. Even the air smells different here. Strange spices scented the chilly autumn wind, and he could hear faint cries drifting over the wall from the streets beyond. It sounded something like Valyrian, but he did not recognize more than one word in five. Not Braavos, he concluded, nor Tyrosh. Those bare branches and the chill in the air argued against Lys and Myr and Volantis as well.
When he heard the door opening behind him, Tyrion turned to confront his fat host. "This is Pentos, yes?"
"Just so. Where else?"
Pentos. Well, it was not King's Landing, that much could be said for it. "Where do whores go?" he heard himself ask.
"Whores are found in brothels here, as in Westeros. You will have no need of such, my little friend. Choose from amongst my servingwomen. None will dare refuse you."
"Slaves?" the dwarf asked pointedly.
The fat man stroked one of the prongs of his oiled yellow beard, a gesture Tyrion found remarkably obscene. "Slavery is forbidden in Pentos, by the terms of the treaty the Braavosi imposed on us a hundred years ago. Still, they will not refuse you." Illyrio gave a ponderous half bow. "But now my little friend must excuse me. I have the honor to be a magister of this great city, and the prince has summoned us to session." He smiled, showing a mouth full of crooked yellow teeth. "Explore the manse and grounds as you like, but on no account stray beyond the walls. It is best that no man knows that you were here."
"Were? Have I gone somewhere?"
"Time enough to speak of that this evening. My little friend and I shall eat and drink and make great plans, yes?"
"Yes, my fat friend," Tyrion replied. He thinks to use me for his profit. It was all profit with the merchant princes of the Free Cities. "Spice soldiers and cheese lords," his lord father called them, with contempt. Should a day ever dawn when Illyrio Mopatis saw more profit in a dead dwarf than a live one, Tyrion would find himself packed into another wine cask by dusk. It would be well if I was gone before that day arrives. That it would arrive he did not doubt; Cersei was not like to forget him, and even Jaime might be vexed to find a quarrel in Father's belly.
A light wind was riffling the waters of the pool below, all around the naked swordsman. It reminded him of how Tysha would riffle his hair during the false spring of their marriage, before he helped his father's guardsmen rape her. He had been thinking of those guardsmen during his flight, trying to recall how many there had been. You would think he might remember that, but no. A dozen? A score? A hundred? He could not say. They had all been grown men, tall and strong … though all men were tall to a dwarf of thirteen years. Tysha knew their number. Each of them had given her a silver stag, so she would only need to count the coins. A silver for each and a gold for me. His father had insisted that he pay her too. A Lannister always pays his debts.
"Wherever whores go," he heard Lord Tywin say once more, and once more the bowstring thrummed.
The magister had invited him to explore the manse. He found clean clothes in a cedar chest inlaid with lapis and mother-of-pearl. The clothes had been made for a small boy, he realized as he struggled into them. The fabrics were rich enough, if a little musty, but the cut was too long in the legs and too short in the arms, with a collar that would have turned his face as black as Joffrey's had he somehow contrived to get it fastened. Moths had been at them too. At least they do not stink of vomit.
Tyrion began his explorations with the kitchen, where two fat women and a potboy watched him warily as he helped himself to cheese, bread, and figs. "Good morrow to you, fair ladies," he said with a bow. "Do you know where whores go?" When they did not respond, he repeated the question in High Valyrian, though he had to say courtesan in place of whore. The younger, fatter cook gave him a shrug that time.
He wondered what they would do if he took them by the hand and dragged them to his bedchamber. None will dare refuse you, Illyrio claimed, but somehow Tyrion did not think he meant these two. The younger woman was old enough to be his mother, and the older was likely her mother. Both were near as fat as Illyrio, with teats that were larger than his head. I could smother myself in flesh. There were worse ways to die. The way his lord father had died, for one. I should have made him shit a little gold before expiring. Lord Tywin might have been niggardly with his approval and affection, but he had always been open-handed when it came to coin. The only thing more pitiful than a dwarf without a nose is a dwarf without a nose who has no gold.
Tyrion left the fat women to their loaves and kettles and went in search of the cellar where Illyrio had decanted him the night before. It was not hard to find. There was enough wine there to keep him drunk for a hundred years; sweet reds from the Reach and sour reds from Dorne, pale Pentoshi ambers, the green nectar of Myr, three score casks of Arbor gold, even wines from the fabled east, from Qarth and Yi Ti and Asshai by the Shadow. In the end, Tyrion chose a cask of strongwine marked as the private stock of Lord Runceford Redwyne, the grandfather of the present Lord of the Arbor. The taste of it was languorous and heady on the tongue, the color a purple so dark that it looked almost black in the dim-lit cellar. Tyrion filled a cup, and a flagon for good measure, and carried them up to the gardens to drink beneath those cherry trees he'd seen.
As it happened, he left by the wrong door and never found the pool he had spied from his window, but it made no matter. The gardens behind the manse were just as pleasant, and far more extensive. He wandered through them for a time, drinking. The walls would have shamed any proper castle, and the ornamental iron spikes along the top looked strangely naked without heads to adorn them. Tyrion pictured how his sister's head might look up there, with tar in her golden hair and flies buzzing in and out of her mouth. Yes, and Jaime must have the spike beside her, he decided. No one must ever come between my brother and my sister.
With a rope and a grapnel he might be able to get over that wall. He had strong arms and he did not weigh much. He should be able to clamber over, if he did not impale himself on a spike. I will search for a rope on the morrow, he resolved.
He saw three gates during his wanderings—the main entrance with its gatehouse, a postern by the kennels, and a garden gate hidden behind a tangle of pale ivy. The last was chained, the others guarded. The guards were plump, their faces as smooth as babies' bottoms, and every man of them wore a spiked bronze cap. Tyrion knew eunuchs when he saw them. He knew their sort by reputation. They feared nothing and felt no pain, it was said, and were loyal to their masters unto death. I could make good use of a few hundred of mine own, he reflected. A pity I did not think of that before I became a beggar.
He walked along a pillared gallery and through a pointed arch, and found himself in a tiled courtyard where a woman was washing clothes at a well. She looked to be his own age, with dull red hair and a broad face dotted by freckles. "Would you like some wine?" he asked her. She looked at him uncertainly. "I have no cup for you, we'll have to share." The washerwoman went back to wringing out tunics and hanging them to dry. Tyrion settled on a stone bench with his flagon. "Tell me, how far should I trust Magister Illyrio?" The name made her look up. "That far?" Chuckling, he crossed his stunted legs and took a drink. "I am loath to play whatever part the cheesemonger has in mind for me, yet how can I refuse him? The gates are guarded. Perhaps you might smuggle me out under your skirts? I'd be so grateful; why, I'll even wed you. I have two wives already, why not three? Ah, but where would we live?" He gave her as pleasant a smile as a man with half a nose could manage. "I have a niece in Sunspear, did I tell you? I could make rather a lot of mischief in Dorne with Myrcella. I could set my niece and nephew at war, wouldn't that be droll?" The washerwoman pinned up one of Illyrio's tunics, large enough to double as a sail. "I should be ashamed to think such evil thoughts, you're quite right. Better if I sought the Wall instead. All crimes are wiped clean when a man joins the Night's Watch, they say. Though I fear they would not let me keep you, sweetling. No women in the Watch, no sweet freckly wives to warm your bed at night, only cold winds, salted cod, and small beer. Do you think I might stand taller in black, my lady?" He filled his cup again. "What do you say? North or south? Shall I atone for old sins or make some new ones?"
The washerwoman gave him one last glance, picked up her basket, and walked away. I cannot seem to hold a wife for very long, Tyrion reflected. Somehow his flagon had gone dry. Perhaps I should stumble back down to the cellars. The strongwine was making his head spin, though, and the cellar steps were very steep. "Where do whores go?" he asked the wash flapping on the line. Perhaps he should have asked the washerwoman. Not to imply that you're a whore, my dear, but perhaps you know where they go. Or better yet, he should have asked his father. "Wherever whores go," Lord Tywin said. She loved me. She was a crofter's daughter, she loved me and she wed me, she put her trust in me.
The empty flagon slipped from his hand and rolled across the yard. Tyrion pushed himself off the bench and went to fetch it. As he did, he saw some mushrooms growing up from a cracked paving tile. Pale white they were, with speckles, and red-ribbed undersides dark as blood. The dwarf snapped one off and sniffed it. Delicious, he thought, and deadly.
There were seven of the mushrooms. Perhaps the Seven were trying to tell him something. He picked them all, snatched a glove down from the line, wrapped them carefully, and stuffed them down his pocket. The effort made him dizzy, so afterward he crawled back onto the bench, curled up, and shut his eyes.
When he woke again, he was back in his bedchamber, drowning in the goose-down feather bed once more while a blond girl shook his shoulder. "My lord," she said, "your bath awaits. Magister Illyrio expects you at table within the hour."
Tyrion propped himself against the pillows, his head in his hands. "Do I dream, or do you speak the Common Tongue?"
"Yes, my lord. I was bought to please the king." She was blue-eyed and fair, young and willowy.
"I am sure you did. I need a cup of wine."
She poured for him. "Magister Illyrio said that I am to scrub your back and warm your bed. My name—"
"—is of no interest to me. Do you know where whores go?"
She flushed. "Whores sell themselves for coin."
"Or jewels, or gowns, or castles. But where do they go?"
The girl could not grasp the question. "Is it a riddle, m'lord? I'm no good at riddles. Will you tell me the answer?"
No, he thought. I despise riddles, myself. "I will tell you nothing. Do me the same favor." The only part of you that interests me is the part between your legs, he almost said. The words were on his tongue, but somehow never passed his lips. She is not Shae, the dwarf told himself, only some little fool who thinks I play at riddles. If truth be told, even her cunt did not interest him much. I must be sick, or dead. "You mentioned a bath? We must not keep the great cheesemonger waiting."
As he bathed, the girl washed his feet, scrubbed his back, and brushed his hair. Afterward she rubbed sweet-smelling ointment into his calves to ease the aches, and dressed him once again in boy's clothing, a musty pair of burgundy breeches and a blue velvet doublet lined with cloth-of-gold. "Will my lord want me after he has eaten?" she asked as she was lacing up his boots.
"No. I am done with women." Whores.
The girl took that disappointment too well for his liking. "If m'lord would prefer a boy, I can have one waiting in his bed."
M'lord would prefer his wife. M'lord would prefer a girl named Tysha. "Only if he knows where whores go."
The girl's mouth tightened. She despises me, he realized, but no more than I despise myself. That he had fucked many a woman who loathed the very sight of him, Tyrion Lannister had no doubt, but the others had at least the grace to feign affection. A little honest loathing might be refreshing, like a tart wine after too much sweet.
"I believe I have changed my mind," he told her. "Wait for me abed. Naked, if you please, I'll be a deal too drunk to fumble at your clothing. Keep your mouth shut and your thighs open and the two of us should get on splendidly." He gave her a leer, hoping for a taste of fear, but all she gave him was revulsion. No one fears a dwarf. Even Lord Tywin had not been afraid, though Tyrion had held a crossbow in his hands. "Do you moan when you are being fucked?" he asked the bedwarmer.
"If it please m'lord."
"It might please m'lord to strangle you. That's how I served my last whore. Do you think your master would object? Surely not. He has a hundred more like you, but no one else like me." This time, when he grinned, he got the fear he wanted.
Illyrio was reclining on a padded couch, gobbling hot peppers and pearl onions from a wooden bowl. His brow was dotted with beads of sweat, his pig's eyes shining above his fat cheeks. Jewels danced when he moved his hands; onyx and opal, tiger's eye and tourmaline, ruby, amethyst, sapphire, emerald, jet and jade, a black diamond, and a green pearl. I could live for years on his rings, Tyrion mused, though I'd need a cleaver to claim them.
"Come sit, my little friend." Illyrio waved him closer.
The dwarf clambered up onto a chair. It was much too big for him, a cushioned throne intended to accommodate the magister's massive buttocks, with thick sturdy legs to bear his weight. Tyrion Lannister had lived all his life in a world that was too big for him, but in the manse of Illyrio Mopatis the sense of disproportion assumed grotesque dimensions. I am a mouse in a mammoth's lair, he mused, though at least the mammoth keeps a good cellar. The thought made him thirsty. He called for wine.
"Did you enjoy the girl I sent you?" Illyrio asked.
"If I had wanted a girl I would have asked for one."
"If she failed to please …"
"She did all that was required of her."
"I would hope so. She was trained in Lys, where they make an art of love. The king enjoyed her greatly."
"I kill kings, hadn't you heard?" Tyrion smiled evilly over his wine cup. "I want no royal leavings."
"As you wish. Let us eat." Illyrio clapped his hands together, and serving men came running.
They began with a broth of crab and monkfish, and cold egg lime soup as well. Then came quails in honey, a saddle of lamb, goose livers drowned in wine, buttered parsnips, and suckling pig. The sight of it all made Tyrion feel queasy, but he forced himself to try a spoon of soup for the sake of politeness, and once he had tasted it he was lost. The cooks might be old and fat, but they knew their business. He had never eaten so well, even at court.
As he was sucking the meat off the bones of his quail, he asked Illyrio about the morning's summons. The fat man shrugged. "There are troubles in the east. Astapor has fallen, and Meereen. Ghiscari slave cities that were old when the world was young." The suckling pig was carved. Illyrio reached for a piece of the crackling, dipped it in a plum sauce, and ate it with his fingers.
"Slaver's Bay is a long way from Pentos." Tyrion speared a goose liver on the point of his knife. No man is as cursed as the kinslayer, he mused, but I could learn to like this hell.
"This is so," Illyrio agreed, "but the world is one great web, and a man dare not touch a single strand lest all the others tremble. More wine?" Illyrio popped a pepper into his mouth. "No, something better." He clapped his hands together.
At the sound a serving man entered with a covered dish. He placed it in front of Tyrion, and Illyrio leaned across the table to remove the lid. "Mushrooms," the magister announced, as the smell wafted up. "Kissed with garlic and bathed in butter. I am told the taste is exquisite. Have one, my friend. Have two."
Tyrion had a fat black mushroom halfway to his mouth, but something in Illyrio's voice made him stop abruptly. "After you, my lord." He pushed the dish toward his host.
"No, no." Magister Illyrio pushed the mushrooms back. For a heartbeat it seemed as if a mischievous boy was peering out from inside the cheesemonger's bloated flesh. "After you. I insist. Cook made them specially for you."
"Did she indeed?" He remembered the cook, the flour on her hands, heavy breasts shot through with dark blue veins. "That was kind of her, but … no." Tyrion eased the mushroom back into the lake of butter from which it had emerged.
"You are too suspicious." Illyrio smiled through his forked yellow beard. Oiled every morning to make it gleam like gold, Tyrion suspected. "Are you craven? I had not heard that of you."
"In the Seven Kingdoms it is considered a grave breach of hospitality to poison your guest at supper."
"Here as well." Illyrio Mopatis reached for his wine cup. "Yet when a guest plainly wishes to end his own life, why, his host must oblige him, no?" He took a gulp. "Magister Ordello was poisoned by a mushroom not half a year ago. The pain is not so much, I am told. Some cramping in the gut, a sudden ache behind the eyes, and it is done. Better a mushroom than a sword through your neck, is it not so? Why die with the taste of blood in your mouth when it could be butter and garlic?"
The dwarf studied the dish before him. The smell of garlic and butter had his mouth watering. Some part of him wanted those mushrooms, even knowing what they were. He was not brave enough to take cold steel to his own belly, but a bite of mushroom would not be so hard. That frightened him more than he could say. "You mistake me," he heard himself say.
"Is it so? I wonder. If you would sooner drown in wine, say the word and it shall be done, and quickly. Drowning cup by cup wastes time and wine both."
"You mistake me," Tyrion said again, more loudly. The buttered mushrooms glistened in the lamplight, dark and inviting. "I have no wish to die, I promise you. I have …" His voice trailed off into uncertainty. What do I have? A life to live? Work to do? Children to raise, lands to rule, a woman to love?
"You have nothing," finished Magister Illyrio, "but we can change that." He plucked a mushroom from the butter, and chewed it lustily. "Delicious."
"The mushrooms are not poisoned." Tyrion was irritated.
"No. Why should I wish you ill?" Magister Illyrio ate another. "We must show a little trust, you and I. Come, eat." He clapped his hands again. "We have work to do. My little friend must keep his strength up."
The serving men brought out a heron stuffed with figs, veal cutlets blanched with almond milk, creamed herring, candied onions, foul-smelling cheeses, plates of snails and sweetbreads, and a black swan in her plumage. Tyrion refused the swan, which reminded him of a supper with his sister. He helped himself to heron and herring, though, and a few of the sweet onions. And the serving men filled his wine cup anew each time he emptied it.
"You drink a deal of wine for such a little man."
"Kinslaying is dry work. It gives a man a thirst."
The fat man's eyes glittered like the gemstones on his fingers. "There are those in Westeros who would say that killing Lord Lannister was merely a good beginning."
"They had best not say it in my sister's hearing, or they will find themselves short a tongue." The dwarf tore a loaf of bread in half. "And you had best be careful what you say of my family, magister. Kinslayer or no, I am a lion still."
That seemed to amuse the lord of cheese no end. He slapped a meaty thigh and said, "You Westerosi are all the same. You sew some beast upon a scrap of silk, and suddenly you are all lions or dragons or eagles. I can take you to a real lion, my little friend. The prince keeps a pride in his menagerie. Would you like to share a cage with them?"
The lords of the Seven Kingdoms did make rather much of their sigils, Tyrion had to admit. "Very well," he conceded. "A Lannister is not a lion. Yet I am still my father's son, and Jaime and Cersei are mine to kill."
"How odd that you should mention your fair sister," said Illyrio, between snails. "The queen has offered a lordship to the man who brings her your head, no matter how humble his birth."
It was no more than Tyrion had expected. "If you mean to take her up on it, make her spread her legs for you as well. The best part of me for the best part of her, that's a fair trade."
"I would sooner have mine own weight in gold." The cheesemonger laughed so hard that Tyrion feared he was about to rupture. "All the gold in Casterly Rock, why not?"
"The gold I grant you," the dwarf said, relieved that he was not about to drown in a gout of half-digested eels and sweetmeats, "but the Rock is mine."
"Just so." The magister covered his mouth and belched a mighty belch. "Do you think King Stannis will give it to you? I am told he is a great one for the law. Your brother wears the white cloak, so you are heir by all the laws of Westeros."
"Stannis might well grant me Casterly Rock," said Tyrion, "but for the small matter of regicide and kinslaying. For those he would shorten me by a head, and I am short enough as I stand. But why would you think I mean to join Lord Stannis?"
"Why else would you go the Wall?"
"Stannis is at the Wall?" Tyrion rubbed at his nose. "What in seven bloody hells is Stannis doing at the Wall?"
"Shivering, I would think. It is warmer down in Dorne. Perhaps he should have sailed that way."
Tyrion was beginning to suspect that a certain freckled washerwoman knew more of the Common Speech than she pretended. "My niece Myrcella is in Dorne, as it happens. And I have half a mind to make her a queen."
Illyrio smiled as his serving men spooned out bowls of black cherries in sweet cream for them both. "What has this poor child done to you that you would wish her dead?"
"Even a kinslayer is not required to slay all his kin," said Tyrion, wounded. "Queen her, I said. Not kill her."
The cheesemonger spooned up cherries. "In Volantis they use a coin with a crown on one face and a death's-head on the other. Yet it is the same coin. To queen her is to kill her. Dorne might rise for Myrcella, but Dorne alone is not enough. If you are as clever as our friend insists, you know this."
Tyrion looked at the fat man with new interest. He is right on both counts. To queen her is to kill her. And I knew that. "Futile gestures are all that remain to me. This one would make my sister weep bitter tears, at least."
Magister Illyrio wiped sweet cream from his mouth with the back of a fat hand. "The road to Casterly Rock does not go through Dorne, my little friend. Nor does it run beneath the Wall. Yet there is such a road, I tell you."
"I am an attainted traitor, a regicide, and kinslayer." This talk of roads annoyed him. Does he think this is a game?
"What one king does, another may undo. In Pentos we have a prince, my friend. He presides at ball and feast and rides about the city in a palanquin of ivory and gold. Three heralds go before him with the golden scales of trade, the iron sword of war, and the silver scourge of justice. On the first day of each new year he must deflower the maid of the fields and the maid of the seas." Illyrio leaned forward, elbows on the table. "Yet should a crop fail or a war be lost, we cut his throat to appease the gods and choose a new prince from amongst the forty families."
"Remind me never to become the Prince of Pentos."
"Are your Seven Kingdoms so different? There is no peace in Westeros, no justice, no faith … and soon enough, no food. When men are starving and sick of fear, they look for a savior."
"They may look, but if all they find is Stannis—"
"Not Stannis. Nor Myrcella." The yellow smile widened. "Another. Stronger than Tommen, gentler than Stannis, with a better claim than the girl Myrcella. A savior come from across the sea to bind up the wounds of bleeding Westeros."
"Fine words." Tyrion was unimpressed. "Words are wind. Who is this bloody savior?"
"A dragon." The cheesemonger saw the look on his face at that, and laughed. "A dragon with three heads."

DAENERYS
She could hear the dead man coming up the steps. The slow, measured sound of footsteps went before him, echoing amongst the purple pillars of her hall. Daenerys Targaryen awaited him upon the ebon bench that she had made her throne. Her eyes were soft with sleep, her silver-gold hair all tousled.
"Your Grace," said Ser Barristan Selmy, the lord commander of her Queensguard, "there is no need for you to see this."
"He died for me." Dany clutched her lion pelt to her chest. Underneath, a sheer white linen tunic covered her to midthigh. She had been dreaming of a house with a red door when Missandei woke her. There had been no time to dress.
"Khaleesi," whispered Irri, "you must not touch the dead man. It is bad luck to touch the dead."
"Unless you killed them yourself." Jhiqui was bigger-boned than Irri, with wide hips and heavy breasts. "That is known."
"It is known," Irri agreed.
Dothraki were wise where horses were concerned, but could be utter fools about much else. They are only girls, besides. Her handmaids were of an age with her—women grown to look at them, with their black hair, copper skin, and almond-shaped eyes, but girls all the same. They had been given to her when she wed Khal Drogo. It was Drogo who had given her the pelt she wore, the head and hide of a hrakkar, the white lion of the Dothraki sea. It was too big for her and had a musty smell, but it made her feel as if her sun-and-stars was still near her.
Grey Worm appeared atop the steps first, a torch in hand. His bronze cap was crested with three spikes. Behind him followed four of his Unsullied, bearing the dead man on their shoulders. Their caps had only one spike each, and their faces showed so little they might have been cast of bronze as well. They laid the corpse down at her feet. Ser Barristan pulled back the bloodstained shroud. Grey Worm lowered the torch, so she might see.
The dead man's face was smooth and hairless, though his cheeks had been slashed open ear to ear. He had been a tall man, blue-eyed and fair of face. Some child of Lys or Old Volantis, snatched off a ship by corsairs and sold into bondage in red Astapor. Though his eyes were open, it was his wounds that wept. There were more wounds than she could count.
"Your Grace," Ser Barristan said, "there was a harpy drawn on the bricks in the alley where he was found …"
"… drawn in blood." Daenerys knew the way of it by now. The Sons of the Harpy did their butchery by night, and over each kill they left their mark. "Grey Worm, why was this man alone? Had he no partner?" By her command, when the Unsullied walked the streets of Meereen by night they always walked in pairs.
"My queen," replied the captain, "your servant Stalwart Shield had no duty last night. He had gone to a … a certain place … to drink, and have companionship."
"A certain place? What do you mean?"
"A house of pleasure, Your Grace."
A brothel. Half of her freedmen were from Yunkai, where the Wise Masters had been famed for training bedslaves. The way of the seven sighs. Brothels had sprouted up like mushrooms all over Meereen. It is all they know. They need to survive. Food was more costly every day, whilst the price of flesh grew cheaper. In the poorer districts between the stepped pyramids of Meereen's slaver nobility, there were brothels catering to every conceivable erotic taste, she knew. Even so … "What could a eunuch hope to find in a brothel?"
"Even those who lack a man's parts may still have a man's heart, Your Grace," said Grey Worm. "This one has been told that your servant Stalwart Shield sometimes gave coin to the women of the brothels to lie with him and hold him."
The blood of the dragon does not weep. "Stalwart Shield," she said, dry-eyed. "That was his name?"
"If it please Your Grace."
"It is a fine name." The Good Masters of Astapor had not allowed their slave soldiers even names. Some of her Unsullied reclaimed their birth names after she had freed them; others chose new names for themselves. "Is it known how many attackers fell upon Stalwart Shield?"
"This one does not know. Many."
"Six or more," said Ser Barristan. "From the look of his wounds, they swarmed him from all sides. He was found with an empty scabbard. It may be that he wounded some of his attackers."
Dany said a silent prayer that somewhere one of the Harpy's Sons was dying even now, clutching at his belly and writhing in pain. "Why did they cut open his cheeks like that?"
"Gracious queen," said Grey Worm, "his killers had forced the genitals of a goat down the throat of your servant Stalwart Shield. This one removed them before bringing him here."
They could not feed him his own genitals. The Astapori left him neither root nor stem. "The Sons grow bolder," Dany observed. Until now, they had limited their attacks to unarmed freedmen, cutting them down in the streets or breaking into their homes under the cover of darkness to murder them in their beds. "This is the first of my soldiers they have slain."
"The first," Ser Barristan warned, "but not the last."
I am still at war, Dany realized, only now I am fighting shadows. She had hoped for a respite from the killing, for some time to build and heal.
Shrugging off the lion pelt, she knelt beside the corpse and closed the dead man's eyes, ignoring Jhiqui's gasp. "Stalwart Shield shall not be forgotten. Have him washed and dressed for battle and bury him with cap and shield and spears."
"It shall be as Your Grace commands," said Grey Worm.
"Send men to the Temple of the Graces and ask if any man has come to the Blue Graces with a sword wound. And spread the word that we will pay good gold for the short sword of Stalwart Shield. Inquire of the butchers and the herdsmen, and learn who has been gelding goats of late." Perhaps some goatherd would confess. "Henceforth, no man of mine walks alone after dark."
"These ones shall obey."
Daenerys pushed her hair back. "Find these cowards for me. Find them, so that I might teach the Harpy's Sons what it means to wake the dragon."
Grey Worm saluted her. His Unsullied closed the shroud once more, lifted the dead man onto their shoulders, and bore him from the hall. Ser Barristan Selmy remained behind. His hair was white, and there were crow's-feet at the corners of his pale blue eyes. Yet his back was still unbent, and the years had not yet robbed him of his skill at arms. "Your Grace," he said, "I fear your eunuchs are ill suited for the tasks you set them."
Dany settled on her bench and wrapped her pelt about her shoulders once again. "The Unsullied are my finest warriors."
"Soldiers, not warriors, if it please Your Grace. They were made for the battlefield, to stand shoulder to shoulder behind their shields with their spears thrust out before them. Their training teaches them to obey, fearlessly, perfectly, without thought or hesitation … not to unravel secrets or ask questions."
"Would knights serve me any better?" Selmy was training knights for her, teaching the sons of slaves to fight with lance and longsword in the Westerosi fashion … but what good would lances do against cowards who killed from the shadows?
"Not in this," the old man admitted. "And Your Grace has no knights, save me. It will be years before the boys are ready."
"Then who, if not Unsullied? Dothraki would be even worse." Dothraki fought from horseback. Mounted men were of more use in open fields and hills than in the narrow streets and alleys of the city. Beyond Meereen's walls of many-colored brick, Dany's rule was tenuous at best. Thousands of slaves still toiled on vast estates in the hills, growing wheat and olives, herding sheep and goats, and mining salt and copper. Meereen's storehouses held ample supplies of grain, oil, olives, dried fruit, and salted meat, but the stores were dwindling. So Dany had dispatched her tiny khalasar to subdue the hinterlands, under the command of her three bloodriders, whilst Brown Ben Plumm took his Second Sons south to guard against Yunkish incursions.
The most crucial task of all she had entrusted to Daario Naharis, glib-tongued Daario with his gold tooth and trident beard, smiling his wicked smile through purple whiskers. Beyond the eastern hills was a range of rounded sandstone mountains, the Khyzai Pass, and Lhazar. If Daario could convince the Lhazarene to reopen the overland trade routes, grains could be brought down the river or over the hills at need … but the Lamb Men had no reason to love Meereen. "When the Stormcrows return from Lhazar, perhaps I can use them in the streets," she told Ser Barristan, "but until then I have only the Unsullied." Dany rose. "You must excuse me, ser. The petitioners will soon be at my gates. I must don my floppy ears and become their queen again. Summon Reznak and the Shavepate, I'll see them when I'm dressed."
"As Your Grace commands." Selmy bowed.
The Great Pyramid shouldered eight hundred feet into the sky, from its huge square base to the lofty apex where the queen kept her private chambers, surrounded by greenery and fragrant pools. As a cool blue dawn broke over the city, Dany walked out onto the terrace. To the west sunlight blazed off the golden domes of the Temple of the Graces, and etched deep shadows behind the stepped pyramids of the mighty. In some of those pyramids, the Sons of the Harpy are plotting new murders even now, and I am powerless to stop them.
Viserion sensed her disquiet. The white dragon lay coiled around a pear tree, his head resting on his tail. When Dany passed his eyes came open, two pools of molten gold. His horns were gold as well, and the scales that ran down his back from head to tail. "You're lazy," she told him, scratching under his jaw. His scales were hot to the touch, like armor left too long in the sun. Dragons are fire made flesh. She had read that in one of the books Ser Jorah had given her as a wedding gift. "You should be hunting with your brothers. Have you and Drogon been fighting again?" Her dragons were growing wild of late. Rhaegal had snapped at Irri, and Viserion had set Reznak's tokar ablaze the last time the seneschal had called. I have left them too much to themselves, but where am I to find the time for them?
Viserion's tail lashed sideways, thumping the trunk of the tree so hard that a pear came tumbling down to land at Dany's feet. His wings unfolded, and he half flew, half hopped onto the parapet. He grows, she thought as he launched himself into the sky. They are all three growing. Soon they will be large enough to bear my weight. Then she would fly as Aegon the Conqueror had flown, up and up, until Meereen was so small that she could blot it out with her thumb.
She watched Viserion climb in widening circles until he was lost to sight beyond the muddy waters of the Skahazadhan. Only then did Dany go back inside the pyramid, where Irri and Jhiqui were waiting to brush the tangles from her hair and garb her as befit the Queen of Meereen, in a Ghiscari tokar.
The garment was a clumsy thing, a long loose shapeless sheet that had to be wound around her hips and under an arm and over a shoulder, its dangling fringes carefully layered and displayed. Wound too loose, it was like to fall off; wound too tight, it would tangle, trip, and bind. Even wound properly, the tokar required its wearer to hold it in place with the left hand. Walking in a tokar demanded small, mincing steps and exquisite balance, lest one tread upon those heavy trailing fringes. It was not a garment meant for any man who had to work. The tokar was a master's garment, a sign of wealth and power.
Dany had wanted to ban the tokar when she took Meereen, but her advisors had convinced her otherwise. "The Mother of Dragons must don the tokar or be forever hated," warned the Green Grace, Galazza Galare. "In the wools of Westeros or a gown of Myrish lace, Your Radiance shall forever remain a stranger amongst us, a grotesque outlander, a barbarian conqueror. Meereen's queen must be a lady of Old Ghis." Brown Ben Plumm, the captain of the Second Sons, had put it more succinctly. "Man wants to be the king o' the rabbits, he best wear a pair o' floppy ears."
The floppy ears she chose today were made of sheer white linen, with a fringe of golden tassels. With Jhiqui's help, she wound the tokar about herself correctly on her third attempt. Irri fetched her crown, wrought in the shape of the three-headed dragon of her House. Its coils were gold, its wings silver, its three heads ivory, onyx, and jade. Dany's neck and shoulders would be stiff and sore from the weight of it before the day was done. A crown should not sit easy on the head. One of her royal forebears had said that, once. Some Aegon, but which one? Five Aegons had ruled the Seven Kingdoms of Westeros. There would have been a sixth, but the Usurper's dogs had murdered her brother's son when he was still a babe at the breast. If he had lived, I might have married him. Aegon would have been closer to my age than Viserys. Dany had only been conceived when Aegon and his sister were murdered. Their father, her brother Rhaegar, perished even earlier, slain by the Usurper on the Trident. Her brother Viserys had died screaming in Vaes Dothrak with a crown of molten gold upon his head. They will kill me too if I allow it. The knives that slew my Stalwart Shield were meant for me.
She had not forgotten the slave children the Great Masters had nailed up along the road from Yunkai. They had numbered one hundred sixty-three, a child every mile, nailed to mileposts with one arm outstretched to point her way. After Meereen had fallen, Dany had nailed up a like number of Great Masters. Swarms of flies had attended their slow dying, and the stench had lingered long in the plaza. Yet some days she feared that she had not gone far enough. These Meereenese were a sly and stubborn people who resisted her at every turn. They had freed their slaves, yes … only to hire them back as servants at wages so meagre that most could scarce afford to eat. Those too old or young to be of use had been cast into the streets, along with the infirm and the crippled. And still the Great Masters gathered atop their lofty pyramids to complain of how the dragon queen had filled their noble city with hordes of unwashed beggars, thieves, and whores.
To rule Meereen I must win the Meereenese, however much I may despise them. "I am ready," she told Irri.
Reznak and Skahaz waited atop the marble steps. "Great queen," declared Reznak mo Reznak, "you are so radiant today I fear to look on you." The seneschal wore a tokar of maroon silk with a golden fringe. A small, damp man, he smelled as if he had bathed in perfume and spoke a bastard form of High Valyrian, much corrupted and flavored with a thick Ghiscari growl.
"You are kind to say so," Dany answered, in the same tongue.
"My queen," growled Skahaz mo Kandaq, of the shaven head. Ghiscari hair was dense and wiry; it had long been the fashion for the men of the Slaver Cities to tease it into horns and spikes and wings. By shaving, Skahaz had put old Meereen behind him to accept the new, and his kin had done the same after his example. Others followed, though whether from fear, fashion, or ambition, Dany could not say; shavepates, they were called. Skahaz was the Shavepate … and the vilest of traitors to the Sons of the Harpy and their ilk. "We were told about the eunuch."
"His name was Stalwart Shield."
"More will die unless the murderers are punished." Even with his shaven scalp, Skahaz had an odious face—a beetled brow, small eyes with heavy bags beneath them, a big nose dark with blackheads, oily skin that looked more yellow than the usual amber of Ghiscari. It was a blunt, brutal, angry face. She could only pray it was an honest one as well.
"How can I punish them when I do not know who they are?" Dany demanded of him. "Tell me that, bold Skahaz."
"You have no lack of enemies, Your Grace. You can see their pyramids from your terrace. Zhak, Hazkar, Ghazeen, Merreq, Loraq, all the old slaving families. Pahl. Pahl, most of all. A house of women now. Bitter old women with a taste for blood. Women do not forget. Women do not forgive."
No, Dany thought, and the Usurper's dogs will learn that, when I return to Westeros. It was true that there was blood between her and the House of Pahl. Oznak zo Pahl had been cut down by Strong Belwas in single combat. His father, commander of Meereen's city watch, had died defending the gates when Joso's Cock smashed them into splinters. Three uncles had been among the hundred sixty-three on the plaza. "How much gold have we offered for information concerning the Sons of the Harpy?" Dany asked.
"One hundred honors, if it please Your Radiance."
"One thousand honors would please us more. Make it so."
"Your Grace has not asked for my counsel," said Skahaz Shavepate, "but I say that blood must pay for blood. Take one man from each of the families I have named and kill him. The next time one of yours is slain, take two from each great House and kill them both. There will not be a third murder."
Reznak squealed in distress. "Noooo … gentle queen, such savagery would bring down the ire of the gods. We will find the murderers, I promise you, and when we do they will prove to be baseborn filth, you shall see."
The seneschal was as bald as Skahaz, though in his case the gods were responsible. "Should any hair be so insolent as to appear, my barber stands with razor ready," he had assured her when she raised him up. There were times when Dany wondered if that razor might not be better saved for Reznak's throat. He was a useful man, but she liked him little and trusted him less. The Undying of Qarth had told her she would be thrice betrayed. Mirri Maz Duur had been the first, Ser Jorah the second. Would Reznak be the third? The Shavepate? Daario? Or will it be someone I would never suspect, Ser Barristan or Grey Worm or Missandei?
"Skahaz," she told the Shavepate, "I thank you for your counsel. Reznak, see what one thousand honors may accomplish." Clutching her tokar, Daenerys swept past them down the broad marble stair. She took one step at a time, lest she trip over her fringe and go tumbling headfirst into court.
Missandei announced her. The little scribe had a sweet, strong voice. "All kneel for Daenerys Stormborn, the Unburnt, Queen of Meereen, Queen of the Andals and the Rhoynar and the First Men, Khaleesi of Great Grass Sea, Breaker of Shackles, and Mother of Dragons."
The hall had filled. Unsullied stood with their backs to the pillars, holding shields and spears, the spikes on their caps jutting upward like a row of knives. The Meereenese had gathered beneath the eastern windows. Her freedmen stood well apart from their former masters. Until they stand together, Meereen will know no peace. "Arise." Dany settled onto her bench. The hall rose. That at least they do as one.
Reznak mo Reznak had a list. Custom demanded that the queen begin with the Astapori envoy, a former slave who called himself Lord Ghael, though no one seemed to know what he was lord of.
Lord Ghael had a mouth of brown and rotten teeth and the pointed yellow face of a weasel. He also had a gift. "Cleon the Great sends these slippers as a token of his love for Daenerys Stormborn, the Mother of Dragons."
Irri slid the slippers onto Dany's feet. They were gilded leather, decorated with green freshwater pearls. Does the butcher king believe a pair of pretty slippers will win my hand? "King Cleon is most generous. You may thank him for his lovely gift." Lovely, but made for a child. Dany had small feet, yet the pointed slippers mashed her toes together.
"Great Cleon will be pleased to know they pleased you," said Lord Ghael. "His Magnificence bids me say that he stands ready to defend the Mother of Dragons from all her foes."
If he proposes again that I wed King Cleon, I'll throw a slipper at his head, Dany thought, but for once the Astapori envoy made no mention of a royal marriage. Instead he said, "The time has come for Astapor and Meereen to end the savage reign of the Wise Masters of Yunkai, who are sworn foes to all those who live in freedom. Great Cleon bids me tell you that he and his new Unsullied will soon march."
His new Unsullied are an obscene jape. "King Cleon would be wise to tend his own gardens and let the Yunkai'i tend theirs." It was not that Dany harbored any love for Yunkai. She was coming to regret leaving the Yellow City untaken after defeating its army in the field. The Wise Masters had returned to slaving as soon as she moved on, and were busy raising levies, hiring sellswords, and making alliances against her.
Cleon the self-styled Great was no better, however. The Butcher King had restored slavery to Astapor, the only change being that the former slaves were now the masters and the former masters were now the slaves.
"I am only a young girl and know little of the ways of war," she told Lord Ghael, "but we have heard that Astapor is starving. Let King Cleon feed his people before he leads them out to battle." She made a gesture of dismissal. Ghael withdrew.
"Magnificence," prompted Reznak mo Reznak, "will you hear the noble Hizdahr zo Loraq?"
Again? Dany nodded, and Hizdahr strode forth; a tall man, very slender, with flawless amber skin. He bowed on the same spot where Stalwart Shield had lain in death not long before. I need this man, Dany reminded herself. Hizdahr was a wealthy merchant with many friends in Meereen, and more across the seas. He had visited Volantis, Lys, and Qarth, had kin in Tolos and Elyria, and was even said to wield some influence in New Ghis, where the Yunkai'i were trying to stir up enmity against Dany and her rule.
And he was rich. Famously and fabulously rich …
And like to grow richer, if I grant his petition. When Dany had closed the city's fighting pits, the value of pit shares had plummeted. Hizdahr zo Loraq had grabbed them up with both hands, and now owned most of the fighting pits in Meereen.
The nobleman had wings of wiry red-black hair sprouting from his temples. They made him look as if his head were about to take flight. His long face was made even longer by a beard bound with rings of gold. His purple tokar was fringed with amethysts and pearls. "Your Radiance will know the reason I am here."
"Why, it must be because you have no other purpose but to plague me. How many times have I refused you?"
"Five times, Your Magnificence."
"Six now. I will not have the fighting pits reopened."
"If Your Majesty will hear my arguments …"
"I have. Five times. Have you brought new arguments?"
"Old arguments," Hizdahr admitted, "new words. Lovely words, and courteous, more apt to move a queen."
"It is your cause I find wanting, not your courtesies. I have heard your arguments so often I could plead your case myself. Shall I?" Dany leaned forward. "The fighting pits have been a part of Meereen since the city was founded. The combats are profoundly religious in nature, a blood sacrifice to the gods of Ghis. The mortal art of Ghis is not mere butchery but a display of courage, skill, and strength most pleasing to your gods. Victorious fighters are pampered and acclaimed, and the slain are honored and remembered. By reopening the pits I would show the people of Meereen that I respect their ways and customs. The pits are far-famed across the world. They draw trade to Meereen, and fill the city's coffers with coin from the ends of the earth. All men share a taste for blood, a taste the pits help slake. In that way they make Meereen more tranquil. For criminals condemned to die upon the sands, the pits represent a judgment by battle, a last chance for a man to prove his innocence." She leaned back again, with a toss of her head. "There. How have I done?"
"Your Radiance has stated the case much better than I could have hoped to do myself. I see that you are eloquent as well as beautiful. I am quite persuaded."
She had to laugh. "Ah, but I am not."
"Your Magnificence," whispered Reznak mo Reznak in her ear, "it is customary for the city to claim one-tenth of all the profits from the fighting pits, after expenses, as a tax. That coin might be put to many noble uses."
"It might … though if we were to reopen the pits, we should take our tenth before expenses. I am only a young girl and know little of such matters, but I dwelt with Xaro Xhoan Daxos long enough to learn that much. Hizdahr, if you could marshal armies as you marshal arguments, you could conquer the world … but my answer is still no. For the sixth time."
"The queen has spoken." He bowed again, as deeply as before. His pearls and amethysts clattered softly against the marble floor. A very limber man was Hizdahr zo Loraq.
He might be handsome, but for that silly hair. Reznak and the Green Grace had been urging Dany to take a Meereenese noble for her husband, to reconcile the city to her rule. Hizdahr zo Loraq might be worth a careful look. Sooner him than Skahaz. The Shavepate had offered to set aside his wife for her, but the notion made her shudder. Hizdahr at least knew how to smile.
"Magnificence," said Reznak, consulting his list, "the noble Grazdan zo Galare would address you. Will you hear him?"
"It would be my pleasure," said Dany, admiring the glimmer of the gold and the sheen of the green pearls on Cleon's slippers while doing her best to ignore the pinching in her toes. Grazdan, she had been forewarned, was a cousin of the Green Grace, whose support she had found invaluable. The priestess was a voice for peace, acceptance, and obedience to lawful authority. I can give her cousin a respectful hearing, whatever he desires.
What he desired turned out to be gold. Dany had refused to compensate any of the Great Masters for the value of their slaves, but the Meereenese kept devising other ways to squeeze coin from her. The noble Grazdan had once owned a slave woman who was a very fine weaver, it seemed; the fruits of her loom were greatly valued, not only in Meereen, but in New Ghis and Astapor and Qarth. When this woman had grown old, Grazdan had purchased half a dozen young girls and commanded the crone to instruct them in the secrets of her craft. The old woman was dead now. The young ones, freed, had opened a shop by the harbor wall to sell their weavings. Grazdan zo Galare asked that he be granted a portion of their earnings. "They owe their skill to me," he insisted. "I plucked them from the auction bloc and gave them to the loom."
Dany listened quietly, her face still. When he was done, she said, "What was the name of the old weaver?"
"The slave?" Grazdan shifted his weight, frowning. "She was … Elza, it might have been. Or Ella. It was six years ago she died. I have owned so many slaves, Your Grace."
"Let us say Elza. Here is our ruling. From the girls, you shall have nothing. It was Elza who taught them weaving, not you. From you, the girls shall have a new loom, the finest coin can buy. That is for forgetting the name of the old woman."
Reznak would have summoned another tokar next, but Dany insisted that he call upon a freedman. Thereafter she alternated between the former masters and the former slaves. Many and more of the matters brought before her involved redress. Meereen had been sacked savagely after its fall. The stepped pyramids of the mighty had been spared the worst of the ravages, but the humbler parts of the city had been given over to an orgy of looting and killing as the city's slaves rose up and the starving hordes who had followed her from Yunkai and Astapor poured through the broken gates. Her Unsullied had finally restored order, but the sack left a plague of problems in its wake. And so they came to see the queen.
A rich woman came, whose husband and sons had died defending the city walls. During the sack she had fled to her brother in fear. When she returned, she found her house had been turned into a brothel. The whores had bedecked themselves in her jewels and clothes. She wanted her house back, and her jewels. "They can keep the clothes," she allowed. Dany granted her the jewels but ruled the house was lost when she abandoned it.
A former slave came, to accuse a certain noble of the Zhak. The man had recently taken to wife a freedwoman who had been the noble's bedwarmer before the city fell. The noble had taken her maidenhood, used her for his pleasure, and gotten her with child. Her new husband wanted the noble gelded for the crime of rape, and he wanted a purse of gold as well, to pay him for raising the noble's bastard as his own. Dany granted him the gold, but not the gelding. "When he lay with her, your wife was his property, to do with as he would. By law, there was no rape." Her decision did not please him, she could see, but if she gelded every man who ever forced a bedslave, she would soon rule a city of eunuchs.
A boy came, younger than Dany, slight and scarred, dressed up in a frayed grey tokar trailing silver fringe. His voice broke when he told of how two of his father's household slaves had risen up the night the gate broke. One had slain his father, the other his elder brother. Both had raped his mother before killing her as well. The boy had escaped with no more than the scar upon his face, but one of the murderers was still living in his father's house, and the other had joined the queen's soldiers as one of the Mother's Men. He wanted them both hanged.
I am queen over a city built on dust and death. Dany had no choice but to deny him. She had declared a blanket pardon for all crimes committed during the sack. Nor would she punish slaves for rising up against their masters.
When she told him, the boy rushed at her, but his feet tangled in his tokar and he went sprawling headlong on the purple marble. Strong Belwas was on him at once. The huge brown eunuch yanked him up one-handed and shook him like a mastiff with a rat. "Enough, Belwas," Dany called. "Release him." To the boy she said, "Treasure that tokar, for it saved your life. You are only a boy, so we will forget what happened here. You should do the same." But as he left the boy looked back over his shoulder, and when she saw his eyes Dany thought, The Harpy has another Son.
By midday Daenerys was feeling the weight of the crown upon her head, and the hardness of the bench beneath her. With so many still waiting on her pleasure, she did not stop to eat. Instead she dispatched Jhiqui to the kitchens for a platter of flatbread, olives, figs, and cheese. She nibbled whilst she listened, and sipped from a cup of watered wine. The figs were fine, the olives even finer, but the wine left a tart metallic aftertaste in her mouth. The small pale yellow grapes native to these regions produced a notably inferior vintage. We shall have no trade in wine. Besides, the Great Masters had burned the best arbors along with the olive trees.
In the afternoon a sculptor came, proposing to replace the head of the great bronze harpy in the Plaza of Purification with one cast in Dany's image. She denied him with as much courtesy as she could muster. A pike of unprecedented size had been caught in the Skahazadhan, and the fisherman wished to give it to the queen. She admired the fish extravagantly, rewarded the fisherman with a purse of silver, and sent the pike to her kitchens. A coppersmith had fashioned her a suit of burnished rings to wear to war. She accepted it with fulsome thanks; it was lovely to behold, and all that burnished copper would flash prettily in the sun, though if actual battle threatened, she would sooner be clad in steel. Even a young girl who knew nothing of the ways of war knew that.
The slippers the Butcher King had sent her had grown too uncomfortable. Dany kicked them off and sat with one foot tucked beneath her and the other swinging back and forth. It was not a very regal pose, but she was tired of being regal. The crown had given her a headache, and her buttocks had gone to sleep. "Ser Barristan," she called, "I know what quality a king needs most."
"Courage, Your Grace?"
"Cheeks like iron," she teased. "All I do is sit."
"Your Grace takes too much on herself. You should allow your councillors to shoulder more of your burdens."
"I have too many councillors and too few cushions." Dany turned to Reznak. "How many more?"
"Three-and-twenty, if it please Your Magnificence. With as many claims." The seneschal consulted some papers. "One calf and three goats. The rest will be sheep or lambs, no doubt."
"Three-and-twenty." Dany sighed. "My dragons have developed a prodigious taste for mutton since we began to pay the shepherds for their kills. Have these claims been proven?"
"Some men have brought burnt bones."
"Men make fires. Men cook mutton. Burnt bones prove nothing. Brown Ben says there are red wolves in the hills outside the city, and jackals and wild dogs. Must we pay good silver for every lamb that goes astray between Yunkai and the Skahazadhan?"
"No, Magnificence." Reznak bowed. "Shall I send these rascals away, or will you want them scourged?"
Daenerys shifted on the bench. "No man should ever fear to come to me." Some claims were false, she did not doubt, but more were genuine. Her dragons had grown too large to be content with rats and cats and dogs. The more they eat, the larger they will grow, Ser Barristan had warned her, and the larger they grow, the more they'll eat. Drogon especially ranged far afield and could easily devour a sheep a day. "Pay them for the value of their animals," she told Reznak, "but henceforth claimants must present themselves at the Temple of the Graces and swear a holy oath before the gods of Ghis."
"It shall be done." Reznak turned to the petitioners. "Her Magnificence the Queen has consented to compensate each of you for the animals you have lost," he told them in the Ghiscari tongue. "Present yourselves to my factors on the morrow, and you shall be paid in coin or kind, as you prefer."
The pronouncement was received in sullen silence. You would think they might be happier, Dany thought. They have what they came for. Is there no way to please these people?
One man lingered behind as the rest were filing out—a squat man with a windburnt face, shabbily dressed. His hair was a cap of coarse red-black wire cropped about his ears, and in one hand he held a sad cloth sack. He stood with his head down, gazing at the marble floor as if he had quite forgotten where he was. And what does this one want? Dany wondered.
"All kneel for Daenerys Stormborn, the Unburnt, Queen of Meereen, Queen of the Andals and the Rhoynar and the First Men, Khaleesi of Great Grass Sea, Breaker of Shackles, and Mother of Dragons," cried Missandei in her high, sweet voice.
As Dany stood, her tokar began to slip. She caught it and tugged it back in place. "You with the sack," she called, "did you wish to speak with us? You may approach."
When he raised his head, his eyes were red and raw as open sores. Dany glimpsed Ser Barristan sliding closer, a white shadow at her side. The man approached in a stumbling shuffle, one step and then another, clutching his sack. Is he drunk, or ill? she wondered. There was dirt beneath his cracked yellow fingernails.
"What is it?" Dany asked. "Do you have some grievance to lay before us, some petition? What would you have of us?"
His tongue flicked nervously over chapped, cracked lips. "I … I brought …"
"Bones?" she said, impatiently. "Burnt bones?"
He lifted the sack, and spilled its contents on the marble.
Bones they were, broken bones and blackened. The longer ones had been cracked open for their marrow.
"It were the black one," the man said, in a Ghiscari growl, "the winged shadow. He come down from the sky and … and …"
No. Dany shivered. No, no, oh no.
"Are you deaf, fool?" Reznak mo Reznak demanded of the man. "Did you not hear my pronouncement? See my factors on the morrow, and you shall be paid for your sheep."
"Reznak," Ser Barristan said quietly, "hold your tongue and open your eyes. Those are no sheep bones."
No, Dany thought, those are the bones of a child.

JON
The white wolf raced through a black wood, beneath a pale cliff as tall as the sky. The moon ran with him, slipping through a tangle of bare branches overhead, across the starry sky.
"Snow," the moon murmured. The wolf made no answer. Snow crunched beneath his paws. The wind sighed through the trees.
Far off, he could hear his packmates calling to him, like to like. They were hunting too. A wild rain lashed down upon his black brother as he tore at the flesh of an enormous goat, washing the blood from his side where the goat's long horn had raked him. In another place, his little sister lifted her head to sing to the moon, and a hundred small grey cousins broke off their hunt to sing with her. The hills were warmer where they were, and full of food. Many a night his sister's pack gorged on the flesh of sheep and cows and horses, the prey of men, and sometimes even on the flesh of man himself.
"Snow," the moon called down again, cackling. The white wolf padded along the man trail beneath the icy cliff. The taste of blood was on his tongue, and his ears rang to the song of the hundred cousins. Once they had been six, five whimpering blind in the snow beside their dead mother, sucking cool milk from her hard dead nipples whilst he crawled off alone. Four remained … and one the white wolf could no longer sense.
"Snow," the moon insisted.
The white wolf ran from it, racing toward the cave of night where the sun had hidden, his breath frosting in the air. On starless nights the great cliff was as black as stone, a darkness towering high above the wide world, but when the moon came out it shimmered pale and icy as a frozen stream. The wolf's pelt was thick and shaggy, but when the wind blew along the ice no fur could keep the chill out. On the other side the wind was colder still, the wolf sensed. That was where his brother was, the grey brother who smelled of summer.
"Snow." An icicle tumbled from a branch. The white wolf turned and bared his teeth. "Snow!" His fur rose bristling, as the woods dissolved around him. "Snow, snow, snow!" He heard the beat of wings. Through the gloom a raven flew.
It landed on Jon Snow's chest with a thump and a scrabbling of claws. "SNOW!" it screamed into his face.
"I hear you." The room was dim, his pallet hard. Grey light leaked through the shutters, promising another bleak cold day. "Is this how you woke Mormont? Get your feathers out of my face." Jon wriggled an arm out from under his blankets to shoo the raven off. It was a big bird, old and bold and scruffy, utterly without fear. "Snow," it cried, flapping to his bedpost. "Snow, snow." Jon filled his fist with a pillow and let fly, but the bird took to the air. The pillow struck the wall and burst, scattering stuffing everywhere just as Dolorous Edd Tollett poked his head through the door. "Beg pardon," he said, ignoring the flurry of feathers, "shall I fetch m'lord some breakfast?"
"Corn," cried the raven. "Corn, corn."
"Roast raven," Jon suggested. "And half a pint of ale." Having a steward fetch and serve for him still felt strange; not long ago, it would have been him fetching breakfast for Lord Commander Mormont.
"Three corns and one roast raven," said Dolorous Edd. "Very good, m'lord, only Hobb's made boiled eggs, black sausage, and apples stewed with prunes. The apples stewed with prunes are excellent, except for the prunes. I won't eat prunes myself. Well, there was one time when Hobb chopped them up with chestnuts and carrots and hid them in a hen. Never trust a cook, my lord. They'll prune you when you least expect it."
"Later." Breakfast could wait; Stannis could not. "Any trouble from the stockades last night?"
"Not since you put guards on the guards, m'lord."
"Good." A thousand wildlings had been penned up beyond the Wall, the captives Stannis Baratheon had taken when his knights had smashed Mance Rayder's patchwork host. Many of the prisoners were women, and some of the guards had been sneaking them out to warm their beds. King's men, queen's men, it did not seem to matter; a few black brothers had tried the same thing. Men were men, and these were the only women for a thousand leagues.
"Two more wildlings turned up to surrender," Edd went on. "A mother with a girl clinging to her skirts. She had a boy babe too, all swaddled up in fur, but he was dead."
"Dead," said the raven. It was one of the bird's favorite words. "Dead, dead, dead."
They had free folk drifting in most every night, starved half-frozen creatures who had run from the battle beneath the Wall only to crawl back when they realized there was no safe place to run to. "Was the mother questioned?" Jon asked. Stannis Baratheon had smashed Mance Rayder's host and made the King-Beyond-the-Wall his captive … but the wildlings were still out there, the Weeper and Tormund Giantsbane and thousands more.
"Aye, m'lord," said Edd, "but all she knows is that she ran off during the battle and hid in the woods after. We filled her full of porridge, sent her to the pens, and burned the babe."
Burning dead children had ceased to trouble Jon Snow; live ones were another matter. Two kings to wake the dragon. The father first and then the son, so both die kings. The words had been murmured by one of the queen's men as Maester Aemon had cleaned his wounds. Jon had tried to dismiss them as his fever talking. Aemon had demurred. "There is power in a king's blood," the old maester had warned, "and better men than Stannis have done worse things than this." The king can be harsh and unforgiving, aye, but a babe still on the breast? Only a monster would give a living child to the flames.
Jon pissed in darkness, filling his chamber pot as the Old Bear's raven muttered complaints. The wolf dreams had been growing stronger, and he found himself remembering them even when awake. Ghost knows that Grey Wind is dead. Robb had died at the Twins, betrayed by men he'd believed his friends, and his wolf had perished with him. Bran and Rickon had been murdered too, beheaded at the behest of Theon Greyjoy, who had once been their lord father's ward … but if dreams did not lie, their direwolves had escaped. At Queenscrown, one had come out of the darkness to save Jon's life. Summer, it had to be. His fur was grey, and Shaggydog is black. He wondered if some part of his dead brothers lived on inside their wolves.
He filled his basin from the flagon of water beside his bed, washed his face and hands, donned a clean set of black woolens, laced up a black leather jerkin, and pulled on a pair of well-worn boots. Mormont's raven watched with shrewd black eyes, then fluttered to the window. "Do you take me for your thrall?" When Jon folded back the window with its thick diamond-shaped panes of yellow glass, the chill of the morning hit him in the face. He took a breath to clear away the cobwebs of the night as the raven flapped away. That bird is too clever by half. It had been the Old Bear's companion for long years, but that had not stopped it from eating Mormont's face once he died.
Outside his bedchamber a flight of steps descended to a larger room furnished with a scarred pinewood table and a dozen oak-and-leather chairs. With Stannis in the King's Tower and the Lord Commander's Tower burned to a shell, Jon had established himself in Donal Noye's modest rooms behind the armory. In time, no doubt, he would need larger quarters, but for the moment these would serve whilst he accustomed himself to command.
The grant that the king had presented him for signature was on the table beneath a silver drinking cup that had once been Donal Noye's. The one-armed smith had left few personal effects: the cup, six pennies and a copper star, a niello brooch with a broken clasp, a musty brocade doublet that bore the stag of Storm's End. His treasures were his tools, and the swords and knives he made. His life was at the forge. Jon moved the cup aside and read the parchment once again. If I put my seal to this, I will forever be remembered as the lord commander who gave away the Wall, he thought, but if I should refuse …
Stannis Baratheon was proving to be a prickly guest, and a restless one. He had ridden down the kingsroad almost as far as Queenscrown, prowled through the empty hovels of Mole's Town, inspected the ruined forts at Queensgate and Oakenshield. Each night he walked atop the Wall with Lady Melisandre, and during the days he visited the stockades, picking captives out for the red woman to question. He does not like to be balked. This would not be a pleasant morning, Jon feared.
From the armory came a clatter of shields and swords, as the latest lot of boys and raw recruits armed themselves. He could hear the voice of Iron Emmett telling them to be quick about it. Cotter Pyke had not been pleased to lose him, but the young ranger had a gift for training men. He loves to fight, and he'll teach his boys to love it too. Or so he hoped.
Jon's cloak hung on a peg by the door, his sword belt on another. He donned them both and made his way to the armory. The rug where Ghost slept was empty, he saw. Two guardsmen stood inside the doors, clad in black cloaks and iron halfhelms, spears in their hands. "Will m'lord be wanting a tail?" asked Garse.
"I think I can find the King's Tower by myself." Jon hated having guards trailing after him everywhere he went. It made him feel like a mother duck leading a procession of ducklings.
Iron Emmett's lads were well at it in the yard, blunted swords slamming into shields and ringing against one another. Jon stopped to watch a moment as Horse pressed Hop-Robin back toward the well. Horse had the makings of a good fighter, he decided. He was strong and getting stronger, and his instincts were sound. Hop-Robin was another tale. His clubfoot was bad enough, but he was afraid of getting hit as well. Perhaps we can make a steward of him. The fight ended abruptly, with Hop-Robin on the ground.
"Well fought," Jon said to Horse, "but you drop your shield too low when pressing an attack. You will want to correct that, or it is like to get you killed."
"Yes, m'lord. I'll keep it higher next time." Horse pulled Hop-Robin to his feet, and the smaller boy made a clumsy bow.
A few of Stannis's knights were sparring on the far side of the yard. King's men in one corner and queen's men in another, Jon did not fail to note, but only a few. It's too cold for most of them. As he strode past them, a booming voice called after him. "BOY! YOU THERE! BOY!"
Boy was not the worst of the things that Jon Snow had been called since being chosen lord commander. He ignored it.
"Snow," the voice insisted, "Lord Commander."
This time he stopped. "Ser?"
The knight overtopped him by six inches. "A man who bears Valyrian steel should use it for more than scratching his arse."
Jon had seen this one about the castle—a knight of great renown, to hear him tell it. During the battle beneath the Wall, Ser Godry Farring had slain a fleeing giant, pounding after him on horseback and driving a lance through his back, then dismounting to hack off the creature's pitiful small head. The queen's men had taken to calling him Godry the Giantslayer.
Jon remembered Ygritte, crying. I am the last of the giants. "I use Longclaw when I must, ser."
"How well, though?" Ser Godry drew his own blade. "Show us. I promise not to hurt you, lad."
How kind of you. "Some other time, ser. I fear that I have other duties just now."
"You fear. I see that." Ser Godry grinned at his friends. "He fears," he repeated, for the slow ones.
"You will excuse me." Jon showed them his back.
Castle Black seemed a bleak and forlorn place in the pale dawn light. My command, Jon Snow reflected ruefully, as much a ruin as it is a stronghold. The Lord Commander's Tower was a shell, the Common Hall a pile of blackened timbers, and Hardin's Tower looked as if the next gust of wind would knock it over … though it had looked that way for years. Behind them rose the Wall: immense, forbidding, frigid, acrawl with builders pushing up a new switchback stair to join the remnants of the old. They worked from dawn to dusk. Without the stair, there was no way to reach the top of the Wall save by winch. That would not serve if the wildlings should attack again.
Above the King's Tower the great golden battle standard of House Baratheon cracked like a whip from the roof where Jon Snow had prowled with bow in hand not long ago, slaying Thenns and free folk beside Satin and Deaf Dick Follard. Two queen's men stood shivering on the steps, their hands tucked up into their armpits and their spears leaning against the door. "Those cloth gloves will never serve," Jon told them. "See Bowen Marsh on the morrow, and he'll give you each a pair of leather gloves lined with fur."
"We will, m'lord, and thank you," said the older guard.
"That's if our bloody hands aren't froze off," the younger added, his breath a pale mist. "I used to think that it got cold up in the Dornish Marches. What did I know?"
Nothing, thought Jon Snow, the same as me.
Halfway up the winding steps, he came upon Samwell Tarly, headed down. "Are you coming from the king?" Jon asked him.
"Maester Aemon sent me with a letter."
"I see." Some lords trusted their maesters to read their letters and convey the contents, but Stannis insisted on breaking the seals himself. "How did Stannis take it?"
"Not happily, by his face." Sam dropped his voice to a whisper. "I am not supposed to speak of it."
"Then don't." Jon wondered which of his father's bannermen had refused King Stannis homage this time. He was quick enough to spread the word when Karhold declared for him. "How are you and your longbow getting on?"
"I found a good book about archery." Sam frowned. "Doing it is harder than reading about it, though. I get blisters."
"Keep at it. We may need your bow on the Wall if the Others turn up some dark night."
"Oh, I hope not."
More guards stood outside the king's solar. "No arms are allowed in His Grace's presence, my lord," their serjeant said. "I'll need that sword. Your knives as well." It would do no good to protest, Jon knew. He handed them his weaponry.
Within the solar the air was warm. Lady Melisandre was seated near the fire, her ruby glimmering against the pale skin of her throat. Ygritte had been kissed by fire; the red priestess was fire, and her hair was blood and flame. Stannis stood behind the rough-hewn table where the Old Bear had once been wont to sit and take his meals. Covering the table was a large map of the north, painted on a ragged piece of hide. A tallow candle weighed down one end of it, a steel gauntlet the other.
The king wore lambswool breeches and a quilted doublet, yet somehow he looked as stiff and uncomfortable as if he had been clad in plate and mail. His skin was pale leather, his beard cropped so short that it might have been painted on. A fringe about his temples was all that remained of his black hair. In his hand was a parchment with a broken seal of dark green wax.
Jon took a knee. The king frowned at him, and rattled the parchment angrily. "Rise. Tell me, who is Lyanna Mormont?"
"One of Lady Maege's daughters, Sire. The youngest. She was named for my lord father's sister."
"To curry your lord father's favor, I don't doubt. I know how that game is played. How old is this wretched girl child?"
Jon had to think a moment. "Ten. Or near enough to make no matter. Might I know how she has offended Your Grace?"
Stannis read from the letter. "Bear Island knows no king but the King in the North, whose name is STARK. A girl of ten, you say, and she presumes to scold her lawful king." His close-cropped beard lay like a shadow over his hollow cheeks. "See that you keep these tidings to yourself, Lord Snow. Karhold is with me, that is all the men need know. I will not have your brothers trading tales of how this child spat on me."
"As you command, Sire." Maege Mormont had ridden south with Robb, Jon knew. Her eldest daughter had joined the Young Wolf's host as well. Even if both of them had died, however, Lady Maege had other daughters, some with children of their own. Had they gone with Robb as well? Surely Lady Maege would have left at least one of the older girls behind as castellan. He did not understand why Lyanna should be writing Stannis, and could not help but wonder if the girl's answer might have been different if the letter had been sealed with a direwolf instead of a crowned stag, and signed by Jon Stark, Lord of Winterfell. It is too late for such misgivings. You made your choice.
"Two score ravens were sent out," the king complained, "yet we get no response but silence and defiance. Homage is the duty every leal subject owes his king. Yet your father's bannermen all turn their back on me, save the Karstarks. Is Arnolf Karstark the only man of honor in the north?"
Arnolf Karstark was the late Lord Rickard's uncle. He had been made the castellan of Karhold when his nephew and his sons went south with Robb, and he had been the first to respond to King Stannis's call for homage, with a raven declaring his allegiance. The Karstarks have no other choice, Jon might have said. Rickard Karstark had betrayed the direwolf and spilled the blood of lions. The stag was Karhold's only hope. "In times as confused as these, even men of honor must wonder where their duty lies. Your Grace is not the only king in the realm demanding homage."
Lady Melisandre stirred. "Tell me, Lord Snow … where were these other kings when the wild people stormed your Wall?"
"A thousand leagues away and deaf to our need," Jon replied. "I have not forgotten that, my lady. Nor will I. But my father's bannermen have wives and children to protect, and smallfolk who will die should they choose wrongly. His Grace asks much of them. Give them time, and you will have your answers."
"Answers such as this?" Stannis crushed Lyanna's letter in his fist.
"Even in the north men fear the wroth of Tywin Lannister. Boltons make bad enemies as well. It is not happenstance that put a flayed man on their banners. They north rode with Robb, bled with him, died for him. They have supped on grief and death, and now you come to offer them another serving. Do you blame them if they hang back? Forgive me, Your Grace, but some will look at you and see only another doomed pretender."
"If His Grace is doomed, your realm is doomed as well," said Lady Melisandre. "Remember that, Lord Snow. It is the one true king of Westeros who stands before you."
Jon kept his face a mask. "As you say, my lady."
Stannis snorted. "You spend your words as if every one were a golden dragon. I wonder, how much gold do you have laid by?"
"Gold?" Are those the dragons the red woman means to wake? Dragons made of gold? "Such taxes as we collect are paid in kind, Your Grace. The Watch is rich in turnips but poor in coin."
"Turnips are not like to appease Salladhor Saan. I require gold or silver."
"For that, you need White Harbor. The city cannot compare to Oldtown or King's Landing, but it is still a thriving port. Lord Manderly is the richest of my lord father's bannermen."
"Lord Too-Fat-to-Sit-a-Horse." The letter that Lord Wyman Manderly had sent back from White Harbor had spoken of his age and infirmity, and little more. Stannis had commanded Jon not to speak of that one either.
"Perhaps his lordship would fancy a wildling wife," said Lady Melisandre. "Is this fat man married, Lord Snow?"
"His lady wife is long dead. Lord Wyman has two grown sons, and grandchildren by the elder. And he is too fat to sit a horse, thirty stone at least. Val would never have him."
"Just once you might try to give me an answer that would please me, Lord Snow," the king grumbled.
"I would hope the truth would please you, Sire. Your men call Val a princess, but to the free folk she is only the sister of their king's dead wife. If you force her to marry a man she does not want, she is like to slit his throat on their wedding night. Even if she accepts her husband, that does not mean the wildlings will follow him, or you. The only man who can bind them to your cause is Mance Rayder."
"I know that," Stannis said, unhappily. "I have spent hours speaking with the man. He knows much and more of our true enemy, and there is cunning in him, I'll grant you. Even if he were to renounce his kingship, though, the man remains an oathbreaker. Suffer one deserter to live, and you encourage others to desert. No. Laws should be made of iron, not of pudding. Mance Rayder's life is forfeit by every law of the Seven Kingdoms."
"The law ends at the Wall, Your Grace. You could make good use of Mance."
"I mean to. I'll burn him, and the north will see how I deal with turncloaks and traitors. I have other men to lead the wildlings. And I have Rayder's son, do not forget. Once the father dies, his whelp will be the King-Beyond-the-Wall."
"Your Grace is mistaken." You know nothing, Jon Snow, Ygritte used to say, but he had learned. "The babe is no more a prince than Val is a princess. You do not become King-Beyond-the-Wall because your father was."
"Good," said Stannis, "for I will suffer no other kings in Westeros. Have you signed the grant?"
"No, Your Grace." And now it comes. Jon closed his burned fingers and opened them again. "You ask too much."
"Ask? I asked you to be Lord of Winterfell and Warden of the North. I require these castles."
"We have ceded you the Nightfort."
"Rats and ruins. It is a niggard's gift that costs the giver nothing. Your own man Yarwyck says it will be half a year before the castle can be made fit for habitation."
"The other forts are no better."
"I know that. It makes no matter. They are all we have. There are nineteen forts along the Wall, and you have men in only three of them. I mean to have every one of them garrisoned again before the year is out."
"I have no quarrel with that, Sire, but it is being said that you also mean to grant these castles to your knights and lords, to hold as their own seats as vassals to Your Grace."
"Kings are expected to be open-handed to their followers. Did Lord Eddard teach his bastard nothing? Many of my knights and lords abandoned rich lands and stout castles in the south. Should their loyalty go unrewarded?"
"If Your Grace wishes to lose all of my lord father's bannermen, there is no more certain way than by giving northern halls to southron lords."
"How can I lose men I do not have? I had hoped to bestow Winterfell on a northman, you may recall. A son of Eddard Stark. He threw my offer in my face." Stannis Baratheon with a grievance was like a mastiff with a bone; he gnawed it down to splinters.
"By right Winterfell should go to my sister Sansa."
"Lady Lannister, you mean? Are you so eager to see the Imp perched on your father's seat? I promise you, that will not happen whilst I live, Lord Snow."
Jon knew better than to press the point. "Sire, some claim that you mean to grant lands and castles to Rattleshirt and the Magnar of Thenn."
"Who told you that?"
The talk was all over Castle Black. "If you must know, I had the tale from Gilly."
"Who is Gilly?"
"The wet nurse," said Lady Melisandre. "Your Grace gave her freedom of the castle."
"Not for running tales. She's wanted for her teats, not for her tongue. I'll have more milk from her, and fewer messages."
"Castle Black needs no useless mouths," Jon agreed. "I am sending Gilly south on the next ship out of Eastwatch."
Melisandre touched the ruby at her neck. "Gilly is giving suck to Dalla's son as well as her own. It seems cruel of you to part our little prince from his milk brother, my lord."
Careful now, careful. "Mother's milk is all they share. Gilly's son is larger and more robust. He kicks the prince and pinches him, and shoves him from the breast. Craster was his father, a cruel man and greedy, and blood tells."
The king was confused. "I thought the wet nurse was this man Craster's daughter?"
"Wife and daughter both, Your Grace. Craster married all his daughters. Gilly's boy was the fruit of their union."
"Her own father got this child on her?" Stannis sounded shocked. "We are well rid of her, then. I will not suffer such abominations here. This is not King's Landing."
"I can find another wet nurse. If there's none amongst the wildlings, I will send to the mountain clans. Until such time, goat's milk should suffice for the boy, if it please Your Grace."
"Poor fare for a prince … but better than whore's milk, aye." Stannis drummed his fingers on the map. "If we may return to the matter of these forts …"
"Your Grace," said Jon, with chilly courtesy, "I have housed your men and fed them, at dire cost to our winter stores. I have clothed them so they would not freeze."
Stannis was not appeased. "Aye, you've shared your salt pork and porridge, and you've thrown us some black rags to keep us warm. Rags the wildlings would have taken off your corpses if I had not come north."
Jon ignored that. "I have given you fodder for your horses, and once the stair is done I will lend you builders to restore the Nightfort. I have even agreed to allow you to settle wildlings on the Gift, which was given to the Night's Watch in perpetuity."
"You offer me empty lands and desolations, yet deny me the castles I require to reward my lords and bannermen."
"The Night's Watch built those castles …"
"And the Night's Watch abandoned them."
"… to defend the Wall," Jon finished stubbornly, "not as seats for southron lords. The stones of those forts are mortared with the blood and bones of my brothers, long dead. I cannot give them to you."
"Cannot or will not?" The cords in the king's neck stood out sharp as swords. "I offered you a name."
"I have a name, Your Grace."
"Snow. Was ever a name more ill-omened?" Stannis touched his sword hilt. "Just who do you imagine that you are?"
"The watcher on the walls. The sword in the darkness."
"Don't prate your words at me." Stannis drew the blade he called Lightbringer. "Here is your sword in the darkness." Light rippled up and down the blade, now red, now yellow, now orange, painting the king's face in harsh, bright hues. "Even a green boy should be able to see that. Are you blind?"
"No, Sire. I agree these castles must be garrisoned—"
"The boy commander agrees. How fortunate."
"—by the Night's Watch."
"You do not have the men."
"Then give me men, Sire. I will provide officers for each of the abandoned forts, seasoned commanders who know the Wall and the lands beyond, and how best to survive the coming winter. In return for all we've given you, grant me the men to fill out the garrisons. Men-at-arms, crossbowmen, raw boys. I will even take your wounded and infirm."
Stannis stared at him incredulously, then gave a bark of laughter. "You are bold enough, Snow, I grant you that, but you're mad if you think my men will take the black."
"They can wear any color cloak they choose, so long as they obey my officers as they would your own."
The king was unmoved. "I have knights and lords in my service, scions of noble Houses old in honor. They cannot be expected to serve under poachers, peasants, and murderers."
Or bastards, Sire? "Your own Hand is a smuggler."
"Was a smuggler. I shortened his fingers for that. They tell me that you are the nine-hundred-ninety-eighth man to command the Night's Watch, Lord Snow. What do you think the nine-hundred-ninety-ninth might say about these castles? The sight of your head on a spike might inspire him to be more helpful." The king laid his bright blade down on the map, along the Wall, its steel shimmering like sunlight on water. "You are only lord commander by my sufferance. You would do well to remember that."
"I am lord commander because my brothers chose me." There were mornings when Jon Snow did not quite believe it himself, when he woke up thinking surely this was some mad dream. It's like putting on new clothes, Sam had told him. The fit feels strange at first, but once you've worn them for a while you get to feeling comfortable.
"Alliser Thorne complains about the manner of your choosing, and I cannot say he does not have a grievance." The map lay between them like a battleground, drenched by the colors of the glowing sword. "The count was done by a blind man with your fat friend by his elbow. And Slynt names you a turncloak."
And who would know one better than Slynt? "A turncloak would tell you what you wished to hear and betray you later. Your Grace knows that I was fairly chosen. My father always said you were a just man." Just but harsh had been Lord Eddard's exact words, but Jon did not think it would be wise to share that.
"Lord Eddard was no friend to me, but he was not without some sense. He would have given me these castles."
Never. "I cannot speak to what my father might have done. I took an oath, Your Grace. The Wall is mine."
"For now. We will see how well you hold it." Stannis pointed at him. "Keep your ruins, as they mean so much to you. I promise you, though, if any remain empty when the year is out, I will take them with your leave or without it. And if even one should fall to the foe, your head will soon follow. Now get out."
Lady Melisandre rose from her place near the hearth. "With your leave, Sire, I will show Lord Snow back to his chambers."
"Why? He knows the way." Stannis waved them both away. "Do what you will. Devan, food. Boiled eggs and lemon water."
After the warmth of the king's solar, the turnpike stair felt bone-chillingly cold. "Wind's rising, m'lady," the serjeant warned Melisandre as he handed Jon back his weapons. "You might want a warmer cloak."
"I have my faith to warm me." The red woman walked beside Jon down the steps. "His Grace is growing fond of you."
"I can tell. He only threatened to behead me twice."
Melisandre laughed. "It is his silences you should fear, not his words." As they stepped out into the yard, the wind filled Jon's cloak and sent it flapping against her. The red priestess brushed the black wool aside and slipped her arm through his. "It may be that you are not wrong about the wildling king. I shall pray for the Lord of Light to send me guidance. When I gaze into the flames, I can see through stone and earth, and find the truth within men's souls. I can speak to kings long dead and children not yet born, and watch the years and seasons flicker past, until the end of days."
"Are your fires never wrong?"
"Never … though we priests are mortal and sometimes err, mistaking this must come for this may come."
Jon could feel her heat, even through his wool and boiled leather. The sight of them arm in arm was drawing curious looks. They will be whispering in the barracks tonight. "If you can truly see the morrow in your flames, tell me when and where the next wildling attack will come." He slipped his arm free.
"R'hllor sends us what visions he will, but I shall seek for this man Tormund in the flames." Melisandre's red lips curled into a smile. "I have seen you in my fires, Jon Snow."
"Is that a threat, my lady? Do you mean to burn me too?"
"You mistake my meaning." She gave him a searching look. "I fear that I make you uneasy, Lord Snow."
Jon did not deny it. "The Wall is no place for a woman."
"You are wrong. I have dreamed of your Wall, Jon Snow. Great was the lore that raised it, and great the spells locked beneath its ice. We walk beneath one of the hinges of the world." Melisandre gazed up at it, her breath a warm moist cloud in the air. "This is my place as it is yours, and soon enough you may have grave need of me. Do not refuse my friendship, Jon. I have seen you in the storm, hard-pressed, with enemies on every side. You have so many enemies. Shall I tell you their names?"
"I know their names."
"Do not be so certain." The ruby at Melisandre's throat gleamed red. "It is not the foes who curse you to your face that you must fear, but those who smile when you are looking and sharpen their knives when you turn your back. You would do well to keep your wolf close beside you. Ice, I see, and daggers in the dark. Blood frozen red and hard, and naked steel. It was very cold."
"It is always cold on the Wall."
"You think so?"
"I know so, my lady."
"Then you know nothing, Jon Snow," she whispered.

BRAN
Are we there yet?
Bran never said the words aloud, but they were often on his lips as their ragged company trudged through groves of ancient oaks and towering grey-green sentinels, past gloomy soldier pines and bare brown chestnut trees. Are we near? the boy would wonder, as Hodor clambered up a stony slope, or descended into some dark crevice where drifts of dirty snow cracked beneath his feet. How much farther? he would think, as the great elk splashed across a half-frozen stream. How much longer? It's so cold. Where is the three-eyed crow?
Swaying in his wicker basket on Hodor's back, the boy hunched down, ducking his head as the big stableboy passed beneath the limb of an oak. The snow was falling again, wet and heavy. Hodor walked with one eye frozen shut, his thick brown beard a tangle of hoarfrost, icicles drooping from the ends of his bushy mustache. One gloved hand still clutched the rusty iron longsword he had taken from the crypts below Winterfell, and from time to time he would lash out at a branch, knocking loose a spray of snow. "Hod-d-d-dor," he would mutter, his teeth chattering.
The sound was strangely reassuring. On their journey from Winterfell to the Wall, Bran and his companions had made the miles shorter by talking and telling tales, but it was different here. Even Hodor felt it. His hodors came less often than they had south of the Wall. There was a stillness to this wood like nothing Bran had ever known before. Before the snows began, the north wind would swirl around them and clouds of dead brown leaves would kick up from the ground with a faint small rustling sound that reminded him of roaches scurrying in a cupboard, but now all the leaves were buried under a blanket of white. From time to time a raven would fly overhead, big black wings slapping against the cold air. Elsewise the world was silent.
Just ahead, the elk wove between the snowdrifts with his head down, his huge rack of antlers crusted with ice. The ranger sat astride his broad back, grim and silent. Coldhands was the name that the fat boy Sam had given him, for though the ranger's face was pale, his hands were black and hard as iron, and cold as iron too. The rest of him was wrapped in layers of wool and boiled leather and ringmail, his features shadowed by his hooded cloak and a black woolen scarf about the lower half of his face.
Behind the ranger, Meera Reed wrapped her arms around her brother, to shelter him from the wind and cold with the warmth of her own body. A crust of frozen snot had formed below Jojen's nose, and from time to time he shivered violently. He looks so small, Bran thought, as he watched him sway. He looks smaller than me now, and weaker too, and I'm the cripple.
Summer brought up the rear of their little band. The direwolf's breath frosted the forest air as he padded after them, still limping on the hind leg that had taken the arrow back at Queenscrown. Bran felt the pain of the old wound whenever he slipped inside the big wolf's skin. Of late Bran wore Summer's body more often than his own; the wolf felt the bite of the cold, despite the thickness of his fur, but he could see farther and hear better and smell more than the boy in the basket, bundled up like a babe in swaddling clothes.
Other times, when he was tired of being a wolf, Bran slipped into Hodor's skin instead. The gentle giant would whimper when he felt him, and thrash his shaggy head from side to side, but not as violently as he had the first time, back at Queenscrown. He knows it's me, the boy liked to tell himself. He's used to me by now. Even so, he never felt comfortable inside Hodor's skin. The big stableboy never understood what was happening, and Bran could taste the fear at the back of his mouth. It was better inside Summer. I am him, and he is me. He feels what I feel.
Sometimes Bran could sense the direwolf sniffing after the elk, wondering if he could bring the great beast down. Summer had grown accustomed to horses at Winterfell, but this was an elk and elk were prey. The direwolf could sense the warm blood coursing beneath the elk's shaggy hide. Just the smell was enough to make the slaver run from between his jaws, and when it did Bran's mouth would water at the thought of rich, dark meat.
From a nearby oak a raven quorked, and Bran heard the sound of wings as another of the big black birds flapped down to land beside it. By day only half a dozen ravens stayed with them, flitting from tree to tree or riding on the antlers of the elk. The rest of the murder flew ahead or lingered behind. But when the sun sank low they would return, descending from the sky on night-black wings until every branch of every tree was thick with them for yards around. Some would fly to the ranger and mutter at him, and it seemed to Bran that he understood their quorks and squawks. They are his eyes and ears. They scout for him, and whisper to him of dangers ahead and behind.
As now. The elk stopped suddenly, and the ranger vaulted lightly from his back to land in knee-deep snow. Summer growled at him, his fur bristling. The direwolf did not like the way that Coldhands smelled. Dead meat, dry blood, a faint whiff of rot. And cold. Cold over all.
"What is it?" Meera wanted to know.
"Behind us," Coldhands announced, his voice muffled by the black wool scarf across his nose and mouth.
"Wolves?" Bran asked. They had known for days that they were being followed. Every night they heard the mournful howling of the pack, and every night the wolves seemed a little closer. Hunters, and hungry. They can smell how weak we are. Often Bran woke shivering hours before the dawn, listening to the sound of them calling to one another in the distance as he waited for the sun to rise. If there are wolves, there must be prey, he used to think, until it came to him that they were the prey.
The ranger shook his head. "Men. The wolves still keep their distance. These men are not so shy."
Meera Reed pushed back her hood. The wet snow that had covered it tumbled to the ground with a soft thump. "How many men? Who are they?"
"Foes. I'll deal with them."
"I'll come with you."
"You'll stay. The boy must be protected. There is a lake ahead, hard frozen. When you come on it, turn north and follow the shoreline. You'll come to a fishing village. Take refuge there until I can catch up with you."
Bran thought that Meera meant to argue until her brother said, "Do as he says. He knows this land." Jojen's eyes were a dark green, the color of moss, but heavy with a weariness that Bran had never seen in them before. The little grandfather. South of the Wall, the boy from the crannogs had seemed to be wise beyond his years, but up here he was as lost and frightened as the rest of them. Even so, Meera always listened to him.
That was still true. Coldhands slipped between the trees, back the way they'd come, with four ravens flapping after him. Meera watched him go, her cheeks red with cold, breath puffing from her nostrils. She pulled her hood back up and gave the elk a nudge, and their trek resumed. Before they had gone twenty yards, though, she turned to glance behind them and said, "Men, he says. What men? Does he mean wildlings? Why won't he say?"
"He said he'd go and deal with them," said Bran.
"He said, aye. He said he would take us to this three-eyed crow too. That river we crossed this morning is the same one we crossed four days ago, I swear. We're going in circles."
"Rivers turn and twist," Bran said uncertainly, "and where there's lakes and hills, you need to go around."
"There's been too much going around," Meera insisted, "and too many secrets. I don't like it. I don't like him. And I don't trust him. Those hands of his are bad enough. He hides his face, and will not speak a name. Who is he? What is he? Anyone can put on a black cloak. Anyone, or any thing. He does not eat, he never drinks, he does not seem to feel the cold."
It's true. Bran had been afraid to speak of it, but he had noticed. Whenever they took shelter for the night, while he and Hodor and the Reeds huddled together for warmth, the ranger kept apart. Sometimes Coldhands closed his eyes, but Bran did not think he slept. And there was something else …
"The scarf." Bran glanced about uneasily, but there was not a raven to be seen. All the big black birds had left them when the ranger did. No one was listening. Even so, he kept his voice low. "The scarf over his mouth, it never gets all hard with ice, like Hodor's beard. Not even when he talks."
Meera gave him a sharp look. "You're right. We've never seen his breath, have we?"
"No." A puff of white heralded each of Hodor's hodors. When Jojen or his sister spoke, their words could be seen too. Even the elk left a warm fog upon the air when he exhaled.
"If he does not breathe …"
Bran found himself remembering the tales Old Nan had told him when he was a babe. Beyond the Wall the monsters live, the giants and the ghouls, the stalking shadows and the dead that walk, she would say, tucking him in beneath his scratchy woolen blanket, but they cannot pass so long as the Wall stands strong and the men of the Night's Watch are true. So go to sleep, my little Brandon, my baby boy, and dream sweet dreams. There are no monsters here. The ranger wore the black of the Night's Watch, but what if he was not a man at all? What if he was some monster, taking them to the other monsters to be devoured?
"The ranger saved Sam and the girl from the wights," Bran said, hesitantly, "and he's taking me to the three-eyed crow."
"Why won't this three-eyed crow come to us? Why couldn't he meet us at the Wall? Crows have wings. My brother grows weaker every day. How long can we go on?"
Jojen coughed. "Until we get there."
They came upon the promised lake not long after, and turned north as the ranger had bid them. That was the easy part.
The water was frozen, and the snow had been falling for so long that Bran had lost count of the days, turning the lake into a vast white wilderness. Where the ice was flat and the ground was bumpy, the going was easy, but where the wind had pushed the snow up into ridges, sometimes it was hard to tell where the lake ended and the shore began. Even the trees were not as infallible a guide as they might have hoped, for there were wooded islands in the lake, and wide areas ashore where no trees grew.
The elk went where he would, regardless of the wishes of Meera and Jojen on his back. Mostly he stayed beneath the trees, but where the shore curved away westward he would take the more direct path across the frozen lake, shouldering through snowdrifts taller than Bran as the ice crackled underneath his hooves. Out there the wind was stronger, a cold north wind that howled across the lake, knifed through their layers of wool and leather, and set them all to shivering. When it blew into their faces, it would drive the snow into their eyes and leave them as good as blind.
Hours passed in silence. Ahead, shadows began to steal between the trees, the long fingers of the dusk. Dark came early this far north. Bran had come to dread that. Each day seemed shorter than the last, and where the days were cold, the nights were bitter cruel.
Meera halted them again. "We should have come on the village by now." Her voice sounded hushed and strange.
"Could we have passed it?" Bran asked.
"I hope not. We need to find shelter before nightfall."
She was not wrong. Jojen's lips were blue, Meera's cheeks dark red. Bran's own face had gone numb. Hodor's beard was solid ice. Snow caked his legs almost to the knee, and Bran had felt him stagger more than once. No one was as strong as Hodor, no one. If even his great strength was failing …
"Summer can find the village," Bran said suddenly, his words misting in the air. He did not wait to hear what Meera might say, but closed his eyes and let himself flow from his broken body.
As he slipped inside Summer's skin, the dead woods came to sudden life. Where before there had been silence, now he heard: wind in the trees, Hodor's breathing, the elk pawing at the ground in search of fodder. Familiar scents filled his nostrils: wet leaves and dead grass, the rotted carcass of a squirrel decaying in the brush, the sour stink of man-sweat, the musky odor of the elk. Food. Meat. The elk sensed his interest. He turned his head toward the direwolf, wary, and lowered his great antlers.
He is not prey, the boy whispered to the beast who shared his skin. Leave him. Run.
Summer ran. Across the lake he raced, his paws kicking up sprays of snow behind him. The trees stood shoulder to shoulder, like men in a battle line, all cloaked in white. Over roots and rocks the direwolf sped, through a drift of old snow, the crust crackling beneath his weight. His paws grew wet and cold. The next hill was covered with pines, and the sharp scent of their needles filled the air. When he reached the top, he turned in a circle, sniffing at the air, then raised his head and howled.
The smells were there. Mansmells.
Ashes, Bran thought, old and faint, but ashes. It was the smell of burnt wood, soot, and charcoal. A dead fire.
He shook the snow off his muzzle. The wind was gusting, so the smells were hard to follow. The wolf turned this way and that, sniffing. All around were heaps of snow and tall trees garbed in white. The wolf let his tongue loll out between his teeth, tasting the frigid air, his breath misting as snowflakes melted on his tongue. When he trotted toward the scent, Hodor lumbered after him at once. The elk took longer to decide, so Bran returned reluctantly to his own body and said, "That way. Follow Summer. I smelled it."
As the first sliver of a crescent moon came peeking through the clouds, they finally stumbled into the village by the lake. They had almost walked straight through it. From the ice, the village looked no different than a dozen other spots along the lakeshore. Buried under drifts of snow, the round stone houses could just as easily have been boulders or hillocks or fallen logs, like the deadfall that Jojen had mistaken for a building the day before, until they dug down into it and found only broken branches and rotting logs.
The village was empty, abandoned by the wildlings who had once lived there, like all the other villages they had passed. Some had been burned, as if the inhabitants had wanted to make certain they could not come creeping back, but this one had been spared the torch. Beneath the snow they found a dozen huts and a longhall, with its sod roof and thick walls of rough-hewn logs.
"At least we will be out of the wind," Bran said.
"Hodor," said Hodor.
Meera slid down from the elk's back. She and her brother helped lift Bran out of the wicker basket. "Might be the wildlings left some food behind," she said.
That proved a forlorn hope. Inside the longhall they found the ashes of a fire, floors of hard-packed dirt, a chill that went bone deep. But at least they had a roof above their heads and log walls to keep the wind off. A stream ran nearby, covered with a film of ice. The elk had to crack it with his hoof to drink. Once Bran and Jojen and Hodor were safely settled, Meera fetched back some chunks of broken ice for them to suck on. The melting water was so cold it made Bran shudder.
Summer did not follow them into the longhall. Bran could feel the big wolf's hunger, a shadow of his own. "Go hunt," he told him, "but you leave the elk alone." Part of him was wishing he could go hunting too. Perhaps he would, later.
Supper was a fistful of acorns, crushed and pounded into paste, so bitter that Bran gagged as he tried to keep it down. Jojen Reed did not even make the attempt. Younger and frailer than his sister, he was growing weaker by the day.
"Jojen, you have to eat," Meera told him.
"Later. I just want to rest." Jojen smiled a wan smile. "This is not the day I die, sister. I promise you."
"You almost fell off the elk."
"Almost. I am cold and hungry, that's all."
"Then eat."
"Crushed acorns? My belly hurts, but that will only make it worse. Leave me be, sister. I'm dreaming of roast chicken."
"Dreams will not sustain you. Not even greendreams."
"Dreams are what we have."
All we have. The last of the food that they had brought from the south was ten days gone. Since then hunger walked beside them day and night. Even Summer could find no game in these woods. They lived on crushed acorns and raw fish. The woods were full of frozen streams and cold black lakes, and Meera was as good a fisher with her three-pronged frog spear as most men were with hook and line. Some days her lips were blue with cold by the time she waded back to them with her catch wriggling on her tines. It had been three days since Meera caught a fish, however. Bran's belly felt so hollow it might have been three years.
After they choked down their meagre supper, Meera sat with her back against a wall, sharpening her dagger on a whetstone. Hodor squatted down beside the door, rocking back and forth on his haunches and muttering, "Hodor, hodor, hodor."
Bran closed his eyes. It was too cold to talk, and they dare not light a fire. Coldhands had warned them against that. These woods are not as empty as you think, he had said. You cannot know what the light might summon from the darkness. The memory made him shiver, despite the warmth of Hodor beside him.
Sleep would not come, could not come. Instead there was wind, the biting cold, moonlight on snow, and fire. He was back inside Summer, long leagues away, and the night was rank with the smell of blood. The scent was strong. A kill, not far. The flesh would still be warm. Slaver ran between his teeth as the hunger woke inside him. Not elk. Not deer. Not this.
The direwolf moved toward the meat, a gaunt grey shadow sliding from tree to tree, through pools of moonlight and over mounds of snow. The wind gusted around him, shifting. He lost the scent, found it, then lost it again. As he searched for it once more, a distant sound made his ears prick up.
Wolf, he knew at once. Summer stalked toward the sound, wary now. Soon enough the scent of blood was back, but now there were other smells: piss and dead skins, bird shit, feathers, and wolf, wolf, wolf. A pack. He would need to fight for his meat.
They smelled him too. As he moved out from amongst the darkness of the trees into the bloody glade, they were watching him. The female was chewing on a leather boot that still had half a leg in it, but she let it fall at his approach. The leader of the pack, an old male with a grizzled white muzzle and a blind eye, moved out to meet him, snarling, his teeth bared. Behind him, a younger male showed his fangs as well.
The direwolf's pale yellow eyes drank in the sights around them. A nest of entrails coiled through a bush, entangled with the branches. Steam rising from an open belly, rich with the smells of blood and meat. A head staring sightlessly up at a horned moon, cheeks ripped and torn down to bloody bone, pits for eyes, neck ending in a ragged stump. A pool of frozen blood, glistening red and black.
Men. The stink of them filled the world. Alive, they had been as many as the fingers on a man's paw, but now they were none. Dead. Done. Meat. Cloaked and hooded, once, but the wolves had torn their clothing into pieces in their frenzy to get at the flesh. Those who still had faces wore thick beards crusted with ice and frozen snot. The falling snow had begun to bury what remained of them, so pale against the black of ragged cloaks and breeches. Black.
Long leagues away, the boy stirred uneasily.
Black. Night's Watch. They were Night's Watch.
The direwolf did not care. They were meat. He was hungry.
The eyes of the three wolves glowed yellow. The direwolf swung his head from side to side, nostrils flaring, then bared his fangs in a snarl. The younger male backed away. The direwolf could smell the fear in him. Tail, he knew. But the one-eyed wolf answered with a growl and moved to block his advance. Head. And he does not fear me though I am twice his size.
Their eyes met.
Warg!
Then the two rushed together, wolf and direwolf, and there was no more time for thought. The world shrank down to tooth and claw, snow flying as they rolled and spun and tore at one another, the other wolves snarling and snapping around them. His jaws closed on matted fur slick with hoarfrost, on a limb thin as a dry stick, but the one-eyed wolf clawed at his belly and tore himself free, rolled, lunged for him. Yellow fangs snapped closed on his throat, but he shook off his old grey cousin as he would a rat, then charged after him, knocked him down. Rolling, ripping, kicking, they fought until the both of them were ragged and fresh blood dappled the snows around them. But finally the old one-eyed wolf lay down and showed his belly. The direwolf snapped at him twice more, sniffed at his butt, then lifted a leg over him.
A few snaps and a warning growl, and the female and the tail submitted too. The pack was his.
The prey as well. He went from man to man, sniffing, before settling on the biggest, a faceless thing who clutched black iron in one hand. His other hand was missing, severed at the wrist, the stump bound up in leather. Blood flowed thick and sluggish from the slash across his throat. The wolf lapped at it with his tongue, licked the ragged eyeless ruin of his nose and cheeks, then buried his muzzle in his neck and tore it open, gulping down a gobbet of sweet meat. No flesh had ever tasted half as good.
When he was done with that one, he moved to the next, and devoured the choicest bits of that man too. Ravens watched him from the trees, squatting dark-eyed and silent on the branches as snow drifted down around them. The other wolves made do with his leavings; the old male fed first, then the female, then the tail. They were his now. They were pack.
No, the boy whispered, we have another pack. Lady's dead and maybe Grey Wind too, but somewhere there's still Shaggydog and Nymeria and Ghost. Remember Ghost?
Falling snow and feasting wolves began to dim. Warmth beat against his face, comforting as a mother's kisses. Fire, he thought, smoke. His nose twitched to the smell of roasting meat. And then the forest fell away, and he was back in the longhall again, back in his broken body, staring at a fire. Meera Reed was turning a chunk of raw red flesh above the flames, letting it char and spit. "Just in time," she said. Bran rubbed his eyes with the heel of his hand and wriggled backwards against the wall to sit. "You almost slept through supper. The ranger found a sow."
Behind her, Hodor was tearing eagerly at a chunk of hot charred flesh as blood and grease ran down into his beard. Wisps of smoke rose from between his fingers. "Hodor," he muttered between bites, "hodor, hodor." His sword lay on the earthen floor beside him. Jojen Reed nipped at his own joint with small bites, chewing each chunk of meat a dozen times before swallowing.
The ranger killed a pig. Coldhands stood beside the door, a raven on his arm, both staring at the fire. Reflections from the flames glittered off four black eyes. He does not eat, Bran remembered, and he fears the flames.
"You said no fire," he reminded the ranger.
"The walls around us hide the light, and dawn is close. We will be on our way soon."
"What happened to the men? The foes behind us?"
"They will not trouble you."
"Who were they? Wildlings?"
Meera turned the meat to cook the other side. Hodor was chewing and swallowing, muttering happily under his breath. Only Jojen seemed aware of what was happening as Coldhands turned his head to stare at Bran. "They were foes."
Men of the Night's Watch. "You killed them. You and the ravens. Their faces were all torn, and their eyes were gone." Coldhands did not deny it. "They were your brothers. I saw. The wolves had ripped their clothes up, but I could still tell. Their cloaks were black. Like your hands." Coldhands said nothing. "Who are you? Why are your hands black?"
The ranger studied his hands as if he had never noticed them before. "Once the heart has ceased to beat, a man's blood runs down into his extremities, where it thickens and congeals." His voice rattled in his throat, as thin and gaunt as he was. "His hands and feet swell up and turn as black as pudding. The rest of him becomes as white as milk."
Meera Reed rose, her frog spear in her hand, a chunk of smoking meat still impaled upon its tines. "Show us your face."
The ranger made no move to obey.
"He's dead." Bran could taste the bile in his throat. "Meera, he's some dead thing. The monsters cannot pass so long as the Wall stands and the men of the Night's Watch stay true, that's what Old Nan used to say. He came to meet us at the Wall, but he could not pass. He sent Sam instead, with that wildling girl."
Meera's gloved hand tightened around the shaft of her frog spear. "Who sent you? Who is this three-eyed crow?"
"A friend. Dreamer, wizard, call him what you will. The last greenseer." The longhall's wooden door banged open. Outside, the night wind howled, bleak and black. The trees were full of ravens, screaming. Coldhands did not move.
"A monster," Bran said.
The ranger looked at Bran as if the rest of them did not exist. "Your monster, Brandon Stark."
"Yours," the raven echoed, from his shoulder. Outside the door, the ravens in the trees took up the cry, until the night wood echoed to the murderer's song of "Yours, yours, yours."
"Jojen, did you dream this?" Meera asked her brother. "Who is he? What is he? What do we do now?"
"We go with the ranger," said Jojen. "We have come too far to turn back now, Meera. We would never make it back to the Wall alive. We go with Bran's monster, or we die."

TYRION
They departed Pentos by the Sunrise Gate, though Tyrion Lannister never glimpsed the sunrise. "It will be as if you had never come to Pentos, my little friend," promised Magister Illyrio, as he drew shut the litter's purple velvet drapes. "No man must see you leave the city, as no man saw you enter."
"No man except the sailors who stuffed me in that barrel, the cabin boy who cleaned up after me, the girl you sent to warm my bed, and that treacherous freckled washerwoman. Oh, and your guards. Unless you removed their wits along with their balls, they know you're not alone in here." The litter was suspended between eight mammoth draft horses on heavy leather straps. Four eunuchs paced beside the horses, two to either side, and more were trudging along behind to guard the baggage train.
"Unsullied tell no tales," Illyrio assured him. "And the galley that delivered you is on her way to Asshai even now. It will be two years before she returns, if the seas are kind. As for my household, they love me well. None would betray me."
Cherish that thought, my fat friend. One day we will carve those words upon your crypt. "We should be aboard that galley," the dwarf said. "The fastest way to Volantis is by sea."
"The sea is hazardous," replied Illyrio. "Autumn is a season rife with storms, and pirates still make their dens upon the Stepstones and venture forth to prey on honest men. It would never do for my little friend to fall into such hands."
"There are pirates on the Rhoyne as well."
"River pirates." The cheesemonger gave a yawn, covering his mouth with the back of his hand. "Cockroach captains scurrying after crumbs."
"One hears talk of stone men as well."
"They are real enough, poor damned things. But why speak of such things? The day is too fine for such talk. We shall see the Rhoyne soon, and there you shall be rid of Illyrio and his big belly. Till then, let us drink and dream. We have sweet wine and savories to enjoy. Why dwell upon disease and death?"
Why indeed? Tyrion heard the thrum of a crossbow once again, and wondered. The litter swayed side to side, a soothing movement that made him feel as if he were a child being rocked to sleep in his mother's arms. Not that I would know what that was like. Silk pillows stuffed with goose down cushioned his cheeks. The purple velvet walls curved overhead to form a roof, making it pleasantly warm within despite the autumn chill outside.
A train of mules trailed behind them, carrying chests and casks and barrels, and hampers of delectables to keep the lord of cheese from growing peckish. They nibbled on spiced sausage that morning, washed down with a dark smokeberry brown. Jellied eels and Dornish reds filled their afternoon. Come evening there were sliced hams, boiled eggs, and roasted larks stuffed with garlic and onions, with pale ales and Myrish fire wines to help in their digestion. The litter was as slow as it was comfortable, however, and the dwarf soon found himself itching with impatience.
"How many days until we reach the river?" he asked Illyrio that evening. "At this pace, your queen's dragons will be larger than Aegon's three before I can lay eyes upon them."
"Would it were so. A large dragon is more fearsome than a small one." The magister shrugged. "Much as it would please me to welcome Queen Daenerys to Volantis, I must rely on you and Griff for that. I can serve her best in Pentos, smoothing the way for her return. So long as I am with you, though … well, an old fat man must have his comforts, yes? Come, drink a cup of wine."
"Tell me," Tyrion said as he drank, "why should a magister of Pentos give three figs who wears the crown in Westeros? Where is the gain for you in this venture, my lord?"
The fat man dabbed grease from his lips. "I am an old man, grown weary of this world and its treacheries. Is it so strange that I should wish to do some good before my days are done, to help a sweet young girl regain her birthright?"
Next you will be offering me a suit of magic armor and a palace in Valyria. "If Daenerys is no more than a sweet young girl, the Iron Throne will cut her into sweet young pieces."
"Fear not, my little friend. The blood of Aegon the Dragon flows in her veins."
Along with the blood of Aegon the Unworthy, Maegor the Cruel, and Baelor the Befuddled. "Tell me more of her."
The fat man grew pensive. "Daenerys was half a child when she came to me, yet fairer even than my second wife, so lovely I was tempted to claim her for myself. Such a fearful, furtive thing, however, I knew I should get no joy from coupling with her. Instead I summoned a bedwarmer and fucked her vigorously until the madness passed. If truth be told, I did not think Daenerys would survive for long amongst the horselords."
"That did not stop you selling her to Khal Drogo …"
"Dothraki neither buy nor sell. Say rather that her brother Viserys gave her to Drogo to win the khal's friendship. A vain young man, and greedy. Viserys lusted for his father's throne, but he lusted for Daenerys too, and was loath to give her up. The night before the princess wed he tried to steal into her bed, insisting that if he could not have her hand, he would claim her maidenhead. Had I not taken the precaution of posting guards upon her door, Viserys might have undone years of planning."
"He sounds an utter fool."
"Viserys was Mad Aerys's son, just so. Daenerys … Daenerys is quite different." He popped a roasted lark into his mouth and crunched it noisily, bones and all. "The frightened child who sheltered in my manse died on the Dothraki sea, and was reborn in blood and fire. This dragon queen who wears her name is a true Targaryen. When I sent ships to bring her home, she turned toward Slaver's Bay. In a short span of days she conquered Astapor, made Yunkai bend the knee, and sacked Meereen. Mantarys will be next, if she marches west along the old Valyrian roads. If she comes by sea, well … her fleet must take on food and water at Volantis."
"By land or by sea, there are long leagues between Meereen and Volantis," Tyrion observed.
"Five hundred fifty, as the dragon flies, through deserts, mountains, swamps, and demon-haunted ruins. Many and more will perish, but those who survive will be stronger by the time they reach Volantis … where they shall find you and Griff awaiting them, with fresh forces and sufficient ships to carry them all across the sea to Westeros."
Tyrion pondered all he knew of Volantis, oldest and proudest of the Nine Free Cities. Something was awry here. Even with half a nose, he could smell it. "It's said there are five slaves for every free man in Volantis. Why would the triarchs assist a queen who smashed the slave trade?" He pointed at Illyrio. "For that matter, why would you? Slavery may be forbidden by the laws of Pentos, yet you have a finger in that trade as well, and maybe a whole hand. And yet you conspire for the dragon queen, and not against her. Why? What do you hope to gain from Queen Daenerys?"
"Are we back to that again? You are a persistent little man." Illyrio gave a laugh and slapped his belly. "As you will. The Beggar King swore that I should be his master of coin, and a lordly lord as well. Once he wore his golden crown, I should have my choice of castles … even Casterly Rock, if I desired."
Tyrion snorted wine back up the scarred stump that had been his nose. "My father would have loved to hear that."
"Your lord father had no cause for concern. Why would I want a rock? My manse is large enough for any man, and more comfortable than your drafty Westerosi castles. Master of coin, though …" The fat man peeled another egg. "I am fond of coins. Is there any sound as sweet as the clink of gold on gold?"
A sister's screams. "Are you quite certain that Daenerys will make good her brother's promises?"
"She will, or she will not." Illyrio bit the egg in half. "I told you, my little friend, not all that a man does is done for gain. Believe as you wish, but even fat old fools like me have friends, and debts of affection to repay."
Liar, thought Tyrion. There is something in this venture worth more to you than coin or castles. "You meet so few men who value friendship over gold these days."
"Too true," the fat man said, deaf to the irony.
"How is it that the Spider became so dear to you?"
"We were young together, two green boys in Pentos."
"Varys came from Myr."
"So he did. I met him not long after he arrived, one step ahead of the slavers. By day he slept in the sewers, by night he prowled the rooftops like a cat. I was near as poor, a bravo in soiled silks, living by my blade. Perhaps you chanced to glimpse the statue by my pool? Pytho Malanon carved that when I was six-and-ten. A lovely thing, though now I weep to see it."
"Age makes ruins of us all. I am still in mourning for my nose. But Varys …"
"In Myr he was a prince of thieves, until a rival thief informed on him. In Pentos his accent marked him, and once he was known for a eunuch he was despised and beaten. Why he chose me to protect him I may never know, but we came to an arrangement. Varys spied on lesser thieves and took their takings. I offered my help to their victims, promising to recover their valuables for a fee. Soon every man who had suffered a loss knew to come to me, whilst city's footpads and cutpurses sought out Varys … half to slit his throat, the other half to sell him what they'd stolen. We both grew rich, and richer still when Varys trained his mice."
"In King's Landing he kept little birds."
"Mice, we called them then. The older thieves were fools who thought no further than turning a night's plunder into wine. Varys preferred orphan boys and young girls. He chose the smallest, the ones who were quick and quiet, and taught them to climb walls and slip down chimneys. He taught them to read as well. We left the gold and gems for common thieves. Instead our mice stole letters, ledgers, charts … later, they would read them and leave them where they lay. Secrets are worth more than silver or sapphires, Varys claimed. Just so. I grew so respectable that a cousin of the Prince of Pentos let me wed his maiden daughter, whilst whispers of a certain eunuch's talents crossed the narrow sea and reached the ears of a certain king. A very anxious king, who did not wholly trust his son, nor his wife, nor his Hand, a friend of his youth who had grown arrogant and overproud. I do believe that you know the rest of this tale, is that not so?"
"Much of it," Tyrion admitted. "I see that you are somewhat more than a cheesemonger after all."
Illyrio inclined his head. "You are kind to say so, my little friend. And for my part, I see that you are just as quick as Lord Varys claimed." He smiled, showing all his crooked yellow teeth, and shouted for another jar of Myrish fire wine.
When the magister drifted off to sleep with the wine jar at his elbow, Tyrion crept across the pillows to work it loose from its fleshy prison and pour himself a cup. He drained it down, and yawned, and filled it once again. If I drink enough fire wine, he told himself, perhaps I'll dream of dragons.
When he was still a lonely child in the depths of Casterly Rock, he oft rode dragons through the nights, pretending he was some lost Targaryen princeling, or a Valyrian dragonlord soaring high o'er fields and mountains. Once, when his uncles asked him what gift he wanted for his nameday, he begged them for a dragon. "It wouldn't need to be a big one. It could be little, like I am." His uncle Gerion thought that was the funniest thing he had ever heard, but his uncle Tygett said, "The last dragon died a century ago, lad." That had seemed so monstrously unfair that the boy had cried himself to sleep that night.
Yet if the lord of cheese could be believed, the Mad King's daughter had hatched three living dragons. Two more than even a Targaryen should require. Tyrion was almost sorry that he had killed his father. He would have enjoyed seeing Lord Tywin's face when he learned that there was a Targaryen queen on her way to Westeros with three dragons, backed by a scheming eunuch and a cheesemonger half the size of Casterly Rock.
The dwarf was so stuffed that he had to undo his belt and the topmost laces on his breeches. The boy's clothes his host had dressed him in made him feel like ten pounds of sausage in a five-pound skin. If we eat this way every day I will be the size of Illyrio before I meet this dragon queen. Outside the litter night had fallen. Inside all was dark. Tyrion listened to Illyrio's snores, the creak of the leather straps, the slow clop clop of the team's ironshod hooves on the hard Valyrian road, but his heart was listening for the beat of leathern wings.
When he woke, dawn had come. The horses plodded on, the litter creaking and swaying between them. Tyrion pulled the curtain back an inch to peer outside, but there was little to see but ochre fields, bare brown elms, and the road itself, a broad stone highway that ran straight as a spear to the horizon. He had read about Valyrian roads, but this was the first he had seen. The Freehold's grasp had reached as far as Dragonstone, but never to the mainland of Westeros itself. Odd, that. Dragonstone is no more than a rock. The wealth was farther west, but they had dragons. Surely they knew that it was there.
He had drunk too much last night. His head was pounding, and even the gentle swaying of the litter was enough to make his gorge rise in his throat. Though he said no word of complaint, his distress must have been plain to Illyrio Mopatis. "Come, drink with me," the fat man said. "A scale from the dragon that burned you, as they say." He poured for them from a flagon of blackberry wine so sweet that it drew more flies than honey. Tyrion shooed them off with the back of his hand and drank deep. The taste was so cloying that it was all he could do to keep it down. The second cup went down easier, however. Even so, he had no appetite, and when Illyrio offered him a bowl of blackberries in cream he waved it off. "I dreamed about the queen," he said. "I was on my knees before her, swearing my allegiance, but she mistook me for my brother, Jaime, and fed me to her dragons."
"Let us hope this dream was not prophetic. You are a clever imp, just as Varys said, and Daenerys will have need of clever men about her. Ser Barristan is a valiant knight and true; but none, I think, has ever called him cunning."
"Knights know only one way to solve a problem. They couch their lances and charge. A dwarf has a different way of looking at the world. What of you, though? You are a clever man yourself."
"You flatter me." Illyrio waggled his hand. "Alas, I am not made for travel, so I will send you to Daenerys in my stead. You did Her Grace a great service when you slew your father, and it is my hope that you will do her many more. Daenerys is not the fool her brother was. She will make good use of you."
As kindling? Tyrion thought, smiling pleasantly.
They changed out teams only thrice that day but seemed to halt twice an hour at the least so Illyrio could climb down from the litter and have himself a piss. Our lord of cheese is the size of an elephant, but he has a bladder like a peanut, the dwarf mused. During one stop, he used the time to have a closer look at the road. Tyrion knew what he would find: not packed earth, nor bricks, nor cobbles, but a ribbon of fused stone raised a half foot above the ground to allow rainfall and snowmelt to run off its shoulders. Unlike the muddy tracks that passed for roads in the Seven Kingdoms, the Valyrian roads were wide enough for three wagons to pass abreast, and neither time nor traffic marred them. They still endured, unchanging, four centuries after Valyria itself had met its Doom. He looked for ruts and cracks but found only a pile of warm dung deposited by one of the horses.
The dung made him think of his lord father. Are you down in some hell, Father? A nice cold hell where you can look up and see me help restore Mad Aerys's daughter to the Iron Throne?
As they resumed their journey, Illyrio produced a bag of roasted chestnuts and began to speak once more of the dragon queen. "Our last news of Queen Daenerys is old and stale, I fear. By now she will have left Meereen, we must assume. She has her host at last, a ragged host of sellswords, Dothraki horselords, and Unsullied infantry, and she will no doubt lead them west, to take back her father's throne." Magister Illyrio twisted open a pot of garlic snails, sniffed at them, and smiled. "At Volantis, you will have fresh tidings of Daenerys, we must hope," he said, as he sucked one from its shell. "Dragons and young girls are both capricious, and it may be that you will need to adjust your plans. Griff will know what to do. Will you have a snail? The garlic is from my own gardens."
I could ride a snail and make a better pace than this litter of yours. Tyrion waved the dish away. "You place a deal of trust in this man Griff. Another friend of your childhood?"
"No. A sellsword, you would call him, but Westerosi born. Daenerys needs men worthy of her cause." Illyrio raised a hand. "I know! 'Sellswords put gold before honor,' you are thinking. 'This man Griff will sell me to my sister.' Not so. I trust Griff as I would trust a brother."
Another mortal error. "Then I shall do likewise."
"The Golden Company marches toward Volantis as we speak, there to await the coming of our queen out of the east."
Beneath the gold, the bitter steel. "I had heard the Golden Company was under contract with one of the Free Cities."
"Myr." Illyrio smirked. "Contracts can be broken."
"There is more coin in cheese than I knew," said Tyrion. "How did you accomplish that?"
The magister waggled his fat fingers. "Some contracts are writ in ink, and some in blood. I say no more."
The dwarf pondered that. The Golden Company was reputedly the finest of the free companies, founded a century ago by Bittersteel, a bastard son of Aegon the Unworthy. When another of Aegon's Great Bastards tried to seize the Iron Throne from his trueborn half-brother, Bittersteel joined the revolt. Daemon Blackfyre had perished on the Redgrass Field, however, and his rebellion with him. Those followers of the Black Dragon who survived the battle yet refused to bend the knee fled across the narrow sea, among them Daemon's younger sons, Bittersteel, and hundreds of landless lords and knights who soon found themselves forced to sell their swords to eat. Some joined the Ragged Standard, some the Second Sons or Maiden's Men. Bittersteel saw the strength of House Blackfyre scattering to the four winds, so he formed the Golden Company to bind the exiles together.
From that day to this, the men of the Golden Company had lived and died in the Disputed Lands, fighting for Myr or Lys or Tyrosh in their pointless little wars, and dreaming of the land their fathers had lost. They were exiles and sons of exiles, dispossessed and unforgiven … yet formidable fighters still.
"I admire your powers of persuasion," Tyrion told Illyrio. "How did you convince the Golden Company to take up the cause of our sweet queen when they have spent so much of their history fighting against the Targaryens?"
Illyrio brushed away the objection as if it were a fly. "Black or red, a dragon is still a dragon. When Maelys the Monstrous died upon the Stepstones, it was the end of the male line of House Blackfyre." The cheesemonger smiled through his forked beard. "And Daenerys will give the exiles what Bittersteel and the Blackfyres never could. She will take them home."
With fire and sword. It was the kind of homecoming that Tyrion wished for as well. "Ten thousand swords makes for a princely gift, I grant you. Her Grace should be most pleased."
The magister gave a modest bob of his head, chins jiggling. "I would never presume to say what might please Her Grace."
Prudent of you. Tyrion knew much and more about the gratitude of kings. Why should queens be any different?
Soon enough the magister was fast asleep, leaving Tyrion to brood alone. He wondered what Barristan Selmy would think of riding into battle with the Golden Company. During the War of the Ninepenny Kings, Selmy had cut a bloody path through their ranks to slay the last of the Blackfyre Pretenders. Rebellion makes for queer bedfellows. And none more queer than this fat man and me.
The cheesemonger woke when they stopped to change the horses and sent for a fresh hamper. "How far have we come?" the dwarf asked him as they stuffed themselves with cold capon and a relish made of carrots, raisins, and bits of lime and orange.
"This is Andalos, my friend. The land your Andals came from. They took it from the hairy men who were here before them, cousins to the hairy men of Ib. The heart of Hugor's ancient realm lies north of us, but we are passing through its southern marches. In Pentos, these are called the Flatlands. Farther east stand the Velvet Hills, whence we are bound."
Andalos. The Faith taught that the Seven themselves had once walked the hills of Andalos in human form. "The Father reached his hand into the heavens and pulled down seven stars," Tyrion recited from memory, "and one by one he set them on the brow of Hugor of the Hill to make a glowing crown."
Magister Illyrio gave him a curious look. "I did not dream my little friend was so devout."
The dwarf shrugged. "A relic of my boyhood. I knew I would not make a knight, so I decided to be High Septon. That crystal crown adds a foot to a man's height. I studied the holy books and prayed until I had scabs on both my knees, but my quest came to a tragic end. I reached that certain age and fell in love."
"A maiden? I know the way of that." Illyrio thrust his right hand up his left sleeve and drew out a silver locket. Inside was a painted likeness of a woman with big blue eyes and pale golden hair streaked by silver. "Serra. I found her in a Lysene pillow house and brought her home to warm my bed, but in the end I wed her. Me, whose first wife had been a cousin of the Prince of Pentos. The palace gates were closed to me thereafter, but I did not care. The price was small enough, for Serra."
"How did she die?" Tyrion knew that she was dead; no man spoke so fondly of a woman who had abandoned him.
"A Braavosi trading galley called at Pentos on her way back from the Jade Sea. The Treasure carried cloves and saffron, jet and jade, scarlet samite, green silk … and the grey death. We slew her oarsmen as they came ashore and burned the ship at anchor, but the rats crept down the oars and paddled to the quay on cold stone feet. The plague took two thousand before it ran its course." Magister Illyrio closed the locket. "I keep her hands in my bedchamber. Her hands that were so soft …"
Tyrion thought of Tysha. He glanced out at the fields where once the gods had walked. "What sort of gods make rats and plagues and dwarfs?" Another passage from The Seven-Pointed Star came back to him. "The Maid brought him forth a girl as supple as a willow with eyes like deep blue pools, and Hugor declared that he would have her for his bride. So the Mother made her fertile, and the Crone foretold that she would bear the king four-and-forty mighty sons. The Warrior gave strength to their arms, whilst the Smith wrought for each a suit of iron plates."
"Your Smith must have been Rhoynish," Illyrio quipped. "The Andals learned the art of working iron from the Rhoynar who dwelt along the river. This is known."
"Not by our septons." Tyrion gestured at the fields. "Who dwells in these Flatlands of yours?"
"Tillers and toilers, bound to the land. There are orchards, farms, mines … I own some such myself, though I seldom visit them. Why should I spend my days out here, with the myriad delights of Pentos close at hand?"
"Myriad delights." And huge thick walls. Tyrion swirled his wine in his cup. "We have seen no towns since Pentos."
"There are ruins." Illyrio waved a chicken leg toward the curtains. "The horselords come this way, whenever some khal takes it into his head to gaze upon the sea. The Dothraki are not fond of towns, you will know this even in Westeros."
"Fall upon one of these khalasars and destroy it, and you may find that the Dothraki are not so quick to cross the Rhoyne."
"It is cheaper to buy off foes with food and gifts."
If only I had thought to bring a nice cheese to the battle on the Blackwater, I might still have all my nose. Lord Tywin had always held the Free Cities in contempt. They fight with coins instead of swords, he used to say. Gold has its uses, but wars are won with iron. "Give gold to a foe and he will just come back for more, my father always said."
"Is this the selfsame father that you murdered?" Illyrio tossed his chicken bone from the litter. "Sellswords will not stand against Dothraki screamers. That was proved at Qohor."
"Not even your brave Griff?" mocked Tyrion.
"Griff is different. He has a son he dotes on. Young Griff, the boy is called. There never was a nobler lad."
The wine, the food, the sun, the sway of the litter, the buzzing of the flies, all conspired to make Tyrion sleepy. So he slept, woke, drank. Illyrio matched him cup for cup. And as the sky turned a dusky purple, the fat man began to snore.
That night Tyrion Lannister dreamed of a battle that turned the hills of Westeros as red as blood. He was in the midst of it, dealing death with an axe as big as he was, fighting side by side with Barristan the Bold and Bittersteel as dragons wheeled across the sky above them. In the dream he had two heads, both noseless. His father led the enemy, so he slew him once again. Then he killed his brother, Jaime, hacking at his face until it was a red ruin, laughing every time he struck a blow. Only when the fight was finished did he realize that his second head was weeping.
When he woke his stunted legs were stiff as iron. Illyrio was eating olives. "Where are we?" Tyrion asked him.
"We have not yet left the Flatlands, my hasty friend. Soon our road shall pass into the Velvet Hills. There we begin our climb toward Ghoyan Drohe, upon the Little Rhoyne."
Ghoyan Drohe had been a Rhoynar city, until the dragons of Valyria had reduced it to a smoldering desolation. I am traveling through years as well as leagues, Tyrion reflected, back through history to the days when dragons ruled the earth.
Tyrion slept and woke and slept again, and day and night seemed not to matter. The Velvet Hills proved a disappointment. "Half the whores in Lannisport have breasts bigger than these hills," he told Illyrio. "You ought to call them the Velvet Teats." They saw a circle of standing stones that Illyrio claimed had been raised by giants, and later a deep lake. "Here lived a den of robbers who preyed on all who passed this way," Illyrio said. "It is said they still dwell beneath the water. Those who fish the lake are pulled under and devoured." The next evening they came upon a huge Valyrian sphinx crouched beside the road. It had a dragon's body and a woman's face.
"A dragon queen," said Tyrion. "A pleasant omen."
"Her king is missing." Illyrio pointed out the smooth stone plinth on which the second sphinx once stood, now grown over with moss and flowering vines. "The horselords built wooden wheels beneath him and dragged him back to Vaes Dothrak."
That is an omen too, thought Tyrion, but not as hopeful.
That night, drunker than usual, he broke into sudden song.
He rode through the streets of the city,
   down from his hill on high,
O'er the wynds and the steps and the cobbles,
   he rode to a woman's sigh.
For she was his secret treasure,
   she was his shame and his bliss.
And a chain and a keep are nothing,
   compared to a woman's kiss.
Those were all the words he knew, aside from the refrain. Hands of gold are always cold, but a woman's hands are warm. Shae's hands had beat at him as the golden hands dug into her throat. He did not remember if they'd been warm or not. As the strength went out of her, her blows became moths fluttering about his face. Each time he gave the chain another twist the golden hands dug deeper. A chain and a keep are nothing, compared to a woman's kiss. Had he kissed her one last time, after she was dead? He could not remember … though he still recalled the first time they had kissed, in his tent beside the Green Fork. How sweet her mouth had tasted.
He remembered the first time with Tysha as well. She did not know how, no more than I did. We kept bumping our noses, but when I touched her tongue with mine she trembled. Tyrion closed his eyes to bring her face to mind, but instead he saw his father, squatting on a privy with his bedrobe hiked up about his waist. "Wherever whores go," Lord Tywin said, and the crossbow thrummed.
The dwarf rolled over, pressing half a nose deep into the silken pillows. Sleep opened beneath him like a well, and he threw himself into it with a will and let the darkness eat him up.

THE MERCHANT'S MAN
Adventure stank.
She boasted sixty oars, a single sail, and a long lean hull that promised speed. Small, but she might serve, Quentyn thought when he saw her, but that was before he went aboard and got a good whiff of her. Pigs, was his first thought, but after a second sniff he changed his mind. Pigs had a cleaner smell. This stink was piss and rotting meat and nightsoil, this was the reek of corpse flesh and weeping sores and wounds gone bad, so strong that it overwhelmed the salt air and fish smell of the harbor.
"I want to retch," he said to Gerris Drinkwater. They were waiting for the ship's master to appear, sweltering in the heat as the stench wafted up from the deck beneath them.
"If the captain smells anything like his ship, he may mistake your vomit for perfume," Gerris replied.
Quentyn was about to suggest that they try another ship when the master finally made his appearance, with two vile-looking crewmen at his side. Gerris greeted him with a smile. Though he did not speak the Volantene tongue as well as Quentyn, their ruse required that he speak for them. Back in the Planky Town Quentyn had played the wineseller, but the mummery had chafed at him, so when the Dornishmen changed ships at Lys they had changed roles as well. Aboard the Meadowlark, Cletus Yronwood became the merchant, Quentyn the servant; in Volantis, with Cletus slain, Gerris had assumed the master's role.
Tall and fair, with blue-green eyes, sandy hair streaked by the sun, and a lean and comely body, Gerris Drinkwater had a swagger to him, a confidence bordering on arrogance. He never seemed ill at ease, and even when he did not speak the language, he had ways of making himself understood. Quentyn cut a poor figure by comparison—short-legged and stocky, thickly built, with hair the brown of new-turned earth. His forehead was too high, his jaw too square, his nose too broad. A good honest face, a girl had called it once, but you should smile more.
Smiles had never come easily for Quentyn Martell, any more than they did for his lord father.
"How swift is your Adventure?" Gerris said, in a halting approximation of High Valyrian.
The Adventure's master recognized the accent and responded in the Common Tongue of Westeros. "There is none swifter, honored lord. Adventure can run down the wind itself. Tell me where you wish to sail, and swiftly I shall bring you there."
"I seek passage to Meereen for myself and two servants."
That gave the captain pause. "I am no stranger to Meereen. I could find the city again, aye … but why? There are no slaves to be had in Meereen, no profit to be found there. The silver queen has put an end to that. She has even closed the fighting pits, so a poor sailor cannot even amuse himself as he waits to fill his holds. Tell me, my Westerosi friend, what is there in Meereen that you should want to go there?"
The most beautiful woman in the world, thought Quentyn. My bride-to-be, if the gods are good. Sometimes at night he lay awake imagining her face and form, and wondering why such a woman would ever want to marry him, of all the princes in the world. I am Dorne, he told himself. She will want Dorne.
Gerris answered with the tale they had concocted. "Wine is our family trade. My father owns extensive vineyards back in Dorne, and wishes me to find new markets. It is hoped that the good folk of Meereen will welcome what I sell."
"Wine? Dornish wine?" The captain was not convinced. "The slave cities are at war. Can it be you do not know this?"
"The fighting is between Yunkai and Astapor, we had heard. Meereen is not involved."
"Not as yet. But soon. An envoy from the Yellow City is in Volantis even now, hiring swords. The Long Lances have already taken ship for Yunkai, and the Windblown and the Company of the Cat will follow once they have finished filling out their ranks. The Golden Company marches east as well. All this is known."
"If you say so. I deal in wine, not wars. Ghiscari wine is poor stuff, all agree. The Meereenese will pay a good price for my fine Dornish vintages."
"Dead men do not care what kind of wine they drink." The master of Adventure fingered his beard. "I am not the first captain you have approached, I think. Nor the tenth."
"No," Gerris admitted.
"How many, then? A hundred?"
Close enough, thought Quentyn. The Volantenes were fond of boasting that the hundred isles of Braavos could be dropped into their deep harbor and drowned. Quentyn had never seen Braavos, but he could believe it. Rich and ripe and rotted, Volantis covered the mouth of the Rhoyne like a warm wet kiss, stretching across hill and marsh on both sides of the river. Ships were everywhere, coming down the river or headed out to sea, crowding the wharves and piers, taking on cargo or off-loading it: warships and whalers and trading galleys, carracks and skiffs, cogs, great cogs, longships, swan ships, ships from Lys and Tyrosh and Pentos, Qartheen spicers big as palaces, ships from Tolos and Yunkai and the Basilisks. So many that Quentyn, seeing the port for the first time from the deck of the Meadowlark, had told his friends that they would only linger here three days.
Yet twenty days had passed, and here they remained, still shipless. The captains of the Melantine, the Triarch's Daughter, and the Mermaid's Kiss had all refused them. A mate on the Bold Voyager had laughed in their faces. The master of the Dolphin berated them for wasting his time, and the owner of the Seventh Son accused them of being pirates. All on the first day.
Only the captain of the Fawn had given them reasons for his refusal. "It is true that I am sailing east," he told them, over watered wine. "South around Valyria and thence into the sunrise. We will take on water and provisions at New Ghis, then bend all oars toward Qarth and the Jade Gates. Every voyage has perils, long ones more than most. Why should I seek out more danger by turning into Slaver's Bay? The Fawn is my livelihood. I will not risk her to take three mad Dornishmen into the middle of a war."
Quentyn had begun to think that they might have done better to buy their own ship in the Planky Town. That would have drawn unwanted attention, however. The Spider had informers everywhere, even in the halls of Sunspear. "Dorne will bleed if your purpose is discovered," his father had warned him, as they watched the children frolic in the pools and fountains of the Water Gardens. "What we do is treason, make no mistake. Trust only your companions, and do your best to avoid attracting notice."
So Gerris Drinkwater gave the captain of Adventure his most disarming smile. "Truth be told, I have not kept count of all the cowards who refused us, but at the Merchant's House I heard it said that you were a bolder sort of man, the sort who might risk anything for sufficient gold."
A smuggler, Quentyn thought. That was how the other traders styled Adventure's master, back at the Merchant's House. "He is a smuggler and a slaver, half pirate and half pander, but it may be that he is your best hope," the innkeep had told them.
The captain rubbed thumb and forefinger together. "And how much gold would you deem sufficient for such a voyage?"
"Thrice your usual fee for passage to Slaver's Bay."
"For each of you?" The captain showed his teeth in something that might have been intended as a smile though it gave his narrow face a feral look. "Perhaps. It is true, I am a bolder man than most. How soon will you wish to leave?"
"The morrow would not be too soon."
"Done. Return an hour before first light, with your friends and your wines. Best to be under way whilst Volantis sleeps, so no one will ask us inconvenient questions about our destination."
"As you say. An hour before first light."
The captain's smile widened. "I am pleased that I can help you. We will have a happy voyage, yes?"
"I am certain of it," said Gerris. The captain called for ale then, and the two of them drank a toast to their venture.
"A sweet man," Gerris said afterward, as he and Quentyn made their way down to the foot of the pier where their hired hathay waited. The air hung hot and heavy, and the sun was so bright that both of them were squinting.
"This is a sweet city," Quentyn agreed. Sweet enough to rot your teeth. Sweet beets were grown in profusion hereabouts, and were served with almost every meal. The Volantenes made a cold soup of them, as thick and rich as purple honey. Their wines were sweet as well. "I fear our happy voyage will be short, however. That sweet man does not mean to take us to Meereen. He was too quick to accept your offer. He'll take thrice the usual fee, no doubt, and once he has us aboard and out of sight of land, he'll slit our throats and take the rest of our gold as well."
"Or chain us to an oar, beside those wretches we were smelling. We need to find a better class of smuggler, I think."
Their driver awaited them beside his hathay. In Westeros, it might have been called an oxcart, though it was a deal more ornate than any cart that Quentyn had ever seen in Dorne, and lacked an ox. The hathay was pulled by a dwarf elephant, her hide the color of dirty snow. The streets of Old Volantis were full of such.
Quentyn would have preferred to walk, but they were miles from their inn. Besides, the innkeep at the Merchant's House had warned him that traveling afoot would taint them in the eyes of foreign captains and the native-born Volantenes alike. Persons of quality traveled by palanquin, or in the back of a hathay … and as it happened the innkeep had a cousin who owned several such contrivances and would be pleased to serve them in this matter.
Their driver was one of the cousin's slaves, a small man with a wheel tattooed upon one cheek, naked but for a breechclout and a pair of sandals. His skin was the color of teak, his eyes chips of flint. After he had helped them up onto the cushioned bench between the cart's two huge wooden wheels, he clambered onto the elephant's back. "The Merchant's House," Quentyn told him, "but go along the wharves." Beyond the waterfront and its breezes, the streets and alleys of Volantis were hot enough to drown a man in his own sweat, at least on this side of the river.
The driver shouted something at his elephant in the local tongue. The beast began to move, trunk swaying from side to side. The cart lurched along behind her, the driver hooting at sailors and slaves alike to clear the way. It was easy enough to tell one from the other. The slaves were all tattooed: a mask of blue feathers, a lightning bolt that ran from jaw to brow, a coin upon the cheek, a leopard's spots, a skull, a jug. Maester Kedry said there were five slaves for every free man in Volantis though he had not lived long enough to verify his estimate. He had perished on the morning the corsairs swarmed aboard the Meadowlark.
Quentyn lost two other friends that same day—Willam Wells with his freckles and his crooked teeth, fearless with a lance, and Cletus Yronwood, handsome despite his lazy eye, always randy, always laughing. Cletus had been Quentyn's dearest friend for half his life, a brother in all but blood. "Give your bride a kiss for me," Cletus had whispered to him, just before he died.
The corsairs had come aboard in the darkness before the dawn, as the Meadowlark was anchored off the coast of the Disputed Lands. The crew had beaten them off, at the cost of twelve lives. Afterward the sailors stripped the dead corsairs of boots and belts and weapons, divvied up their purses, and yanked gemstones from their ears and rings from their fingers. One of the corpses was so fat that the ship's cook had to cut his fingers off with a meat cleaver to claim his rings. It took three Meadowlarks to roll the body into the sea. The other pirates were chucked in after him, without a word of prayer or ceremony.
Their own dead received more tender treatment. The sailors sewed their bodies up in canvas, weighed down with ballast stones so they might sink more quickly. The captain of the Meadowlark led his crew in a prayer for the souls of their slain shipmates. Then he turned to his Dornish passengers, the three who still remained of the six who had come aboard at the Planky Town. Even the big man had emerged, pale and greensick and unsteady on his feet, struggling up from the depths of the ship's hold to pay his last respects. "One of you should say some words for your dead, before we give them to the sea," the captain said. Gerris had obliged, lying with every other word, since he dare not tell the truth of who they'd been or why they'd come.
It was not supposed to end like that for them. "This will be a tale to tell our grandchildren," Cletus had declared the day they set out from his father's castle. Will made a face at that, and said, "A tale to tell tavern wenches, you mean, in hopes they'll lift their skirts." Cletus had slapped him on the back. "For grandchildren, you need children. For children, you need to lift some skirts." Later, in the Planky Town, the Dornishmen had toasted Quentyn's future bride, made ribald japes about his wedding night to come, and talked about the things they'd see, the deeds they'd do, the glory they would win. All they won was a sailcloth sack filled with ballast stones.
As much as he mourned Will and Cletus, it was the maester's loss that Quentyn felt most keenly. Kedry had been fluent in the tongues of all of the Free Cities, and even the mongrel Ghiscari that men spoke along the shores of Slaver's Bay. "Maester Kedry will accompany you," his father said the night they parted. "Heed his counsel. He has devoted half his life to the study of the Nine Free Cities." Quentyn wondered if things might not have gone a deal easier if only he were here to guide them.
"I would sell my mother for a bit of breeze," said Gerris, as they rolled through the dockside throngs. "It's moist as the Maiden's cunt, and still shy of noon. I hate this city."
Quentyn shared the feeling. The sullen wet heat of Volantis sapped his strength and left him feeling dirty. The worst part was knowing that nightfall would bring no relief. Up in the high meadows north of Lord Yronwood's estates, the air was always crisp and cool after dark, no matter how hot the day had been. Not here. In Volantis, the nights were almost as hot as the days.
"The Goddess sails for New Ghis on the morrow," Gerris reminded him. "That at least would bring us closer."
"New Ghis is an island, and a much smaller port than this. We would be closer, yes, but we could find ourselves stranded. And New Ghis has allied with the Yunkai'i." That news had not come as a surprise to Quentyn. New Ghis and Yunkai were both Ghiscari cities. "If Volantis should ally with them as well—"
"We need to find a ship from Westeros," suggested Gerris, "some trader out of Lannisport or Oldtown."
"Few come this far, and those who do fill their holds with silk and spice from the Jade Sea, then bend their oars for home."
"Perhaps a Braavosi ship? One hears of purple sails as far away as Asshai and the islands of the Jade Sea."
"The Braavosi are descended from escaped slaves. They do not trade in Slaver's Bay."
"Do we have enough gold to buy a ship?"
"And who will sail her? You? Me?" Dornishmen had never been seafarers, not since Nymeria burned her ten thousand ships. "The seas around Valyria are perilous, and thick with corsairs."
"I have had enough of corsairs. Let's not buy a ship."
This is still just a game to him, Quentyn realized, no different than the time he led six of us up into the mountains to find the old lair of the Vulture King. It was not in Gerris Drinkwater's nature to imagine they might fail, let alone that they might die. Even the deaths of three friends had not served to chasten him, it would seem. He leaves that to me. He knows my nature is as cautious as his is bold.
"Perhaps the big man is right," Ser Gerris said. "Piss on the sea, we can finish the journey overland."
"You know why he says that," Quentyn said. "He'd rather die than set foot on another ship." The big man had been greensick every day of their voyage. In Lys, it had taken him four days to recover his strength. They'd had to take rooms in an inn so Maester Kedry could tuck him into a feather bed and feed him broths and potions until some pink returned to his cheeks.
It was possible to go overland to Meereen, that much was true. The old Valyrian roads would take them there. Dragon roads, men called the great stone roadways of the Freehold, but the one that ran eastward from Volantis to Meereen had earned a more sinister name: the demon road.
"The demon road is dangerous, and too slow," Quentyn said. "Tywin Lannister will send his own men after the queen once word of her reaches King's Landing." His father had been certain of that. "His will come with knives. If they reach her first—"
"Let's hope her dragons will sniff them out and eat them," said Gerris. "Well, if we cannot find a ship, and you will not let us ride, we had as well book passage back to Dorne."
Crawl back to Sunspear defeated, with my tail between my legs? His father's disappointment would be more than Quentyn could bear, and the scorn of the Sand Snakes would be withering. Doran Martell had put the fate of Dorne into his hands, he could not fail him, not whilst life remained.
Heat shimmers rose off the street as the hathay rattled and jounced along on its iron-rimmed wheels, giving a dreamlike quality to their surroundings. In amongst the warehouses and the wharves, shops and stalls of many sorts crowded the waterfront. Here fresh oysters could be bought, here iron chains and manacles, here cyvasse pieces carved of ivory and jade. Here were temples too, where sailors came to sacrifice to foreign gods, cheek by jowl with pillow houses where women called down from balconies to men below. "Have a look at that one," Gerris urged, as they passed one pillow house. "I think she's in love with you."
And how much does a whore's love cost? Truth be told, girls made Quentyn anxious, especially the pretty ones.
When first he'd come to Yronwood, he had been smitten with Ynys, the eldest of Lord Yronwood's daughters. Though he never said a word about his feelings, he nursed his dreams for years … until the day she was dispatched to wed Ser Ryon Allyrion, the heir to Godsgrace. The last time he had seen her, she'd had one boy at her breast and another clinging to her skirts.
After Ynys had come the Drinkwater twins, a pair of tawny young maidens who loved hawking, hunting, climbing rocks, and making Quentyn blush. One of them had given him his first kiss, though he never knew which one. As daughters of a landed knight, the twins were too lowborn to marry, but Cletus did not think that was any reason to stop kissing them. "After you're wed you can take one of them for a paramour. Or both, why not?" But Quentyn thought of several reasons why not, so he had done his best to avoid the twins thereafter, and there had been no second kiss.
More recently, the youngest of Lord Yronwood's daughters had taken to following him about the castle. Gwyneth was but twelve, a small, scrawny girl whose dark eyes and brown hair set her apart in that house of blue-eyed blondes. She was clever, though, as quick with words as with her hands, and fond of telling Quentyn that he had to wait for her to flower, so she could marry him.
That was before Prince Doran had summoned him to the Water Gardens. And now the most beautiful woman in the world was waiting in Meereen, and he meant to do his duty and claim her for his bride. She will not refuse me. She will honor the agreement. Daenerys Targaryen would need Dorne to win the Seven Kingdoms, and that meant that she would need him. It does not mean that she will love me, though. She may not even like me.
The street curved where the river met the sea, and there along the bend a number of animal sellers were clustered together, offering jeweled lizards, giant banded snakes, and agile little monkeys with striped tails and clever pink hands. "Perhaps your silver queen would like a monkey," said Gerris.
Quentyn had no idea what Daenerys Targaryen might like. He had promised his father that he would bring her back to Dorne, but more and more he wondered if he was equal to the task.
I never asked for this, he thought.
Across the wide blue expanse of the Rhoyne, he could see the Black Wall that had been raised by the Valyrians when Volantis was no more than an outpost of their empire: a great oval of fused stone two hundred feet high and so thick that six four-horse chariots could race around its top abreast, as they did each year to celebrate the founding of the city. Outlanders, foreigners, and freedmen were not allowed inside the Black Wall save at the invitation of those who dwelt within, scions of the Old Blood who could trace their ancestry back to Valyria itself.
The traffic was thicker here. They were near the western end of the Long Bridge, which linked the two halves of the city. Wayns and carts and hathays crowded the streets, all of them coming from the bridge or making for it. Slaves were everywhere, as numerous as roaches, scurrying about their masters' business.
Not far from Fishermonger's Square and the Merchant's House, shouts erupted from a cross street, and a dozen Unsullied spearmen in ornate armor and tiger-skin cloaks appeared as if from nowhere, waving everyone aside so the triarch could pass through atop his elephant. The triarch's elephant was a grey-skinned behemoth clad in elaborate enameled armor that clattered softly as he moved, the castle on its back so tall that it scraped the top of the ornamental stone arch he was passing underneath. "The triarchs are considered so elevated that their feet are not allowed to touch the ground during their year of service," Quentyn informed his companion. "They ride everywhere on elephants."
"Blocking up the streets and leaving heaps of dung for the likes of us to contend with," said Gerris. "Why Volantis needs three princes when Dorne makes do with one, I will never know."
"The triarchs are neither kings nor princes. Volantis is a freehold, like Valyria of old. All freeborn landholders share the rule. Even women are allowed to vote, provided they own land. The three triarchs are chosen from amongst those noble families who can prove unbroken descent from old Valyria, to serve until the first day of the new year. And you would know all this if you had troubled to read the book that Maester Kedry gave you."
"It had no pictures."
"There were maps."
"Maps do not count. If he had told me it was about tigers and elephants, I might have given it a try. It looked suspiciously like a history."
When their hathay reached the edge of the Fishermonger's Square, their elephant lifted her trunk and made a honking noise like some huge white goose, reluctant to plunge into the tangle of wayns, palanquins, and foot traffic ahead. Their driver prodded her with his heel and kept her moving.
The fishmongers were out in strength, crying the morning catch. Quentyn understood one word in two at best, but he did not need to know the words to know the fish. He saw cod and sailfish and sardines, barrels of mussels and clams. Eels hung along the front of one stall. Another displayed a gigantic turtle, strung up by its legs on iron chains, heavy as a horse. Crabs scrabbled inside casks of brine and seaweed. Several of the vendors were frying chunks of fish with onions and beets, or selling peppery fish stew out of small iron kettles.
In the center of the square, under the cracked and headless statue of a dead triarch, a crowd had begun to gather about some dwarfs putting on a show. The little men were done up in wooden armor, miniature knights preparing for a joust. Quentyn saw one mount a dog, as the other hopped onto a pig … only to slide right off again, to a smattering of laughter.
"They look amusing," Gerris said. "Shall we stop and watch them fight? A laugh might serve you well, Quent. You look like an old man who has not moved his bowels in half a year."
I am eight-and-ten, six years younger than you, Quentyn thought. I am no old man. Instead he said, "I have no need for comic dwarfs. Unless they have a ship."
"A small one, I would think."
Four stories tall, the Merchant's House dominated the docks and wharves and storehouses that surrounded it. Here traders from Oldtown and King's Landing mingled with their counterparts from Braavos and Pentos and Myr, with hairy Ibbenese, pale-skinned voyagers from Qarth, coal-black Summer Islanders in feathered cloaks, even masked shadow-binders from Asshai by the Shadow.
The paving stones felt warm beneath his feet when Quentyn climbed down from the hathay, even through the leather of his boots. Outside the Merchant's House a trestle table had been set up in the shade and decorated with striped blue-and-white pennons that fluttered at every breath of air. Four hard-eyed sellswords lounged around the table, calling out to every passing man and boy. Windblown, Quentyn knew. The serjeants were looking for fresh meat to fill their ranks before they sailed for Slaver's Bay. And every man who signs with them is another sword for Yunkai, another blade meant to drink the blood of my bride-to-be.
One of the Windblown shouted at them. "I do not speak your tongue," Quentyn answered. Though he could read and write High Valyrian, he had little practice speaking it. And the Volantene apple had rolled a fair distance from the Valyrian tree.
"Westerosi?" the man answered, in the Common Tongue.
"Dornishmen. My master is a wineseller."
"Master? Fuck that. Are you a slave? Come with us and be your own master. Do you want to die abed? We'll teach you sword and spear. You'll ride to battle with the Tattered Prince and come home richer than a lord. Boys, girls, gold, whatever you want, if you're man enough to take it. We're the Windblown, and we fuck the goddess slaughter up her arse."
Two of the sellswords began to sing, bellowing out the words to some marching song. Quentyn understood enough to get the gist. We are the Windblown, they sang. Blow us east to Slaver's Bay, we'll kill the butcher king and fuck the dragon queen.
"If Cletus and Will were still with us, we could come back with the big man and kill the lot of them," said Gerris.
Cletus and Will are dead. "Pay them no mind," Quentyn said. The sellswords threw taunts at their backs as they pushed through the doors of the Merchant's House, mocking them as bloodless cravens and frightened girls.
The big man was waiting in their rooms on the second floor. Though the inn had come well recommended by the master of the Meadowlark, that did not mean Quentyn was willing to leave their goods and gold unguarded. Every port had thieves, rats, and whores, and Volantis had more than most.
"I was about to go out looking for you," Ser Archibald Yronwood said as he slid the bar back to admit them. It was his cousin Cletus who had started calling him the big man, but the name was well deserved. Arch was six-and-a-half-feet tall, broad of shoulder, huge of belly, with legs like tree trunks, hands the size of hams, and no neck to speak of. Some childhood malady had made all his hair fall out. His bald head reminded Quentyn of a smooth pink boulder. "So," he demanded, "what did the smuggler say? Do we have a boat?"
"A ship," corrected Quentyn. "Aye, he'll take us, but only as far as the nearest hell."
Gerris sat upon a sagging bed and pulled off his boots. "Dorne is sounding more attractive every moment."
The big man said, "I still say we would do better to ride the demon road. Might be it's not as perilous as men say. And if it is, that only means more glory for those who dare it. Who would dare molest us? Drink with his sword, me with my hammer, that's more than any demon could digest."
"And if Daenerys is dead before we reach her?" Quentyn said. "We must have a ship. Even if it is Adventure."
Gerris laughed. "You must be more desperate for Daenerys than I knew if you'd endure that stench for months on end. After three days, I'd be begging them to murder me. No, my prince, I pray you, not Adventure."
"Do you have a better way?" Quentyn asked him.
"I do. It's just now come to me. It has its risks, and it is not what you would call honorable, I grant you … but it will get you to your queen quicker than the demon road."
"Tell me," said Quentyn Martell.

JON
Jon Snow read the letter over until the words began to blur and run together. I cannot sign this. I will not sign this.
He almost burned the parchment then and there. Instead he took a sip of ale, the dregs of the half cup that remained from his solitary supper the night before. I have to sign it. They chose me to be their lord commander. The Wall is mine, and the Watch as well. The Night's Watch takes no part.
It was a relief when Dolorous Edd Tollett opened the door to tell him that Gilly was without. Jon set Maester Aemon's letter aside. "I will see her." He dreaded this. "Find Sam for me. I will want to speak with him next."
"He'll be down with the books. My old septon used to say that books are dead men talking. Dead men should keep quiet, is what I say. No one wants to hear a dead man's yabber." Dolorous Edd went off muttering of worms and spiders.
When Gilly entered, she went at once to her knees. Jon came around the table and drew her to her feet. "You don't need to take a knee for me. That's just for kings." Though a wife and mother, Gilly still seemed half a child to him, a slender little thing wrapped up in one of Sam's old cloaks. The cloak was so big on her that she could have hidden several other girls beneath its folds. "The babes are well?" he asked her.
The wildling girl smiled timidly from under her cowl. "Yes, m'lord. I was scared I wouldn't have milk enough for both, but the more they suck, the more I have. They're strong."
"I have something hard to tell you." He almost said ask, but caught himself at the last instant.
"Is it Mance? Val begged the king to spare him. She said she'd let some kneeler marry her and never slit his throat if only Mance could live. That Lord o'Bones, he's to be spared. Craster always swore he'd kill him if he ever showed his face about the keep. Mance never did half the things he done."
All Mance ever did was lead an army down upon the realm he once swore to protect. "Mance said our words, Gilly. Then he turned his cloak, wed Dalla, and crowned himself King-Beyond-the-Wall. His life is in the king's hands now. It's not him we need to talk about. It's his son. Dalla's boy."
"The babe?" Her voice trembled. "He never broke no oath, m'lord. He sleeps and cries and sucks, is all; he's never done no harm to no one. Don't let her burn him. Save him, please."
"Only you can do that, Gilly." Jon told her how.
Another woman would have shrieked at him, cursed him, damned him down to seven hells. Another woman might have flown at him in rage, slapped him, kicked him, raked at his eyes with her nails. Another woman might have thrown her defiance in his teeth.
Gilly shook her head. "No. Please, no."
The raven picked up the word. "No," it screamed.
"Refuse, and the boy will burn. Not on the morrow, nor the day after … but soon, whenever Melisandre needs to wake a dragon or raise a wind or work some other spell requiring king's blood. Mance will be ash and bone by then, so she will claim his son for the fire, and Stannis will not deny her. If you do not take the boy away, she will burn him."
"I'll go," said Gilly. "I'll take him, I'll take the both o' them, Dalla's boy and mine." Tears rolled down her cheeks. If not for the way the candle made them glisten, Jon might never have known that she was weeping. Craster's wives would have taught their daughters to shed their tears into a pillow. Perhaps they went outside to weep, well away from Craster's fists.
Jon closed the fingers of his sword hand. "Take both boys and the queen's men will ride after you and drag you back. The boy will still burn … and you with him." If I comfort her, she may think that tears can move me. She has to realize that I will not yield. "You'll take one boy, and that one Dalla's."
"A mother can't leave her son, or else she's cursed forever. Not a son. We saved him, Sam and me. Please. Please, m'lord. We saved him from the cold."
"Men say that freezing to death is almost peaceful. Fire, though … do you see the candle, Gilly?"
She looked at the flame. "Yes."
"Touch it. Put your hand over the flame."
Her big brown eyes grew bigger still. She did not move.
"Do it." Kill the boy. "Now."
Trembling, the girl reached out her hand, held it well above the flickering candle flame.
"Down. Let it kiss you."
Gilly lowered her hand. An inch. Another. When the flame licked her flesh, she snatched her hand back and began to sob.
"Fire is a cruel way to die. Dalla died to give this child life, but you have nourished him, cherished him. You saved your own boy from the ice. Now save hers from the fire."
"They'll burn my babe, then. The red woman. If she can't have Dalla's, she'll burn mine."
"Your son has no king's blood. Melisandre gains nothing by giving him to the fire. Stannis wants the free folk to fight for him, he will not burn an innocent without good cause. Your boy will be safe. I will find a wet nurse for him and he'll be raised here at Castle Black under my protection. He'll learn to hunt and ride, to fight with sword and axe and bow. I'll even see that he is taught to read and write." Sam would like that. "And when he is old enough, he will learn the truth of who he is. He'll be free to seek you out if that is what he wants."
"You will make a crow of him." She wiped at her tears with the back of a small pale hand. "I won't. I won't."
Kill the boy, thought Jon. "You will. Else I promise you, the day that they burn Dalla's boy, yours will die as well."
"Die," shrieked the Old Bear's raven. "Die, die, die."
The girl sat hunched and shrunken, staring at the candle flame, tears glistening in her eyes. Finally Jon said, "You have my leave to go. Do not speak of this, but see that you are ready to depart an hour before first light. My men will come for you."
Gilly got to her feet. Pale and wordless, she departed, with never a look back at him. Jon heard her footsteps as she rushed through the armory. She was almost running.
When he went to close the door, Jon saw that Ghost was stretched out beneath the anvil, gnawing on the bone of an ox. The big white direwolf looked up at his approach. "Past time that you were back." He returned to his chair, to read over Maester Aemon's letter once again.
Samwell Tarly turned up a few moments later, clutching a stack of books. No sooner had he entered than Mormont's raven flew at him demanding corn. Sam did his best to oblige, offering some kernels from the sack beside the door. The raven did its best to peck through his palm. Sam yowled, the bird flapped off, corn scattered. "Did that wretch break the skin?" Jon asked.
Sam gingerly removed his glove. "He did. I'm bleeding."
"We all shed our blood for the Watch. Wear thicker gloves." Jon shoved a chair toward him with a foot. "Sit, and have a look at this." He handed Sam the parchment.
"What is it?"
"A paper shield."
Sam read it slowly. "A letter to King Tommen?"
"At Winterfell, Tommen fought my brother Bran with wooden swords," Jon said, remembering. "He wore so much padding he looked like a stuffed goose. Bran knocked him to the ground." He went to the window and threw the shutters open. The air outside was cold and bracing, though the sky was a dull grey. "Yet Bran's dead, and pudgy pink-faced Tommen is sitting on the Iron Throne, with a crown nestled amongst his golden curls."
That got an odd look from Sam, and for a moment he looked as if he wanted to say something. Instead he swallowed and turned back to the parchment. "You haven't signed the letter."
Jon shook his head. "The Old Bear begged the Iron Throne for help a hundred times. They sent him Janos Slynt. No letter will make the Lannisters love us better. Not once they hear that we've been helping Stannis."
"Only to defend the Wall, not in his rebellion. That's what it says here."
"The distinction may escape Lord Tywin." Jon snatched the letter back. "Why would he help us now? He never did before."
"Well, he will not want it said that Stannis rode to the defense of the realm whilst King Tommen was playing with his toys. That would bring scorn down upon House Lannister."
"It's death and destruction I want to bring down upon House Lannister, not scorn." Jon read from the letter. "The Night's Watch takes no part in the wars of the Seven Kingdoms. Our oaths are sworn to the realm, and the realm now stands in dire peril. Stannis Baratheon aids us against our foes from beyond the Wall, though we are not his men …"
Sam squirmed in his seat. "Well, we're not. Are we?"
"I gave Stannis food, shelter, and the Nightfort, plus leave to settle some free folk in the Gift. That's all."
"Lord Tywin will say it was too much."
"Stannis says it's not enough. The more you give a king, the more he wants. We are walking on a bridge of ice with an abyss on either side. Pleasing one king is difficult enough. Pleasing two is hardly possible."
"Yes, but … if the Lannisters should prevail and Lord Tywin decides that we betrayed the king by aiding Stannis, it could mean the end of the Night's Watch. He has the Tyrells behind him, with all the strength of Highgarden. And he did defeat Lord Stannis on the Blackwater."
"The Blackwater was one battle. Robb won all his battles and still lost his head. If Stannis can raise the north …"
Sam hesitated, then said, "The Lannisters have northmen of their own. Lord Bolton and his bastard."
"Stannis has the Karstarks. If he can win White Harbor …"
"If," Sam stressed. "If not … my lord, even a paper shield is better than none."
"I suppose so." Him and Aemon both. Somehow he had hoped that Sam Tarly might see it differently. It is only ink and parchment. Resigned, he grabbed the quill and signed. "Get the sealing wax." Before I change my mind. Sam hastened to obey. Jon fixed the lord commander's seal and handed him the letter. "Take this to Maester Aemon when you leave, and tell him to dispatch a bird to King's Landing."
"I will." Sam sounded relieved. "My lord, if I might ask … I saw Gilly leaving. She was almost crying."
"Val sent her to plead for Mance again," Jon lied, and they talked for a while of Mance and Stannis and Melisandre of Asshai, until the raven ate the last corn kernel and screamed, "Blood."
"I am sending Gilly away," Jon said. "Her and the boy. We will need to find another wet nurse for his milk brother."
"Goat's milk might serve, until you do. It's better for a babe than cow's milk." Talking about breasts plainly made Sam uncomfortable, and suddenly he began to speak of history, and boy commanders who had lived and died hundreds of years ago. Jon cut him off with, "Tell me something useful. Tell me of our enemy."
"The Others." Sam licked his lips. "They are mentioned in the annals, though not as often as I would have thought. The annals I've found and looked at, that is. There's more I haven't found, I know. Some of the older books are falling to pieces. The pages crumble when I try and turn them. And the really old books … either they have crumbled all away or they are buried somewhere that I haven't looked yet or … well, it could be that there are no such books and never were. The oldest histories we have were written after the Andals came to Westeros. The First Men only left us runes on rocks, so everything we think we know about the Age of Heroes and the Dawn Age and the Long Night comes from accounts set down by septons thousands of years later. There are archmaesters at the Citadel who question all of it. Those old histories are full of kings who reigned for hundreds of years, and knights riding around a thousand years before there were knights. You know the tales, Brandon the Builder, Symeon Star-Eyes, Night's King … we say that you're the nine-hundred-and-ninety-eighth Lord Commander of the Night's Watch, but the oldest list I've found shows six hundred seventy-four commanders, which suggests that it was written during—"
"Long ago," Jon broke in. "What about the Others?"
"I found mention of dragonglass. The children of the forest used to give the Night's Watch a hundred obsidian daggers every year, during the Age of Heroes. The Others come when it is cold, most of the tales agree. Or else it gets cold when they come. Sometimes they appear during snowstorms and melt away when the skies clear. They hide from the light of the sun and emerge by night … or else night falls when they emerge. Some stories speak of them riding the corpses of dead animals. Bears, direwolves, mammoths, horses, it makes no matter, so long as the beast is dead. The one that killed Small Paul was riding a dead horse, so that part's plainly true. Some accounts speak of giant ice spiders too. I don't know what those are. Men who fall in battle against the Others must be burned, or else the dead will rise again as their thralls."
"We knew all this. The question is, how do we fight them?"
"The armor of the Others is proof against most ordinary blades, if the tales can be believed, and their own swords are so cold they shatter steel. Fire will dismay them, though, and they are vulnerable to obsidian. I found one account of the Long Night that spoke of the last hero slaying Others with a blade of dragonsteel. Supposedly they could not stand against it."
"Dragonsteel?" The term was new to Jon. "Valyrian steel?"
"That was my first thought as well."
"So if I can just convince the lords of the Seven Kingdoms to give us their Valyrian blades, all is saved? That won't be hard." No harder than asking them to give up their coin and castles. He gave a bitter laugh. "Did you find who the Others are, where they come from, what they want?"
"Not yet, my lord, but it may be that I've just been reading the wrong books. There are hundreds I have not looked at yet. Give me more time and I will find whatever there is to be found."
"There is no more time. You need to get your things together, Sam. You're going with Gilly."
"Going?" Sam gaped at him openmouthed, as if he did not understand the meaning of the word. "I'm going? To Eastwatch, my lord? Or … where am I …"
"Oldtown."
"Oldtown?" Sam repeated, in a high-pitched squeak.
"Aemon as well."
"Aemon? Maester Aemon? But … he's one hundred and two years old, my lord, he can't … you're sending him and me? Who will tend the ravens? If there's sick or wounded, who …"
"Clydas. He's been with Aemon for years."
"Clydas is only a steward, and his eyes are going bad. You need a maester. Maester Aemon is so frail, a sea voyage … it might … he's old, and …"
"His life will be at risk. I am aware of that, Sam, but the risk is greater here. Stannis knows who Aemon is. If the red woman requires king's blood for her spells …"
"Oh." Sam's fat cheeks seemed to drain of color.
"Dareon will join you at Eastwatch. My hope is that his songs will win some men for us in the south. The Blackbird will deliver you to Braavos. From there, you'll arrange your own passage to Oldtown. If you still mean to claim Gilly's babe as your bastard, send her and the child on to Horn Hill. Elsewise, Aemon will find a servant's place for her at the Citadel."
"My b-b-bastard. Yes, I … my mother and my sisters will help Gilly with the child. Dareon could see her to Oldtown just as well as me. I'm … I've been working at my archery every afternoon with Ulmer, as you commanded … well, except when I'm in the vaults, but you told me to find out about the Others. The longbow makes my shoulders ache and raises blisters on my fingers." He showed Jon his hand. "I still do it, though. I can hit the target more often than not now, but I'm still the worst archer who ever bent a bow. I like Ulmer's stories, though. Someone needs to write them down and put them in a book."
"You do it. They have parchment and ink at the Citadel, as well as longbows. I will expect you to continue with your practice. Sam, the Night's Watch has hundreds of men who can loose an arrow, but only a handful who can read or write. I need you to become my new maester."
"My lord, I … my work is here, the books …"
"… will be here when you return to us."
Sam put a hand to his throat. "My lord, the Citadel … they make you cut up corpses there. I cannot wear a chain."
"You can. You will. Maester Aemon is old and blind. His strength is leaving him. Who will take his place when he dies? Maester Mullin at the Shadow Tower is more fighter than scholar, and Maester Harmune of Eastwatch is drunk more than he's sober."
"If you ask the Citadel for more maesters …"
"I mean to. We'll have need of every one. Aemon Targaryen is not so easily replaced, however." This is not going as I had hoped. He had known Gilly would be hard, but he had assumed Sam would be glad to trade the dangers of the Wall for the warmth of Oldtown. "I was certain this would please you," he said, puzzled. "There are so many books at the Citadel that no man can hope to read them all. You would do well there, Sam. I know you would."
"No. I could read the books, but … a m-maester must be a healer and b-b-blood makes me faint." His hand shook, to prove the truth of that. "I'm Sam the Scared, not Sam the Slayer."
"Scared? Of what? The chidings of old men? Sam, you saw the wights come swarming up the Fist, a tide of living dead men with black hands and bright blue eyes. You slew an Other."
"It was the d-d-d-dragonglass, not me."
"Be quiet," Jon snapped. After Gilly, he had no patience for the fat boy's fears. "You lied and schemed and plotted to make me lord commander. You will obey me. You'll go to the Citadel and forge a chain, and if you have to cut up corpses, so be it. At least in Oldtown the corpses won't object."
"My lord, my f-f-f-father, Lord Randyll, he, he, he, he, he … the life of a maester is a life of servitude. No son of House Tarly will ever wear a chain. The men of Horn Hill do not bow and scrape to petty lords. Jon, I cannot disobey my father."
Kill the boy, Jon thought. The boy in you, and the one in him. Kill the both of them, you bloody bastard. "You have no father. Only brothers. Only us. Your life belongs to the Night's Watch, so go and stuff your smallclothes into a sack, along with anything else you care to take to Oldtown. You leave an hour before sunrise. And here's another order. From this day forth, you will not call yourself a craven. You've faced more things this past year than most men face in a lifetime. You can face the Citadel, but you'll face it as a Sworn Brother of the Night's Watch. I can't command you to be brave, but I can command you to hide your fears. You said the words, Sam. Remember?"
"I … I'll try."
"You won't try. You will obey."
"Obey." Mormont's raven flapped its great black wings.
Sam seemed to sag. "As my lord commands. Does … does Maester Aemon know?"
"It was as much his idea as mine." Jon opened the door for him. "No farewells. The fewer folk who know of this, the better. An hour before first light, by the lichyard."
Sam fled from him just as Gilly had.
Jon was tired. I need sleep. He had been up half the night poring over maps, writing letters, and making plans with Maester Aemon. Even after stumbling into his narrow bed, rest had not come easily. He knew what he would face today, and found himself tossing restlessly as he brooded on Maester Aemon's final words. "Allow me to give my lord one last piece of counsel," the old man had said, "the same counsel that I once gave my brother when we parted for the last time. He was three-and-thirty when the Great Council chose him to mount the Iron Throne. A man grown with sons of his own, yet in some ways still a boy. Egg had an innocence to him, a sweetness we all loved. Kill the boy within you, I told him the day I took ship for the Wall. It takes a man to rule. An Aegon, not an Egg. Kill the boy and let the man be born." The old man felt Jon's face. "You are half the age that Egg was, and your own burden is a crueler one, I fear. You will have little joy of your command, but I think you have the strength in you to do the things that must be done. Kill the boy, Jon Snow. Winter is almost upon us. Kill the boy and let the man be born."
Jon donned his cloak and strode outside. He made the rounds of Castle Black each day, visiting the men on watch and hearing their reports first hand, watching Ulmer and his charges at the archery butts, talking with king's men and queen's men alike, walking the ice atop the Wall to have a look at the forest. Ghost padded after him, a white shadow at his side.
Kedge Whiteye had the Wall when Jon made his ascent. Kedge had seen forty-odd namedays, thirty of them on the Wall. His left eye was blind, his right eye mean. In the wild, alone with axe and garron, he was as good a ranger as any in the Watch, but he had never gotten on well with the other men. "A quiet day," he told Jon. "Nothing to report, except the wrong-way rangers."
"The wrong-way rangers?" Jon asked.
Kedge grinned. "A pair of knights. Went riding off an hour ago, south along the kingsroad. When Dywen saw them buggering off, he said the southron fools were riding the wrong way."
"I see," said Jon.
He found out more from Dywen himself, as the old forester sucked down a bowl of barley broth in the barracks. "Aye, m'lord, I saw them. Horpe and Massey, it were. Claimed Stannis sent 'em out, but never said where or what for or when they would be back."
Ser Richard Horpe and Ser Justin Massey were both queen's men, and high in the king's councils. A pair of common freeriders would have served if all that Stannis had in mind was scouting, Jon Snow reflected, but knights are better suited to act as messengers or envoys. Cotter Pyke had sent word from Eastwatch that the Onion Lord and Salladhor Saan had set sail for White Harbor to treat with Lord Manderly. It made sense that Stannis would send out other envoys. His Grace was not a patient man.
Whether the wrong-way rangers would return was another question. Knights they might be, but they did not know the north. There will be eyes along the kingsroad, not all of them friendly. It was none of Jon's concern, though. Let Stannis have his secrets. The gods know that I have mine.
Ghost slept at the foot of the bed that night, and for once Jon did not dream he was a wolf. Even so, he slept fitfully, tossing for hours before sliding down into a nightmare. Gilly was in it, weeping, pleading with him to leave her babes alone, but he ripped the children from her arms and hacked their heads off, then swapped the heads around and told her to sew them back in place.
When he woke, he found Edd Tollett looming over him in the darkness of his bedchamber. "M'lord? It is time. The hour of the wolf. You left orders to be woken."
"Bring me something hot." Jon threw off his blankets.
Edd was back by the time that he had dressed, pressing a steaming cup into his hands. Jon expected hot mulled wine, and was surprised to find that it was soup, a thin broth that smelled of leeks and carrots but seemed to have no leeks or carrots in it. The smells are stronger in my wolf dreams, he reflected, and food tastes richer too. Ghost is more alive than I am. He left the empty cup upon the forge.
Kegs was on his door this morning. "I will want to speak with Bedwyck and with Janos Slynt," Jon told him. "Have them both here at first light."
Outside the world was black and still. Cold, but not dangerously cold. Not yet. It will be warmer when the sun comes up. If the gods are good, the Wall may weep. When they reached the lichyard, the column had already formed up. Jon had given Black Jack Bulwer command of the escort, with a dozen mounted rangers under him, and two wayns. One was piled high with chests and crates and sacks, provisions for the journey. The other had a stiff roof of boiled leather to keep the wind off. Maester Aemon was seated in the back of it, huddled in a bearskin that made him look as small as a child. Sam and Gilly stood nearby. Her eyes were red and puffy, but the boy was in her arms, bundled tight. Whether it was her boy or Dalla's he could not be sure. He had only seen the two together a few times. Gilly's boy was older, Dalla's more robust, but they were close enough in age and size so that no one who did not know them well would be able to easily tell one from the other.
"Lord Snow," Maester Aemon called out, "I left a book for you in my chambers. The Jade Compendium. It was written by the Volantene adventurer Colloquo Votar, who traveled to the east and visited all the lands of the Jade Sea. There is a passage you may find of interest. I've told Clydas to mark it for you."
"I'll be sure to read it."
Maester Aemon wiped his nose. "Knowledge is a weapon, Jon. Arm yourself well before you ride forth to battle."
"I will." Jon felt something wet and cold upon his face. When he raised his eyes, he saw that it was snowing. A bad omen. He turned to Black Jack Bulwer. "Make as good a time as you can, but take no foolish risks. You have an old man and a suckling babe with you. See that you keep them warm and well fed."
"You do the same, m'lord." Gilly did not seem in any haste to climb into the wayn. "You do the same for t'other. Find another wet nurse, like you said. You promised me you would. The boy … Dalla's boy … the little prince, I mean … you find him some good woman, so he grows up big and strong."
"You have my word."
"Don't you name him. Don't you do that, till he's past two years. It's ill luck to name them when they're still on the breast. You crows may not know that, but it's true."
"As you command, my lady."
"Don't you call me that. I'm a mother, not a lady. I'm Craster's wife and Craster's daughter, and a mother." She gave the babe to Dolorous Edd as she climbed into the wayn and covered herself with furs. When Edd gave her back the child, Gilly put him to her breast. Sam turned away from the sight, red-faced, and heaved himself up onto his mare. "Let's do this," commanded Black Jack Bulwer, snapping his whip. The wayns rolled forward.
Sam lingered a moment. "Well," he said, "farewell."
"And to you, Sam," said Dolorous Edd. "Your boat's not like to sink, I don't think. Boats only sink when I'm aboard."
Jon was remembering. "The first time I saw Gilly she was pressed back against the wall of Craster's Keep, this skinny dark-haired girl with her big belly, cringing away from Ghost. He had gotten in among her rabbits, and I think she was frightened that he would tear her open and devour the babe … but it was not the wolf she should have been afraid of, was it?"
"She has more courage than she knows," said Sam.
"So do you, Sam. Have a swift, safe voyage, and take care of her and Aemon and the child." The cold trickles on his face reminded Jon of the day he'd bid farewell to Robb at Winterfell, never knowing that it was for the last time. "And pull your hood up. The snowflakes are melting in your hair."
By the time the little column had dwindled in the distance, the eastern sky had gone from black to grey and the snow was falling heavily. "Giant will be waiting on the lord commander's pleasure," Dolorous Edd reminded him. "Janos Slynt as well."
"Yes." Jon Snow glanced up at the Wall, towering over them like a cliff of ice. A hundred leagues from end to end, and seven hundred feet high. The strength of the Wall was its height; the length of the Wall was its weakness. Jon remembered something his father had said once. A wall is only as strong as the men who stand behind it. The men of the Night's Watch were brave enough, but they were far too few for the task that confronted them.
Giant was waiting in the armory. His real name was Bedwyck. At a hair and a half over five feet he was the smallest man in the Night's Watch. Jon came directly to the point. "We need more eyes along the Wall. Way-castles where our patrols can get out of the cold and find hot food and a fresh mount. I am putting a garrison in Icemark and giving you command of it."
Giant put the tip of his little finger in his ear to clean out the wax. "Command? Me? M'lord knows I'm just a crofter's get, on the Wall for poaching?"
"You've been a ranger for a dozen years. You survived the Fist of the First Men and Craster's Keep, and came back to tell the tale. The younger men look up to you."
The small man laughed. "Only dwarfs look up to me. I don't read, my lord. On a good day I can write my name."
"I've sent to Oldtown for more maesters. You'll have two ravens for when your need is urgent. When it's not, send riders. Until we have more maesters and more birds, I mean to establish a line of beacon towers along the top of the Wall."
"And how many poor fools will I be commanding?"
"Twenty, from the Watch," said Jon, "and half as many men from Stannis." Old, green, or wounded. "They won't be his best men, and none will take the black, but they'll obey. Make what use of them you can. Four of the brothers I'm sending with you will be Kingslanders who came to the Wall with Lord Slynt. Keep one eye on that lot and watch for climbers with the other."
"We can watch, m'lord, but if enough climbers gain the top o' the Wall, thirty men won't be enough to throw them off."
Three hundred might not be enough. Jon kept that doubt to himself. It was true that climbers were desperately vulnerable whilst on the ascent. Stones and spears and pots of burning pitch could be rained down on them from above, and all they could do was cling desperately to the ice. Sometimes the Wall itself seemed to shake them off, as a dog might shake off fleas. Jon had seen that for himself, when a sheet of ice cracked beneath Val's lover Jarl, sending him to his death.
If the climbers reached the top of the Wall undetected, however, everything changed. Given time, they could carve out a toehold for themselves up there, throwing up ramparts of their own and dropping ropes and ladders for thousands more to clamber over after them. That was how Raymun Redbeard had done it, Raymun who had been King-Beyond-the-Wall in the days of his grandfather's grandfather. Jack Musgood had been the lord commander in those days. Jolly Jack, he was called before Redbeard came down upon the north; Sleepy Jack, forever after. Raymun's host had met a bloody end on the shores of Long Lake, caught between Lord Willam of Winterfell and the Drunken Giant, Harmond Umber. Redbeard had been slain by Artos the Implacable, Lord Willam's younger brother. The Watch arrived too late to fight the wildlings, but in time to bury them, the task that Artos Stark assigned them in his wroth as he grieved above the headless corpse of his fallen brother.
Jon did not intend to be remembered as Sleepy Jon Snow. "Thirty men will stand a better chance than none," he told Giant.
"True enough," the small man said. "Is it just to be Icemark, then, or will m'lord be opening t'other forts as well?"
"I mean to garrison all of them, in time," said Jon, "but for the moment, it will just be Icemark and Greyguard."
"And has m'lord decided who's to command at Greyguard?"
"Janos Slynt," said Jon. Gods save us. "A man does not rise to command of the gold cloaks without ability. Slynt was born a butcher's son. He was captain of the Iron Gate when Manly Stokeworth died, and Jon Arryn raised him up and put the defense of King's Landing into his hands. Lord Janos cannot be as great a fool as he seems." And I want him well away from Alliser Thorne.
"Might be that's so," said Giant, "but I'd still send him to the kitchens to help Three-Finger Hobb cut up the turnips."
If I did, I'd never dare to eat another turnip.
Half the morning passed before Lord Janos reported as commanded. Jon was cleaning Longclaw. Some men would have given that task to a steward or a squire, but Lord Eddard had taught his sons to care for their own weapons. When Kegs and Dolorous Edd arrived with Slynt, Jon thanked them and bid Lord Janos sit.
That he did, albeit with poor grace, crossing his arms, scowling, and ignoring the naked steel in his lord commander's hands. Jon slid the oilcloth down his bastard sword, watching the play of morning light across the ripples, thinking how easily the blade would slide through skin and fat and sinew to part Slynt's ugly head from his body. All of a man's crimes were wiped away when he took the black, and all of his allegiances as well, yet he found it hard to think of Janos Slynt as a brother. There is blood between us. This man helped slay my father and did his best to have me killed as well.
"Lord Janos." Jon sheathed his sword. "I am giving you command of Greyguard."
That took Slynt aback. "Greyguard … Greyguard was where you climbed the Wall with your wildling friends …"
"It was. The fort is in a sorry state, admittedly. You will restore it as best you can. Start by clearing back the forest. Steal stones from the structures that have collapsed to repair those still standing." The work will be hard and brutal, he might have added. You'll sleep on stone, too exhausted to complain or plot, and soon you'll forget what it was like to be warm, but you might remember what it was to be a man. "You will have thirty men. Ten from here, ten from the Shadow Tower, and ten lent to us by King Stannis."
Slynt's face had turned the color of a prune. His meaty jowls began to quiver. "Do you think I cannot see what you are doing? Janos Slynt is not a man to be gulled so easily. I was charged with the defense of King's Landing when you were soiling your swaddling clothes. Keep your ruin, bastard."
I am giving you a chance, my lord. It is more than you ever gave my father. "You mistake me, my lord," Jon said. "That was a command, not an offer. It is forty leagues to Greyguard. Pack up your arms and armor, say your farewells, and be ready to depart at first light on the morrow."
"No." Lord Janos lurched to his feet, sending his chair crashing over backwards. "I will not go meekly off to freeze and die. No traitor's bastard gives commands to Janos Slynt! I am not without friends, I warn you. Here, and in King's Landing too. I was the Lord of Harrenhal! Give your ruin to one of the blind fools who cast a stone for you, I will not have it. Do you hear me, boy? I will not have it!"
"You will."
Slynt did not deign to answer that, but he kicked the chair aside as he departed.
He still sees me as a boy, Jon thought, a green boy, to be cowed by angry words. He could only hope that a night's sleep would bring Lord Janos to his senses.
The next morning proved that hope was vain.
Jon found Slynt breaking his fast in the common room. Ser Alliser Thorne was with him, and several of their cronies. They were laughing about something when Jon came down the steps with Iron Emmett and Dolorous Edd, and behind them Mully, Horse, Red Jack Crabb, Rusty Flowers, and Owen the Oaf. Three-Finger Hobb was ladling out porridge from his kettle. Queen's men, king's men, and black brothers sat at their separate tables, some bent over bowls of porridge, others filling their bellies with fried bread and bacon. Jon saw Pyp and Grenn at one table, Bowen Marsh at another. The air smelled of smoke and grease, and the clatter of knives and spoons echoed off the vaulted ceiling.
All the voices died at once.
"Lord Janos," Jon said, "I will give you one last chance. Put down that spoon and get to the stables. I have had your horse saddled and bridled. It is a long, hard road to Greyguard."
"Then you had best be on your way, boy." Slynt laughed, dribbling porridge down his chest. "Greyguard's a good place for the likes of you, I'm thinking. Well away from decent godly folk. The mark of the beast is on you, bastard."
"You are refusing to obey my order?"
"You can stick your order up your bastard's arse," said Slynt, his jowls quivering.
Alliser Thorne smiled a thin smile, his black eyes fixed on Jon. At another table, Godry the Giantslayer began to laugh.
"As you will." Jon nodded to Iron Emmett. "Please take Lord Janos to the Wall—"
—and confine him to an ice cell, he might have said. A day or ten cramped up inside the ice would leave him shivering and feverish and begging for release, Jon did not doubt. And the moment he is out, he and Thorne will begin to plot again.
—and tie him to his horse, he might have said. If Slynt did not wish to go to Greyguard as its commander, he could go as its cook. It will only be a matter of time until he deserts, then. And how many others will he take with him?
"—and hang him," Jon finished.
Janos Slynt's face went as white as milk. The spoon slipped from his fingers. Edd and Emmett crossed the room, their footsteps ringing on the stone floor. Bowen Marsh's mouth opened and closed though no words came out. Ser Alliser Thorne reached for his sword hilt. Go on, Jon thought. Longclaw was slung across his back. Show your steel. Give me cause to do the same.
Half the men in the hall were on their feet. Southron knights and men-at-arms, loyal to King Stannis or the red woman or both, and Sworn Brothers of the Night's Watch. Some had chosen Jon to be their lord commander. Others had cast their stones for Bowen Marsh, Ser Denys Mallister, Cotter Pyke … and some for Janos Slynt. Hundreds of them, as I recall. Jon wondered how many of those men were in the cellar right now. For a moment the world balanced on a sword's edge.
Alliser Thorne took his hand from his sword and stepped aside to let Edd Tollett pass.
Dolorous Edd took hold of Slynt by one arm, Iron Emmett by the other. Together they hauled him from the bench. "No," Lord Janos protested, flecks of porridge spraying from his lips. "No, unhand me. He's just a boy, a bastard. His father was a traitor. The mark of the beast is on him, that wolf of his … Let go of me! You will rue the day you laid hands on Janos Slynt. I have friends in King's Landing. I warn you—" He was still protesting as they half-marched, half-dragged him up the steps.
Jon followed them outside. Behind him, the cellar emptied. At the cage, Slynt wrenched loose for a moment and tried to make a fight of it, but Iron Emmett caught him by the throat and slammed him back against the iron bars until he desisted. By then all of Castle Black had come outside to watch. Even Val was at her window, her long golden braid across one shoulder. Stannis stood on the steps of the King's Tower, surrounded by his knights.
"If the boy thinks that he can frighten me, he is mistaken," they heard Lord Janos said. "He would not dare to hang me. Janos Slynt has friends, important friends, you'll see …" The wind whipped away the rest of his words.
This is wrong, Jon thought. "Stop."
Emmett turned back, frowning. "My lord?"
"I will not hang him," said Jon. "Bring him here."
"Oh, Seven save us," he heard Bowen Marsh cry out.
The smile that Lord Janos Slynt smiled then had all the sweetness of rancid butter. Until Jon said, "Edd, fetch me a block," and unsheathed Longclaw.
By the time a suitable chopping block was found, Lord Janos had retreated into the winch cage, but Iron Emmett went in after him and dragged him out. "No," Slynt cried, as Emmett half-shoved and halfpulled him across the yard. "Unhand me … you cannot … when Tywin Lannister hears of this, you will all rue—"
Emmett kicked his legs out from under him. Dolorous Edd planted a foot on his back to keep him on his knees as Emmett shoved the block beneath his head. "This will go easier if you stay still," Jon Snow promised him. "Move to avoid the cut, and you will still die, but your dying will be uglier. Stretch out your neck, my lord." The pale morning sunlight ran up and down his blade as Jon clasped the hilt of the bastard sword with both hands and raised it high. "If you have any last words, now is the time to speak them," he said, expecting one last curse.
Janos Slynt twisted his neck around to stare up at him. "Please, my lord. Mercy. I'll … I'll go, I will, I …"
No, thought Jon. You closed that door. Longclaw descended.
"Can I have his boots?" asked Owen the Oaf, as Janos Slynt's head went rolling across the muddy ground. "They're almost new, those boots. Lined with fur."
Jon glanced back at Stannis. For an instant their eyes met. Then the king nodded and went back inside his tower.

TYRION
He woke alone, and found the litter halted.
A pile of crushed cushions remained to show where Illyrio had sprawled. The dwarf's throat felt dry and raspy. He had dreamed … what had he dreamed? He did not remember.
Outside, voices were speaking in a tongue he did not know. Tyrion swung his legs through the curtains and hopped to the ground, to find Magister Illyrio standing by the horses with two riders looming over him. Both wore shirts of worn leather beneath cloaks of dark brown wool, but their swords were sheathed and the fat man did not look to be in danger.
"I need a piss," the dwarf announced. He waddled off the road, undid his breeches, and relieved himself into a tangle of thorns. It took quite a long time.
"He pisses well, at least," a voice observed.
Tyrion flicked the last drops off and tucked himself away. "Pissing is the least of my talents. You ought to see me shit." He turned to Magister Illyrio. "Are these two known to you, magister? They look like outlaws. Should I find my axe?"
"Your axe?" exclaimed the larger of the riders, a brawny man with a shaggy beard and a shock of orange hair. "Did you hear that, Haldon? The little man wants to fight with us!"
His companion was older, clean-shaved, with a lined ascetic face. His hair had been pulled back and tied in a knot behind his head. "Small men oft feel a need to prove their courage with unseemly boasts," he declared. "I doubt if he could kill a duck."
Tyrion shrugged. "Fetch the duck."
"If you insist." The rider glanced at his companion.
The brawny man unsheathed a bastard sword. "I'm Duck, you mouthy little pisspot."
Oh, gods be good. "I had a smaller duck in mind."
The big man roared with laughter. "Did you hear, Haldon? He wants a smaller Duck!"
"I should gladly settle for a quieter one." The man called Haldon studied Tyrion with cool grey eyes before turning back to Illyrio. "You have some chests for us?"
"And mules to carry them."
"Mules are too slow. We have pack horses, we'll shift the chests to them. Duck, attend to that."
"Why is it always Duck who attends to things?" The big man slipped his sword back in its sheath. "What do you attend to, Haldon? Who is the knight here, you or me?" Yet he stomped off toward the baggage mules all the same.
"How fares our lad?" asked Illyrio as the chests were being secured. Tyrion counted six, oaken chests with iron hasps. Duck shifted them easily enough, hoisting them on one shoulder.
"He is as tall as Griff now. Three days ago he knocked Duck into a horse trough."
"I wasn't knocked. I fell in just to make him laugh."
"Your ploy was a success," said Haldon. "I laughed myself."
"There is a gift for the boy in one of the chests. Some candied ginger. He was always fond of it." Illyrio sounded oddly sad. "I thought I might continue on to Ghoyan Drohe with you. A farewell feast before you start downriver …"
"We have no time for feasts, my lord," said Haldon. "Griff means to strike downriver the instant we are back. News has been coming upriver, none of it good. Dothraki have been seen north of Dagger Lake, outriders from old Motho's khalasar, and Khal Zekko is not far behind him, moving through the Forest of Qohor."
The fat man made a rude noise. "Zekko visits Qohor every three or four years. The Qohorik give him a sack of gold and he turns east again. As for Motho, his men are near as old as he is, and there are fewer every year. The threat is—"
"—Khal Pono," Haldon finished. "Motho and Zekko flee from him, if the tales are true. The last reports had Pono near the headwaters of the Selhoru with a khalasar of thirty thousand. Griff does not want to risk being caught up in the crossing if Pono should decide to risk the Rhoyne." Haldon glanced at Tyrion. "Does your dwarf ride as well as he pisses?"
"He rides," Tyrion broke in, before the lord of cheese could answer for him, "though he rides best with a special saddle and a horse that he knows well. He talks as well."
"So he does. I am Haldon, the healer in our little band of brothers. Some call me Halfmaester. My companion is Ser Duck."
"Ser Rolly," said the big man. "Rolly Duckfield. Any knight can make a knight, and Griff made me. And you, dwarf?"
Illyrio spoke up quickly. "Yollo, he is called."
Yollo? Yollo sounds like something you might name a monkey. Worse, it was a Pentoshi name, and any fool could see that Tyrion was no Pentoshi. "In Pentos I am Yollo," he said quickly, to make what amends he could, "but my mother named me Hugor Hill."
"Are you a little king or a little bastard?" asked Haldon.
Tyrion realized he would do well to be careful around Haldon Halfmaester. "Every dwarf is a bastard in his father's eyes."
"No doubt. Well, Hugor Hill, answer me this. How did Serwyn of the Mirror Shield slay the dragon Urrax?"
"He approached behind his shield. Urrax saw only his own reflection until Serwyn had plunged his spear through his eye."
Haldon was unimpressed. "Even Duck knows that tale. Can you tell me the name of the knight who tried the same ploy with Vhagar during the Dance of the Dragons?"
Tyrion grinned. "Ser Byron Swann. He was roasted for his trouble … only the dragon was Syrax, not Vhagar."
"I fear that you're mistaken. In The Dance of the Dragons, A True Telling, Maester Munkun writes—"
"—that it was Vhagar. Grand Maester Munkun errs. Ser Byron's squire saw his master die, and wrote his daughter of the manner of it. His account says it was Syrax, Rhaenyra's she-dragon, which makes more sense than Munken's version. Swann was the son of a marcher lord, and Storm's End was for Aegon. Vhagar was ridden by Prince Aemond, Aegon's brother. Why should Swann want to slay her?"
Haldon pursed his lips. "Try not to tumble off the horse. If you do, best waddle back to Pentos. Our shy maid will not wait for man nor dwarf."
"Shy maids are my favorite sort. Aside from wanton ones. Tell me, where do whores go?"
"Do I look like a man who frequents whores?"
Duck laughed derisively. "He don't dare. Lemore would make him pray for pardon, the lad would want to come along, and Griff might cut his cock off and stuff it down his throat."
"Well," said Tyrion, "a maester does not need a cock."
"Haldon's only half a maester, though."
"You seem to find the dwarf amusing, Duck," said Haldon. "He can ride with you." He wheeled his mount about.
It took another few moments for Duck to finish securing Illyrio's chests to the three pack horses. By that time Haldon had vanished. Duck seemed unconcerned. He swung into the saddle, grabbed Tyrion by the collar, and hoisted the little man up in front of him. "Hold tight to the pommel and you'll do fine. The mare's got a nice sweet gait, and the dragon road's smooth as a maiden's arse." Gathering the reins in his right hand and the leads in his left, Ser Rolly set off at a brisk trot.
"Good fortune," Illyrio called after them. "Tell the boy I am sorry that I will not be with him for his wedding. I will rejoin you in Westeros. That I swear, by my sweet Serra's hands."
The last that Tyrion Lannister saw of Illyrio Mopatis, the magister was standing by his litter in his brocade robes, his massive shoulders slumped. As his figure dwindled in their dust, the lord of cheese looked almost small.
Duck caught up with Haldon Halfmaester a quarter mile on. Thereafter the riders continued side by side. Tyrion clung to the high pommel with his short legs splayed out awkwardly, knowing he could look forward to blisters, cramps, and saddle sores.
"I wonder what the pirates of Dagger Lake will make of our dwarf?" Haldon said as they rode on.
"Dwarf stew?" suggested Duck.
"Urho the Unwashed is the worst of them," Haldon confided. "His stench alone is enough to kill a man."
Tyrion shrugged. "Fortunately, I have no nose."
Haldon gave him a thin smile. "If we should encounter the Lady Korra on Hag's Teeth, you may soon be lacking other parts as well. Korra the Cruel, they call her. Her ship is crewed by beautiful young maids who geld every male they capture."
"Terrifying. I may well piss my breeches."
"Best not," Duck warned darkly.
"As you say. If we encounter this Lady Korra, I will just slip into a skirt and say that I am Cersei, the famous bearded beauty of King's Landing."
This time Duck laughed, and Haldon said, "What a droll little fellow you are, Yollo. They say that the Shrouded Lord will grant a boon to any man who can make him laugh. Perhaps His Grey Grace will choose you to ornament his stony court."
Duck glanced at his companion uneasily. "It's not good to jape of that one, not when we're so near the Rhoyne. He hears."
"Wisdom from a duck," said Haldon. "I beg your pardon, Yollo. You need not look so pale, I was only playing with you. The Prince of Sorrows does not bestow his grey kiss lightly."
His grey kiss. The thought made his flesh crawl. Death had lost its terror for Tyrion Lannister, but greyscale was another matter. The Shrouded Lord is just a legend, he told himself, no more real than the ghost of Lann the Clever that some claim haunts Casterly Rock. Even so, he held his tongue.
The dwarf's sudden silence went unnoticed, as Duck had begun to regale him with his own life story. His father had been an armorer at Bitterbridge, he said, so he had been born with the sound of steel ringing in his ears and had taken to swordplay at an early age. Such a large and likely lad drew the eye of old Lord Caswell, who offered him a place in his garrison, but the boy had wanted more. He watched Caswell's weakling son named a page, a squire, and finally a knight. "A weedy pinch-faced sneak, he was, but the old lord had four daughters and only the one son, so no one was allowed to say a word against him. T'other squires hardly dared to lay a finger on him in the yard."
"You were not so timid, though." Tyrion could see where this tale was going easily enough.
"My father made a longsword for me to mark my sixteenth nameday," said Duck, "but Lorent liked the look of it so much he took it for himself, and my bloody father never dared to tell him no. When I complained, Lorent told me to my face that my hand was made to hold a hammer, not a sword. So I went and got a hammer and beat him with it, till both his arms and half his ribs were broken. After that I had to leave the Reach, quick as it were. I made it across the water to the Golden Company. I did some smithing for a few years as a 'prentice, then Ser Harry Strickland took me on as squire. When Griff sent word downriver that he needed someone to help train his son to arms, Harry sent him me."
"And Griff knighted you?"
"A year later."
Haldon Halfmaester smiled a thin smile. "Tell our little friend how you came by your name, why don't you?"
"A knight needs more than just the one name," the big man insisted, "and, well, we were in a field when he dubbed me, and I looked up and saw these ducks, so … don't laugh, now."
Just after sunset, they left the road to rest in an overgrown yard beside an old stone well. Tyrion hopped down to work the cramps out of his calves whilst Duck and Haldon were watering the horses. Tough brown grass and weed trees sprouted from the gaps between the cobbles, and the mossy walls of what once might have been a huge stone manse. After the animals had been tended to, the riders shared a simple supper of salt pork and cold white beans, washed down with ale. Tyrion found the plain fare a pleasant change from all the rich food he had eaten with Illyrio. "Those chests we brought you," he said as they were chewing. "Gold for the Golden Company, I thought at first, until I saw Ser Rolly hoist a chest onto one shoulder. If it were full of coin, he could never have lifted it so easily."
"It's just armor," said Duck, with a shrug.
"Clothing as well," Haldon broke in. "Court clothes, for all our party. Fine woolens, velvets, silken cloaks. One does not come before a queen looking shabby … nor empty-handed. The magister has been kind enough to provide us with suitable gifts."
Come moonrise, they were back in their saddles, trotting eastward under a mantle of stars. The old Valyrian road glimmered ahead of them like a long silver ribbon winding through wood and dale. For a little while Tyrion Lannister felt almost at peace. "Lomas Longstrider told it true. The road's a wonder."
"Lomas Longstrider?" asked Duck.
"A scribe, long dead," said Haldon. "He spent his life traveling the world and writing about the lands he visited in two books he called Wonders and Wonders Made by Man."
"An uncle of mine gave them to me when I was just a boy," said Tyrion. "I read them until they fell to pieces."
"The gods made seven wonders, and mortal man made nine," quoted the Halfmaester. "Rather impious of mortal man to do the gods two better, but there you are. The stone roads of Valyria were one of Longstrider's nine. The fifth, I believe."
"The fourth," said Tyrion, who had committed all sixteen of the wonders to memory as a boy. His uncle Gerion liked to set him on the table during feasts and make him recite them. I liked that well enough, didn't I? Standing there amongst the trenchers with every eye upon me, proving what a clever little imp I was. For years afterward, he had cherished a dream that one day he would travel the world and see Longstrider's wonders for himself.
Lord Tywin had put an end to that hope ten days before his dwarf son's sixteenth nameday, when Tyrion asked to tour the Nine Free Cities, as his uncles had done at that same age. "My brothers could be relied upon to bring no shame upon House Lannister," his father had replied. "Neither ever wed a whore." And when Tyrion had reminded him that in ten days he would be a man grown, free to travel where he wished, Lord Tywin had said, "No man is free. Only children and fools think elsewise. Go, by all means. Wear motley and stand upon your head to amuse the spice lords and the cheese kings. Just see that you pay your own way and put aside any thoughts of returning." At that the boy's defiance had crumbled. "If it is useful occupation you require, useful occupation you shall have," his father then said. So to mark his manhood, Tyrion was given charge of all the drains and cisterns within Casterly Rock. Perhaps he hoped I'd fall into one. But Tywin had been disappointed in that. The drains never drained half so well as when he had charge of them.
I need a cup of wine, to wash the taste of Tywin from my mouth. A skin of wine would serve me even better.
They rode all night, with Tyrion sleeping fitfully, dozing against the pommel and waking suddenly. From time to time he would begin to slip sideways from the saddle, but Ser Rolly would get a hand on him and yank him upright once again. By dawn the dwarf's legs were aching and his cheeks were chafed and raw.
It was the next day before they reached the site of Ghoyan Drohe, hard beside the river. "The fabled Rhoyne," said Tyrion when he glimpsed the slow green waterway from atop a rise.
"The Little Rhoyne," said Duck.
"It is that." A pleasant enough river, I suppose, but the smallest fork of the Trident is twice as wide, and all three of them run swifter. The city was no more impressive. Ghoyan Drohe had never been large, Tyrion recalled from his histories, but it had been a fair place, green and flowering, a city of canals and fountains. Until the war. Until the dragons came. A thousand years later, the canals were choked with reeds and mud, and pools of stagnant water gave birth to swarms of flies. The broken stones of temples and palaces were sinking back into the earth, and gnarled old willows grew thick along the riverbanks.
A few people still remained amidst the squalor, tending little gardens in amongst the weeds. The sound of iron hooves ringing on the old Valyrian road sent most of them darting back into the holes they'd crawled from, but the bolder ones lingered in the sun long enough to stare at the passing riders with dull, incurious eyes. One naked girl with mud up to her knees could not seem to take her eyes off Tyrion. She has never seen a dwarf before, he realized, much less a dwarf without a nose. He made a face and stuck his tongue out, and the girl began to cry.
"What did you do to her?" Duck asked.
"I blew her a kiss. All the girls cry when I kiss them."
Beyond the tangled willows the road ended abruptly and they turned north for a short ways and rode beside the water, until the brush gave way and they found themselves beside an old stone quay, half-submerged and surrounded by tall brown weeds. "Duck!" came a shout. "Haldon!" Tyrion craned his head to one side, and saw a boy standing on the roof of a low wooden building, waving a wide-brimmed straw hat. He was a lithe and well-made youth, with a lanky build and a shock of dark blue hair. The dwarf put his age at fifteen, sixteen, or near enough to make no matter.
The roof the boy was standing on turned out to be the cabin of the Shy Maid, an old ramshackle single-masted poleboat. She had a broad beam and a shallow draft, ideal for making her way up the smallest of streams and crabwalking over sandbars. A homely maid, thought Tyrion, but sometimes the ugliest ones are the hungriest once abed. The poleboats that plied the rivers of Dorne were often brightly painted and exquisitely carved, but not this maid. Her paintwork was a muddy greyish brown, mottled and flaking; her big curved tiller, plain and unadorned. She looks like dirt, he thought, but no doubt that's the point.
Duck was hallooing back by then. The mare splashed through the shallows, trampling down the reeds. The boy leapt down off the cabin roof to the poleboat's deck, and the rest of the Shy Maid's crew made their appearance. An older couple with a Rhoynish cast to their features stood close beside the tiller, whilst a handsome septa in a soft white robe stepped through the cabin door and pushed a lock of dark brown hair from her eyes.
But there was no mistaking Griff. "That will be enough shouting," he said. A sudden silence fell upon the river.
This one will be trouble, Tyrion knew at once.
Griff's cloak was made from the hide and head of a red wolf of the Rhoyne. Under the pelt he wore brown leather stiffened with iron rings. His clean-shaved face was leathery too, with wrinkles at the corners of his eyes. Though his hair was as blue as his son's, he had red roots and redder eyebrows. At his hip hung a sword and dagger. If he was happy to have Duck and Haldon back again, he hid it well, but he did not trouble to conceal his displeasure at the sight of Tyrion. "A dwarf? What's this?"
"I know, you were hoping for a wheel of cheese." Tyrion turned to Young Griff and gave the lad his most disarming smile. "Blue hair may serve you well in Tyrosh, but in Westeros children will throw stones at you and girls will laugh in your face."
The lad was taken aback. "My mother was a lady of Tyrosh. I dye my hair in memory of her."
"What is this creature?" Griff demanded.
Haldon answered. "Illyrio sent a letter to explain."
"I will have it, then. Take the dwarf to my cabin."
I do not like his eyes, Tyrion reflected, when the sellsword sat down across from him in the dimness of the boat's interior, with a scarred plank table and a tallow candle between them. They were ice blue, pale, cold. The dwarf misliked pale eyes. Lord Tywin's eyes had been pale green and flecked with gold.
He watched the sellsword read. That he could read said something all by itself. How many sellswords could boast of that? He hardly moves his lips at all, Tyrion reflected.
Finally Griff looked up from the parchment, and those pale eyes narrowed. "Tywin Lannister dead? At your hand?"
"At my finger. This one." Tyrion held it up for Griff to admire. "Lord Tywin was sitting on a privy, so I put a crossbow bolt through his bowels to see if he really did shit gold. He didn't. A pity, I could have used some gold. I also slew my mother, somewhat earlier. Oh, and my nephew Joffrey, I poisoned him at his wedding feast and watched him choke to death. Did the cheesemonger leave that part out? I mean to add my brother and sister to the list before I'm done, if it please your queen."
"Please her? Has Illyrio taken leave of his senses? Why does he imagine that Her Grace would welcome the service of a self-confessed kingslayer and betrayer?"
A fair question, thought Tyrion, but what he said was, "The king I slew was sitting on her throne, and all those I betrayed were lions, so it seems to me that I have already done the queen good service." He scratched the stump of his nose. "Have no fear, I won't kill you, you are no kin of mine. Might I see what the cheesemonger wrote? I do love to read about myself."
Griff ignored the request. Instead he touched the letter to the candle flame and watched the parchment blacken, curl, and flare up. "There is blood between Targaryen and Lannister. Why would you support the cause of Queen Daenerys?"
"For gold and glory," the dwarf said cheerfully. "Oh, and hate. If you had ever met my sister, you would understand."
"I understand hate well enough." From the way Griff said the word, Tyrion knew that much was true. He has supped on hate himself, this one. It has warmed him in the night for years.
"Then we have that in common, ser."
"I am no knight."
Not only a liar, but a bad one. That was clumsy and stupid, my lord. "And yet Ser Duck says you knighted him."
"Duck talks too much."
"Some might wonder that a duck can talk at all. No matter, Griff. You are no knight and I am Hugor Hill, a little monster. Your little monster, if you like. You have my word, all that I desire is to be leal servant of your dragon queen."
"And how do you propose to serve her?"
"With my tongue." He licked his fingers, one by one. "I can tell Her Grace how my sweet sister thinks, if you call it thinking. I can tell her captains the best way to defeat my brother, Jaime, in battle. I know which lords are brave and which are craven, which are loyal and which are venal. I can deliver allies to her. And I know much and more of dragons, as your halfmaester will tell you. I'm amusing too, and I don't eat much. Consider me your own true imp."
Griff weighed that for a moment. "Understand this, dwarf. You are the last and least of our company. Hold your tongue and do as you are told, or you will soon wish you had."
Yes, Father, Tyrion almost said. "As you say, my lord."
"I am no lord."
Liar. "It was a courtesy, my friend."
"I am not your friend either."
No knight, no lord, no friend. "A pity."
"Spare me your irony. I will take you as far as Volantis. If you show yourself to be obedient and useful, you may remain with us, to serve the queen as best you can. Prove yourself more trouble than you are worth, and you can go your own way."
Aye, and my way will take me to the bottom of the Rhoyne with fish nibbling at what's left of my nose. "Valar dohaeris."
"You may sleep on the deck or in the hold, as you prefer. Ysilla will find bedding for you."
"How kind of her." Tyrion made a waddling bow, but at the cabin door, he turned back. "What if we should find the queen and discover that this talk of dragons was just some sailor's drunken fancy? This wide world is full of such mad tales. Grumkins and snarks, ghosts and ghouls, mermaids, rock goblins, winged horses, winged pigs … winged lions."
Griff stared at him, frowning. "I have given you fair warning, Lannister. Guard your tongue or lose it. Kingdoms are at hazard here. Our lives, our names, our honor. This is no game we're playing for your amusement."
Of course it is, thought Tyrion. The game of thrones. "As you say, Captain," he murmured, bowing once again.

DAVOS
Lightning split the northern sky, etching the black tower of the Night Lamp against the blue-white sky. Six heartbeats later came the thunder, like a distant drum.
The guards marched Davos Seaworth across a bridge of black basalt and under an iron portcullis showing signs of rust. Beyond lay a deep salt moat and a drawbridge supported by a pair of massive chains. Green waters surged below, sending up plumes of spray to smash against the foundations of the castle. Then came a second gatehouse, larger than the first, its stones bearded with green algae. Davos stumbled across a muddy yard with his hands bound at the wrists. A cold rain stung his eyes. The guards prodded him up the steps, into Breakwater's cavernous stone keep.
Once inside, the captain removed his cloak and hung it from a peg, so as not to leave puddles on the threadbare Myrish carpet. Davos did the same, fumbling at the clasp with his bound hands. He had not forgotten the courtesies he had learned on Dragonstone during his years of service.
They found the lord alone in the gloom of his hall, making a supper of beer and bread and sister's stew. Twenty iron sconces were mounted along his thick stone walls, but only four held torches, and none of them was lit. Two fat tallow candles gave a meagre, flickering light. Davos could hear the rain lashing at the walls, and a steady dripping where the roof had sprung a leak.
"M'lord," said the captain, "we found this man in the Belly o' the Whale, trying to buy his way off island. He had twelve dragons on him, and this thing too." The captain put it on the table by the lord: a wide ribbon of black velvet trimmed with cloth-of-gold, and bearing three seals; a crowned stag stamped in golden beeswax, a flaming heart in red, a hand in white.
Davos waited wet and dripping, his wrists chafing where the wet rope dug into his skin. One word from this lord and he would soon be hanging from the Gallows Gate of Sisterton, but at least he was out of the rain, with solid stone beneath his feet in place of a heaving deck. He was soaked and sore and haggard, worn thin by grief and betrayal, and sick to death of storms.
The lord wiped his mouth with the back of his hand and picked up the ribbon for a closer squint. Lightning flashed outside, making the arrow loops blaze blue and white for half a heartbeat. One, two, three, four, Davos counted, before the thunder came. When it quieted, he listened to the dripping, and the duller roar beneath his feet, where the waves were smashing against Breakwater's huge stone arches and swirling through its dungeons. He might well end up down there, fettered to a wet stone floor and left to drown when the tide came rushing in. No, he tried to tell himself, a smuggler might die that way, but not a King's Hand. I'm worth more if he sells me to his queen.
The lord fingered the ribbon, frowning at the seals. He was an ugly man, big and fleshy, with an oarsman's thick shoulders and no neck. Coarse grey stubble, going white in patches, covered his cheeks and chin. Above a massive shelf of brow he was bald. His nose was lumpy and red with broken veins, his lips thick, and he had a sort of webbing between the three middle fingers of his right hand. Davos had heard that some of the lords of the Three Sisters had webbed hands and feet, but he had always put that down as just another sailor's story.
The lord leaned back. "Cut him free," he said, "and peel those gloves off him. I want to see his hands."
The captain did as he was told. As he jerked up his captive's maimed left hand the lightning flashed again, throwing the shadow of Davos Seaworth's shortened fingers across the blunt and brutal face of Godric Borrell, Lord of Sweetsister. "Any man can steal a ribbon," the lord said, "but those fingers do not lie. You are the onion knight."
"I have been called that, my lord." Davos was a lord himself, and had been a knight for long years now, but deep down he was still what he had always been, a smuggler of common birth who had bought his knighthood with a hold of onions and salt fish. "I have been called worse things too."
"Aye. Traitor. Rebel. Turncloak."
He bristled at the last. "I have never turned my cloak, my lord. I am a king's man."
"Only if Stannis is a king." The lord weighed him with hard black eyes. "Most knights who land upon my shores seek me in my hall, not in the Belly of the Whale. A vile smuggler's den, that place. Are you returning to your old trade, onion knight?"
"No, my lord. I was looking for passage to White Harbor. The king sent me, with a message for its lord."
"Then you are in the wrong place, with the wrong lord." Lord Godric seemed amused. "This is Sisterton, on Sweetsister."
"I know it is." There was nothing sweet about Sisterton, though. It was a vile town, a sty, small and mean and rank with the odors of pig shit and rotting fish. Davos remembered it well from his smuggling days. The Three Sisters had been a favorite haunt of smugglers for hundreds of years, and a pirate's nest before that. Sisterton's streets were mud and planks, its houses daub-and-wattle hovels roofed with straw, and by the Gallows Gate there were always hanged men with their entrails dangling out.
"You have friends here, I do not doubt," said the lord. "Every smuggler has friends on the Sisters. Some of them are my friends as well. The ones who aren't, them I hang. I let them strangle slowly, with their guts slapping up against their knees." The hall grew bright again, as lightning lit the windows. Two heartbeats later came the thunder. "If it is White Harbor that you want, why are you in Sisterton? What brought you here?"
A king's command and a friend's betrayal, Davos might have said. Instead he answered, "Storms."
Nine-and-twenty ships had set sail from the Wall. If half of them were still afloat, Davos would be shocked. Black skies, bitter winds, and lashing rains had hounded them all the way down the coast. The galleys Oledo and Old Mother's Son had been driven onto the rocks of Skagos, the isle of unicorns and cannibals where even the Blind Bastard had feared to land; the great cog Saathos Saan had foundered off the Grey Cliffs. "Stannis will be paying for them," Salladhor Saan had fumed. "He will be paying for them with good gold, every one." It was as if some angry god was exacting payment for their easy voyage north, when they had ridden a steady southerly from Dragonstone to the Wall. Another gale had ripped away the rigging of the Bountiful Harvest, forcing Salla to have her taken under tow. Ten leagues north of Widow's Watch the seas rose again, slamming the Harvest into one of the galleys towing her and sinking both. The rest of the Lysene fleet had been scattered across the narrow sea. Some would straggle into one port or another. Others would never be seen again.
"Salladhor the Beggar, that's what your king has made me," Salladhor Saan complained to Davos, as the remnants of his fleet limped across the Bite. "Salladhor the Smashed. Where are my ships? And my gold, where is all the gold that I was promised?" When Davos had tried to assure him that he would have his payment, Salla had erupted. "When, when? On the morrow, on the new moon, when the red comet comes again? He is promising me gold and gems, always promising, but this gold I have not seen. I have his word, he is saying, oh yes, his royal word, he writes it down. Can Salladhor Saan eat the king's word? Can he quench his thirst with parchments and waxy seals? Can he tumble promises into a feather bed and fuck them till they squeal?"
Davos had tried to persuade him to stay true. If Salla abandoned Stannis and his cause, he pointed out, he abandoned all hope of collecting the gold that was due him. A victorious King Tommen was not like to pay his defeated uncle's debts, after all. Salla's only hope was to remain loyal to Stannis Baratheon until he won the Iron Throne. Elsewise he would never see a groat of his money. He had to be patient.
Perhaps some lord with honey on his tongue might have swayed the Lysene pirate prince, but Davos was an onion knight, and his words had only provoked Salla to fresh outrage. "On Dragonstone I was patient," he said, "when the red woman burned wooden gods and screaming men. All the long way to the Wall I was patient. At Eastwatch I was patient … and cold, so very cold. Bah, I say. Bah to your patience, and bah to your king. My men are hungry. They are wishing to fuck their wives again, to count their sons, to see the Stepstones and the pleasure gardens of Lys. Ice and storms and empty promises, these they are not wanting. This north is much too cold, and getting colder."
I knew the day would come, Davos told himself. I was fond of the old rogue, but never so great a fool as to trust him.
"Storms." Lord Godric said the word as fondly as another man might say his lover's name. "Storms were sacred on the Sisters before the Andals came. Our gods of old were the Lady of the Waves and the Lord of the Skies. They made storms every time they mated." He leaned forward. "These kings never bother with the Sisters. Why should they? We are small and poor. And yet you're here. Delivered to me by the storms."
Delivered to you by a friend, Davos thought.
Lord Godric turned to his captain. "Leave this man with me. He was never here."
"No, m'lord. Never." The captain took his leave, his wet boots leaving damp footprints across the carpet. Beneath the floor the sea was rumbling and restless, pounding at the castle's feet. The outer door closed with a sound like distant thunder, and again the lightning came, as if in answer.
"My lord," said Davos, "if you would send me on to White Harbor, His Grace would count it as an act of friendship."
"I could send you to White Harbor," the lord allowed. "Or I could send you to some cold wet hell."
Sisterton is hell enough. Davos feared the worst. The Three Sisters were fickle bitches, loyal only to themselves. Supposedly they were sworn to the Arryns of the Vale, but the Eyrie's grasp upon the islands was tenuous at best.
"Sunderland would require me to hand you over if he knew of you." Borrell did fealty for Sweetsister, as Longthorpe did for Longsister and Torrent for Littlesister; all were sworn to Triston Sunderland, the Lord of the Three Sisters. "He'd sell you to the queen for a pot of that Lannister gold. Poor man needs every dragon, with seven sons all determined to be knights." The lord picked up a wooden spoon and attacked his stew again. "I used to curse the gods who gave me only daughters until I heard Triston bemoaning the cost of destriers. You would be surprised to know how many fish it takes to buy a decent suit of plate and mail."
I had seven sons as well, but four are burned and dead. "Lord Sunderland is sworn to the Eyrie," Davos said. "By rights he should deliver me to Lady Arryn." He would stand a better chance with her than with the Lannisters, he judged. Though she had taken no part in the War of the Five Kings, Lysa Arryn was a daughter of Riverrun, and aunt to the Young Wolf.
"Lysa Arryn's dead," Lord Godric said, "murdered by some singer. Lord Littlefinger rules the Vale now. Where are the pirates?" When Davos did not answer, he rapped his spoon against the table. "The Lyseni. Torrent spied their sails from Littlesister, and before him the Flints from Widow's Watch. Orange sails, and green, and pink. Salladhor Saan. Where is he?"
"At sea." Salla would be sailing around the Fingers and down the narrow sea. He was returning to the Stepstones with what few ships remained him. Perhaps he would acquire a few more along the way, if he came upon some likely merchantmen. A little piracy to help the leagues go by. "His Grace has sent him south, to trouble the Lannisters and their friends." The lie was one he had rehearsed as he rowed toward Sisterton through the rain. Soon or late the world would learn that Salladhor Saan had abandoned Stannis Baratheon, leaving him without a fleet, but they would not hear it from the lips of Davos Seaworth.
Lord Godric stirred his stew. "Did that old pirate Saan make you swim to shore?"
"I came ashore in an open boat, my lord." Salla had waited until the beacon of the Night Lamp shone off the Valyrian's port bow before he put him off. Their friendship had been worth that much, at least. The Lyseni would gladly have taken him south with him, he avowed, but Davos had refused. Stannis needed Wyman Manderly, and had trusted Davos to win him. He would not betray that trust, he told Salla. "Bah," the pirate prince replied, "he will kill you with these honors, old friend. He will kill you."
"I have never had a King's Hand beneath my roof before," Lord Godric said. "Would Stannis ransom you, I wonder?"
Would he? Stannis had given Davos lands and titles and offices, but would he pay good gold to buy back his life? He has no gold. Else he'd still have Salla. "You will find His Grace at Castle Black if my lord would like to ask that of him."
Borrell grunted. "Is the Imp at Castle Black as well?"
"The Imp?" Davos did not understand the question. "He is at King's Landing, condemned to die for the murder of his nephew."
"The Wall is the last to learn, my father used to say. The dwarf's escaped. He twisted through the bars of his cell and tore his own father apart with his bare hands. A guardsman saw him flee, red from head to heel, as if he'd bathed in blood. The queen will make a lord of any man who kills him."
Davos struggled to believe what he was hearing. "You are telling me that Tywin Lannister is dead?"
"At his son's hand, aye." The lord took a drink of beer. "When there were kings on the Sisters, we did not suffer dwarfs to live. We cast them all into the sea, as an offering to the gods. The septons made us stop that. A pack of pious fools. Why would the gods give a man such a shape but to mark him as a monster?"
Lord Tywin dead. This changes all. "My lord, will you grant me leave to send a raven to the Wall? His Grace will want to know of Lord Tywin's death."
"He'll know. But not from me. Nor you, so long as you are here beneath my leaky roof. I'll not have it said that I gave Stannis aid and counsel. The Sunderlands dragged the Sisters into two of the Blackfyre Rebellions, and we all suffered grievously for that." Lord Godric waved his spoon toward a chair. "Sit. Before you fall, ser. My hall is cold and damp and dark, but not without some courtesy. We'll find dry clothes for you, but first you'll eat." He shouted, and a woman entered the hall. "We have a guest to feed. Bring beer and bread and sister's stew."
The beer was brown, the bread black, the stew a creamy white. She served it in a trencher hollowed out of a stale loaf. It was thick with leeks, carrots, barley, and turnips white and yellow, along with clams and chunks of cod and crabmeat, swimming in a stock of heavy cream and butter. It was the sort of stew that warmed a man right down to his bones, just the thing for a wet, cold night. Davos spooned it up gratefully.
"You have tasted sister's stew before?"
"I have, my lord." The same stew was served all over the Three Sisters, in every inn and tavern.
"This is better than what you've had before. Gella makes it. My daughter's daughter. Are you married, onion knight?"
"I am, my lord."
"A pity. Gella's not. Homely women make the best wives. There's three kinds of crabs in there. Red crabs and spider crabs and conquerors. I won't eat spider crab, except in sister's stew. Makes me feel half a cannibal." His lordship gestured at the banner hanging above the cold black hearth. A spider crab was embroidered there, white on a grey-green field. "We heard tales that Stannis burned his Hand."
The Hand who went before me. Melisandre had given Alester Florent to her god on Dragonstone, to conjure up the wind that bore them north. Lord Florent had been strong and silent as the queen's men bound him to the post, as dignified as any half-naked man could hope to be, but as the flames licked up his legs he had begun to scream, and his screams had blown them all the way to Eastwatch-by-the-Sea, if the red woman could be believed. Davos had misliked that wind. It had seemed to him to smell of burning flesh, and the sound of it was anguished as it played amongst the lines. It could as easily have been me. "I did not burn," he assured Lord Godric, "though Eastwatch almost froze me."
"The Wall will do that." The woman brought them a fresh loaf of bread, still hot from the oven. When Davos saw her hand, he stared. Lord Godric did not fail to make note of it. "Aye, she has the mark. Like all Borrells, for five thousand years. My daughter's daughter. Not the one who makes the stew." He tore the bread apart and offered half to Davos. "Eat. It's good."
It was, though any stale crust would have tasted just as fine to Davos; it meant he was a guest here, for this one night at least. The lords of the Three Sisters had a black repute, and none more so than Godric Borrell, Lord of Sweetsister, Shield of Sisterton, Master of Breakwater Castle, and Keeper of the Night Lamp … but even robber lords and wreckers were bound by the ancient laws of hospitality. I will see the dawn, at least, Davos told himself. I have eaten of his bread and salt.
Though there were stranger spices than salt in this sister's stew. "Is it saffron that I'm tasting?" Saffron was worth more than gold. Davos had only tasted it once before, when King Robert had sent a half a fish to him at a feast on Dragonstone.
"Aye. From Qarth. There's pepper too." Lord Godric took a pinch between his thumb and forefinger and sprinkled his own trencher. "Cracked black pepper from Volantis, nothing finer. Take as much as you require if you're feeling peppery. I've got forty chests of it. Not to mention cloves and nutmeg, and a pound of saffron. Took it off a sloe-eyed maid." He laughed. He still had all his teeth, Davos saw, though most of them were yellow and one on the top was black and dead. "She was making for Braavos, but a gale swept her into the Bite and she smashed up against some of my rocks. So you see, you are not the only gift the storms have brought me. The sea's a treacherous cruel thing."
Not as treacherous as men, thought Davos. Lord Godric's forebears had been pirate kings until the Starks came down on them with fire and sword. These days the Sistermen left open piracy to Salladhor Saan and his ilk and confined themselves to wrecking. The beacons that burned along the shores of the Three Sisters were supposed to warn of shoals and reefs and rocks and lead the way to safety, but on stormy nights and foggy ones, some Sistermen would use false lights to draw unwary captains to their doom.
"The storms did you a kindness, blowing you to my door," Lord Godric said. "You'd have found a cold welcome in White Harbor. You come too late, ser. Lord Wyman means to bend his knee, and not to Stannis." He took a swallow of his beer. "The Manderlys are no northmen, not down deep. 'Twas no more than nine hundred years ago when they came north, laden down with all their gold and gods. They'd been great lords on the Mander until they overreached themselves and the green hands slapped them down. The wolf king took their gold, but he gave them land and let them keep their gods." He mopped at his stew with a chunk of bread. "If Stannis thinks the fat man will ride the stag, he's wrong. The Lionstar put in at Sisterton twelve days ago to fill her water casks. Do you know her? Crimson sails and a gold lion on her prow. And full of Freys, making for White Harbor."
"Freys?" That was the last thing that Davos would have expected. "The Freys killed Lord Wyman's son, we heard."
"Aye," Lord Godric said, "and the fat man was so wroth that he took a vow to live on bread and wine till he had his vengeance. But before the day was out, he was stuffing clams and cakes into his mouth again. There's ships that go between the Sisters and White Harbor all the time. We sell them crabs and fish and goat cheese, they sell us wood and wool and hides. From all I hear, his lordship's fatter than ever. So much for vows. Words are wind, and the wind from Manderly's mouth means no more than the wind escaping out his bottom." The lord tore off another chunk of bread to swipe out his trencher. "The Freys were bringing the fat fool a bag of bones. Some call that courtesy, to bring a man his dead son's bones. Had it been my son, I would have returned the courtesy and thanked the Freys before I hanged them, but the fat man's too noble for that." He stuffed the bread into his mouth, chewed, swallowed. "I had the Freys to supper. One sat just where you're sitting now. Rhaegar, he named himself. I almost laughed right in his face. He'd lost his wife, he said, but he meant to get himself a new one in White Harbor. Ravens have been flying back and forth. Lord Wyman and Lord Walder have made a pact, and mean to seal it with a marriage."
Davos felt as though the lord had punched him in the belly. If he tells it true, my king is lost. Stannis Baratheon had desperate need of White Harbor. If Winterfell was the heart of the north, White Harbor was its mouth. Its firth had remained free of ice even in the depths of winter for centuries. With winter coming on, that could mean much and more. So could the city's silver. The Lannisters had all the gold of Casterly Rock, and had wed the wealth of Highgarden. King Stannis's coffers were exhausted. I must try, at least. There may be some way that I can stop this marriage. "I have to reach White Harbor," he said. "Your lordship, I beg you, help me."
Lord Godric began to eat his trencher, tearing it apart in his big hands. The stew had softened the stale bread. "I have no love for northmen," he announced. "The maesters say the Rape of the Three Sisters was two thousand years ago, but Sisterton has not forgotten. We were a free people before that, with our kings ruling over us. Afterward, we had to bend our knees to the Eyrie to get the northmen out. The wolf and the falcon fought over us for a thousand years, till between the two of them they had gnawed all the fat and flesh off the bones of these poor islands. As for your King Stannis, when he was Robert's master of ships he sent a fleet into my port without my leave and made me hang a dozen fine friends. Men like you. He went so far as to threaten to hang me if it should happen that some ship went aground because the Night Lamp had gone black. I had to eat his arrogance." He ate some of the trencher. "Now he comes north humbled, with his tail between his legs. Why should I give him any aid? Answer me that."
Because he is your rightful king, Davos thought. Because he is a strong man and a just one, the only man who can restore the realm and defend it against the peril that gathers in the north. Because he has a magic sword that glows with the light of the sun. The words caught in his throat. None of them would sway the Lord of Sweetsister. None of them would get him a foot closer to White Harbor. What answer does he want? Must I promise him gold we do not have? A highborn husband for his daughter's daughter? Lands, honors, titles? Lord Alester Florent had tried to play that game, and the king had burned him for it.
"The Hand has lost his tongue, it seems. He has no taste for sister's stew, or truth." Lord Godric wiped his mouth.
"The lion is dead," said Davos, slowly. "There's your truth, my lord. Tywin Lannister is dead."
"What if he is?"
"Who rules now in King's Landing? Not Tommen, he is just a child. Is it Ser Kevan?"
Candlelight gleamed in Lord Godric's black eyes. "If it were, you'd be in chains. It's the queen who rules."
Davos understood. He nurses doubts. He does not want to find himself upon the losing side. "Stannis held Storm's End against the Tyrells and the Redwynes. He took Dragonstone from the last Targaryens. He smashed the Iron Fleet off Fair Isle. This child king will not prevail against him."
"This child king commands the wealth of Casterly Rock and the power of Highgarden. He has the Boltons and the Freys." Lord Godric rubbed his chin. "Still … in this world only winter is certain. Ned Stark told my father that, here in this very hall."
"Ned Stark was here?"
"At the dawn of Robert's Rebellion. The Mad King had sent to the Eyrie for Stark's head, but Jon Arryn sent him back defiance. Gulltown stayed loyal to the throne, though. To get home and call his banners, Stark had to cross the mountains to the Fingers and find a fisherman to carry him across the Bite. A storm caught them on the way. The fisherman drowned, but his daughter got Stark to the Sisters before the boat went down. They say he left her with a bag of silver and a bastard in her belly. Jon Snow, she named him, after Arryn.
"Be that as it may. My father sat where I sit now when Lord Eddard came to Sisterton. Our maester urged us to send Stark's head to Aerys, to prove our loyalty. It would have meant a rich reward. The Mad King was open-handed with them as pleased him. By then we knew that Jon Arryn had taken Gulltown, though. Robert was the first man to gain the wall, and slew Marq Grafton with his own hand. 'This Baratheon is fearless,' I said. 'He fights the way a king should fight.' Our maester chuckled at me and told us that Prince Rhaegar was certain to defeat this rebel. That was when Stark said, 'In this world only winter is certain. We may lose our heads, it's true … but what if we prevail?' My father sent him on his way with his head still on his shoulders. 'If you lose,' he told Lord Eddard, 'you were never here.' "
"No more than I was," said Davos Seaworth.

JON
They brought forth the King-Beyond-the-Wall with his hands bound by hempen rope and a noose around his neck.
The other end of the rope was looped about the saddle horn of Ser Godry Farring's courser. The Giantslayer and his mount were armored in silvered steel inlaid with niello. Mance Rayder wore only a thin tunic that left his limbs naked to the cold. They could have let him keep his cloak, Jon Snow thought, the one the wildling woman patched with strips of crimson silk.
Small wonder that the Wall was weeping.
"Mance knows the haunted forest better than any ranger," Jon had told King Stannis, in his final effort to convince His Grace that the King-Beyond-the-Wall would be of more use to them alive than dead. "He knows Tormund Giantsbane. He has fought the Others. And he had the Horn of Joramun and did not blow it. He did not bring down the Wall when he could have."
His words fell on deaf ears. Stannis had remained unmoved. The law was plain; a deserter's life was forfeit.
Beneath the weeping Wall, Lady Melisandre raised her pale white hands. "We all must choose," she proclaimed. "Man or woman, young or old, lord or peasant, our choices are the same." Her voice made Jon Snow think of anise and nutmeg and cloves. She stood at the king's side on a wooden scaffold raised above the pit. "We choose light or we choose darkness. We choose good or we choose evil. We choose the true god or the false."
Mance Rayder's thick grey-brown hair blew about his face as he walked. He pushed it from his eyes with bound hands, smiling. But when he saw the cage, his courage failed him. The queen's men had made it from the trees of the haunted forest, from saplings and supple branches, pine boughs sticky with sap, and the bone-white fingers of the weirwoods. They'd bent them and twisted them around and through each other to weave a wooden lattice, then hung it high above a deep pit filled with logs, leaves, and kindling.
The wildling king recoiled from the sight. "No," he cried, "mercy. This is not right, I'm not the king, they—"
Ser Godry gave a pull on the rope. The King-Beyond-the-Wall had no choice but to stumble after him, the rope choking off his words. When he lost his feet, Godry dragged him the rest of the way. Mance was bloody when the queen's men half-shoved, half-carried him to the cage. A dozen men-at-arms heaved together to hoist him into the air.
Lady Melisandre watched him rise. "FREE FOLK! Here stands your king of lies. And here is the horn he promised would bring down the Wall." Two queen's men brought forth the Horn of Joramun, black and banded with old gold, eight feet long from end to end. Runes were carved into the golden bands, the writing of the First Men. Joramun had died thousands of years ago, but Mance had found his grave beneath a glacier, high up in the Frostfangs. And Joramun blew the Horn of Winter, and woke giants from the earth. Ygritte had told Jon that Mance never found the horn. She lied, or else Mance kept it secret even from his own.
A thousand captives watched through the wooden bars of their stockade as the horn was lifted high. All were ragged and half-starved. Wildlings, the Seven Kingdoms called them; they named themselves the free folk. They looked neither wild nor free—only hungry, frightened, numb.
"The Horn of Joramun?" Melisandre said. "No. Call it the Horn of Darkness. If the Wall falls, night falls as well, the long night that never ends. It must not happen, will not happen! The Lord of Light has seen his children in their peril and sent a champion to them, Azor Ahai reborn." She swept a hand toward Stannis, and the great ruby at her throat pulsed with light.
He is stone and she is flame. The king's eyes were blue bruises, sunk deep in a hollow face. He wore grey plate, a fur-trimmed cloak of cloth-of-gold flowing from his broad shoulders. His breastplate had a flaming heart inlaid above his own. Girding his brows was a red-gold crown with points like twisting flames. Val stood beside him, tall and fair. They had crowned her with a simple circlet of dark bronze, yet she looked more regal in bronze than Stannis did in gold. Her eyes were grey and fearless, unflinching. Beneath an ermine cloak, she wore white and gold. Her honey-blond hair had been done up in a thick braid that hung over her right shoulder to her waist. The chill in the air had put color in her cheeks.
Lady Melisandre wore no crown, but every man there knew that she was Stannis Baratheon's real queen, not the homely woman he had left to shiver at Eastwatch-by-the-Sea. Talk was, the king did not mean to send for Queen Selyse and their daughter until the Nightfort was ready for habitation. Jon felt sorry for them. The Wall offered few of the comforts that southron ladies and little highborn girls were used to, and the Nightfort offered none. That was a grim place, even at the best of times.
"FREE FOLK!" cried Melisandre. "Behold the fate of those who choose the darkness!"
The Horn of Joramun burst into flame.
It went up with a whoosh as swirling tongues of green and yellow fire leapt up crackling all along its length. Jon's garron shied nervously, and up and down the ranks others fought to still their mounts as well. A moan came from the stockade as the free folk saw their hope afire. A few began to shout and curse, but most lapsed into silence. For half a heartbeat the runes graven on the gold bands seemed to shimmer in the air. The queen's men gave a heave and sent the horn tumbling down into the fire pit.
Inside his cage, Mance Rayder clawed at the noose about his neck with bound hands and screamed incoherently of treachery and witchery, denying his kingship, denying his people, denying his name, denying all that he had ever been. He shrieked for mercy and cursed the red woman and began to laugh hysterically.
Jon watched unblinking. He dare not appear squeamish before his brothers. He had ordered out two hundred men, more than half the garrison of Castle Black. Mounted in solemn sable ranks with tall spears in hand, they had drawn up their hoods to shadow their faces … and hide the fact that so many were greybeards and green boys. The free folk feared the Watch. Jon wanted them to take that fear with them to their new homes south of the Wall.
The horn crashed amongst the logs and leaves and kindling. Within three heartbeats the whole pit was aflame. Clutching the bars of his cage with bound hands, Mance sobbed and begged. When the fire reached him he did a little dance. His screams became one long, wordless shriek of fear and pain. Within his cage, he fluttered like a burning leaf, a moth caught in a candle flame.
Jon found himself remembering a song.
Brothers, oh brothers, my days here are done,
   the Dornishman's taken my life,
But what does it matter, for all men must die,
   and I've tasted the Dornishman's wife!
Val stood on the platform as still as if she had been carved of salt. She will not weep nor look away. Jon wondered what Ygritte would have done in her place. The women are the strong ones. He found himself thinking about Sam and Maester Aemon, about Gilly and the babe. She will curse me with her dying breath, but I saw no other way. Eastwatch reported savage storms upon the narrow sea. I meant to keep them safe. Did I feed them to the crabs instead? Last night he had dreamed of Sam drowning, of Ygritte dying with his arrow in her (it had not been his arrow, but in his dreams it always was), of Gilly weeping tears of blood.
Jon Snow had seen enough. "Now," he said.
Ulmer of the Kingswood jammed his spear into the ground, unslung his bow, and slipped a black arrow from his quiver. Sweet Donnel Hill threw back his hood to do the same. Garth Greyfeather and Bearded Ben nocked shafts, bent their bows, loosed.
One arrow took Mance Rayder in the chest, one in the gut, one in the throat. The fourth struck one of the cage's wooden bars, and quivered for an instant before catching fire. A woman's sobs echoed off the Wall as the wildling king slid bonelessly to the floor of his cage, wreathed in fire. "And now his Watch is done," Jon murmured softly. Mance Rayder had been a man of the Night's Watch once, before he changed his black cloak for one slashed with bright red silk.
Up on the platform, Stannis was scowling. Jon refused to meet his eyes. The bottom had fallen out of the wooden cage, and its bars were crumbling. Every time the fire licked upward, more branches tumbled free, cherry red and black. "The Lord of Light made the sun and moon and stars to light our way, and gave us fire to keep the night at bay," Melisandre told the wildlings. "None can withstand his flames."
"None can withstand his flames," the queen's men echoed.
The red woman's robes of deep-dyed scarlet swirled about her, and her coppery hair made a halo round her face. Tall yellow flames danced from her fingertips like claws. "FREE FOLK! Your false gods cannot help you. Your false horn did not save you. Your false king brought you only death, despair, defeat … but here stands the true king. BEHOLD HIS GLORY!"
Stannis Baratheon drew Lightbringer.
The sword glowed red and yellow and orange, alive with light. Jon had seen the show before … but not like this, never before like this. Lightbringer was the sun made steel. When Stannis raised the blade above his head, men had to turn their heads or cover their eyes. Horses shied, and one threw his rider. The blaze in the fire pit seemed to shrink before this storm of light, like a small dog cowering before a larger one. The Wall itself turned red and pink and orange, as waves of color danced across the ice. Is this the power of king's blood?
"Westeros has but one king," said Stannis. His voice rang harsh, with none of Melisandre's music. "With this sword I defend my subjects and destroy those who menace them. Bend the knee, and I promise you food, land, and justice. Kneel and live. Or go and die. The choice is yours." He slipped Lightbringer into its scabbard, and the world darkened once again, as if the sun had gone behind a cloud. "Open the gates."
"OPEN THE GATES," bellowed Ser Clayton Suggs, in a voice as deep as a warhorn. "OPEN THE GATES," echoed Ser Corliss Penny, commanding the guards. "OPEN THE GATES," cried the serjeants. Men scrambled to obey. Sharpened stakes were wrenched from the ground, planks were dropped across deep ditches, and the stockade gates were thrown wide. Jon Snow raised his hand and lowered it, and his black ranks parted right and left, clearing a path to the Wall, where Dolorous Edd Tollett pushed open the iron gate.
"Come," urged Melisandre. "Come to the light … or run back to the darkness." In the pit below her, the fire was crackling. "If you choose life, come to me."
And they came. Slowly at first, some limping or leaning on their fellows, the captives began to emerge from their rough-hewn pen. If you would eat, come to me, Jon thought. If you would not freeze or starve, submit. Hesitant, wary of some trap, the first few prisoners edged across the planks and through the ring of the stakes, toward Melisandre and the Wall. More followed, when they saw that no harm had come to those who went before. Then more, until it was a steady stream. Queen's men in studded jacks and halfhelms handed each passing man, woman, or child a piece of white weirwood: a stick, a splintered branch as pale as broken bone, a spray of blood-red leaves. A piece of the old gods to feed the new. Jon flexed the fingers of his sword hand.
The heat from the fire pit was palpable even at a distance; for the wildlings, it had to be blistering. He saw men cringing as they neared the flames, heard children cry. A few turned for the forest. He watched a young woman stumble away with a child on either hand. Every few steps she looked back to make certain no one was coming after them, and when she neared the trees she broke into a run. One greybeard took the weirwood branch they handed him and used it as a weapon, laying about with it until the queen's men converged on him with spears. The others had to step around his body, until Ser Corliss had it thrown in the fire. More of the free folk chose the woods after that—one in ten, perhaps.
But most came on. Behind them was only cold and death. Ahead was hope. They came on, clutching their scraps of wood until the time came to feed them to the flames. R'hllor was a jealous deity, ever hungry. So the new god devoured the corpse of the old, and cast gigantic shadows of Stannis and Melisandre upon the Wall, black against the ruddy red reflections on the ice.
Sigorn was the first to kneel before the king. The new Magnar of Thenn was a younger, shorter version of his father—lean, balding, clad in bronze greaves and a leather shirt sewn with bronze scales. Next came Rattleshirt in clattering armor made of bones and boiled leather, his helm a giant's skull. Under the bones lurked a ruined and wretched creature with cracked brown teeth and a yellow tinge to the whites of his eyes. A small, malicious, treacherous man, as stupid as he is cruel. Jon did not believe for a moment that he would keep faith. He wondered what Val was feeling as she watched him kneel, forgiven.
Lesser leaders followed. Two clan chiefs of the Hornfoot men, whose feet were black and hard. An old wisewoman revered by the peoples of the Milkwater. A scrawny dark-eyed boy of two-and-ten, the son of Alfyn Crowkiller. Halleck, brother to Harma Dogshead, with her pigs. Each took a knee before the king.
It is too cold for this mummer's show, thought Jon. "The free folk despise kneelers," he had warned Stannis. "Let them keep their pride, and they will love you better." His Grace would not listen. He said, "It is swords I need from them, not kisses."
Having knelt, the wildlings shuffled past the ranks of the black brothers to the gate. Jon had detailed Horse and Satin and half a dozen others to lead them through the Wall with torches. On the far side, bowls of hot onion soup awaited them, and chunks of black bread and sausage. Clothes as well: cloaks, breeches, boots, tunics, good leather gloves. They would sleep on piles of clean straw, with fires blazing to keep the chill of night at bay. This king was nothing if not methodical. Soon or late, however, Tormund Giantsbane would assault the Wall again, and when that hour came Jon wondered whose side Stannis's new-made subjects would choose. You can give them land and mercy, but the free folk choose their own kings, and it was Mance they chose, not you.
Bowen Marsh edged his mount up next to Jon's. "This is a day I never thought to see." The Lord Steward had thinned notably since suffering a head wound at the Bridge of Skulls. Part of one ear was gone. He no longer looks much like a pomegranate, Jon thought. Marsh said, "We bled to stop the wildlings at the Gorge. Good men were slain there, friends and brothers. For what?"
"The realm will curse us all for this," declared Ser Alliser Thorne in a venomous tone. "Every honest man in Westeros will turn his head and spit at the mention of the Night's Watch."
What would you know of honest men? "Quiet in the ranks." Ser Alliser had grown more circumspect since Lord Janos had lost his head, but the malice was still there. Jon had toyed with the idea of giving him the command Slynt had refused, but he wanted the man close. He was always the more dangerous of the two. Instead he had dispatched a grizzled steward from the Shadow Tower to take command at Greyguard.
He hoped the two new garrisons would make a difference. The Watch can make the free folk bleed, but in the end we cannot hope to stop them. Giving Mance Rayder to the fire did not change the truth of that. We are still too few and they are still too many, and without rangers, we're good as blind. I have to send men out. But if I do, will they come back again?
The tunnel through the Wall was narrow and twisting, and many of the wildlings were old or ill or wounded, so the going was painfully slow. By the time the last of them had bent the knee, night had fallen. The pit fire was burning low, and the king's shadow on the Wall had shrunk to a quarter of its former height. Jon Snow could see his breath in the air. Cold, he thought, and getting colder. This mummer's show has gone on long enough.
Two score captives lingered by the stockade. Four giants were among them, massive hairy creatures with sloped shoulders, legs as large as tree trunks, and huge splayed feet. Big as they were, they might still have passed through the Wall, but one would not leave his mammoth, and the others would not leave him. The rest of those who remained were all of human stature. Some were dead and some were dying; more were their kin or close companions, unwilling to abandon them even for a bowl of onion soup.
Some shivering, some too numb to shiver, they listened as the king's voice rumbled off the Wall. "You are free to go," Stannis told them. "Tell your people what you witnessed. Tell them that you saw the true king, and that they are welcome in his realm, so long as they keep his peace. Elsewise, they had best flee or hide. I will brook no further attacks upon my Wall."
"One realm, one god, one king!" cried Lady Melisandre.
The queen's men took up the cry, beating the butts of their spears against their shields. "One realm, one god, one king! STANNIS! STANNIS! ONE REALM, ONE GOD, ONE KING!"
Val did not join the chant, he saw. Nor did the brothers of the Night's Watch. During the tumult the few remaining wildlings melted into the trees. The giants were the last to go, two riding on the back of a mammoth, the other two afoot. Only the dead were left behind. Jon watched Stannis descend from the platform, with Melisandre by his side. His red shadow. She never leaves his side for long. The king's honor guard fell in around them—Ser Godry, Ser Clayton, and a dozen other knights, queen's men all. Moonlight shimmered on their armor and the wind whipped at their cloaks. "Lord Steward," Jon told Marsh, "break up that stockade for firewood and throw the corpses in the flames."
"As my lord commands." Marsh barked out orders, and a swarm of his stewards broke from ranks to attack the wooden walls. The Lord Steward watched them, frowning. "These wildlings … do you think they will keep faith, my lord?"
"Some will. Not all. We have our cowards and our knaves, our weaklings and our fools, as do they."
"Our vows … we are sworn to protect the realm …"
"Once the free folk are settled in the Gift, they will become part of the realm," Jon pointed out. "These are desperate days, and like to grow more desperate. We have seen the face of our real foe, a dead white face with bright blue eyes. The free folk have seen that face as well. Stannis is not wrong in this. We must make common cause with the wildlings."
"Common cause against a common foe, I could agree with that," said Bowen Marsh, "but that does not mean we should allow tens of thousands of half-starved savages through the Wall. Let them return to their villages and fight the Others there, whilst we seal the gates. It will not be difficult, Othell tells me. We need only fill the tunnels with chunks of stone and pour water through the murder holes. The Wall does the rest. The cold, the weight … in a moon's turn, it will be as if no gate had ever been. Any foe would need to hack his way through."
"Or climb."
"Unlikely," said Bowen Marsh. "These are not raiders, out to steal a wife and some plunder. Tormund will have old women with him, children, herds of sheep and goats, even mammoths. He needs a gate, and only three of those remain. And if he should send climbers up, well, defending against climbers is as simple as spearing fish in a kettle."
Fish never climb out of the kettle and shove a spear through your belly. Jon had climbed the Wall himself.
Marsh went on. "Mance Rayder's bowmen must have loosed ten thousand arrows at us, judging from the number of spent shafts we've gathered up. Fewer than a hundred reached our men atop the Wall, most of those lifted by some errant gust of wind. Red Alyn of the Rosewood was the only man to die up there, and it was his fall that killed him, not the arrow that pricked his leg. Donal Noye died to hold the gate. A gallant act, yes … but if the gate had been sealed, our brave armorer might still be with us. Whether we face a hundred foes or a hundred thousand, so long as we're atop the Wall and they're below, they cannot do us harm."
He's not wrong. Mance Rayder's host had broken against the Wall like a wave upon a stony shore, though the defenders were no more than a handful of old men, green boys, and cripples. Yet what Bowen was suggesting went against all of Jon's instincts. "If we seal the gates, we cannot send out rangers," he pointed out. "We will be as good as blind."
"Lord Mormont's last ranging cost the Watch a quarter of its men, my lord. We need to conserve what strength remains us. Every death diminishes us, and we are stretched so thin … Take the high ground and win the battle, my uncle used to say. No ground is higher than the Wall, Lord Commander."
"Stannis promises land, food, and justice to any wildlings who bend the knee. He will never permit us to seal the gates."
Marsh hesitated. "Lord Snow, I am not one to bear tales, but there has been talk that you are becoming too … too friendly with Lord Stannis. Some even suggest that you are … a …"
A rebel and a turncloak, aye, and a bastard and a warg as well. Janos Slynt might be gone, but his lies lingered. "I know what they say." Jon had heard the whispers, had seen men turn away when he crossed the yard. "What would they have me do, take up swords against Stannis and the wildlings both? His Grace has thrice the fighting men we do, and is our guest besides. The laws of hospitality protect him. And we owe him and his a debt."
"Lord Stannis helped us when we needed help," Marsh said doggedly, "but he is still a rebel, and his cause is doomed. As doomed as we'll be if the Iron Throne marks us down as traitors. We must be certain that we do not choose the losing side."
"It is not my intent to choose any side," said Jon, "but I am not as certain of the outcome of this war as you seem to be, my lord. Not with Lord Tywin dead." If the tales coming up the kingsroad could be believed, the King's Hand had been murdered by his dwarf son whilst sitting on a privy. Jon had known Tyrion Lannister, briefly. He took my hand and named me friend. It was hard to believe the little man had it in him to murder his own sire, but the fact of Lord Tywin's demise seemed to be beyond doubt. "The lion in King's Landing is a cub, and the Iron Throne has been known to cut grown men to ribbons."
"A boy he may be, my lord, but … King Robert was well loved, and most men still accept that Tommen is his son. The more they see of Lord Stannis the less they love him, and fewer still are fond of Lady Melisandre with her fires and this grim red god of hers. They complain."
"They complained about Lord Commander Mormont too. Men love to complain about their wives and lords, he told me once. Those without wives complain twice as much about their lords." Jon Snow glanced toward the stockade. Two walls were down, a third falling fast. "I will leave you to finish here, Bowen. Make certain every corpse is burned. Thank you for your counsel. I promise you, I will think on all you've said."
Smoke and drifting ash still lingered in the air about the pit as Jon trotted back to the gate. There he dismounted, to walk his garron through the ice to the south side. Dolorous Edd went before him with a torch. Its flames licked the ceiling, so cold tears trickled down upon them with every step.
"It was a relief to see that horn burn, my lord," Edd said. "Just last night I dreamt I was pissing off the Wall when someone decided to give the horn a toot. Not that I'm complaining. It was better than my old dream, where Harma Dogshead was feeding me to her pigs."
"Harma's dead," Jon said.
"But not the pigs. They look at me the way Slayer used to look at ham. Not to say that the wildlings mean us harm. Aye, we hacked their gods apart and made them burn the pieces, but we gave them onion soup. What's a god compared to a nice bowl of onion soup? I could do with one myself."
The odors of smoke and burned flesh still clung to Jon's blacks. He knew he had to eat, but it was company he craved, not food. A cup of wine with Maester Aemon, some quiet words with Sam, a few laughs with Pyp and Grenn and Toad. Aemon and Sam were gone, though, and his other friends … "I will take supper with the men this evening."
"Boiled beef and beets." Dolorous Edd always seemed to know what was cooking. "Hobb says he's out of horseradish, though. What good is boiled beef without horseradish?"
Since the wildlings had burned the old common hall, the men of the Night's Watch took their meals in the stone cellar below the armory, a cavernous space divided by two rows of square stone pillars, with barrel-vaulted ceilings and great casks of wine and ale along the walls. When Jon entered, four builders were playing at tiles at the table nearest the steps. Closer to the fire sat a group of rangers and a few king's men, talking quietly.
The younger men were gathered at another table, where Pyp had stabbed a turnip with his knife. "The night is dark and full of turnips," he announced in a solemn voice. "Let us all pray for venison, my children, with some onions and a bit of tasty gravy." His friends laughed—Grenn, Toad, Satin, the whole lot of them.
Jon Snow did not join the laughter. "Making mock of another man's prayer is fool's work, Pyp. And dangerous."
"If the red god's offended, let him strike me down."
All the smiles had died. "It was the priestess we were laughing at," said Satin, a lithe and pretty youth who had once been a whore in Oldtown. "We were only having a jape, my lord."
"You have your gods and she has hers. Leave her be."
"She won't let our gods be," argued Toad. "She calls the Seven false gods, m'lord. The old gods too. She made the wildlings burn weirwood branches. You saw."
"Lady Melisandre is not part of my command. You are. I won't have bad blood between the king's men and my own."
Pyp laid a hand on Toad's arm. "Croak no more, brave Toad, for our Great Lord Snow has spoken." Pyp hopped to his feet and gave Jon a mocking bow. "I beg pardon. Henceforth, I shall not even waggle my ears save by your lordship's lordly leave."
He thinks this is all some game. Jon wanted to shake some sense into him. "Waggle your ears all you like. It's your tongue waggling that makes the trouble."
"I'll see that he's more careful," Grenn promised, "and I'll clout him if he's not." He hesitated. "My lord, will you sup with us? Owen, shove over and make room for Jon."
Jon wanted nothing more. No, he had to tell himself, those days are gone. The realization twisted in his belly like a knife. They had chosen him to rule. The Wall was his, and their lives were his as well. A lord may love the men that he commands, he could hear his lord father saying, but he cannot be a friend to them. One day he may need to sit in judgment on them, or send them forth to die. "Another day," the lord commander lied. "Edd, best see to your own supper. I have work to finish."
The outside air seemed even colder than before. Across the castle, he could see candlelight shining from the windows of the King's Tower. Val stood on the tower roof, gazing up at the Wall. Stannis kept her closely penned in rooms above his own, but he did allow her to walk the battlements for exercise. She looks lonely, Jon thought. Lonely, and lovely. Ygritte had been pretty in her own way, with her red hair kissed by fire, but it was her smile that made her face come alive. Val did not need to smile; she would have turned men's heads in any court in the wide world.
All the same, the wildling princess was not beloved of her gaolers. She scorned them all as "kneelers," and had thrice attempted to escape. When one man-at-arms grew careless in her presence she had snatched his dagger from its sheath and stabbed him in the neck. Another inch to the left and he might have died.
Lonely and lovely and lethal, Jon Snow reflected, and I might have had her. Her, and Winterfell, and my lord father's name. Instead he had chosen a black cloak and a wall of ice. Instead he had chosen honor. A bastard's sort of honor.
The Wall loomed on his right as he crossed the yard. Its high ice glimmered palely, but down below all was shadow. At the gate a dim orange glow shone through the bars where the guards had taken refuge from the wind. Jon could hear the creak of chains as the winch cage swung and scraped against the ice. Up top, the sentries would be huddling in the warming shed around a brazier, shouting to be heard above the wind. Or else they would have given up the effort, and each man would be sunk in his own pool of silence. I should be walking the ice. The Wall is mine.
He was walking beneath the shell of the Lord Commander's Tower, past the spot where Ygritte had died in his arms, when Ghost appeared beside him, his warm breath steaming in the cold. In the moonlight, his red eyes glowed like pools of fire. The taste of hot blood filled Jon's mouth, and he knew that Ghost had killed that night. No, he thought. I am a man, not a wolf. He rubbed his mouth with the back of a gloved hand and spat.
Clydas still occupied the rooms beneath the rookery. At Jon's knock, he came shuffling, a taper in his hand, to open the door a crack. "Do I intrude?" asked Jon.
"Not at all." Clydas opened the door wider. "I was mulling wine. Will my lord take a cup?"
"With pleasure." His hands were stiff from cold. He pulled off his gloves and flexed his fingers.
Clydas returned to the hearth to stir the wine. He's sixty if he's a day. An old man. He only seemed young compared with Aemon. Short and round, he had the dim pink eyes of some nocturnal creature. A few white hairs clung to his scalp. When Clydas poured, Jon held the cup with both hands, sniffed the spices, swallowed. The warmth spread through his chest. He drank again, long and deep, to wash the taste of blood from his mouth.
"The queen's men are saying that the King-Beyond-the-Wall died craven. That he cried for mercy and denied he was a king."
"He did. Lightbringer was brighter than I'd ever seen it. As bright as the sun." Jon raised his cup. "To Stannis Baratheon and his magic sword." The wine was bitter in his mouth.
"His Grace is not an easy man. Few are, who wear a crown. Many good men have been bad kings, Maester Aemon used to say, and some bad men have been good kings."
"He would know." Aemon Targaryen had seen nine kings upon the Iron Throne. He had been a king's son, a king's brother, a king's uncle. "I looked at that book Maester Aemon left me. The Jade Compendium. The pages that told of Azor Ahai. Lightbringer was his sword. Tempered with his wife's blood if Votar can be believed. Thereafter Lightbringer was never cold to the touch, but warm as Nissa Nissa had been warm. In battle the blade burned fiery hot. Once Azor Ahai fought a monster. When he thrust the sword through the belly of the beast, its blood began to boil. Smoke and steam poured from its mouth, its eyes melted and dribbled down its cheeks, and its body burst into flame."
Clydas blinked. "A sword that makes its own heat …"
"… would be a fine thing on the Wall." Jon put aside his wine cup and drew on his black moleskin gloves. "A pity that the sword that Stannis wields is cold. I'll be curious to see how his Lightbringer behaves in battle. Thank you for the wine. Ghost, with me." Jon Snow raised the hood of his cloak and pulled at the door. The white wolf followed him back into the night.
The armory was dark and silent. Jon nodded to the guards before making his way past the silent racks of spears to his rooms. He hung his sword belt from a peg beside the door and his cloak from another. When he peeled off his gloves, his hands were stiff and cold. It took him a long while to get the candles lit. Ghost curled up on his rug and went to sleep, but Jon could not rest yet. The scarred pinewood table was covered with maps of the Wall and the lands beyond, a roster of rangers, and a letter from the Shadow Tower written in Ser Denys Mallister's flowing hand.
He read the letter from the Shadow Tower again, sharpened a quill, and unstoppered a pot of thick black ink. He wrote two letters, the first to Ser Denys, the second to Cotter Pyke. Both of them had been hounding him for more men. Halder and Toad he dispatched west to the Shadow Tower, Grenn and Pyp to Eastwatch-by-the-Sea. The ink would not flow properly, and all his words seemed curt and crude and clumsy, yet he persisted.
When he finally put the quill down, the room was dim and chilly, and he could feel its walls closing in. Perched above the window, the Old Bear's raven peered down at him with shrewd black eyes. My last friend, Jon thought ruefully. And I had best outlive you, or you'll eat my face as well. Ghost did not count. Ghost was closer than a friend. Ghost was part of him.
Jon rose and climbed the steps to the narrow bed that had once been Donal Noye's. This is my lot, he realized as he undressed, from now until the end of my days.

DAENERYS
What is it?" she cried, as Irri shook her gently by the shoulder. It was the black of night outside. Something is wrong, she knew at once. "Is it Daario? What's happened?" In her dream they had been man and wife, simple folk who lived a simple life in a tall stone house with a red door. In her dream he had been kissing her all over—her mouth, her neck, her breasts.
"No, Khaleesi," Irri murmured, "it is your eunuch Grey Worm and the bald men. Will you see them?"
"Yes." Her hair was disheveled and her bedclothes all atangle, Dany realized. "Help me dress. I'll have a cup of wine as well. To clear my head." To drown my dream. She could hear the soft sounds of sobs. "Who is that weeping?"
"Your slave Missandei." Jhiqui had a taper in her hand.
"My servant. I have no slaves." Dany did not understand. "Why does she weep?"
"For him who was her brother," Irri told her.
The rest she had from Skahaz, Reznak, and Grey Worm, when they were ushered into her presence. Dany knew their tidings were bad before a word was spoken. One glance at the Shavepate's ugly face sufficed to tell her that. "The Sons of the Harpy?"
Skahaz nodded. His mouth was grim.
"How many dead?"
Reznak wrung his hands. "N-nine, Magnificence. Foul work it was, and wicked. A dreadful night, dreadful."
Nine. The word was a dagger in her heart. Every night the shadow war was waged anew beneath the stepped pyramids of Meereen. Every morn the sun rose upon fresh corpses, with harpies drawn in blood on the bricks beside them. Any freedman who became too prosperous or too outspoken was marked for death. Nine in one night, though … That frightened her. "Tell me."
Grey Worm answered. "Your servants were set upon as they walked the bricks of Meereen to keep Your Grace's peace. All were well armed, with spears and shields and short swords. Two by two they walked, and two by two they died. Your servants Black Fist and Cetherys were slain by crossbow bolts in Mazdhan's Maze. Your servants Mossador and Duran were crushed by falling stones beneath the river wall. Your servants Eladon Goldenhair and Loyal Spear were poisoned at a wineshop where they were accustomed to stop each night upon their rounds."
Mossador. Dany made a fist. Missandei and her brothers had been taken from their home on Naath by raiders from the Basilisk Isles and sold into slavery in Astapor. Young as she was, Missandei had shown such a gift for tongues that the Good Masters had made a scribe of her. Mossador and Marselen had not been so fortunate. They had been gelded and made into Unsullied. "Have any of the murderers been captured?"
"Your servants have arrested the owner of the wineshop and his daughters. They plead their ignorance and beg for mercy."
They all plead ignorance and beg for mercy. "Give them to the Shavepate. Skahaz, keep each apart from the others and put them to the question."
"It will be done, Your Worship. Would you have me question them sweetly, or sharply?"
"Sweetly, to begin. Hear what tales they tell and what names they give you. It may be they had no part in this." She hesitated. "Nine, the noble Reznak said. Who else?"
"Three freedmen, murdered in their homes," the Shavepate said. "A moneylender, a cobbler, and the harpist Rylona Rhee. They cut her fingers off before they killed her."
The queen flinched. Rylona Rhee had played the harp as sweetly as the Maiden. When she had been a slave in Yunkai, she had played for every highborn family in the city. In Meereen she had become a leader amongst the Yunkish freedmen, their voice in Dany's councils. "We have no captives but this wineseller?"
"None, this one grieves to confess. We beg your pardon."
Mercy, thought Dany. They will have the dragon's mercy. "Skahaz, I have changed my mind. Question the man sharply."
"I could. Or I could question the daughters sharply whilst the father looks on. That will wring some names from him."
"Do as you think best, but bring me names." Her fury was a fire in her belly. "I will have no more Unsullied slaughtered. Grey Worm, pull your men back to their barracks. Henceforth let them guard my walls and gates and person. From this day, it shall be for Meereenese to keep the peace in Meereen. Skahaz, make me a new watch, made up in equal parts of shavepates and freedmen."
"As you command. How many men?"
"As many as you require."
Reznak mo Reznak gasped. "Magnificence, where is the coin to come from to pay wages for so many men?"
"From the pyramids. Call it a blood tax. I will have a hundred pieces of gold from every pyramid for each freedman that the Harpy's Sons have slain."
That brought a smile to the Shavepate's face. "It will be done," he said, "but Your Radiance should know that the Great Masters of Zhak and Merreq are making preparations to quit their pyramids and leave the city."
Daenerys was sick unto death of Zhak and Merreq; she was sick of all the Mereenese, great and small alike. "Let them go, but see that they take no more than the clothes upon their backs. Make certain that all their gold remains here with us. Their stores of food as well."
"Magnificence," murmured Reznak mo Reznak, "we cannot know that these great nobles mean to join your enemies. More like they are simply making for their estates in the hills."
"They will not mind us keeping their gold safe, then. There is nothing to buy in the hills."
"They are afraid for their children," Reznak said.
Yes, Daenerys thought, and so am I. "We must keep them safe as well. I will have two children from each of them. From the other pyramids as well. A boy and a girl."
"Hostages," said Skahaz, happily.
"Pages and cupbearers. If the Great Masters make objection, explain to them that in Westeros it is a great honor for a child to be chosen to serve at court." She left the rest unspoken. "Go and do as I've commanded. I have my dead to mourn."
When she returned to her rooms atop the pyramid, she found Missandei crying softly on her pallet, trying as best she could to muffle the sound of her sobs. "Come sleep with me," she told the little scribe. "Dawn will not come for hours yet."
"Your Grace is kind to this one." Missandei slipped under the sheets. "He was a good brother."
Dany wrapped her arms about the girl. "Tell me of him."
"He taught me how to climb a tree when we were little. He could catch fish with his hands. Once I found him sleeping in our garden with a hundred butterflies crawling over him. He looked so beautiful that morning, this one … I mean, I loved him."
"As he loved you." Dany stroked the girl's hair. "Say the word, my sweet, and I will send you from this awful place. I will find a ship somehow and send you home. To Naath."
"I would sooner stay with you. On Naath I'd be afraid. What if the slavers came again? I feel safe when I'm with you."
Safe. The word made Dany's eyes fill up with tears. "I want to keep you safe." Missandei was only a child. With her, she felt as if she could be a child too. "No one ever kept me safe when I was little. Well, Ser Willem did, but then he died, and Viserys … I want to protect you but … it is so hard. To be strong. I don't always know what I should do. I must know, though. I am all they have. I am the queen … the … the …"
"… mother," whispered Missandei.
"Mother to dragons." Dany shivered.
"No. Mother to us all." Missandei hugged her tighter. "Your Grace should sleep. Dawn will be here soon, and court."
"We'll both sleep, and dream of sweeter days. Close your eyes." When she did, Dany kissed her eyelids and made her giggle.
Kisses came easier than sleep, however. Dany shut her eyes and tried to think of home, of Dragonstone and King's Landing and all the other places that Viserys had told her of, in a kinder land than this … but her thoughts kept turning back to Slaver's Bay, like ships caught in some bitter wind. When Missandei was sound asleep, Dany slipped from her arms and stepped out into the predawn air to lean upon the cool brick parapet and gaze out across the city. A thousand roofs stretched out below her, painted in shades of ivory and silver by the moon.
Somewhere beneath those roofs, the Sons of the Harpy were gathered, plotting ways to kill her and all those who loved her and put her children back in chains. Somewhere down there a hungry child was crying for milk. Somewhere an old woman lay dying. Somewhere a man and a maid embraced, and fumbled at each other's clothes with eager hands. But up here there was only the sheen of moonlight on pyramids and pits, with no hint what lay beneath. Up here there was only her, alone.
She was the blood of the dragon. She could kill the Sons of the Harpy, and the sons of the sons, and the sons of the sons of the sons. But a dragon could not feed a hungry child nor help a dying woman's pain. And who would ever dare to love a dragon?
She found herself thinking of Daario Naharis once again, Daario with his gold tooth and trident beard, his strong hands resting on the hilts of his matched arakh and stiletto, hilts wrought of gold in the shape of naked women. The day he took his leave of her, as she was bidding him farewell, he had brushed the balls of his thumbs lightly across them, back and forth. I am jealous of a sword hilt, she had realized, of women made of gold. Sending him to the Lamb Men had been wise. She was a queen, and Daario Naharis was not the stuff of kings.
"It has been so long," she had said to Ser Barristan, just yesterday. "What if Daario has betrayed me and gone over to my enemies?" Three treasons will you know. "What if he met another woman, some princess of the Lhazarene?"
The old knight neither liked nor trusted Daario, she knew. Even so, he had answered gallantly. "There is no woman more lovely than Your Grace. Only a blind man could believe otherwise, and Daario Naharis was not blind."
No, she thought. His eyes are a deep blue, almost purple, and his gold tooth gleams when he smiles for me.
Ser Barristan was sure he would return, though. Dany could only pray that he was right.
A bath will help soothe me. She padded barefoot through the grass to her terrace pool. The water felt cool on her skin, raising goosebumps. Little fish nibbled at her arms and legs. She closed her eyes and floated.
A soft rustle made her open them again. She sat up with a soft splash. "Missandei?" she called. "Irri? Jhiqui?"
"They sleep," came the answer.
A woman stood under the persimmon tree, clad in a hooded robe that brushed the grass. Beneath the hood, her face seemed hard and shiny. She is wearing a mask, Dany knew, a wooden mask finished in dark red lacquer. "Quaithe? Am I dreaming?" She pinched her ear and winced at the pain. "I dreamt of you on Balerion, when first we came to Astapor."
"You did not dream. Then or now."
"What are you doing here? How did you get past my guards?"
"I came another way. Your guards never saw me."
"If I call out, they will kill you."
"They will swear to you that I am not here."
"Are you here?"
"No. Hear me, Daenerys Targaryen. The glass candles are burning. Soon comes the pale mare, and after her the others. Kraken and dark flame, lion and griffin, the sun's son and the mummer's dragon. Trust none of them. Remember the Undying. Beware the perfumed seneschal."
"Reznak? Why should I fear him?" Dany rose from the pool. Water trickled down her legs, and gooseflesh covered her arms in the cool night air. "If you have some warning for me, speak plainly. What do you want of me, Quaithe?"
Moonlight shone in the woman's eyes. "To show you the way."
"I remember the way. I go north to go south, east to go west, back to go forward. And to touch the light I have to pass beneath the shadow." She squeezed the water from her silvery hair. "I am half-sick of riddling. In Qarth I was a beggar, but here I am a queen. I command you—"
"Daenerys. Remember the Undying. Remember who you are."
"The blood of the dragon." But my dragons are roaring in the darkness. "I remember the Undying. Child of three, they called me. Three mounts they promised me, three fires, and three treasons. One for blood and one for gold and one for …"
"Your Grace?" Missandei stood in the door of the queen's bedchamber, a lantern in her hand. "Who are you talking to?"
Dany glanced back toward the persimmon tree. There was no woman there. No hooded robe, no lacquer mask, no Quaithe.
A shadow. A memory. No one. She was the blood of the dragon, but Ser Barristan had warned her that in that blood there was a taint. Could I be going mad? They had called her father mad, once. "I was praying," she told the Naathi girl. "It will be light soon. I had best eat something, before court."
"I will bring you food to break your fast."
Alone again, Dany went all the way around the pyramid in hopes of finding Quaithe, past the burned trees and scorched earth where her men had tried to capture Drogon. But the only sound was the wind in the fruit trees, and the only creatures in the gardens were a few pale moths.
Missandei returned with a melon and a bowl of hard-cooked eggs, but Dany found she had no appetite. As the sky lightened and the stars faded one by one, Irri and Jhiqui helped her don a tokar of violet silk fringed in gold.
When Reznak and Skahaz appeared, she found herself looking at them askance, mindful of the three treasons. Beware the perfumed seneschal. She sniffed suspiciously at Reznak mo Reznak. I could command the Shavepate to arrest him and put him to the question. Would that forestall the prophecy? Or would some other betrayer take his place? Prophecies are treacherous, she reminded herself, and Reznak may be no more than he appears.
In the purple hall, Dany found her ebon bench piled high about with satin pillows. The sight brought a wan smile to her lips. Ser Barristan's work, she knew. The old knight was a good man, but sometimes very literal. It was only a jape, ser, she thought, but she sat on one of the pillows just the same.
Her sleepless night soon made itself felt. Before long she was fighting off a yawn as Reznak prattled about the craftsmen's guilds. The stonemasons were wroth with her, it seemed. The bricklayers as well. Certain former slaves were carving stone and laying bricks, stealing work from guild journeymen and masters alike. "The freedmen work too cheaply, Magnificence," Reznak said. "Some call themselves journeymen, or even masters, titles that belong by rights only to the craftsmen of the guilds. The masons and the bricklayers do respectfully petition Your Worship to uphold their ancient rights and customs."
"The freedmen work cheaply because they are hungry," Dany pointed out. "If I forbid them to carve stone or lay bricks, the chandlers, the weavers, and the goldsmiths will soon be at my gates asking that they be excluded from those trades as well." She considered a moment. "Let it be written that henceforth only guild members shall be permitted to name themselves journeymen or masters … provided the guilds open their rolls to any freedman who can demonstrate the requisite skills."
"So shall it be proclaimed," said Reznak. "Will it please Your Worship to hear the noble Hizdahr zo Loraq?"
Will he never admit defeat? "Let him step forth."
Hizdahr was not in a tokar today. Instead he wore a simple robe of grey and blue. He was shorn as well. He has shaved off his beard and cut his hair, she realized. The man had not gone shavepate, not quite, but at least those absurd wings of his were gone. "Your barber has served you well, Hizdahr. I hope you have come to show me his work and not to plague me further about the fighting pits."
He made a deep obeisance. "Your Grace, I fear I must."
Dany grimaced. Even her own people would give no rest about the matter. Reznak mo Reznak stressed the coin to be made through taxes. The Green Grace said that reopening the pits would please the gods. The Shavepate felt it would win her support against the Sons of the Harpy. "Let them fight," grunted Strong Belwas, who had once been a champion in the pits. Ser Barristan suggested a tourney instead; his orphans could ride at rings and fight a mêlée with blunted weapons, he said, a suggestion Dany knew was as hopeless as it was well-intentioned. It was blood the Meereenese yearned to see, not skill. Elsewise the fighting slaves would have worn armor. Only the little scribe Missandei seemed to share the queen's misgivings.
"I have refused you six times," Dany reminded Hizdahr.
"Your Radiance has seven gods, so perhaps she will look upon my seventh plea with favor. Today I do not come alone. Will you hear my friends? There are seven of them as well." He brought them forth one by one. "Here is Khrazz. Here Barsena Blackhair, ever valiant. Here Camarron of the Count and Goghor the Giant. This is the Spotted Cat, this Fearless Ithoke. Last, Belaquo Bonebreaker. They have come to add their voices to mine own, and ask Your Grace to let our fighting pits reopen."
Dany knew his seven, by name if not by sight. All had been amongst the most famed of Meereen's fighting slaves … and it had been the fighting slaves, freed from their shackles by her sewer rats, who led the uprising that won the city for her. She owed them a blood debt. "I will hear you," she allowed.
One by one, each of them asked her to let the fighting pits reopen. "Why?" she demanded, when Ithoke had finished. "You are no longer slaves, doomed to die at a master's whim. I freed you. Why should you wish to end your lives upon the scarlet sands?"
"I train since three," said Goghor the Giant. "I kill since six. Mother of Dragons says I am free. Why not free to fight?"
"If it is fighting you want, fight for me. Swear your sword to the Mother's Men or the Free Brothers or the Stalwart Shields. Teach my other freedmen how to fight."
Goghor shook his head. "Before, I fight for master. You say, fight for you. I say, fight for me." The huge man thumped his chest with a fist as big as a ham. "For gold. For glory."
"Goghor speaks for us all." The Spotted Cat wore a leopard skin across one shoulder. "The last time I was sold, the price was three hundred thousand honors. When I was a slave, I slept on furs and ate red meat off the bone. Now that I'm free, I sleep on straw and eat salt fish, when I can get it."
"Hizdahr swears that the winners shall share half of all the coin collected at the gates," said Khrazz. "Half, he swears it, and Hizdahr is an honorable man."
No, a cunning man. Daenerys felt trapped. "And the losers? What shall they receive?"
"Their names shall be graven on the Gates of Fate amongst the other valiant fallen," declared Barsena. For eight years she had slain every other woman sent against her, it was said. "All men must die, and women too … but not all will be remembered."
Dany had no answer for that. If this is truly what my people wish, do I have the right to deny it to them? It was their city before it was mine, and it is their own lives they wish to squander. "I will consider all you've said. Thank you for your counsel." She rose. "We will resume on the morrow."
"All kneel for Daenerys Stormborn, the Unburnt, Queen of Meereen, Queen of the Andals and the Rhoynar and the First Men, Khaleesi of Great Grass Sea, Breaker of Shackles, and Mother of Dragons," Missandei called.
Ser Barristan escorted her back up to her chambers. "Tell me a tale, ser," Dany said as they climbed. "Some tale of valor with a happy ending." She felt in need of happy endings. "Tell me how you escaped from the Usurper."
"Your Grace. There is no valor in running for your life."
Dany seated herself on a cushion, crossed her legs, and gazed up at him. "Please. It was the Young Usurper who dismissed you from the Kingsguard …"
"Joffrey, aye. They gave my age for a reason, though the truth was elsewise. The boy wanted a white cloak for his dog Sandor Clegane and his mother wanted the Kingslayer to be her lord commander. When they told me, I … I took off my cloak as they commanded, threw my sword at Joffrey's feet, and spoke unwisely."
"What did you say?"
"The truth … but truth was never welcome at that court. I walked from the throne room with my head high, though I did not know where I was going. I had no home but White Sword Tower. My cousins would find a place for me at Harvest Hall, I knew, but I had no wish to bring Joffrey's displeasure down upon them. I was gathering my things when it came to me that I had brought this on myself by taking Robert's pardon. He was a good knight but a bad king, for he had no right to the throne he sat. That was when I knew that to redeem myself I must find the true king, and serve him loyally with all the strength that still remained me."
"My brother Viserys."
"Such was my intent. When I reached the stables the gold cloaks tried to seize me. Joffrey had offered me a tower to die in, but I had spurned his gift, so now he meant to offer me a dungeon. The commander of the City Watch himself confronted me, emboldened by my empty scabbard, but he had only three men with him and I still had my knife. I slashed one man's face open when he laid his hands upon me, and rode through the others. As I spurred for the gates I heard Janos Slynt shouting for them to go after me. Once outside the Red Keep, the streets were congested, else I might have gotten away clean. Instead they caught me at the River Gate. The gold cloaks who had pursued me from the castle shouted for those at the gate to stop me, so they crossed their spears to bar my way."
"And you without your sword? How did you get past them?"
"A true knight is worth ten guardsmen. The men at the gate were taken by surprise. I rode one down, wrenched away his spear, and drove it through the throat of my closest pursuer. The other broke off once I was through the gate, so I spurred my horse to a gallop and rode hellbent along the river until the city was lost to sight behind me. That night I traded my horse for a handful of pennies and some rags, and the next morning I joined the stream of smallfolk making their way to King's Landing. I'd gone out the Mud Gate, so I returned through the Gate of the Gods, with dirt on my face, stubble on my cheeks, and no weapon but a wooden staff. In roughspun clothes and mud-caked boots, I was just one more old man fleeing the war. The gold cloaks took a stag from me and waved me through. King's Landing was crowded with smallfolk who'd come seeking refuge from the fighting. I lost myself amongst them. I had a little silver, but I needed that to pay my passage across the narrow sea, so I slept in septs and alleys and took my meals in pot shops. I let my beard grow out and cloaked myself in age. The day Lord Stark lost his head, I was there, watching. Afterward I went into the Great Sept and thanked the seven gods that Joffrey had stripped me of my cloak."
"Stark was a traitor who met a traitor's end."
"Your Grace," said Selmy, "Eddard Stark played a part in your father's fall, but he bore you no ill will. When the eunuch Varys told us that you were with child, Robert wanted you killed, but Lord Stark spoke against it. Rather than countenance the murder of children, he told Robert to find himself another Hand."
"Have you forgotten Princess Rhaenys and Prince Aegon?"
"Never. That was Lannister work, Your Grace."
"Lannister or Stark, what difference? Viserys used to call them the Usurper's dogs. If a child is set upon by a pack of hounds, does it matter which one tears out his throat? All the dogs are just as guilty. The guilt …" The word caught in her throat. Hazzea, she thought, and suddenly she heard herself say, "I have to see the pit," in a voice as small as a child's whisper. "Take me down, ser, if you would."
A flicker of disapproval crossed the old man's face, but it was not his way to question his queen. "As you command."
The servants' steps were the quickest way down—not grand, but steep and straight and narrow, hidden in the walls. Ser Barristan brought a lantern, lest she fall. Bricks of twenty different colors pressed close around them, fading to grey and black beyond the lantern light. Thrice they passed Unsullied guards, standing as if they had been carved from stone. The only sound was the soft scruff of their feet upon the steps.
At ground level the Great Pyramid of Meereen was a hushed place, full of dust and shadows. Its outer walls were thirty feet thick. Within them, sounds echoed off arches of many-colored bricks, and amongst the stables, stalls, and storerooms. They passed beneath three massive arches, down a torchlit ramp into the vaults beneath the pyramid, past cisterns, dungeons, and torture chambers where slaves had been scourged and skinned and burned with red-hot irons. Finally they came to a pair of huge iron doors with rusted hinges, guarded by Unsullied.
At her command, one produced an iron key. The door opened, hinges shrieking. Daenerys Targaryen stepped into the hot heart of darkness and stopped at the lip of a deep pit. Forty feet below, her dragons raised their heads. Four eyes burned through the shadows—two of molten gold and two of bronze.
Ser Barristan took her by the arm. "No closer."
"You think they would harm me?"
"I do not know, Your Grace, but I would sooner not risk your person to learn the answer."
When Rhaegal roared, a gout of yellow flame turned darkness into day for half a heartbeat. The fire licked along the walls, and Dany felt the heat upon her face, like the blast from an oven. Across the pit, Viserion's wings unfolded, stirring the stale air. He tried to fly to her, but the chains snapped taut as he rose and slammed him down onto his belly. Links as big as a man's fist bound his feet to the floor. The iron collar about his neck was fastened to the wall behind him. Rhaegal wore matching chains. In the light of Selmy's lantern, his scales gleamed like jade. Smoke rose from between his teeth. Bones were scattered on the floor at his feet, cracked and scorched and splintered. The air was uncomfortably hot and smelled of sulfur and charred meat.
"They are larger." Dany's voice echoed off the scorched stone walls. A drop of sweat trickled down her brow and fell onto her breast. "Is it true that dragons never stop growing?"
"If they have food enough, and space to grow. Chained up in here, though …"
The Great Masters had used the pit as a prison. It was large enough to hold five hundred men … and more than ample for two dragons. For how long, though? What will happen when they grow too large for the pit? Will they turn on one another with flame and claw? Will they grow wan and weak, with withered flanks and shrunken wings? Will their fires go out before the end?
What sort of mother lets her children rot in darkness?
If I look back, I am doomed, Dany told herself … but how could she not look back? I should have seen it coming. Was I so blind, or did I close my eyes willfully, so I would not have to see the price of power?
Viserys had told her all the tales when she was little. He loved to talk of dragons. She knew how Harrenhal had fallen. She knew about the Field of Fire and the Dance of the Dragons. One of her forebears, the third Aegon, had seen his own mother devoured by his uncle's dragon. And there were songs beyond count of villages and kingdoms that lived in dread of dragons till some brave dragonslayer rescued them. At Astapor the slaver's eyes had melted. On the road to Yunkai, when Daario tossed the heads of Sallor the Bald and Prendahl na Ghezn at her feet, her children made a feast of them. Dragons had no fear of men. And a dragon large enough to gorge on sheep could take a child just as easily.
Her name had been Hazzea. She was four years old. Unless her father lied. He might have lied. No one had seen the dragon but him. His proof was burned bones, but burned bones proved nothing. He might have killed the little girl himself, and burned her afterward. He would not have been the first father to dispose of an unwanted girl child, the Shavepate claimed. The Sons of the Harpy might have done it, and made it look like dragon's work to make the city hate me. Dany wanted to believe that … but if that was so, why had Hazzea's father waited until the audience hall was almost empty to come forward? If his purpose had been to inflame the Meereenese against her, he would have told his tale when the hall was full of ears to hear.
The Shavepate had urged her to put the man to death. "At least rip out his tongue. This man's lie could destroy us all, Magnificence." Instead Dany chose to pay the blood price. No one could tell her the worth of a daughter, so she set it at one hundred times the worth of a lamb. "I would give Hazzea back to you if I could," she told the father, "but some things are beyond the power of even a queen. Her bones shall be laid to rest in the Temple of the Graces, and a hundred candles shall burn day and night in her memory. Come back to me each year upon her nameday, and your other children shall not want … but this tale must never pass your lips again."
"Men will ask," the grieving father had said. "They will ask me where Hazzea is and how she died."
"She died of a snakebite," Reznak mo Reznak insisted. "A ravening wolf carried her off. A sudden sickness took her. Tell them what you will, but never speak of dragons."
Viserion's claws scrabbled against the stones, and the huge chains rattled as he tried to make his way to her again. When he could not, he gave a roar, twisted his head back as far as he was able, and spat golden flame at the wall behind him. How soon till his fire burns hot enough to crack stone and melt iron?
Once, not long ago, he had ridden on her shoulder, his tail coiled round her arm. Once she had fed him morsels of charred meat from her own hand. He had been the first chained up. Daenerys had led him to the pit herself and shut him up inside with several oxen. Once he had gorged himself he grew drowsy. They had chained him whilst he slept.
Rhaegal had been harder. Perhaps he could hear his brother raging in the pit, despite the walls of brick and stone between them. In the end, they had to cover him with a net of heavy iron chain as he basked on her terrace, and he fought so fiercely that it had taken three days to carry him down the servants' steps, twisting and snapping. Six men had been burned in the struggle.
And Drogon …
The winged shadow, the grieving father called him. He was the largest of her three, the fiercest, the wildest, with scales as black as night and eyes like pits of fire.
Drogon hunted far afield, but when he was sated he liked to bask in the sun at the apex of the Great Pyramid, where once the harpy of Meereen had stood. Thrice they had tried to take him there, and thrice they had failed. Two score of her bravest had risked themselves trying to capture him. Almost all had suffered burns, and four of them had died. The last she had seen of Drogon had been at sunset on the night of the third attempt. The black dragon had been flying north across the Skahazadhan toward the tall grasses of the Dothraki sea. He had not returned.
Mother of dragons, Daenerys thought. Mother of monsters. What have I unleashed upon the world? A queen I am, but my throne is made of burned bones, and it rests on quicksand. Without dragons, how could she hope to hold Meereen, much less win back Westeros? I am the blood of the dragon, she thought. If they are monsters, so am I.

REEK
The rat squealed as he bit into it, squirming wildly in his hands, frantic to escape. The belly was the softest part. He tore at the sweet meat, the warm blood running over his lips. It was so good that it brought tears to his eyes. His belly rumbled and he swallowed. By the third bite the rat had ceased to struggle, and he was feeling almost content.
Then he heard the sounds of voices outside the dungeon door.
At once he stilled, fearing even to chew. His mouth was full of blood and flesh and hair, but he dare not spit or swallow. He listened in terror, stiff as stone, to the scuff of boots and the clanking of iron keys. No, he thought, no, please gods, not now, not now. It had taken him so long to catch the rat. If they catch me with it, they will take it away, and then they'll tell, and Lord Ramsay will hurt me.
He knew he ought to hide the rat, but he was so hungry. It had been two days since he had eaten, or maybe three. Down here in the dark it was hard to tell. Though his arms and legs were thin as reeds, his belly was swollen and hollow, and ached so much that he found he could not sleep. Whenever he closed his eyes, he found himself remembering Lady Hornwood. After their wedding, Lord Ramsay had locked her away in a tower and starved her to death. In the end she had eaten her own fingers.
He crouched down in a corner of his cell, clutching his prize under his chin. Blood ran from the corners of his mouth as he nibbled at the rat with what remained of his teeth, trying to bolt down as much of the warm flesh as he could before the cell was opened. The meat was stringy, but so rich he thought he might be sick. He chewed and swallowed, picking small bones from the holes in his gums where teeth had been yanked out. It hurt to chew, but he was so hungry he could not stop.
The sounds were growing louder. Please gods, he isn't coming for me, he prayed, tearing off one of the rat's legs. It had been a long time since anyone had come for him. There were other cells, other prisoners. Sometimes he heard them screaming, even through the thick stone walls. The women always scream the loudest. He sucked at the raw meat and tried to spit out the leg bone, but it only dribbled over his lower lip and tangled in his beard. Go away, he prayed, go away, pass me by, please, please.
But the footsteps stopped just when they were loudest, and the keys clattered right outside the door. The rat fell from his fingers. He wiped his bloody fingers on his breeches. "No," he mumbled, "noooo." His heels scrabbled at the straw as he tried to push himself into the corner, into the cold damp stone walls.
The sound of the lock turning was the most terrible of all. When the light hit him full in the face, he let out a shriek. He had to cover his eyes with his hands. He would have clawed them out if he'd dared, his head was pounding so. "Take it away, do it in the dark, please, oh please."
"That's not him," said a boy's voice. "Look at him. We've got the wrong cell."
"Last cell on the left," another boy replied. "This is the last cell on the left, isn't it?"
"Aye." A pause. "What's he saying?"
"I don't think he likes the light."
"Would you, if you looked like that?" The boy hawked and spat. "And the stench of him. I'm like to choke."
"He's been eating rats," said the second boy. "Look."
The first boy laughed. "He has. That's funny."
I had to. The rats bit him when he slept, gnawing at his fingers and his toes, even at his face, so when he got his hands on one he did not hesitate. Eat or be eaten, those were the only choices. "I did it," he mumbled, "I did, I did, I ate him, they do the same to me, please …"
The boys moved closer, the straw crunching softly under their feet. "Talk to me," said one of them. He was the smaller of the two, a thin boy, but clever. "Do you remember who you are?"
The fear came bubbling up inside him, and he moaned.
"Talk to me. Tell me your name."
My name. A scream caught in his throat. They had taught him his name, they had, they had, but it had been so long that he'd forgotten. If I say it wrong, he'll take another finger, or worse, he'll … he'll … He would not think about that, he could not think about that. There were needles in his jaw, in his eyes. His head was pounding. "Please," he squeaked, his voice thin and weak. He sounded a hundred years old. Perhaps he was. How long have I been in here? "Go," he mumbled, through broken teeth and broken fingers, his eyes closed tight against the terrible bright light. "Please, you can have the rat, don't hurt me …"
"Reek," said the larger of the boys. "Your name is Reek. Remember?" He was the one with the torch. The smaller boy had the ring of iron keys.
Reek? Tears ran down his cheeks. "I remember. I do." His mouth opened and closed. "My name is Reek. It rhymes with leek." In the dark he did not need a name, so it was easy to forget. Reek, Reek, my name is Reek. He had not been born with that name. In another life he had been someone else, but here and now, his name was Reek. He remembered.
He remembered the boys as well. They were clad in matching lambswool doublets, silver-grey with dark blue trim. Both were squires, both were eight, and both were Walder Frey. Big Walder and Little Walder, yes. Only the big one was Little and the little one was Big, which amused the boys and confused the rest of the world. "I know you," he whispered, through cracked lips. "I know your names."
"You're to come with us," said Little Walder.
"His lordship has need of you," said Big Walder.
Fear went through him like a knife. They are only children, he thought. Two boys of eight. He could overcome two boys of eight, surely. Even as weak as he was, he could take the torch, take the keys, take the dagger sheathed on Little Walder's hip, escape. No. No, it is too easy. It is a trap. If I run, he will take another finger from me, he will take more of my teeth.
He had run before. Years ago, it seemed, when he still had some strength in him, when he had still been defiant. That time it had been Kyra with the keys. She told him she had stolen them, that she knew a postern gate that was never guarded. "Take me back to Winterfell, m'lord," she begged, pale-faced and trembling. "I don't know the way. I can't escape alone. Come with me, please." And so he had. The gaoler was dead drunk in a puddle of wine, with his breeches down around his ankles. The dungeon door was open and the postern gate had been unguarded, just as she had said. They waited for the moon to go behind a cloud, then slipped from the castle and splashed across the Weeping Water, stumbling over stones, half-frozen by the icy stream. On the far side, he had kissed her. "You've saved us," he said. Fool. Fool.
It had all been a trap, a game, a jape. Lord Ramsay loved the chase and preferred to hunt two-legged prey. All night they ran through the darkling wood, but as the sun came up the sound of a distant horn came faintly through the trees, and they heard the baying of a pack of hounds. "We should split up," he told Kyra as the dogs drew closer. "They cannot track us both." The girl was crazed with fear, though, and refused to leave his side, even when he swore that he would raise a host of ironborn and come back for her if she should be the one they followed.
Within the hour, they were taken. One dog knocked him to the ground, and a second bit Kyra on the leg as she scrambled up a hillside. The rest surrounded them, baying and snarling, snapping at them every time they moved, holding them there until Ramsay Snow rode up with his huntsmen. He was still a bastard then, not yet a Bolton. "There you are," he said, smiling down at them from the saddle. "You wound me, wandering off like this. Have you grown tired of my hospitality so soon?" That was when Kyra seized a stone and threw it at his head. It missed by a good foot, and Ramsay smiled. "You must be punished."
Reek remembered the desperate, frightened look in Kyra's eyes. She had never looked so young as she did in that moment, still half a girl, but there was nothing he could do. She brought them down on us, he thought. If we had separated as I wanted, one of us might have gotten away.
The memory made it hard to breathe. Reek turned away from the torch with tears glimmering in his eyes. What does he want of me this time? he thought, despairing. Why won't he just leave me be? I did no wrong, not this time, why won't they just leave me in the dark? He'd had a rat, a fat one, warm and wriggling …
"Should we wash him?" asked Little Walder.
"His lordship likes him stinky," said Big Walder. "That's why he named him Reek."
Reek. My name is Reek, it rhymes with bleak. He had to remember that. Serve and obey and remember who you are, and no more harm will come to you. He promised, his lordship promised. Even if he had wanted to resist, he did not have the strength. It had been scourged from him, starved from him, flayed from him. When Little Walder pulled him up and Big Walder waved the torch at him to herd him from the cell, he went along as docile as a dog. If he'd had a tail, he would have tucked it down between his legs.
If I had a tail, the Bastard would have cut it off. The thought came unbidden, a vile thought, dangerous. His lordship was not a bastard anymore. Bolton, not Snow. The boy king on the Iron Throne had made Lord Ramsay legitimate, giving him the right to use his lord father's name. Calling him Snow reminded him of his bastardy and sent him into a black rage. Reek must remember that. And his name, he must remember his name. For half a heartbeat it eluded him, and that frightened him so badly that he tripped on the steep dungeon steps and tore his breeches open on the stone, drawing blood. Little Walder had to shove the torch at him to get him back on his feet and moving again.
Out in the yard, night was settling over the Dreadfort and a full moon was rising over the castle's eastern walls. Its pale light cast the shadows of the tall triangular merlons across the frozen ground, a line of sharp black teeth. The air was cold and damp and full of half-forgotten smells. The world, Reek told himself, this is what the world smells like. He did not know how long he had been down there in the dungeons, but it had to have been half a year at least. That long, or longer. What if it has been five years, or ten, or twenty? Would I even know? What if I went mad down there, and half my life is gone? But no, that was folly. It could not have been so long. The boys were still boys. If it had been ten years, they would have grown into men. He had to remember that. I must not let him drive me mad. He can take my fingers and my toes, he can put out my eyes and slice my ears off, but he cannot take my wits unless I let him.
Little Walder led the way with torch in hand. Reek followed meekly, with Big Walder just behind him. The dogs in the kennels barked as they went by. Wind swirled through the yard, cutting through the thin cloth of the filthy rags he wore and raising gooseprickles on his skin. The night air was cold and damp, but he saw no sign of snow though surely winter was close at hand. Reek wondered if he would be alive to see the snows come. How many fingers will I have? How many toes? When he raised a hand, he was shocked to see how white it was, how fleshless. Skin and bones, he thought. I have an old man's hands. Could he have been wrong about the boys? What if they were not Little Walder and Big Walder after all, but the sons of the boys he'd known?
The great hall was dim and smoky. Rows of torches burned to left and right, grasped by skeletal human hands jutting from the walls. High overhead were wooden rafters black from smoke, and a vaulted ceiling lost in shadow. The air was heavy with the smells of wine and ale and roasted meat. Reek's stomach rumbled noisily at the scents, and his mouth began to water.
Little Walder pushed him stumbling past the long tables where the men of the garrison were eating. He could feel their eyes upon him. The best places, up near the dais, were occupied by Ramsay's favorites, the Bastard's Boys. Ben Bones, the old man who kept his lordship's beloved hunting hounds. Damon, called Damon Dance-for-Me, fair-haired and boyish. Grunt, who had lost his tongue for speaking carelessly in Lord Roose's hearing. Sour Alyn. Skinner. Yellow Dick. Farther down, below the salt, were others that Reek knew by sight if not by name: sworn swords and serjeants, soldiers and gaolers and torturers. But there were strangers too, faces he did not know. Some wrinkled their noses as he passed, whilst others laughed at the sight of him. Guests, Reek thought, his lordship's friends, and I am brought up to amuse them. A shiver of fear went through him.
At the high table the Bastard of Bolton sat in his lord father's seat, drinking from his father's cup. Two old men shared the high table with him, and Reek knew at a glance that both were lords. One was gaunt, with flinty eyes, a long white beard, and a face as hard as a winter frost. His jerkin was a ragged bearskin, worn and greasy. Underneath he wore a ringmail byrnie, even at table. The second lord was thin as well, but twisted where the first was straight. One of his shoulders was much higher than the other, and he stooped over his trencher like a vulture over carrion. His eyes were grey and greedy, his teeth yellow, his forked beard a tangle of snow and silver. Only a few wisps of white hair still clung to his spotted skull, but the cloak he wore was soft and fine, grey wool trimmed with black sable and fastened at the shoulder with a starburst wrought in beaten silver.
Ramsay was clad in black and pink—black boots, black belt and scabbard, black leather jerkin over a pink velvet doublet slashed with dark red satin. In his right ear gleamed a garnet cut in the shape of a drop of blood. Yet for all the splendor of his garb, he remained an ugly man, big-boned and slope-shouldered, with a fleshiness to him that suggested that in later life he would run to fat. His skin was pink and blotchy, his nose broad, his mouth small, his hair long and dark and dry. His lips were wide and meaty, but the thing men noticed first about him were his eyes. He had his lord father's eyes—small, close-set, queerly pale. Ghost grey, some men called the shade, but in truth his eyes were all but colorless, like two chips of dirty ice.
At the sight of Reek, he smiled a wet-lipped smile. "There he is. My sour old friend." To the men beside him he said, "Reek has been with me since I was a boy. My lord father gave him to me as a token of his love."
The two lords exchanged a look. "I had heard your serving man was dead," said the one with the stooped shoulder. "Slain by the Starks, they said."
Lord Ramsay chuckled. "The ironmen will tell you that what is dead may never die, but rises again, harder and stronger. Like Reek. He smells of the grave, though, I grant you that."
"He smells of nightsoil and stale vomit." The stoop-shouldered old lord tossed aside the bone that he'd been gnawing on and wiped his fingers on the tablecloth. "Is there some reason you must needs inflict him upon us whilst we're eating?"
The second lord, the straight-backed old man in the mail byrnie, studied Reek with flinty eyes. "Look again," he urged the other lord. "His hair's gone white and he is three stone thinner, aye, but this is no serving man. Have you forgotten?"
The crookback lord looked again and gave a sudden snort. "Him? Can it be? Stark's ward. Smiling, always smiling."
"He smiles less often now," Lord Ramsay confessed. "I may have broken some of his pretty white teeth."
"You would have done better to slit his throat," said the lord in mail. "A dog who turns against his master is fit for naught but skinning."
"Oh, he's been skinned, here and there," said Ramsay.
"Yes, my lord. I was bad, my lord. Insolent and …" He licked his lip, trying to think of what else he had done. Serve and obey, he told himself, and he'll let you live, and keep the parts that you still have. Serve and obey and remember your name. Reek, Reek, it rhymes with meek. "… bad and …"
"There's blood on your mouth," Ramsay observed. "Have you been chewing on your fingers again, Reek?"
"No. No, my lord, I swear." Reek had tried to bite his own ring finger off once, to stop it hurting after they had stripped the skin from it. Lord Ramsay would never simply cut off a man's finger. He preferred to flay it and let the exposed flesh dry and crack and fester. Reek had been whipped and racked and cut, but there was no pain half so excruciating as the pain that followed flaying. It was the sort of pain that drove men mad, and it could not be endured for long. Soon or late the victim would scream, "Please, no more, no more, stop it hurting, cut it off," and Lord Ramsay would oblige. It was a game they played. Reek had learned the rules, as his hands and feet could testify, but that one time he had forgotten and tried to end the pain himself, with his teeth. Ramsay had not been pleased, and the offense had cost Reek another toe. "I ate a rat," he mumbled.
"A rat?" Ramsay's pale eyes glittered in the torchlight. "All the rats in the Dreadfort belong to my lord father. How dare you make a meal of one without my leave."
Reek did not know what to say, so he said nothing. One wrong word could cost him another toe, even a finger. Thus far he had lost two fingers off his left hand and the pinky off his right, but only the little toe off his right foot against three from his left. Sometimes Ramsay would make japes about balancing him out. My lord was only japing, he tried to tell himself. He does not want to hurt me, he told me so, he only does it when I give him cause. His lord was merciful and kind. He might have flayed his face off for some of the things Reek had said, before he'd learned his true name and proper place.
"This grows tedious," said the lord in the mail byrnie. "Kill him and be done with it."
Lord Ramsay filled his cup with ale. "That would spoil our celebration, my lord. Reek, I have glad tidings for you. I am to be wed. My lord father is bringing me a Stark girl. Lord Eddard's daughter, Arya. You remember little Arya, don't you?"
Arya Underfoot, he almost said. Arya Horseface. Robb's younger sister, brown-haired, long-faced, skinny as a stick, always dirty. Sansa was the pretty one. He remembered a time when he had thought that Lord Eddard Stark might marry him to Sansa and claim him for a son, but that had only been a child's fancy. Arya, though … "I remember her. Arya."
"She shall be the Lady of Winterfell, and me her lord."
She is only a girl. "Yes, my lord. Congratulations."
"Will you attend me at my wedding, Reek?"
He hesitated. "If you wish it, my lord."
"Oh, I do."
He hesitated again, wondering if this was some cruel trap. "Yes, my lord. If it please you. I would be honored."
"We must take you out of that vile dungeon, then. Scrub you pink again, get you some clean clothes, some food to eat. Some nice soft porridge, would you like that? Perhaps a pease pie laced with bacon. I have a little task for you, and you'll need your strength back if you are to serve me. You do want to serve me, I know."
"Yes, my lord. More than anything." A shiver went through him. "I'm your Reek. Please let me serve you. Please."
"Since you ask so nicely, how can I deny you?" Ramsay Bolton smiled. "I ride to war, Reek. And you will be coming with me, to help me fetch home my virgin bride."

BRAN
Something about the way the raven screamed sent a shiver running up Bran's spine. I am almost a man grown, he had to remind himself. I have to be brave now.
But the air was sharp and cold and full of fear. Even Summer was afraid. The fur on his neck was bristling. Shadows stretched against the hillside, black and hungry. All the trees were bowed and twisted by the weight of ice they carried. Some hardly looked like trees at all. Buried from root to crown in frozen snow, they huddled on the hill like giants, monstrous and misshapen creatures hunched against the icy wind. "They are here."
The ranger drew his longsword.
"Where?" Meera's voice was hushed.
"Close. I don't know. Somewhere."
The raven shrieked again. "Hodor," whispered Hodor. He had his hands tucked up beneath his armpits. Icicles hung from the brown briar of his beard, and his mustache was a lump of frozen snot, glittering redly in the light of sunset.
"Those wolves are close as well," Bran warned them. "The ones that have been following us. Summer can smell them whenever we're downwind."
"Wolves are the least of our woes," said Coldhands. "We have to climb. It will be dark soon. You would do well to be inside before night comes. Your warmth will draw them." He glanced to the west, where the light of the setting sun could be seen dimly through the trees, like the glow of a distant fire.
"Is this the only way in?" asked Meera.
"The back door is three leagues north, down a sinkhole."
That was all he had to say. Not even Hodor could climb down into a sinkhole with Bran heavy on his back, and Jojen could no more walk three leagues than run a thousand.
Meera eyed the hill above. "The way looks clear."
"Looks," the ranger muttered darkly. "Can you feel the cold? There's something here. Where are they?"
"Inside the cave?" suggested Meera.
"The cave is warded. They cannot pass." The ranger used his sword to point. "You can see the entrance there. Halfway up, between the weirwoods, that cleft in the rock."
"I see it," said Bran. Ravens were flying in and out.
Hodor shifted his weight. "Hodor."
"A fold in the rock, that's all I see," said Meera.
"There's a passage there. Steep and twisty at first, a runnel through the rock. If you can reach it, you'll be safe."
"What about you?"
"The cave is warded."
Meera studied the cleft in the hillside. "It can't be more than a thousand yards from here to there."
No, thought Bran, but all those yards are upward. The hill was steep and thickly wooded. The snow had stopped three days ago, but none of it had melted. Beneath the trees, the ground was blanketed in white, still pristine and unbroken. "No one's here," said Bran, bravely. "Look at the snow. There are no footprints."
"The white walkers go lightly on the snow," the ranger said. "You'll find no prints to mark their passage." A raven descended from above to settle on his shoulder. Only a dozen of the big black birds remained with them. The rest had vanished along the way; every dawn when they arose, there had been fewer of them. "Come," the bird squawked. "Come, come."
The three-eyed crow, thought Bran. The greenseer. "It's not so far," he said. "A little climb, and we'll be safe. Maybe we can have a fire." All of them were cold and wet and hungry, except the ranger, and Jojen Reed was too weak to walk unaided.
"You go." Meera Reed bent down beside her brother. He was settled in the bole of an oak, eyes closed, shivering violently. What little of his face could be seen beneath his hood and scarf was as colorless as the surrounding snow, but breath still puffed faintly from his nostrils whenever he exhaled. Meera had been carrying him all day. Food and fire will set him right again, Bran tried to tell himself, though he wasn't sure it would. "I can't fight and carry Jojen both, the climb's too steep," Meera was saying. "Hodor, you take Bran up to that cave."
"Hodor." Hodor clapped his hands together.
"Jojen just needs to eat," Bran said, miserably. It had been twelve days since the elk had collapsed for the third and final time, since Coldhands had knelt beside it in the snowbank and murmured a blessing in some strange tongue as he slit its throat. Bran wept like a little girl when the bright blood came rushing out. He had never felt more like a cripple than he did then, watching helplessly as Meera Reed and Coldhands butchered the brave beast who had carried them so far. He told himself he would not eat, that it was better to go hungry than to feast upon a friend, but in the end he'd eaten twice, once in his own skin and once in Summer's. As gaunt and starved as the elk had been, the steaks the ranger carved from him had sustained them for seven days, until they finished the last of them huddled over a fire in the ruins of an old hillfort.
"He needs to eat," Meera agreed, smoothing her brother's brow. "We all do, but there's no food here. Go."
Bran blinked back a tear and felt it freeze upon his cheek. Coldhands took Hodor by the arm. "The light is fading. If they're not here now, they will be soon. Come."
Wordless for once, Hodor slapped the snow off his legs, and plowed upward through the snowdrifts with Bran upon his back. Coldhands stalked beside them, his blade in a black hand. Summer came after. In some places the snow was higher than he was, and the big direwolf had to stop and shake it off after plunging through the thin crust. As they climbed, Bran turned awkwardly in his basket to watch as Meera slid an arm beneath her brother to lift him to his feet. He's too heavy for her. She's half-starved, she's not as strong as she was. She clutched her frog spear in her other hand, jabbing the tines into the snow for a little more support. Meera had just begun to struggle up the hill, half-dragging and half-carrying her little brother, when Hodor passed between two trees, and Bran lost sight of them.
The hill grew steeper. Drifts of snow cracked under Hodor's boots. Once a rock moved beneath his foot and he slid backwards, and almost went tumbling back down the hill. The ranger caught him by the arm and saved him. "Hodor," said Hodor. Every gust of wind filled the air with fine white powder that shone like glass in the last light of day. Ravens flapped around them. One flew ahead and vanished inside the cave. Only eighty yards now, Bran thought, that's not far at all.
Summer stopped suddenly, at the bottom of a steep stretch of unbroken white snow. The direwolf turned his head, sniffed the air, then snarled. Fur bristling, he began to back away.
"Hodor, stop," said Bran. "Hodor. Wait." Something was wrong. Summer smelled it, and so did he. Something bad. Something close. "Hodor, no, go back."
Coldhands was still climbing, and Hodor wanted to keep up. "Hodor, hodor, hodor," he grumbled loudly, to drown out Bran's complaints. His breathing had grown labored. Pale mist filled the air. He took a step, then another. The snow was almost waist deep and the slope was very steep. Hodor was leaning forward, grasping at rocks and trees with his hands as he climbed. Another step. Another. The snow Hodor disturbed slid downhill, starting a small avalanche behind them.
Sixty yards. Bran craned himself sideways to better see the cave. Then he saw something else. "A fire!" In the little cleft between the weirwood trees was a flickering glow, a ruddy light calling through the gathering gloom. "Look, someone—"
Hodor screamed. He twisted, stumbled, fell.
Bran felt the world slide sideways as the big stableboy spun violently around. A jarring impact drove the breath from him. His mouth was full of blood and Hodor was thrashing and rolling, crushing the crippled boy beneath him.
Something has hold of his leg. For half a heartbeat Bran thought maybe a root had gotten tangled round his ankle … until the root moved. A hand, he saw, as the rest of the wight came bursting from beneath the snow.
Hodor kicked at it, slamming a snow-covered heel full into the thing's face, but the dead man did not even seem to feel it. Then the two of them were grappling, punching and clawing at each other, sliding down the hill. Snow filled Bran's mouth and nose as they rolled over, but in a half a heartbeat he was rolling up again. Something slammed against his head, a rock or a chunk of ice or a dead man's fist, he could not tell, and he found himself out of his basket, sprawled across the hillside, spitting snow, his gloved hand full of hair that he'd torn from Hodor's head.
All around him, wights were rising from beneath the snow.
Two, three, four. Bran lost count. They surged up violently amidst sudden clouds of snow. Some wore black cloaks, some ragged skins, some nothing. All of them had pale flesh and black hands. Their eyes glowed like pale blue stars.
Three of them descended on the ranger. Bran saw Coldhands slash one across the face. The thing kept right on coming, driving him back into the arms of another. Two more were going after Hodor, lumbering clumsily down the slope. Meera was going to climb right into this, Bran realized, with a sick sense of helpless terror. He smashed the snow and shouted out a warning.
Something grabbed hold of him.
That was when his shout became a scream. Bran filled a fist with snow and threw it, but the wight did not so much as blink. A black hand fumbled at his face, another at his belly. Its fingers felt like iron. He's going to pull my guts out.
But suddenly Summer was between them. Bran glimpsed skin tear like cheap cloth, heard the splintering of bone. He saw a hand and wrist rip loose, pale fingers wriggling, the sleeve faded black roughspun. Black, he thought, he's wearing black, he was one of the Watch. Summer flung the arm aside, twisted, and sank his teeth into the dead man's neck under the chin. When the big grey wolf wrenched free, he took most of the creature's throat out in an explosion of pale rotten meat.
The severed hand was still moving. Bran rolled away from it. On his belly, clawing at the snow, he glimpsed the trees above, pale and snow-cloaked, the orange glow between.
Fifty yards. If he could drag himself fifty yards, they could not get him. Damp seeped through his gloves as he clutched at roots and rocks, crawling toward the light. A little farther, just a little farther. Then you can rest beside the fire.
The last light had vanished from amongst the trees by then. Night had fallen. Coldhands was hacking and cutting at the circle of dead men that surrounded him. Summer was tearing at the one that he'd brought down, its face between his teeth. No one was paying any mind to Bran. He crawled a little higher, dragging his useless legs behind him. If I can reach that cave …
"Hoooodor" came a whimper, from somewhere down below.
And suddenly he was not Bran, the broken boy crawling through the snow, suddenly he was Hodor halfway down the hill, with the wight raking at his eyes. Roaring, he came lurching to his feet, throwing the thing violently aside. It went to one knee, began to rise again. Bran ripped Hodor's longsword from his belt. Deep inside he could hear poor Hodor whimpering still, but outside he was seven feet of fury with old iron in his hand. He raised the sword and brought it down upon the dead man, grunting as the blade sheared through wet wool and rusted mail and rotted leather, biting deep into the bones and flesh beneath. "HODOR!" he bellowed, and slashed again. This time he took the wight's head off at the neck, and for half a moment he exulted … until a pair of dead hands came groping blindly for his throat.
Bran backed away, bleeding, and Meera Reed was there, driving her frog spear deep into the wight's back. "Hodor," Bran roared again, waving her uphill. "Hodor, hodor." Jojen was twisting feebly where she'd laid him down. Bran went to him, dropped the longsword, gathered the boy into Hodor's arm, and lurched back to his feet. "HODOR!" he bellowed.
Meera led the way back up the hill, jabbing at the wights when they came near. The things could not be hurt, but they were slow and clumsy. "Hodor," Hodor said with every step. "Hodor, hodor." He wondered what Meera would think if he should suddenly tell her that he loved her.
Up above them, flaming figures were dancing in the snow.
The wights, Bran realized. Someone set the wights on fire.
Summer was snarling and snapping as he danced around the closest, a great ruin of a man wreathed in swirling flame. He shouldn't get so close, what is he doing? Then he saw himself, sprawled facedown in the snow. Summer was trying to drive the thing away from him. What will happen if it kills me? the boy wondered. Will I be Hodor for good or all? Will I go back into Summer's skin? Or will I just be dead?
The world moved dizzily around him. White trees, black sky, red flames, everything was whirling, shifting, spinning. He felt himself stumbling. He could hear Hodor screaming, "Hodor hodor hodor hodor. Hodor hodor hodor hodor. Hodor hodor hodor hodor hodor." A cloud of ravens was pouring from the cave, and he saw a little girl with a torch in hand, darting this way and that. For a moment Bran thought it was his sister Arya … madly, for he knew his little sister was a thousand leagues away, or dead. And yet there she was, whirling, a scrawny thing, ragged, wild, her hair atangle. Tears filled Hodor's eyes and froze there.
Everything turned inside out and upside down, and Bran found himself back inside his own skin, half-buried in the snow. The burning wight loomed over him, etched tall against the trees in their snowy shrouds. It was one of the naked ones, Bran saw, in the instant before the nearest tree shook off the snow that covered it and dropped it all down upon his head.
The next he knew, he was lying on a bed of pine needles beneath a dark stone roof. The cave. I'm in the cave. His mouth still tasted of blood where he'd bitten his tongue, but a fire was burning to his right, the heat washing over his face, and he had never felt anything so good. Summer was there, sniffing round him, and Hodor, soaking wet. Meera cradled Jojen's head in her lap. And the Arya thing stood over them, clutching her torch.
"The snow," Bran said. "It fell on me. Buried me."
"Hid you. I pulled you out." Meera nodded at the girl. "It was her who saved us, though. The torch … fire kills them."
"Fire burns them. Fire is always hungry."
That was not Arya's voice, nor any child's. It was a woman's voice, high and sweet, with a strange music in it like none that he had ever heard and a sadness that he thought might break his heart. Bran squinted, to see her better. It was a girl, but smaller than Arya, her skin dappled like a doe's beneath a cloak of leaves. Her eyes were queer—large and liquid, gold and green, slitted like a cat's eyes. No one has eyes like that. Her hair was a tangle of brown and red and gold, autumn colors, with vines and twigs and withered flowers woven through it.
"Who are you?" Meera Reed was asking.
Bran knew. "She's a child. A child of the forest." He shivered, as much from wonderment as cold. They had fallen into one of Old Nan's tales.
"The First Men named us children," the little woman said. "The giants called us woh dak nag gran, the squirrel people, because we were small and quick and fond of trees, but we are no squirrels, no children. Our name in the True Tongue means those who sing the song of earth. Before your Old Tongue was ever spoken, we had sung our songs ten thousand years."
Meera said, "You speak the Common Tongue now."
"For him. The Bran boy. I was born in the time of the dragon, and for two hundred years I walked the world of men, to watch and listen and learn. I might be walking still, but my legs were sore and my heart was weary, so I turned my feet for home."
"Two hundred years?" said Meera.
The child smiled. "Men, they are the children."
"Do you have a name?" asked Bran.
"When I am needing one." She waved her torch toward the black crack in the back wall of the cave. "Our way is down. You must come with me now."
Bran shivered again. "The ranger …"
"He cannot come."
"They'll kill him."
"No. They killed him long ago. Come now. It is warmer down deep, and no one will hurt you there. He is waiting for you."
"The three-eyed crow?" asked Meera.
"The greenseer." And with that she was off, and they had no choice but to follow. Meera helped Bran back up onto Hodor's back, though his basket was half-crushed and wet from melting snow. Then she slipped an arm around her brother and shouldered him back onto his feet once more. His eyes opened. "What?" he said. "Meera? Where are we?" When he saw the fire, he smiled. "I had the strangest dream."
The way was cramped and twisty, and so low that Hodor soon was crouching. Bran hunched down as best he could, but even so, the top of his head was soon scraping and bumping against the ceiling. Loose dirt crumbled at each touch and dribbled down into his eyes and hair, and once he smacked his brow on a thick white root growing from the tunnel wall, with tendrils hanging from it and spiderwebs between its fingers.
The child went in front with the torch in hand, her cloak of leaves whispering behind her, but the passage turned so much that Bran soon lost sight of her. Then the only light was what was reflected off the passage walls. After they had gone down a little, the cave divided, but the left branch was dark as pitch, so even Hodor knew to follow the moving torch to the right.
The way the shadows shifted made it seem as if the walls were moving too. Bran saw great white snakes slithering in and out of the earth around him, and his heart thumped in fear. He wondered if they had blundered into a nest of milk snakes or giant grave worms, soft and pale and squishy. Grave worms have teeth.
Hodor saw them too. "Hodor," he whimpered, reluctant to go on. But when the girl child stopped to let them catch her, the torchlight steadied, and Bran realized that the snakes were only white roots like the one he'd hit his head on. "It's weirwood roots," he said. "Remember the heart tree in the godswood, Hodor? The white tree with the red leaves? A tree can't hurt you."
"Hodor." Hodor plunged ahead, hurrying after the child and her torch, deeper into the earth. They passed another branching, and another, then came into an echoing cavern as large as the great hall of Winterfell, with stone teeth hanging from its ceiling and more poking up through its floor. The child in the leafy cloak wove a path through them. From time to time she stopped and waved her torch at them impatiently. This way, it seemed to say, this way, this way, faster.
There were more side passages after that, more chambers, and Bran heard dripping water somewhere to his right. When he looked off that way, he saw eyes looking back at them, slitted eyes that glowed bright, reflecting back the torchlight. More children, he told himself, the girl is not the only one, but Old Nan's tale of Gendel's children came back to him as well.
The roots were everywhere, twisting through earth and stone, closing off some passages and holding up the roofs of others. All the color is gone, Bran realized suddenly. The world was black soil and white wood. The heart tree at Winterfell had roots as thick around as a giant's legs, but these were even thicker. And Bran had never seen so many of them. There must be a whole grove of weirwoods growing up above us.
The light dwindled again. Small as she was, the child-who-was-not-a-child moved quickly when she wanted. As Hodor thumped after her, something crunched beneath his feet. His halt was so sudden that Meera and Jojen almost slammed into his back.
"Bones," said Bran. "It's bones." The floor of the passage was littered with the bones of birds and beasts. But there were other bones as well, big ones that must have come from giants and small ones that could have been from children. On either side of them, in niches carved from the stone, skulls looked down on them. Bran saw a bear skull and a wolf skull, half a dozen human skulls and near as many giants. All the rest were small, queerly formed. Children of the forest. The roots had grown in and around and through them, every one. A few had ravens perched atop them, watching them pass with bright black eyes.
The last part of their dark journey was the steepest. Hodor made the final descent on his arse, bumping and sliding downward in a clatter of broken bones, loose dirt, and pebbles. The girl child was waiting for them, standing on one end of a natural bridge above a yawning chasm. Down below in the darkness, Bran heard the sound of rushing water. An underground river.
"Do we have to cross?" Bran asked, as the Reeds came sliding down behind him. The prospect frightened him. If Hodor slipped on that narrow bridge, they would fall and fall.
"No, boy," the child said. "Behind you." She lifted her torch higher, and the light seemed to shift and change. One moment the flames burned orange and yellow, filling the cavern with a ruddy glow; then all the colors faded, leaving only black and white. Behind them Meera gasped. Hodor turned.
Before them a pale lord in ebon finery sat dreaming in a tangled nest of roots, a woven weirwood throne that embraced his withered limbs as a mother does a child.
His body was so skeletal and his clothes so rotted that at first Bran took him for another corpse, a dead man propped up so long that the roots had grown over him, under him, and through him. What skin the corpse lord showed was white, save for a bloody blotch that crept up his neck onto his cheek. His white hair was fine and thin as root hair and long enough to brush against the earthen floor. Roots coiled around his legs like wooden serpents. One burrowed through his breeches into the desiccated flesh of his thigh, to emerge again from his shoulder. A spray of dark red leaves sprouted from his skull, and grey mushrooms spotted his brow. A little skin remained, stretched across his face, tight and hard as white leather, but even that was fraying, and here and there the brown and yellow bone beneath was poking through.
"Are you the three-eyed crow?" Bran heard himself say. A three-eyed crow should have three eyes. He has only one, and that one red. Bran could feel the eye staring at him, shining like a pool of blood in the torchlight. Where his other eye should have been, a thin white root grew from an empty socket, down his cheek, and into his neck.
"A … crow?" The pale lord's voice was dry. His lips moved slowly, as if they had forgotten how to form words. "Once, aye. Black of garb and black of blood." The clothes he wore were rotten and faded, spotted with moss and eaten through with worms, but once they had been black. "I have been many things, Bran. Now I am as you see me, and now you will understand why I could not come to you … except in dreams. I have watched you for a long time, watched you with a thousand eyes and one. I saw your birth, and that of your lord father before you. I saw your first step, heard your first word, was part of your first dream. I was watching when you fell. And now you are come to me at last, Brandon Stark, though the hour is late."
"I'm here," Bran said, "only I'm broken. Will you … will you fix me … my legs, I mean?"
"No," said the pale lord. "That is beyond my powers."
Bran's eyes filled with tears. We came such a long way. The chamber echoed to the sound of the black river.
"You will never walk again, Bran," the pale lips promised, "but you will fly."

TYRION
For a long while he did not stir, but lay unmoving upon the heap of old sacks that served him for a bed, listening to the wind in the lines, to the lapping of the river at the hull.
A full moon floated above the mast. It is following me downriver, watching me like some great eye. Despite the warmth of the musty skins that covered him, a shiver went through the little man. I need a cup of wine. A dozen cups of wine. But the moon would blink before that whoreson Griff let him quench his thirst. Instead he drank water, and was condemned to sleepless nights and days of sweats and shakes.
The dwarf sat up, cradling his head in his hands. Did I dream? All memory of it had fled. The nights had never been kind to Tyrion Lannister. He slept badly even on soft feather beds. On the Shy Maid, he made his bed atop the roof of the cabin, with a coil of hempen rope for a pillow. He liked it better up here than in the boat's cramped hold. The air was fresher, and the river sounds were sweeter than Duck's snoring. There was a price to be paid for such joys, though; the deck was hard, and he woke stiff and sore, his legs cramped and aching.
They were throbbing now, his calves gone hard as wood. He kneaded them with his fingers, trying to rub the ache away, but when he stood the pain was still enough to make him grimace. I need to bathe. His boy's clothes stank, and so did he. The others bathed in the river, but thus far he had not joined them. Some of the turtles he'd seen in the shallows looked big enough to bite him in half. Bonesnappers, Duck called them. Besides, he did not want Lemore to see him naked.
A wooden ladder led down from the cabin roof. Tyrion pulled on his boots and descended to the afterdeck, where Griff sat wrapped in a wolfskin cloak beside an iron brazier. The sellsword kept the night watch by himself, rising as the rest of his band sought their beds and retiring when the sun came up.
Tyrion squatted across from him and warmed his hands over the coals. Across the water nightingales were singing. "Day soon," he said to Griff.
"Not soon enough. We need to be under way." If it had been up to Griff, the Shy Maid would continue downstream by night as well as day, but Yandry and Ysilla refused to risk their poleboat in the dark. The Upper Rhoyne was full of snags and sawyers, any one of which could rip out the Shy Maid's hull. Griff did not want to hear it. What he wanted was Volantis.
The sellsword's eyes were always moving, searching the night for … what? Pirates? Stone men? Slave-catchers? The river had perils, the dwarf knew, but Griff himself struck Tyrion as more dangerous than any of them. He reminded Tyrion of Bronn, though Bronn had a sellsword's black humor and Griff had no humor at all.
"I would kill for a cup of wine," muttered Tyrion.
Griff made no reply. You will die before you drink, his pale eyes seemed to say. Tyrion had drunk himself blind his first night on the Shy Maid. The next day he awoke with dragons fighting in his skull. Griff took one look at him retching over the side of the poleboat, and said, "You are done with drink."
"Wine helps me sleep," Tyrion had protested. Wine drowns my dreams, he might have said.
"Then stay awake," Griff had replied, implacable.
To the east, the first pale light of day suffused the sky above the river. The waters of the Rhoyne slowly went from black to blue, to match the sellsword's hair and beard. Griff got to his feet. "The others should wake soon. The deck is yours." As the nightingales fell silent, the river larks took up their song. Egrets splashed amongst the reeds and left their tracks across the sandbars. The clouds in the sky were aglow: pink and purple, maroon and gold, pearl and saffron. One looked like a dragon. Once a man has seen a dragon in flight, let him stay at home and tend his garden in content, someone had written once, for this wide world has no greater wonder. Tyrion scratched at his scar and tried to recall the author's name. Dragons had been much in his thoughts of late.
"Good morrow, Hugor." Septa Lemore had emerged in her white robes, cinched at the waist with a woven belt of seven colors. Her hair flowed loose about her shoulders. "How did you sleep?"
"Fitfully, good lady. I dreamed of you again." A waking dream. He could not sleep, so he had eased a hand between his legs and imagined the septa atop him, breasts bouncing.
"A wicked dream, no doubt. You are a wicked man. Will you pray with me and ask forgiveness for your sins?"
Only if we pray in the fashion of the Summer Isles. "No, but do give the Maiden a long, sweet kiss for me."
Laughing, the septa walked to the prow of the boat. It was her custom to bathe in the river every morning. "Plainly, this boat was not named for you," Tyrion called as she disrobed.
"The Mother and the Father made us in their image, Hugor. We should glory in our bodies, for they are the work of gods."
The gods must have been drunk when they got to me. The dwarf watched Lemore slip into the water. The sight always made him hard. There was something wonderfully wicked about the thought of peeling the septa out of those chaste white robes and spreading her legs. Innocence despoiled, he thought … though Lemore was not near as innocent as she appeared. She had stretch marks on her belly that could only have come from childbirth.
Yandry and Ysilla had risen with the sun and were going about their business. Yandry stole a glance at Septa Lemore from time to time as he was checking the lines. His small dark wife, Ysilla, took no notice. She fed some wood chips to the brazier on the afterdeck, stirred the coals with a blackened blade, and began to knead the dough for the morning biscuits.
When Lemore climbed back onto the deck, Tyrion savored the sight of water trickling between her breasts, her smooth skin glowing golden in the morning light. She was past forty, more handsome than pretty, but still easy on the eye. Being randy is the next best thing to being drunk, he decided. It made him feel as if he was still alive. "Did you see the turtle, Hugor?" the septa asked him, wringing water from her hair. "The big ridgeback?"
The early morning was the best time for seeing turtles. During the day they would swim down deep, or hide in cuts along the banks, but when the sun was newly risen they came to the surface. Some liked to swim beside the boat. Tyrion had glimpsed a dozen different sorts: large turtles and small ones, flatbacks and red-ears, softshells and bonesnappers, brown turtles, green turtles, black turtles, clawed turtles and horned turtles, turtles whose ridged and patterned shells were covered with whorls of gold and jade and cream. Some were so large they could have borne a man upon their backs. Yandry swore the Rhoynar princes used to ride them across the river. He and his wife were Greenblood born, a pair of Dornish orphans come home to Mother Rhoyne.
"I missed the ridgeback." I was watching the naked woman.
"I am sad for you." Lemore slipped her robe over her head. "I know you only rise so early in hopes of seeing turtles."
"I like to watch the sun come up as well." It was like watching a maiden rising naked from her bath. Some might be prettier than others, but every one was full of promise. "The turtles have their charms, I will allow. Nothing delights me so much as the sight of a nice pair of shapely … shells."
Septa Lemore laughed. Like everyone else aboard the Shy Maid, she had her secrets. She was welcome to them. I do not want to know her, I only want to fuck her. She knew it too. As she hung her septa's crystal about her neck, to nestle in the cleft between her breasts, she teased him with a smile.
Yandry pulled up the anchor, slid one of the long poles off the cabin roof, and pushed them off. Two of the herons raised their heads to watch as the Shy Maid drifted away from the bank, out into the current. Slowly the boat began to move downstream. Yandry went to the tiller. Ysilla was turning the biscuits. She laid an iron pan atop the brazier and put the bacon in. Some days she cooked biscuits and bacon; some days bacon and biscuits. Once every fortnight there might be a fish, but not today.
When Ysilla turned her back, Tyrion snatched a biscuit off the brazier, darting away just in time to avoid a smack from her fearsome wooden spoon. They were best when eaten hot, dripping with honey and butter. The smell of the bacon cooking soon fetched Duck up from the hold. He sniffed over the brazier, received a swack from Ysilla's spoon, and went back to have his morning piss off the stern.
Tyrion waddled over to join him. "Now here's a sight to see," he quipped as they were emptying their bladders, "a dwarf and a duck, making the mighty Rhoyne that much mightier."
Yandry snorted in derision. "Mother Rhoyne has no need of your water, Yollo. She is the greatest river in the world."
Tyrion shook off the last few drops. "Big enough to drown a dwarf, I grant you. The Mander is as broad, though. So is the Trident, near its mouth. The Blackwater runs deeper."
"You do not know the river. Wait, and you will see."
The bacon turned crisp, the biscuits golden brown. Young Griff stumbled up onto deck yawning. "Good morrow, all." The lad was shorter than Duck, but his lanky build suggested that he had not yet come into his full growth. This beardless boy could have any maiden in the Seven Kingdoms, blue hair or no. Those eyes of his would melt them. Like his sire, Young Griff had blue eyes, but where the father's eyes were pale, the son's were dark. By lamplight they turned black, and in the light of dusk they seemed purple. His eyelashes were as long as any woman's.
"I smell bacon," the lad said, pulling on his boots.
"Good bacon," said Ysilla. "Sit."
She fed them on the afterdeck, pressing honeyed biscuits on Young Griff and hitting Duck's hand with her spoon whenever he made a grab for more bacon. Tyrion pulled apart two biscuits, filled them with bacon, and carried one to Yandry at the tiller. Afterward he helped Duck to raise the Shy Maid's big lateen sail. Yandry took them out into the center of the river, where the current was strongest. The Shy Maid was a sweet boat. Her draft was so shallow she could work her way up even the smallest of the river's vassal streams, negotiating sandbars that would have stranded larger vessels, yet with her sail raised and a current under her, she could make good speed. That could mean life and death on the upper reaches of the Rhoyne, Yandry claimed. "There is no law above the Sorrows, not for a thousand years."
"And no people, so far as I can see." He'd glimpsed some ruins along the banks, piles of masonry overgrown by vines and moss and flowers, but no other signs of human habitation.
"You do not know the river, Yollo. A pirate boat may lurk up any stream, and escaped slaves oft hide amongst the ruins. The slave-catchers seldom come so far north."
"Slave-catchers would be a welcome change from turtles." Not being an escaped slave, Tyrion need not fear being caught. And no pirate was like to bother a poleboat moving downstream. The valuable goods came up the river from Volantis.
When the bacon was gone, Duck punched Young Griff in the shoulder. "Time to raise some bruises. Swords today, I think."
"Swords?" Young Griff grinned. "Swords will be sweet."
Tyrion helped him dress for the bout, in heavy breeches, padded doublet, and a dinted suit of old steel plate. Ser Rolly shrugged into his mail and boiled leather. Both set helms upon their heads and chose blunted longswords from the bundle in the weapons chest. They set to on the afterdeck, having at each other lustily whilst the rest of the morning company looked on.
When they fought with mace or blunted longaxe, Ser Rolly's greater size and strength would quickly overwhelm his charge; with swords the contests were more even. Neither man had taken up a shield this morning, so it was a game of slash and parry, back and forth across the deck. The river rang to the sounds of their combat. Young Griff landed more blows, though Duck's were harder. After a while, the bigger man began to tire. His cuts came a little slower, a little lower. Young Griff turned them all and launched a furious attack that forced Ser Rolly back. When they reached the stern, the lad tied up their blades and slammed a shoulder into Duck, and the big man went into the river.
He came up sputtering and cursing, bellowing for someone to fish him out before a 'snapper ate his privates. Tyrion tossed a line to him. "Ducks should swim better than that," he said as he and Yandry were hauling the knight back aboard the Shy Maid.
Ser Rolly grabbed Tyrion by the collar. "Let us see how dwarfs swim," he said, chucking him headlong into the Rhoyne.
The dwarf laughed last; he could paddle passably well, and did … until his legs began to cramp. Young Griff extended him a pole. "You are not the first to try and drown me," he told Duck, as he was pouring river water from his boot. "My father threw me down a well the day I was born, but I was so ugly that the water witch who lived down there spat me back." He pulled off the other boot, then did a cartwheel along the deck, spraying all of them.
Young Griff laughed. "Where did you learn that?"
"The mummers taught me," he lied. "My mother loved me best of all her children because I was so small. She nursed me at her breast till I was seven. That made my brothers jealous, so they stuffed me in a sack and sold me to a mummer's troupe. When I tried to run off the master mummer cut off half my nose, so I had no choice but to go with them and learn to be amusing."
The truth was rather different. His uncle had taught him a bit of tumbling when he was six or seven. Tyrion had taken to it eagerly. For half a year he cartwheeled his merry way about Casterly Rock, bringing smiles to the faces of septons, squires, and servants alike. Even Cersei laughed to see him once or twice.
All that ended abruptly the day his father returned from a sojourn in King's Landing. That night at supper Tyrion surprised his sire by walking the length of the high table on his hands. Lord Tywin was not pleased. "The gods made you a dwarf. Must you be a fool as well? You were born a lion, not a monkey."
And you're a corpse, Father, so I'll caper as I please.
"You have a gift for making men smile," Septa Lemore told Tyrion as he was drying off his toes. "You should thank the Father Above. He gives gifts to all his children."
"He does," he agreed pleasantly. And when I die, please let them bury with me a crossbow, so I can thank the Father Above for his gifts the same way I thanked the father below.
His clothing was still soaked from his involuntary swim, clinging to his arms and legs uncomfortably. Whilst Young Griff went off with Septa Lemore to be instructed in the mysteries of the Faith, Tyrion stripped off the wet clothes and donned dry ones. Duck had a good guffaw when he emerged on deck again. He could not blame him. Dressed as he was, he made a comic sight. His doublet was divided down the middle; the left side was purple velvet with bronze studs; the right, yellow wool embroidered in green floral patterns. His breeches were similarly split; the right leg was solid green, the left leg striped in red and white. One of Illyrio's chests had been packed with a child's clothing, musty but well made. Septa Lemore had slit each garment apart, then sewn them back together, joining half of this to half of that to fashion a crude motley. Griff had even insisted that Tyrion help with the cutting and sewing. No doubt he meant for it to be humbling, but Tyrion enjoyed the needlework. Lemore was always pleasant company, despite her penchant for scolding him whenever he said something rude about the gods. If Griff wants to cast me as the fool, I'll play the game. Somewhere, he knew, Lord Tywin Lannister was horrified, and that took the sting from it.
His other duty was anything but foolish. Duck has his sword, I my quill and parchment. Griff had commanded him to set down all he knew of dragonlore. The task was a formidable one, but the dwarf labored at it every day, scratching away as best he could as he sat cross-legged on the cabin roof.
Tyrion had read much and more of dragons through the years. The greater part of those accounts were idle tales and could not be relied on, and the books that Illyrio had provided them were not the ones he might have wished for. What he really wanted was the complete text of The Fires of the Freehold, Galendro's history of Valyria. No complete copy was known to Westeros, however; even the Citadel's lacked twenty-seven scrolls. They must have a library in Old Volantis, surely. I may find a better copy there, if I can find a way inside the Black Walls to the city's heart.
He was less hopeful concerning Septon Barth's Dragons, Wyrms, and Wyverns: Their Unnatural History. Barth had been a blacksmith's son who rose to be King's Hand during the reign of Jaehaerys the Conciliator. His enemies always claimed he was more sorcerer than septon. Baelor the Blessed had ordered all Barth's writings destroyed when he came to the Iron Throne. Ten years ago, Tyrion had read a fragment of Unnatural History that had eluded the Blessed Baelor, but he doubted that any of Barth's work had found its way across the narrow sea. And of course there was even less chance of his coming on the fragmentary, anonymous, blood-soaked tome sometimes called Blood and Fire and sometimes The Death of Dragons, the only surviving copy of which was supposedly hidden away in a locked vault beneath the Citadel.
When the Halfmaester appeared on deck, yawning, the dwarf was writing down what he recalled concerning the mating habits of dragons, on which subject Barth, Munkun, and Thomax held markedly divergent views. Haldon stalked to the stern to piss down at the sun where it shimmered on the water, breaking apart with every puff of wind. "We should reach the junction with the Noyne by evening, Yollo," the Halfmaester called out.
Tyrion glanced up from his writing. "My name is Hugor. Yollo is hiding in my breeches. Shall I let him out to play?"
"Best not. You might frighten the turtles." Haldon's smile was as sharp as the blade of a dagger. "What did you tell me was the name of that street in Lannisport where you were born, Yollo?"
"It was an alley. It had no name." Tyrion took a mordant pleasure in inventing the details of the colorful life of Hugor Hill, also known as Yollo, a bastard out of Lannisport. The best lies are seasoned with a bit of truth. The dwarf knew he sounded like a westerman, and a highborn westerman at that, so Hugor must needs be some lordling's by-blow. Born in Lannisport because he knew that city better than Oldtown or King's Landing, and cities were where most dwarfs ended up, even those whelped by Goodwife Bumpkin in the turnip patch. The countryside had no grotesqueries or mummer shows … though it did have wells aplenty, to swallow up unwanted kittens, three-headed calves, and babes like him.
"I see you have been defacing more good parchment, Yollo." Haldon laced up his breeches.
"Not all of us can be half a maester." Tyrion's hand was cramping. He put his quill aside and flexed his stubby fingers. "Fancy another game of cyvasse?" The Halfmaester always defeated him, but it was a way to pass the time.
"This evening. Will you join us for Young Griff's lesson?"
"Why not? Someone needs to correct your errors."
There were four cabins on the Shy Maid. Yandry and Ysilla shared one, Griff and Young Griff another. Septa Lemore had a cabin to herself, as did Haldon. The Halfmaester's cabin was the largest of the four. One wall was lined with bookshelves and bins stacked with old scrolls and parchments; another held racks of ointments, herbs, and potions. Golden light slanted through the wavy yellow glass of the round window. The furnishings included a bunk, a writing desk, a chair, a stool, and the Halfmaester's cyvasse table, strewn with carved wooden pieces.
The lesson began with languages. Young Griff spoke the Common Tongue as if he had been born to it, and was fluent in High Valyrian, the low dialects of Pentos, Tyrosh, Myr, and Lys, and the trade talk of sailors. The Volantene dialect was as new to him as it was to Tyrion, so every day they learned a few more words whilst Haldon corrected their mistakes. Meereenese was harder; its roots were Valyrian as well, but the tree had been grafted onto the harsh, ugly tongue of Old Ghis. "You need a bee up your nose to speak Ghiscari properly," Tyrion complained. Young Griff laughed, but the Halfmaester only said, "Again." The boy obeyed, though he rolled his eyes along with his zzzs this time. He has a better ear than me, Tyrion was forced to admit, though I'll wager my tongue is still more nimble.
Geometry followed languages. There the boy was less adroit, but Haldon was a patient teacher, and Tyrion was able to make himself of use as well. He had learned the mysteries of squares and circles and triangles from his father's maesters at Casterly Rock, and they came back more quickly than he would have thought.
By the time they turned to history, Young Griff was growing restive. "We were discussing the history of Volantis," Haldon said to him. "Can you tell Yollo the difference between a tiger and an elephant?"
"Volantis is the oldest of the Nine Free Cities, first daughter of Valyria," the lad replied, in a bored tone. "After the Doom it pleased the Volantenes to consider themselves the heirs of the Freehold and rightful rulers of the world, but they were divided as to how dominion might best be achieved. The Old Blood favored the sword, while the merchants and moneylenders advocated trade. As they contended for rule of the city, the factions became known as the tigers and elephants, respectively.
"The tigers held sway for almost a century after the Doom of Valyria. For a time they were successful. A Volantene fleet took Lys and a Volantene army captured Myr, and for two generations all three cities were ruled from within the Black Walls. That ended when the tigers tried to swallow Tyrosh. Pentos came into the war on the Tyroshi side, along with the Westerosi Storm King. Braavos provided a Lyseni exile with a hundred warships, Aegon Targaryen flew forth from Dragonstone on the Black Dread, and Myr and Lys rose up in rebellion. The war left the Disputed Lands a waste, and freed Lys and Myr from the yoke. The tigers suffered other defeats as well. The fleet they sent to reclaim Valyria vanished in the Smoking Sea. Qohor and Norvos broke their power on the Rhoyne when the fire galleys fought on Dagger Lake. Out of the east came the Dothraki, driving smallfolk from their hovels and nobles from their estates, until only grass and ruins remained from the forest of Qohor to the headwaters of the Selhoru. After a century of war, Volantis found herself broken, bankrupt, and depopulated. It was then that the elephants rose up. They have held sway ever since. Some years the tigers elect a triarch, and some years they do not, but never more than one, so the elephants have ruled the city for three hundred years."
"Just so," said Haldon. "And the present triarchs?"
"Malaquo is a tiger, Nyessos and Doniphos are elephants."
"And what lesson can we draw from Volantene history?"
"If you want to conquer the world, you best have dragons."
Tyrion could not help but laugh.
Later, when Young Griff went up on deck to help Yandry with the sails and poles, Haldon set up his cyvasse table for their game. Tyrion watched with mismatched eyes, and said, "The boy is bright. You have done well by him. Half the lords in Westeros are not so learned, sad to say. Languages, history, songs, sums … a heady stew for some sellsword's son."
"A book can be as dangerous as a sword in the right hands," said Haldon. "Try to give me a better battle this time, Yollo. You play cyvasse as badly as you tumble."
"I am trying to lull you into a false sense of confidence," said Tyrion, as they arranged their tiles on either side of a carved wooden screen. "You think you taught me how to play, but things are not always as they seem. Perhaps I learned the game from the cheesemonger, have you considered that?"
"Illyrio does not play cyvasse."
No, thought the dwarf, he plays the game of thrones, and you and Griff and Duck are only pieces, to be moved where he will and sacrificed at need, just as he sacrificed Viserys. "The blame must fall on you, then. If I play badly, it is your doing."
The Halfmaester chuckled. "Yollo, I shall miss you when the pirates cut your throat."
"Where are these famous pirates? I am beginning to think that you and Illyrio made them all up."
"They are thickest on the stretch of river between Ar Noy and the Sorrows. Above the ruins of Ar Noy, the Qohorik rule the river, and below the Sorrows the galleys of Volantis hold sway, but neither city claims the waters in between, so the pirates have made it their own. Dagger Lake is full of islands where they lurk in hidden caves and secret strongholds. Are you ready?"
"For you? Beyond a doubt. For the pirates? Less so."
Haldon removed the screen. Each of them contemplated the other's opening array. "You are learning," the Halfmaester said.
Tyrion almost grabbed his dragon but thought better of it. Last game he had brought her out too soon and lost her to a trebuchet. "If we do meet these fabled pirates, I may join up with them. I'll tell them that my name is Hugor Halfmaester." He moved his light horse toward Haldon's mountains.
Haldon answered with an elephant. "Hugor Halfwit would suit you better."
"I only need half my wits to be a match for you." Tyrion moved up his heavy horse to support the light. "Perhaps you would care to wager on the outcome?"
The Halfmaester arched an eyebrow. "How much?"
"I have no coin. We'll play for secrets."
"Griff would cut my tongue out."
"Afraid, are you? I would be if I were you."
"The day you defeat me at cyvasse will be the day turtles crawl out my arse." The Halfmaester moved his spears. "You have your wager, little man."
Tyrion stretched a hand out for his dragon.
It was three hours later when the little man finally crept back up on deck to empty his bladder. Duck was helping Yandry wrestle down the sail, while Ysilla took the tiller. The sun hung low above the reed-beds along the western bank, as the wind began to gust and rip. I need that skin of wine, the dwarf thought. His legs were cramped from squatting on that stool, and he felt so light-headed that he was lucky not to fall into the river.
"Yollo," Duck called. "Where's Haldon?"
"He's taken to his bed, in some discomfort. There are turtles crawling out his arse." He left the knight to sort that out and crawled up the ladder to the cabin roof. Off to the east, there was darkness gathering behind a rocky island.
Septa Lemore found him there. "Can you feel the storms in the air, Hugor Hill? Dagger Lake is ahead of us, where pirates prowl. And beyond that lie the Sorrows."
Not mine. I carry mine own sorrows with me, everywhere I go. He thought of Tysha and wondered where whores go. Why not Volantis? Perhaps I'll find her there. A man should cling to hope. He wondered what he would say to her. I am sorry that I let them rape you, love. I thought you were a whore. Can you find it in your heart to forgive me? I want to go back to our cottage, to the way it was when we were man and wife.
The island fell away behind them. Tyrion saw ruins rising along the eastern bank: crooked walls and fallen towers, broken domes and rows of rotted wooden pillars, streets choked by mud and overgrown with purple moss. Another dead city, ten times as large as Ghoyan Drohe. Turtles lived there now, big bonesnappers. The dwarf could see them basking in the sun, brown and black hummocks with jagged ridges down the center of their shells. A few saw the Shy Maid and slid down into the water, leaving ripples in their wake. This would not be a good place for a swim.
Then, through the twisted half-drowned trees and wide wet streets, he glimpsed the silvery sheen of sunlight upon water. Another river, he knew at once, rushing toward the Rhoyne. The ruins grew taller as the land grew narrower, until the city ended on a point of land where stood the remains of a colossal palace of pink and green marble, its collapsed domes and broken spires looming large above a row of covered archways. Tyrion saw more 'snappers sleeping in the slips where half a hundred ships might once have docked. He knew where he was then. That was Nymeria's palace, and this is all that remains of Ny Sar, her city.
"Yollo," shouted Yandry as the Shy Maid passed the point, "tell me again of those Westerosi rivers as big as Mother Rhoyne."
"I did not know," he called back. "No river in the Seven Kingdoms is half so wide as this." The new river that had joined them was a close twin to the one they had been sailing down, and that one alone had almost matched the Mander or the Trident.
"This is Ny Sar, where the Mother gathers in her Wild Daughter, Noyne," said Yandry, "but she will not reach her widest point until she meets her other daughters. At Dagger Lake the Qhoyne comes rushing in, the Darkling Daughter, full of gold and amber from the Axe and pine-cones from the Forest of Qohor. South of there the Mother meets Lhorulu, the Smiling Daughter from the Golden Fields. Where they join once stood Chroyane, the festival city, where the streets were made of water and the houses made of gold. Then south and east again for long leagues, until at last comes creeping in Selhoru, the Shy Daughter who hides her course in reeds and writhes. There Mother Rhoyne waxes so wide that a man upon a boat in the center of the stream cannot see a shore to either side. You shall see, my little friend."
I shall, the dwarf was thinking, when he spied a rippling ahead not six yards from the boat. He was about to point it out to Lemore when it came to the surface with a wash of water that rocked the Shy Maid sideways.
It was another turtle, a horned turtle of enormous size, its dark green shell mottled with brown and overgrown with water moss and crusty black river molluscs. It raised its head and bellowed, a deep-throated thrumming roar louder than any warhorn that Tyrion had ever heard. "We are blessed," Ysilla was crying loudly, as tears streamed down her face. "We are blessed, we are blessed."
Duck was hooting, and Young Griff too. Haldon came out on deck to learn the cause of the commotion … but too late. The giant turtle had vanished below the water once again. "What was the cause of all that noise?" the Halfmaester asked.
"A turtle," said Tyrion. "A turtle bigger than this boat."
"It was him," cried Yandry. "The Old Man of the River."
And why not? Tyrion grinned. Gods and wonders always appear, to attend the birth of kings.

DAVOS
The Merry Midwife stole into White Harbor on the evening tide, her patched sail rippling with every gust of wind.
She was an old cog, and even in her youth no one had ever called her pretty. Her figurehead showed a laughing woman holding an infant by one foot, but the woman's cheeks and the babe's bottom were both pocked by wormholes. Uncounted layers of drab brown paint covered her hull; her sails were grey and tattered. She was not a ship to draw a second glance, unless it was to wonder how she stayed afloat. The Merry Midwife was known in White Harbor too. For years she had plied a humble trade between there and Sisterton.
It was not the sort of arrival that Davos Seaworth had anticipated when he'd set sail with Salla and his fleet. All this had seemed simpler then. The ravens had not brought King Stannis the allegiance of White Harbor, so His Grace would send an envoy to treat with Lord Manderly in person. As a show of strength, Davos would arrive aboard Salla's galleas Valyrian, with the rest of the Lysene fleet behind her. Every hull was striped: black and yellow, pink and blue, green and white, purple and gold. The Lyseni loved bright hues, and Salladhor Saan was the