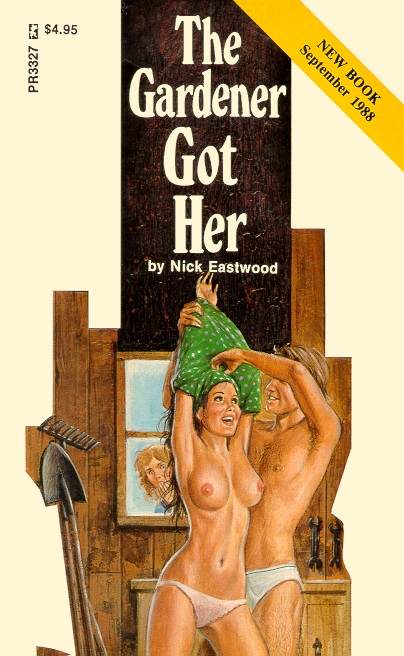 ---
---
Nick Eastwood
The gardener got her
CHAPTER ONE
Lucy Benton felt like the luckiest ex-secretary in the whole world. Staring at herself in the bathroom mirror, she just couldn't believe so many wonderful things were happening to her.
A petite brunette in her late teens, Lucy was wearing a very expensive white satin nightgown, cut low to show off the cleavage of her luscious high-riding tits. As she whirled around before the mirror, her sleek young body was outlined. She knew she looked great.
"Lucy, honey, you ever coming out of there?" her brand-new husband called.
"I'll be right out, Howard," Lucy said.
She felt both excited and nervous. Just a few hours ago, she'd been married, and this was her wedding night. Most girls feel a little nervous on their wedding nights, but Lucy had extra reasons. For one, she was a virgin. And for another, she'd just married Howard Benton, one of the most famous and popular men in America.
She was crazy about Howard but scared that losing her cherry would hurt like hell. But she couldn't put the big event off any longer, so she took a deep breath and marched into the bedroom. Howard was lounging on the king-size bed, wearing silk pajamas and sipping a martini.
"Sugar, you look good enough to eat," he said, leering at her.
Lucy blushed hard. She'd been raised a lady, and that meant keeping her virginity intact till the wedding night. It also meant not letting a man know if she was hot for him. She was very hot for Howard, and it was hard for her to act cool as they prepared to make love.
Howard Benton was in his late thirties and still a terrifically handsome guy. Tall, dark and lean, he was mobbed by adoring women wherever he went. Lucy still couldn't believe she'd been lucky enough to become his wife. But here they were alone together in the master bedroom of his mansion.
"You're shy and nervous, aren't you?" Howard asked. "I like that. I get so tired of liberated women."
---