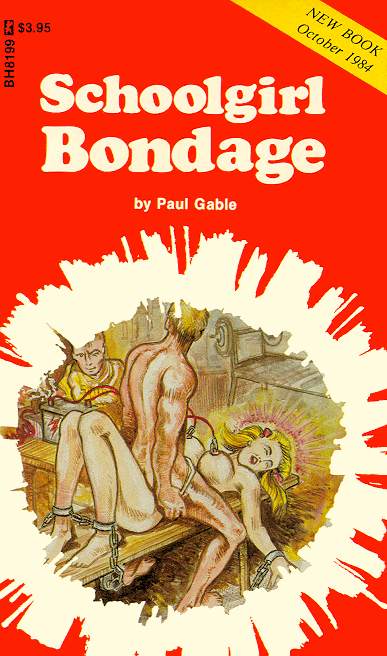 ---
---
Paul Gable
Schoolgirl bondage
CHAPTER ONE
"Bitch! Slut! You little fuckin' cunt. You're gonna put out for me right now!" David shouted.
Annette Davis backed away, one hand on the handle of the sliding glass door. The blonde schoolgirl felt her heart pounding so fast she thought it would surely burst. Moving her other hand up to the torn bodice of her white dress, she tried frantically to hide.
"No, you don't understand," she began, her voice quavering as she stepped to one side of the balcony door. "I… I didn't come up here to do anything!"
Hot tears began welling up in the girl's eyes. David sneered at her.
"Yeah, sure. That's what the fuckin' cunts say till I get a chance to poke 'em. When I get my cock up your pussy, you're gonna go nuts," he said, rubbing his crotch slowly with one hand. He was getting hard, his cock pushing up against the faded Levi's material.
"I thought you just wanted to talk," Annette said, sorry she had ever given in to the wild feeling that had overwhelmed her at the school dance. David Fielding, star quarterback of the first string in her high school, had paid attention to her, of all people, for the first time ever! And when he had said something about going up to his parents' condo nearby, Annette had been swept off her feet. "I thought we were just going to… neck or something."
David threw back his head and laughed. "Nobody does that anymore, baby. Fuckin'. That's what it's all about."
He dropped his smile quickly, pushing aside the small end table and heading directly for Annette. She hesitated, that pause giving David enough time to reach her.
"No, no, leave me alone! Help, help!"
Annette twisted in his paw-like hands, feeling his fingers pressing against her upper arms. He bruised her flesh with his grip, shaking her so hard she thought her head would snap off.
---