---
---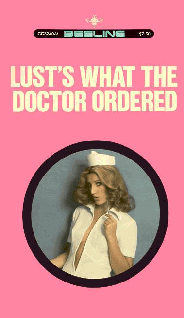 Edna Examine
Lust_s What The Doctor Ordered
Chapter 1
Lying on the soft leather couch, the lovely young redhead licked her dry lips and stared blankly toward the ceiling. Sitting at the head of the couch, A. B. Prinz, MD, Ph.D., smiled down at her as he repeated the question to the woman in the deep hypnotic trance.
"Describe what happened between you and your father on that night, Denise."
Denise Powers struggled inwardly with the vision and she spoke hesitantly of the secret she had kept locked inside her mind for nearly ten years. "He… he'd been drinking. Momma had gone to her sister's … gone all week."
"Yes, go on, Denise," Prinz told her as she paused.
"I came downstairs and found him sitting in the big chair in the living room…" she said softly in a little girl voice. Her face was pale and the expression was something less than that of a person relating a traumatic experience that had occurred during her fifteenth year of life.
"He called me over and made me sit in his lap…" she said and swallowed dryly as her hands fluttered at her sides.
"Then what happened?" Prinz asked her as he looked at her full breasts and lower, to the gentle mound of her pubis that was revealed by the soft material of her short skirt.
"He told me how much he loved me… and… and he put his hands on me …" she said thickly.
"Show me where he put his hands on you, Denise."
---