---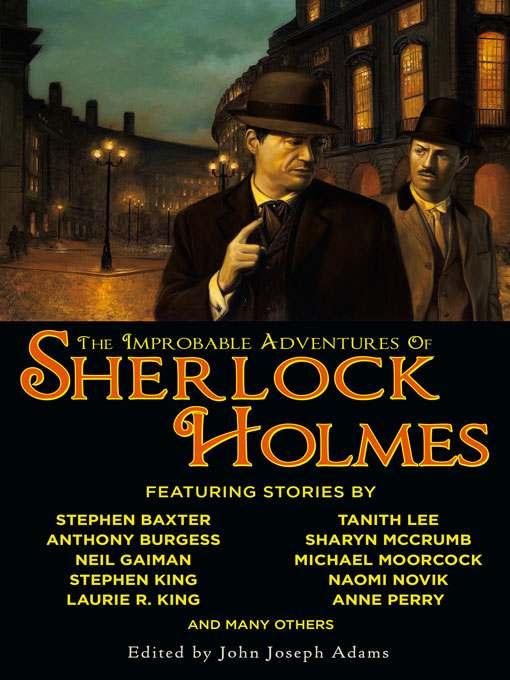 John Joseph Adams, Christopher Roden, Stephen King, Tim Lebbon, Anne Perry, Bradley H. Sinor, Edward D. Hoch, Vonda N. McIntyre, Darrell Schweitzer, Mary Robinette Kowal, H. Paul Jeffers, Barbara Roden, Anthony Burgess, Stephen Baxter, Laurie R. King, Geoffrey A. Landis, Amy Myers, Peter Tremayne, Sharyn McCrumb, Michael Moorcock, Dominic Green, Barbara Hambly, Tony Pi, Chris Roberson, Naomi Novik, Rob Rogers, Mark Valentine, Tanith Lee, Neil Gaiman, Robert J. Sawyer
The Improbable Adventures of Sherlock Holmes
© 2009
Acknowledgment is made for permission to print the following material:
"The Adventure of the Inertial Adjustor" by Stephen Baxter. © 1997 Stephen Baxter. Originally published in The Mammoth Book of New Sherlock Holmes Adventures. Reprinted by permission of the author.
"Murder to Music" by Anthony Burgess. © 1989 Anthony Burgess. Originally published in The Devil's Mode. Reprinted by permission of the Estate of Anthony Burgess.
"A Study in Emerald" by Neil Gaiman. © 2003 Neil Gaiman. Originally published in Shadows Over Baker Street: New Tales of Terror. Reprinted by permission of the author.
"The Adventure of the Lost World" by Dominic Green. © 2004 Dominic Green. Originally published online in BBCi Cult Sherlock Holmes Magazine. Reprinted by permission of the author.
"The Adventure of the Antiquarian's Niece" by Barbara Hambly. © 2003 Barbara Hambly. Originally published in Shadows Over Baker Street: New Tales of Terror. Reprinted by permission of the author.
"A Scandal in Montreal " by Edward D. Hoch. © 2008 Edward D. Hoch. Originally published in Ellery Queen's Mystery Magazine. Reprinted by permission of the Estate of Edward D. Hoch.
"The Adventure of the Mummy's Curse" by H. Paul Jeffers. © 2006 H. Paul Jeffers. Originally published in Ghosts in Baker Street (as "Sherlock Holmes and the Mummy's Curse"). Reprinted by permission of the author.
"Mrs Hudson's Case" by Laurie R. King. © 1997 Laurie R. King. Originally published in Crime Through Time. Reprinted by permission of the author.
"The Doctor's Case" by Stephen King. © 1987 Stephen King. Originally published in The New Adventures of Sherlock Holmes. Reprinted by permission of the author.
"The Shocking Affair of the Dutch Steamship Friesland by Mary Robinette Kowal. © 2005 Mary Robinette Kowal. Originally published in The First Line. Reprinted by permission of the author.
"The Singular Habits of Wasps" by Geoffrey A. Landis. © 1994 Geoffrey A. Landis. Originally published in Analog Science Fiction & Fact. Reprinted by permission of the author.
"The Horror of the Many Faces" by Tim Lebbon. © 2003 Tim Lebbon. Originally published in Shadows Over Baker Street: New Tales of Terror. Reprinted by permission of the author.
"The Human Mystery" by Tanith Lee. © 1999 Tanith Lee. Originally published in More Holmes for the Holidays. Reprinted by permission of the author.
"The Vale of the White Horse" by Sharyn McCrumb. © 2003 Sharyn McCrumb. Originally published in Murder, My Dear Watson. Reprinted by permission of the author.
"The Adventure of the Field Theorems" by Vonda N. McIntyre. © 1995 Vonda N. McIntyre. Originally published in Sherlock Holmes in Orbit. Reprinted by permission of the author.
"The Adventure of the Dorset Street Lodger" by Michael Moorcock. © 1993 Michael Moorcock. Originally privately published for David Shapiro and Joe Piggott, reprinted in Tales from the Texas Woods, 1995, and in The Mammoth Book of New Sherlock Holmes Adventures, 1997. Reprinted by permission of the author.
"The Affair of the 46th Birthday" by Amy Myers. © 2009 Amy Myers. Originally published in The Strand. Reprinted by permission of the author.
"Commonplaces" by Naomi Novik. © 2008-2009 Naomi Novik.
"The Case of the Bloodless Sock," by Anne Perry. © 2001 Anne Perry. First published in Murder in Baker Street, edited by Martin H Greenberg, Jon Lellenberg and Daniel Stashower, Caroll & Graf. Reprinted by permission of the author and her agents, the Donald Maass Literary Agency, 121 West 27th Street, New York, NY, 10001, USA, in association with MBA Literary Agents Ltd., London.
"Dynamics of a Hanging" by Tony Pi. © 2005 Tony Pi. Originally published in Shred of Evidence. Reprinted by permission of the author.
"Merridew of Abominable Memory" by Chris Roberson. © 2008 Monkeybrain, Inc. Originally published in Gaslight Grimoire. Reprinted by permission of the author.
"The Things That Shall Come Upon Them" by Barbara Roden. © 2008 Barbara Roden. Originally published in Gaslight Grimoire. Reprinted by permission of the author.
"A Sherlockiana Primer" by Christopher Roden. © 2009 Christopher Roden. Original to this volume.
"The Adventure of the Pirates of Devil's Cape " by Rob Rogers. © 2009 Rob Rogers. Original to this volume.
"You See But You Do Not Observe" by Robert J. Sawyer. © 1995 Robert J. Sawyer. Originally published in Sherlock Holmes in Orbit. Reprinted by permission of the author.
"The Adventure of the Death-Fetch" by Darrell Schweitzer. © 1994 Darrell Schweitzer. Originally published in The Game is Afoot. Reprinted by permission of the author.
"The Adventure of the Other Detective" by Bradley H. Sinor. © 2003 Bradley H. Sinor. Originally published in Dark and Stormy Nights. Reprinted by permission of the author.
"The Specter of Tullyfane Abbey" by Peter Tremayne. © 2001 Peter Tremayne. Originally published in Villains Victorious. Reprinted by permission of Brandt & Hochman Literary Agents, Inc.
"The Adventure of the Green Skull" by Mark Valentine. © 2008 Mark Valentine. Originally published in Sherlock Holmes: The Game's Afoot. Reprinted by permission of the author.
Introduction by John Joseph Adams
Sherlock Holmes. The name is ubiquitous, familiar to everyone in the world whether or not they've read of his exploits. Pretty impressive for a fictional character created more than 120 years ago.
Sir Arthur Conan Doyle created Holmes in the late-nineteenth century, with the first adventure, A Study in Scarlet, appearing in Beeton's Christmas Annual in 1887. Conan Doyle's entire output of fiction featuring Holmes consists of only four novels and fifty-six stories [1]-a staggeringly small body of work considering the tremendous influence Holmes has had-but something about the detective captured the reading public's imagination like no other character of his era, and he has continued to delight and captivate readers ever since.
Holmes, the world's first (and most famous) consulting detective, was one of the first great literary action-adventure heroes whose defining qualities were his intelligence and deductive reasoning rather than bravery or brawn. Which is not to say that Holmes is a coward or a weakling; being well-versed in the art of boxing and the martial art of Bartitsu [2], he is capable of besting almost anyone in a fight-he'd just rather outwit you than beat you up.
Holmes's devotion to evidence and observation were quite revolutionary in his day, and to Conan Doyle's Victorian readers his methods must have seemed a bit like science fiction. To the modern reader, it's obvious that Holmes is employing rudimentary forensic science-a huge advantage in an age when many people still believed in fairies (as Conan Doyle did) and other supernatural phenomena.
Although Sir Arthur Conan Doyle was keenly interested in the supernatural, Holmes eschewed such ideas and believed only in what he could prove. And while Conan Doyle did place Holmes into some situations in which a supernatural explanation seemed to be a possibility, in every instance, Holmes managed to find a prosaic solution. After all, as Holmes once said: "The world is big enough for us. No ghosts need apply." [3]
Which leads us to the focus of this anthology and to another of Holmes's famous quotes: "When you have eliminated the impossible, whatever remains, however improbable, must be the truth." [4]
As a rationalist, I agree wholeheartedly with Holmes's assessment of the world. But as a science fiction and fantasy reader, I enjoy wondering what if. So that's the question: If Holmes investigates a crime scene and has all of his deduction techniques at his disposal, but one variable has changed-Holmes can't eliminate the impossible-what then?
Well, dear reader, you're about to find out. In the pages that follow you'll find twenty-eight different mystery scenarios, but when you investigate the crimes alongside Holmes you will not be able to eliminate the impossible, for in some of these stories the impossible does happen.
That's the idea behind this volume-to showcase the best Holmes pastiches of the last thirty years, mixing the best straight-up mystery stories with the best of those tales tinged with the fantastic [5]. Meaning that some of the cases you'll read about have prosaic solutions, while others will have a decidedly more fantastic resolution.
Whether you're already quite familiar with the great detective or you're just now going to be reading about him for the first time; whether you're primarily a fan of mysteries or primarily a fan of fantasy and science fiction-welcome. Holmes's world is big enough for all of us.
A Sherlockiana Primer by Christopher Roden
Fog swirls thickly in the streets, its gloom penetrated from time to time by the weak gleam of a gaslight; a hansom cab grinds its steady way through the murk; there are occasional shouts from vendors and street urchins, whistles as policemen go about their business. It is the London of 1895, the London that will bring a stream of unusual characters to 221B Baker Street seeking help from the world's first and greatest consulting detective, Mr. Sherlock Holmes.
When Arthur Conan Doyle (1859-1930) first created the great detective, little did he know that he was beginning a series of stories that would still be read some 120-odd years later. But Conan Doyle was an inventive writer, and the characters that filled his stories gripped the imagination of his readers, who devoured episode after episode of the adventures of Sherlock Holmes. In many ways the characters of the Holmes stories are often more interesting than the cases themselves.
So who are the major players on the Baker Street stage? Putting Holmes himself aside (for Holmes is recognisable even to people unfamiliar with the stories themselves), Dr. John H. Watson has to be given pride of place. A veteran of the second Afghan War, Watson, who served as a Duty Surgeon, had been injured by a Jezail bullet at the battle of Maiwand, and saved from certain capture by the courage of his orderly, known to us only as Murray. Pain and illness followed and an urgent return to England became necessary. Watson naturally gravitated to London where, following an introduction by a former colleague, Stamford, he made the acquaintance of Sherlock Holmes. It did not take the two long to decide to share rooms in Baker Street. Throughout the adventures Watson is the ever faithful companion, willing to accompany Holmes at a moment's notice. He is never as smart as Holmes-indeed, his conclusions are often considerably off the mark-and Conan Doyle cleverly does not allow Watson to appear more perceptive than his readers. But without Watson there would be no Holmes stories, for Watson chronicled Holmes's adventures and made Holmes famous by publishing them for the reading public in The Strand Magazine.
Although Holmes knew that he could always rely on Watson's companionship and assistance, even a detective as astute as Holmes occasionally needed the wisdom and advice of others. But whose knowledge and deductive skills would be sufficient to assist our genius hero? Obviously someone who shared Holmes's faculties of deduction and analysis-possibly to an even greater degree. For that person we need look no further than Holmes's older brother, Mycroft. Mycroft is an unusual character indeed, a larger-than-life figure who spends his days passing between his lodgings in Pall Mall, his office in Whitehall, and the Diogenes Club ("the queerest club in London ").
It came as something of a surprise to Dr. Watson to discover that Holmes had a brother at all, and he could never have dreamed of Mycroft's influence on national affairs. ("Occasionally," Holmes told Watson, "he is the British Government… His position is unique. He has made it for himself. There has never been anything like it before, nor will be again. He has the tidiest and most orderly brain, with the greatest capacity for storing facts of any man living… The conclusions of every department are passed to him, and he is the central exchange, the clearing-house, which makes out the balance. Other men are specialists, but his specialism is omniscience… Again and again his word has decided the national policy.")
Quite a man. It's no wonder that Holmes was able to entrust his affairs to Mycroft during the years of his "hiatus" following his presumed death at the Reichenbach Falls.
Our next major player is the long-suffering Mrs. Hudson, Holmes's landlady-a saint if ever there was one for her tolerance of Holmes's chemical experiments, the foul odours from his pipes, and his indoor pistol practice (who else, we ask, would have put up with a tenant who peppered the wall of his room with Boxer cartridges to carve out "a patriotic V. R. [6] done in bullet-pocks"?)
Smaller players, but invaluable to Holmes, are the band of a dozen or so ragged children (described as "street Arabs") known as the Baker Street Irregulars, who can go everywhere, see everything, overhear everyone, and provide vital information to the great detective.
Given the nature of Holmes's business, it is inevitable that Holmes should attract his fair share of enemies, and chief among his adversaries has to be Professor James Moriarty, the Napoleon of Crime-"the organizer of half that is evil and of nearly all that is undetected in this great city." Although Moriarty plays a major role in only one canonical story, his presence seems to pervade the canon. He is a criminal mastermind with "a brain of the first order. He sits motionless, like a spider in the centre of its web, but that web has a thousand radiations, and he knows well every quiver of each of them." As Holmes noted, Moriarty did little himself-he was the planner with numerous agents, and there was little or no reason for the authorities to suspect him of misdeeds. In what became the "Final Problem," Holmes lured Moriarty and his henchman, Colonel Sebastian Moran, to Switzerland, where a final confrontation took place above the Reichenbach Falls-a struggle which Moriarty failed to survive.
Moriarty's second-in-command, Colonel Sebastian Moran, once of Her Majesty's Indian Army, and the best heavy game shot that Britain's Eastern Empire ever produced, attempted to wreak vengeance with an air rifle for Moriarty's death, in the adventure titled "The Empty House," only to be deceived by a silhouette cast by a wax bust commissioned by Holmes from the craftsman M. Oscar Meunier of Grenoble.
Other villains worthy of mention are the master blackmailer Charles Augustus Milverton ("the worst man in London"); the evil Dr. Grimesby Roylott, whose demise was brought about by the swamp adder with which he'd planned to kill his step-daughters; and the disgusting Baron Adelbert Gruner, murderer, and author of a "lust diary" which "no man, even if he had come from the gutter, could have put together."
While the Sherlockian canon is dominated by men, Holmes encounters strong women, too. Prominent among these are Kitty Winter, a victim of Baron Adelbert Gruner, who takes her revenge for mistreatment at Gruner's hand by throwing vitriol into his face. Nor should we overlook Rachel Howells ("a very good girl, but of an excitable Welsh temperament"), the jilted fiancée of the butler Brunton [7], who took her revenge by incarcerating her ex-lover in a cellar at Hurlestone Manor. Maud Bellamy [8] impressed Holmes: "[She] will always remain in my memory as a most complete and remarkable woman." But of all the women Holmes encounters during his investigations, Irene Adler, or the woman, as Holmes thinks of her, stands out. Irene appears in only one story [9], but her presence casts a shadow over the entire canon. In this spirited, intelligent, daring, and courageous woman, Conan Doyle created the female counterpart to Sherlock Holmes: a woman who lives by her wits, is equal to Holmes in her use of disguise, and has a splendid disregard for the mores of the time.
Inevitably, Holmes's business brings him in contact with the official police force from time to time, and during the course of the adventures we encounter a number of officers: some who are capable, and some who do little more than frustrate Holmes. We encounter the official force in the very first Holmes story, A Study in Scarlet, when Holmes is approached by Inspector Tobias Gregson. "Gregson is the smartest of the Scotland Yarders," Holmes tells Watson. "He and Lestrade are the pick of a bad lot." In A Study in Scarlet, Holmes also encounters Inspector Lestrade ("a little sallow, rat-faced, dark-eyed fellow," according to Watson), and he becomes a regular of the Holmes adventures, appearing in thirteen of the stories. Despite occasional difficulties with the official force, Holmes is always prepared to assist; but on occasion Holmes is also prepared to stretch the law for his own ends, as instanced by the wonderfully humorous episode (which shows Holmes's quiet contempt for the official force) in "The Adventure of Charles Augustus Milverton" when Lestrade visits Baker Street on the morning following Milverton's murder:
"Criminals!" exclaimed Holmes. "Plural!"
"Yes, there were two of them. They were, as nearly as possible, captured red-handed. We have their footmarks, we have their description; it's ten to one that we trace them. The first fellow was a bit too active, but the second was caught by the under-gardener, and only got away after a struggle. He was a middle-sized, strongly built man-square jaw, thick neck, moustache, a mask over his eyes."
"That's rather vague," said Sherlock Holmes. "Why, it might be a description of Watson."
"It's true," said the Inspector, with much amusement. "It might be a description of Watson."
Of the remainder of the official force, special mention need only be made of Stanley Hopkins ("for whose future Holmes had high hopes"), who appears in three of the adventures, and who seems the most likely of all to have been invited to Baker Street for a pleasant evening of conversation.
Despite the wealth of characters who appear in the Sherlockian canon, we lack information of a goodly number of others who are given no more than passing mention. We know that Holmes was involved in many more cases than are reported, because both Holmes and Watson tell us so. Who would not love to know more of the characters from the unreported cases: the Grice Patersons, who had singular adventures in the island of Uffa; Mr. & Mrs. Dundas, who separated-not through any cause of infidelity, but because Mr. Dundas was in the habit of winding up every meal by taking out his false teeth and hurling them at his wife; Merridew, of abominable memory, who is recorded in Holmes's index[ [10]; Ricoletti of the club-foot and his abominable wife; Mr. James Phillimore, who stepped back into his own house to get his umbrella, and was never more seen in this world. And who is not prepared to ponder what political disgrace may have ensued had the story concerning the politician, the lighthouse, and the trained cormorant been released to the public?
We should marvel at Arthur Conan Doyle's creativity and the characters he gave us. Over the years others have built upon these characters, adding more of their own in an attempt to ensure that there is always a supply of new Holmes adventures. In the pages that follow you will find characters new and old-and some "rivals" of Sherlock Holmes-making their way through the fog and the gaslight to the door of 221B Baker Street. Hark! A barrel-organ is playing at the corner of the street, the light brightens in the window of Holmes's room, and the scene is set for another adventure. The game is afoot!
The Doctor's Case by Stephen King
Stephen King's most recent book is the short fiction collection, Just After Sunset, which came out last fall. Other new short stories include a collaboration with his son, Joe Hill, called "Throttle," for the Richard Matheson tribute anthology He Is Legend, and " UR," a novella written exclusively for the Amazon Kindle. King's next novel, due in November, is Under the Dome, a thousand-plus-page epic he has been working on for more than twenty-five years. His other work includes dozens of classics, such as The Stand, The Dark Tower, The Shining, ' Salem 's Lot, and many others.
***
Elementary, my dear Watson-or should that be, my poor Watson? Poor Watson, ever drawing wrong inferences, ever uninformed about some vital trivia, ever in awe of Sherlock Holmes. No matter how many cases they work on together, no matter how many times Holmes explains his methods, Watson is perpetually dumbfounded. We've all probably been acquainted with someone who seemed to effortlessly achieve brilliance while we labored in that person's shadow, putting forth every effort we could muster and achieving only mediocrity. In a very real sense Watson is us, the reader. He is both the narrator, our window into the world of Sherlock Holmes, and also the character who echoes our own unremarkable observations and ruminations. So in this story, when Watson actually beats Holmes to the punch, it's not just a victory for Watson, but for all of us, the ordinary, who must muddle through with what we were given. It's a necessary reminder that the race is not always to the swift, that even demigods may stumble, and that even the most humble among us can be struck by inspiration.
***
I believe there was only one occasion upon which I actually solved a crime before my slightly fabulous friend, Mr. Sherlock Holmes. I say believe because my memory began to grow hazy about the edges as I entered my ninth decade; now, as I approach my centennial, the whole has become downright misty. There may have been another occasion, but if so I do not remember it.
I doubt that I shall ever forget this particular case no matter how murky my thoughts and memories may become, and I thought I might as well set it down before God caps my pen forever. It cannot humiliate Holmes now, God knows; he is forty years in his grave. That, I think, is long enough to leave the tale untold. Even Lestrade, who used Holmes upon occasion but never had any great liking for him, never broke his silence in the matter of Lord Hull-he hardly could have done so, considering the circumstances. Even if the circumstances had been different, I somehow doubt he would have. He and Holmes baited each other, and I believe that Holmes may have harboured actual hate in his heart for the policeman (although he never would have admitted to such a low emotion), but Lestrade had a queer respect for my friend.
It was a wet, dreary afternoon and the clock had just rung half past one. Holmes sat by the window, holding his violin but not playing it, looking silently out into the rain. There were times, especially once his cocaine days were behind him, when Holmes would grow moody to the point of surliness when the skies remained stubbornly gray for a week or more, and he had been doubly disappointed on this day, for the glass had been rising since late the night before and he had confidently predicted clearing skies by ten this morning at the latest. Instead, the mist which had been hanging in the air when I arose had thickened into a steady rain, and if there was anything which rendered Holmes moodier than long periods of rain, it was being wrong.
Suddenly he straightened up, tweaking a violin string with a fingernail, and smiled sardonically. "Watson! Here's a sight! The wettest bloodhound you ever saw!"
It was Lestrade, of course, seated in the back of an open wagon with water running into his close-set, fiercely inquisitive eyes. The wagon had no more than stopped before he was out, flinging the driver a coin, and striding toward 221B Baker Street. He moved so quickly that I thought he should run into our door like a battering ram.
I heard Mrs. Hudson remonstrating with him about his decidedly damp condition and the effect it might have on the rugs both downstairs and up, and then Holmes, who could make Lestrade look like a tortoise when the urge struck him, leaped across to the door and called down, "Let him up, Mrs. H.-I'll put a newspaper under his boots if he stays long, but I somehow think, yes, I really do think that… "
Then Lestrade was bounding up the stairs, leaving Mrs. Hudson to expostulate below. His colour was high, his eyes burned, and his teeth-decidedly yellowed by tobacco-were bared in a wolfish grin.
"Inspector Lestrade!" Holmes cried jovially. "What brings you out on such a-"
No further did he get. Still panting from his climb, Lestrade said, "I've heard gypsies say the devil grants wishes. Now I believe it. Come at once if you'd have a try, Holmes; the corpse is still fresh and the suspects all in a row."
"You frighten me with your ardour, Lestrade!" Holmes cried, but with a sardonic little waggle of his eyebrows.
"Don't play the shrinking violet with me, man-I've come at the run to offer you the very thing for which you in your pride have wished a hundred times or more in my own hearing: the perfect locked-room mystery!"
Holmes had started into the corner, perhaps to get the awful gold-tipped cane which he was for some reason affecting that season. Now he whirled upon our damp visitor, his eyes wide. "Lestrade! Are you serious?"
"Would I have risked wet-lung croup riding here in an open wagon if I were not?" Lestrade countered.
Then, for the only time in my hearing (despite the countless times the phrase has been attributed to him), Holmes turned to me and cried: "Quick, Watson! The game's afoot!"
On our way, Lestrade commented sourly that Holmes also had the luck of the devil; although Lestrade had commanded the wagon-driver to wait, we had no more than emerged from our lodgings when that exquisite rarity clip-clopped down the street: an empty hackney in what had become a driving rain. We climbed in and were off in a trice. As always, Holmes sat on the left-hand side, his eyes darting restlessly about, cataloguing everything, although there was precious little to see on that day… or so it seemed, at least, to the likes of me. I've no doubt every empty street corner and rain-washed shop window spoke volumes to Holmes.
Lestrade directed the driver to an address in Savile Row, and then asked Holmes if he knew Lord Hull.
"I know of him," Holmes said, "but have never had the good fortune of meeting him. Now I suppose I never shall. Shipping, wasn't it?"
"Shipping," Lestrade agreed, "but the good fortune was yours. Lord Hull was, by all accounts (including those of his nearest and-ahem!-dearest), a thoroughly nasty fellow, and as dotty as a puzzle-picture in a child's novelty book. He's finished practicing both nastiness and dottiness for good, however; around eleven o'clock this morning, just"-he pulled out his turnip of a pocket-watch and looked at it-"two hours and forty minutes ago, someone put a knife in his back as he sat in his study with his will on the blotter before him."
"So," Holmes said thoughtfully, lighting his pipe, "you believe the study of this unpleasant Lord Hull is the perfect locked room of my dreams, do you?" His eyes gleamed sceptically through a rising rafter of blue smoke.
"I believe," Lestrade said quietly, "that it is."
"Watson and I have dug such holes before and never struck water," Holmes remarked, and he glanced at me before returning to his ceaseless catalogue of the streets through which we passed. "Do you recall the 'Speckled Band,' Watson?"
I hardly needed to answer him. There had been a locked room in that business, true enough, but there had also been a ventilator, a poisonous snake, and a killer fiendish enough to introduce the latter into the former. It had been the work of a cruelly brilliant mind, but Holmes had seen to the bottom of the matter in almost no time at all.
"What are the facts, Inspector?" Holmes asked.
Lestrade began to lay them before us in the clipped tones of a trained policeman. Lord Albert Hull had been a tyrant in business and a despot at home. His wife had gone in fear of him, and had apparently been justified in doing so. The fact that she had borne him three sons seemed in no way to have moderated his savage approach toward their domestic affairs in general and toward her in particular. Lady Hull had been reluctant to speak of these matters, but her sons had no such reservations; their papa, they said, had missed no opportunity to dig at her, to criticize her, or to jest at her expense… all of this when they were in company. When they were alone, he virtually ignored her. Except, Lestrade added, when he felt moved to beat her, which was by no means an uncommon occurrence.
"William, the eldest, told me she always gave out the same story when she came to the breakfast table with a swollen eye or a mark on her cheek: that she had forgotten to put on her spectacles and had run into a door. 'She ran into doors once or twice a week,' William said. 'I didn't know we had that many doors in the house.'"
"Hmmm," Holmes said. "A cheery fellow! The sons never put a stop to it?"
"She wouldn't allow it," Lestrade said.
"Insanity," I returned. A man who would beat his wife is an abomination; a woman who would allow it an abomination and a perplexity.
"There was a method in her madness, though," Lestrade said. "Method and what you might call 'an informed patience.' She was, after all, twenty years younger than her lord and master. Also, Hull was a heavy drinker and a champion diner. At age seventy, five years ago, he developed gout and angina."
"Wait for the storm to end and then enjoy the sunshine," Holmes remarked.
"Yes," Lestrade said, "but it's an idea which has led many a man and woman through the devil's door, I'll be bound. Hull made sure his family knew both his worth and the provisions of his will. They were little better than slaves."
"With the will as their document of indenture," Holmes murmured.
"Exactly so, old boy. At the time of his death, Hull 's worth was three hundred thousand pounds. He never asked them to take his word for this; he had his chief accountant to the house quarterly to detail the balance sheets of Hull Shipping, although he kept the purse-strings firmly in his own hands and tightly closed."
"Devilish!" I exclaimed, thinking of the cruel boys one sometimes sees in Eastcheap or Piccadilly, boys who will hold out a sweet to a starving dog to see it dance… and then gobble it themselves while the hungry animal watches. I was shortly to find this comparison even more apt than I would have thought possible.
"On his death, Lady Rebecca was to receive one hundred and fifty thousand pund'. William, the eldest, was to receive fifty thousand; Jory, the middler, forty; and Stephen, the youngest, thirty."
"And the other thirty thousand?" I asked.
"Small bequests, Watson: to a cousin in Wales, an aunt in Brittany (not a cent for Lady Hull's relatives, though), five thousand in assorted bequests to the servants. Oh, and-you'll like this, Holmes-ten thousand pounds to Mrs. Hemphill's Home for Abandoned Pussies."
"You're joking!" I cried, although if Lestrade expected a similar reaction from Holmes, he was disappointed. Holmes merely re-lighted his pipe and nodded as if he had expected this… this or something like it. "With babies dying of starvation in the East End and twelve-year-old children working fifty hours a week in the mills, this fellow left ten thousand pounds to a… a boarding-hotel for cats?"
"Exactly so," Lestrade said pleasantly. "Furthermore, he should have left twenty-seven times that amount to Mrs. Hemphill's Abandoned Pussies if not for whatever happened this morning-and whoever did the business."
I could only gape at this, and try to multiply in my head. While I was coming to the conclusion that Lord Hull had intended to disinherit both wife and children in favour of a resthome for felines, Holmes was looking sourly at Lestrade and saying something which sounded to me like a total non sequitur. "I am going to sneeze, am I not?"
Lestrade smiled. It was a smile of transcendent sweetness. "Yes, my dear Holmes! Often and profoundly, I fear."
Holmes removed his pipe, which he had just gotten drawing to his satisfaction (I could tell by the way he settled back slightly in his seat), looked at it for a moment, and then held it out into the rain. More dumbfounded than ever, I watched him knock out the damp and smouldering tobacco.
"How many?" Holmes asked.
"Ten," Lestrade said with a fiendish grin.
"I suspected it was more than this famous locked room of yours that brought you out in the back of an open wagon on such a wet day," Holmes said sourly.
"Suspect as you like," Lestrade said gaily. "I'm afraid I must go on to the scene of the crime-duty calls, you know-but if you'd like, I could let you and the good doctor out here."
"You are the only man I ever met," Holmes said, "whose wit seems to be sharpened by foul weather. Does that perhaps say something about your character, I wonder? But never mind-that is, perhaps, a subject for another day. Tell me this, Lestrade: when did Lord Hull become sure that he was going to die?"
"Die?" I said. "My dear Holmes, whatever gives you the idea that the man believed-"
"It's obvious, Watson," Holmes said. "C.I.B., as I have told you at least a thousand times-character indexes behaviour. It amused him to keep them in bondage by means of his will… " He looked an aside at Lestrade. "No trust arrangements, I take it? No entailments of any sort?"
Lestrade shook his head. "None whatever."
"Extraordinary!" I said.
"Not at all, Watson; character indexes behaviour, remember. He wanted them to soldier along in the belief that all would be theirs when he did them the courtesy of dying, but he never actually intended any such thing. Such behaviour would, in fact, have run completely across the grain of his character. D'you agree, Lestrade?"
"As a matter of fact, I do," Lestrade replied.
"Then we are very well to this point, Watson, are we not? All is clear? Lord Hull realizes he is dying. He waits… makes absolutely sure that this time it's no mistake, no false alarm… and then he calls his beloved family together. When? This morning, Lestrade?"
Lestrade grunted an affirmative.
Holmes steepled his fingers beneath his chin. "He calls them together and tells them he's made a new will, one which disinherits all of them… all, that is, save for the servants, his few distant relatives, and, of course, the pussies."
I opened my mouth to speak, only to discover I was too outraged to say anything. The image which kept returning to my mind was that of those cruel boys, making the starving East End curs jump with a bit of pork or a crumb of crust from a meat pie. I must add it never occurred to me to ask whether such a will could be disputed before the bar. Today a man would have a deuce of a time slighting his closest relatives in favour of a cat-hotel, but in 1899, a man's will was a man's will, and unless many examples of insanity-not eccentricity but outright insanity-could be proved, a man's will, like God's, was done.
"This new will was properly witnessed?" Holmes asked.
"Indeed it was," Lestrade replied. "Yesterday Lord Hull's solicitor and one of his assistants appeared at the house and were shown into Hull 's study. There they remained for about fifteen minutes. Stephen Hull says the solicitor once raised his voice in protest about something-he could not tell what-and was silenced by Hull. Jory, the middle son, was upstairs, painting, and Lady Hull was calling on a friend. But both Stephen and William Hull saw these legal fellows enter, and leave a short time later. William said that they left with their heads down, and although William spoke, asking Mr. Barnes-the solicitor-if he was well, and making some social remark about the persistence of the rain, Barnes did not reply and the assistant seemed actually to cringe. It was as if they were ashamed, William said."
Well, so much for that possible loophole, I thought.
"Since we are on the subject, tell me about the boys," Holmes invited.
"As you like. It goes pretty much without saying that their hatred for the pater was exceeded only by the pater's boundless contempt for them… although how he could hold Stephen in contempt is… well, never mind, I'll keep things in their proper order."
"Yes, please be so kind as to do that," Holmes said dryly.
"William is thirty-six. If his father had given him any sort of allowance, I suppose he would be a bounder. As he had little or none, he has spent his days in various gymnasiums, involved in what I believe is called 'physical culture'-he appears to be an extremely muscular fellow-and his nights in various cheap coffee-houses, for the most part. If he did happen to have a bit of money in his pockets, he was apt to take himself off to a card-parlour, where he would lose it quickly enough. Not a pleasant man, Holmes. A man who has no purpose, no skill, no hobby, and no ambition (save to outlive his father) could hardly be a pleasant man. I had the queerest idea while talking to him that I was interrogating not a man but an empty vase upon which the face of Lord Hull had been lightly stamped."
"A vase waiting to be filled up with pounds sterling," Holmes commented.
"Jory is another matter," Lestrade went on. "Lord Hull saved most of his contempt for him, calling him from his earliest childhood by such endearing pet-names as 'Fish-Face' and 'Keg-Legs' and 'Stoat-Belly.' It's not hard to understand such names, unfortunately; Jory Hull stands no more than five feet tall, if that, is bow-legged, and of a remarkably ugly countenance. He looks a bit like that poet fellow. The pouf."
"Oscar Wilde?" asked I.
Holmes turned a brief, amused glance upon me. "I think Lestrade means Algernon Swinburne," he said. "Who, I believe, is no more a pouf than you are, Watson."
"Jory Hull was born dead," Lestrade said. "After he remained blue and still for an entire minute, the doctor pronounced him so and put a napkin over his misshapen body. Lady Hull, in her one moment of heroism, sat up, removed the napkin, and dipped the baby's legs into the hot water which had been brought to be used at the birth. The baby began to squirm and squall."
Lestrade grinned and lit a cigarillo with a flourish.
" Hull claimed this immersion had caused the boy's bowed legs, and when he was in his cups, he taxed his wife with it. Told her she should have left well enough alone. Better Jory had been born dead than lived to be what he was, he sometimes said-a scuttling creature with the legs of a crab and the face of a cod."
Holmes's only reaction to this extraordinary (and to my physician's mind rather suspect) story was to comment that Lestrade had gotten a remarkably large body of information in a remarkably short period of time.
"That points up one of the aspects of the case which I thought would appeal to you, my dear Holmes," Lestrade said as we swept into Rotten Row with a splash and a swirl. "They need no coercion to speak; coercion's what it would take to shut ' em up. They've had to remain silent all too long. And then there's the fact that the new will is gone. Relief loosens tongues beyond measure, I find."
"Gone!" I exclaimed, but Holmes took no notice; his mind still ran upon Jory, the misshapen middle child.
"Is he ugly, then?" he asked Lestrade.
"Hardly handsome, but not as bad as some I've seen," Lestrade replied comfortably. "I believe his father continually heaped vituperation on his head because-"
"-because he was the only one who had no need of his father's money to make his way in the world," Holmes finished for him.
Lestrade started. "The devil! How did you know that?"
"Because Lord Hull was reduced to carping at Jory's physical faults. How it must have chafed the old devil to be faced with a potential target so well armoured in other respects! Baiting a man for his looks or his posture may be fine for schoolboys or drunken louts, but a villain like Lord Hull had no doubt become used to higher sport. I would venture the opinion that he may have been rather afraid of his bow-legged middle son. What was Jory's key to the cell door?"
"Haven't I told you? He paints," Lestrade said.
"Ah!"
Jory Hull was, as the canvases in the lower halls of Hull House later proved, a very good painter indeed. Not great; I do not mean that at all. But his renderings of his mother and brothers were faithful enough so that, years later, when I saw colour photographs for the first time, my mind flashed back to that rainy November afternoon in 1899. And the one of his father perhaps was a work of greatness. Certainly it startled (almost intimidated) with the malevolence that seemed to waft out of the canvas like a breath of dank graveyard air. Perhaps it was Algernon Swinburne that Jory resembled, but his father's likeness-at least as seen through the middle son's hand and eye-reminded me of an Oscar Wilde character: that nearly immortal roué, Dorian Gray.
His canvases were long, slow processes, but he was able to quick-sketch with such nimble rapidity that he might come home from Hyde Park on a Saturday afternoon with as much as twenty pounds in his pockets.
"I'll wager his father enjoyed that," Holmes said. He reached automatically for his pipe, then put it back again. "The son of a Peer quick-sketching wealthy American tourists and their sweethearts like a French Bohemian."
Lestrade laughed heartily. "He raged over it, as you may imagine. But Jory-good for him!-wouldn't give over his selling stall in Hyde Park… not, at least, until his father agreed to an allowance of thirty-five pounds a week. He called it low blackmail."
"My heart bleeds," I said.
"As does mine, Watson," Holmes said. "The third son, Lestrade, quickly-we've almost reached the house, I believe."
As Lestrade had intimated, surely Stephen Hull had the greatest cause to hate his father. As his gout grew worse and his head more muddled, Lord Hull surrendered more and more of the company affairs to Stephen, who was only twenty-eight at the time of his father's death. The responsibilities devolved upon Stephen, and the blame also devolved upon him if his least decision proved amiss. Yet no financial gain accrued to him should he decide well and his father's affairs prosper.
Lord Hull should have looked with favour upon Stephen, as the only one of his children with an interest in and an aptitude for the business he had founded; Stephen was a perfect example of what the Bible calls "the good son." Yet instead of displaying love and gratitude, Lord Hull repaid the young man's largely successful efforts with scorn, suspicion, and jealousy. On many occasions during the last two years of his life, the old man had offered the charming opinion that Stephen "would steal the pennies from a dead man's eyes."
"The b-d!" I cried, unable to contain myself.
"Ignore the new will for a moment," Holmes said, steepling his fingers again, "and return to the old one. Even under the conditions of that marginally more generous document, Stephen Hull would have had cause for resentment. In spite of all his labours, which had not only saved the family fortune but increased it, his reward was still to have been the youngest son's share of the spoils. What, by the way, was to have been the disposition of the shipping company under the provisions of what we might call the Pussy Will?"
I looked carefully at Holmes, but, as always, it was difficult to tell if he had attempted a small bon mot. Even after all the years I spent with him and all the adventures we shared, Sherlock Holmes's sense of humour remains a largely undiscovered country, even to me.
"It was to be handed over to the Board of Directors, with no provision for Stephen," Lestrade said, and pitched his cigarillo out the window as the hackney swept up the curving drive of a house which looked extraordinarily ugly to me just then, as it stood amid its brown lawns in the driving rain. "Yet with the father dead and the new will nowhere to be found, Stephen Hull has what the Americans call 'leverage.' The company will have him as managing director. They should have done anyway, but now it will be on Stephen Hull's terms."
"Yes," Holmes said. "Leverage. A good word." He leaned out into the rain. "Stop short, driver!" he cried. "We've not quite done!"
"As you say, guv'nor," the driver returned, "but it's devilish wet out here."
"And you'll go with enough in your pocket to make your innards as wet and devilish as your out'ards," Holmes said. This seemed to satisfy the man, and he stopped thirty yards from the front door of the great house. I listened to the rain tip-tapping on the sides of the coach while Holmes cogitated and then said: "The old will-the one he teased them with-that document isn't missing, is it?"
"Absolutely not. It was on his desk, near his body."
"Four excellent suspects! Servants need not apply… or so it seems now. Finish quickly, Lestrade-the final circumstances, and the locked room."
Lestrade complied, consulting his notes from time to time. A month previous, Lord Hull had observed a small black spot on his right leg, directly behind the knee. The family doctor was called. His diagnosis was gangrene, an unusual but far from rare result of gout and poor circulation. The doctor told him the leg would have to come off, and well above the site of the infection.
Lord Hull laughed until tears streamed down his cheeks. The doctor, who had expected any reaction but this, was struck speechless. "When they stick me in my coffin, sawbones," Hull said, "it will be with both legs still attached, thank you very much."
The doctor told him that he sympathized with Lord Hull's wish to keep his leg, but that without amputation he would be dead in six months, and he would spend the last two in exquisite pain. Lord Hull asked the doctor what his chances of survival should be if he were to undergo the operation. He was still laughing, Lestrade said, as though it were the best joke he had ever heard. After some hemming and hawing, the doctor said the odds were even.
"Bunk," said I.
"Exactly what Lord Hull said," Lestrade replied, "except he used a term more often used in dosses than in drawing-rooms."
Hull told the doctor that he himself reckoned his chances at no better than one in five. "As to the pain, I don't think it will come to that," he went on, "as long as there's laudanum and a spoon to stir it with in stumping distance."
The next day, Hull finally sprang his nasty surprise-that he was thinking of changing his will. Just how he did not immediately say.
"Oh?" Holmes said, looking at Lestrade from those cool gray eyes that saw so much. "And who, pray, was surprised?"
"None of them, I should think. But you know human nature, Holmes; how people hope against hope."
"And how some plan against disaster," Holmes said dreamily.
This very morning Lord Hull had called his family into the parlour, and when all were settled, he performed an act few testators are granted, one which is usually performed by the wagging tongues of their solicitors after their own have been forever silenced. In short, he read them his new will, leaving the balance of his estate to Mrs. Hemphill's wayward pussies. In the silence which followed he rose, not without difficulty, and favoured them all with a death's-head grin. And leaning over his cane, he made the following declaration, which I find as astoundingly vile now as I did when Lestrade recounted it to us in that hackney cab: "So! All is fine, is it not? Yes, very fine! You have served me quite faithfully, woman and boys, for some forty years. Now I intend, with the clearest and most serene conscience imaginable, to cast you hence. But take heart! Things could be worse! If there was time, the pharaohs had their favourite pets-cats, for the most part-killed before they died, so the pets might be there to welcome them into the afterlife, to be kicked or petted there, at their masters' whims, forever… and forever… and forever." Then he laughed at them. He leaned over his cane and laughed from his doughy, dying face, the new will-properly signed and properly witnessed, as all of them had seen-clutched in one claw of a hand.
William rose and said, "Sir, you may be my father and the author of my existence, but you are also the lowest creature to crawl upon the face of the earth since the serpent tempted Eve in the Garden."
"Not at all!" the old monster returned, still laughing. "I know four lower. Now, if you will pardon me, I have some important papers to put away in my safe… and some worthless ones to burn in the stove."
"He still had the old will when he confronted them?" Holmes asked. He seemed more interested than startled.
"Yes."
"He could have burned it as soon as the new one was signed and witnessed," Holmes mused. "He had all the previous afternoon and evening to do so. But he didn't, did he? Why not? How say you on that question, Lestrade?"
"He hadn't had enough of teasing them even then, I suppose. He was offering them a chance-a temptation-he believed all would refuse."
"Perhaps he believed one of them would not refuse," Holmes said. "Hasn't that idea at least crossed your mind?" He turned his head and searched my face with the momentary beam of his brilliant-and somehow chilling-regard. "Either of your minds? Isn't it possible that such a black creature might hold out such a temptation, knowing that if one of his family were to succumb to it and put him out of his misery-Stephen seems most likely from what you say-that one might be caught… and swing for the crime of patricide?"
I stared at Holmes in silent horror.
"Never mind," Holmes said. "Go on, Inspector-it's time for the locked room to make its appearance, I believe."
The four of them had sat in paralyzed silence as the old man made his long, slow way up the corridor to his study. There were no sounds but the thud of his cane, the laboured rattle of his breathing, the plaintive miaow of a cat in the kitchen, and the steady beat of the pendulum in the parlour clock. Then they heard the squeal of hinges as Hull opened his study door and stepped inside.
"Wait!" Holmes said sharply, sitting forward. "No one actually saw him go in, did they?"
"I'm afraid that's not so, old chap," Lestrade returned. "Mr. Oliver Stanley, Lord Hull's valet, had heard Lord Hull's progress down the hall. He came from Hull 's dressing chamber, went to the gallery railing, and called down to ask if all was well. Hull looked up- Stanley saw him as plainly as I see you right now, old fellow-and said all was absolutely tip-top. Then he rubbed the back of his head, went in, and locked the study door behind him.
"By the time his father had reached the door (the corridor is quite long and it may have taken him as much as two minutes to make his way up it unaided) Stephen had shaken off his stupor and had gone to the parlour door. He saw the exchange between his father and his father's man. Of course Lord Hull was back-to, but Stephen heard his father's voice and described the same characteristic gesture: Hull rubbing the back of his head."
"Could Stephen Hull and this Stanley fellow have spoken before the police arrived?" I asked-shrewdly, I thought.
"Of course they could," Lestrade said wearily. "They probably did. But there was no collusion."
"You feel sure of that?" Holmes asked, but he sounded uninterested.
"Yes. Stephen Hull would lie very well, I think, but Stanley would do it very badly. Accept my professional opinion or not, just as you like, Holmes."
"I accept it."
So Lord Hull passed into his study, the famous locked room, and all heard the click of the lock as he turned the key-the only key there was to that sanctum sanctorum. This was followed by a more unusual sound: the bolt being drawn across.
Then, silence.
The four of them-Lady Hull and her sons, so shortly to be blue-blooded paupers-looked at one another in similar silence. The cat miaowed again from the kitchen and Lady Hull said in a distracted voice that if the housekeeper wouldn't give that cat a bowl of milk, she supposed she must. She said the sound of it would drive her mad if she had to listen to it much longer. She left the parlour. Moments later, without a word among them, the three sons also left. William went to his room upstairs, Stephen wandered into the music room, and Jory went to sit upon a bench beneath the stairs where, he had told Lestrade, he had gone since earliest childhood when he was sad or had matters of deep difficulty to think over.
Less than five minutes later a shriek arose from the study. Stephen ran out of the music room, where he had been plinking out isolated notes on the piano. Jory met him at the study door. William was already halfway downstairs and saw them breaking in when Stanley, the valet, came out of Lord Hull's dressing room and went to the gallery railing for the second time. Stanley has testified to seeing Stephen Hull burst into the study; to seeing William reach the foot of the stairs and almost fall on the marble; to seeing Lady Hull come from the dining-room doorway with a pitcher of milk still in one hand. Moments later the rest of the servants had gathered.
"Lord Hull was slumped over his writing-desk with the three brothers standing by. His eyes were open, and the look in them… I believe it was surprise. Again, you are free to accept or reject my opinion just as you like, but I tell you it looked very much like surprise to me. Clutched in his hands was his will… the old one. Of the new one there was no sign. And there was a dagger in his back."
With this, Lestrade rapped for the driver to go on.
We entered the house between two constables as stone-faced as Buckingham Palace sentinels. Here to begin with was a very long hall, floored in black and white marble tiles like a chessboard. They led to an open door at the end, where two more constables were posted: the entrance to the infamous study. To the left were the stairs, to the right two doors: the parlour and the music room, I guessed.
"The family is gathered in the parlour," Lestrade said.
"Good," Holmes said pleasantly. "But perhaps Watson and I might first have a look at the scene of the crime?"
"Shall I accompany you?"
"Perhaps not," Holmes said. "Has the body been removed?"
"It was still here when I left for your lodgings, but by now it almost certainly will be gone."
"Very good."
Holmes started away. I followed. Lestrade called, "Holmes!"
Holmes turned, eyebrows raised.
"No secret panels, no secret doors. For the third time, take my word or not, as you like."
"I believe I'll wait until… " Holmes began and then his breath began to hitch. He scrambled in his pocket, found a napkin probably carried absently away from the eating-house where we had dined the previous evening, and sneezed mightily into it. I looked down and saw a large, scarred tomcat, as out of place here in this grand hall as would have been one of those urchins of whom I had been thinking earlier, twining about Holmes's legs. One of its ears was laid back against its scarred skull. The other was gone, lost in some long-ago alley battle, I supposed.
Holmes sneezed repeatedly and kicked out at the cat. It went with a reproachful backward look rather than with the angry hiss one might have expected from such an old campaigner. Holmes looked at Lestrade over the napkin with reproachful, watery eyes. Lestrade, not in the least put out of countenance, thrust his head forward and grinned like a monkey. "Ten, Holmes," he said. "Ten. House is full of felines. Hull loved 'em." And with that he walked off.
"How long have you suffered this affliction, old fellow?" I asked. I was a bit alarmed.
"Always," he said, and sneezed again. The word allergy was hardly known all those years ago, but that, of course, was his problem.
"Do you want to leave?" I asked. I had once seen a case of near asphyxiation as the result of such an aversion, this one to sheep but otherwise similar in all respects.
"He'd like that," Holmes said. I did not need him to tell me whom he meant. Holmes sneezed once more (a large red welt was appearing on his normally pale forehead) and then we passed between the constables at the study door. Holmes closed it behind him.
The room was long and relatively narrow. It was at the end of something like a wing, the main house spreading to either side from an area roughly three-quarters of the way down the hall. There were windows on two sides of the study and it was bright enough in spite of the gray, rainy day. The walls were dotted with colourful shipping charts in handsome teak frames, and among them was mounted an equally handsome set of weather instruments in a brass-bound, glass-fronted case. It contained an anemometer (Hull had the little whirling cups mounted on one of the roofpeaks, I supposed), two thermometers (one registering the outdoor temperature and the other that of the study), and a barometer much like the one which had fooled Holmes into believing the bad weather was about to break. I noticed the glass was still rising, then looked outside. The rain was falling harder than ever, rising glass or no rising glass. We believe we know a great lot, with our instruments and things, but I was old enough then to believe we don't know half as much as we think we do, and old enough now to believe we never will.
Holmes and I both turned to look at the door. The bolt was torn free, but leaning inward, as it should have been. The key was still in the study-side lock, and still turned.
Holmes's eyes, watering as they were, were everywhere at once, noting, cataloguing, storing.
"You are a little better," I said.
"Yes," he said, lowering the napkin and stuffing it indifferently back into his coat pocket. "He may have loved 'em, but he apparently didn't allow 'em in here. Not on a regular basis, anyway. What do you make of it, Watson?"
Although my eyes were slower than his, I was also looking around. The double windows were all locked with thumb-turns and small brass side-bolts. None of the panes had been broken. Most of the framed charts and the box of weather instruments were between these windows. The other two walls were filled with books. There was a small coal-stove but no fireplace; the murderer hadn't come down the chimney like Father Christmas, not unless he was narrow enough to fit through a stovepipe and clad in an asbestos suit, for the stove was still very warm.
The desk stood at one end of this long, narrow, well-lit room; the opposite end was a pleasantly bookish area, not quite a library, with two high-backed upholstered chairs and a coffee-table between them. On this table was a random stack of volumes. The floor was covered with a Turkish rug. If the murderer had come through a trap-door, I hadn't the slightest idea how he'd gotten back under that rug without disarranging it… and it was not disarranged, not in the slightest: the shadows of the coffee-table legs lay across it without even a hint of a ripple.
"Did you believe it, Watson?" Holmes asked, snapping me out of what was almost a hypnotic trance. Something… something about that coffee-table…
"Believe what, Holmes?"
"That all four of them simply walked out of the parlour, in four different directions, four minutes before the murder?"
"I don't know," I said faintly.
"I don't believe it; not for a mo-" He broke off. "Watson! Are you all right?"
"No," I said in a voice I could hardly hear myself. I collapsed into one of the library chairs. My heart was beating too fast. I couldn't seem to catch my breath. My head was pounding; my eyes seemed to have suddenly grown too large for their sockets. I could not take them from the shadows of the coffee-table legs upon the rug. "I am most… definitely not… all right."
At that moment Lestrade appeared in the study doorway. "If you've looked your fill, H-" He broke off. "What the devil's the matter with Watson?"
"I believe," said Holmes in a calm, measured voice, "that Watson has solved the case. Have you, Watson?"
I nodded my head. Not the entire case, perhaps, but most of it. I knew who; I knew how.
"Is it this way with you, Holmes?" I asked. "When you… see?"
"Yes," he said, "though I usually manage to keep my feet."
"Watson's solved the case?" Lestrade said impatiently. "Bah! Watson's offered a thousand solutions to a hundred cases before this, Holmes, as you very well know, and all of them wrong. It's his bête noire. Why, I remember just this last summer-"
"I know more about Watson than you ever shall," Holmes said, "and this time he has hit upon it. I know the look." He began to sneeze again; the cat with the missing ear had wandered into the room through the door which Lestrade had left open. It moved directly toward Holmes with an expression of what seemed to be affection on its ugly face.
"If this is how it is for you," I said, "I'll never envy you again, Holmes. My heart should burst."
"One becomes inured even to insight," Holmes said, with not the slightest trace of conceit in his voice. "Out with it, then… or shall we bring in the suspects, as in the last chapter of a detective novel?"
"No!" I cried in horror. I had seen none of them; I had no urge to. "Only I think I must show you how it was done. If you and Inspector Lestrade will only step out into the hall for a moment… "
The cat reached Holmes and jumped into his lap, purring like the most satisfied creature on earth.
Holmes exploded into a perfect fusillade of sneezes. The red patches on his face, which had begun to fade, burst out afresh. He pushed the cat away and stood up.
"Be quick, Watson, so we can leave this damned place," he said in a muffled voice, and left the room with his shoulders in an uncharacteristic hunch, his head down, and with not a single look back. Believe me when I say that a little of my heart went with him.
Lestrade stood leaning against the door, his wet coat steaming slightly, his lips parted in a detestable grin. "Shall I take Holmes's new admirer, Watson?"
"Leave it," I said, "and close the door when you go out."
"I'd lay a fiver you're wasting our time, old man," Lestrade said, but I saw something different in his eyes: if I'd offered to take him up on the wager, he would have found a way to squirm out of it.
"Close the door," I repeated. "I shan't be long."
He closed the door. I was alone in Hull's study… except for the cat, of course, which was now sitting in the middle of the rug, tail curled neatly about its paws, green eyes watching me.
I felt in my pockets and found my own souvenir from last night's dinner-men on their own are rather untidy people, I fear, but there was a reason for the bread other than general slovenliness. I almost always kept a crust in one pocket or the other, for it amused me to feed the pigeons that landed outside the very window where Holmes had been sitting when Lestrade drove up.
"Pussy," said I, and put the bread beneath the coffee-table-the coffee-table to which Lord Hull would have presented his back when he sat down with his two wills, the wretched old one and the even more wretched new one. "Puss-puss-puss."
The cat rose and walked languidly beneath the table to investigate the crust.
I went to the door and opened it. "Holmes! Lestrade! Quickly!"
They came in.
"Step over here," I said, and walked to the coffee-table.
Lestrade looked about and began to frown, seeing nothing; Holmes, of course, began to sneeze again. "Can't we have that wretched thing out of here?" he managed from behind the table-napkin, which was now quite soggy.
"Of course," said I. "But where is the wretched thing, Holmes?"
A startled expression filled his wet eyes. Lestrade whirled, walked toward Hull 's writing-desk, and peered behind it. Holmes knew his reaction should not have been so violent if the cat had been on the far side of the room. He bent and looked beneath the coffee-table, saw nothing but the rug and the bottom row of the two bookcases opposite, and straightened up again. If his eyes had not been spouting like fountains, he should have seen all then; he was, after all, right on top of it. But one must also give credit where credit is due, and the illusion was devilishly good. The empty space beneath his father's coffee-table had been Jory Hull's masterpiece.
"I don't-" Holmes began, and then the cat, who found my friend much more to its liking than any stale crust of bread, strolled out from beneath the table and began once more to twine ecstatically about his ankles. Lestrade had returned, and his eyes grew so wide I thought they might actually fall out. Even having understood the trick, I myself was amazed. The scarred tomcat seemed to be materializing out of thin air; head, body, white-tipped tail last.
It rubbed against Holmes's leg, purring as Holmes sneezed.
"That's enough," I said. "You've done your job and may leave."
I picked it up, took it to the door (getting a good scratch for my pains), and tossed it unceremoniously into the hall. I shut the door behind it.
Holmes was sitting down. "My God," he said in a nasal, clogged voice. Lestrade was incapable of any speech at all. His eyes never left the table and the faded Turkish rug beneath its legs: an empty space that had somehow given birth to a cat.
"I should have seen," Holmes was muttering. "Yes… but you… how did you understand so quickly?" I detected the faintest hurt and pique in that voice, and forgave it at once.
"It was those," I said, and pointed at the rug.
"Of course!" Holmes nearly groaned. He slapped his welted forehead. "Idiot! I'm a perfect idiot!"
"Nonsense," I said tartly. "With a houseful of cats-and one who has apparently picked you out for a special friend-I suspect you were seeing ten of everything."
"What about the rug?" Lestrade asked impatiently. "It's very nice, I'll grant, and probably expensive, but-"
"Not the rug," I said. "The shadows"
"Show him, Watson," Holmes said wearily, lowering the napkin into his lap.
So I bent and picked one of them off the floor.
Lestrade sat down in the other chair, hard, like a man who has been unexpectedly punched.
"I kept looking at them, you see," I said, speaking in a tone which could not help being apologetic. This seemed all wrong. It was Holmes's job to explain the whos and hows at the end of the investigation. Yet while I saw that he now understood everything, I knew he would refuse to speak in this case. And I suppose a part of me-the part that knew I would probably never have another chance to do something like this-wanted to be the one to explain. And the cat was rather a nice touch, I must say. A magician could have done no better with a rabbit and a top-hat.
"I knew something was wrong, but it took a moment for it to sink in. This room is extremely bright, but today it's pouring down rain. Look around and you'll see that not a single object in this room casts a shadow… except for these table-legs."
Lestrade uttered an oath.
"It's rained for nearly a week," I said, "but both Holmes's barometer and the late Lord Hull's"-I pointed to it-"said that we could expect sun today. In fact, it seemed a sure thing. So he added the shadows as a final touch."
"Who did?"
"Jory Hull," Holmes said in that same weary tone. "Who else?"
I bent down and reached my hand beneath the right end of the coffee-table. It disappeared into thin air, just as the cat had appeared. Lestrade uttered another startled oath. I tapped the back of the canvas stretched tightly between the forward legs of the coffee-table. The books and the rug bulged and rippled, and the illusion, nearly perfect as it had been, was instantly dispelled.
Jory Hull had painted the nothing under his father's coffee-table, had crouched behind the nothing as his father entered the room, locked the door, and sat at his desk with his two wills, and at last had rushed out from behind the nothing, dagger in hand.
"He was the only one who could execute such an extraordinary piece of realism," I said, this time running my hand down the face of the canvas. We could all hear the low rasping sound it made, like the purr of a very old cat. "The only one who could execute it, and the only one who could hide behind it: Jory Hull, who was no more than five feet tall, bow-legged, slump-shouldered.
"As Holmes said, the surprise of the new will was no surprise. Even if the old man had been secretive about the possibility of cutting the relatives out of the will, which he wasn't, only simpletons could have mistaken the import of the visit from the solicitor and, more important, the assistant. It takes two witnesses to make a will a valid document at Chancery. What Holmes said about some people preparing for disaster was very true. A canvas as perfect as this was not made overnight, or in a month. You may find he had it ready, should it need to be used, for as long as a year-"
"Or five," Holmes interpolated.
"I suppose. At any rate, when Hull announced that he wanted to see his family in the parlour this morning, I imagine Jory knew the time had come. After his father had gone to bed last night, he would have come down here and mounted his canvas. I suppose he may have put down the faux shadows at the same time, but if I had been Jory I should have tip-toed in here for another peek at the glass this morning, before the previously announced parlour gathering, just to make sure it was still rising. If the door was locked, I suppose he filched the key from his father's pocket and returned it later."
"Wasn't locked," Lestrade said laconically. "As a rule he kept the door shut to keep the cats out, but rarely locked it."
"As for the shadows, they are just strips of felt, as you now see. His eye was good, they are about where they would have been at eleven this morning… if the glass had been right."
"If he expected the sun to be shining, why did he put down shadows at all?" Lestrade grumped. "Sun puts 'em down as a matter of course, just in case you've never noticed your own, Watson."
Here I was at a loss. I looked at Holmes, who seemed grateful to have any part in the answer.
"Don't you see? That is the greatest irony of all! If the sun had shone as the glass suggested it would, the canvas would have blocked the shadows. Painted shadow-legs don't cast them, you know. He was caught by shadows on a day when there were none because he was afraid he would be caught by none on a day when his father's barometer said they would almost certainly be everywhere else in the room."
"I still don't understand how Jory got in here without Hull seeing him," Lestrade said.
"That puzzles me as well," Holmes said-dear old Holmes! I doubt that it puzzled him a bit, but that was what he said. "Watson?"
"The parlour where Lord Hull met with his wife and sons has a door which communicates with the music room, does it not?"
"Yes," Lestrade said, "and the music room has a door which communicates with Lady Hull's morning room, which is next in line as one goes toward the back of the house. But from the morning room one can only go back into the hall, Doctor Watson. If there had been two doors into Hull 's study, I should hardly have come after Holmes on the run as I did."
He said this last in tones of faint self-justification.
"Oh, Jory went back into the hall, all right," I said, "but his father didn't see him."
"Rot!"
"I'll demonstrate," I said, and went to the writing-desk, where the dead man's cane still leaned. I picked it up and turned toward them. "The very instant Lord Hull left the parlour, Jory was up and on the run."
Lestrade shot a startled glance at Holmes; Holmes gave the inspector a cool, ironic look in return. I did not understand those looks then, nor give them much thought at all, if the whole truth be told. I did not fully understand the wider implications of the picture I was drawing for yet a while. I was too wrapped up in my own re-creation, I suppose.
"He nipped through the first connecting door, ran across the music room, and entered Lady Hull's morning room. He went to the hall door then and peeked out. If Lord Hull's gout had gotten so bad as to have brought on gangrene, he would have progressed no more than a quarter of the way down the hall, and that is optimistic. Now mark me, Inspector Lestrade, and I will show you the price a man pays for a lifetime of rich food and strong drink. If you harbour any doubts when I've done, I shall parade a dozen gout sufferers before you, and each one will show the same ambulatory symptoms I now intend to demonstrate. Please notice above all how fixed my attention is… and where"
With that I began to stump slowly across the room toward them, both hands clamped tightly on the ball of the cane. I would raise one foot quite high, bring it down, pause, and then draw the other leg along. Never did my eyes look up. Instead, they alternated between the cane and that forward foot.
"Yes," Holmes said quietly. "The good doctor is exactly right, Inspector Lestrade. The gout comes first; then the loss of balance; then (if the sufferer lives long enough), the characteristic stoop brought on by always looking down."
"Jory would have been very aware of how his father fixed his attention when he walked from place to place," I said. "As a result, what happened this morning was diabolically simple. When Jory reached the morning room, he peeped out the door, saw his father studying his feet and the tip of his cane-just as always-and knew he was safe. He stepped out, right in front of his unseeing father, and simply nipped into the study. The door, Lestrade informs us, was unlocked, and really, how great would the risk have been? They were in the hall together for no more than three seconds, and probably a little less." I paused. "That hall floor is marble, isn't it? He must have kicked off his shoes."
"He was wearing slippers," Lestrade said in a strangely calm tone of voice, and for the second time, his eyes met Holmes's.
"Ah," I said. "I see. Jory gained the study well ahead of his father and hid behind his cunning stage-flat. Then he withdrew the dagger and waited. His father reached the end of the hall. Jory heard Stanley call down to him, and heard his father call back that he was fine. Then Lord Hull entered his study for the last time… closed the door… and locked it."
They were both looking at me intently, and I understood some of the godlike power Holmes must have felt at moments like these, telling others what only he could know. And yet, I must repeat that it is a feeling I should not have wanted to have too often. I believe the urge to repeat such a feeling would have corrupted most men-men with less iron in their souls than was possessed by my friend Sherlock Holmes.
"Old Keg-Legs would have made himself as small as possible before the locking-up happened, perhaps knowing (or only suspecting) that his father would have one good look round before turning the key and shooting the bolt. He may have been gouty and going a bit soft about the edges, but that doesn't mean he was going blind."
" Stanley says his eyes were top-hole," Lestrade said. "One of the first things I asked."
"So he looked round," I said, and suddenly I could see it, and I suppose this was also the way it was with Holmes; this reconstruction which, while based only upon facts and deduction, seemed to be half a vision. "He saw nothing to alarm him; nothing but the study as it always was, empty save for himself. It is a remarkably open room-I see no closet door, and with the windows on both sides, there are no dark nooks and crannies even on such a day as this.
"Satisfied that he was alone, he closed the door, turned his key, and shot the bolt. Jory would have heard him stump his way across to the desk. He would have heard the heavy thump and wheeze of the chair cushion as his father landed on it-a man in whom gout is well-advanced does not sit so much as position himself over a soft spot and then drop onto it, seat-first-and then Jory would at last have risked a look out."
I glanced at Holmes.
"Go on, old man," he said warmly. "You are doing splendidly. Absolutely first rate." I saw he meant it. Thousands would have called him cold, and they would not have been wrong, precisely, but he also had a large heart. Holmes simply protected it better than most men do.
"Thank you. Jory would have seen his father put his cane aside, and place the papers-the two packets of papers-on the blotter. He did not kill his father immediately, although he could have done; that's what's so gruesomely pathetic about this business, and that's why I wouldn't go into that parlour where they are for a thousand pounds. I wouldn't go in unless you and your men dragged me."
"How do you know he didn't do it immediately?" Lestrade asked.
"The scream came several minutes after the key was turned and the bolt drawn; you said so yourself, and I assume you have enough testimony on that point not to doubt it. Yet it can only be a dozen long paces from door to desk. Even for a gouty man like Lord Hull, it would have taken half a minute, forty seconds at the outside, to cross to the chair and sit down. Add fifteen seconds for him to prop his cane where you found it, and put his wills on the blotter.
"What happened then? What happened during that last minute or two, a short time which must have seemed-to Jory Hull, at least-almost endless? I believe Lord Hull simply sat there, looking from one will to the other. Jory would have been able to tell the difference between the two easily enough; the differing colours of the parchment would have been all the clew he needed.
"He knew his father intended to throw one of them into the stove; I believe he waited to see which one it would be. There was, after all, a chance that the old devil was only having a cruel practical joke at his family's expense. Perhaps he would burn the new will, and put the old one back in the safe. Then he could have left the room and told his family the new will was safely put away. Do you know where it is, Lestrade? The safe?"
"Five of the books in that case swing out," Lestrade said briefly, pointing to a shelf in the library area.
"Both family and old man would have been satisfied then; the family would have known their earned inheritances were safe, and the old man would have gone to his grave believing he had perpetrated one of the cruellest practical jokes of all time… but he would have gone as God's victim or his own, and not Jory Hull's."
Yet a third time that queer look, half-amused and half-revolted, passed between Holmes and Lestrade.
"Myself, I rather think the old man was only savouring the moment, as a man may savour the prospect of an after-dinner drink in the middle of the afternoon or a sweet after a long period of abstinence. At any rate, the minute passed, and Lord Hull began to rise… but with the darker parchment in his hand, and facing the stove rather than the safe. Whatever his hopes may have been, there was no hesitation on Jory's part when the moment came. He burst from hiding, crossed the distance between the coffee-table and the desk in an instant, and plunged the knife into his father's back before he was fully up.
"I suspect the post-mortem will show the thrust clipped through the heart's right ventricle and into the lung-that would explain the quantity of blood expelled onto the desktop. It also explains why Lord Hull was able to scream before he died, and that's what did for Mr. Jory Hull."
"How so?" Lestrade asked.
"A locked room is a bad business unless you intend to pass murder off as suicide," I said, looking at Holmes. He smiled and nodded at this maxim of his. "The last thing Jory would have wanted was for things to look as they did… the locked room, the locked windows, the man with a knife in him where the man himself never could have put it. I think he had never foreseen his father dying with such a squawl. His plan was to stab him, burn the new will, rifle the desk, unlock one of the windows, and escape that way. He would have entered the house by another door, resumed his seat under the stairs, and then, when the body was finally discovered, it would have looked like robbery."
"Not to Hull 's solicitor," Lestrade said.
"He might well have kept his silence, however," Holmes mused, and then added brightly, "I'll bet our artistic friend intended to add a few tracks, too. I have found that the better class of murderer almost always likes to throw in a few mysterious tracks leading away from the scene of the crime." He uttered a brief, humourless sound that was more bark than laugh, then looked back from the window nearest the desk to Lestrade and me. "I think we all agree it would have seemed a suspiciously convenient murder, under the circumstances, but even if the solicitor spoke up, nothing could have been proved."
"By screaming, Lord Hull spoiled everything," I said, "as he had been spoiling things all his life. The house was roused. Jory must have been in a total panic, frozen to the spot the way a deer is by a bright light. It was Stephen Hull who saved the day… or Jory's alibi, at least, the one which had him sitting on the bench under the stairs when his father was murdered. Stephen rushed down the hall from the music room, smashed the door open, and must have hissed at Jory to get over to the desk with him, at once, so it would look as if they had broken in togeth-"
I broke off, thunderstruck. At last I understood the glances which had been flashing between Holmes and Lestrade. I understood what they must have seen from the moment I showed them the trick hiding place: it could not have been done alone. The killing, yes, but the rest…
"Stephen said he and Jory met at the study door," I said slowly. "That he, Stephen, burst it in and they entered together, discovered the body together. He lied. He might have done it to protect his brother, but to lie so well when one doesn't know what has happened seems… seems… "
"Impossible," Holmes said, "is the word for which you are searching, Watson."
"Then Jory and Stephen went in on it together," I said. "They planned it together… and in the eyes of the law, both are guilty of their father's murder! My God!"
"Not both of them, my dear Watson," Holmes said in a tone of curious gentleness. "All of them."
I could only gape.
He nodded. "You have shown remarkable insight this morning, Watson; you have, in fact, burned with a deductive heat I'll wager you'll never generate again. My cap is off to you, dear fellow, as it is to any man who is able to transcend his normal nature, no matter how briefly. But in one way you have remained the same dear chap you've always been: while you understand how good people can be, you have no understanding of how black they may be."
I looked at him silently, almost humbly.
"Not that there was much blackness here, if half of what we've heard of Lord Hull was true," Holmes said. He rose and began to pace irritably about the study. "Who testifies that Jory was with Stephen when the door was smashed in? Jory, naturally. Stephen, naturally. But there are two other faces in this family portrait. One belongs to William, the third brother. Do you concur, Lestrade?"
"Yes," Lestrade said. "If this is the straight of the matter, William also had to be in on it. He said he was halfway down the stairs when he saw the two of them go in together, Jory a little ahead."
"How interesting!" Holmes said, eyes gleaming. "Stephen breaks in the door-as the younger and stronger of course he must-and so one would expect simple forward momentum would have carried him into the room first. Yet William, halfway down the stairs, saw Jory enter first. Why was that, Watson?"
I could only shake my head numbly.
"Ask yourself whose testimony, and whose testimony alone, we can trust here. The answer is the only witness who is not part of the family: Lord Hull's man, Oliver Stanley. He approached the gallery railing in time to see Stephen enter the room, and that is just as it should have been, since Stephen was alone when he broke it in. It was William, with a better angle from his place on the stairs, who said he saw Jory precede Stephen into the study. William said so because he had seen Stanley and knew what he must say. It boils down to this, Watson: we know Jory was inside this room. Since both of his brothers testify he was outside, there was, at the very least, collusion. But as you say, the smooth way they all pulled together suggests something far more serious."
"Conspiracy," I said.
"Yes. Do you recall my asking you, Watson, if you believed all four of them simply walked wordlessly out of that parlour in four different directions after they heard the study door locked?"
"Yes. Now I do."
"The four of them." He looked briefly at Lestrade, who nodded, and then back at me. "We know Jory had to have been up and off and about his business the moment the old man left the parlour in order to reach the study ahead of him, yet all four of the surviving family-including Lady Hull-say they were in the parlour when Lord Hull locked his study door. The murder of Lord Hull was very much a family affair, Watson."
I was too staggered to say anything. I looked at Lestrade and saw an expression on his face I had never seen there before nor ever did again; a kind of tired sickened gravity.
"What may they expect?" Holmes said, almost genially.
"Jory will certainly swing," Lestrade said. "Stephen will go to jail for life. William Hull may get life, but will more likely get twenty years in Wormwood Scrubs, a kind of living death."
Holmes bent and stroked the canvas stretched between the legs of the coffee-table. It made that odd hoarse purring noise.
"Lady Hull," Lestrade went on, "may expect to spend the next five years of her life in Beechwood Manor, more commonly known to the inmates as Poxy Palace… although, having met the lady, I rather suspect she will find another way out. Her husband's laudanum would be my guess."
"All because Jory Hull missed a clean strike," Holmes remarked, and sighed. "If the old man had had the common decency to die silently, all would have been well. Jory would, as Watson says, have left by the window, taking his canvas with him, of course… not to mention his trumpery shadows. Instead, he raised the house. All the servants were in, exclaiming over the dead master. The family was in confusion. How shabby their luck was, Lestrade! How close was the constable when Stanley summoned him?"
"Closer than you would believe," Lestrade said. "Hurrying up the drive to the door, as a matter of fact. He was passing on his regular rounds, and heard a scream from the house. Their luck was shabby."
"Holmes," I said, feeling much more comfortable in my old role, "how did you know a constable was so nearby?"
"Simplicity itself, Watson. If not, the family would have shooed the servants out long enough to hide the canvas and 'shadows.'"
"Also to unlatch at least one window, I should think," Lestrade added in a voice uncustomarily quiet.
"They could have taken the canvas and the shadows," I said suddenly.
Holmes turned toward me. "Yes."
Lestrade raised his eyebrows.
"It came down to a choice," I said to him. "There was time enough to burn the new will or get rid of the hugger-mugger… this would have been just Stephen and Jory, of course, in the moments after Stephen burst in the door. They-or, if you've got the temperature of the characters right, and I suppose you do, Stephen-decided to burn the will and hope for the best. I suppose there was just enough time to chuck it into the stove."
Lestrade turned, looked at it, then looked back. "Only a man as black as Hull would have found strength enough to scream at the end," he said.
"Only a man as black as Hull would have required a son to kill him," Holmes rejoined.
He and Lestrade looked at each other, and again something passed between them, some perfectly silent communication from which I myself was excluded.
"Have you ever done it?" Holmes asked, as if picking up on an old conversation.
Lestrade shook his head. "Once came damned close," he said. "There was a girl involved, not her fault, not really. I came close. Yet… that was only one."
"And here there are four," Holmes returned, understanding him perfectly. "Four people ill-used by a villain who should have died within six months anyway."
At last I understood what they were discussing.
Holmes turned his gray eyes on me. "What say you, Lestrade? Watson has solved this one, although he did not see all the ramifications. Shall we let Watson decide?"
"All right," Lestrade said gruffly. "Just be quick. I want to get out of this damned room."
Instead of answering, I bent down, picked up the felt shadows, rolled them into a ball, and put them in my coat pocket. I felt quite odd doing it: much as I had felt when in the grip of the fever which almost took my life in India.
"Capital fellow, Watson!" Holmes cried. "You've solved your first case, become an accessory to murder, and it's not even tea-time! And here's a souvenir for myself-an original Jory Hull. I doubt it's signed, but one must be grateful for whatever the gods send us on rainy days." He used his penknife to loosen the artist's glue holding the canvas to the legs of the coffee-table. He made quick work of it; less than a minute later he was slipping a narrow canvas tube into the inner pocket of his voluminous greatcoat.
"This is a dirty piece of work," Lestrade said, but he crossed to one of the windows and, after a moment's hesitation, released the locks which held it and opened it half an inch or so.
"Say it's dirty work undone," Holmes said in a tone of almost hectic gaiety. "Shall we go, gentlemen?"
We crossed to the door. Lestrade opened it. One of the constables asked him if there was any progress.
On another occasion Lestrade might have shown the man the rough side of his tongue. This time he said shortly, "Looks like attempted robbery gone to something worse. I saw it at once, of course; Holmes a moment later."
"Too bad!" the other constable ventured.
"Yes," Lestrade said, "but at least the old man's scream sent the thief packing before he could steal anything. Carry on."
We left. The parlour door was open, but I kept my head down as we passed it. Holmes looked, of course; there was no way he could not have done. It was just the way he was made. As for me, I never saw any of the family. I never wanted to.
Holmes was sneezing again. His friend was twining around his legs and miaowing blissfully. "Let me out of here," he said, and bolted.
An hour later we were back at 221B Baker Street, in much the same positions we had occupied when Lestrade came driving up: Holmes in the window-seat, myself on the sofa.
"Well, Watson," Holmes said presently, "how do you think you'll sleep tonight?"
"Like a top," I said. "And you?"
"Likewise, I'm sure," he said. "I'm glad to be away from those damned cats, I can tell you that."
"How will Lestrade sleep, d'you think?"
Holmes looked at me and smiled. "Poorly tonight. Poorly for a week, perhaps. But then he'll be all right. Among his other talents, Lestrade has a great one for creative forgetting."
That made me laugh.
"Look, Watson!" Holmes said. "Here's a sight!" I got up and went to the window, somehow sure I would see Lestrade riding up in the wagon once more. Instead I saw the sun breaking through the clouds, bathing London in a glorious late-afternoon light.
"It came out after all," Holmes said. "Marvellous, Watson! Makes one happy to be alive!" He picked up his violin and began to play, the sun strong on his face.
I looked at his barometer and saw it was falling. That made me laugh so hard I had to sit down. When Holmes asked-in tones of mild irritation-what the matter was, I could only shake my head. I am not, in truth, sure he would have understood, anyway. It was not the way his mind worked.
The Horror of the Many Faces by Tim Lebbon
Tim Lebbon's latest novel is Bar None, a novel of "chilling suspense, apocalyptic beauty and fine ales." Other recent work includes The Island, and forthcoming is an original 30 Days of Night novel, which is due out early next year, as is Tell My Sorrows to the Stones, a collaboration with Christopher Golden. Lebbon is a New York Times bestselling author, and the winner of the Stoker Award, and three British Fantasy Awards.
***
Our next tale is the first of three in this volume to come to us from Shadows Over Baker Street, a book of stories that blend the world of Sherlock Holmes with the Cthulhu Mythos of H. P. Lovecraft. Lovecraft was perhaps the most influential horror writer of the twentieth century. He was a scholar of weird fiction, having written a pioneering survey called Supernatural Horror in Literature, and his own groundbreaking fiction appeared mostly in the pulp magazine Weird Tales. For centuries horror stories had been bound up with notions of eternal damnation, and Lovecraft, a committed philosophical materialist, felt that such notions had become hokey and shopworn. Edwin Hubble's startling discovery that our galaxy was just one of billions had inspired Lovecraft to write a new kind of horror story-tales set in a vast, incomprehensible universe, where human beings were tiny and insignificant, and in danger at any moment of being snuffed out by vast, uncaring forces. Holmes says, "When you eliminate the impossible, whatever remains, however improbable, must be the truth." Lovecraft felt that the truth would drive us to insanity. Where these two worldviews collide, our next story begins.
***
What I saw that night defied belief, but believe it I had to because I trusted my eyes. Seeing is believing is certainly not an axiom that my friend would have approved of, but I was a doctor, a scientist, and for me the eyes were the most honest organs in the body.
I never believed that they could lie.
What I laid eyes upon in the murky London twilight made me the saddest man. It stripped any faith I had in the order of things, the underlying goodness of life. How can something so wrong exist in an ordered world? How, if there is a benevolent purpose behind everything, can something so insane exist?
These are the questions I asked then and still ask now, though the matter is resolved in a far different way from that which I could ever have imagined at the time.
I was on my way home from the surgery. The sun was setting into the murk of the London skyline, and the city was undergoing its usual dubious transition from light to dark. As I turned a corner into a narrow cobbled street I saw my old friend, my mentor, slaughtering a man in the gutter. He hacked and slashed with a blade that caught the red twilight, and upon seeing me he seemed to calm and perform some meticulous mutilation upon the twitching corpse.
I staggered against the wall. "Holmes!" I gasped
He looked up, and in his honest eyes there was nothing. No light, no twinkle, not a hint of the staggering intelligence that lay behind them.
Nothing except for a black, cold emptiness.
Stunned into immobility, I could only watch as Holmes butchered the corpse. He was a man of endless talents, but still I was amazed at the dexterity with which he opened the body, extracted the heart and wrapped it in his handkerchief.
No, not butchery. Surgery. He worked with an easy medical knowledge that appeared to surpass my own.
Holmes looked up at me where I stood frozen stiff. He smiled, a wicked grin that looked so alien on his face. Then he stood and shrugged his shoulders, moving on the spot as if settling comfortably into a set of new clothes.
"Holmes," I croaked again, but he turned and fled.
Holmes the thinker, the ponderer, the genius, ran faster than I had ever seen anyone run before. I could not even think to give chase, so shocked was I with what I had witnessed. In a matter of seconds my outlook on life had been irrevocably changed, brought to ground and savaged with a brutality I had never supposed possible. I felt as if I had been shot, hit by a train, mauled. I was winded and dizzy and ready to collapse at any moment.
But I pinched myself hard on the back of my hand, drawing blood and bringing myself around.
I closed my eyes and breathed in deeply, but when I opened them again the corpse still lay there in the gutter. Nothing had changed. However much I desired to not see this, wished it would flee my memory, I was already realising that this would never happen. This scene was etched on my mind.
One of the worst feelings in life is betrayal, the realisation that everything one held true is false, or at least fatally flawed. That look in Holmes's eyes… I would have given anything to be able to forget that.
His footsteps had vanished into the distance. The victim was surely dead, but being a doctor I had to examine him to make sure. He was a young man, handsome, slightly foreign-looking, obviously well-appointed in society because of the tasteful rings on his fingers, the tailored suit… holed now, ripped and ruptured with the vicious thrusts of Holmes's blade. And dead, of course. His chest had been opened and his heart stolen away.
Perhaps he was a dreadful criminal, a murderer in his own right whom Holmes had been tracking, chasing, pursuing for days or weeks? I spent less time with Holmes now than I had in the past, and I was not involved in every case he took on. But… murder? Not Holmes. Whatever crime this dead man may have been guilty of, nothing could justify what my friend had done to him.
I suddenly had an intense feeling of guilt, kneeling over a corpse with fresh blood on my fingertips. If anyone rounded the corner at that moment I would have trouble explaining things, I was sure, not only because of the initial impression they would gain but also the shock I was in, the terror I felt at what I had witnessed.
The police should have been informed. I should have found a policeman or run to the nearest station, led them to the scene of the crime. I was probably destroying valuable evidence… but then I thought of Holmes, that crazy grin, and realised that I already knew the identity of the murderer.
Instead, something made me run. Loyalty to my old friend was a small part of it, but there was fear as well. I knew even then that things were not always as they seemed. Holmes had told me that countless times before, and I kept thinking impossible, impossible as I replayed the scene in my mind. But I trusted my eyes, I knew what I had seen. And in my mind's eye Holmes was still grinning manically… at me.
With each impact of my feet upon the pavement, the fear grew.
Holmes was the most brilliant man I had ever known. And even in his obvious madness, I knew that he was too far beyond and above the ordinary to ever be outsmarted, outwitted or tracked down. If his spree is to continue, I prayed, please God don't let him decide to visit an old friend.
I need not have worried about informing the police of the murder. They knew already.
The day following my terrible experience I begged sick, remaining at home in bed, close to tears on occasion as I tried to find room in my life for what I had seen. My thoughts were very selfish, I admit that, because I had effectively lost my very best friend to a horrendous madness. I could never have him back. My mind wandered much that day, going back to the times we had spent together and forward to the barren desert of existence which I faced without him. I liked my surgery, enjoyed my life… but there was a terrible blandness about things without the promise of Holmes being a part of it.
I mourned, conscious all the time of the shape of my army revolver beneath my pillow.
Mixed in with this was the conviction that I should tell the police of what I had seen. But then the evening papers came and somehow, impossibly, the terrible became even worse.
There had been a further six murders in the London streets the previous night, all very similar in execution and level of violence. In each case organs had been removed from the bodies, though not always the same ones. The heart from one, lungs from another, and a dead lady in Wimbledon had lost her brain to the fiend.
In four cases-including the murder I had witnessed-the stolen organs had been found somewhere in the surrounding areas. Sliced, laid out on the ground in very neat order, the sections sorted perfectly by size and thickness. Sometimes masticated gobs of the tissue were found as well, as if bitten off, chewed and spat out. Tasted. Tested.
And there were witnesses. Not to every murder, but to enough of them to make me believe that the murderer – Holmes, I kept telling myself, Holmes – wanted to be seen. Though here lay a further mystery: each witness saw someone different. One saw a tall, fat man, heavily furred with facial hair, dressed scruffy and grim. Another described a shorter man with decent clothes, a light cloak and a sword in each hand. The third witness talked of the murderous lady he had seen… the lady with great strength, for she had stood her victim against a wall and wrenched out the unfortunate's guts.
A mystery, yes, but only for a moment. Only until my knowledge of Holmes's penchant for disguise crept in, instantly clothing my memory of him from the previous night in grubby clothes, light cloak and then a lady's dress.
"Oh dear God," I muttered. "Dear God, Holmes, what is it my old friend? The cocaine? Did the stress finally break you? The strain of having a mind that cannot rest, working with such evil and criminal matters?"
The more I dwelled upon it the worse it all became. I could not doubt what I had seen, even though all logic, all good sense forbade it. I tried reason and deduction as Holmes would have, attempting to ignore the horrors of the case to pare it down to its bare bone, setting out the facts and trying to fill in the missing pieces. But memory was disruptive; I could not help visualising my friend hunkered down over the body, hacking at first and then moving instantly into a caring, careful slicing of the dead man's chest. The blood. The strange smell in the air, like sweet honey (and a clue there, perhaps, though I could do nothing with it).
Holmes's terrible, awful smile when he saw me.
Perhaps that was the worst. The fact that he seemed to be gloating.
I may well have remained that way for days, my feigned sickness becoming something real as my soul was torn to shreds by the truth. But on the evening of that first day following the crimes, I received a visit that spurred me to tell the truth.
Detective Inspector Jones, of Scotland Yard, came to my door looking for Holmes.
"It is a dreadful case," he said to me, "I've never seen anything like it." His face was pale with the memory of the corpses he must have been viewing that day. "Different witnesses saw different people, all across the south end of London. One man told me the murderer was his brother. And a woman, witness to another murder, was definitely withholding something personal to her. The murders themselves are so similar as to be almost identical in execution. The killing, then the extraction of an organ."
"It sounds terrible," I said lamely, because the truth was pressing to be spoken.
"It was," Jones nodded. Then he looked at me intently. "The papers did not say that at least three of the victims were alive when the organs were removed, and that was the method of their death."
"What times?" I asked.
"There was maybe an hour between the killings, from what we can work out. And yet different murderers in each case. And murderers who, I'm sure it will be revealed eventually, were all known to those bearing witness. Strange. Strange! Dr Watson, we've worked together before, you know of my determination. But this… this fills me with dread. I fear the sun setting tonight in case we have another slew of killings, maybe worse. How many nights of this will it take until London is in a panic? One more? Two? And I haven't a clue as to what it's all about. A sect, I suspect, made up of many members and needing these organs for some nefarious purpose of their own. But how to find them? I haven't a clue. Not a clue! And I'm sure, I'm certain, that your friend Sherlock Holmes will be fascinated with such a case."
Jones shook his head and slumped back in the armchair. He looked defeated already, I thought. I wondered what the truth would do to him. And yet I had to bear it myself, so I thought it only right to share. To tell. Holmes, my old friend… I thought fondly, and then I told Jones what I had seen.
He did not talk for several minutes. The shock on his face hid his thoughts. He stared into the fire as if seeking some alternate truth in there, but my words hung heavy, and my demeanour must have been proof enough to him that I did not lie.
"The different descriptions… " he said quietly, but I could sense that he had already worked that out.
"Disguises. Holmes is a master."
"Should I hunt Holmes? Seek him through the London he knows so well?"
"I do not see how," I said, because truly I thought ourselves totally out of control. Holmes would play whatever game he chose until its closure, and the resolution would be of his choosing. "He knows every street, every alley, shop to shop and door to door. In many cases he knows of who lives where, where they work and who they associate with. He can walk along a street and tell me stories of every house if he so chooses. He carries his card index in his brain, as well as boxed away at Baker Street. His mind… you know his mind, Mr Jones. It is endless."
"And you're sure, Dr Watson. Your illness has not blinded you, you haven't had hallucinations-"
"I am merely sick to the soul with what I have witnessed," I said. "I was fit and well yesterday evening."
"Then I must search him out," Jones said, but the desperation, the hopelessness in his voice told me that he had already given up. He stared into the fire some more and then stood, brushed himself down, a man of business again.
"I wish you luck," I said.
"Can you help?" Jones asked. "You know him better than anyone. You're his best friend. Have you any ideas, any reasoning as to why he would be doing these crimes, where he'll strike next?"
"None," I said. "It is madness, for sure." I wanted Jones gone then, out of my house and into the night. Here was the man who would hunt my friend, stalk him in the dark, send his men out armed and ready to shoot to kill if needs must. And whatever I had seen Holmes doing… that memory, horrible… I could not entertain the idea of his death.
Jones left and I jumped to my feet. He was right. I knew Holmes better than anyone, and after many years accompanying him as he had solved the most baffling of cases, I would hope that some of his intuition had rubbed off on me.
It was almost dark, red twilight kissing my window like diluted blood, and if tonight was to be like last night then my old friend was already stalking his first victim.
I would go to Baker Street. Perhaps there I would find evidence of this madness, and maybe even something that could bring hope of a cure.
The streets were very different that night.
There were fewer strollers, for a start. Many people had heard of the previous night's murders and chosen to stay at home. It was raining too, a fine mist that settled on one's clothes and soaked them instantly. Street lamps provided oases of half-light in the dark and it was these I aimed for, darting as quickly as I could between them. Even then, passing beneath the lights and seeing my shadow change direction, I felt more vulnerable than ever. I could not see beyond the lamps' meagre influence and it lit me up for anyone to see, any stranger lurking in the night, any friend with a knife.
I could have found my way to Baker Street in the dark. I walked quickly and surely, listening out for any hint of pursuit. I tried to see into the shadows but they retained their secrets well.
Everything felt changed. It was not only my new-found fear of the dark, but the perception that nothing, nothing is ever exactly as it seems. Holmes had always known that truth is in the detail, but could even he have ever guessed at the destructive parts in him, the corrupt stew of experience and knowledge and exhaustion that had led to this madness? It was a crueller London I walked through that night. Right and wrong had merged and blurred in my mind, for as sure as I was that what Holmes had done was wrong, it could never be right to hunt and kill him for it.
I had my revolver in my pocket, but I prayed with every step that I would not be forced to use it.
Shadows jumped from alleys and skirted around rooftops, but it was my imagination twisting the twilight. By the time I reached Baker Street it was fully dark, the moon a pale ghost behind London 's smog.
I stood outside for a while, staring up at Holmes's window. There was no light there, of course, and no signs of habitation, but still I waited for a few minutes, safe in the refuge of memory. He would surely never attack here, not in the shadow of his long-time home. No, I feared that he had gone to ground, hidden himself away in some unknown, unknowable corner of London, or perhaps even taken his madness elsewhere in the country.
There was a sound behind me and I spun around, fumbling in my pocket for my revolver. It had been a shallow pop, as of someone opening their mouth in preparation to speak. I held my breath and aimed the revolver from my waist. There was nothing. The silence, the darkness felt loaded, brimming with secrets and something more terrible… something…
"Holmes," I said. But he would not be there, he was not foolish, not so stupid to return here when he was wanted for some of the most terrible murders-
"My friend."
I started, tried to gauge where the voice had come from. I tightened my grip on the pistol and swung it slowly left and right, ready to shoot should anything move. I was panicked, terrified beyond belief. My stomach knotted and cramped with the idea of a knife parting its skin and delving deeper.
"Is that you Holmes?"
More silence for a while, so that I began to think I was hearing things. It grew darker for a moment as if something had passed in front of the moon; I even glanced up, but there was nothing in the sky and the moon was its usual wan self.
"You feel it too!" the voice said.
"Holmes, please show yourself."
"Go to my rooms. Mrs Hudson hasn't heard of things yet, she will let you in and I will find my own way up there."
He did not sound mad. He sounded different, true, but not mad.
"Holmes, you have to know-"
"I am aware of what you saw, Watson, and you would do well to keep your revolver drawn and aimed ahead of you. Go to my rooms, back into a corner, hold your gun. For your sanity, your peace of mind, it has to remain between us for a time."
"I saw… Holmes, I saw… "
"My rooms."
And then he was gone. I did not hear him leave, caught sight of nothing moving away in the dark, but I knew that my old friend had departed. I wished for a torch to track him, but Holmes would have evaded the light. And in that thought I found my continuing belief in Holmes's abilities, his genius, his disregard for the normal levels of reasoning and measures of intelligence.
The madness he still had, but… I could not help but trust him.
From the distance, far, far away, I heard what may have been a scream. There were foxes in London, and thousands of wild dogs, and some said that wolves still roamed the forgotten byways of this sprawling city. But it had sounded like a human cry.
He could not possibly have run that far in such short a time.
Could he?
Mrs Hudson greeted me and was kind enough to ignore my preoccupation as I climbed the stairs to Holmes's rooms.
There was another scream in the night before Holmes appeared.
I had opened the window and was standing there in the dark, looking out over London and listening to the sounds. The city was so much quieter during the night, which ironically made every sound that much louder. The barking of a dog swept across the neighbourhood, the crashing of a door echoed from walls and back again. The scream… this time it was human, I could have no doubt of that, and although even further away than the one I had heard earlier I could still make out its agony. It was followed seconds later by another cry, this one cut short. There was nothing else.
Go to my rooms, back into a corner, hold your gun, Holmes had said. I remained by the window. Here was escape, at least, if I needed it. I would probably break my neck in the fall, but at least I was giving myself a chance.
I've come to his rooms! I thought. Fly to a spider. Chicken to a fox's den. But even though his voice had been very different from usual-more strained-I could not believe that the Holmes who had spoken to me minutes before was out there now, causing those screams.
I thought briefly of Detective Inspector Jones, and hoped that he was well.
"I am sure that he is still alive," Holmes said from behind me. "He is too stupid to not be."
I spun around and brought up the revolver. Holmes was standing just inside the door. He had entered the room and closed the door behind him without me hearing. He was breathing heavily, as if he had just been running, and I stepped aside to let in the moonlight, terrified that I would see the black stain of blood on his hands and sleeves.
"How do you know I was thinking of Jones?" I asked, astounded yet again by my friend's reasoning.
"Mrs Hudson told me that he had been here looking for me. I knew then that you would be his next port of call in his search, and that you would inevitably have been forced by your high morals to relay what you have so obviously seen. You know he is out there now, hunting me down. And the scream… it sounded very much like a man, did it not?"
"Turn on the light, Holmes," I said.
I think he shook his head in the dark. "No, it will attract attention. Not that they do not know where we are… they must… fear, fear smells so sweet… to bees… "
"Holmes. Turn on the light or I will shoot you." And right then, standing in the room where my friend and I had spent years of our lives in pleasurable and business discourse, I was telling the truth. I was frightened enough to pull the trigger, because Holmes's intellect would bypass my archaic revolver, however mad he sounded. He would beat me. If he chose to-if he had lured me here to be his next victim-he would kill me.
"Very well," my friend said. "But prepare yourself Watson. It has been a somewhat eventful twenty-four hours."
The lamp flicked alight.
I gasped. He looked like a man who should be dead.
"Do not lower that revolver!" he shouted suddenly. "Keep it on me now, Watson. After what you think you saw me doing, lower your guard and you are likely to shoot me at the slightest sound or movement. That's right. Here. Aim it here." He thumped his chest and I pointed the gun that way, weak and shocked though I was.
"Holmes… you look terrible!"
"I feel worse." From Holmes that was a joke, but I could not even raise a smile. Indeed, I could barely draw a breath. Never had Holmes looked so unkempt, exhausted and bedraggled. His normally immaculate clothing was torn, muddied and wet, and his hair was sticking wildly away from his scalp. His hands were bloodied-I saw cuts there, so at least for the moment I could believe that it was his own blood-his cheek was badly scratched in several places and there was something about his eyes… wide and wild, they belied the calm his voice conveyed.
"You're mad," I said, unable to prevent the words from slipping out.
Holmes smiled, and it was far removed from that maniacal grin he had offered me as he crouched over the dying man.
"Do not jump to conclusions, Watson. Have you not learned anything in our years together?"
My hand holding the gun was starting to shake, but I kept it pointing at my friend across the room.
"I have to take you in, you know that? I will have to take you to the station. I cannot… I cannot… "
"Believe?"
I nodded. He was already playing his games, I knew. He would talk me around, offer explanations, convince me that the victims deserved to die or that he had been attacked… or that there was something far, far simpler eluding me. He would talk until he won me over, and then his attack would come.
"I cannot believe, but I must," I said, a new-found determination in my voice.
"Because you saw it? Because you saw me killing someone you must believe that I did, in fact, kill?"
"Of course."
Holmes shook his head. He frowned and for an instant he seemed distant, concentrating on something far removed from Baker Street. Then he glanced back at me, looked to the shelf above the fire and sighed.
"I will smoke my pipe, if you don't mind Watson. It will put my mind at rest. And I will explain what I know. Afterwards, if you still wish to take me in, do so. But you will thereby be condemning countless more to their deaths."
"Smoke," I said, "and tell me." He was playing his games, playing them every second…
Holmes lit a pipe and sat in his armchair, legs drawn up so that the pipe almost rested on his knees. He looked at the far wall, not at me where I remained standing by the window. I lowered the revolver slightly, and this time Holmes did not object.
I could see no knives, no mess on his hands other than his own smeared blood. No mess on his chin from the masticated flesh of the folks he had killed.
But that proved nothing.
"Have you ever looked into a mirror and really concentrated on the person you see there? Try it, Watson, it is an interesting exercise. After an hour of looking you see someone else. You see, eventually, what a stranger sees, not the composite picture of facial components with which you are so familiar, but individual parts of the face-the big nose, the close-together-eyes. You see yourself as a person. Not as you."
"So what are you trying to say?"
"I am saying that perception is not definite, nor is it faultless." Holmes puffed at his pipe, then drew it slowly away from his mouth. His eyes went wide and his brow furrowed. He had had some thought, and habit made me silent for a minute or two.
He glanced back up at me then, but said nothing. He looked more troubled than ever.
"I saw you killing a man, Holmes," I said. "You killed him and you laughed at me, and then you tore him open and stole his heart."
"The heart, yes," he said, looking away and disregarding me again. "The heart, the brain… parts, all part of the one… constituents of the same place… " He muttered on until his voice had all but vanished, though his lips still moved.
"Holmes!"
"It has gone quiet outside. They are coming." He said it very quietly, looked up at me from sad, terrified eyes, and I felt a cool finger run down my spine. They're coming. He did not mean Jones or the police, he did not mean anyone. No man scared Holmes as much as he was then.
"Who?" I asked. But he darted from his seat and ran at me, shoving me aside so that we stood on either side of the window.
"Listen to me, Watson. If you are my friend, if you have faith and loyalty and if you love me, you have to believe two things in the next few seconds if we are to survive: the first is that I am not a murderer; the second is that you must not trust your eyes, not for however long this may take. Instinct and faith, that is what you can believe in, because they cannot change that. It is too inbuilt, perhaps, too ingrained, I don't know… "
He was mumbling again, drifting in and out of coherence. And I knew that he could have killed me. He had come at me so quickly, my surprise was so complete, that I had plain forgotten the gun in my hand.
And now, the denial.
Doubt sprouted in my mind and grew rapidly as I saw the look on Holmes's face. I had seen it before, many times. It was the thrill of the chase, the excitement of discovery, the passion of experience, the knowledge that his reasoning had won out again. But underlying it all was a fear so profound that it sent me weak at the knees.
"Holmes, what are they?"
"You ask What, Watson, not Who. Already you're half way to believing. Quiet! Look! There, in the street!"
I looked. Running along the road, heading straight for the front door of Holmes's building, came Sherlock Holmes himself.
"I think they will come straight for me," Holmes whispered. "I am a threat."
"Holmes… " I could say little. The recent shocks had numbed me, and seemed now to be pulling me apart, hauling reality down a long, dark tunnel. I felt distanced from my surroundings even though, at that moment, I knew that I needed to be as alert and conscious of events as possible.
"Don't trust your eyes!" he hissed at me.
That man, he had been running like Holmes, the same loping stride, the same flick of the hair with each impact of foot upon pavement. The same look of determination on his face.
"Faith, Watson," Holmes said. "Faith in God if you must, but you must have faith in me, us, our friendship and history together. For there, I feel, will lie the answer."
There came the sound of heavy footsteps on the stairs.
"I will get them, it, the thing on the floor," Holmes said, "and you shoot it in the head. Empty your revolver, one shot may not be enough. Do not baulk, my friend. This thing here, tonight, is far bigger than just the two of us. It is London we're fighting for. Maybe more."
I could not speak. I wished Jones were there with us, someone else to make decisions and take blame. Faith, I told myself, faith in Holmes.
I had seen him kill a man.
Don't trust your eyes.
He was bloodied and dirtied from the chase, hiding from the crimes he had committed.
I am not a murderer.
And then the door burst open and Sherlock Holmes stood in the doorway lit by the lamp-tall, imposing, his clothes tattered and muddied, his face scratched, hands cut and bloodied-and I had no more time.
The room suddenly smelled of sweet honey, and turning my head slightly to look at the Holmes standing with me at the window, I caught sight of something from the corner of my eye. The Holmes in the doorway seemed to have some things buzzing about his head.
I looked straight at him and they were no more. Then he gave me the same smile I had seen as he murdered that man.
"Watson!" Holmes said, reaching across the window to grasp my arms. "Faith!"
And then the new visitor smashed the lamp with a kick, and leapt at us.
I backed away. The room was dark now, lit only by pale moonlight and the paler starlight filtering through London 's constant atmosphere. I heard a grunt, a growl, the smashing of furniture and something cracking as the two Holmes tumbled into the centre of the room. I quickly became confused as to which was which.
"Away!" I heard one of them shout. "Get away! Get away!" He sounded utterly terrified. "Oh God, oh sanity, why us!"
I aimed my revolver but the shapes rolled and twisted, hands at each other's necks, eyes bulging as first one and then the other Holmes presented his face for me to shoot. I stepped forward nonetheless, still smelling that peculiar honey stench, and something stung my ankle, a tickling shape struggling inside my trousers. I slapped at it and felt the offender crushed against my leg.
Bees.
"Watson!" Holmes shouted. I pulled down the curtains to let in as much moonlight as I could. One Holmes had the other pinned to the floor, hands about his neck. "Watson, shoot it!" the uppermost Holmes commanded. His face was twisted with fear, the scratches on his cheek opened again and leaking blood. The Holmes on the floor thrashed and gurgled, choking, and as I looked down he caught my eye. Something there commanded me to watch, held my attention even as the Holmes on top exhorted me to shoot, shoot, shoot it in the face!
The vanquished Holmes calmed suddenly and brought up a hand holding a handkerchief. He wiped at the scratches on his face. They disappeared. The blood smudged a little, but with a second wipe it too had gone. The scratches were false, the blood fake.
The Holmes on top stared for a couple of seconds, and then looked back at me. A bee crawled out of his ear and up over his forehead. And then the scratches on his own cheek faded and disappeared before my eyes.
He shimmered. I saw something beneath the flesh-toned veneer, something crawling and writhing and separate, yet combined in a whole to present an image of solidness…
Bees left this whole and buzzed around the impostor's head. Holmes was still struggling on the floor, trying to prise away hands that were surely not hands.
The image pulsed and flickered in my vision, and I remembered Holmes's words: you cannot trust your eyes… instinct and faith, that is what you can believe in…
I stepped forward, pressed the revolver against the uppermost Holmes's head and pulled the trigger. Something splashed out across the floor and walls, but it was not blood.
Blood does not try to crawl away, take flight, buzz at the light.
My pulling the trigger-that act bridging doubt and faith-changed everything.
The thing that had been trying to kill Holmes shimmered in the moonlight. It was as if I was seeing two images being quickly flickered back and forth, so fast that my eyes almost merged them into one, surreal picture. Holmes… the thing… Holmes… the thing. And the thing, whatever it is, was monstrous.
"Again!" Holmes shouted. "Again, and again!"
I knelt so that my aim did not stray towards my friend and fired again at that horrible shape. Each impact twisted it, slowing down the alternating of images as if the bullets were blasting free truth itself. What I did not know then, but would realise later, was that the bullets were defining the truth. Each squeeze of the trigger dealt that thing another blow, not only physically but also in the nature of my beliefs. I knew it to be a false Holmes now, and that made it weak.
The sixth bullet hit only air.
It is difficult to describe what I saw in that room. I had only a few seconds to view its ambiguous self before it came apart, but even now I cannot find words to convey the very unreality of what I saw, heard and smelled. There was a honey tang on the air, but it was almost alien, like someone else's memory. The noise that briefly filled the room could have been a voice. If so it was speaking in an alien tongue, and I had no wish to understand what it was saying. A noise like that could only be mad.
All I know is that a few seconds after firing the last bullet Holmes and I were alone. I was hurriedly reloading and Holmes was already up, righting the oil lamp and giving us light. I need not have panicked so, because we were truly alone.
Save for the bees. Dead or dying, there were maybe a hundred bees spotting the fine carpet, huddled on the windowsill or crawling behind chairs or objects on the mantelpiece to die. I had been stung only once, Holmes seemed to have escaped entirely, but the bees were expiring even as we watched.
"Dear God," I gasped. I went to my knees on the floor, shaking, my shooting hand no longer able to bear the revolver's weight.
"Do you feel faint, my friend?" Holmes asked.
"Faint, no," I said. "I feel… belittled. Does that make sense, Holmes? I feel like a child who has been made aware of everything he will ever learn, all at once."
"There are indeed more things in Heaven and Earth, Watson," Holmes said. "And I believe we have just had a brush with one of them." He too had to sit, nursing his bruised throat with one hand while the other wiped his face with the handkerchief, removing any remaining make-up. He then cleaned the blood from both hands and washed away the false cuts there as well. He seemed distracted as he cleansed, his eyes distant, and more than once I wondered just where they were looking, what they were truly seeing.
"Can you tell me, Holmes?" I asked. I looked about the room, still trying to imagine where that other being had gone but knowing, in my heart of hearts, that its nature was too obscure for my meagre understanding. "Holmes? Holmes?"
But he was gone, his mind away as was its wont, searching the byways of his imagination, his intellect steering him along routes I could barely imagine as he tried to fathom the truth in what we had seen. I stood and fetched his pipe, loaded it with tobacco, lit it and placed it in his hand. He held on it but did not take a draw.
He remained like that until Jones of Scotland Yard thundered through the door.
"And you have been with him for how long?" Jones asked again.
"Hours. Maybe three."
"And the murderer? You shot him, yet where is he?"
"Yes, I shot him. It. I shot it."
I had told Jones the outline of the story three times, and his disbelief seemed to be growing with each telling. Holmes's silence was not helping his case.
Another five murders, Jones had told me. Three witnessed, and each of the witnesses identified a close friend or family member as the murderer.
I could only offer my own mutterings of disbelief. Even though I had an inkling now-however unreal, however unbelievable, Holmes's insistence that the improbable must follow the impossible stuck with me-I could not voice the details. The truth was too crazy.
Luckily, Holmes told it for me. He stirred and stood suddenly, staring blankly at me for a time as if he had forgotten I was there.
"Mr Holmes," Jones said. "Your friend Dr Watson here, after telling me that you were a murderer, is now protesting your innocence. His reasoning I find curious to say the least, so it would benefit me greatly if I could hear your take on the matter. There were gunshots here, and I have no body, and across London there are many more grieving folks this evening."
"And many more there will be yet," Holmes said quietly. "But not, I think, for a while." He relit his pipe and closed his eyes as he puffed. I could see that he was gathering his wits to expound his theories, but even then there was a paleness about him, a frown that did not belong on his face. It spoke of incomplete ideas, truths still hidden from his brilliant mind.
It did not comfort me one bit.
"It was fortunate for London, and perhaps for mankind itself, that I bore witness to one of the first murders. I had taken an evening stroll after spending a day performing some minor biological experiments on dead rodents, when I heard something rustling in the bushes of a front garden. It sounded larger than a dog, and when I heard what can only have been a cry I felt it prudent to investigate.
"What I saw… was impossible. I knew that it could not be. I pushed aside a heavy branch and witnessed an old man being operated on. He was dead by the time my gaze fell upon him, that was for sure, because the murderer had opened his guts and was busy extracting kidneys and liver. And the murderer, in my eyes, was the woman Irene Adler."
"No!" I gasped. "Holmes, what are you saying?"
"If you would let me continue, Doctor, all will become clear. Clearer, at least, because there are many facets to this mystery still most clouded in my mind. It will come, gentlemen, I am sure, but… I shall tell you. I shall talk it through, tell you, and the truth will mould itself tonight.
"And so: Adler, the woman herself, working on this old man in the garden of an up-market London house. Plainly, patently impossible and unreal. And being the logically minded person I am, and believing that proof defines truth rather than simply belief, I totally denied the truth of what I was seeing. I knew it could not be because Adler was a woman unfamiliar with, and incapable of, murder. And indeed she has not been in the country for quite some years now. My total disregard for what I was seeing meant that I was not viewing the truth, that something abnormal was occurring. And strange as it seemed at the time-but how clear it is now!-the woman had been heavily on my mind as I had been strolling down that street."
"Well to hear you actually admit that, Holmes, means that it is a great part of this mystery."
"Indeed," Holmes said to me, somewhat shortly. "My readiness to believe that something, shall we say, out of this world was occurring enabled me to see it. I saw the truth behind the murderer, the scene of devastation. I saw… I saw… " He trailed off, staring from the window at the ghostly night. Both Jones and I remained silent, seeing the pain Holmes was going through as he tried to continue.
"Terrible," he said at last. "Terrible."
"And what I saw," I said, trying to take up from where Holmes had left off, "was an impersonator, creating Holmes in his own image-"
"No," Holmes said. "No, it created me in your image, Watson. What you saw was your version of me. This thing delved into your mind and cloaked itself in the strongest identity it found in there: namely, me. As it is with the other murders, Mr Jones, whose witnesses no doubt saw brothers and wives and sons slaughtering complete strangers with neither rhyme, nor reason."
"But the murderer," Jones said. "Who was it? Where is he? I need a corpse, Holmes. Watson tells me that he shot the murderer, and I need a corpse."
"Don't you have enough already?" Holmes asked quietly. I saw the stare he aimed at Jones. I had never been the subject of that look, never in our friendship, but I had seen it used more than a few times. Its intent was borne of a simmering anger. Its effect, withering.
Jones faltered. He went to say something else, stammered and then backed away towards the door. "Will you come to the Yard tomorrow?" he asked. "I need help. And… "
"I will come," Holmes said. "For now, I imagine you have quite some work to do across London this evening. Five murders, you say? I guess at least that many yet to be discovered. And there must be something of a panic in the populace that needs calming."
Jones left. I turned to Holmes. And what I saw shocked me almost as much as any event from the previous twenty-four hours.
My friend was crying.
"We can never know everything," Holmes said, "but I fear that everything knows us."
We were sitting on either side of the fire. Holmes was puffing on his fourth pipe since Jones had left. The tear tracks were still unashamedly glittering on his cheeks, and my own eyes were wet in sympathy.
"What did it want?" I asked. "What motive?"
"Motive? Something so unearthly, so alien to our way of thinking and understanding? Perhaps no motive is required. But I would suggest that examination was its prime concern. It was slaughtering and slicing and examining the victims just as casually as I have, these last few days, been poisoning and dissecting mice. The removed organs displayed that in their careful dismantling."
"But why? What reason can a thing like that have to know our make up, our build?"
Holmes stared into the fire and the flames lit up his eyes. I was glad. I could still remember the utter vacancy of the eyes I had seen on his likeness as it hunkered over the bloody body.
"Invasion," he muttered, and then he said it again. Or perhaps it was merely a sigh.
"Isn't it a major fault of our condition that, the more we wish to forget something, the less likely it is that we can," I said. Holmes smiled and nodded, and I felt a childish sense of pride from saying something of which he seemed to approve.
"Outside," said Holmes, "beyond what we know or strive to know, there is a whole different place. Somewhere which, perhaps, our minds could never know. Like fitting a square block into a round hole, we were not built to understand."
"Even you?"
"Even me, my friend." He tapped his pipe out and refilled it. He looked ill. I had never seen Holmes so pale, so melancholy after a case, as if something vast had eluded him. And I think I realised what it was even then: understanding. Holmes had an idea of what had happened and it seemed to fit neatly around the event, but he did not understand. And that, more than anything, must have done much to depress him.
"You recall our time in Cornwall, our nightmare experience with the burning of the Devil's Foot powder?"
I nodded. "How could I forget."
"Not hallucinations," he said quietly. "I believe we were offered a drug-induced glimpse beyond. Not hallucinations, Watson. Not hallucinations at all."
We sat silently for a few minutes. As dawn started to dull the sharp edges of the darkness outside, Holmes suddenly stood and sent me away.
"I need to think on things," he said urgently. "There's much to consider. And I have to be more prepared for the next time. Have to be."
I left the building tired, cold and feeling smaller and more insignificant than I had ever thought possible. I walked the streets for a long time that morning. I smelled fear on the air, and one time I heard a bee buzzing from flower to flower on some honeysuckle. At that I decided to return home.
My revolver, still fully loaded, was warm where my hand grasped it in my coat pocket.
I walked along Baker Street every day for the next two weeks. Holmes was always in his rooms, I could sense that, but he never came out, nor made any attempt to contact me. Once or twice I saw his light burning and his shadow drifting to and fro inside, slightly stooped, as if something weighed heavy on his shoulders.
The only time I saw my brilliant friend in that time, I wished I had not. He was standing at the window staring out into the twilight, and although I stopped and waved he did not notice me.
He seemed to be looking intently across the rooftops as if searching for some elusive truth. And standing there watching him I felt sure that his eyes, glittering dark and so, so sad, must have been seeing nothing of this world.
The Case of the Bloodless Sock by Anne Perry
Anne Perry is the bestselling, Edgar Award-winning author of many novels and two long-running Victorian-era mystery series; the first of these, which began with The Cater Street Hangman, chronicles the cases of police inspector Thomas Pitt, while the other, beginning with The Face of a Stranger, recounts the adventures of the amnesiac detective William Monk. Perry is also the author of a historical fiction series set during World War I (No Graves As Yet, et seq.), and two fantasy novels, Tathea and Come Armageddon. Her latest novels are Buckingham Palace Gardens and Execution Dock, with A Christmas Promise due in October.
***
Everyone knows Professor Moriarty as the arch-nemesis of Sherlock Holmes, but most people would probably be surprised to learn that Moriarty appeared in person in only one of Conan Doyle's Holmes stories, "The Final Problem." The author was ready to bring his Sherlock Holmes tales to a suitably dramatic conclusion, and Professor Moriarty-the Napoleon of crime, who pulls the strings of a vast criminal conspiracy-was invented to be a suitably imposing adversary, a match for the great detective, whose downfall would allow Sherlock Holmes to go out in a blaze of glory. (The character Moriarty was partially based on Adam Worth, a cultured master criminal who once stole a valuable Thomas Gainsborough painting only to discover that he liked the painting too much to sell it, which angered the men who had helped him steal it. Interestingly, Worth also-unlike Moriarty-ordered his men not to use violence in the course of their robberies.) Of course, the audience wanted more Holmes, and more Moriarty too, and so Moriarty has subsequently enjoyed a long and notorious career in books, film, and TV. Moriarty returns again in this next tale, with a characteristically diabolical scheme.
***
There had been no cases of any interest for some weeks, and my friend Sherlock Holmes was bored by the trivia that came his way. His temper showed it to the degree where I was happy to accept an invitation from an old friend, Robert Hunt, a widower who lived in the country, not far from the handsome city of Durham.
"By all means go, Watson," Holmes encouraged, except that that is far too joyful and heartening a word for the expression on his face that accompanied it. "Take the afternoon train," he added, scowling at the papers in front of him. "At this time of the year you will be in your village, wherever it is, before dark. Good-bye."
Thus was I dismissed. And I admit, I left without the pleasure I would have felt with a more sanguine farewell.
However the late summer journey northward from London toward the ever-widening countryside of Yorkshire, and then the climb to the dales, and the great, bare moors of County Durham, improved my spirits greatly. By the time I had taken the short, local journey to the village where Robert Hunt had his very fine house, I was smiling to myself, and fully sensitive to the peculiar beauty of that part of the world. There is nothing of the comfortable Home Counties about it, but rather a width, a great clarity of light, and rolling moorland where hill upon hill disappears into the distance, fading in subtle shades of blues and purples until the horizon melts into the sky. As I came over the high crest and looked down toward the village, it was as if I were on the roof of the world. I had almost a giddy feeling.
I had wired ahead to inform Hunt of my arrival. Imagine then, my dismay at finding no one to meet me at the deserted station, and being obliged to set out in the darkening air, chillier than I am accustomed to, being so much further north and at a considerable altitude, carrying my suitcase in my hand.
I had walked some four miles, and was worn out both from exertion and from temper, when an elderly man in a pony trap finally offered me a lift, which I accepted, and then arrived at Morton Grange tired, dusty and in far from my best humor.
I had barely set my feet upon the ground when a man I took to be a groom came running around the corner of the house, a wild hope lighting his face. "Have you found her?" he cried to me. From my bewilderment he understood immediately that I had not, and despair overtook him, the greater after his momentary surge of belief.
I was concerned for him and his obviously deep distress. "I regret I have not," I said. "Who is lost? Can I assist in your search?"
"Jenny!" he gasped. "Jenny Hunt, the master's daughter. She's only five years old! God knows where she is! She's been gone since four this afternoon, and it's near ten now. Whoever you are, sir, in pity's name, help me look-although where else there is to search I can't think."
I was appalled. How could a five-year-old child, and a girl at that, have wandered off and been gone for such a time? The light was fading rapidly and even if no harm had come to her already, soon she would be in danger from the cold, and surely terrified.
"Of course!" I said, dropping my case on the front step and starting toward him. "Where shall I begin?"
There followed one of the most dreadful hours I can remember.
My friend Robert Hunt acknowledged my presence, but was too distraught with fear for his only child to do more than thank me for my help, and then start once more to look again and again in every place we could think of. Servants had already gone to ask all the neighbors even though the closest was quarter of a mile away.
In the dark, lanterns were visible in every direction as more and more people joined in the search. We would not have given up had it taken all night. Not a man of us, nor a woman, for the female staff was all out too, even gave our comfort, our hunger or our weariness a thought.
Then at some time just after midnight there went up a great shout, and even at the distance I was, and unable to hear the words, the joy in it told me the child was found, and they believed her unhurt. I confess the overwhelming relief after such fear brought momentary tears to my eyes, and I was glad of the wind and the darkness to conceal them.
I ran toward the noise, and moments later I saw Hunt clasping in his arms a pale and frightened child who clung onto him frantically, but seemed in no way injured. A great cheer went up from all those who had turned out to search for her, and we all tramped back to the house where the cook poured out wine and spices into a great bowl, and the butler plunged a hot poker into it.
"Thanks be to God!" Hunt said, his voice shaking with emotion. "And to all of you, my dear friends." He looked around at us, shivering with cold still, hands numb, but face shining with happiness. We needed two hands each to hold the cups that were passed around, and the hot wine was like fire in our throats.
We quickly parted as relaxation took over, and the nursemaid, chattering with laughter and relief, took the child up to put her to bed.
It was not until the following morning-all of us having slept a trifle late-as Hunt and I were sitting over breakfast, that he looked at me earnestly and spoke of the mystery that still lay unaddressed.
"I am very exercised in my mind, Watson, as to how to deal with the matter for the best. Jenny is devoted to Josephine, the nursemaid. Yet how can I keep in my employ a servant who could allow a child of five to wander off and become lost? And yet if I dismiss her, Jenny will be desolated. The girl is all but a mother to her, and since her own mother died… " His voice broke for a moment and he required some effort to regain his composure. "Advise me, Watson!" he begged. "What can I do that will bring about the least harm? And yet be just… and not place Jenny in danger again?"
It was a problem that had already occurred to me, but I had not thought he would ask my counsel. I had observed for myself on the previous evening the nursemaid's care for the child, and the child's deep affection for her. Indeed after the first relief of being found, it was to her that she turned, even when her father still clung to her. It might well do her more hurt to part her from the only female companionship and care that she knew, than even the fear of being lost. She had already been bereaved once in her short life. In spite of last night's events I thought it a certain cruelty to dismiss the maid. Perhaps she would now be even more careful than any new employee would, and I was in the process of saying so, when the butler came in with a note for Hunt.
"This was just delivered, sir," he said grimly.
We had already received the post, and this had no stamp upon it, so obviously it had come by hand. Hunt tore it open, and as he read it I saw his face lose all its color and his hand shook as if he had a fever.
"What is it?" I cried, although it might well have been none of my affair.
Wordlessly he passed it across to me.
Dear Mr. Hunt,
Yesterday you lost your daughter, and last night at exactly twelve of the clock you received her back again. You may take any precautions you care to, but they will not prevent me from taking her again, any time I choose, and returning her when, and if I choose.
And if it is my mind not to, then you, will never see her again.
M.
I confess my own hand was shaking as I laid the piece of paper down. Suddenly everything was not the happy ending to a wretched mischance, it had become the beginning of a nightmare. Who was "M," but far more pressing than that, what did he want? He made no demand, it was simply a terrible threat, leaving us helpless to do anything about it, even to comply with his wishes, had that been possible. I looked across at my friend, and saw such fear in his face as I have only ever seen before when men faced death and had not the inner resolve prepared for it. But then a good man is always more vulnerable for those he loves than he is for himself.
Hunt rose from the table. "I must warn the servants," he said, gaining some control as he thought of action. "I have shotguns sufficient for all the outdoor staff, and we shall keep the doors locked and admit no one unknown to us. The windows have locks and I myself shall make the rounds every night to see that all is secure." He went to the door. "Excuse me, Watson, but I am sure you understand I must be about this matter with the utmost urgency."
"Of course," I agreed, rising also. My mind was racing. What would Sherlock Holmes do were he here? He would do more than defend, he would attack. He would discover all he could about the nature and identity of this creature who called himself "M." Hunt's mind was instantly concerned in doing all he could to protect the child, but I was free to apply my intelligence to the problem.
My medical experience has been with military men and the diseases and injuries of war, nevertheless I believe I may have a manner toward those who are frightened or ill which would set them at as much ease as possible. Therefore I determined to seek permission of the nursemaid, and see if I might speak with Jenny herself, and learn what she could tell me of her experience.
The maid was naturally deeply reluctant to pursue anything which might distress the child, of whom she was extraordinarily fond. I judged her to be an honest and good-hearted young woman such as anyone might choose to care for an infant who had lost her own mother. However the fact that I was a guest in the house, and above all that I was a doctor, convinced her that my intentions and my skill were both acceptable.
I found Jenny sitting at her breakfast of bread and butter cut into fingers, and a soft-boiled egg. I waited until she had finished eating before addressing her. She seemed to be little worse for her kidnap, but then of course she had no idea that the threat of that again, and worse, awaited her.
She looked at me guardedly, but without alarm, as long as her nursemaid stayed close to her.
"Good morning, Dr. Watson," she replied when I had introduced myself. I sat down on one of the small nursery chairs, so as not to tower over her. She was a beautiful child with very fair hair and wide eyes of an unusually dark blue.
"Are you all right after your adventure, yesterday night?" I asked her.
"Yes, I don't need any medicine," she said quickly. It seemed that her last taste of medicine was not one she wished to repeat.
"Good," I agreed. "Did you sleep well?"
The question did not appear to have much meaning for her. I had forgotten in the face of her solemn composure just how very young she was.
"You did not have bad dreams?" I asked.
She shook her head.
"I'm glad. Can you tell me what happened?"
"I was in the garden," she said, her eyes downcast.
"What were you doing there?" I pressed her. It was important that I learn all I could.
"Picking flowers," she whispered, then looked up at me to see how I took that. I gathered that was something she was not supposed to do.
"I see." I dismissed the subject and she looked relieved. "And someone came and spoke to you? Someone you did not know?"
She nodded.
"What did he look like? Do you remember?"
"Yes. He was old. He had no hair at the front," she indicated her brow. "His face was white. He is very big, but thin, and he talked a funny way."
"Was his hair white?" What was her idea of old?
She shook her head.
"What did you call him?" That might give some clue.
"Fessa," she replied.
"Fessa?" What an odd name.
"No!" she said impatiently. "P'fessa!" This time she emphasized the little noise at the beginning.
"Professor?" I said aghast.
She nodded. A ridiculous and horrible thought began to form in my mind. "He was thin, and pale, with a high forehead. Did he have unusual eyes?" I asked.
She shivered, suddenly the remembered fear returned to her. The nursemaid took a step closer and put her arms around the child, giving me a glare, warning me to go no further. In that moment I became convinced within myself that it was indeed Professor Moriarty that we were dealing with, and why he had kidnapped a child and returned her with a fearful warning, would in time become only too apparent.
"Where did he take you?" I asked with more urgency in my tone than I had intended.
She looked at me with anxiety. "A house," she said very quietly. "A big room."
How could I get her to describe it for me, without suggesting her answers so they would be of no value?
"Did you ride in a carriage to get there?" I began.
She looked uncertain, as if she could have said yes, and then no.
"In something else?" I guessed.
"Yes. A little kind of carriage, not like ours. It was cold."
"Did you go very far?"
"No."
I realized after I had said it that it was a foolish question. What was far in a child's mind? Holmes would chastise me for such a pointless waste of time.
"Was it warm in the room? Was there a fire?"
"No."
"Who was there, besides the Professor? Did they give you anything to eat?"
"Yes. I had teacakes with lots of butter." She smiled as she said that, apparently the memory was not unpleasant. But how could I get her to tell me something that would help find the place where she had been taken, or anything whatever which would be of use in preventing Moriarty from succeeding in his vile plan? "Did you go upstairs?" I tried.
She nodded. "Lots," she answered, looking at me solemnly. "I could see for miles and miles and miles out of the window."
"Oh?" I had no need to feign my interest. "What did you see?"
She described an entire scene for me with much vividness. I had no doubt as to at least the general area in which she had been held. It was a tall house, from the stairs she climbed, at least three stories, and situated a little to the west of the nearby village of Hampden. I thanked her profoundly, told her she was very clever, which seemed to please her, and hastened away to tell my friend Hunt of our advance in information. However I did not mention that I believed our enemy to be the infamous Moriarty.
"I have reason to think that the matter is of great gravity," I said as we sat in his study, he still ashen-faced and so beset with anxiety he was unable to keep from fidgeting first with a paper knife, then with a quill, scribbling as if he had ink in it but merely damaging the nib.
"What does he want?" he burst out in desperation. "I cannot even comply! He asks for nothing!"
"I would like your permission to go into the village and send a wire to my friend Sherlock Holmes," I replied. "I think he would involve himself in this matter willingly, and I know of no better chance in the world to detect any matter than to have his help."
His face lit with hope. "Would he? So simple a thing as a child who has been taken, and returned, with no ransom asked? It is hardly a great crime."
"It is a great crime to cause such distress," I said quite genuinely. "And the fact that he has asked no price, and yet threatened to do it again, is a mystery which I believe will intrigue him."
"Then call him, Watson, I beg you. I will have the trap sent around to the front to take you immediately. Ask him to come as soon as he may. I will reward him any and every way in my power, if there is any reward he will accept."
But I knew, of course, that the name of Moriarty would be sufficient to bring him, and so it turned out. I received a return wire within a few hours, saying that he would be there by the late train that evening, if someone would be good enough to meet him at the station. I spent the rest of the afternoon searching in the village of Hampden until I was sure that I had found the house Jenny had described, but I was careful to appear merely to be passing by on my way somewhere else, so if any watcher saw me it would cause no alarm.
In the evening I went to meet the train, and the moment it drew in and stopped amid clouds of steam, one door flew open and I saw Holmes' lean figure striding along the platform toward me. He looked a different man from the miserable figure I had left behind me in Baker Street. He reached me and said the one word, as if it were some magic incantation, his eyes alight. "Moriarty!"
I was suddenly afraid that I had miscalculated the situation, perhaps been too quick to leap to a conclusion. He so often charged me with precisely that fault. "I believe so," I said somewhat cautiously.
He gave me a quick glance. "You are uncertain. What makes you doubt, Watson? What has happened since you wired me?"
"Nothing!" I said hastily. "Nothing whatever. It is simply a deduction, not a known fact that it was he who took the child."
"Has any demand been received yet?" There was still interest in his voice, but I thought I detected a note of disappointment all the same.
"Not yet," I answered as we reached the gate to the lane where the trap was waiting. He climbed in and I drove it in silence through the winding, steep-banked roads, already shadowed in the sinking sun. I told him of my conversation with Jenny and all I had learned from it, also my location of the house, all of which he listened to without comment. I was certainly not going to apologize to him for having called him out on a matter which may not, after all, involve his archenemy. It involved the abduction of a child, which as far as I can see, is as important as any single case could be.
We were within quarter of a mile of the Grange when I saw in the dusk the gardener come running toward me, arms waving frantically. I pulled up, in case he should startle the pony and cause it to bolt. "Steady, man!" I shouted. "Whatever has happened?"
"She's gone again!" he cried while still some yards from me. He caught his breath in a sob. "She's gone!"
Instantly Holmes was all attention. He leaped out of the trap and strode to the wretched man. "I am Sherlock Holmes. Tell me precisely what has occurred. Omit no detail but tell me only what you have observed for yourself, or if someone has told you, give me their words as exactly as you can recall them."
The man made a mighty effort to regain control of himself, but his distress was palpable all the time he gasped out his story.
"The maid, Josephine, was with Jenny upstairs in the nursery. Jenny had been running around and had stubbed her toe quite badly. It was bleeding, so Josephine went to the cupboard in the dressing room where she keeps bandages and the like, and when she returned Jenny was gone. At first she was not concerned, because she had heard the hokey-pokey man outside the gates, and Jenny loves ice-cream, so she thought that she had run down for the kitchen maid to find him." He was so distraught he was gasping between his words. "But she wasn't there, and the kitchen maid said she hadn't seen her at all. We searched everywhere, upstairs and down… "
"But you did not find the child," Holmes finished for him, his own face grim.
"That's right! Please sir, in the name of heaven, if you can help us, do it! Find her for us! I know the master'll give that devil anything he wants, just so we get Jenny back again, an' not hurt."
"Where is the hokey-pokey man now?" Holmes asked.
"Percy? Why, he's right there with us, helping to look for her," the gardener replied.
"Is he local?"
"Yes. Known him most of my life. You're never thinking he would harm her? He wouldn't, but he couldn't either, because he's been here all the time."
"Then the answer lies elsewhere." Holmes climbed back into the trap. "Watson may know where she was taken the first time and we shall go there immediately. Tell your master what we have done, and continue your search in all other places. If it is indeed who we think, he will not be so obvious as to show us the place again, but we must look.
We drove with all speed to Hampden and I took Holmes to the street parallel with the one on which was the house. We searched it and found it empty. We had no time to lose in examining it closely, and only the carriage lantern with which to do it.
"She has not been here tonight," Holmes said bitterly, although we had not truly dared believe she would be. "We shall return in the morning to learn what we may."
We left to go back to the Grange to continue with any assistance we could. It was in turmoil as on the evening before, and as then, we joined the others seeking desperately for the child. Holmes questioned every one of the staff, both indoor and outdoor, and by nearly eleven o'clock we were exhausted and frantic with fear for her.
I found Holmes in the kitchen garden, having looked once again through the sheds and glass houses, holding a lantern up to see what the damp ground might tell him.
"This is a miserable business, Watson," he said, knowing my step and not bothering to raise the light to see. "There is something peculiarly vile about using a child to accomplish one's purposes. If it is in fact Moriarty, he has sunk very low indeed. But he must want something." He stared at me earnestly, the lamplight picking out the lines of his face, harsh with the anger inside him. I have never observed him show any special fondness for children, but the anguish caused to a parent had been only too clear for all to see. And Holmes despised a coward even more than he did a fool. Foolishness was more often than not an affliction of nature. Cowardice was a vice sprung from placing one's own safety before the love of truth, known as the safety and welfare of others. It is the essential selfishness, and as such he saw it as lying at the core of so much other sin.
"But he wants something, Watson. Moriarty never does anything simply because he has the power to do it. You say the child was returned last night, and this morning a note was delivered? There will be another note. He may choose to torture his victim by lengthening the process, until the poor man is so weak with the exhaustion of swinging from hope to despair and back, but sooner or later he will name his price. And you may be sure, the longer he waits, the higher the stakes he is playing for!
I tried to concentrate on what he was saying, but I was longing to take up my lantern again and renew my effort to find Jenny. After my conversation with her this morning she was no longer merely a lost child, she was a person for whom I had already grown a fondness, and I admit the thought of Moriarty using her in his plot nearly robbed me of sensible judgment. If I could have laid hands on him at that moment I might have beaten him to within an inch of his life-or closer even than that.
I walked what seemed to be miles, calling her name, stumbling over tussock and plowed field, scrambling through hedgerows and frightening birds and beasts in the little coppice of woodland. But I still returned to the house wretched and with no word of hope at all.
We were all gathered together in the kitchen, the indoor staff, the outdoor, Hunt, Holmes and myself. It was all but midnight. The cook brewed a hot, fresh pot of tea and the butler fetched the best brandy to strengthen it a little, when there was a faint sound in the passage beyond and the door swung open. As one person we turned to face it, and saw Jenny standing white-faced, one shoe off and her foot smeared with blood.
"Papa… " she started.
Hunt strode across the floor and picked her up. He held her so tightly she cried out with momentary pain, then buried her head on his shoulder and started to cry. She was not alone, every female servant in the place wept with her, and not a few of the men found a sudden need to blow their noses uncommonly fiercely, or to turn away for a moment and regain their composure.
Holmes was up before six and I found him in the hall pacing back and forth when I came down for breakfast just after half past seven. He swung around to face me. "Ah, at last," he said critically. "Go and question the child again," he commanded. "Learn anything you can, and pay particular attention to who took her and who brought her back."
"Surely you don't think one of the household staff is involved?" I dreaded the idea, and yet it had been done with such speed and efficiency I was obliged to entertain the possibility myself.
"I don't know, Watson. There is something about this that eludes me, something beyond the ordinary. It is Moriarty at his most fiendish, because it is at heart very simple."
"Simple!" I burst out. "The child has twice been taken, the second time in spite of all our attempts to safeguard her. If he has caused one of these people to betray their master in such a way, it is the work of the devil himself."
Holmes shook his head. "If so then it is co-incidental. It is very much his own work he is about. While you were asleep I buried myself learning something of Hunt's affairs. Apparently he is the main stockholder in the local mine, as well as owner of a large amount of land in the area, but he has no political aspirations or any apparent enemies. I cannot yet see why he interests Moriarty."
"Money!" I said bitterly. "Surely any man with wealth and a family, or friends he loves, can be threatened, and ultimately, by someone clever and ruthless enough, money may be extorted from him?"
"It is clumsy, Watson, and the police would pursue him for the rest of his life. Money can be traced, if the plans are carefully laid. No, such a kidnap has not the stamp of Moriarty upon it. It gives no satisfaction."
"I hope you are right," I said with little conviction. "The amount Hunt would pay to have his child safe from being taken again would be satisfaction to most thieves."
Holmes gave me a withering look, but perhaps he sensed my deep fear and anger in the matter, and instead of arguing with me, he again bade me go and question Jenny.
However I was obliged to wait until nine, and after much persuasion of the nursemaid, I found Jenny in the nursery, pale-faced but very composed for one who had had such a fearful experience not only once but twice. Perhaps she was too innocent to appreciate the danger in which she had been.
"Hello, Dr. Watson," she said, as if quite pleased to see me. "I haven't had breakfast yet. Have you?"
"No," I admitted. "I felt it more important to see how you were, after last night's adventure. How do you feel, Jenny?"
"I don't like it," she replied. "I don't want to go there again."
My heart ached that I was obliged to have her tell me of it, and I was terribly aware that a whole house full of men seemed unable to protect her. "I'm sorry. We are doing all we can to see that you never do," I told her. "But you must help me. I need to know all about it. Was it the same man again? The Professor?"
She nodded.
"And to the same place?"
"No." She shook her head. "It was a stable I think. There was a lot of straw, and a yellow horse. The straw prickled and there was nothing to do."
"How did the Professor take you from the nursery here?"
She thought for several minutes and I waited as patiently as I could.
"I don't 'member," she said at last.
"Did he carry you, or did you walk?" I tried to suggest something that might shake her memory.
"Don't 'member. I walked."
"Down the back stairs, where the servants go?" Why had no one seen her? Why had Moriarty dared such a brazen thing? Surely it had to be one of the servants in his pay? There was no other sane answer. It did not need Holmes to deduce that!
"Don't 'member," she said again.
Could she have been asleep? Could they have administered some drug to her? I looked at the face of the nursemaid and wondered if anything else lay behind her expression of love for the child.
I questioned Jenny about her return, but again to no avail. She said she did not remember, and Josephine would not allow me to press her any further. Which might have been fear I would discover something, but might equally easily have been concern that I not distress the child any more. In her place I would have forbidden it also.
I went down the stairs again expecting Holmes to be disappointed in my efforts and I felt fully deserving of his criticism. Instead he met me waving a note which had apparently just been delivered.
"This is the reason, Watson!" he said. "And in true Moriarty style. You were correct in your deduction." And he offered me the paper.
My Dear Hunt,
I see that you have called in Sherlock Holmes. How predictable Watson is! But it will avail you nothing. I can still take the child any time I choose, and you will be helpless to do anything about it.
However if you should choose to sell 90% of your shares in the Morton Mine, at whatever the current market price is-I believe you will find it to be £1.3.6d more or less, then I shall trouble you no further.
Moriarty.
I looked up at Holmes. "Why on earth should he wish Hunt to sell his shares?" I asked. "What good would that do Moriarty?"
"It would start a panic and plunge the value of the entire mine," Holmes replied. "Very probably of other mines in the area, in the fear that Hunt knew something damaging about his own mine which was likely to be true of all the others. Any denial he might make would only fuel speculation."
"Yes… yes, of course. And then Moriarty, or whoever he is acting for, would be able to buy them all at rock-bottom price."
"Exactly," Holmes agreed. "And not only that, but appear as a local hero as well, saving everyone's livelihood. This is the true Moriarty, Watson. This has his stamp upon it." There was a fire within him as he said it that I confess angered me. The thrill of the chase was nothing compared with the cost to Hunt, and above all to Jenny. "Now," he continued. "What have you learned from the child of how she left here?"
"Very little," I replied. "I fear she may somehow have been drugged." I repeated what little she had been able to tell me, and also a description of the stable, as far as she had been able to give one.
"We shall borrow the pony and trap and go back to the house in Hampden in daylight," he replied. "There may be something to learn from a fuller examination, and then seek the stable, although I have no doubt Moriarty has long left it now. But first I shall speak to Hunt, and persuade him to do nothing regarding the shares… "
I was appalled. "You cannot ask that of him! We have already proved that we are unable to protect Jenny. On two successive nights she has been taken from the house and returned to it, and we have never seen her go, nor seen her come back, and are helpless to prevent it happening again."
"It is not yet time to despair," Holmes said grimly. "I believe we have some hours." He pulled out his watch and looked at it. "It is only six minutes past ten. Let us give ourselves until two of the clock. That will still allow Hunt sufficient time to inform his stockbroker before close of business today, if that should be necessary, and Moriarty may be given proof of it, if the worst should befall."
"Do you see an end to it?" I asked, struggling to find some hope in the affair. It galled me bitterly to have to give in to any villain, but to Moriarty of all men. But we were too vulnerable, I had no strength to fight or to withstand any threat where the life of a child was concerned, and I know Hunt would sacrifice anything at all to save Jenny, and I said as much.
"Except his honor, Watson," Holmes replied very quickly. "It may tear at his very soul, but he will not plunge a thousand families into destitution, with their own children to feed and to care for, in order to save one, even though it is his own. But we have no time to stand here debating. Have the trap ready for us, and as soon as I have spoken with Hunt, I shall join you at the front door."
"What use is it going to Hampden, or the stable, if Moriarty has long left them?" I said miserably.
"Men leave traces of their acts, Watson," he replied, but I feared he was going only because we were desperate and had no better idea. "It might be to our advantage when we have so little time, if you were to bring a gardener or some other person who knows the area well," he continued, already striding away from me.
It was barely thirty minutes later that he returned just as the gardener drew the trap around, with me in the back ready to set out for the village. I had also questioned the gardener as to any local farms which might be vacant, and answer such slight description as Jenny had given me, or where the owner might either be unaware of such use of his stables, or be a willing accomplice.
"Did you persuade Hunt to delay action?" I asked as Holmes climbed in beside me and we set off at a brisk trot.
"Only until two," he said, tight-lipped. I know that he had had some agreement to achieve even that much time from the fact that he stepped forward in the seat and immediately engaged the gardener in conversation about every aspect of the nearby farms, their owners and any past relationship with Hunt, good or ill.
What he was told only served to make matters worse. Either the gardener, a pleasant chap of some fifty-odd years named Hodgkins, was more loyal than candid, or Hunt was generally liked in the region and had incurred a certain mild envy among one or two, but it was without malice. The death of his wife while Jenny was still an infant had brought great sympathy. Hunt was wealthy in real possessions, the house and land and the mine itself, but he had no great amount of ready money, and he lived well, but quite modestly for his station in life. He was generous to his staff, his tenants and to charity in general. Naturally he had faults, but they were such as are common to all people, a sometimes hasty tongue, a rash judgment here or there, too quick a loyalty to friends, and a certain blindness when it suited him.
Holmes grew more and more withdrawn as he listened to the catalog of praise. It told him nothing helpful, only added to the urgency that we not only find where Jenny had been taken, but far more challenging, we learn from it something of use.
We found the tall house again easily, and a few questions from neighbors elicited an excellent description of Moriarty.
We went inside and up again to the room that in the daylight answered Jenny's description in a way which startled me. It was indeed bright and airy. There was a red couch, but the grate was clean and cold, as if no fire had been lit in it recently. I saw a few crumbs on the floor, which I mentioned to Holmes as coming from the teacakes Jenny had been given.
"I do not doubt it," Holmes said with no satisfaction. "There is also a fine yellow hair on the cushion." He waved absently at the red couch while staring out of one of the many windows. "Come!" he said suddenly. "There is nothing else to be learned here. This is where he kept her, and he intended us to know it. He even left crumbs for us to find. Now why was that, do you suppose?"
"Carelessness," I replied, following him out of the door and down the stairs again, Hodgkins on his heels. "And arrogance."
"No, Watson, no! Moriarty is never careless. He has left them here for a reason. Let us find this stable. There is something… some clue, something done, or left undone, which will give me the key."
But I feared he was speaking more in hope than knowledge. He would not ever admit it, but there is a streak of kindness in him which does not always sit well with reason. Of course, I have never said so to him.
We got into the trap again and Hodgkins asked Holmes which direction he should drive. For several moments Holmes did not reply. I was about to repeat the question, for fear that he had not heard, when he sat very upright. "Which is the most obvious farm, from here?" he demanded. "That meets our requirements, that is?"
"Miller's," Hodgkins replied.
"How far?"
"Just under two miles. Shall I take you there?"
"No. Which is the second most obvious?"
Hodgkins thought for a moment or two. "I reckon the old Adams place, sir."
"Good. Then take us there, as fast as you may."
"Yes, sir!"
It proved to be some distance further than the first farm mentioned, and I admit I became anxious as the minutes passed and the time grew closer and closer to two. Holmes frequently kept me in the dark regarding his ideas, but I was very much afraid that in this instance he had no better notion of how to foil Moriarty than I did myself. Even if we found the farm, how was it going to help us? There was no reason to suppose he would be there now, or indeed ever again. I forbore from saying so perhaps out of cowardice. I did not want to hear that he had no solution, that he was as fallible and as frightened as I.
We reached the Adams ' farm and the disused stable. Holmes opened the door wide to let in all the light he could, and examined the place as if he might read in the straw and dust some answers to all our needs. I thought it pointless. How could anyone find here a footprint of meaning, a child's hair, or indeed crumbs of anything? I watched him and fidgeted from one foot to the other, feeling helpless, and as if we were wasting precious moments.
"Holmes!" I burst out at last. "We… " I got no further. Triumphantly he held up a very small, grubby, white sock, such as might fit a child. He examined it quickly, and with growing amazement and delight.
"What?" I said angrily. "So it is Jenny's sock. She was here. How does that help us? He will still take her tonight, and you may be sure it will not be to this place!"
Holmes pulled his pocket watch out. "It is after one already!" he said with desperate urgency. "We have no time to lose at all. Hodgkins, take me back to the Grange as fast as the pony can go!"
It was a hectic journey. Hodgkins had more faith than I that there was some good reason for it, and he drove the animal as hard as he could short of cruelty, and I must say it gave of its best. It was a brave little creature and was lathered and blowing hard when we finally pulled in the drive at the front door and Holmes leaped out, waving the sock in his hand. "All will be well!" he shouted to Hodgkins. "Care for that excellent animal! Watson!" And he plunged into the hall, calling out for Hunt at the top of his voice.
I saw with dread that the long case clock by the foot of the stairs already said three minutes past two.
Hunt threw open his study door, his face pale, eyes wide with fear.
Holmes held up the sock. "Bloodless!" he said triumphantly. "Tell me, what time does the hokey-pokey man play?"
Hunt looked at him as if he had taken leave of his wits, and I admit the same thought had occurred to me. He stammered a blasphemy and turned on his heel, too overcome with emotion to form any answer.
Holmes strode after him, catching him by the shoulder, and Hunt swung around, his eyes blazing, his fist raised as if to strike.
"Believe me, sir, I am deadly earnest!" Holmes said grimly. "Your daughter will be perfectly safe until the ice-cream man comes… "
"The ice-cream man!" Hunt exploded. "You are mad, sir! I have known Percy Bradford all my life! He would no more… "
"With no intent," Holmes agreed, still clasping Hunt by the arm. "It is the tune he plays. Look!" He held up the small, grubby sock again. "You see, it has no blood on it! This was left where Moriarty wishes us to believe he held her last night, and that this sock somehow was left behind. But it is not so. It is no doubt her sock, but taken from the first kidnap when you were not guarding her, having no reason for concern."
"What difference does that make?" Hunt demanded, the raw edge of fear in his voice only too apparent.
"Send for the hokey-pokey man, and I will show you," Holmes replied. "Have him come to the gates as is his custom, but immediately, now in daylight, and play his tunes."
"Do it, my dear fellow!" I urged. I had seen this look of triumph in Holmes before, and now all my faith in him flooded back, although I still had no idea what he intended, or indeed what it was that he suddenly understood.
Hunt hesitated only moments, then like a man plunging into ice-cold water, he obeyed, his body clenched, his jaw so tight I was afraid he might break his teeth.
"Come!" Holmes ordered me. "I might need you, Watson. Your medical skill may be stretched to the limits." And without any explanation whatever of this extraordinary remark he started up the stairs. "Take me to the nursery!" he called over his shoulder. "Quickly, man!"
As it turned out we had some half-hour or more to wait while the ice-cream vendor was sent for and brought from his position at this hour in the village. Holmes paced the floor, every now and then going to the window and staring out until at last he saw what he wanted, and within moments we heard the happy, lilting sound of the barrel organ playing.
Holmes swiveled from the window to stare at the child. He held up one hand in command of silence, while in the same fashion forbidding me from moving.
Jenny sat perfectly still. The small woolen golliwog she had been holding fell from her fingers and, staring straight ahead of her, she rose to her feet and walked to the nursery door.
Josephine started up after her.
"No!" Holmes ordered with such fierceness that the poor girl froze.
"But… " she began in anguish as the child opened the door and walked through.
"No!" Holmes repeated. "Follow, but don't touch her. You may harm her if you do! Come… " And he set off after her himself, moving on tip-toe so that no noise should alarm her or let her know she was being followed, though indeed she seemed oblivious of everything around her.
In single file behind we pursued the child, who seemed to be walking as if in her sleep, along the corridor and up the attic stairs, narrow and winding, until she came to a stop beside a small cupboard in an angle of the combe. She opened it and crept inside, pulling a blanket over herself, and then closed the door.
Holmes turned to the maid. "When the nursery clock chimes eleven, I believe she will awaken and return to normal, confused but not physically injured. She will believe what she has been mesmerized to believe, that she was again taken by Professor Moriarty, as she was in truth the first time. No doubt he took her to at least three different places, and she will recall them in successive order, as he has told her. You will wait here so you can comfort her when she awakens and comes out, no doubt confused and frightened. Do not disturb her before that. Do you understand me?"
"Yes sir! I'll not move or speak, I swear," Josephine promised, her eyes wide with admiration and I think not a little relief.
"Good. Now we must find Hunt and assure him of Jenny's welfare. He must issue a statement denying any rumor that he might sell his holdings in the mine. In fact if he can raise the funds, a small purchase of more stock might be advantageous. We must not allow Moriarty to imagine that he has won anything, don't you agree?"
"I do!" I said vehemently. "Are you sure she will be all right, Holmes?"
"Of course, my dear Watson!" he said, allowing himself to smile at last. "She will have the most excellent medical attention possible, and a friend to assure her that she is well and strong, and that this will not occur again. Possibly eat as much ice-cream as she wishes, provided it is not accompanied by that particular tune."
"And a new pair of socks!" I agreed, wanting to laugh and cry at the same time. "You are brilliant, Holmes, quite brilliant! No resolution to a case has given me more pleasure."
"It was my good fortune she stubbed her toe," he said modestly. "And that you were wise enough to send immediately for me, of course!"
The Adventure of the Other Detective by Bradley H. Sinor
Bradley H. Sinor's latest short story collection, Echoes from the Darkness, which he describes as "Urban Noir Fantasy," is just out from Arctic Wolf Publishing. He has new stories forthcoming in the anthologies Shelter of Daylight, Grantville Gazette V, and Space Grunts (co-written with his wife, Sue). In all, he has published more than seventy short stories in the science fiction, fantasy, horror, and mystery fields. He is also the author of more than two hundred and fifty articles appearing in magazines, newspapers, and essay anthologies.
***
"There but for the grace of God go I," said John Bradford, in humble acknowledgment of the role of chance and circumstance in human affairs. We can't help thinking about how things could have been different. If you hadn't gone to that party, you wouldn't have met your spouse. If you hadn't left your house at that exact moment, you wouldn't have been in that accident. It can get pretty mind-boggling to consider how many things had to happen exactly the way they did since the beginning of the universe in order for you to have been born at all. Science fiction has a long tradition of exploring the notion of alternate worlds, especially since the many-worlds interpretation of quantum mechanics suggested that any universe that can exist does exist, somewhere. If we were to shuffle through our possible lives as we shuffle the cards of a deck, we would see lovers become strangers, strangers become lovers, children vanish and other children take their place. We would see houses, apartments, cars, pets flicker by in endless permutations. We would see good men turned vile, and wicked men become heroes. There but for the grace of God go I.
***
The weeks following the return of Sherlock Holmes, three years after his supposed death at the hands of Professor James Moriarty, the so-called Napoleon of Crime, were busy ones for my old friend.
There was, as might be expected, a steady stream of visitors who found their way to Baker Street, everyone from the dirtiest pickpocket to a messenger who took Holmes to a private meeting at Buckingham Palace.
I had also returned to Baker Street.
Not twenty-four hours after Colonel Sebastian Moran had been led away in chains by Inspector Lestrade, Holmes asked if I would agree to return to Baker Street. "It would be the best medicine in the world for you, Watson," he said over one of Mrs. Hudson's excellent dinners.
As I look back on that night I must admit that I was not all that difficult to convince. My darling Mary had been gone for nearly a year. Her weak heart had taken her only three days after our fifth wedding anniversary.
The end had come so swiftly that there had been nothing that all of my medical skill could have done to save her.
Even after so many months, there were moments when I caught myself turning to ask her something, or I would look up at a sound, expecting to see her stepping around a corner.
So Holmes's invitation was a most welcome one for me.
Of cases there were many: The Adventure of the Black Katana, The Quest for Pendragon's Son, and The Theft of Alharazad's Manuscript, to name just a few.
By the middle of October things had returned to as much of a semblance of normality as was anything around Sherlock Holmes.
The evening of the 13th I was alone in Baker Street. Holmes was dining with his brother, Mycroft, and I did not expect his return for many hours.
I had declined the invitation to join them. I had no doubt that I would hear the details from Holmes, especially of the "favor" that he would no doubt be asked to perform by the man whom he had once described as, at times, "being the British Government."
Beside my favorite chair that evening stood a stack of medical journals, a stack that I had to admit was far too high. This past year I had sadly neglected to keep up on the literature of my profession, and it was something that I meant to correct.
The mantle clock had just tolled ten when I heard a furious pounding on the downstairs door. Moments later the familiar footsteps of Mrs. Hudson could be heard rushing to answer the summons.
The young man behind Mrs. Hudson looked vaguely familiar, in that way that so many people resemble others. He was bundled tightly against the night's chill.
"Sir, I am sorry to disturb you, but the young man says that it's an emergency," Mrs. Hudson said.
"I am afraid that Holmes has not returned, but if there is anything that I can do-"
Before I could say more, the young man cut me off with a wave.
"Sir, it wasn't Mr. Holmes that I come to fetch, but yourself. There's been an accident."
"Accident? Where?" I said, sitting bolt up.
"Three streets over," he said. "Mr. Delvechio's warehouse. It was himself Mr. Hobbs who came falling off that old balcony. I couldn't tell if he was breathing or not."
Mrs. Hudson already had my bag ready. The fog that had rolled in at sunset was heavier than I had seen it in years, enshrouding the streets like a thick blanket. A half-dozen steps from the door and Baker Street was gone from sight.
"Colder than I thought it would be," I said, pausing to pull up the collar on my coat.
"Aye, sir."
"What's your name, son?"
"Arthur, sir. Arthur Pym. I'm the new accounting clerk for Mr. Delvechio. Only been there about a half year."
It was scarcely five minutes before Pym was leading me to a side door marked DELVECHIO AND SONS, IMPORTERS.
He had to pound for several minutes before anyone came to admit us. "We got no time for-"
The door was opened by a massive man with small square-shaped glasses hanging on the end of his nose. "Oh, it's you."
"Aye, Mr. Harris. I done brought the doctor. Watson's his name."
"Don't matter what his name is. Could've saved yourself a trip. If that fall did'na kill him he'll be dead soon, after doing a header into that pile of Italian mirrors."
Not since the battlefields of Afghanistan had I seen a body covered with that much blood. Around me were hundreds, if not thousands, of shards of glass. In each one there seemed to be another me, angled and bent and torn into a million different shapes. The unfortunate Mr. Hobbs lay in the center of this display, any hope that he might still be alive ended when I found the shard of glass embedded in his jugular.
Once the police had arrived and taken statements, confirming the story of Hobbs 's fall, I volunteered to remain until the body was removed. The constable said it would not be necessary, but that I should come to the local station house tomorrow to make a statement.
"Are you certain you don't want me to come with you, Doctor Watson?"
"Thank you, Arthur, but it is only a few blocks. Even in this mist I can find my way to 221B with no problem."
"You have a good night then, sir," said the constable as he opened the door.
I picked my way through the fog carefully. The occasional glow of a streetlamp gave a safe haven of scant few feet in the mist. I had to stop several times, unsure of my direction.
Standing there in the mist a feeling of nausea came crashing over me and I had to fight for each breath. My head seemed about to burst with wave after wave of pain. I had to struggle to keep from losing myself in the pain. For that instant I could have been anywhere: Delvechio's Warehouse, darkest Africa, or the cold wastes of the South Pole.
Then, just as quickly as it came, the feeling passed, leaving only a dull ache in the pit of my stomach in its wake. I pulled myself together and began to pick my way once again toward Baker Street.
When I finally reached that familiar door I felt as if I had just run ten miles with full military field pack, uphill. A good stiff shot of whiskey and my own bed were the best prescriptions I could think of right then.
I had some difficulty making my key work. It fit but did not seem to want to turn at first. Finally, by twisting it hard and pushing, the door came open. I reminded myself to mention something to Mrs. Hudson in the morning concerning it.
Under the door to our rooms I could see a light. Obviously Holmes had returned in my absence. Just inside I spied the familiar silhouette of Sherlock Holmes sitting scrunched in his chair in front of the fireplace. I was just about to say something when I heard a voice behind me.
"Say now, who might you be?"
Standing in the door to my bedroom was a figure with a revolver in his hand. When he stepped into the light I saw a face that I had not seen since I had left Afghanistan.
" Murray?" I said.
"I said, who are you? And why are you bursting into our quarters without so much as a… " His face went ashen as I stepped into the light. "God help me. It can't be! Colonel? Colonel Watson, sir? But you're dead!"
At that, my former Army aide fainted dead away. Holmes was out of his chair and across the room in an instant, kneeling beside Murray.
"If I am not mistaken, I believe that you, sir, are a doctor," he proclaimed.
"I am."
"Then I believe you have a patient." It was then that I realized the man was not Sherlock Holmes but none other than Professor James Moriarty.
One of the best restoratives available in a physician's pharmacopoeia is nothing less than good old-fashioned brandy. I've kept a small metal flask of the stuff in my case since I first took medical degree. As I expected, it brought Murray around almost immediately, gasping for breath, but awake.
I felt every bit as confused as Alice, having stumbled through the Looking Glass. If this were a dream, it was the most realistic one I had ever experienced. I felt entitled to a long swallow of brandy myself.
For that moment I had a chance to look around the room. Things were familiar, but subtly different. I recognized the familiar chemical apparatus in the corner, the violin in its case by the fireplace and the old battered coat tree near the door. Only the Persian slipper and its tobacco was missing from its accustomed place; where there should have been several rows of carefully indexed scrapbooks, I found neat matching journals, many dealing with mathematics and astronomy, bearing dates that went back some eight years, and in the far corner of the room stood a small telescope.
"Excellent work, Doctor, excellent," said Moriarty.
"Thank you," I said, looking at the man who up until a few minutes before I had been convinced lay dead at the bottom of the Reichenbach Falls in Switzerland. Only this was not exactly the man that Holmes had described. He was younger by at least ten years, if not more so, than I had expected. There was an ease and confidence about him that reminded me of Holmes.
"Would somebody mind telling me just what in the hell has happened to me?" I said finally.
"A very good question, Doctor. Watson, isn't it?" he asked as he helped Murray to his feet. My former army aide stared at me for a moment without saying a word, and then allowed me to lead him over to the couch.
"Now, Doctor, tell me how long you have lived at 221B Baker Street?" asked Moriarty, sitting down in the chair facing the yellow leather one I had taken.
"How…?"
Moriarty grinned and gestured with one finger toward my medical bag, still sitting open on the floor. "Rather revealing, I must admit," he said. There, in neat gold letters, was my name and the address, 221B Baker Street, London.
The day I had moved back into Baker Street I had retrieved my old bag from the back of the closet.
In spite of all that Holmes had told me regarding this man, I found myself warming to the fellow. I began to describe the events of the evening. Moriarty stopped me only occasionally to ask for further details, sometimes on the oddest things, the type of doorway that had fronted Delvechio's, the uniform the constable had worn, and the location of the local police station. I wanted to know why, but for the moment thought it best to keep my own counsel. Moriarty was especially interested in my impression of the fog itself.
"A most fantastic tale that you have entertained us with this evening," said Moriarty. "You have to admit it is a bit hard to accept, especially considering that Murray and I have been sharing these quarters since the spring of 1885."
His eyes were unblinking as he stared at me, waiting for my reaction.
"Professor, I am a doctor, a man of science. If I were hearing this tale from anyone but myself I would be convinced that the speaker had far too much good Scotch whiskey and had been reading one of the scientific romances of Mr. H. G. Wells. Yet as sure as I sit here, every word that I have told you is the God's own truth."
Moriarty steepled his fingers in front of his face, deep in thought. "Doctor, I believe you."
"Professor, how can you believe him?" objected Murray. "The last time I saw Colonel Watson he was dead, an Afghan spear through his chest. I supervised the burial party myself, and that was nearly ten years ago."
Dead? Me? A cold chill ran down my spine. This had to be a nightmare, but there seemed no way to escape it. I defy anyone to hear the news that he was not only dead, but a number of years buried, and not have at least some reaction.
"What would it take to convince you that this man is John H. Watson?" asked Moriarty.
Murray thought for a moment before he answered. "Look on his left forearm." I hesitated for a moment before taking off my jacket. I rolled up my sleeve and held out my arm for Moriarty to inspect.
"There should be scar there, three to four inches in length," said Murray.
"It is there," confirmed Moriarty. "How did you get it?"
I smiled, remembering well the hunting trip with my father and brother that had been the last time all three of us had been together as a family. I had brought down a boar, but not without the beast nearly ripping my arm to shreds.
Murray just shook his head. "Colonel, I don't know how you managed it, but I'm bloody glad that you did," he said finely.
"Just a minute there, Murray. That's the second time you've called me Colonel."
"Aye, sir. After all, that is your rank."
Colonel Doctor John H. Watson. That did have a nice sound to it. The only trouble was that I had never risen above the rank of Captain when I had served with the Fifth Northumberland Fusiliers and had been discharged after being wounded at the second Battle of Maiwand.
"But, Colonel, at Maiwand you weren't injured. I was."
This difference in history seemed to please Moriarty when I mentioned it.
"Unless you are one of the most convincing madmen to come along in a long time, you, sir, are telling the complete and utter truth. The facts concerning your rank only serve to help prove my theory.
"Ever since the incident of a man who walked around his carriage, out of the view of a dozen people, and utterly vanished, I have developed a theory regarding the existence of other worlds," he said.
"Like Mars and Venus?" I asked.
"I said other worlds, not other planets," he corrected. "More precisely, worlds exactly like our own, only with differences. The result of other decisions, for instance, where the American Confederate States lost their war for independence. Mathematically, it makes perfect sense.
"These worlds would on occasion touch and allow people to pass from one world to another, usually by accident, but under the right circumstances, deliberately. Tonight it seems that the fabric of space and time was stretched so thin that it allowed Dr. Watson to walk from his London to ours."
"All in the space of a few blocks," I said. Looking out the window into the fog, I knew in the pit of my stomach his theory was right. I took a long swallow out of my brandy flask and laid it on the nearby table. It was hard to fathom that everything I had known was gone, especially when I could see much of it around me.
As it had so many times before, the conversation in Baker Street was interrupted by the arrival of none other than Inspector Herbert Lestrade. The little rat-faced Scotland Yard man had been one of the first of Holmes's professional associates who had made his way to Baker Street. Naturally, he did not know me from Adam.
"Lestrade, it is always good to see you," said Moriarty, extending his hand.
"Thank you, Professor. I'm sorry if I've interrupted anything. However, my news could not wait." He paused for a moment, looking in my direction. "May I speak freely?"
"Forgive me, Inspector, I'm forgetting my manners. This is an old army friend of Murray's, Dr. John H. Watson. They served together in Afghanistan. Dr. Watson is privy to anything said here."
"Very well then," he said, sitting down in a red leather chair opposite Moriarty. "Less than an hour ago I received a telegram notifying us that Colonel Sebastian Moran has escaped from Dartmore Prison."
"Do they know just when it happened?" asked Moriarty.
"Sometime in the last three to four days. He got into a fight with some of the other prisoners. They all ended up in solitary confinement," said Lestrade.
"And current penal theory calls for prisoners so incarcerated to see and be seen by no one, except a single guard," said Moriarty.
"Even at meal times?" I asked.
"A small metal grate on the bottom of each door allows the trays to be injected and later extracted. Moran has pulled more than one hunger strike in the past. They could see a figure wrapped up in his blanket, so even though he wasn't eating, they didn't much bother with him," said Lestrade.
"How did they penetrate the ruse?"
Lestrade laughed, leaning back in the red leather chair. "One of the other prisoners, Volmer by name, suffered a stroke. He was dying, and his last request was to see Moran. Apparently they had become friends."
"Do you think that Moran will be making for sanctuary with his old comrades here in London?" asked Murray.
"Old friend, I know he will. I am also certain that Moran's employer had a hand in this; it's just his style." With that, Moriarty was out of his chair. From behind a bust of Caesar he extracted three perfectly round metal balls. He rolled them over in his hands several times and then deposited them in his vest pocket. "How much longer did Moran have left on his term in solitary confinement?"
"Three days."
"Then whatever is going to happen will happen within the next seventy-two hours." For a time Moriarty stared at the wall calendar.
"Good lord," he said.
"What is it, Professor?" asked Murray.
"If I am right, we have little time to lose."
"I'll come with you," volunteered Lestrade.
"Thank you, but no. For the moment there are things that must be done that you cannot be a part of."
"I don't like it, Professor. This is police business."
"I am aware of that. However, there is no place for you in our party this evening." Lestrade didn't say another word; his face reflected the irritation that he was feeling. Instead, he turned and walked out the door without a word.
Murray disappeared into the bedroom that had once belonged to me, emerging moments later, overcoat draped across his arm, a twin pair of Army service revolvers in his hand. "Colonel, if you would take charge of one of these," he said.
The familiar weight in my hand was another reassurance of the reality around me. It fit perfectly into my jacket pocket. "I am to accompany you then, Professor?"
"Of course, old chap. Murray and I wouldn't have it any other way."
"Professor, I am at your disposal."
In spite of the fog we were able to flag down a cab in only moments. I didn't hear the address that Moriarty gave the driver, but moments later we were shooting down the street. After a few turns I lost my way completely.
"Professor, may I ask who Colonel Moran's employer is?"
"Do you know of Moran in your London?"
"Somewhat. Ex-Indian Army, number two man in a criminal organization that stretched its tentacles into every bit of bad business through the length of London, and even England itself. Prefers to kill with a custom-made air rifle," I said.
"Air rifles, nice to know old Moran is predictable," said Murray.
"And who was the head of this criminal cabal?" asked Moriarty.
I hesitated for a moment before answering. "You, Professor."
Moriarty laughed. It was the eeriest sound that I had ever heard.
"Well, why not?" he said at last. "It sort of balances things out."
"Then who is the leader of the organization here?" I asked.
"Why, none other than Mr. Sherlock Holmes."
That announcement put a damper on conversation, at least on my part, so we rode in silence. The concept of Holmes as a criminal did not seem as shocking now as it might have a few hours before. In the back of my mind I suppose I still harbored the faint hope that this was all some strange dream that I would at any moment be roused from.
Our cab pulled to a stop in front of Number Ten Cudugin Square. A three-story private home, its windows were dark and a single gas light burned at its front door.
"On your toes, gentlemen," said Moriarty. "Our luck is with us. They are meeting tonight."
A liveried butler answered the door. The professor spoke a single word to the man. " Valhalla."
"Down the hall, sir, second door to the right."
As we walked along the hallway, I had the distinct feeling that we were being watched, which I told Moriarty.
"I would be worried if we weren't," replied the professor. "The security of those we are about to meet is of paramount importance."
Any interest I might have had in who we were going to meet vanished the moment I saw who had opened the door. The dark brunette hair fell loose around her shoulders, hazel green eyes in a familiar oval face.
It couldn't be, but it was! Mary, my own dear wife, dead these many months, but there she stood. It took all the strength I could muster to keep from grabbing her up.
"This way, gentlemen," she said.
"Easy, Colonel," said Murray, his hand on my shoulder. My former aide had always been aware of my moods, many times almost before I was.
Three men sat at the heavy oaken table that dominated the room. Two of them I knew by sight. One was none other than Edward, Prince of Wales, and Heir Apparent to throne. Next to him was a much older man. It took me a moment or two to recognize him, considering Albert of Saxe-Coburg-Gotta, Prince Consort to Her Royal Highness Victoria, Queen of England, had died thirty-three years earlier in the world I knew. The third man was unknown to me, though he did look vaguely familiar. His thin cadaverous face suggested someone who might be found on the streets of the East End, rather than in this company. Seeing this, and most of all, Mary alive, made me pray that it was not all some nightmare.
"Professor, this is a most unexpected surprise. We haven't had the honor of your company for far too long," said Prince Albert.
"Thank you, Your Royal Highness," said Moriarty. "I believe you know Murray. This other gentleman is Dr. John H. Watson, whom I have asked to lend his aid to tonight's enterprise. I will vouch for him completely."
"That he travels in your company is proof enough of his trustworthiness," said Prince Edward, as he extracted a large cigar from his silver case. "Watson? Watson. Would you be related to the late Colonel Watson? I met him some years ago on a tour of India."
"A cousin, sir." I could hear every bit of uncertainty in my voice as I spoke. "Our parents always claimed that he and I could have passed as twins."
"Indeed. If memory serves me, you readily could have." He laughed as he lit the big cigar. "He was a good man, of whom your family can be justly proud; he was a true hero of the empire."
"Thank you."
"Now, Professor," said the Prince Consort. "What is this errand that has brought you here tonight?"
"It is a matter of gravest importance. By your own statement, even the Queen does not know just how involved you and your son are in these meetings. If it had not been for your sure hand behind the scenes, I would not care to speculate what state our country would be in now.
"However, tonight matters have reached a point where I can no longer act alone. For some years you three have known of my ongoing feud with Sherlock Holmes. More times than I care to remember, this Napoleon of Crime has managed to elude the net that I have cast for him. Tonight he made a move in a plan that will involve the escape of Jack the Ripper."
The silence that fell over the room with his words was a familiar one to me. I had known it on those occasions when it had been necessary to break the news to a patient's family that they had lost a loved one.
"You are certain of this?" said Prince Albert. At that moment he seemed twenty years older than when I had come into the room.
"Yes, and moreover, I believe that events will come to a head within the next several days. In three days' time it will be the anniversary of the first of the Ripper murders. It would suit Holmes's sense of humor to see the man walking free again on that day."
The silent man picked up his pen and began to write. A moment later the sheet was passed to Prince Edward. The younger man's cigar sat untouched in the ashtray in front of him, a gray pile of ash below it.
"You have guaranteed the silence of your companions, Professor. Very well, let both men understand that what they are about to hear may be the most dangerous secret in the entirety of the British Empire. What do you gentlemen know concerning the Ripper murders?" asked the Heir Apparent.
"Only what was in the newspapers," Murray said.
Holmes had, in fact, been called into the case, but had never confided any of the details, saying that it was a tale better left untold. I recalled the multitude of rumors that had echoed from every pub and street corner regarding the Ripper during those dark days.
"Six years ago Murray was in America handling the matter of the May Surveillance for me. Dr. Watson was also out of the country."
"Very well. As you gentlemen know, for some six months in 1888, London was frightened to its core by the series of murders committed in the Whitechapel district by the person who came to be known as Jack the Ripper.
"So far as the public knows, the Ripper was never brought to book for the crime. Some of the far more speculative journals have hinted that he may still be prowling the streets of London to this day. That has not been true for more than six years.
"Thanks to the untiring efforts of Professor Moriarty, Scotland Yard, and the late Inspector Allard, in early July of that year the Ripper was captured," said Prince Edward.
"Then why was the public never told of this?" asked Murray.
"Because of the identity of the Ripper. I still remember the night I was summoned to Scotland Yard. When I learned who the Ripper actually was I knew that it would be impossible for that knowledge to be made public," said Prince Albert, his voice shaky.
"Impossible," said his son picking up the narrative. "Because Jack the Ripper was none other than the Duke of Clarence, third in line to the throne of England; Albert Victor, my own flesh and blood, my son."
There had been rumors, of course, regarding the Queen's grandson. Like many others, I had heard them and just credited them to a frightened, overactive public's imagination.
"He was insane, of course, a mental disorder combined with syphilis. You both will understand the dilemma that we faced," said Moriarty.
"My grandson had to be cut out of the line of succession. The very idea that the heir to the throne was a murderer would have shaken the very foundations of this monarchy and our empire. So, like a mad dog, he was, in a manner of speaking, put down. With the cooperation of certain highly placed officials, we faked his death.
"For the last few years, Albert Victor, under the name Victor Wednesday, has been a patient at Druid's Hill Asylum. Not even my beloved Victoria knows the truth in this matter," said Prince Albert.
"You may rest assured, Your Royal Highness, that no one shall hear of this from either Murray or myself," I said.
"Thank you, Doctor." This was no monarch who spoke now, but a grieving grandfather.
The third man again took pen in hand. This time the paper went directly to Prince Albert.
The old man read it and nodded. "I cannot agree with you more."
"Professor, I am going to place the entire matter into your hands. You will have at your disposal all the resources of the government if you need them.
The Prince Consort scribbled a few lines on a sheet of paper, added hot wax to the bottom, and his signet ring into it. His son looked at the result, signed it and added his own signet's impression to the wax.
"This will not only gain you admittance to the asylum, but gives you full authority to act as you see fit concerning the inmate known as Victor Wednesday," said Prince Edward.
"Full authority?"
I arched an eyebrow at those words. To me that meant the power of life and death. I suspected it meant the same to Moriarty
"Full authority," the Heir Apparent repeated.
"I understand. I will attempt to exercise it with extreme discretion."
"I didn't doubt that for one minute," said the older man, quietly.
Moriarty had decided that it would be best for Murray to remain in London while the Professor and I would pay a visit to Druid's Hill. We, however, did not travel alone.
At the insistence of Prince Edward, we were accompanied by Mary Morstan.
"I think that she would be of very great help to you in this enterprise," Prince Edward had said.
I was the first to raise objection, fearing for her safety. I also found myself wondering if in this world Mary were one of the many "close friends" that Bertie was known to have in mind.
"Before you object, Doctor," she said. "Let me enlighten you to a few things. I am also a physician, fully board-certified and a graduate of Queen's College. I have been a practicing doctor for some time. My specialty these last several years has been the study of criminal insanity."
Mary had always exhibited a healthy interest in my work, but I had never considered that it had gone that far. To say I was astonished was to put the situation mildly. I had heard of women doctors, but had never encountered one before.
"What is the Prince's condition?" I asked.
"Slowly deteriorating. He has periods of lucidity, but they don't last long anymore. Like many patients suffering from syphilis, his thoughts are confused and at times make little or no sense. There are moments when he can fly into a total murderous rage at the mention of certain subjects. In the case of the Prince, it is mention of the Queen, his grandmother. Only three weeks ago he nearly killed one of the other doctors who made an offhand remark," she said.
"You understand the danger that you are placing yourself in tonight?" I asked, realizing as I did that I was speaking to the woman who had spent considerable time in the company of Jack The Ripper these past few years and lived to tell about it.
"Yes, Dr. Watson," she said. "But thank you for taking time to worry."
"If I may ask a question, Professor?" I said.
"Certainly. Given the current set of circumstances, I would imagine that you have quite a few of them."
"That rather thin gentleman back there at Cudugin Square, the one who never spoke. Who was he? He certainly seemed to have the Prince's ear."
"Indeed he does. His name is Holmes."
"Holmes? Mycroft Holmes?"
"That is exactly who he is, Watson. I take it you know him?"
"Yes. What does he do for the Prince?"
"I'm not sure, but I think that he is the head of the secret service."
"You think?"
"That's how secret it is." At least some things were the same in this world as the one I had come from.
I shook my head and turned toward Mary.
We departed Victoria Station the next morning. During the trip I found it remarkably easy to speak with Mary, she was so like the woman I had fallen in love with, and yet as different as night and day.
Druid's Hill Asylum. The name suggested a far more sinister-appearing place than the rather palatial-looking country estate we found ourselves approaching that evening. The house itself was more than three hundred years old; its basements had been built deep into solid bedrock. A fence, hidden in places by carefully placed hedges and trees, surrounded the grounds. The ornamental grating on the windows was actually reinforced iron.
"Definitely a fortress," I said.
"It will be difficult for Holmes to penetrate these grounds," Mary observed.
"Dr. Morstan, I appreciate the fact that you did not claim it impossible. Nothing is impossible," Moriarty said. "In just the journey here I have conceived of some five methods that would work. It is the sort of challenge that Holmes has always accepted in the past."
The director of Druid's Hill was a burly man with mutton-chop side whiskers named Throckmorton, Dr. R. A. Throckmorton. He seemed a self-important fellow who had found his niche and intended to protect it.
"See here, I will not have you interrupting the routine of this establishment. Barging in here in the middle of the night is the sort of thing that could destroy months and months of work with these patients. We walk a delicate balance with some of them. Dr. Morstan, I'm totally astonished that you would associate yourself with these… common adventurers."
Moriarty rose in his chair at those words, but settled back. His face was washed of emotion, his eyes two cutting gray lights starring at Dr. Throckmorton. I heard a tiny click, click, click sound, of metal hitting metal, and noticed Moriarty had the three metal balls in his hand and was rolling them back and forth.
"You have seen our authorization."
"Indeed I have. That piece of paper leads me to suspect that the dementia that afflicts Victor Wednesday may be only partially caused by the disease that he suffers from, and more from his ancestry," Throckmorton said.
"That statement borders on treason, Doctor," I said.
"It borders on the rights of a free-born Englishman to speak his mind, sir," replied Throckmorton. "A right that we all posses, republican and royalist alike."
"Dr. Throckmorton, this is not Hyde Park. You know my authority, where it comes from and the range of it. You know my personal credentials. My companions are physicians who will certainly see to the health of the patient. Will you permit me access to him?" said Moriarty.
"Yes," he said finally.
Albert Victor, Duke of Clarence, third in line for the throne of Great Britain, AKA Victor Wednesday, was awake. He was sitting on his bed staring at a small painting of a landscape hanging on the opposite wall.
The cell that they kept him in was on the lowest level of Druid's Hill, nearly thirty feet under ground. According to Mary, he was allowed out only under the most strictly controlled conditions. This section of the asylum was reserved for the most dangerous and psychotic cases. As we had made our way through the halls, I heard screams of pain and anger that cut into the very stones of the building.
"I've seen him sit for days just like that, not sleeping, just staring at it, absorbing every little nuance of it. Perhaps for him it is an escape," Mary said. "Other times he raves on every subject imaginable, making little or no sense. On rarer and rarer occasions he is coherent and seemingly aware of what he has done and what is happening to him."
We had been there an hour, and never once in that time had the Prince responded to any questions, or even so much as acknowledged our presence. He just sat on the edge of his bed and stared at the painting. I could see enough of his face to recognize the family features, echoes of those two faces that I had seen only a few hours before. He had lost weight, but no matter what name he officially bore at Druid's Hill, there was no mistaking that face.
"I wonder if he knows of the plan to free him," I asked.
"I would not put it past Holmes to have contacted him. Whether he did, it is questionable whether Victor would even remember it," said Moriarty. "At his stage of the disease, a syphilitic's memory is not reliable."
In the meantime the Prince had risen and walked across his cell to make a slight adjustment to the picture. Then he began to pace back and forth, in slow, measured steps along the length of the cell, holding himself with the dignified carriage and air that one would expect of a member of the royal family.
He stopped for a moment, looked toward us, gave a slight nod in Mary's direction and continued pacing.
"I do not expect the attack to be direct," I told Moriarty.
"Perhaps," he said.
"Sometimes a frontal assault is exactly the sort of strategy that works the best," someone said from behind us.
We turned to find Director Throckmorton standing in the door that led to the upper levels of the asylum. The voice belonged to a big bear of a man standing directly behind him, his arm around Throckmorton's neck, a pistol pressed to the doctor's temple.
"If you gentlemen and the lady would be so good as to step back against the far wall it would make things a great deal easier for the lot of us."
"Please do as he says! He's already shot two of my orderlies and who knows how many other people," pleaded the director in a whiny high-pitched voice.
"Colonel Moran, I presume?" I said.
"Indeed I am, and who might you be, sir? I know Moriarty and this girl, but you are a stranger to me."
"I am Colonel Doctor John Watson, late of the Fifth Northumberland Fusiliers. You may be more then a bit familiar with my old regiment." I elected to use the unaccustomed rank, hoping that it just might give me a tiny bit of equality in Moran's mind.
"A fine outfit. Now Colonel, if you don't get yourself up against that wall I will shoot you and then Director Throckmorton, in that order," he said.
So much for the idea of impressing him. "Oh really, Mr. Holmes," said Moriarty, shaking his head. "I do think that it would be a bit more comfortable for you if Colonel Moran would take the gun out of your ear."
For the briefest moment I wondered what kind of game he was playing. Then I saw a change come over the asylum director. Moran did indeed free him, stepping back several paces. An obviously padded jacket slipped off Throckmorton's shoulder, followed by a shirt pillow and the shock of unruly red hair and mutton-chop sideburns.
Sherlock Holmes stood stretching himself to his full height. The face was the same as that of my friend, but the lines around his eyes were harder and crueler.
"There, that is much better. The disguise was not all that difficult a thing to do, but the man has such an insufferable attitude I wonder how anyone can stand to be around him for any length of time. Tell me, Professor, when did you know it was I?"
"Not immediately. Only when I noticed that one of your sideburns was not quite glued down completely did I suspect that I was not talking to the genuine Dr. Throckmorton. Your acting was excellent. I have no doubt you would have done well treading the boards," said Moriarty.
"My thanks, Professor. Like many, I have always harbored dreams of theater. Perhaps if my life had gone down a different path. That however, is neither here nor there. Your sudden arrival has forced me to accelerate my plans."
Holmes's slim fingers reached into his vest pocket and produced a long gray key. He fitted it into the lock, swinging open the cell door with a flourish.
"Your Highness, if you would come with me."
Victor Wednesday continued to walk back and forth, ignoring Holmes's action. When he did stop, he didn't look at Sherlock Holmes, or even the open cell door, but stared at the painting.
"Is this real or but another of these endless nightmares given form?" he whispered.
"Oh, very real, Your Highness, very real. The only nightmare invoked this night will be for those who locked you away," said Holmes.
"Good," he said.
For the first time, Victor Wednesday seemed to pass away and Prince Albert Victor took his place. As he headed for the door he casually said, "It would please us greatly if you would accompany us on our journey, Dr. Morstan."
The thought of Mary in the hands of Holmes and this man who was Jack the Ripper was more than I could stand. Without a thought as to consequences, I charged at Holmes, screaming at the top of my lungs. Unfortunately, I did not get close enough to my old friend's double because a mountain stepped between us. Moran grabbed me by the lapels and slammed me hard against the cell bars.
The last thing that I recall before I blacked out was Mary calling my name.
It was at least several eternities before the darkness opened up for me. I struggled to say something, but lost the words echoing through the pounding in my head, which could very easily have been the Changing of the Guard at Buckingham Palace. I tried to rise up, but a wave of dizziness sent me rolling back onto the floor.
"Easy, Doctor. Besides having the wind knocked out of you, you slammed your head solidly into those bars. You don't appear to have a concussion, but I think you should just lie still for a moment, until your head clears," said Moriarty.
We were in the Prince's cell; that much was quickly obvious. I didn't have to ask to know that the door was securely locked.
"How long was I unconscious?"
"Ten minutes, no more."
Seemingly satisfied as to my condition, Moriarty turned away from me to examine the cell door.
"I really don't mean to belabor the obvious," I said. "But if we don't get out of here Mary may well become the sixth victim of Jack the Ripper."
"Eighth. There were two that the public never found out about. However, I think you may well be right," he said. Just then the door swung open. He turned to me and displayed a thin wire he reattached to his pocket watch chain.
"Shall we, Doctor?"
Before I could get to my feet, Moriarty crossed to the wall and reached into a trash container near a guard post. He rummaged around for a moment and then produced the army service revolver that Murray had given me the night before.
"Moran searched us both for weapons after knocking you out. While he found your gun, his ego wouldn't let him keep a common army issue weapon. I doubt he expected us to be putting it to use quite this quickly." Moriarty passed the gun to me.
The main entrance hall of Druid's Hill was almost empty. I could hear a grandfather clock chiming ten o'clock.
"They're probably making for the carriage house," said Moriarty.
I was already a dozen steps ahead of him toward the door. Unfortunately, we were not fast enough. I had barely cleared the doorway before an open carriage came ripping past the front of the house, horses at full gallop. Whoever had the reins, and it looked to be Moran, was struggling to keep control while defending himself from an attacker who seemed to be trying to push him out of the carriage. It looked like the Prince.
"We'll never catch them," yelled the professor. "Shoot, Watson, shoot!"
I fired three times.
Whatever control Moran had was lost when the animals began to charge headlong into the sharp curve of the drive. The carriage whipped sharply from one side to the other several times before tilting too far in one direction and sending its passengers and the frightened horses sprawling across the grass.
I found Mary a few feet from the wreckage. She tried to rise up on one arm to free herself from the bushes that had cushioned her fall. However, the moment she leaned any weight on her arm, her face contorted in pain.
"I can't be sure," she said. "But I think it may be broken."
It was a clean break, thankfully. Her only other injuries appeared to be cuts and bruises.
"A fair enough trade for my life," she smiled.
We found Moran sprawled on the ground unconscious. The Prince was dead; we found him beneath the overturned wagon, his neck broken. Death had been almost instantaneous.
I did not envy Moriarty the task ahead of him; informing a father and grandfather that the fiction they had invented many years before had now become fact.
"What happened in the carriage to make the Prince attack Moran?" Moriarty asked Mary.
"I can't be sure. Moran said something to the Prince just as we left the barn; he screamed bloody murder and went for Moran's throat. I'm just glad that Moran said whatever he said," Mary replied.
"Whatever the reason, it looks like Jack the Ripper probably saved your life," observed Moriarty.
That was when it occurred to me that I had seen no sign of Holmes since the carriage had overturned.
"His footprints lead off away from the asylum," said Moriarty. "There was some blood, but I lost the trail about a quarter of a mile to the east. I have no doubt that we will be hearing from Mr. Sherlock Holmes again."
"The train is late," I said, snapping the cover on my watch closed. Mary reached out, took my hand and smiled. Her left arm hung in a sling, a reminder of our encounter with the other Holmes.
All right, I admit that I was more than a bit nervous. Frankly, considering what had happened to me over the last few days, I would say that I had every right to be.
This wasn't Victoria Station by any means, but, rather, a country train depot. In fact, it could have been a waiting room in any depot from Liverpool to Glasgow. There were a few people lingering around the waiting area. Professor Moriarty sat with a notebook on his lap, eyes half closed, every so often jotting down a few words or numerical notations. Occasionally I heard the now familiar sounds of the small metal balls clicking together as he rolled them across his palm.
Mary and I had talked for some time, but in the last few minutes both of us had lapsed into a silence, broken only by an occasional reassuring smile.
"I believe that the train is arriving," Mary said.
The familiar sounds of a steam locomotive filled the station. From the west I could see its lights, hear the metal on metal sound of its brakes, and moments later watch the steam cloud cut across the platform as it slid to a stop.
Moriarty extracted his watch from a vest pocket. "Nine and a half minutes late; mathematically insignificant, especially considering the distance that it had to travel."
A number of people emerged from the train. Most went right to the baggage compartment, while a few lingered around, looking slightly confused. A familiar figure in frock coat and top hat, carrying a walking cane, cut his way through the crowd.
"Holmes, over here," I called out.
I must confess that until that moment I had harbored the slightest fear that all of my memories of the other world had been one long dream.
"Watson, old fellow. It is good to see you." Holmes said grasping my hand. "I have had the most remarkable journey and have seen things that even surprised me."
"They must have been a remarkable sight, then," I said.
"They were. I am sure the return journey will present even more astounding sights," he said.
I glanced at Mary. Her eyes had that remarkable wisdom that I had always looked to for strength and support.
"Holmes, where are my manners," I said "Let me introduce you to-"
"It is my pleasure, Dr. Morstan."
"I am honored, Mr. Holmes. You seem as remarkable as John has described you. Since John has explained how you both came to know my other self, I would be most interested in how you reasoned that I am a doctor."
Holmes flashed a familiar grin. "Simplicity in itself. A number of signs gave your profession away. I shall mention only two: the slight stain of silver nitrate on your uninjured hand, plus I noticed the ear piece of a stethoscope protruding from your sleeve. Since I see Watson is still carrying his in his hat, I reasoned that it most likely belonged to another doctor, you in this case," he said.
"Remarkable!" Mary laughed.
"Elementary," said Holmes. "Wouldn't you agree, Professor?"
"Indeed I would, Holmes. I note you did not fail to make use of the station's wall mirror to note my approach."
"A simple precaution, given our history. One I'm sure you would have taken had the positions been reversed."
"Indeed, you prove once again why your doppelganger has proved so elusive for these many years," chuckled Moriarty. "It is a pleasure to meet you, Mr. Sherlock Holmes,"
"The pleasure is mine, Professor Moriarty," Holmes said.
I then saw something I never in my life had expected to see: Sherlock Holmes shaking hands with Professor Moriarty.
"The note that you sent was fascinating in its implications," said Holmes.
"You had no trouble with the formulas that I suggested?"
"None. It was simply a matter of reorienting one's perceptions of the world around us to direct the train to this particular station and your world," said Holmes. "I doubt the other passengers ever noticed the difference."
"Then there should be no problem in allowing you and Watson to return, by the next train, to your world." Moriarty pulled a time table from his pocket. "Which should depart in just a bit over ten minutes, if this schedule is correct."
It was time. I squeezed Mary's hand once more before speaking. "Unfortunately, I will not be returning with Holmes."
"Indeed. And would I be wrong in assuming that at least part of your reason for remaining is Dr. Morstan?" asked Holmes. I noticed he had a very large grin on his face as he spoke.
"You would be exactly on the mark. In our world, the path for a female physician is especially difficult. Here, though not common, they are accepted more easily. As a general surgeon, I can practice anywhere. Save for a few distant cousins, I have no family left. Beyond yourself and a few other friends, none will miss me. The Professor has offered to help establish my credentials in this world," I said.
"There is then marriage in the offing?" asked Moriarty.
"Perhaps," I said.
They both knew there was, as did Mary and I. True, I had not formally proposed, but that was a matter I fully intended to correct very soon. "For now, we are definitely going into medical partnership."
"Well, Professor, it seems a good thing that I did not accept your wager," said Holmes.
"Wager?" I asked.
At that moment both Holmes and Moriarty had the same sort of twinkle in their eyes.
"Oh yes, did I forget to mention the wager that the Professor offered me? It seems that he appended a note to his missive containing the formulas for traveling here. He suggested that you might have decided to remain here, even offered to bet me ten pounds that you would.
"I did not accept that wager because, though you have been steady as a river throughout our friendship, you have at times surprised even me. From the things told me I had the feeling that this might just be one of those times." A porter appeared carrying two large carpetbags. "I also took the precaution of bringing some of your things I thought you might wish to retain in your new home."
"My thanks. Will my disappearance cause you any problems?"
"None that cannot be handled. I think with the aid of your friend, Dr. Doyle, we should be able to maintain the fiction that you are still writing your chronicles of my minor adventures."
Doyle was a good man, a decent physician and an excellent writer of historical tales. He had recommended me to the editors of the Strand Magazine when I had first begun to seek publication for my work. Doyle's only problem was he had an annoying habit of forgetting my name and calling me James.
"Then this is good-bye?"
"Let us simply say Auf Wiedersehen, Watson. I would not rule out the possibility that we will see each other again."
I watched as Holmes strode across the platform. He had only just stepped inside one of the first-class compartments when I noticed a conductor, with a worried expression on his face, approaching him.
As the train pulled away I saw Holmes nod and follow the man deep into the train.
"Do you think that there is a problem on the train, John?" Mary asked.
"Problems always seem to find their way to Holmes. Perhaps this one will not be without points of interest for him."
"Then, for Mr. Holmes, it appears that the game is once more afoot," she said.
A Scandal in Montreal by Edward D. Hoch
Edward D. Hoch's work has been named a winner of both the Edgar Award and the Anthony Award, and he was named a Grand Master by the Mystery Writers of America. He was known for his prodigious short story output, which, at the time of his death in 2008, numbered more than 900, many of which chronicled the adventures of Dr. Sam Hawthorne, Captain Leopold, or Nick Velvet. In addition to this story, which appeared in one of Ellery Queen's Mystery Magazine's annual Sherlock Holmes tribute issues, he has also written about a dozen other Holmes stories.
***
Once readers fall in love with a character, they can't help wanting to know what happens to that character next. Conan Doyle twice attempted to retire Sherlock Holmes, once, dramatically, at Reichenbach Falls, and then again in a more sedate fashion, when he imagined Holmes easing into a well-deserved retirement as a beekeeper in Sussex. Readers famously rebelled against the first retirement, and many still aren't satisfied with the second. Could a man as single-minded and dynamic as Sherlock Holmes ever really retire? Surely a case must come his way every now and then. And what about Irene Adler, the woman who outwitted Holmes, the only woman he regards as his equal, the woman, as he calls her. Surely their paths must cross again. What happens next? We always want to know. In this next tale we see some familiar characters many years later, when they're older and their troubles are those particular to the more mature crowd-errant offspring, nostalgia, regret. It's always strange when you haven't seen someone in many years and then you meet them again. Sometimes you've both changed completely, and other times you find that you're both just the same as you've always been.
***
1. The Crime
My old companion Sherlock Holmes had been in retirement for some years when I had reason to visit him at his little Sussex villa with its breathtaking view of the English Channel. It was August of 1911 and the air was so still I could make out a familiar humming. "Are the bees enough to keep you busy?" I asked as we settled down at a little table in his garden.
"More than enough, Watson," he assured me, pouring us a little wine. "And it is peaceful here. I see you have walked from the station."
"How so, Holmes?"
"You know my methods. Your face is red from the sun, and there is dust from the road on your shoes."
"You never change," I marveled. "Are you alone here or do you see your neighbors?"
"As little as possible. They are some distance away, but I know they look out their windows each morning for signs of a German invasion. I fear they have been taking Erskine Childers too seriously."
It was eight years since publication of The Riddle of the Sands, but people still read it. "Do you fear war, too?"
"Not for a few years. Then we shall see what happens. But tell me what brings you here on a lovely summer's day. It has been some time since you spent a weekend with me."
"A telegram was sent to you at our old Baker Street lodgings, all the way from Canada. Mrs. Hudson couldn't find your address, so she brought it to me."
"How is she these days?"
"Infirm, but in good spirits."
"I have a housekeeper here who tends to my needs. But she is off today. If you wish to stay for dinner I can offer you only a slice of beef and bread."
"There is no need, Holmes. I came only to deliver this telegram."
"Which could have been delivered more easily by the postal service."
"It seemed important," I told him, "and I have little enough to do in my own retirement. Not even bees!"
"Well then, let us see about this urgent message."
He opened the envelope and we read it together. "Mr. Sherlock Holmes, 221B Baker Street, London. Dear Mr. Holmes, Excuse intrusion on your time, but am in urgent need of help. My son Ralph Norton gone from McGill University. Police suspect him of murder. Please come! I beg you!" It was signed simply, Irene.
"What is this, Holmes?" I asked. "Do you know the meaning of it?"
"All too well," he answered with a sigh.
"What Irene is this? Certainly not Irene Adler. She has been dead some twenty years."
"She was reported to have died, but I always doubted it. Irene was born in New Jersey, and after her marriage here to Godfrey Norton I suspected they might have fled to America to escape questions about the Bohemian affair. If this is truly from her, she would be fifty-three now, four years younger than me and not an old woman by any means. She might well have a son of university age."
"But what can you do from here, Holmes?"
"From here, nothing." He pondered the problem for several minutes, staring at her address at the bottom of the telegram. "I must respond to her at once," he decided. "This telegram was sent four days ago, on the twelfth."
"What will you tell her?"
"She begs my help, Watson. How can I refuse her?"
"You mean you would travel to Canada?" I asked in astonishment.
"I would, and I shall be immensely grateful if you are able to accompany me."
Within a week's time we were at sea, approaching the mouth of the St. Lawrence River. I wondered how Holmes ever persuaded me to accompany him on such a lengthy journey, and yet I knew the answer. I had to be present when he met Irene Adler one more time. I had to see her for myself, after all these years.
Our ship docked at one of the quays adjacent to the center of Montreal and we took a carriage to our hotel. I was surprised at the number of motor cars in the streets, and astounded at the sumptuous mansions in the city's center-the sort of homes that would be far removed from London back home. Our driver informed us that these were the homes of the city's financial and industrial magnates, an area known as the Golden Square Mile.
We checked into a small hotel across the street from the site of a new Ritz-Carlton Hotel under construction. It was on Rue Sherbrooke Ouest, close to the university, and after a telephone call to her Irene said she would join us at the hotel. I could see that Holmes was a bit fidgety at the prospect of the meeting. "I trust I will be able to help the woman with her problem," he confided. "I have never forgotten her, over all these years."
Presently the desk clerk telephoned to say that Mrs. Irene Norton was downstairs. Holmes and I went down to find her waiting in a secluded corner of the lobby, seated alone on a sofa wearing a long skirt and flowered blouse and hat. I recognized her at once from the photograph Holmes kept of her. She was still as slim and dainty as she had been on the opera stage, with a face as lovely as ever. Only a few gray hairs hinted at the passing years. "Good day, Mr. Sherlock Holmes," she said by way of greeting, almost duplicating her words when once she had followed him disguised as a boy. "And Dr. Watson. I must say, both of you have changed very little since our London days."
"You are most kind, madam," Holmes said with a little bow. "I am sorry we cannot be meeting under more pleasant circumstances."
She bid us be seated with her on the sofa. "These have been terrible weeks for me. I was at my wit's end when I telegraphed you, not even knowing if you were still available as a private consultant."
"I am retired," he told her, "but always available if you need me."
She smiled slightly. "I am honored that you should travel across an ocean for me."
"Have you lived in Montreal long?"
She nodded. "After our wedding, Godfrey felt we should leave England. Following a brief time on the Continent, he established quite a successful law practice here and we had a wonderful son, Ralph."
"I remember Godfrey as a remarkably handsome man," Holmes said.
"Sadly, he passed away three years ago. If he was with me now, perhaps I would not have summoned you across an ocean."
"But what of your son? In the telegram you said he had disappeared following a murder."
"That is so. I must tell you the entire story from the beginning. I believe it was his father's death that set Ralph off. He was never the same after that. He took to carousing at night and neglecting his schoolwork."
"What is his age?"
"He is nineteen, about to enter his second year at McGill. He met a young woman during his first year, a pretty red-haired classmate named Monica Starr. She seemed like a nice girl and I had no objection to their friendship. I thought it might get him back on track. But this summer he discovered there was a rival for her affections, a German student named Franz Faber who was entering his final year at McGill. I know the two boys had a fight, and Ralph came home a few weeks ago with a bloody nose. But it wasn't anything more than that. Ralph couldn't have-" Her voice broke then.
"What happened, Irene?" Holmes asked her softly.
"Two weeks ago, on a Thursday night, Franz Faber was stabbed to death outside a pub frequented by McGill students. It has caused a great scandal here. Things like this don't happen at McGill."
"The university was in session during August?"
"They offer some summer courses each year. Apparently Faber was taking a language course. He was a German student with only a basic knowledge of English and French. My son was seen in the pub earlier and the police came to our house to question him. He'd come home about an hour before they arrived and went to his room without speaking to me."
"Was that unusual?"
"He's been moody lately. I thought nothing of it, but when I went to his room to summon him for the police, he wasn't there. Apparently he'd gone out the back door. The next morning I discovered that Monica Starr was missing too. The police are convinced he killed Faber, but I can't believe it. He was moody, yes, just like his father, but he'd never kill anyone."
Holmes tried to calm her. "I will do whatever I can for you, Irene. You must know that. Tell me, is there any place in the city or near here where they might have gone?"
"I'm not even convinced they're together."
"I think we can assume they are, whether or not he committed the crime. Was he friendly with any of his professors or instructors at McGill?"
She considered that for a moment. "There's Professor Stephen Leacock. He's a lecturer at McGill and he's published some economics books along with collections of humorous stories. Ralph was quite friendly with him."
"What about fellow students?"
"Only Monica, so far as I know."
"I'll speak to Leacock," Holmes said. "What about you? Are you still singing?"
She gave him a wan smile. "Very little, occasionally in local productions."
"That's too bad, Irene. You have a lovely voice."
"Find him for me, Mr. Holmes," she said. "You're the only one who can help me now."
"I'll do everything possible."
We walked the short distance to the university, a series of stone buildings reached by a tree-lined carriageway from the street. A monument to James McGill, whose legacy helped found the institution ninety years earlier, stood in front of the central pavilion. Only a few students and faculty members were about, preparing for the upcoming autumn term. We asked directions to Professor Leacock's office and were directed to the political economy department in an adjoining building. Holmes led the way, moving with an intensity that surprised me.
"We have no time to lose, Watson. If the young man has indeed fled the scene it is important that we find him and convince him to return for his own good."
"Do you believe him to be guilty, Holmes?"
"It is much too soon to form an opinion."
When we located Leacock's tiny office, it was occupied by a slender young man who introduced himself as Rob Gentry. He'd been studying a map on the professor's desk and he told us, "Professor Leacock is out right now, but he should be returning shortly. There's an election coming up, you know. Please take a seat, gentlemen."
"Is he active in politics?" Holmes asked.
"Very much so, on the Conservative side. He's campaigning against our Liberal prime minister."
Almost at once a handsome broad-shouldered man with a thick moustache appeared in the doorway. "What's this? Visitors? We will need an additional chair, Rob."
"Yes sir."
"I am Professor Leacock," he said, extending his hand. I guessed him to be in his early forties, with just a hint of gray in his hair. "What can I do for you?"
"We have traveled here from London. This is my companion, Dr. Watson, and I am Mr. Holmes."
"Holmes? Holmes?" Leacock seemed astounded. "Surely not the great Mr. Sherlock Holmes!"
"The same," I replied, speaking for Holmes.
"I have published some humorous pieces about your great detective work, Mr. Holmes. At least I trust you will find them humorous."
Holmes ignored his words. "We have come on an urgent matter, Professor Leacock. Irene Norton has asked my help in finding her son, Ralph, who is suspected of murder."
Leacock seemed to pale at his words. "A terrible tragedy," he murmured.
"His mother says you were a friend of his."
"I still am. This entire business is beyond my comprehension." He shifted some papers on his desk.
"If you know his whereabouts, it would be best for the lad if we found him before the police."
"I know nothing," he insisted.
"Perhaps, but your assistant was studying a map on your desk when we entered, and now you have covered it up."
Leacock was silent for a moment, perhaps weighing his choices. Finally he said, "You are quite the detective, Mr. Holmes. Yes, I know where the boy is."
2. The Chase
Professor Leacock explained that he did his writing during summer vacations at a family cottage north of Lake Simcoe in the town of Orillia. It was some distance away from Montreal, actually north of Toronto. "It's on Old Brewery Bay on Lake Couchiching, but that's really an extension of Lake Simcoe."
"How do you get there?" Holmes asked.
"By train. The Canadian National Railway runs a line from Toronto through Orillia. It passes quite close to my cottage. I came back here with my family in early August as I always do, to prepare for the new term. It was just a few days before Franz Faber was killed."
"Did you know Faber?"
"Not personally. Rob here knew him."
Gentry nodded. "I used to see him in the pub on weekends. If he was between girlfriends we might have a few beers together."
Holmes looked thoughtful. "Did you see him the night he was stabbed?"
He shook his head. "I was at a picnic with some friends."
Holmes turned back to Leacock. "You said you know where young Norton is."
"He came to see me just after I returned to Montreal with my family. He wanted to get away for a few weeks, until the new term began. He wondered if I might know a place where he could go."
"And you suggested your cottage in Orillia?"
"I did."
"When was this?"
He consulted his desk calendar. "It would have been Wednesday, the ninth."
"Was he accompanied by the missing young woman, Monica Starr?"
"So far as I knew he went alone."
"And is still there now?"
"I believe so, yes. He planned to return the second week in September."
"Do you have a telephone at the cottage?"
"No. I like to spend the summers there with my wife and son, without needless interruptions."
"Then tell me how to get there by train."
"It is a full day's journey from here, well over three hundred miles."
"Watson and I are used to riding trains in England."
Leacock smiled. "I am British myself, you know. My parents migrated to Canada when I was seven and I decided to go with them."
"A wise decision," Holmes said with a smile. "Now about your cottage-"
"I don't know what is happening with Ralph, but I seem to be responsible in part, since I allowed him to use my place. If you insist on going, I will journey with you. I don't want two strangers accosting him by surprise."
I sensed something unspoken, as if he feared Irene's son was indeed capable of violence. "Very well," Holmes agreed. "Let us take the first available train."
Professor Leacock turned to his assistant. "Can you handle things here for a few days, Rob?"
"Certainly, sir."
Leacock telephoned his wife to tell her of our plans. Then he said to Holmes, "There is an early-morning train tomorrow. We can be at the cottage before nightfall."
"Very well."
"Windsor Station is several blocks south of here. Go down Rue Peel, past Dominion Square, and it will be on your right. You can't miss it. I will meet you there at eight in the morning." As we were leaving he thrust a book of his writings into my hand. "Please read this tonight, Dr. Watson, especially my little story 'Maddened by Mystery.' I trust you and Mr. Holmes will find it all in good fun."
Once outside, Holmes stared up at the sky. "An odd sort of chap, but friendly enough. Before we travel to the cottage, though, I wish to speak with the local police."
Dealing with the Sûreté du Québec proved to be both better and worse than our frequent encounters with Scotland Yard. Better, because they tended to treat Holmes with a bit more respect than some of their British counterparts, but worse because it was difficult finding the detectives investigating the murder of Franz Faber. We finally were shown to a squad room where a detective named Jean Leblond greeted Holmes with a degree of respect.
"You are certainly well known to us here," he said. "Is this your first journey to Canada, Mr. Holmes?"
"It is."
"I trust you will find our country to your liking. Now what can I help you with?"
"I have been asked to look into the murder of a McGill University student named Franz Faber. I believe he was stabbed to death outside a pub a fortnight ago."
Leblond flipped through the files on his desk. "Exactly a fortnight, on Thursday, the tenth. He lived only a few minutes after the attack."
"Were there any witnesses?" Holmes asked.
"No."
"Then why are you attempting to arrest Ralph Norton for this crime?"
"The two had fought over a woman. A police officer on patrol was the first to see Faber lying in the road. He'd been stabbed in the chest and was bleeding badly but still alive. The officer asked who stabbed him and he said Norton."
I could see that this dying statement had caught Holmes by surprise. "He's sure of that?"
The detective nodded. "He said Norton. The officer was certain. Add to that the fact that Ralph Norton fled when we came to question him and it makes a strong circumstantial case."
"Who was the woman they fought over?"
"Name is Monica Starr. She's disappeared too."
"Have you talked to her family?"
"They have a home up north, in Gaspe. She's been living on campus. They know nothing about her disappearance and claim they haven't seen her all summer. She'd remained at the university for some extra courses."
"Something of a coincidence, all these extra summer courses," Holmes mused. "Was Ralph Norton at the pub that night?"
"The bartender saw him earlier, but he wasn't there with Faber."
"Was the murder weapon recovered?"
"Not yet. We've searched the area without any luck."
When we left the Sûreté du Québec, I asked Holmes what he thought. "It seems that Ralph is the prime suspect," he answered. "We should call on Irene today, before we leave in the morning."
We called at her home, a smaller version of those mansions we'd seen on our way to the hotel. It was obvious that her husband's law practice had been profitable. Over tea Holmes explained about Leacock's cottage and told her we'd be traveling there in the morning. "You must prepare yourself, Irene. The police evidence is strong, even if not conclusive. If he's at the Leacock cottage, he might not be alone."
"That girl-"
Holmes nodded. "Monica Starr. She was here all summer with him. Something happened with the other boy, Franz Faber. They fought once and they may have fought again, outside the pub a fortnight ago. He spoke Ralph's name as he was dying."
"No!" She shook her head. "I can't believe my son would harm anyone."
"If I find him, I will have to bring him back."
She turned away, not wanting to meet his quick eyes. "He's my only child, all that I have. You must be able to help him somehow."
Holmes sighed and told her, "I will do whatever I can."
That evening, as we prepared to retire to our rooms, I took the time to read the little story Stephen Leacock had given me earlier. "Holmes!" I exclaimed before I'd finished the first few pages. "This thing of Leacock's actually makes sport of you and your methods. He refers to you as the Great Detective and describes you wearing foolish disguises as you attempt to help the prime minister and the archbishop of Canterbury!"
"Am I mentioned by name?"
"No."
"Then I view it as a compliment if readers like you immediately identify me as the Great Detective."
But that did little to calm my outrage. As I finished my reading I gasped. "At the end he has you disguised as a dog and destroyed by the dogcatchers! The man is a scoundrel and a slanderer!"
Holmes smiled just a bit. "Or a humorist."
"Do we really want to travel with such a person?"
"I am doing it for Irene and her son, not for Leacock."
And in the morning we met him at the station as planned. His teaching assistant, Rob Gentry, had come with him, which was something of a surprise. "I have some papers at the cottage," Leacock explained. "Since we'll be there at least overnight, Rob can sort through them for me and decide what I need to bring back here."
As it turned out, Gentry's presence was a good thing. It gave me someone to converse with on the long journey, and an excuse for addressing none of my remarks to the blackguard Leacock. The journey across eastern Canada was a picturesque one, and Leacock explained to Holmes why he'd chosen a summer home so far removed from Montreal. "I grew up in this area, after we came here from England. We had a place in Egypt, not far from the south shore of Lake Simcoe. A colorful country, especially in summer. The winters in Montreal are often brutal."
"It is a large country," Holmes remarked.
"Indeed it is. One can travel hundreds of miles in western Canada and see nothing but wheat fields. I believe the Lord said, 'Let there be wheat,' and Saskatchewan was born."
It was late afternoon when we left the train at Orillia and took a carriage the few short blocks to Leacock's cottage. Since there was no telephone, he'd been unable to announce our arrival in advance. A handsome young man with sandy hair and a few freckles was seated on the porch as we left the carriage. He immediately put down the Rider Haggard novel he was reading and stood up.
"Professor Leacock! What brings you here?"
"I have bad news for you, lad. Franz Faber was murdered the night before you left Montreal. The police want to question you about it."
At his words the screen door behind him opened and a lovely red-haired girl in a blue shift appeared. She had a dimple in her chin and a smile to charm any man. "Ralph was with me all the time," she told us. "He couldn't have killed anyone."
Holmes inserted himself into the conversation. "Would this be the missing Miss Starr?" he asked.
"Who are you?" Norton demanded.
"Sherlock Holmes. I am an old friend of your mother, who summoned me from England to find you."
He shook his head. "I didn't kill anyone, and I'm not going back to see the police. We're staying right here." His glance shifted to me. "Who is this man?"
"My associate, Dr. Watson," Holmes responded.
He studied me more closely. "A medical doctor?"
"Of course," I told him.
"And you know Rob, my assistant," Leacock said.
Ralph smiled slightly. "We see each other at the pub."
Leacock glanced around. "We only have three bedrooms. Is there room for us all overnight?"
"Sure," Ralph conceded. "Follow me, Mr. Holmes. We'll get everyone settled and have a bit of supper. You must be hungry after that long train ride."
Holmes and I drew a small bedroom at the rear of the cottage. When we were alone I asked, "Why was he so interested that I was a doctor?"
"You must try to be more observant, Watson. We now know why she didn't spend the summer at home with her parents. Even wearing that large shift I could detect a bit of a bulge. I believe Monica Starr to be at least six months pregnant."
3. The Capture
Seeing her seated at the dinner table later that evening, I had to agree with Holmes's diagnosis. The girl was certainly pregnant, probably entering her third trimester. It appeared that Ralph was planning to remain here with her rather than return to McGill. I wondered if Leacock and Gentry were aware of her condition. After we ate, there was still enough light for us to walk along Old Brewery Bay. It was a small arm of the lake, with Leacock's house at the innermost part. I could see that Irene's son and Monica Starr were supremely happy, even with these unexpected guests. They played catch with a red rubber ball, occasionally tossing it to Leacock or Gentry as well. At one point, Ralph ran ahead and shouted to her. "North! Catch!"
"North?" Holmes questioned after she'd caught the ball and tossed it on to Gentry.
"I'm from up north, so naturally the guys started calling me North Starr, or just North."
"Do you like it at McGill?"
"Sure, what's not to like? That's where I met Ralph. We'll be getting married soon, after we break the news to our folks."
"I wish you all the happiness you deserve," Holmes said.
Leacock had been standing close enough to overhear the conversation, and he commented to me, "Many a man in love with a dimple makes the mistake of marrying the whole girl."
"You do not approve?" I asked, addressing him for the first time since our journey began.
"It is not for me to say. Life, as we often learn too late, is in the living."
As the evening wore on, I found myself forced into further conversation with Leacock. "Did you have an opportunity to read my little piece on the Defective Detective, Dr. Watson?"
"I did, sir. It seems to me you could devote your talents to more important matters."
"Ah, but you see, I would sooner have written Alice in Wonderland than the whole of the Encyclopedia Britannica."
I had no answer for that.
Holmes and I both slept well that night. The water was still, and a big change from our Atlantic crossing. In the morning, over breakfast, the talk turned serious. It was Leacock who brought matters to a head. "You have to come back with us, Ralph. If you don't, I must tell the police where you are."
But it was Monica who rose to his defense. "Why do you have to tell them? He's done nothing wrong."
Leacock turned appealingly toward Holmes, who said quietly, "Franz Faber named Ralph as he was dying. He told a police officer it was Norton."
"But that's impossible! I was with him all that night."
"No, you weren't, Monica," Ralph told her. "This was Thursday, the night before we left. Remember, I had to pick up some things from home. I was gone for over an hour."
"You couldn't kill anyone, Ralph," she said with a sigh. "Franz might not have seen his killer. You two'd had a fight, so your name was the one he spoke."
"He was stabbed in the chest," Holmes told her. "It's most likely he did see his killer." Then he turned back to Ralph. "What had you and Faber fought about?"
He gave a snort. "We fought over Monica. It felt like I was still a kid in high school."
"Is that true?" he asked her.
"I guess so. I went out with Franz for a while and he didn't want to give me up."
If we were to be back in Montreal that night we had to be leaving soon. Rob Gentry had gathered up the material Leacock wanted to bring back, but there was still no agreement from Ralph. "I'm not going to ride all day on the train just to tell some ignorant detective I'm innocent."
"I can stay here alone for one night," Monica told him. "Or you can come back with him," Professor Leacock suggested. "That might be best."
She shook her head. "No. I came here to get away from people-"
Holmes spoke softly. "Dr. Watson could examine you if you are concerned about your condition."
"It's not that. I just don't want to go back there."
"And neither do I," Ralph decided.
Leacock tried to reason with them. "Sooner or later the Montreal police will learn where you are, Ralph. You'll be arrested and taken back there in handcuffs. That's hardly something you'd want your mother to see."
"There's no evidence that I killed him."
"You fought, and he named you as his killer," Holmes said.
"Our fight was several days earlier. There was no reason to renew it or stab him. Monica was coming with me. I asked you about this cottage and you gave me the key a full day before Faber was killed."
"You make a good case for your innocence," Holmes agreed. "But the police want a killer and you're the only suspect they have."
It was then that Monica Starr spoke. "They have another," she said quietly. "I killed Franz Faber."
"Monica!" Ralph shouted. "Don't ever say that again! Someone might believe it."
I stared at Leacock and Gentry, seeing the disbelief in their faces. But than I glanced at Holmes and saw something quite different, something like satisfaction. "Of course she killed him. I've known it since last night. But I had to hear it from her own lips."
"How could you have known?" Ralph asked. "What happened last night?"
"You called her by a nickname, 'North.' When Franz Faber lay dying, he reverted to his native language. The officer asked who stabbed him and he didn't say Norton but Norden, the German word for north. He was saying you stabbed him, Monica. Do you want to tell us why you did it?"
She stared down at the floor, unable to look any of us in the eye. Finally she answered. "I love Ralph, I love him so much. My brief time with Franz was a big mistake, but when I became pregnant he threatened to tell Ralph the baby was his and not Ralph's. I couldn't let him do that. I begged him not to, but he wouldn't listen. I'd brought a knife along to threaten him, but when he saw it he just laughed. That was when I stabbed him."
"Monica-" It was almost a sob from Ralph Norton's lips.
The six of us took the long train ride back to Montreal together. Holmes telephoned Detective Leblond from a stop along the route and he was waiting for us at the station.
Holmes and I took a carriage to Irene Norton's home. He insisted on giving her the news in person. "Your son will be home soon," he told her. "He's gone to the Sûreté with Monica Starr."
"Have you solved the case?" she wanted to know. "Is my son innocent?"
"Innocent of all but a youthful love. Only time can cure him of that." He told her of Monica's confession.
"And the baby?" she asked. "Who is the father?"
"We didn't ask, but it seems Faber had reason to believe it was his. It may take Ralph some time to get over that."
She dipped her eyes, and may have shed a tear. "A scandal in Montreal. Who would have thought it? First me, all those years ago in Bohemia, and now my son."
"No one is blaming you, or your son."
She lifted her head to gaze at Holmes. "How can I ever thank you? Will you be going back now?"
He nodded. "I am retired and keep bees at my villa in Sussex. If you are ever in the vicinity, it would be my pleasure to show it to you."
"I'll keep that in mind," she said, and held out her hand to him.
The Adventure of the Field Theorems by Vonda N. McIntyre
Vonda N. McIntyre is the author of the Hugo, Nebula, and Locus award-winning novel Dreamsnake. She is also the author of The Moon and the Sun (which also won the Nebula Award) and several other novels, including a Star Wars novel and several Star Trek novels. Other original novels include The Starfarers Quartet, Barbary (a book for younger readers), Superluminal, and The Exile Waiting. Much of her short fiction has been collected in Fireflood and Other Stories.
***
Readers have a tendency to identify authors with their characters, and this was certainly the case for Arthur Conan Doyle. He received piles of letters from readers asking for his help in solving actual crimes, to which he could only throw up his hands. Not only did Conan Doyle lack the rigorous, logical, machine-like Holmes-ian ability to penetrate subterfuge, but the author was also famously gullible. He repeatedly put his reputation on the line championing any hokey spiritualist who waved some ectoplasm at him. (In fact, the stage magician Houdini, who knew all the tricks of the spiritualists and who dedicated himself to unmasking them, displayed more Holmes-like behavior than the author ever did.) Perhaps the most embarrassing example of Conan Doyle's credulity was his publicizing the case of the Cottingley fairies-amazingly, the creator of Sherlock Holmes showed no skepticism when some mischievous teenage girls took photographs of themselves standing beside cardboard-cutouts of gnomes and fairies and then presented the images as real. This next tale shows us this side of Conan Doyle. Of course, in the wilds of an author's imagination, you can never be too sure what's real and what isn't.
***
Holmes laughed like a Bedlam escapee.
Considerably startled by his outburst, I lowered my Times, where I had been engrossed in an article about a new geometrical pattern discovered in the fields of Surrey. I had not yet decided whether to bring it to Holmes's attention.
"What amuses you so, Holmes?"
No interesting case had challenged Holmes of late, and I wondered, fearfully, if boredom had led him to take up, once again, the habit of cocaine.
Holmes's laughter died, and an expression of thoughtful distress replaced the levity. His eyes revealed none of the languorous excitement of the drug.
"I am amused by the delusions of our species, Watson," Holmes said. "Amusing on the surface, but, on reflection, distressing."
I waited for his explanation.
"Can you not discern the reason for my amusement, Watson-and my distress? I should think it perfectly obvious."
I considered. Should he encounter an article written particularly for its humorous content, he would pass straight over it, finding it as useless to him as the orbits of the planets. The description of some brutal crime surely would not amuse him. A trace of Moriarty would raise him to anger or plunge him into despair.
"Ah," I said, certain I had divined the truth. "You have read an account of a crime, I beg your pardon, the resolution of a crime, and you have seen the failings in the analysis. But," I pointed out, somewhat disturbed by my friend's indifference to the deeper ramifications, "that would indicate the arrest of an innocent victim, Holmes. Surely you should have some other reaction than laughter."
"Surely I should," Holmes said, "if that were the explanation. It is not." He shook the paper. "Here is a comment by Conan Doyle on Houdini's recent performance."
"Quite impressive it was, too," I said. "Thrilling, I would say. Did Sir Arthur find the performance compelling?"
"Conan Doyle," Holmes said with saturnine animosity, "attributes Houdini's achievements to-" Holmes sneered-"'mediumistic powers.'"
"His achievements do strain credulity," I said mildly.
"Pah!" Holmes said. "That is the point, Watson, the entire and complete point! Would you pay good money to see him fail to escape from a sealed coffin?"
"I suppose that I would not," I admitted.
"Were Houdini to tell you his methods, you would reply, 'But that is so simple! Anyone could achieve the same effect-using your methods!'"
As Holmes often heard the same remark after explaining his methods, I began to understand his outburst.
"I would say nothing of the sort," I said mildly. "I should say, instead, that he had brought the technique of stage magicianship to as near an exact science as it ever will be brought in this world."
Holmes recognized my comment with a brief smile, for I had often said as much to him about his practice of detection.
"But it is true, Watson," Holmes said, serious once more. "Anyone could achieve the same effect-were they willing to dedicate their lives to developing the methods, to studying the methods, to perfecting the methods! Then it is 'so simple.'"
When Holmes deigned to lead an amazed observer through his deductive reasoning, the observer's reaction was invariably the same: His methods were "perfectly obvious"; anyone, including the observer, could duplicate them with ease.
"Conan Doyle claims friendship with Houdini," Holmes said in disgust, "and yet he insults his friend. He dismisses Houdini's hard work and ingenuity. Despite Houdini's denials, Conan Doyle attributes Houdini's success to the supernatural. As if Houdini himself had very little to do with it! What a great fool, this Conan Doyle."
"Easy on," I said. "Sir Arthur is an intelligent man, a brave man. An inspired man! His imagination is every bit as exalted as that of Wells! His Professor Challenger stories compare favorably to War of the Worlds-!"
"I never read fiction," Holmes said. "A failing for which you berate me continually. If I did read fiction, I would not doubly waste my time with the scientific romances you find so compelling. Nor am I interested in the mad fantasies of a spiritualist." Holmes scowled through a dense cloud of pipe smoke. "The man photographs fairies in his garden."
"You are too much the materialist, Holmes," I said. "With my own eyes I saw amazing things, unbelievable things, in Afghanistan -"
"Ancient sleight of hand. Snake charming. The rope trick!" He laughed again, though without the hysterical overtones of his previous outburst. "Ah, Watson, I envy you your innocence."
I was about to object to his implications when he stayed my comment by holding up one hand.
"Mrs Hudson-"
"-with our tea," I said. "Hardly deserves the word 'deduction,' as her footsteps are plainly audible, and it is, after all, tea-time-"
"-to announce a client."
Mrs Hudson, our landlady, knocked and opened the door. "Gentleman to see you, Mr Holmes," she said. "Shall I set an extra cup?"
The figure of a man loomed behind her in the shadows.
"Thank you, Mrs Hudson," Holmes said. "That would be most kind."
Mrs Hudson placed a calling card on the tray by the doorway. Holmes rose to his feet, but did not trouble to read the card. As our visitor entered I rose as well, and made to greet him, but Holmes spoke first.
"I observe, Dr Conan Doyle," Holmes said coolly, "that you were called abruptly into the fields, and have spent the morning investigating the mystery of the damaged crops. Investigating without success, I might add. Has a new field theorem appeared?"
Conan Doyle laughed heartily, his voice booming from his powerful chest.
"So you've introduced me already, John!" he said to me. "You were looking out the window when my carriage arrived, I've no doubt." He smiled at Holmes. "Not such a clever deduction, Mr Holmes." He wrinkled his noble brow and said to me, "But how did you know I've just come to town, and how did you know of my involvement with the field theorems?"
"I'm afraid I had no idea you were our visitor, Sir Arthur," I said. "I did not even know we had a visitor until Holmes surmised your approach."
Sir Arthur chuckled. "I understand," he said. "Bad manners, revealing the tricks of the trade. Even those as simple as prior knowledge."
Holmes concealed his annoyance; I doubt anyone who knew him less well than I would have noticed it. He gazed steadily at Sir Arthur. We seldom had visitors taller than Holmes, but Sir Arthur Conan Doyle exceeds six feet by four inches. Unlike my friend Holmes, who remained slender, indeed gaunt, even during his occasional periods of slothful depression, Sir Arthur dominated the room with his hearty presence.
"How did you know about our visitor, Holmes?" I asked, trying to salvage the introductions.
"I heard Sir Arthur's carriage arrive," he said dismissively, "as you would have done had you been paying attention."
Though somewhat put off by his attitude, I continued. "And Sir Arthur's outing? His identity?"
"My face is hardly unknown," Sir Arthur said. "Why, my likeness was in the Times only last week, accompanying a review-"
"I never read the literary section of the Times," Holmes said. "As Watson will attest." He pointed the stem of his pipe at Sir Arthur's pants cuffs. "You are a fastidious man, Sir Arthur. You dress well, and carefully. Your shave this morning was leisurely and complete. Your moustache is freshly trimmed. Had you planned your excursion, you would surely have worn suitable clothing. Therefore, your presence was required on short notice. You have wiped the mud of the fields from your boots, but you have left a smear on the polish. You have confronted a puzzle that has distracted you from your customary appearance, which I can easily see-anyone could easily see!-is impeccable. As to the nature of the puzzle, unripe seed-heads of Triticum aestivum have attached themselves to your trousers cuffs. I am in no doubt that you investigated the vandalism plaguing fields in Surrey."
"Amazing," Conan Doyle whispered, his ruddy face paling. "Absolutely amazing."
I could see that Holmes was both pleased by Conan Doyle's reaction, and surprised that Sir Arthur did not laugh again and announce that his methods were simplicity itself.
Holmes finished his recitation. "That you have failed to solve the mystery is self-evident-else why come to me?"
Sir Arthur staggered. Leaping forward to support him, I helped him to a chair. I was astonished to perceive any weakness in a man of his constitution. He was quite in shock. Fortunately, Mrs Hudson chose that moment to arrive with the tea. A good hot cup, fortified with brandy from the sideboard, revived Sir Arthur considerably.
"I do apologize," he said. "I've spent the morning in the presence of strangeness beyond any I've ever before witnessed. As you divined, Mr Holmes, the experience has distracted me. To perceive your supernatural talents so soon thereafter-!"
He took a deep draught of his tea. I refilled his cup, including rather more brandy. Sir Arthur sipped his tea, and let warm, pungent steam rise around his face. His colour improved.
"'Supernatural'?" Holmes mused. "Well-honed, certainly. Extraordinary, even. But not in the least supernatural."
Sir Arthur replied. "If John did not tell you who I am, and you did not recognize my face, then you could only have discovered my name by-reading my mind!"
"I read your name," Holmes said dryly, "from the head of your walking-stick, where it is quite clearly engraved."
Since the end of spring, the newspapers had been full of articles about mysterious damage to growing crops. Wheat stalks were crushed in great circles intersected by lines and angles, as if a cyclone had touched down to give mere humans a lesson in celestial geometry. Though the phenomena were often accompanied by strange lights in the sky, the weather was invariably fair. If the lights were lightning, it was lightning unaccompanied by thunder! No wind or rain occurred to cause any damage, much less damage in perfect geometrical form.
Many suggestions had been put forth as to the cause of the unexplained diagrams, from hailstorms to electromagnetic disturbances, but blame had not yet been fixed. The patterns were the mystery of the year; the press, in a misinterpretation of modern physics in general and the theory of Maxwell in particular, had taken to calling the devices "field theorems."
Holmes had clipped and filed the articles, and painstakingly redrawn the figures. He suspected that if the patterns were the consequence of a natural force, some common element could be derived from a comparison of the designs.
One morning, I had come into the sitting-room to find him surrounded by crumpled paper. The acrid bite of smoke thickened the air, and the Persian slipper in which Holmes kept his shag lay overturned on the mantel among the last few scattered shreds of tobacco.
"I have it, Watson!" Holmes had waved a drawing, annotated in his hand. "I believe this to be the basic pattern, from which all other field theorems are derived!"
His brother, Mycroft, speedily dismantled his proof, and took him to task for failing to complete several lemmas associated with the problem. Holmes, chagrined to have made such an elementary (to Holmes), and uncharacteristic, mistake, appeared to lose interest in the field theorems. But it was clear from his comments to Sir Arthur that they had never completely vanished from his attention.
After packing quickly, Holmes and I accompanied Sir Arthur to the station, where we boarded the train to Undershaw, his estate in Hindhead, Surrey.
"Tell me, Sir Arthur," Holmes said, as our train moved swiftly across the green and gold late-summer countryside, "how came you to be involved in this investigation?"
I wondered if Holmes were put out. The mystery had begun in early summer. Here it was nearly harvest-time before anyone called for the world's only consulting detective.
"It is my tenants who have been most troubled by the phenomena," said Sir Arthur, recovered from his earlier shock. "Fascinating as the field theorems may be, they do damage the crops. And I feel responsible for what has happened. I cannot have my tenants lose their livelihoods because of my actions."
"So you feel the vandalism is directed at you," said I. Sir Arthur had involved himself in several criminal cases, generally on the side of a suspect he felt to be innocent. His efforts differed from those of Holmes in that Holmes never ended his cases with ill-advised legal wrangles. No doubt one of Sir Arthur's less grateful supplicants was venting his rage against some imagined slight.
"Vandalism?" Sir Arthur said. "No, this is far more important, more complex, than vandalism. It's obvious that someone is trying to contact me from the other side."
"The other side?" I asked. "Of Surrey? Surely it would be easier to use the post."
Sir Arthur leaned toward me, serious and intense. "Not the other side of the country. The other side of… life and death."
Holmes barked with laughter. I sighed quietly. Intelligent and accomplished as my friend is, he occasionally overlooks proprieties. Holmes will always choose truth over politeness.
"You believe," Holmes said to Sir Arthur, "that a seance brought about these field theorems? The crushed crops are the country equivalent of ectoplasm and levitating silver trumpets?"
The scorn in Holmes's voice was plain, but Sir Arthur replied calmly. He has, of course, faced disbelief innumerable times since his conversion to spiritualism.
"Exactly so," he said, his eyes shining with hope. "Our loved ones on the other side desire to communicate with us. What better way to attract our attention than to offer us knowledge beyond our reach? Knowledge that cannot be confined within an ordinary seance cabinet? We might commune with the genius of Newton!"
"I did not realize," Holmes said, "that your family has a connection to that of Sir Isaac Newton."
"I did not intend to claim such a connection," Sir Arthur said, drawing himself stiffly upright. Holmes could make light of his spiritual beliefs, of his perceptions, but an insult to the familial dignity fell beyond the pale.
"Of course not!" I said hurriedly. "No one could imagine that you did."
I hoped that, for once, Holmes would not comment on the contradiction inherent in my statement.
Holmes gazed with hooded eyes at Sir Arthur, and held his silence.
"It's well known that entities from diverse places and times-not only relatives-communicate from the other side," I said. "How extraordinary it would be, were Isaac Newton to return, after nearly two centuries of pure thought!"
"'Extraordinary,'" Holmes muttered, "would hardly be the word for it." He fastened his gaze upon Sir Arthur. "Dr Conan Doyle," he said, "if you believe spirits are the cause of this odd phenomenon-why did you engage me to investigate?"
"Because, Mr Holmes, if you cannot lay the cause to any worldly agent, then the only possible explanation is a spiritual one. 'When you have eliminated the impossible, whatever remains, however improbable, must be the truth'! You will help me prove my case."
"I see," Holmes said. "You have engaged me to eliminate causes more impossible than the visitations of spirits. You have engaged me… to fail."
"I would not have put it so," Sir Arthur said.
The trip continued in rather strained silence. Sir Arthur fell into a restless doze. Holmes stared at the passing landscape, his long limbs taut with unspent energy. After an eternity, we reached the Hindhead station. I roused Sir Arthur, who awoke with a great gasp of breath.
"Ma'am!" he cried, then came to himself and apologized most sincerely. "I was dreaming," he said. "My dear, late mother came to me. She encourages us to proceed!"
Holmes made no reply.
Sir Arthur's carriage, drawn by a pair of fine bays, awaited us.
"The automobile can't be started, sir," the driver said. "We've sent to London for the mechanic."
"Very well, James," Sir Arthur said. He shook his head as we climbed into the carriage. "The motor was quite astonishingly reliable when first I bought it. But recently it has broken down more often than it has run."
The comment drew Holmes's attention. "When, exactly, did it begin to fail?"
"Eight weeks past," Sir Arthur said.
"At the same time the field theorems began to appear," Holmes said thoughtfully.
Sir Arthur chuckled. "Why, Mr Holmes, surely you don't believe the spirits would try to communicate by breaking my autocar!"
"No, Sir Arthur, you are quite correct. I do not believe the spirits would try to communicate by breaking your autocar."
"Merely a coincidence."
"I do not believe in coincidences."
Holmes was anxious to inspect the field theorems as soon as we arrived at Undershaw, but by then it was full dark. Sir Arthur showed the strain of a long and taxing day. He promised that we should leap out of bed before dawn and be at his tenant's field as the first rays of the morning sun touched the dewdrops of night.
And so we did; and so we were.
The descriptions and newspaper engravings of the field theorems did not do justice to the magnitude of the patterns. We stood on a hillside above the field to gain an overview of the damage. Three wide paths, perfectly circular and perfectly concentric, cut through the waving stalks of grain. A tangent, two radii, and a chord decorated the circles. I had to admit that the pattern resembled nothing so much as the proof of some otherworldly geometric proposition.
"The theorems appear only in wheat fields," Sir Arthur said. "Only in our most important crop. Never in fields of oats, nor in Indian corn."
Holmes made an inarticulate sound of acknowledgment.
We descended the hill, and Holmes entered the field.
Sir Arthur looked after him. "John," he said to me, "will your friend admit it, if he can find no natural explanation?"
"His allegiance is to the truth, Sir Arthur," I said. "He does not enjoy failure-but he would fail before he would propose a solution for which there were no proof."
"Then I have nothing to worry about." He smiled a bluff English smile.
Holmes strode into the swath of flattened green wheat, quartering the scene, inspecting both upright and crushed stalks, searching the hedgerows. He muttered to himself, laughed and snarled; the sound crossed the field like a voice passing over the sea. He measured the path, the width of the stalks left standing, and the angles between the lines and curves.
The sun crept into the clear sky; the day promised heat.
"Can you feel it?" Sir Arthur said softly. "The residual power of the forces that worked here?" He stretched out his hands, as if to touch an invisible wall before him.
And indeed, I felt something, though whether it was energy spilled by unimaginable beings, or the Earth's quiet potential on a summer's day, I could not tell.
While Sir Arthur and I waited for Holmes to finish his search, a rough-shod man of middle years approached.
"Good morning, Robert," Conan Doyle said.
"Morning, Sir Arthur," Robert replied.
"Watson, this is one of my tenants, Robert Holder."
Robert's work clothes were shabby and sweat-stained. I thought he might have taken more care with his appearance, when he came to speak to his landlord.
To Robert Sir Arthur said, "Mr Holmes and Dr Watson have come to help us with our mystery."
"Mr Holmes?" Robert exclaimed.
He glanced out into the field, where Holmes continued to pace and stoop and murmur.
"And you're Dr Watson?" Robert's voice rose with the shock of finding himself in the presence of celebrity. "Why, it's a pleasure to meet you, sir," he said to me. "My whole family, we read your recountings in the evenings. The children learned their letters, sitting in my lap to listen to your tales."
"Er… thank you," I said, somewhat nonplussed. Though he was well-spoken for a farmer, I would not have marked him as a great reader; and, more, I consider the perils encountered by Holmes to be far too vivid for impressionable young children. However, it was not my place to correct Robert's treatment of his offspring, particularly in front of his landlord.
"Have you found the villains?" Robert asked. "The villains who have crushed my best wheat field!"
Holmes strode across the field and rejoined us, a frown furrowing his brow. He appeared not even to notice the presence of Sir Arthur's tenant.
"Useless," Holmes said. "Perfectly useless! Here, the artist stood to sketch the scene." He flung his hand toward a spot where white dust covered the scuffed ground. "And there! A photographer, with his camera and flash powder. Fully six reporters and as many policemen trampled whatever evidence might have been left." He did not pause to explain how he could tell the difference between the footprints of reporters and those of policemen. "And, no doubt, when the sightseers arrive by the next train-"
"I can easily warn them off," Sir Arthur said.
"To what purpose? The evidence is destroyed. No! I could conjecture, but conjecture is only half the task. Proof, now; that's a different story."
He glared out into the field as if it had deliberately invited careless visitors to blur the story written there.
"If only," Holmes said softly, "the scene were fresh."
He turned abruptly toward Robert. He had taken the measure of the man without appearing to observe him.
"You saw the lights," Holmes said. "Describe them to me."
"Are you Mr Holmes?"
I blushed to admit, even to myself, that the rough farmer had a better respect for common manners than did my friend.
"Of course I am. The lights."
"The night was calm. A bit of fog, but no rain, no storms. I heard a strange noise. Like a musical instrument, but playing no melody I ever heard. And eerie… It put the chills up my back. Made the baby cry. I went outdoors-"
"You were not frightened?"
"I was. Who would not be frightened? The Folk have fled London, but they still live in the countryside, in our hearts."
"You are a scholar and a folklorist," Holmes said without expression.
"I know the stories my family tells. Old stories. The Folk-"
"The faerie folk!" Sir Arthur said. "I've seen photographs-they do exist."
"The Folk," Robert said, neither agreeing nor disagreeing with Sir Arthur. "The ones who lived in this land before us."
"The lights, man!" Holmes said impatiently.
"At first I saw only a glow against the fog. Then-a ring of lights, not like candles, flickering, but steady like the gaslights of the city. All different colours. Very beautiful."
"Foxfire," Holmes said.
"No, sir. Foxfire, you see it in the marsh. Not the field. It's a soft light, not a bright one. These lights, they were bright. The circle spun, and I thought-"
He hesitated.
"Go on, man!"
"You'll think I'm mad."
"If I do, I shall keep it to myself."
Robert hesitated. "I thought I saw… a huge solid object, floating in the sky like a boat in the water."
"A flying steamship?" I said.
"An aeroplane," said Sir Arthur. "Though I would have thought we'd hear of a pilot in the area."
"More like a coracle," Robert said. "Round, and solid."
"Did you hear its motor?" Holmes asked. "A droning, perhaps, or a sound like the autocar?"
"Only the music," said Robert.
"I've never known an apparition to make a sound like a motorcar," Sir Arthur said.
"What happened then?" said Holmes. "Where did it go, what did it do?"
"It rose, and I saw above it the stars, and Mars bright and red in the midst of them." Robert hesitated, considered, continued. "Then the lights brightened even more, and it vanished in a burst of flame. I felt the fire, smelled the brimstone-At first I thought I was blinded!"
"And then?" Holmes said.
"My sight returned, and the fog closed around me."
"What have you left out?" Holmes asked sternly. "What happened afterwards?"
Robert hesitated, reluctance and distress in every line of his expression.
"The truth, man," Holmes said.
"Not afterwards. Before. Before the coracle disappeared. I thought I saw… a flash of light, another flash."
"From the coracle?"
"From the sky. Like a signal! White light, white, not red, from… from Mars!" He drew in a deep breath. "Then the coracle replied, and vanished."
I managed to repress my exclamation of surprise and wonder. Holmes arched one eyebrow thoughtfully. Sir Arthur stroked his mustache.
"Thank you for your help, Robert," Sir Arthur said as if Robert had said nothing out of the ordinary. "And your good observation."
"Sir Arthur," Robert said, "may I have your permission to salvage what I can from the field? The grain can't be threshed, but I could at least cut the stalks for hay."
"By no means!" Sir Arthur roared in alarm.
Robert stepped back, surprised and frightened.
"No, no," Sir Arthur said, calming himself with visible effort.
"Sir-!"
I was astonished by the tone of protest in which Robert addressed the landowner.
"It's imperative that no one enter the field!" Sir Arthur said. "The pattern mustn't be disturbed till we understand its meaning."
"Very well, Sir Arthur," Robert said reluctantly.
"And set little Robbie and his brothers to keeping the sightseers out of the patterns. They may walk around the edge, but under no circumstances may they proceed inside."
"But, Sir Arthur, this field, every year, has paid your rent. This field keeps the roof over my family's head! Sir Arthur, the crop prices have been low going on two years-"
I did not blame him for his distress, and he was fortunate that Sir Arthur is a humane and decent gentleman.
"You'll not worry about the rent," Sir Arthur said. "I relieve you of the obligation for this year."
On Robert's open face, gratitude and obligation warred.
"I cannot accept that offer, Sir Arthur," he said, "generous though it is, and grateful though I am to you for making it. You and I, we have an agreement. I cannot take charity."
Sir Arthur frowned, that his tenant would not accept such a simple solution to the difficulty.
"We'll discuss this another time," Sir Arthur said. "For the moment, keep the sightseers out of the field." His tone brooked no disagreement.
Robert touched the bill of his ragged cap in acquiescence. We returned to Sir Arthur's mansion, where his gracious wife Jean, Lady Conan Doyle, presided over a fine, if long-delayed, breakfast. After our excursion, I was famished, but Holmes merely picked at his food. This meant the mystery aroused him. As long as it kept his interest, he would hold himself free of the embrace of cocaine.
For the rest of the day, we accompanied Sir Arthur to other fields where theorems had mysteriously appeared over the past few weeks. They were all, according to Holmes, sadly trampled.
We spoke to tenants who had also seen lights in the sky, but the apparitions frightened the observers; each gave a different description, none as coherent as Robert's. I could not imagine what they had actually seen.
My mind kept returning to Robert's description. Cogent though it had been, something about it nagged at my memory. I put my unease own to the mystery of the phenomenon.
And to my wonder. Holmes's skepticism notwithstanding, it would be quite marvelous if we were visited by beings from another world, whether physical or spiritual. Naturally one would prefer friendly beings like those Sir Arthur described, over the invading forces of Mr Wells's scientific romances.
Holmes dutifully explored each damaged field, and listened to the descriptions of flashing lights in the sky. But as he was presented with nothing but old and damaged evidence, his inspections became more and more desultory as the afternoon wore on, his attention more and more distracted and impatient. He also grew more and more irritated at Sir Arthur's ruminations on spiritualism, and nothing I could do or say could divert the conversation. Like any true believer, Sir Arthur was relentless in his proselytizing.
Toward the end of the afternoon, as I began to hope for tea, we rested beneath an ancient oak near a patterned field.
"Look," Sir Arthur said, "at how the grain has been flattened without breaking. The stalks in the pattern are as green as the undisturbed growth. Don't you think it odd?"
"Quite odd," I agreed.
"Not odd at all," Holmes said.
He leapt from the carriage, snatched a handful of the crop from the edge of the field, and returned with a clump of unbroken stems still sprouting from their original earth. He held the roots in one hand and smashed the other against the stems, bending them at a right angle to their original position. Clods of dirt flew from his hand in reaction to the force of his blow.
But the stems did not break.
"Triticum aestivum at this stage of growth is exceedingly tough," Holmes said. "Exceedingly difficult to break."
Holmes pulled out one stem by its roots and handed it to me, then another for Sir Arthur. I tried to break my stem, and indeed it took considerable force even to put a kink in the fibrous growth. Sir Arthur bent his stem, folding it repeatedly back and forth.
"The field theorems would be more impressive," Holmes said, "if the crops were broken."
"But, Mr Holmes," said Sir Arthur, "the forces we are dealing with are mighty. A stem I cannot break would be like a fragile dry twig, to them. Do you not think it amazing that they can temper themselves to gentleness?"
Holmes stared at him in disbelief. "Sir Arthur! First you are impressed with a feat that appears to be difficult, then, when the action proves simple, you claim yourself impressed because it is simple! Your logic eludes me."
In Holmes's powerful hands, several stalks ripped apart.
We returned to Undershaw. We drank Earl Grey from delicate porcelain cups, surrounded by heavy, disagreeable silence. Lady Conan Doyle and I tried in vain to lighten the conversation. When Sir Arthur announced a seance to be held that very evening, Holmes's mood did not improve.
A loud knock on the door, followed by shouting, broke the tension. Sir Arthur rose to attend to the commotion.
"One of your tenants to see you, Sir Arthur," the butler said.
Robert had followed the butler from the front door; to my astonishment he crossed the threshold of the sitting room. Then he remembered his place and snatched his battered cap from his head.
"There's been another field done!" he exclaimed. "Little Robbie just discovered it, coming home to get his brothers some bread and cheese!"
Holmes leapt to his feet, his grey mood vanishing in an instant.
Sir Arthur called for his autocar and we hurried off to see the new phenomenon.
The automobile, newly repaired, motored smoothly until we turned down the final road to the new field theorem. Suddenly it died. Robert stepped down from the running board to crank it, but none of his efforts revived it.
Sir Arthur revealed a knowledge of colourful oaths in several languages.
"Bushman," Holmes muttered after a particularly exotic phrase.
I reflected that Sir Arthur must have acquired this unusual facility during his service in the Boer War.
We walked the last half-mile to the field. The afternoon's heat lingered even in the shade of the hedgerows. Birds chirped and rustled the branches.
"Well, Robert," I said, "you'll have the chance to observe Mr Holmes in action, and he can hear your story in your own words instead of mine. Holmes, Robert is a great enthusiast for your adventures."
"I am flattered," Holmes said, "though of course the credit goes entirely to you, Watson, and to your craft."
We had no more opportunity to chat, for we reached the newly patterned field. Robert's children-including Little Robbie, who was considerably taller and larger than his father-had arrived before us, despite our use of the motorcar. They stood in order of descending height on the bottom rail of the fence, exclaiming over the pattern crushed into the field.
Sir Arthur made as if to plunge into the very center of the new theorem, but Holmes clasped him by the shoulder.
"Stay back!" Holmes cried. "Robert! To the lane! Keep away the spectators!"
"Very well, Mr Holmes." Robert and his children tramped off down the path.
I marveled at the efficiency of the "bush telegraph," to give everyone such quick notice of the new field theorem.
Holmes plunged past Sir Arthur. But instead of forging into the field, he climbed the fence and balanced atop the highest rail to gaze across the waving grain. He traced with his eyes the valleys and gulches etched into the surface. Only after some minutes, and a complete circumnavigation of the field, did he venture into the field theorem itself.
Sir Arthur observed Holmes's method.
"You see, John?" Sir Arthur said. "Even your Mr Holmes acknowledges the power-the danger-present here."
"Sir Arthur," I said in the mildest tone possible, "why should danger result, if the communication is from those who loved you, in another life?"
"Why… " he said, momentarily awkward, "John, you'll understand after the seance tonight. The other side is… different."
Robert ran down the path, panting.
"I'm sorry, Mr Holmes, Sir Arthur," he said. "We kept them away as long as we could. Constable Brown ordered us to stand aside."
"More devotion to duty than to sense," Sir Arthur muttered. He sighed. "I'm sure you did your best," said he to Robert.
A group of curious people, led by Constable Brown and minimally constrained by Robert's children, approached between the hedgerows. Holmes was right: Someone, somehow, had alerted the public. Sightseers who had come to see the other field theorem now found themselves doubly fortunate.
The constable entered the field just as Holmes left it. The sightseers crowded up to the fence to view the new theorem.
Holmes rejoined Sir Arthur and myself.
"I have seen what I needed," Holmes said. "It's of no matter to me if the tourists trample the fields."
"But we must survey the theorem!" Sir Arthur said. "We still do not know its meaning!" He ordered Robert to do his best to prevent the sightseers from marring the designs.
"If we depart now," Holmes said, "before the constable realizes he is baffled by the phenomenon, we will be spared interrogation."
Dinner's being far preferable to interrogation, we took Holmes's advice. I noticed, to my amusement, that Robert's children had lined the spectators up. Some visitors even offered the boys tips, or perhaps entry fees. At least the family would not count its day an utter loss.
A photographer lowered his heavy camera from his shoulder. He set it upon its tripod and disappeared beneath the black shadow-cloth to focus the lenses. He exposed a plate, setting off a great explosion of flash powder. Smoke billowed up, bitter and sulphurous.
The journalists began to question Constable Brown, who puffed himself up with importance and replied to their questions. We hurried away, before the journalists should recognize Sir Arthur-or Holmes-and further delay us.
"If the motor starts," Sir Arthur said, "we will be in time for the seance."
For a moment I wondered if Holmes would turn volte-face, return to the field, and submit to questioning by Constable Brown and the journalists, in preference to submitting to the seance.
To our surprise, the motorcar started without hesitation. As Sir Arthur drove down the lane, Holmes puzzled over something in his hands.
"What is that, Holmes?"
"Just a bit of wood, a stake," Holmes said, putting it in his pocket. "I found it in the field."
As he was not inclined to discuss it further, we both fell silent. I wondered if we had to contend-besides the field theorems, the ghostly lights, and the seance-with wooden stakes and vampyres.
"Tell me, Sir Arthur," Holmes said over the rhythmic cough of the motor, "are any of your spirits known to live on Mars?"
"Mars?" Sir Arthur exclaimed. "Mars! I don't believe I've ever heard one mention it. But I don't believe I've ever heard one asked." He turned to Holmes, his eyes bright with anticipation. "We shall ask, this very evening! Why, that would explain Professor Schiaparelli's 'canali,' would it not?"
"Perhaps," Holmes said. "Though I fail to understand what use channels would be-to dead people."
Darkness gathered as we motored down the rough lane. Sir Arthur turned on the headlamps of the autocar, and the beams pierced the dimness, casting eerie shadows and picking out the twisted branches of trees. The wind in our face was cool and pleasant, if tinged somewhat by the scent of petrol.
The engine of the autocar died, and with it the light from the headlamps.
Sir Arthur uttered another of his exotic curses.
"I suppose it will be of no use," he said, "but would one of you gentlemen kindly try the crank?"
Holmes-knowing of my shoulder, shattered by a Jezail bullet in Afghanistan and never quite right since-leapt from the passenger seat and strode to the front of the automobile. He cranked it several times, to no avail. Without a word, he unstrapped the engine cover and opened it.
"It's too dark, Mr Holmes," Sir Arthur said. "We'll have to walk home from here."
"Perhaps not, Sir Arthur," said I. "Holmes's vision is acute." I climbed down, as well, to see if I could be of any assistance. I wished the automobile carried a kerosene lamp, though I suppose I would have had to hold it too far away from the engine, and the petrol tank, for it to be of much use.
"Can you see the difficulty, Holmes?" I asked.
His long fingers probed among the machined parts of the engine.
"Difficulty, Watson?" he said. "There is no difficulty here. Only enterprising cleverness."
The automobile rocked, and I assumed Sir Arthur was getting down to join us and try to help with the repairs.
"Cleverness?" said I. "Surely you can't mean-Ah!" Light flickered across his hawkish face, and for a moment I thought he had repaired the engine and the headlamps. Then I thought that Sir Arthur must have an innovative automobile, in which the headlamps gained their power from an independent battery rather than from the workings of the motor.
But then, I thought, they would surely not have failed at the same moment as the motor.
And finally I realized that the headlamps were dark, the engine still, and the lights on Holmes's face emanated from a separate source entirely.
I raised my eyes in the direction of the flickering lights. An eerie radiance lit the forest beyond the road. As I watched, it descended slowly beneath the tops of the trees.
"Sir Arthur!" I cried.
His silhouette moved quickly toward the mysterious lights.
Holmes and I ran after him. I felt a shiver, whether of fear or of unearthly chill, I could not have said.
Suddenly a great flash of light engulfed us, and a great shock of sound. Dazzled, I stumbled and fell, crying, "Sir Arthur!" I thought I heard one of Sir Arthur's exotic oaths, this time in the voice of Sherlock Holmes.
I came to myself, my sight flickering with brilliant black and white afterimages. When my vision cleared, I found myself staring straight up into the night. Among the constellations, Mars burned red in the darkness. I shivered in sudden dread. I sat up, groaning.
Holmes was instantly at my side.
"Stay quiet, Watson," he said. "You'll soon be right. No injuries, I fancy."
"And you, Holmes? And Sir Arthur?"
"My sight has recovered, but Sir Arthur does not answer my hallo."
"What happened, Holmes? What was that explosion?"
"It was… what Robert called a flying coracle," Holmes said. "But it has vanished, and with it Dr Conan Doyle."
"We must return to Undershaw! Call out a search party!"
"No!" Holmes exclaimed. "He has been spirited away, and we have no hope of finding the location unless I can inspect the site of his disappearance. Before searchers trample it."
"But Lady Conan Doyle!" I said. "She'll be frantic!"
"If we return now," Holmes said, "we can only tell her Sir Arthur is lost."
"Kidnapped!" I only wished I knew who-or what-had done the kidnapping.
"Perhaps, though I doubt he believes so."
"He could be killed-!"
"He is safe, I warrant," Holmes said.
"How can you be sure?"
"Because," Holmes said, "no one would benefit from his death." He settled into the seat of the autocar. "If we wait till dawn, we may retrieve him and return him safely to the bosom of his family. Before they have any more concern than a few hours of wondering where we have got to."
"Very well, Holmes," I said doubtfully, "but the responsibility for Sir Arthur's safety lies on your shoulders."
"I accept it," Holmes said solemnly. Suddenly, he brightened somewhat. "I fear we shall miss the seance."
I confess that I dozed, in the darkest hours of the night, cold and uncomfortable and cramped in the seat of the disabled motorcar. My last sight, before I slept, was the scarlet glow of Mars sinking beneath the tops of the trees. I dreamed of a race of beings so powerful that the canals they built could be seen from another planet.
When I woke, shivering, tiny dewdrops covered my tweeds. The silence of night gave way to the bright songs of dawn. The scent of wet grass and sulphur wafted into my nostrils. I tried to remember a particular point of my dream.
Holmes shook me.
"I'm awake, Holmes!" I said. The snatch of memory vanished without a trace. "Have you found Sir Arthur?"
"Not yet," he said. "Hold this, while I crank the motor."
He handed me a bit of metal-two strips sintered together to form one curved piece.
"What about Sir Arthur?" I asked. "What about your search?"
"My search is finished," Holmes said. "I found, overhead, a few singed tree-leaves. At my feet, a dusty spot on the ground. Marks pressed into the soil, forming the corners of a parallelogram-" He snorted. "Not even a square! Far less elegant than the field theorems. Savory food for speculation."
"But no trace of Sir Arthur?"
"Many traces, but… I think we will not find his hiding place."
I glanced up into the sky, but the stars had faded and no trace of light remained.
Holmes fell silent. He would say no more until he was ready. I feared he had failed-Holmes, failed!-and Sir Arthur lay dead in some kidnapper's lair, on or off our world.
The autocar started without hesitation. I had never driven a motorcar-it is folly to own one in the city, where a hansom is to be had for a handwave, a shout, and a few shillings. But I had observed Sir Arthur carefully. Soon we were moving down the road, and I fancy the ruts, rather than my driving, caused what jolts we felt.
"And what is this, Holmes?" I asked, giving him his bit of metal. He snatched it and pointed straight ahead. I quickly corrected the autocar's direction, for in my brief moment of inattention it had wandered toward the hedgerow.
"The bit of metal, Holmes?"
"It is," he said, "a bit of metal."
"What does it mean?" I said irritably. "Where did you find it?"
"I found it in the motor," he said, and placed it in his pocket. "And may I compliment you on your expert driving. I had no idea you numbered automobile racing among your talents."
I took his rather unsubtle hint and slowed the vehicle. Hedgerows grew close on either side; it would not be pleasant to round a turn and come upon a horse and carriage.
"I dreamed of Mars, Holmes," I said.
"Pah!" he said. "Mars!"
"Quite a wonderful dream!" I continued undaunted. "We had learned to communicate with the Martians. We could converse, with signals of light, as quickly and as easily as if we were using a telegraph. But of course that would be impossible."
"How, impossible?" Holmes asked. "Always assuming there were Martians with whom to converse."
"Light cannot travel so quickly between the worlds," I said.
"Light transmission is instantaneous," Holmes said in a dismissive tone.
"On the contrary," I said. "As you would know if you paid the least attention to astronomy or physics. The Michelson-Morley experiment proved light has a finite speed, and furthermore that its speed remains constant-but that is beside the point!"
"What is the point, pray tell?" Holmes asked. "You were, I believe, telegraphing back and forth with Martians."
"The point is that I could not converse instantaneously with Martians-"
"I do see a certain difficulty in stringing the wires," Holmes said drily.
"-because it would take several minutes-I would have to do the arithmetic, but at least ten-for my 'hallo!' to reach Mars, and another length of time for their 'Good day to you' to return."
"Perhaps you should use the post," Holmes said.
"And that is what troubled me about Robert's description!" I exclaimed.
"Something troubled you?" Holmes said. "You have not mentioned it before."
"I could not think what it was. But of course! He thought he saw a signal from Mars, to the coracle, at the instant after its disappearance. This is impossible, you see, Holmes, because a message would take so long to reach us. He must have been mistaken in what he saw."
Holmes rode beside me in silence for some moments, then let his breath out in a long sigh.
"As usual, Watson, you shame me," he said. "You have provided the clue to the whole mystery, and now all is clear."
"I do?" I said. "I have? It is?" I turned to him. "But what about Sir Arthur? How can the mystery be solved if we have lost Sir Arthur? Surely we cannot return to Undershaw without him!"
"Stop!" Holmes cried.
Fearing Holmes had spied a sheep in the road while my attention was otherwise occupied, I engaged the brake abruptly. The autocar lurched to a halt, and Holmes used the momentum to leap from the seat to the roadway.
Sir Arthur sat upon a stone on the verge of the track.
"Good morning, Dr Conan Doyle," Holmes said. "I trust your adventure has left you none the worse for wear?"
Sir Arthur gazed up with a beatific expression, his eyes wide and glassy.
"I have seen things, Mr Holmes," he said. "Amazing things… "
Holmes helped him to the automobile and into the passenger seat. As Sir Arthur settled himself, Holmes plucked a bit of material from Sir Arthur's shoe.
"What have you found, Holmes?" I asked.
"Nothing remarkable," replied Holmes. "A shred of dusty silk, I believe." He folded the fabric carefully, placed it into his pocket, and vaulted into the autocar.
Sir Arthur made no objection to my driving us back to Undershaw. It was as if he had visited a different world, and still lived in it in his mind. He refused to speak of it until we returned to his home, and his worried wife.
A paragon of womanhood, Lady Conan Doyle accepted Sir Arthur's assurances that he was unharmed. She led us to the morning room and settled us all in deep chairs of maroon velvet.
Sir Arthur commenced his story.
"It was amazing," Sir Arthur said. "Absolutely amazing. I saw the lights, and it was as if I were mesmerized. I felt drawn to them. I hurried through the woods. I saw the ring of illumination, just as Robert described it. Brighter than anything we can manufacture, I'd warrant-never mind that it floated in the sky! I saw the coracle. A flying vehicle, turning slowly above me, and windows-and faces! Faces peering down at me."
Holmes shifted and frowned, but said nothing.
"Then I saw a flash of light-"
"We saw it, too," said I. "We feared you'd been injured."
"Far from it!" Conan Doyle said. "Uplifted, rather! Enlightened! I swooned with the shock, and when I awoke-I was inside the coracle!"
"How did you know where you were?" Holmes demanded. "Could you see out the windows? Were you high above the ground?"
"I was in a round room, the size of the coracle, and I could feel the wafting of the winds-"
It occurred to me that the previous night had been nearly windless. But perhaps the flying coracle had risen higher and the wind aloft had freshened.
"What of the portholes?" Holmes asked.
"There were no portholes," Sir Arthur said, still speaking in a dreamy voice. "The walls were smooth black, like satin. The portholes had closed over, without leaving a trace!"
"Sir Arthur-" Holmes protested.
"Hush, Mr Holmes, please," Lady Conan Doyle said, leaning forward, her face alight with concentration. "Let my husband finish his story."
"I was not at all frightened, strangely content, and immobile," Sir Arthur said. "Then… the people came in and spoke to me. They looked like-like nothing on this Earth! They were very pale, and their eyes were huge and bright, shining with otherworldly intelligence. They told me-they told me, without speaking, they spoke in my mind, without moving their lips!"
"Ah," Holmes murmured, "so at least they had lips."
"Shh!" Lady Conan Doyle said, dispensing with courtesy.
"What did they tell you, Sir Arthur?" I asked.
"They wished to examine me, to determine if their people and ours are compatible, to determine if we can live together in peace."
"Live together!" I ejaculated.
"Yes. They did examine me-I cannot describe the process in polite company, except to say that it was… quite thorough. Strangely enough, I felt no fear, and very little discomfort, even when they used the needles."
"Ah, yes," Holmes murmured. "The needles."
"Who were these people?" I asked, amazed. "Where are they from?"
"They are," Sir Arthur said softly, "from Mars."
I felt dazed, not only because of my exhaustion. Lady Conan Doyle made a sound of wonder, and Holmes-Holmes growled low in his throat.
"From Mars?" he said drily. "Not from the spirit realm?"
Sir Arthur drew himself up, bristling at the implied insult.
"I'll not have it said I cannot admit I was wrong! The new evidence is overwhelming!"
Before Holmes could reply, Sir Arthur's butler appeared in the doorway.
"Sir Arthur," he said.
"Tell Robert," Holmes said without explanation, "that we have no need to examine any new field theorems. Tell him he may notify the constabulary, the journalists, and the king if he wishes."
The butler hesitated.
"And tell him," Holmes added, "that he may charge what he likes to guide them."
The butler bowed and disappeared.
"They'll trample the theorem!" Sir Arthur objected, rising from his chair. "We won't know-"
"But you already know, Sir Arthur," Holmes said. "The creators of the field theorem have spoken to you."
Sir Arthur relaxed. "That is true," he said. He smiled. "To think that I've been singled out this way-to introduce them to the world!" He leaned forward, spreading his hands in entreaty. "They're nothing like the Martians of Mr Wells," he said. "Not evil, not invaders. They wish only to be our friends. There's no need for panic."
"We're hardly in danger of panic," Holmes said. "I have done as you asked. I have solved your mystery." He nodded to me. "Thanks to my friend Dr Watson."
"There is no mystery, Mr Holmes," Sir Arthur said.
Holmes drew from his pocket the wooden stake, the metal spring, and the scrap of black silk. He placed them on the table before us. Dust drifted from the silk, emitting a burned, metallic scent and marring the polished table with a film of white.
"You are correct. There is, indeed, no mystery." He picked up the stake, and I noticed that a few green stalks remained wrapped tightly around it. "I found this in the center of the new field theorem, the one that so conveniently appeared after I expressed a desire to see one afresh. Unfortunately, its creators were unduly hurried, and could not work with their usual care. They left the center marker, to which they tied a rope, to use as a compass to form their circles."
Holmes moved his long forefinger around the stake, showing how a loop of rope had scuffed the corners of the wood, how the circular motion had pulled crop stalks into a tight coil.
"But that isn't what happened," Sir Arthur said. "The Martians explained all. They were trying to communicate with me, but the theorems are beyond our mental reach. So they risked everything to speak to me directly."
Holmes picked up the spring.
"Metal expands when it heats," he said. "This was cunningly placed so its expansion disarranged a connection in your motor. Whenever the temperature rose, the motor would stop. Naturally, you drove rapidly when you went to investigate each new field theorem. Of course your motorcar would overheat-and, consequently, misbehave-under those circumstances."
"The Martians disrupted the electrical flux of my motorcar-it's an inevitable result of the energy field that supports their coracle. It can fly through space, Mr Holmes, from Mars to Earth and back again!"
Holmes sighed, and picked up the bit of black silk.
"This is all that is left of the flying coracle," he said. "The hot-air balloon, rather. Candles at its base heated the air, kept the balloon aloft, and produced the lights."
"The lights were too bright for candles, Mr Holmes," Sir Arthur said.
Holmes continued undaunted. "Add to the balloon a handful of flash powder." He shook the bit of black silk. White dust floated from it, and a faint scent of sulphur wafted into the air. "It ignites, you are dazzled. The silk ignites! The candles, the balloon, the straw framework-all destroyed! Leaving nothing but dust… a dust of magnesium oxide." He stroked his fingertip through the powder.
"It did not burn me," Sir Arthur pointed out.
"It was not meant to burn you. It was meant to amaze you. Your abductors are neither malicious nor stupid." Holmes brushed the dust from his hands. "We were meant to imagine a craft that could fall from the sky, balance on its legs, and depart again, powered on flame, like a Chinese rocket! But it left the tracks of four legs, awkwardly spaced. I found this suspicious. Three legs, spaced regularly, would lead to more stability."
"Very inventive, Mr Holmes, but you fail to explain how the Martians transported me to their coracle, how the portholes sealed without a trace, how they spoke to me in my mind."
"Sir Arthur," Holmes said, "are you familiar with the effects of cocaine?"
"In theory, of course," said Sir Arthur. "I'm a medical doctor, after all."
"Personally familiar," Holmes said.
"I've never had occasion to use it myself, nor to prescribe it," Sir Arthur said. "So, no, I am not personally familiar with the effects of cocaine."
"I am," Holmes said quietly. "And you show every sign of having recently succumbed to its influence. Your eyes are glassy. Your imagination is heightened-"
"Are you saying," Sir Arthur said with disbelief, "that the Martians drugged me with cocaine?"
"There are no Martians!" Holmes said, raising his voice for the first time. "There are hoaxers, who created a clever illusion, dazzled you, drugged you, and took you to a hiding place-a raft, no doubt, that would mimic the motions of a boat floating in the air. They disguised themselves, spoke from behind masks-or behind a curtain!-taking advantage of your distracted consciousness. You saw the needle yourself, the second needle that drugged you again, so they could place you where you would be safe, and soon found!"
Sir Arthur gazed at Holmes for a long moment, then chuckled softly.
"I understand," he said softly. "I do understand."
"You understand that you have been tricked?" Holmes asked.
"I understand all. You need say no more. Some day, in the future, when you're persuaded of my complete goodwill, we'll have occasion to speak again."
Sir Arthur rose, crossed the room, and opened his desk. He drew out a sheet of paper, returned, and presented the paper to Holmes.
"This is a letter of credit," he said, "in payment for your services. It's sufficient, I hope?"
Holmes barely glanced at the paper. "More than sufficient," he said. "Most generous, I would say, from a client who believes I have been made a fool of by Martians."
"Not at all, Mr Holmes. I understand your reasoning. You are very subtle, sir, I admire you."
"Then you accept-"
"I accept your explanation as proof of my hypothesis," Sir Arthur said. "And I admire you beyond words." He smiled. "And now, we are all very tired. I must rest, and then-to work! To introduce the world to the wonders approaching us. I've taken the liberty of hiring a private train to return you to London. A token of my esteem."
Speechless, Holmes rose.
"Your luggage is in the autocar. James will drive you to the station. The autocar will not misbehave, because our visitors have gone home for the moment. But-they will return!"
Sir Arthur and Lady Conan Doyle accompanied us to the drive, so graciously that I hardly felt we were being shown the door. I climbed into the motorcar, but Sir Arthur held Holmes back for a moment, speaking to him in a low voice, shaking his hand.
Holmes joined me, nonplussed, and James drove us away. The motorcar ran flawlessly. As we passed a field that yesterday had been a smooth swath of grain, but today was marked by a field theorem more complex than any before, we saw Robert and Little Robbie directing spectators around the crushed patterns in the field. They both had taken more care with their appearance than the previous day, and wore clothes without holes or patches.
His expression hidden in the shade of his new cap, Robert turned to watch us pass.
"Holmes-" I said.
Holmes gently silenced me with a gesture. He raised one hand in farewell to the farmer. Robert saluted him. A small smile played around Holmes's lips.
As soon as we were alone in the private train car, Holmes flung himself into a luxurious leather armchair and began to laugh. He laughed so hard, and so long, that I feared he was a candidate for Bedlam.
"Holmes!" I cried. "Get hold of yourself, man!" I poured him a glass of brandy-Napoleon, I noticed in passing.
His laughter faded slowly to an occasional chuckle, and he wiped tears from his eyes.
"That's better," I said. "What is so infernally funny?"
"Human beings," Holmes said. "Human beings, Watson, are an endless source of amusement."
"I do not like leaving Sir Arthur with a misapprehension of events. Perhaps we should return-seek out the raft on which he was held captive."
"It has, no doubt, been sunk in the deepest part of the lake. We would never find it… unless we could engage the services of Mr Verne's Captain Nemo."
"I'm astonished that you've read Twenty Thousand Leagues Under the Sea," I said.
"I have not. But you did, and you described it to me quite fully." He sipped the brandy, and glanced at the glowing amber liquid in appreciation. "Hmm. The last good year."
I poured cognac for myself, warmed the balloon glass between my hands, and savored the sweet, intoxicating bite of its vapors. It was far too early in the day for spirits, but this one time I excused myself.
"When we return to Baker Street," said Holmes, "I might perhaps borrow your copy of War of the Worlds, if you would be so kind as to lend it to me."
"I will," I said, "if you promise not to rip out its pages for your files. Bertie inscribed it to me personally."
"I will guard its integrity with my life."
I snorted. The train jerked, wheels squealing against the tracks, and gathered speed.
"What about Sir Arthur?" I asked, refusing to be put off again. "He believes he's been visited by Martians!"
"Watson, old friend, Sir Arthur is a willing participant in the hoax."
"You mean-he engineered it himself? Then why engage your services?"
"An innocent, unconscious participant. He wants to believe. He has exchanged Occam's razor for Occam's kaleidoscope, complicating simple facts into explanations of impossible complexity. But he believes they are true, just as he believes spirits visit him, and Houdini possesses mediumistic powers, and I… " He started to chuckle again.
"I don't understand the purpose of this hoax!" I said, hoping to distract him before he erupted into another bout of hysteria. "Nor who perpetrated it!"
"It is a difficult question. I despaired of solving it. I wondered if Sir Arthur wished to pit his intellect against mine. If the journalists and photographers conspired to create a story. If Constable Brown wished to draw more resources to his district-and found he enjoyed the limelight!"
"Which of them was it, Holmes? Wait! It was the photographer-only he has access to flash powder!"
"And an intimate knowledge of Surrey fields? No. The flash powder is easily purchased-or purloined. It was no one you mention."
"Then who?"
"Who benefits?"
I considered. If Sir Arthur wrote of the events, he might make a tidy sum from a book and lecture tour. But Holmes had already stated that Sir Arthur was innocent. Still, what benefited Sir Arthur would benefit his whole family…
"Not Lady Conan Doyle!" I exclaimed, aghast.
"Certainly not," Holmes said.
"The butler? The driver? He would know how to sabotage the car-"
"Robert Holder, Watson!" Holmes cried. "Robert Holder! Perhaps-indeed, certainly-with help from James and the butler and other tenants in the neighborhood. But Robert was the mastermind, for all his rough appearance. A veritable Houdini of the countryside!" Holmes considered. "Indeed, he used some of my own techniques. And he almost defeated me!"
"He risked all by challenging you!"
"I was unforeseen-surely he intended Sir Arthur to conduct the investigation. When you and I arrived, Robert must have realized he would stand or fall by his boldness. He offered Sir Arthur a compelling reason to dismiss my solution-and me. Sir Arthur accepted the offering. How could he resist?"
Holmes gazed out the window of the train for a moment. Unmarred fields rippled past, like miniature green seas.
"If not for Robert's misapprehension about the velocity of light," Holmes said, "a misapprehension that I shared, I would have known what happened, and I would have known how-but I never would have been certain who."
"You sound curiously sympathetic, Holmes," I said with disapproval.
"Indeed I am, Watson. Robert is clearly an honourable man."
"Honourable!"
"He refused Sir Arthur's offer to relieve him of the year's rent. He has no wish to steal."
"Only to lie."
"Like Houdini. Like any entertainer, any storyteller. Shakespeare lied. You have lied yourself, my friend, in your descriptions of our adventures."
"I have disguised individuals," I said, taking offense. "I have, yes, perhaps, dissembled occasionally… " I hesitated, and then I nodded. "Very well. I have lied."
"Life is hard for people who work the land. You and I are prosperous, now, but remember what it was like when we were younger, scraping along from season to season, with never a new shirt or a pair of boots that did not let in the rain? Imagine seeing no better prospects. For the rest of your life."
I suddenly remembered father and sons, and their new clothes.
"Who can blame them for creating a diversion, a mystery to attract sightseers, people of leisure with money to spare. People," Holmes added, "with a blind eye to turn to the evidence lying plain before them?"
"What of your commitment to the truth, Holmes?" I asked with some asperity.
"I know the truth," he said. "You know it. Sir Arthur knows it, but rejects it. I have kept the solution to other mysteries confidential; it is part of my duty. How is this different?"
I suddenly understood. Holmes's sympathy was not so much directed toward the hoaxers as away from the curiosity seekers who were willing, indeed eager, to be fooled.
"Very well, Holmes," I said. "I am content, if you are."
We rode in silence for some miles, lulled by the rocking of the train, enjoying Sir Arthur's excellent cognac and the peaceful English countryside. I wondered what the world would be like if beings from another planet did visit us.
"Holmes," I said.
"Yes, Watson?"
"Why was Sir Arthur so willing to pay you, when he did not believe your solution? What did he say to you, just as we left?"
"He said, 'I understand why you are such an extraordinary person. Like Houdini, you have good reason to hide your abilities, your true nature. I understand why Sherlock Holmes cannot be the one to reveal the truth about our visitors. I will do it, and you may trust me to keep your secret.'"
"Your secret?"
"Yes, Watson." Holmes smiled. "Sir Arthur Conan Doyle believes I am a Martian."
The Adventure of the Death-Fetch by Darrell Schweitzer
Darrell Schweitzer is the author of the novels The Shattered Goddess and The Mask of the Sorcerer, as well as numerous short stories, which have been collected in Transients, Nightscapes, Refugees from an Imaginary Country, and Necromancies and Netherworlds. Recent books include The Fantastic Horizon, Ghosts of Past and Future, and Living with the Dead. Well-known as an editor and critic, he co-edited the magazine Weird Tales for several years, and is currently editing anthologies for DAW, such as The Secret History of Vampires and Cthulhu's Reign, and an urban fantasy werewolf anthology for Pocket Books.
***
We all have days when the world seems too much to bear, and all we want to do is lock ourselves in our room and not come out. It's an illusion, this idea that a foot of wood and plaster can seal us off from the troubles that beset us, but it's a comforting illusion, and it resonates. Authors have spun some wonderful dramatic scenarios out of this notion of a safe room within a hostile universe. H. P. Lovecraft's "The Music of Erich Zann" is about a violinist who plays unearthly tunes to keep hostile entities from invading his apartment. China Miéville's "Details" is about a woman who has plastered over all the visible lines and angles in her apartment, because those angles are traversed by the other-dimensional terrors that assail her. The movie Pulse features characters who must seal up their room with red duct tape to protect themselves from malevolent spirits. There's something instantly intriguing about a person who refuses to come out, and also about the idea that evil could be kept at bay by something simple, such as music or duct tape. Our next tale brings us a chilling new variation on this theme.
***
In retrospect, the most amazing thing is that Watson confided the story to me at all. I was nobody, a nineteen-year-old college student from America visiting English relatives during Christmas break. I just happened to be in the house when the old doctor came to call. He had been a friend of my grandfather long before I was born, and was still on the closest terms with my several aunts; and of course he was the Doctor John Watson, who could have commanded the immediate and rapt attention of any audience he chose.
So, why did he tell me and only me? Why not, at least, my aunts? I think it was precisely because I was no one of any consequence or particular credibility and would soon be returning to school far away. He was like the servant of King Midas in the fairy tale, who can no longer bear the secret that the king has ass's ears. He has to "get it off his chest," as we Americans say. The point is not being believed, or recording the truth, but release from the sheer act of telling. The luckless courtier, fearing for his life, finally has to dig a hole in the swamp, stick his head in it, and whisper the secret. Not that it did him much good, for the wind in the rattling reeds endlessly repeated what he had said.
There being no swamp conveniently at hand for Dr. Watson, I would have to do.
The old gentleman must have been nearly eighty at the time. I remember him as stout, but not quite obese, nearly bald, with a generous white moustache. He often sat smoking by the remains of our fire long after the rest of the household had gone to bed. I imagined that he was reminiscing over a lifetime of wonderful adventures. Well, maybe.
I was up late too, that particular night, on my way into the kitchen for some tea after struggling with a wretched attempt at a novel. I chanced through the parlor. Doctor Watson stirred slightly where he sat.
"Oh, Doctor. I'm sorry. I didn't know you were still there."
He waved me to the empty chair opposite him. I sat without a further word, completely in awe of the great man.
I swallowed hard and stared at the floor for perhaps five minutes, jerking my head up once, startled, when the burnt log in the fireplace settled, throwing off sparks. I could hear occasional automobiles passing by in the street outside.
Dr. Watson's pipe had gone out and he set it aside. He folded his age-spotted hands in his lap, cleared his throat, and leaned forward.
He had my absolute attention. I knew that he was about to tell a story. My heart almost stopped.
"I am sure you know there were some cases of Sherlock Holmes which never worked out, and thus went unrecorded."
I lost what little composure I had and blurted, "Yes, yes, Doctor. You mention them from time to time. Like the one about the man and the umbrella-"
He raised a hand to silence me. "Not like that, boy. Some I never found the time to write up, and I inserted those allusions as reminders to myself; but others were deliberately suppressed, and never committed to paper at all, because Holmes expressly forbade it. One in particular-"
At least I didn't say anything as stupid as, "Then why are you telling me?" No, I had the good sense to sit absolutely motionless and silent, and just listen.
It was about this same season [Watson began] in the year 1900, a few days after Christmas if I recall correctly-I cannot be certain of such facts without my notebooks, and in any case the incident of which I speak was never entered into them-but I am certain it was a bright and brisk winter day, with new-fallen snow on the sidewalks, but no sense of festivity in the air. Instead, the city seemed to have reached a profound calm, a time to rest and tidy up and go on with one's regular business.
Holmes remarked how somehow, in defiance of all logic, it appeared that the calendar revealed patterns of criminality.
"Possibly the superstitions are true," I mused, "and lunatics really are driven by the moon."
"There may be scattered facts buried in the morass of superstition, Watson," said he, "if only science has the patience to ferret them out-"
We had now come, conversing as we walked, to the corner of Baker Street and Marylebone Road, having been abroad on some business or other-damn that I don't have my notes with me-when this train of thought was suddenly interrupted by an attractive, well-dressed young woman who rushed up and grasped Holmes by the arm.
"Mr. Sherlock Holmes? You are Mr. Sherlock Holmes, are you not?"
Holmes gently eased her hand off him. "I am indeed, Miss-"
"Oh! Thank God! My father said that no one else could possibly save him!"
To my amazement and considerable irritation, Holmes began walking briskly, leaving the poor girl to trail after us like a common beggar. I'd often had words with him in private about these lapses of the expected courtesy, but now I could only follow along, somewhat flustered. Meanwhile the young lady-whose age I would have guessed at a few years short of twenty-breathlessly related a completely disjointed tale about a mysterious curse, approaching danger, and quite a bit else I couldn't make head or tail out of.
At the doorstep of 221B, Holmes turned on her sharply.
"And now Miss-I'm afraid I did not catch your name."
"Thurston. My name is Abigail Thurston."
"Any relation to Sir Humphrey Thurston, the noted explorer of Southeast Asia?"
"He is my father, as I've already told you-"
"I am not sure you've told me much of anything-yet!" Holmes turned to go inside. Miss Thurston's features revealed a completely understandable admixture of disappointment, grief, and quite possibly-and I couldn't have blamed her-rage.
"Holmes!" I said. "Please!"
"And now Miss Abigail Thurston, as I have no other business this morning, I shall be glad to admit you." As she, then I, followed him up the stairs, he continued, "You must pardon my abrupt manner, but it has its uses."
When I had shown her to a chair and rung Mrs. Hudson for some tea, Holmes explained further, "My primary purpose has been to startle you into sense, Miss Thurston. A story told all in a jumble is like a brook plunging over a precipice-very pretty, but, alas, babbling. Now that the initial rush of excitement is past, perhaps now you can tell me, calmly and succinctly, why you have come to see me. I enjoin you to leave out none of the facts, however trivial they may seem to you. Describe the events exactly, in the order that they occurred, filling in such background as may be necessary to illuminate the entire tale."
She breathed deeply, then began in measured tones. "I am indeed the daughter of the explorer, Sir Humphrey Thurston. You are perhaps familiar with his discoveries of lost cities in the jungles of Indo-China. His books are intended for a limited, scholarly audience, but there have been numerous articles about him in the popular magazines-"
"Suffice it to say that I am familiar with your father and his admirable contributions to science. Do go on."
"My mother died when I was quite small, Mr. Holmes, and my father spent so much time abroad that he was almost a stranger to me. I was raised by relatives, under the supervision of a series of governesses. All this while Father seemed more a guardian angel than a parent, someone always looking out for my welfare, concerned and benevolent, but invisible. Oh, there were letters and gifts in the post, but he remained outside my actual life. Each time he came, we had to become acquainted all over again. Such is the difference in a child's life between six and eight and twelve. I had changed profoundly, while he was always the same, brave, mysterious, inevitably sunburnt from long years in the jungles and deserts; home for a short time to rest, write his reports, and perhaps give a few lectures before setting forth again in the quest of knowledge. So things have continued. This past month he has returned again, after an absence of three years, to discover his little girl become a woman, and again a stranger. He has promised to remain this time until I am married and secure in a home of my own-"
"Then it should be a happy occasion for you," said Holmes, smiling to reassure her, the corners of his mouth twitching to betray impatience. The smile vanished. "But I perceive it is not. Please get to the point then. Why have you come rushing to Baker Street on a winter's day when you would surely be much more comfortable in a warm house in the company of your much-travelled sire?"
She paused, looking alarmed once more, glancing to me first as if for reassurance. I could only smile and nod, wordlessly bidding her to continue.
"The first few days of his visit were indeed happy, Mr. Holmes, but very suddenly, a shadow came over him. For a week and more, he seemed distracted and brooding. Then five days ago he withdrew into his study, refusing to venture out for any reason. He is afraid, deathly afraid!"
"Of what, pray tell?"
"I cannot discern the central fear, exactly, only its broader effects. Certainly he has become morbidly afraid of his own reflection. He will not allow a mirror to be brought anywhere near him. He even shaves with his eyes closed, by touch alone, rather than risk seeing himself."
"This is extraordinary," I said.
"But surely," said Holmes, "this sort of mania is more in Doctor Watson's line than mine, work for a medical man of a specialized sort, not a detective."
"Oh no, Sir! My father is completely sane. I am certain of that. But I am equally certain that he is not telling me everything, perhaps in an attempt to spare me some horror-for it must be a horror that makes so bold an adventurer cringe behind a locked door with a loaded elephant gun across his knees!"
I leaned forward and spoke to her in my most soothing medical manner. "I am sure, Miss Thurston, that your father has a very good reason for acting as he does, and that, indeed, his chief object is to protect you."
"Yes," said Holmes. "I am certain it is."
"His very words were, 'Summon Sherlock Holmes, girl, or I shall not live out the week!' So here I am. Please come and see him, Mr. Holmes, at once!"
Holmes shot to his feet. "Watson! How foolish of us to have even removed our hats and coats. Come!" He took our guest by the hand and helped her up. "As I said, Miss Thurston, I have no other business this morning."
It was but a short cab ride to the Thurston residence, in the most fashionable part of west London. We rode in silence, crowded together, the girl in the middle, Holmes deep in thought. Unconsciously almost, Miss Thurston took my hand for reassurance. I held her firmly, but gently.
It was admittedly an intriguing problem: what, if not a sudden mania, could cause so brave a man as Sir Humphrey Thurston to be paralyzed with fear at the sight of his own reflection?
As we neared the house, the girl suddenly struggled to stand up in the still moving cab.
"Father!"
She pointed. I had only a glimpse of a tall, muscular man on the further streetcorner, and noted the tan coat and top hat, white gloves, and silver-tipped stick. He turned at the sound of Miss Thurston's cry, revealing a grey-bearded face, dark eyes, and a broad, high forehead, then moved speedily away in long strides, not quite running. Abruptly, he vanished down a side street.
Holmes pounded on the ceiling of the cab for the driver to stop and we three scrambled out, I attending to Miss Thurston and the driver while Holmes set off at a furious run, only to return moments later, breathing hard, having lost all trace of Sir Humphrey.
"I don't know what explanation I can offer," said Miss Thurston. "Perhaps my father's difficulty, mania or whatever it is, has passed, and I have wasted your time."
Holmes nodded to me.
"Mental disease is not my specialty." I said, "but from what medical papers I've read, and from the talk of my colleagues, I do not think it likely that so powerful a delusion would go away so quickly. It makes no sense."
"Indeed, it does not," said Holmes. "One moment, the man behaves as if he is faced with mortal danger. The next, he is out for a stroll as if nothing had happened, but he flees the approach of his beloved daughter and vanishes with, I must confess, remarkable speed and agility."
"What do we do now, Mr. Holmes?"
"If you would admit us to his chamber. Perhaps he left some clue."
"Yes, yes. I should have thought of that. Pray forgive me-"
"Do not trouble yourself, Miss Thurston. Only lead the way."
She unlocked the door herself. Although it was a fine, large house, there were no servants in evidence. I helped her off with her coat and hung it for her in a closet off to one side. As we ascended the front stairs, she hastily explained that another of her father's inexplicable behaviors was to give leave to the entire staff until-she supposed-the crisis had passed.
"Oh, I do fear that it is a mania, Mr. Holmes."
I was beginning to fear as much myself, but scarcely a moment to consider the possibility when a voice thundered from above, "Abigail! Is that you?"
Miss Thurston looked to Holmes, then to me with an expression of utmost bewilderment and fright. I think she all but fainted at that moment. I made ready to catch her lest she tumble back down the stairs.
Again came the voice, from somewhere off to the left of the top of the stairs. "Abigail! If that's you, speak up girl! If it's Hawkins, you damned blackguard, I have my gun ready and am fully prepared to shoot!"
Holmes shouted in reply, "Sir Humphrey, it is Sherlock Holmes and his colleague Dr. Watson. We have been admitted by your daughter, who is here with us."
"Abigail?"
"Yes, Father, it is I. I've brought them as you asked."
Heavy footsteps crossed the floor upstairs. A door opened with a click of the lock being undone.
"Thank God, then… "
Holmes, Miss Thurston, and I were admitted into Sir Humphrey's study. I was astounded to confront the same man we had seen on the street. The broad shoulders, bearded face, high forehead, dark eyes, and athletic gait were unmistakable. But now he wasn't dressed for the outdoors. He wore a dressing gown and slippers. An elephant gun lay across the chair where he had obviously been sitting moments before. On the table by his right hand were a bottle and glass of brandy, a notebook, a pen and an uncapped ink jar.
"Thank God you are here, Mr. Holmes," he said. "Doubtless my daughter has told you of my distress and seeming madness. If anyone on Earth may convince me that I am not mad, it is you, Mr. Holmes. I can trust no one else to uncover the fiendish devices by which I have been made to see the impossible."
We all sat. Thurston offered Holmes and me glasses of brandy. Holmes waved his aside. I accepted out of politeness, but after a single sip placed it on the table beside me.
Sir Humphrey seemed about ready to speak, when Holmes interrupted.
"First, a question. Have you been, for any reason, outside of the house this morning?"
Thurston looked startled. "Certainly not. I have not been out of this room for five days-" He paused, as if uncertain of how to proceed.
It was Holmes's turn to be astonished, but only I, who knew him well, could detect the subtle change in his manner and expression. To the others he must have seemed, as before, calm and attentive, purely analytical.
The silence went on for a minute or two. Now that I had a chance to examine our surroundings, the room proved to be exactly what I expected, a cluttered assembly of mementoes and books, a large bronze Buddha seated on a teakwood stand, strangely demonic Asian masks hanging on the walls amid framed citations and photographs. In a place of honor behind his writing desk hung a portrait of a beautiful woman whose features resembled those of Abigail Thurston but were somewhat older. This I took to be her mother.
"Do go on, Sir Humphrey," said Holmes, "and tell us what has taken place during these five days in which you have never once left this room."
"You'll probably think I am out of my mind, Mr. Holmes. Indeed, I think so myself, whenever I am unable to convince myself that I am beguiled by some devilish trickery. For the life of me, I cannot figure out how it is done."
"How what is done, Sir Humphrey?"
"Mr. Holmes, do you know what I mean when I say I have seen my death fetch?"
Abigail Thurston let out a cry, then covered her mouth with her hand.
Holmes seemed unperturbed. "In the superstitions of many races, a man who is about to die may encounter his spirit-likeness. The German term is doppelganger, meaning double-walker. Certainly such an apparition is held to be a portent of the direst sort, and to be touched by this figure means instantaneous death. You haven't been touched by it then, have you, Sir Humphrey?"
Thurston's face reddened. "If you mean to mock me, Mr. Holmes, then my faith in you is misplaced."
"I do not mock. Nor do I deal in phantoms. My practice stands firmly flat-footed upon the ground. No ghosts need apply. Therefore I must agree with your conclusion, even before I have examined the evidence, that you are the victim of trickery of some kind. But first, describe to me what you think you have seen."
"Myself, Mr. Holmes. My daughter has surely mentioned my sudden aversion to mirrors."
"Don't we all see ourselves in mirrors?"
"I saw myself twice."
"Twice?"
"Five mornings ago, I stood before the mirror shaving, when a second image appeared in the glass, as if an exact duplicate of myself were looking over my shoulder. I whirled about, razor in hand, and confronted myself as surely as if I gazed into a second mirror, only the face of this other was contorted with the most venomous hatred, Mr. Holmes, the most absolute malevolence I have ever beheld. The lips were about to form an utterance which I somehow know would mean my immediate death.
"So I slashed frantically with my razor. I felt the blade pass through only the air, but the figure vanished, like a burst soap bubble."
"And it did not harm you in any way," said Holmes, "any more than a soap bubble-or some projected illusion of light and shadow."
"Oh no, Mr. Holmes, this was no magic-lantern show. It was a fully three-dimensional image. Each time I saw it, it was as real to my eyes as you and Dr. Watson appear now."
"You saw it, then, more than once?"
"Three times, Mr. Holmes, until I had the sense to remove all mirrors and reflective surfaces from the room. That is how it gets in. I am certain of that."
"And I am certain, Sir Humphrey, that you are certain of far more than you have told me. Unless you give me all of the facts, I cannot help you, however much your daughter may entreat me. Who, for instance, is the 'blackguard Hawkins' you took us for on the stairs?"
Thurston refilled his glass and took a long draught of brandy, then settled back. "Yes, you are right, of course, Mr. Holmes. I shall have to tell you and Dr. Watson everything." He turned to his daughter. "But you, my dear, perhaps should not hear what we have to say."
"Father, I think I am old enough."
"It is not a pretty story."
"My early years were wild," Sir Humphrey began. "I was no paragon of scientific respectability at twenty-one, but little more than a common criminal. I have never before admitted that I was dismissed from the Indian Army under extremely disreputable circumstances and only escaped court martial because a sympathetic officer allowed me time to flee, change my name, and disappear. The offense involved the pillage of a native temple, and the officer's sympathy had been purchased with some of the loot.
"And so, under another name, I wandered the East. I had no means by which to return to England, nor had I any desire to present myself to friends and family as a failure and a disgrace. Once in a very great while I dispatched a letter filled with fanciful, if artfully vague, tales of confidential adventures in government service.
"In the course of my travels I picked up several languages and a profound education in the ways of the world's wickedness. I fell in with the roughest possible company, and was myself more often than not on the wrong side of the law. In the gold fields of Australia there was a certain dispute and a man died of it, and once more I had to vanish. In Shanghai I worked as an agent for a wealthy mandarin, whose true activities, when they became known to the Chinese authorities, caused his head to be pickled in brine.
"But the blackest depths were in Rangoon, for there I met Wendall Hawkins. He was a vile rogue, Mr. Holmes, even among such company as I found him. Murderer, thief, pirate, and more-I am sure. He was a huge, powerful man with an enormous, dark beard, who used to jokingly boast-though I think he half believed it-that he was the reincarnation of Edward Teach, the notorious buccaneer commonly known as Blackbeard.
"Reckless as I was, my normal instinct would have been to avoid such a man as I would a live cobra, but he had something which fascinated me: an idol six inches in height, of a hideous, bat-winged dog, carven of the finest milky green jade, stylized in a manner which resembled the Chinese but wasn't. Its eyes were purest sapphires.
"Mr. Holmes, I was more than just a thieving lout in those days. Already the direction of my life's work was clear to me-though I had yet to learn its manner-for if ever I suffered from a true mania, it was the craving to penetrate the deepest secrets of the mysterious Orient. Oh, I wanted riches, yes, but more than that I hoped to come back to England famous, like some Burton or Livingstone or Speke, having brought the light of European science to the darkest and most forbidden corners of the globe.
"I knew what this idol was, even before Wendall Hawkins told me. It was an artifact of the Chan-Tzo people who inhabit the Plateau of Leng in central Asia, in that unmapped and unexplored region northwest of Tibet, where theoretically the Chinese and Russian empires adjoin, but in fact no civilized person has ever set foot-for all the ravings of Madame Blavatsky contain much nonsense about the place. The very name, Chan-Tzo, is often mistranslated as 'Corpse-Eaters,' and so occultists whisper fearfully of the hideous rites of the 'Corpse Eating Cult of Leng.' In truth necrophagia is the least of Leng's horrors. The Chan-Tzo are 'Vomiters of Souls'… but I am far ahead of myself.
"Hawkins had the idol and he had a map-which had been acquired, he darkly hinted, at the cost of several lives-written in an obscure Burmese dialect. He needed me to translate. That was why he had come to me. Otherwise he would share his treasure-hunt with as few as possible-for that was what it was to be. We would journey to Leng armed to the teeth, slaughter any natives who stood in our way, and return to civilization rich men. I tried to console my conscience with the belief that I, at least, would be travelling as much for knowledge as for wealth, and that through my efforts this find could be of scientific value.
"Hawkins and ten others had pooled funds to buy a steam launch, which we christened, to suit our leader's fancy, the Queen Anne's Revenge. Once we had secured sufficient ammunition and supplies, we slipped up the Irrawaddy by night and journeyed deep into the interior, beyond the reach of any colonial authorities, ultimately anchoring at Putao near the Chinese border and continuing overland.
"I don't have to tell you that the trip was a disaster. Supplies went bad or disappeared. We all had fevers. What native guides we could hire or seize at gunpoint misled us, then got away. I alone could read the damned map, but it was cryptic, even if you could make out the script. Much of the time I merely guessed and tried to find our way by the stars.
"Many times I was certain that none of us would get back alive. The first to die was the crazy American, something-or-other Jones, a lunatic who carried a bullwhip and fancied himself an archaeologist. We found Jones in his tent, bloated to half again normal size, his face eaten away by foot-long jungle leeches.
"One by one the others perished, from accidents, from disease that might have been poisoning. Gutzman, the South African, caught a dart in the neck one night. Van Eysen, the Dutchman, tried to make off with most of our remaining food and clean water. Hawkins shot him in the back, then killed the Malay when he protested, and the Lascar on general principles. Another Englishman, Gunn, got his throat cut merely so that there would be one mouth less to feed.
"Since I alone could read the map-or pretended to-I was certain Hawkins needed me alive. In the end, there were only the two of us, ragged and emaciated wretches staggering on in a timeless delirium of pain and dread. It was nothing less than a living death.
"At last we emerged from the jungle and climbed onto the windswept tableland of central Asia. Still the journey seemed endless. I had no idea of where we were going anymore, for all I made a show of consulting the map over and over so that Hawkins would not kill me. Each night I dreamed of the black and forbidding Plateau of Leng, which was revealed to me in a series of visions, its ruins and artificial caverns of shocking antiquity, perhaps older even than mankind itself, as were the immemorial blasphemies of the Chan-Tzo.
"What Hawkins dreamed, I cannot say. His speech had ceased to be coherent, except on the point of threatening me should I waver from our purpose. I knew he was insane then, and that I would die with him, likewise insane, unless I could somehow escape his company.
"I was past thinking clearly. How fortunate, then, that my plan was simplicity itself-almost the bare truth rather than some contrived stratagem.
"I fell to the ground and refused to rise, no matter how much Hawkins screamed that he would blow my brains out with his pistol. I said I was dying, that his pistol would be a mercy. He would offer me no mercy. I was counting on that. Instead, he forced me to translate the map for him and make notes as best I could. There was nothing to write with by a thorn and my own blood, but I wrote, and when he was satisfied, he laughed, folded the map into his pocket, took all our remaining supplies, and left me to my fate on the trackless, endless plain.
"And so we parted. I hoped I had sent him to Hell, deliberately mixing up the directions so he'd end up only the Devil knew where. He, of course, assumed I would be vulture's meat before another day or two.
"But I did not die. Mad with fever and privation, my mind filled with fantastic and horrible hallucinations, I wandered for what might have been days or even weeks, until, by the kindness of providence alone, I stumbled into the camp of some nomads, who, seeing that I was a white man, bore me on camel-back into the Chinese province of Sinkiang and there turned me over to a trader, who brought me to a missionary.
"This proved to be my salvation, both physical and otherwise. I married the missionary's daughter, Abigail's mother, and largely through the influence of her family I later found a place on a much more respectable Anglo-French expedition to Angkor. That was the true beginning of my scientific career. Still the mysteries of the East haunted me, but my cravings were directed into proper channels until I achieved the renown I have today."
At this point Sir Humphrey paused. The only sound was the slow ticking of a great clock in some other room. Abigail Thurston's face was white from the shock of what she had heard. She scarcely seemed to breathe. Holmes sat very still, his chin held in his hand, staring into space.
I was the one who broke the silence.
"Surely, Sir Humphrey, there is more to the story than that. I don't see how your luckless expedition or whatever fate the rascal Hawkins must have met has anything to do with the here and now."
Thurston's reaction was explosive.
"Damn it, man! It has everything to do with my predicament and what may well be my inevitable fate. But… you are right. There is more to tell. After many years of roving the world, giving lectures, publishing books, after I was knighted by the Queen-after my past life seemed a bad dream from which I had finally awakened-I thought I was safe. But it was not to be. This past fortnight I began to receive communications from the fiend Hawkins!"
"Communications?" said Holmes. "How so?"
"There. On the desk."
Holmes reached over and opened an ornately carven, lacquered box, removing a sheaf of papers. He glanced at them briefly and gave them to me.
"What do you make of them, Watson?"
"I cannot read the writing. The paper is an Oriental rice-paper. The penmanship shows the author to be under considerable mental strain, perhaps intoxicated. Notice the frequent scratchings and blottings. Beyond that, I can make out nothing."
Sir Humphrey spoke. "The language is an archaic-some would say degenerate-form of Burmese, the script a kind of code used by criminals in the Far East. Between these two elements, I am perhaps the only living man who can read what is written here, for Wendall Hawkins is not alive, if his words are to be believed."
"Surely if he is dead," said Holmes, "your troubles are at an end."
"No, Mr. Holmes, they are not, for all of these letters were written after Hawkins's death-long after it. It seems that he reached the Plateau of Leng, which I saw only in visions. There the almost sub-human priests of the Chan-Tzo murdered him after what might have been years of indescribable tortures, then brought him back into a kind of half-life as an animate corpse at their command, hideously disfigured, the skin flayed from his face, his heart ripped out, the cavity in his chest filled with inextinguishable fire. He is implacable now, driven both by the will of his masters and his own rage for revenge against me, whom he blames for his unending agony. He knows all the secrets of the Chan-Tzo priests, and the conjuring of death-fetches is easily within his power."
"He says all that in these letters?" I asked.
"That and more, Dr. Watson, and if it is true, I am defenseless. My only hope is that Mr. Holmes and yourself can prove me to be deluded, the victim of a hoax perpetrated by the vile Hawkins who has no doubt returned, but returned, I still dare to hope, as no more than a mortal villain. If you can do this, I certainly have the means to reward you handsomely for your services."
"My services are charged on a fixed scale," said Holmes, "but let us not concern ourselves with the monetary details now. I shall indeed collar this Hawkins for you and unmask his devices-which I am sure would make the tricks of our English spirit mediums child's play in comparison-but they are devices none the less. For what else can they be?"
"Mr. Holmes, I will be forever in your debt."
"We shall watch and wait until Hawkins is forced to show his hand. But first, I think Dr. Watson should escort Miss Abigail to a safer place, my own rooms, which I shall not be needing until this affair is concluded." When Thurston's daughter made to protest, Holmes turned to her and said, "You have been a heroine, but now that the battle is actually joined, I think it best that you remove yourself from the field. Will you go with Dr. Watson?"
"Whatever you say, Mr. Holmes."
"Splendid. Now I must busy myself examining the house inside and out, to discover any way our enemy might use to gain entrance."
Thurston picked up the elephant gun and lay it across his lap, then began idly polishing the barrel with a cloth.
"I've survived five days like this. I think I shall be safe here behind the locked door for a little while longer yet. Your plan makes excellent sense, Mr. Holmes."
We left Sir Humphrey alone in the room. As Holmes and I escorted Miss Thurston down the stairs, the detective asked me, "Well, Watson, what do you think?"
"A unique case, Holmes. One worthy of your talents."
"About Sir Humphrey. What about him?"
"I judge him to be of fundamentally sound mind, but what superstitious fears he may harbor are being played upon by the murderous Hawkins, who sounds himself to be completely mad."
"Mad or not, he shall have to manifest himself in a decidedly material form before long, at which point he will be susceptible to capture by mundane means."
"One thing doesn't fit, Holmes. Who, or what, did we see upon our arrival here? Sir Humphrey hadn't been out of the room."
"An impostor, possibly a trained actor in league with Hawkins. I agree that all the pieces of the puzzle are not yet in place. But have patience. You know my methods."
"I am so glad that you and Dr. Watson will help Father," Miss Thurston said softly as we reached the base of the stairs. "You are sent from Heaven, both of you."
Holmes smiled indulgently. "Not from nearly so far, but we shall do what we can."
Alas, we could do but little. As we stood there at the base of the stairs and I helped Miss Thurston on with her coat, she turned and chanced to look back up the stairs. Suddenly she screamed.
"Good God!" I exclaimed.
Near the top of the stairs was a figure who appeared to be Sir Humphrey, but dressed for the outside, in coat and top hat, as we had seen him before. He could not have gotten past us.
"You! Stop!" Holmes was already in pursuit, bounding up the steps three at a time.
The figure moved so swiftly the eye could hardly follow, and soft-footedly. I heard only Holmes's boots pounding on the wooden stairs. Then there came a cry from within the study. Sir Humphrey shouted something in a foreign language, his tone that of abject terror, his words broken off in a gurgling scream. The elephant gun went off with a thunderous roar.
I left Miss Thurston and hurried up after Holmes. By the time I reached the study door, which was blown apart from the inside as if a cannonball had gone through it, Holmes was inside.
He rushed out again, his eyes wild, his face bloodless, and he saw Miss Abigail Thurston coming up behind me.
"For the love of God, Watson! Don't let her in!"
"Father!" she screamed. "Oh, you must let me pass!"
For all she struggled, I held her fast.
"Watson! Do not let her through no matter what happens! It is just… too horrible!"
I think that was the only time I ever saw Sherlock Holmes truly shocked, at a loss for words.
I forced Miss Thurston back down the stairs despite her vehement protests, holding onto her until the police arrived, which they did shortly, summoned by the neighbors who had heard the screams and the shot. Only after she had been conveyed away in a police wagon, accompanied by a patrolman, was I able to examine the body of Sir Humphrey Thurston, who was indeed murdered, as I had feared.
Though still seated in his chair, he had been mutilated hideously, almost beyond recognition.
His throat was cut from ear to ear. That was enough to have killed him. But the flesh had been almost entirely torn away from his face, and a strange series of symbols, like the ones I had seen in the letters, had been carved in the bare bone of his forehead. The crown of his skull had been smashed in by some blunt instrument, and-it revolted me to discover-most of his brain was gone.
The final detail was the worst, for it had been deliberately designed to mock us. The still smoking elephant gun lay across his lap, and, carefully placed so that it would be reflected in the mirrored surface of the polished gun barrel, was a small jade idol with emerald eyes, a stylized figure of a bat-winged dog.
"Yes, Holmes," I said, "it is entirely too horrible."
Dr Watson stopped telling the story, and I, the nineteen-year-old American college student, could only gape at him open-mouthed, like some imbecile, trying not to reach the attractively obvious conclusion that the good doctor's mind had gone soft after so many years. It was a terrible thing, just to entertain such a notion. I almost wept.
I would have remained there forever, frozen where I sat, wordless, had not Dr. Watson gone on.
"It was a case which I could not record, which Holmes ordered me to suppress on pain of the dissolution of our friendship. It just didn't work out."
"Wh-what do you mean, didn't work out?"
"I mean exactly that. The affair concluded too quickly and ended in abject failure. We accomplished nothing. He would have no more of the matter, the specifics, as he acidly phrased it, being left to the 'official imagination,' which, sure enough, concluded the murder to be the work of a madman or madmen, perhaps directed by a sinister Oriental cult, a new Thuggee. But even the police could not account for the powerful stench of decay which lingered in the explorer's study even long after the body had been removed, as if something long dead had invaded, done its worst, and departed as inexplicably as it had come.
"Enormous pressure was brought to bear to prevent any accurate reportage in the newspapers, to prevent panic. I think those instructions came from the very highest level. Sir Humphrey's obituary, ironically, listed the cause of his demise as an Asiatic fever. I signed the death certificate to that effect.
"My own conclusions were profoundly disturbing. The mystery could not be resolved. What we-even Miss Thurston-had witnessed were not merely unlikely, but impossible.
"'I reject the impossible,' said Holmes vehemently, 'as a matter of policy. Such things cannot be-'
"'You and I and the girl saw, Holmes. They are.'
"'No, Watson! No! The irrational has no place in detective work. We must confine ourselves to the tangible and physical, carefully building upon meticulous reason, or else the whole edifice of my life's work crumbles into dust. Against the supernatural, I am helpless, my methods of no use. My methods have been useful in the past, don't you think? And so they shall be in the future, but we must remain within certain bounds, and so preserve them.'"
Again I, the college boy, was left speechless.
"Holmes made me swear an oath-and I swore it-never to write up this case-and I never wrote it-"
Had he, in a sense at least, broken his oath by telling me? I dared not ask. Was there some urgency now, of which had lately become aware?
"I wanted to tell someone," was all he said. "I thought I should."
King Midas. Ass's ears. Who will believe the wind in the reeds?
I merely know that a week after I returned to school in America I received a telegram saying that Dr. Watson had died peacefully of heart failure, sitting in that very chair by the fire. A week later a parcel arrived with a note from one of my aunts, expressing some bewilderment that he had wanted me to have the contents.
It was the idol of the bat-winged dog.
The Shocking Affair of the Dutch Steamship Friesland by Mary Robinette Kowal
Mary Robinette Kowal is the author of several short stories, including "Evil Robot Monkey," which is a current finalist for the Hugo Award. Her short fiction has appeared in Asimov's, Strange Horizons, Cosmos, and Escape Pod, and in the anthologies Twenty Epics, The Solaris Book of New Science Fiction Vol. 2, and Gardner Dozois's The Year's Best Science Fiction. Her first novel, Shades of Milk and Honey, is forthcoming from Tor Books. Kowal was also the 2008 winner of the John W. Campbell Award for Best New Writer, and when not writing she works as a professional puppeteer.
***
Men are notoriously reluctant to get married, and when you look at the history of weddings, who can blame them? After all, weddings are pretty dangerous places. The marriage of Claudius and Gertrude in Hamlet ends in what can only be termed tragedy. Good night, sweet prince. In fact, good night just about everybody. In Monty Python and the Holy Grail, a misinformed Sir Lancelot rampages through a wedding party, slaying many, including the best man. And these are small potatoes compared to truly disastrous affairs such as the Saint Bartholomew's Day Massacre of 1572, in which a controversial Catholic-Protestant marriage touched off a wave of violence that eventually claimed as many as thirty-thousand lives. Is it any wonder that men stay away? It's simple prudence, really. In Conan Doyle's story "The Adventure of the Norwood Builder," Watson mentions in passing the "shocking affair of the Dutch steamship Friesland, which so nearly cost us both our lives." Our next story imagines what this evocatively titled case might have entailed-it involves a naive young woman, a royal couple, a glassblower, and the darker side of Italian politics. And oh yes, also a wedding.
***
I was born Rosa Carlotta Silvana Grisanti, but in the mid-Eighties, I legally changed my name to Eve. As you have guessed in your letter, after the shocking affair of the Dutch steamship Friesland, my dear friends Dr. Watson and Mr. Sherlock Holmes suggested that my safest course of action would be to distance myself from my family.
But I get ahead of my story; I have not Dr. Watson's gift for explaining Mr. Holmes's methods, and I fear your wish that I relay the particulars of this strange case may be met with inadequate measures.
On the twelfth of October, 1887, I was being taken by the steamship Friesland from our home on the Venetian isle of Murano to Africa; there to meet my betrothed, Hans Boerwinkle, a man several years my senior with whom my father had very recently made arrangements. Living as we do now, in the nineteen-twenties, it is difficult to remember what a sheltered life we girls led forty years ago, but at the time it seemed natural that my brother, Orazio Rinaldo Paride Grisanti, escorted me as chaperone. With us also was my lady's maid, Anita.
In addition to my trousseau, we had several boxes packed with the finest Murano crystal as part of my dowry. My father had blown glass without cessation after my betrothal was announced. I remember Zia Giulia asking, "What is the hurry?" At the time, I was only anxious to be an adult, which was all that marriage meant to me.
I can still recall my excitement at dinner the first evening as glittering ladies and gentlemen, in full evening dress, caught me in a dazzle of delight. Orazio and I were seated at a table with two British gentlemen and a couple from Hungary; at the captain's table sat Signore Agostino Depretis, the premier of Italy, with his new bride, Signora Michela Depretis. As I anticipated my own wedding and honeymoon, I envied the young woman and the way all eyes sought her.
But I should not dwell on my youthful fancies. The two British gentlemen, as you might have surmised, introduced themselves as Mr. Sherlock Holmes and Dr. Watson.
Mr. Holmes delighted me by having an excellent command of Italian, and asked us endless questions about glassblowing. While we bantered, Signore and Signora Comazzolo, a rival glassblower family, who also sailed on the Friesland, sent a bottle of expensive champagne to the bridal couple.
My brother's eyes narrowed, then laying his hand upon my arm, he said in Italian, "Would you send them a gift as well, though it means parting with a small item from your dowry?"
"Papa will send me more." I smiled at him. "I shall write a note myself."
Orazio gestured to Anita and gave her hurried instructions. In moments she returned with a small box containing a matched pair of opalescent champagne flutes ornamented by delicate tracings of crystal. I quickly penned the note that you have in your possession.
A foolish note, from a foolish girl, but-how was I to know what was to follow? Before the ink was dry, my brother snatched the note and fairly sprinted across the dining room. Bowing at the captain's table, he presented the box of flutes to Premiere Depretis and his bride. She laughed prettily, and kissed him on both cheeks to thank him.
I do not boast when I say the artistry of these flutes was without peer. My father was a brilliant glassblower; no other studio knew the secret of his opalescent glass, and of its shifting colours that bent light into translucent rainbows.
Nothing would do then but for the bridal couple to open the champagne and toast the assembly with these confections of glass. The champagne's bubbles danced as merrily as if they were celebrating with us.
Premiere Depretis said, "Ladies and gentlemen, with this lovely Murano glass I propose a toast to my fellow countrymen and to my beautiful wife. Long life and health to us all."
They drank their champagne and kissed each other with love in their eyes while we looked on, applauding wildly. Signore Comazzolo, perhaps jealous that our flutes had upstaged his champagne, called out. "How is the champagne, Premiere?"
Premiere Depretis bowed to him before burying his nose in his glass to inhale the bouquet of the champagne. "An elegant nose with nuances of honey, gingerbread, parsley and slight hints of garlic." He sipped the champagne again, savouring it. "Minerality, pears and a bright acidity. Delightful."
We applauded again, perhaps even more wildly than before. I sat, breathless with delight, darting glances at the bridal couple over each course. The first course was oysters and my brother ordered a bottle of champagne so that we could celebrate "in the same style as our Premiere and Signora Depretis."
During the second course, Signora Depretis excused herself and I looked up as she stood. Her face was pale, and she held her hand to her abdomen as if her stomach hurt. Premiere Depretis escorted her from the dining room, his own face tight.
"What is the matter, do you think?" I asked Orazio.
He shrugged. "Perhaps the oysters."
During the rest of my meal, I imagined stomach pains until, feeling nauseous, I excused myself during the fourth course.
The next day, neither Depretis came to dinner.
The third day, my lady's maid, Anita, announced that two men waited in my parlour
"Where is my brother?" I asked.
She shook her head, smiling apologetically, "I do not know, Signorina."
I hesitated to step into the parlour unchaperoned, so I motioned Anita to accompany me. You must imagine my relief to find my dinner companions, Dr. Watson and Mr. Holmes, awaiting me.
Here, I must pause to give you a word picture of Mr. Holmes. He towered above me, indeed, even among most men his lean figure loomed like a hawk. His dark shaggy brows pulled down in an expression of fixed concentration from the moment I stepped into the parlour and his eyes gleamed with a fire of excitement.
"How are you, Signorina Grisanti?" he asked in flawless Italian.
Dr. Watson hung back and watched our conversation with the eager interest of a newspaper reporter, in the scene but not part of it.
"I am well, thank you, Signore Holmes." I wondered for a moment if I might ask him for news of Premiere and Signora Depretis.
"The Depretises are dead." Mr. Holmes said, bluntly.
I gasped, both at the news and at how easily he read my thoughts. "The oysters?"
"Their nuptial toast was poisoned." Mr. Holmes gave me a long searching look. "Do you know where your brother is?"
"No." My attention was barely upon him, so horrified was I by the thought of that happy couple murdered. Assassinated.
"Well then, we shall chat with you while we wait for him, if you do not mind?"
I shook my head.
He folded himself into one of the cabin's chairs. Dr. Watson sat in a chair to the side, holding so still that in my memory he is almost invisible. Mr. Holmes leaned forward to put his elbows on his knees. "Tell me about your approaching nuptials."
I blushed and stammered but proceeded to tell him about my recent betrothal to Mr. Boerwinkle and his business arrangements with Papa. About how I was moving to Africa but Papa could not accompany me because he was busy with the upcoming elections helping with the campaign for the Left. I told him about my dress; in other words, I acted every inch the vain, silly girl that I was.
In the midst of my recitation, Mr. Holmes hesitated and then asked. "May we look at your dowry?"
"Of course." I beckoned Anita and she helped the gentlemen unpack the crates of crystal. I hovered, anxious and useless, as they lay the sparkling glass and crystal about the cabin with infinite care. Mr. Holmes stopped to admire an opalescent vase, which my father had made to serve as a centrepiece for our table.
He glanced at the matched rows of clear stemware and back at the vase. "Did you have only the flutes and the vase in this style of glass?"
"Yes." I stepped forward to admire the piece. "No other glassmaker knows how to produce the opalescence and even my father rarely makes it."
"Has he produced opalescent stemware, such as the champagne flutes, before?"
I tilted my head and thought. "Not that I know of, but I am not often in the shop."
Mr. Holmes lifted the vase to his nose and, to my bewilderment, sniffed it. "Hmm. No help there. Help me put everything back, would you, Dr. Watson?"
I was thankful that Dr. Watson looked as baffled as I felt, but he said nothing and simply helped Mr. Holmes repack everything except the vase. Mr. Holmes turned to me and said, "I am sorry for the inconvenience, Signorina Grisanti. Do let me know when your brother returns." He bowed over my hand and he and Dr. Watson took their leave.
I stared at the door after them and then picked up the vase and sniffed it. I smelled nothing.
Some hours later Orazio sauntered into the room. "Well, little Rosa, how do you like your first ocean voyage?"
"I am frightened. Dr. Watson and Signore Holmes said-"
He crossed the room in one stride and grabbed my wrists. "What did you tell them?"
"Nothing!" I twisted in his painful grasp. "I had nothing to say. I do not understand what is happening. Orazio, they said the champagne was poisoned."
He dropped my wrists and stepped back, smiling. "Did they now?"
"How can you smile when the Depretises have been murdered?"
He laughed. "Why, my dear sister, do you think we are on this boat?"
The successive shocks I received that night had hardened my nerves, or perhaps I had already begun to accept the truth. With a click, the pieces came together in my head, along with something I had not told Mr. Holmes. I knew how my father made the glass. I could not let Orazio guess at my thoughts and I forced myself to answer him as the foolish girl he thought me to be: "I'm supposed to get married."
He turned, smiling, relief written on his face. "Yes, my beautiful Rosa. That is true." He kissed me on the forehead. "I am exhausted and it is long past time that you retired for the evening."
I twisted my fingers together, faint with the awareness of what my brother had done. Had his only target been Premiere Depretis, perhaps I would not have felt as horrified, but the memory of Signora Depretis kissing my brother on his cheeks, thanking him for bringing her death, sickened me. The realization that I could, perhaps, have prevented it tore at my soul. "All the excitement has me overwrought. Do you think it would be all right if I walked on deck to cool my head?"
Orazio squeezed my hands. "I am too tired to escort you."
"Anita will serve." I smiled coquettishly, masking the anguish over what I must do. "Or did you want to dazzle the young ladies yourself?"
Laughing, my brother kissed my cheeks. "Go on, Rosa, but do not walk too late."
I called Anita and we went to the upper decks. You have asked about Mr. Holmes, so I will not trouble you with the thoughts of my long promenade. Know that the night air cooled my fevered temples and gave me the resolution I needed. Anita walked with me through the decks until we arrived at Mr. Holmes's stateroom. I blushed, thinking of how it looked for an unmarried young woman to seek a man at this hour and then in the next instant I shook my head at my foolishness. What mattered my reputation on such a night as this?
Still, the sounds of an unearthly violin haunting the night nearly undid me but I gathered my resolve and knocked on the door. It opened to a cloud of blue-smoke, swirling about like that in the chimney of my father's furnace.
"Miss Grisanti?" Dr. Watson seemed so shocked at my appearance that he forgot to speak Italian and his next sentence fell on uncomprehending ears.
Mr. Holmes tucked his violin under his arm and said in excellent Italian, "Be courteous, Dr. Watson, Signorina Grisanti doesn't have a word of English. Won't you come in?"
I shook my head. "I have come simply to tell you that my brother has returned. He knew the glass was poisoned, and it was the glass, Signore Holmes, not the champagne."
Mr. Holmes leaned forward on his toes. My breath caught at his eagerness, but I somehow found the air to continue speaking. "The opalescence is caused by arsenic powder blown with the glass."
"In the glass, not on the surface!" He spun happily and pointed his bow at Dr. Watson. "That explains why my tests failed to detect it."
I felt close to fainting. "But you surely suspected, else you would not have come to look at my dowry."
His bushy eyebrows arched and I blushed under his scrutiny. "Your observation is astute," he said. "Premiere and Signora Depretis's symptoms began at dinner shortly after their champagne toast. The note of garlic, which Premiere Depretis noticed in the champagne, led me to suspect arsenic. The champagne combined with arsenic would have produced arsine gas, which was consistent with the Depretis's symptoms, but there was no arsenic residue in the bottle, so I turned my attention to the flutes. Your mention of your father's involvement with politics provided a motive, but I could not deduce the method."
Dr. Watson stepped forward, asking, "You must know what this means for your father and your brother?"
"I do." I looked down and wrapped my arms about myself, feeling the hard bones of my corset and wishing they could protect me. "My father has chafed against the government since Italy annexed Venezia in 1871 and my rapid engagement to Mr. Boerwinkle must be a sham to give us reason to be here. I am certain that Orazio would have presented these flutes at another time, but took the opportunity to discredit the Comazzolo family. I know what is at stake and-" my voice faltered but I drew my head up higher. "I will not be a pawn. Their treachery is dishonourable."
From my readings of Dr. Watson's papers, I suspect this is one of the few times Mr. Holmes was ever taken aback-not at my answers, but that a young girl could have changed so, in the hours since he had interviewed me. "Signorina Grisanti, you are a noble woman. I thank you."
"I will walk on deck awhile longer." I turned to go, conscious that I had betrayed my brother and my father-but had they not betrayed my youthful ideals more? Had they not traded my hope for death? Over my shoulder, I asked, "Will you be able to complete your business before I return?"
"Yes." The smoke swirling in the room created the illusion of mist sweeping over his eyes.
I walked on deck for hours, before returning to my empty cabin. The too-tidy room betrayed signs of a struggle, which some kind soul had neatened. A folded piece of paper waited for me on the table by my lacework. I enclose it now, to complete your record of this remarkable man.
"My dear Signorina Grisanti,
"I applaud the fine intellect that brought you so swiftly to understand the intricacies of the situation. I regret that I have received a telegram indicating your betrothed, Mr. Boerwinkle, is also in league against the current Italian government. With this first step, it seems certain they intended to shift the ruling party of Italia to the Left. Your father and brother have been taken into custody for the assassination and will be duly tried."
"With these facts, it seems apparent you cannot return home, nor can you continue your voyage. Dr. Watson and I are departing the ship tomorrow and wish to offer you safe conduct."
"I await your reply,"
"Sherlock Holmes."
I wept. I wept for the truth of his words, for the loss of my home, and for the loss of my innocence. I wept till Anita came to me and held me in her arms, singing to me and comforting me for the lost child that I was.
We departed the ship the next day. On Mr. Holmes's urging, I changed my name to Eve V-and I never saw my family again. Until I received your letter, I had seen the name Grisanti only once, in a newspaper report of the arrest and execution of my brother, Orazio Rinaldo Paride Grisanti. I would not read a paper for years after-lest I see a notice of my father's trial, and know I had killed him.
Now you have my account to add to the ones Dr. Watson left of Mr. Sherlock Holmes and so, I will close by signing my old name, for the whole affair belongs to a girl much different from me.
Sincerely yours,
Rosa Carlotta Silvana Grisanti.
The Adventure of the Mummy's Curse by H. Paul Jeffers
H. Paul Jeffers is the author of many works of fiction and non-fiction, the most recent of which is Taking Command, the first biography of World War II general J. Lawton Collins. He has written many other biographies as well, including several volumes about President Teddy Roosevelt. His other non-fiction work ranges wildly from books like Freemasons: Inside the World's Oldest Secret Society to With an Axe: 16 Horrific Accounts of Real-Life Axe Murderers to The Complete Idiot's Guide to the Great Depression. In the realm of Sherlockiana, in addition to this story, Jeffers is the author of the novels The Adventure of the Stalwart Companions and Murder Most Irregular, as well as The Forgotten Adventures of Sherlock Holmes, a book of stories based on the original radio plays by Anthony Boucher and Denis Green.
***
"Death will slay with his wings whoever disturbs the peace of the pharaoh." This inscription was supposedly found carved on a stone tablet by British explorers Howard Carter and George Herbert when they opened the tomb of the Egyptian king Tutankhamun. It's said that when the men entered the tomb, all the lights in Cairo went out and Herbert's three-legged dog dropped dead. Herbert himself soon followed, felled by a mosquito bite. Carter's pet canary was also killed, in a freak cobra accident, and before long two dozen members of the expedition had died under mysterious circumstances, victims of the mummy's curse. Or that's the story anyway. Numerous explanations have been advanced to explain the misfortune that befell the expedition. In 1986 Dr. Caroline Stenger-Phillip proposed the intriguing notion that the explorers had been sickened by exposure to mold and bacteria that had been preserved in the hermetically sealed tomb. However, a 2002 statistical analysis in the British Medical Journal concluded that members of the expedition had not in fact died significantly faster than the general population. The "curse" was a media myth, albeit one that's inspired a lot of great entertainment, including our next tale.
***
In the three years following my introduction to Sherlock Holmes in the chemistry lab of St. Bart's hospital by our mutual friend Stamford-resulting in Holmes and me sharing lodgings in Baker Street-I had grown accustomed to Holmes's investigations beginning with the arrival of a telegram or letter, our landlady announcing an unexpected caller, or the plodding footsteps of a Scotland Yard detective ascending the stairs with a grudging appeal for assistance. On one or two instances I happened to be the instrument that launched Holmes upon what he commonly called "a problem." Such was the occasion on a warm April evening in 1883. We had barely settled into our chairs in the sitting room of 221B Baker Street on the second evening following our return from the Surrey home of the villainous Dr. Grimesby Roylott when Holmes bolted from his chair and declared, "Watson, our exertions in this singular episode at Stoke Moran have earned us the reward of a superb dinner."
Half an hour later, we were seated in Simpson's-in-the Strand. As always when Holmes patronized that venerable establishment, our table in the upstairs dining room was next to a large window overlooking the busy thoroughfare. "In this passing parade of humanity," he had said in explanation on a previous occasion, "and in a city of four million inhabitants, all jostling one another, there is no telling what convergence of events or trifling happenstance might unloose a chain of events resulting in a calamity, or simply one of those incidents that seem whimsical on the surface, but are rife with dire consequences for those involved."
While Holmes alternately peered down to study the constantly changing street tableau, he picked at the roast beef that had been carved from one of the immense silver trolleys, known as "dining wagons," which had been the hallmark of Simpson's since it opened its doors in 1848. I was enjoying a steak, kidney, and mushroom pudding for which the restaurant was equally and justifiably renowned. As I glanced around the crowded, festive room, I was astonished to see a comrade from my army service striding boldly towards our table.
A burly figure in the uniform of my former regiment, the Fifth Northumberland Fusiliers, and with a shock of unruly red hair that had among his fellow officers earned him the nickname "Rusty," Major James McAndrew would have been an arresting figure anywhere, but making his way across the large dining room he was especially noticeable because of a bandage encircling his head like a laurel wreath. As he drew near our table, he flung out his powerful arms and bellowed, "By Jove, it really is you, Watson!"
"Rusty, my dear friend," said I, rising to grip his large hand. "This is a surprise. I had no idea you were in England. How good it is to see you. May I present my friend, Sherlock-"
"No introduction is required, John. It's an honour to meet you, Mr. Holmes. As a devoted reader of Watson's accounts of your investigations in The Strand Magazine, I assume that your keen eyes have taken my measure and your detective's mind has deduced my entire life story."
"I wouldn't go so far as to say that I know everything about your life, Major," Holmes replied as they shook hands, "but the tattoo of a ship below a cross on your left wrist and one of a mermaid on the right are evidence that you went to sea as a very young man. They are in the unmistakable style of a particular practitioner of body adornment who worked the Portsmouth docks three decades ago."
"Right you are!"
"How long it has been since you gave up seafaring for the army is impossible to state."
"Because my father had been a captain in the navy and thought I had the makings of an officer, I shipped out in 1845 at the age of thirteen, but after five years, I decided that I'd rather be in the army. Earning the rank of Major took another twenty. What else have you observed?"
"You are a man of exceptional ability, courage, loyalty, and patriotism. All of these virtues are evidenced by your lifetime of service to your country. You are also adventurous and impetuous. I deduce from these traits that you switched to the army because you craved more excitement."
"It was at the time of the Great Mutiny. My blood was boiling to punish the Mughals and Muslims for their perfidy, after all that we had done for the good of India. This is fascinating, Mr. Holmes. Please continue."
"Although the ring finger of your left hand indicates that you are not married," said Holmes, "I'm certain that a man of your dashing countenance and demeanor has not lacked opportunities to engage in affairs of the heart. You felt strongly enough about one woman called Elizabeth to have her name placed under the tattoo of the mermaid."
"That is true, sir, but I decided early on that the hard life of a sailor and later of the army on the northwest frontier of India in the aftermath of the Mutiny was not one that a gentleman should impose on the gentle sex."
"Beyond these observations, Major, I note only that you have been quite lucky in your life in that you have returned to England from the wars of the East with your body evidently intact and your spirit unbroken, undoubtedly because of a deeply religious nature that is indicated by the tattoo of the cross, and may I say, because of the strengthening of your faith by your participation in the rites and rituals of Freemasonry?"
"I see how you reached your conclusions concerning my naval and military life-it's quite simple, really. But on what basis can you state with such conviction that I am a Mason?"
"You revealed it yourself."
"Really! I don't recall-"
"I know that Watson is a Master Mason. You and he greeted one another with the unique handshake of those who have attained the third degree of Masonry, therefore you are also a Master. What I cannot state with conviction is whether you joined the fraternity before or after you entered into the army. As Watson will attest, I never guess."
"I was accepted as Entered Apprentice in a military lodge when I arrived in Bombay in 1873 and raised to Fellowcraft a year later in Calcutta. I received the apron of the Master Mason in 1879 in the lodge of the Fifth Fusiliers at the time of the Second Afghan War. I am proud to say that Watson presided over the induction ceremony as Most Worshipful Master."
Recalling that moment with pleasure and pride, I interjected, "I was honored to do so."
"When you were transferred to service with the Berkshires, I lost track of you. I later heard through the grapevine that you had been wounded and were sent home. The next thing I knew, you had become an associate and chronicler of the world's most illustrious private detective. It's wonderful to see you again, John, and to observe that you seem to have fully recovered from your wound. I must say, you look smashingly well."
"Now and then I feel a twinge in my leg to remind me of that bloody day."
"You've had quite an injury yourself, Major," Holmes observed.
Raising a hand to the bandage and gingerly touching it, McAndrew replied, "Receiving this bump was nothing as romantic as the Jezail bullet that felled John at Maiwand."
"How did your injury happen?"
"I was struck a glancing blow by a tile that had become dislodged and fell from the roof of my quarters in Pimlico Road near the Chelsea Barracks."
"You're a fortunate fellow," I said. "You could have been killed."
"Indeed so. In my case, the mummy's curse does appear to have gone amiss, but perhaps only because I was a minor member of the expedition that disturbed the old gent's bones. I am not a believer in the occult, but this incident has almost made me one."
Leaning forwards with a look of astonishment, Holmes exclaimed, "Such an extraordinary statement requires elucidation, Major."
"Yes, I suppose it does, but I'm afraid that I've kept you from enjoying your meal long enough. Another time, perhaps."
"Really, Major," said Holmes insistently, "I cannot allow you to refer to your injury as the result of a mummy's curse, then go off and leave Dr. Watson and me to simply go on eating as if nothing were more important than our next course. Draw up that chair and tell us everything from the beginning."
"I am not one of our countrymen who takes an interest in the so-called supernatural," said McAndrew as he seated himself, "but, as you observed, Mr. Holmes, I am a man of faith. You cannot be a Freemason and not believe in a Supreme Architect of the Universe."
"Quite so," said I. "It's the cornerstone of the Craft."
"Because I am a Christian," McAndrew continued, "I made my way homeward from my service in Afghanistan by way of the Holy Land. I naturally visited the biblical city of Ur and the rivers of Mesopotamia. After a few days in Baghdad, I continued to Jerusalem. I wished to see the Jewish Temple Mount, now claimed by the Mohammedans as their third most holy shrine, and to visit the Church of the Holy Sepulcher. Because I am an amateur archaeologist, I was also interested in exploring the discoveries of Edward Robinson, Charles Warren, and, of course, General Charles Gordon. As you know, he has located a skull-shaped hill and a nearby garden that he has identified as the true location of Calvary and Our Lord's burial place, rather than the tomb in the Church of the Holy Sepulcher, as the Roman Catholics believe. After my explorations of the Holy City, I journeyed to Cairo to have a look at the pyramids of the Giza Plateau and the Sphinx. During my stay at the Mena House, a very fine old hostelry in the shadow of the Great Pyramid of Cheops, I chanced to meet Basil Porter. He is a nephew of Lord Porter, under whose auspices a dig had been organised. He graciously invited me to join them. The expedition was led by Professor Felix Broadmoor of Cambridge University. Perhaps you've heard of it."
"The newspapers were full of it, and rightly so," I said emphatically. "I expect that Her Majesty will presently recognize its achievements with the appropriate honours."
"As well she should," said McAndrew. "However, Lord Porter has been subjected to a firestorm of criticism from some quarters for not consigning the expedition's finds to the nation by turning everything over to the British Museum."
"I'm certain that will eventually be sorted out," said Holmes. "Please go on with your story and the matter of the mummy's curse."
"The expedition was hoping to locate tombs from the period of the Sixth Dynasty king named Raneferef. We did not find a royal sarcophagus, but located the burial place of a minor official called Sarenput. It was a discovery of breathtaking riches. Believe me, gentlemen, nothing I had seen of the wealth of Indian maharajahs matched the treasures that we unearthed. The mummy itself was in an excellent state of preservation in a tomb that had escaped the grave robbers that through the millennia have looted so many burial chambers, perhaps because of the curse that had been carved into the door of the main chamber. It was so chilling that it is etched in my memory so indelibly that I can recite it exactly: 'The priest of Hathor will punish any of you who enters this sacred tomb or does harm to it. The gods will confront him because I am honoured by his Lord. Anyone who desecrates my tomb will drown, burn, be beaten, and be destroyed by the crocodile, hippopotamus, and lion. The scorpion and the cobra will strike him. Stones will crush the trespasser.'"
"Ah, at last," Holmes exclaimed "Now, we're getting somewhere. You have associated the stones of the curse with your unfortunate encounter with the falling tile."
"I am not a superstitious man, but my injury, occurring after some peculiar and tragic events since the conclusion of the Porter-Broadmoor expedition, has caused me to wonder if there might be something to this curse business."
"Your story becomes even more compelling," said Holmes. "What were these peculiar events, as you so colourfully put it?"
"The first was the collapse of a tunnel at the tomb site. No one was injured or killed at that time, but we had to work very rapidly to shore up the walls in order to extricate the diggers."
"The next incident?"
"One of the ships carrying several larger artefacts from the dig to England was lost in a Mediterranean storm. Again, there was no loss of life or injury, but the artefacts are now lying at a depth that leaves them unrecoverable."
"When did someone die?"
McAndrew smiled appreciatively. "I can see that Dr. Watson in his writings has not exaggerated your facility at deduction, Mr. Holmes. Several weeks ago, an expert in Egyptian hieroglyphics who translated the curse, Anthony Fulmer, was killed in a train wreck in Kent."
Recalling reading in the newspapers that several persons had died, I muttered, "A terrible accident, indeed."
"What happened next?" asked Holmes.
"Last week Felix Broadmoor was waylaid in the night by a robber on a street near his home in Cambridge. He was so badly beaten that he died without recovering. The police have attributed the incident to a gang of toughs who have been plaguing the area. As far as I know, there have been no arrests."
"How many individuals participated in the expedition?"
"Including diggers, carters, and others that we hired from the local population, there were about two hundred. Those who came out from England were Lord Porter, as financial backer; his nephew Basil; an exceptional Egyptologist from the BM named Geoffrey Desmond, who is still in Cairo; Mr. Broadmoor; and Mr. Fulmer."
"Six men," I said, "two of whom are dead and yourself injured. If one were inclined to believe in the occult, your mummy's curse would seem to have taken quite a toll."
With a sigh, McAndrew replied, "I'm certain all of this is pure coincidence, but it does provide me with a good barracks yarn. I only wish I possessed the Watson talent for spinning a riveting tale. When will I have the pleasure of reading your next story in The Strand?"
"You will find it especially interesting, as it involves the deadliest snake in India."
McAndrew shuddered. "The swamp adder?"
"Exactly, along with a whistle, a saucer of milk, a ventilator, and a bell pull."
"Fascinating. I'm eager to read your account of the case."
With a cautioning look at me, Holmes said, "There were aspects of the affair, involving the young woman who brought the matter to my attention, that I do not believe would serve any useful purpose if they were made public at this time. Don't you agree, Watson?"
"Quite so, Holmes."
With that, Major McAndrew repeated his concern that he was keeping Holmes and me from our dinner, voiced a hope that he and I might meet again soon to reminisce about army days, and excused himself.
"Your friend has suddenly whetted my appetite for all things Egyptian," Holmes said as the sergeant returned to his table. "This interesting encounter has provided me reason for us to call upon a remarkable man I have been wanting to meet. When we return to Baker Street you can look him up in the Index under P."
A set of commonplace books, the Index was an alphabetized conglomeration of facts, snippets of data, numerous press clippings, notations by Holmes on scraps of paper, and trivia that Holmes had accumulated over a period of decades that were as astonishing in scope as his ability to recall the exact volume in which they were to be found.
"The name you seek," said Holmes, "is William Matthew Flinders Petrie."
On a biographical article torn from a two-month-old edition of the Times, the item noted that Petrie was the author of Stonehenge: Plans, Description, and Theories, published in 1880, followed recently by The Pyramids and Temples of Gizeh. "The son and namesake of a civil engineer and professional surveyor, and the maternal grandson of the famous navigator and explorer of the coasts of Australia, Professor Flinders Petrie is a remarkable man in his own right," declared the writer of the article. "As with many great men, he had little formal education, yet he has become a respected mathematician and highly esteemed in the emerging field of Egyptology as the father of modern archaeology."
Seated pensively in his favourite armchair and lighting a long pipe as I continued to read, Holmes said, "I do not in the least exaggerate when I state that Flinders Petrie's methodology of precisely recording and preserving data has raised the excavation of ancient sites from rooting around aimlessly in the earth with a pick and shovel to a science. You have often quoted me on the importance of trifles. Well, this fellow leaves me in the dust, so to speak. What I observe in the importance of cuffs of sleeves, thumbnails, and the great issues that hang from a boot lace, this man discerns in a shard of five-thousand-year-old Egyptian pottery. As I can reconstruct a crime and deduce the identity of a criminal from a cigar ash or an ink smudge on a sheet of stationery, Flinders Petrie divines the structure of an entire civilization."
Returning the "Index" to the shelf, I asked, "Where do we locate this paradigm?"
"Where else but the British Museum? If you have nothing to occupy you in the morning, I hope you will accompany me to Bloomsbury. Following our consultation with Flinders Petrie on the subject of mummy's curses, I shall treat you to a fine midday meal at a nearby public house, the Alpha Inn. I understand it is under new ownership, so I doubt anyone will remember me, although I spent many hours there after mornings in the Museum's Great Reading Room when I resided around the corner in Montague Place."
At eleven o'clock the next morning, as our hansom cab rattled along Marylebone Road to the Euston Road then turned down Gower Street, I allowed my mind to imagine Holmes during the time he had dwelt in Bloomsbury. Wondering what mysteries may have occupied his unique powers of observation and deduction in the years before I met him, and whether he would ever reveal them to me, I looked at him out of the corner of my eye and found a figure that had become familiar, yet always retained an air of mystery. His body was next to me, but his mind was far away. As we rode in the utter silence that I had learned to expect on such occasions, he sat to my left with his head turned slightly. He gazed through the window with a blank expression that I knew masked a brain that was alert to everything around him, but racing ahead in time in anticipation of what he expected to learn from Flinders Petrie on the subject of curses inscribed on the walls of tombs.
When the cab slowed to turn into Great Russell Street, my companion stirred, sighed, and muttered, "This was where the wine merchant Vamberry had his shop. Poor fellow. He was such a fool, wouldn't you agree, Watson?"
"How would I know? I have never heard the name."
"No, of course not. Before your time. Here we are! The good old BM."
Leaping from the hansom, he dashed through the iron gate, across the stone plaza, up the steps, and under the portico of imposing pillars so quickly that I lagged behind. As I caught up, a uniformed attendant was saying. "It's been a long time, Mr. Holmes. What game is afoot today? Blackmail? Robbery? A nice murder?"
"Perhaps, Mr. Dobbs. Perhaps," Holmes replied. "Call it the adventure of the mummy's curse. Which way to the office of Professor Flinders Petrie?"
"Up the stairs, past the Etruscan gallery, and straight ahead. Last door on the right."
"Think of it, Watson," said Holmes as we hurried up the steps and down a long corridor. "Within these magnificent walls reposes the tangible history of mankind, with its glories and tragedies catalogued and preserved, gathered from the four corners of the globe in what is the greatest gift to the world of the long reach of the British Empire!"
"Indeed?" I said, breathlessly. "What about parliamentary government?"
"Said like a true and loyal British citizen, Watson!" Stopping before a plain door with a sign that announced DEPT. OF EGYPTOLOGY, he exclaimed, "Here we are! The domain of Flinders Petrie, unquestionably."
Three swift raps on the door produced from within the room the reply, "It's open."
Entering the office, Holmes and I found a slight figure with a neatly trimmed brown beard and moustache. Wearing a white laboratory coat, he bent over a coal-black, mummified corpse. Stepping boldly across the room, Holmes said, "Professor Flinders Petrie, I presume."
Peering intently down at the mummy, the professor replied, "You arrive at an auspicious moment, gentlemen. This man is unquestionably of the Third Dynasty."
"Forgive the intrusion, Professor," said Holmes. "I am Sherlock Holmes. This is my friend and associate, Dr. John H. Watson. If our call upon you is an inconvenience, we can return at a more opportune time."
"This chap has kept his secrets for nearly four millennia, sir," replied Flinders Petrie, looking up. "A few more minutes is of no consequence, Mr. Holmes. How may I be of service?"
"You are very kind, sir. What can you tell us about the Porter-Broadmoor expedition?"
The question was greeted with a puzzled expression. "Before answering, Mr. Holmes, I must inquire as to whom you represent. Are you here on behalf of Lord Porter?"
"We represent only ourselves."
Stepping away from the mummy to a sink at the far side of the room to wash his hands, the professor said, "That is a disappointment. I was hoping that Lord Porter had sent you. If you are not his agent, why are you interested in seeing me?"
"We are here because you are universally recognised as the preeminent authority in the emerging field of Egyptology."
"Emerging is the right word. Anyone who claims to be the preeminent authority on the study of Egyptology is treading on shaky ground. We have only begun to scratch the surface of the subject, gentlemen."
Finished cleansing his hands, Flinders Petrie invited us to continue our conversation in a small, comfortable office adjacent to his laboratory that was a jumble of Egyptian artefacts. "Are you aware, Professor," said Holmes, "of a series of unfortunate events concerning the recent Porter-Broadmoor expedition that some people have attributed to a curse that was found in the tomb? I refer to the collapse of a tunnel during the excavation, the sinking of a ship carrying artefacts, and the deaths of two of the expedition members."
"Surely, Mr. Holmes, you of all people cannot lend credence to the fantastic stories that these unfortunate events were the result of a curse. Regardless of what you may have read in newspapers about promises of death and doom for members of that expedition, those incidents were coincidence, pure and simple."
"Do you doubt," asked I, "that the expedition found a curse in the mummy's tomb?"
"I would have been surprised had they not. Curses of some kind have been found in every tomb in Egypt. They are as common as quotations from the Holy Bible on the gravestones of Christians in England. For as long as history has been written there have been tales of spells and curses. Read Plato's Republic and you will find he noted that if anyone in his time wished to injure an enemy, for a small fee one could hire a sorcerer to bring harm to an individual through an incantation, sign, or effigy to bind the gods to serve the purpose. All of this nonsense about curses in Egyptian tombs began in the imagination of a writer of horror stories named Jane Loudon Webb. After visiting a bizarre theatrical show in Piccadilly Circus in 1821, in which several mummies were unwrapped, this woman penned a science-fiction novel entitled The Mummy. Set in the twenty-second century, it featured a vengeful mummy that came to life and threatened to strangle the book's hero. This fantastic tome was followed in 1828 by publication of an anonymous children's book, The Fruits of Enterprize, in which mummies were set ablaze to illuminate the interior of an Egyptian tomb. The understandably irate mummies went on a rampage.
"The latest of these flights of imagination was the handiwork of a quite distinguished American author. In 1868, Louisa May Alcott published a short story, 'Lost in a Pyramid, or The Mummy's Curse.' In this grotesque fantasy, an explorer used a flaming mummy to light his way into the interior chamber of a tomb, where he found a golden box containing three seeds that were taken back to America and planted. They produced flowers which his fiancée wore at her wedding. When she inhaled the perfume, she lapsed into a coma and was transformed into a living mummy. It is a pitiful comment on our age, gentlemen, that people do actually believe in all this rot.
"Now we find the shelves of our bookstores and our libraries filled with novels about monsters assembled from body parts and brought to life by mad scientists, and tales of werewolves and vampires. Even one of our country's promising new writers of stories, Arthur Conan Doyle, has dabbled in tales of the occult and supernatural, much of it apparently inspired by the American scribbler and lunatic, Mr. Edgar Allan Poe."
"You are obviously a man with strong opinions," said Holmes.
"If you seek an explanation for the unhappy events associated with the Porter-Broadmoor expedition, you would do well to look beyond the mummy's curse to the obvious explanation. It is human imagination that has discerned horror in happenstance. I refer you to a recent inventive newspaper article that appeared following the unfortunate murder of Professor Broadmoor. The item drew upon an interview in which the nephew of the financier of the expedition referred to the curse that had been found in the tomb. Suddenly, a murderous attack upon Broadmoor was in the mind of a reporter for a sensation-seeking newspaper the latest in a sequence of mysterious occurrences ominously linked to a mummy's curse. What a comment that is on the gullibility of the English people."
"You inquired as to whether Dr. Watson and I were sent to see you by Lord Porter. May I ask why you thought so?"
"I called upon him and his nephew several weeks ago in an attempt to persuade him that he bore an obligation to share his findings with the entire world by turning over the results of his expedition to the British Museum. My argument was along the line that he must choose between the transitory pleasures of personal wealth and the lasting glory of knowing that his name could forever be honoured by the naming of a wing of the Museum for him. I left his home feeling quite encouraged that he would come round to my position on the matter. A few days later, to my great delight, he sent me a letter stating that I would presently be hearing from his solicitor, the Honourable Dudley Walsingham, concerning creation of just such a permanent exhibition. When you appeared, my hope was that you were his agents. I'm afraid now that my expectation that his remarkable collection might take the form of an exhibition for the Museum is groundless. What a great loss that is, gentlemen."
Leaving Flinders Petrie to resume his examination of the mummy, Holmes asked, "Well, Watson, what do you make of our professor of Egyptology?"
"A remarkable man! I found his lecture on the subject of curses fascinating. I share his belief that the proper place for the repose of the artefacts of the Porter-Broadmoor expedition is within the British Museum. He is also spot-on about the deplorable state of the press. Its only interest seems to be in drumming up a fresh sensation in order to sell more newspapers."
"Quite so, my friend," said Holmes as we crossed Great Russell Street in the direction of the Alpha Inn on the opposite corner, "but the press can be valuable, if you know how to use it."
Although the next morning provided the kind of cold and foggy climate that invited one to remain indoors, Holmes was not present as I entered the sitting room and pulled the bell cord to signal Mrs. Hudson that I was ready for one of her bracing breakfasts. When I went to the pipe rack I kept on the mantle to choose my first briar of the day, I found a note from Holmes stating that he would return at noon.
Promptly at that hour, as I was reviewing my notes on the affair at Stoke Moran, Holmes entered the room, dropped two envelopes onto my desk, and said, "These items are for you."
Until that moment, I had accepted without comment his habit of examining the missives and parcels addressed to me and delivered by postmen, telegram delivery boys, and messengers. Not an item for me passed into my hands without first being examined and commented upon. But on this grey and depressing morning, perhaps because of my review of the horror that had recently occupied us at Stoke Moran, or as a result of the damp weather exacerbating the wound I had suffered at Maiwand, I said in exasperation, "Must you always examine my mail?"
"Why, Watson," Holmes responded in a wounded tone as he fixed me with an expression of shock and bewilderment, "I had no idea you could become upset over such a trifling matter."
I thereupon was subjected to a typical Holmesian explanation of his conduct to the effect that nothing was more instructive to a criminal investigator than handwriting, postmarks, and inks. "Have you no concept," he asked, "of all that may be detected about senders of items in the manner in which they address their correspondence? Was it written in a hurry? And what of the stationery? Volumes of information may be unearthed from a letter without opening it."
Only partly assuaged, I grumbled sarcastically, "I have no doubt that one day you will sit down and write a monograph on the subject."
Taking a pipe from his pocket, he replied, "I shall indeed. To date I have catalogued no fewer than fourteen kinds of ink used by the Royal Mail in its postmarks and very nearly one hundred watermarks of British paper manufacturers, as well as more than a score from the United States. For example, in the past year you have received eight letters of paper made in San Francisco. This has led me to deduce that a very close relative of yours is a resident of that city, and, I am sorry to observe, may recently have suffered a serious setback, probably in relation to his health." He paused to light the pipe. "Am I correct in deducing that your correspondence is regarding your brother's illness?"
"Yes, but how-"
"The writing on the first five envelopes was masculine. They were addressed to 'John Watson.' The lack of a 'Mister' or 'Dr. John H. Watson' suggests a familiarity connoting there is a family connection. The latter missives were from the same city, but written by a woman whose form of address included your title. Because a sister would write to 'John,' this indicates that she is probably your brother's wife."
"Probably? There's a word that I have never heard cross your lips."
"I am correct in stating that your brother is not well?"
"He suffers from a nervous disorder that leaves him increasingly palsied."
"When do you plan to sail to America?"
"Why do you assume that I'm contemplating such a trip?"
"Really, Watson! The second envelope you have received is a bulky one bearing the name of the Cunard Steamship Company. Its dimension can only mean it contains a schedule of Atlantic crossings."
"I have not yet made a decision."
"When you do, I shall provide whatever assistance you may require."
"Thank you. Where were you off to this morning?"
"Here and there."
With that, he settled into his chair, filled his pipe, struck a match, and lapsed into one of his long, contemplative silences that were as impenetrable as the swirling fog of Baker Street.
Gone again throughout the afternoon without explanation, he burst into the sitting room at a quarter to four, flung one of the city's sensational newspapers into my lap, and exclaimed, "Look at the Stop Press on page one."
Locating the small item, I read:
LATEST VICTIM OF THE MUMMY'S CURSE?
Our correspondent in Kent reports what appears to be another example of the curse that has befallen the recent expedition to investigate ancient tombs in Egypt. The financier of the ill-fated party, Lord Porter, was found dead early this morning in the bedroom of his estate in Kent. Although Chief Inspector William Crawford of the local constabulary stated that the elderly Lord Porter's death appears to have been of natural causes, we are reminded of the deaths of two members of the expedition, and other misfortunes that occurred since the discovery of a curse within the tomb when it was unearthed several months ago.
"Deaths of two leading participants in this expedition into the sands of Egypt may be dismissed as coincidence," said Holmes. "Three require an enquiry. There is an express train that we can catch if we hurry. I have sent a wire to Inspector Crawford asking him to rendezvous with us at the railway station at seven o'clock."
Less than a week had passed since Holmes and I had boarded another train at Waterloo Station to travel to Leatherhead, and onwards by a trap hired at the station inn to Stoke Moran. As on that occasion, it was a delightful day of fleecy clouds and bright sun, although we now passed through the spring countryside at a later hour. When the train arrived at our destination, I peered from my window at a short, rotund, middle-aged man in a brown suit and tan derby pacing the platform. Turning to Holmes, I stated, "That must be our Inspector Crawford."
"Yes," Holmes replied, looking over my shoulder. "Heavy, black shoes. One can usually spot a policeman by his choice of sturdy, comfortable footwear."
After an exchange of greetings, Holmes asked Crawford, "Has anything been disturbed in the room in which Lord Porter's body was found?"
"Except for removal of the corpse to the mortuary round nine o'clock last evening, the bedroom is just as it was," replied Crawford excitedly. "I instructed the household staff that no one was to enter the bedroom until the coroner has ascertained the cause of death."
"Excellent work, Inspector!"
Riding in a carriage driven by a uniformed constable, we arrived at the estate of Lord Porter and passed through a gateway flanked by large stone figures with human heads and the bodies of lions. At the end of a long, curving driveway bounded by tall oak trees stood an old mansion whose doorway was guarded by a pair of stone rams. Holmes's loud rap on the door was answered by the butler. As we entered a spacious foyer decorated with Egyptian artefacts, Holmes asked him, "What is your name?"
"Bradley, sir."
"How long have you been Lord Porter's butler?"
"Nearly ten years."
"Had Lord Porter seemed out of sorts lately? Was he a nervous man? Did he at any time express fear that his life was in jeopardy?"
"Not to me, sir."
"Did he ever speak to you about his recent expedition to Egypt?"
"Not about the expedition itself, sir. But lately he expressed concern about stories in the newspapers concerning allegations that he was more interested in the profits to be garnered from that adventure than in the scientific aspects and advancement of knowledge."
"Who was present in the house when Lord Porter died?"
"Only the staff, sir."
"Had there been recent visitors?"
"Lord Porter's solicitor was here on Monday."
"That would be the Honourable Dudley Walsingham?"
"Yes, sir."
"Anyone else?"
"A Major McAndrew called. He had been invited to luncheon with Lord Porter. I believe he was a member of the expedition. Last evening, Lord Porter's nephew came to dinner. Soon after they ate, Lord Porter went to bed and Mr. Basil returned to his home in London."
"I sent the nephew a telegram last evening informing him of the death," said the Inspector, "but have received no reply."
"Bradley," said Holmes, "please show us to Lord Porter's bedroom."
Located to our right at the top of a curving stairway, the bedroom was a large chamber that had the aspects of a museum.
"Please remain in the corridor, gentlemen," said Holmes brusquely, "while I have a look round the room."
What followed in the next few minutes was a scene quite familiar to me, but a matter of wonder and puzzlement to Inspector Crawford. "What is he looking for, Doctor?" he asked of me in a whisper as Holmes moved carefully through the room, examining the area around the bed, kneeling briefly to peer at the carpet, and going to the room's two large windows.
Abruptly returning to the doorway, Holmes asked the butler, "Did Lord Porter smoke?"
"Until his physician ordered him to give up tobacco two years ago, he enjoyed a pipe."
"Was he an active man?"
"Prior to the Egyptian expedition, yes."
"But not since?"
"I'm afraid the journey and the time he spent in the desert took its toll on his vitality. He spent most days either at his desk in his study or in bed."
"Thank you, Bradley. That will be all."
"Very good, sir."
"Now, Inspector," said Holmes, "take us to the mortuary."
In a small room adjacent to the office of the constabulary, the sheet-shrouded body of Lord Porter lay on a large table. Drawing back the covering, Holmes proceeded to examine the corpse from head to toe. Presently, he declared, "Interesting. Have a look, Watson. I call your attention to a slight discoloration of the skin around what seems to be a puncture just below the hairline on the right side of the back of Lord Porter's neck."
Examining a small, reddish welt, I said, "It could be an insect bite. To state exactly what it is would require examination of the tissue under a microscope."
"Inspector, " said Holmes, "I'll be interested in knowing as soon as possible to what your coroner attributes it."
"Certainly, Mr. Holmes. Is there anything else I can do?"
"Not at the moment, but you may be hearing from me quite soon." Although I was fairly bursting with curiosity as Holmes and I returned to Baker Street, I had learned that he would illuminate me when he deemed it appropriate to do so. He had said to me on several occasions that I possessed the grand gift of silence and that this had made me quite invaluable as a companion. Consequently, when he left our lodging in the morning and did not return until late in the afternoon, I was resolved to make no enquiries as to his purpose or whereabouts. It was that evening during dinner that he looked up suddenly from a platter of Mrs. Hudson's incomparable broiled trout and muttered, "These are murky waters, Watson. Whether I prove to be correct will be known only when we hear again from Inspector Crawford."
The message he awaited arrived the next afternoon. A telegram from Crawford was the briefest Holmes had ever received:
COBRA VENOM
Waving the wire as if it were a flag, Holmes said exultantly, "That is the penultimate stone in this intricate construction, Watson. All that is left is to send to Inspector Crawford a telegram in which I shall propose a question to be put to the butler, along with my advice to Crawford that if the butler's reply is in the affirmative a charge of murder be brought against Basil Porter."
Crawford's reply arrived later that day in another brief telegram:
HE HAS GIVEN A COMPLETE CONFESSION.
DETAILS TO FOLLOW.
As I read the message, I exclaimed, "This is amazing, Holmes. You have solved this case without having met and questioned the person you suspected!"
"There was no need, Watson. I had an accumulation of facts that pointed to Basil Porter. This nefarious nephew possesses one of the most brilliant and devious minds to ever challenge my powers. You'll recall that I said after our meeting with Flinders Petrie that the press can be a valuable instrument if you know how to use it. This man seized upon the seemingly mysterious events of the tunnel collapse, the sinking of the ship, the accidental death of Anthony Fulmer, and the murder of Professor Broadmoor to plant in the mind of a newspaper reporter the idea that these events were the effects of the mummy's curse. In an attempt to lend further credibility to this explanation, he attempted to murder your old comrade in arms, Major McAndrew. Had we not encountered the Major that evening in Simpson's in the Strand, Basil Porter's crimes might have gone undetected and unpunished."
"What caused you to suspect him?"
"Among the numerous puzzling facets of this case, I found it curious that on notification of his uncle's death that Basil Porter did not rush back from London. When I found what seemed to be an insect bite in the back of Lord Porter's neck, but could have been a scratch made by a pin or a hypodermic needle, I suspected that Lord Porter had been injected with a poison. When I received confirmation that it was cobra venom, I saw no explanation that was logical, except that it had been administered by the nephew. To be certain, I had to eliminate the only other visitor to Lord Porter that day, your friend McAndrew. I had to know if the two men had been alone at any time on that day."
"That was the question you asked Crawford to pose to the butler."
"In my examination of the rug in Lord Porter's bedroom, I found not only traces of cigar ash, but evidence that someone had paced up and down in a state of extreme excitement. You know my methods. What does that tell you?"
"There had been a heated argument."
"Precisely, but concerning what? Among my excursions following our sojourn to the domain of Inspector Crawford was a call upon Lord Porter's solicitor, the Honourable Dudley Walsingham. My purpose was to inquire as to the beneficiary of Lord Porter's will. It was quite a formidable estate, even before the spectacular treasures brought back from Egypt. My enquiries directed toward knowledgeable men in the financial circles and bankers in the City resulted in evidence that Basil Porter has been on the brink of bankruptcy for quite some time."
"You therefore surmised that Basil expected to be rescued from his dilemma by killing his uncle and inheriting an estate which had been substantially increased in wealth as a result of the treasures brought back from Egypt."
"But this prospect was suddenly jeopardised," said Holmes, "when Lord Porter appeared to accede to Professor Flinders Petrie's appeal to donate the expedition's finds to the BM. It was then that Basil devised a plan for murder that he had hoped would appear to be the result of the curse found in the tomb. To lay the foundation for this fantastic proposition, he killed Professor Broadmoor and in an exceedingly clever use of the press, he called attention to the coincidental incidents of the tunnel collapse, the ship bearing expedition artefacts that sank, and the death of Fulmer in the train accident. Of course, I had no proof of any of this. Each of these occurrences could be readily explained as happenstance. The only occurrence that I was able to investigate was the curious incident of the roof tile that injured Major McAndrew. This meant a visit to his quarters in Chelsea. In examining the rooftop, I found not only that the tile had been pried loose, but footprints of the person who flung them down on McAndrew. If this attack had been done by a magically animated mummy that had been wondrously transported to Chelsea, he had taken time to be fitted for a pair of shoes. We are left with no other explanation but this extraordinary drama had to be the work of Basil Porter. At that point, I had to be certain he was the only person on that day who had the opportunity."
"But what if Major McAndrew had also been alone with Lord Porter that day?"
"Motive, Watson! What motive could McAndrew possibly have had to kill Lord Porter?"
"Well done, Holmes!"
Although Basil Porter had admitted to the murders of his uncle and Felix Broadmoor, he presented to jury and judge at his trial the fantastic explanation that his deeds were the result of a brain fever that developed into insanity, which he brazenly blamed on the mummy's curse. This astonishing device proved unavailing. Convicted of two murders, he was sentenced to death and hanged for his crimes. Meanwhile, because Lord Porter had no other heirs, the treasures of the Egyptian expedition were declared the property of the Crown and consigned by a judge of the probate court to the British Museum, there to be under the supervision of Flinders Petrie. That distinguished scholar continued his work as an archaeologist, for which he would presently be knighted and named Professor of Egyptology at University College of London in 1892. The Egyptian Research Council that he established in 1894 eventually became The British School of Archaeology and, ultimately, the Petrie Museum of Egyptian Archaeology in Malet Place.
As I was reviewing my notes on this extraordinary affair a few days after Holmes's solution to a case that I had decided to record under the title "The Mummy's Curse," I gazed across our sitting room at Holmes and interrupted his repose with a thought that had suddenly occurred to me. "You have proved that Basil Porter devised a murderous scheme to inherit vast wealth," I said, "but has it ever entered your mind that none of this has proved that all of these unfortunate events were not the result of the mummy's curse?"
Holmes leapt from his chair. "What are you saying?"
"It could be interpreted," said I, with a smile and arching eyebrows, "that Basil Porter was simply the instrument by which the mummy's curse was, in fact, fulfilled!"
"Good old Watson," said Holmes with a puff of smoke from his favorite briar. "Your romanticism is as permanent a fixture as the pyramids of Giza. And just as mysterious!"
The Things That Shall Come Upon Them by Barbara Roden
Barbara Roden, along with her husband Christopher Roden, is the proprietor of Ash-Tree Press. Together, they are also the editors of several anthologies, including Acquainted with the Night, which won the World Fantasy Award. Barbara is also the editor of All Hallows, the journal of the Ghost Story Society. Her short fiction has appeared in the anthologies Exotic Gothic 2, The Year's Best Fantasy & Horror, By Blood We Live, and in the Sherlock Holmes anthologies The Mammoth Book of New Sherlock Holmes Adventures and Gaslight Grimoire, the latter in which this story first appeared. Her first collection of short stories, Northwest Passages, will be published by Prime Books in October.
***
"If you eliminate the impossible," says Sherlock Holmes, in an oft-quoted remark, "then whatever remains, however improbable, must be the truth." But doesn't this bold statement perhaps presuppose a rather cavalier degree of ontological certainty? Is it really so unproblematic to sort out the possible from the impossible? Many would take issue with Holmes's unflappable rationalism, chief among them Flaxman Low, the first true psychic detective character, whose co-creator Hesketh Vernon Hesketh-Prichard was a good friend of Conan Doyle's. These two contemporaneous fictional characters go head-to-head in our next adventure, in a clash of both personality and worldview. The author writes, "The story's setting-Lufford Abbey, former home of Julian Karswell of M. R. James's classic 'Casting the Runes'-came after I watched, with our son, the film version of 'Casting the Runes', Night of the Demon, and found myself wondering what happened to Karswell's home after he died, in somewhat mysterious circumstances, in France. The involvement of a 'Dr. Watson' in James's story was a gift from the writing gods." The following tale, an adept blending of several different literary universes, calls to mind the common saying: "There are generally two sides to every story."
***
"Do you recall, Watson," said my friend Sherlock Holmes, "how I described my profession when we first took lodgings together, and you expressed curiosity as to how your fellow lodger was related to certain comments which you had read in a magazine?"
"I certainly do!" I laughed. "As I recall, you referred to yourself as the world's only consulting detective; a remark prompted by my less than effusive statements regarding the article in question. In mitigation I can only say that I did not realise, when I made those statements, that I was addressing the article's author; nor did I have the benefit of having seen your methods in action."
Holmes smiled, and bowed his head in acknowledgement of my words. "Your comments had at least the charm of honesty, Watson."
"But what prompts this recollection, Holmes?" I asked. My friend was not, as a rule, given to thoughts of the past, and I suspected that some event had given rise to his question. In answer he made a sweeping gesture which encompassed the many newspapers littering the floor of our Baker Street rooms.
"As you know, Watson, I make it a habit to familiarise myself with the contents of the many newspapers with which our metropolis is blessed; it is astonishing how even the smallest event may prove to have a bearing on some matter with which I come into professional contact. And yet it seems that every time I open a newspaper I find myself reading of yet another person who has followed where I have led."
"Imitation is, as they say, the sincerest form of flattery."
"In which case I am flattered indeed, Watson, for my imitators are numerous. When our association began there were, as I recall, no other consulting detectives, or at least none who called themselves such; yet even the most cursory glance at the papers now shows that I have, however unwittingly, been what our North American friends might call a trailblazer. Here"-and his long white arm stretched out to extricate a paper from out of the mass which surrounded him-"is an account of how Max Carrados helped Inspector Beedel of the Yard solve what the newspapers are, rather sensationally, calling 'The Holloway Flat Tragedy'; and here is a letter praising the assistance given by Dyer's Detective Agency in Lynch Court, Fleet Street. These are by no means isolated instances; and it is not only the newspapers which record the exploits of these detectives. The newsagent boasts an array of magazines in which one can read of their adventures; a turn of events for which you must assume some responsibility."
"How so?" I exclaimed.
"Your records of my doings have, I am afraid, given the public an appetite for tales of this sort, so much so that every detective worthy of the name must, it seems, have his Boswell-or Watson-to record his adventures. The doings of Mr. Martin Hewitt appear with almost monotonous regularity, and I can scarcely glance at a magazine without being informed that I will find therein breathless accounts of the cases of Paul Beck or Eugene Valmont or a certain Miss Myrl, who appears to be trying to advance the cause of women's suffrage through somewhat novel means. I understand there is a gentleman who sits in an A.B.C. teashop and solves crimes without benefit of sight, or the need of abandoning his afternoon's refreshment, while Mr. Flaxman Low purports to help those whose cases appear to be beyond the understanding of mere mortals; truly the refuge of the desperate, although from what I gather the man is not quite the charlatan he might seem." Holmes chuckled, and threw down his paper. "If this continues apace, I may find myself contemplating retirement, or at least a change of profession."
"But surely," I replied, "your reputation is such that you need have no fear of such a fate just yet! Why, every post sees applications for your assistance, and Inspector Hopkins is as assiduous a visitor as always. I do not think that Sherlock Holmes will be retiring from public view at any point in the immediate future."
"No; I may fairly claim that the demands upon my time are as frequent as they have ever been, although I confess that many of the cases which are brought to my attention could be as easily solved by a constable still wet behind the ears as by a trained professional. Yet there still remain those cases which promise something of the outré and which the official force would be hard-pressed to solve." Holmes rose from his chair, crossed to the table, and extracted a sheet of paper from amongst the breakfast dishes. He glanced at it for a moment, then passed it to me. "Be so good as to read this, and tell me what you make of it."
I looked at the letter, and attempted to emulate my friend's methods. "It is written on heavy paper," I began, "simply yet elegantly embossed, from which I would deduce a certain level of wealth allied with good taste. It is in a woman's hand, firm and clear, which would seem to denote that its writer is a person of determination as well as intelligence."
"And pray how do you deduce the intelligence, without having read the letter?" asked my friend.
"Why, from the fact that she has had the good sense to consult Sherlock Holmes, and not one of the pretenders to his crown."
"A touch, Watson!" laughed Holmes. "A distinct touch! But now read the lady's letter, and see what opinion you form of her and her case."
I turned my attention to the paper, and read the following:
Lufford Abbey
Warwickshire
Dear Mr. Holmes,
Having read of your methods and cases, I am turning to you in hopes that you will be able to bring an end to a series of disturbances which have occurred over the past two months, and which have left our local constabulary at a complete loss. What began as a series of minor annoyances has gradually become something more sinister; but as these events have not, as yet, resulted in a crime being committed, I am told that there is little the police can do.
My husband is in complete agreement with me that steps must be taken; yet I will be candid and state that he does not agree that this is a matter for Mr. Sherlock Holmes. I hasten to add that his admiration for you is as great as mine; where we differ is in our ideas as to the nature of the events. I firmly believe that a human agency is at work, whereas my husband is of the opinion that we must seek for an answer that lies beyond our five senses.
I fear that any account which I could lay before you in a letter would fail to give a true indication of what we are suffering. However, suffering we are, and I hope that you will be able to see your way to meeting with us, so that we may lay the facts before you. I have included a note of the most convenient trains, and a telegram indicating your arrival time will ensure that you are met at the station.
I thank you in advance for your consideration of this matter; merely writing this letter has taken some of the weight from my mind, and I am in hopes that your arrival and investigation will put an end to the worries with which we are beset.
Yours sincerely,
Mrs. John Fitzgerald
"Well, Watson? And what do you make of it?"
I placed the letter on the table. "The letter confirms my opinion of the lady's character and intelligence. She does not set down a jumble of facts, fancies, and theories, but rather writes in a business-like manner which yet does not conceal her anxiety. The fact that she and her husband have thought it necessary to involve the police indicates that the matter is serious, for Mrs. Fitzgerald does not, from this letter, strike me as a woman who is given to imagining things; unlike her husband, I might add."
"Yes, her husband, who believes that the solution to their problem lies beyond the evidence of our five senses." Holmes shook his head. "I have never yet met with a case which is not capable of a rational solution, however irrational it may appear at the outset, and I have no doubt that this mystery will prove the same as the others."
"You have decided to take the case, then?"
"Yes. As the lady was so thoughtful as to include a list of train times, I took the liberty of sending a telegram indicating that we would travel up on the 12.23 train. I take it that your patients can do without you for a day or so?"
"I can certainly make arrangements, Holmes, if you would like me to accompany you."
"Of course I would, Watson! A trip to the Warwickshire countryside will prove a welcome respite from a damp London spring; and I will need my chronicler with me, to record my efforts, if I am to keep pace with my colleagues." My friend was smiling as he said this; then his face became thoughtful. "Lufford Abbey," he said slowly. "That name sounds familiar; but I cannot immediately call the circumstances to mind. Ah well, we have some time before our train departs, and I shall try to lay my hands on the details."
My long association with Sherlock Holmes, coming as it did on the heels of my military career, had made me adept at packing quickly and at short notice. It was an easy matter to arrange for my patients to be seen by one of my associates, and well before the appointed time I was back in Baker Street and Holmes and I were on our way to Euston Station, where we found the platform unusually crowded. We were fortunate enough to secure a first-class compartment to ourselves, but our privacy was short-lived, for just as the barrier was closing a man hurried along the platform and, after a moment's hesitation, entered our compartment. He was middle-aged, tall, and strongly built, having about him the look of a man who has been an athlete in his youth and maintained his training in the years since. He gave us both a polite nod, then settled himself into the opposite corner of the compartment and pulled a small notebook from his pocket, in which he began to make what appeared to be notes, frequently referring to a sheaf of papers which he had placed on the seat beside him.
Holmes had shot the newcomer a penetrating glance, but, upon seeing that our companion was obviously not one to intrude his company on others, he relaxed, and was silent for a few minutes, gazing out the window as the train gathered speed and we began to leave London and its environs behind. I knew better than to intrude upon his thoughts, and eventually he settled back into his seat, put his fingers together in the familiar manner, and began to speak.
"I was not mistaken, Watson, when I said that the name of our destination was familiar to me. As you know, I am in the habit of retaining items from the newspapers which might conceivably be of interest, or have a bearing on a future case, and this habit has borne fruit on this occasion. An article in the Times from July of last year reported the death, in unusual circumstances, of an English traveller at Abbeville, who was struck on the head and killed instantly by a stone which fell from the tower of a church there, under which the unfortunate gentleman happened to be standing. His name was Mr. Julian Karswell, and his residence was given as Lufford Abbey in Warwickshire. It would not-"
But my friend's words were cut short by an exclamation from the third occupant of our compartment. He had laid aside his notebook and papers, and was looking from my companion to myself with a quick, inquisitive glance which avoided mere vulgar curiosity, and instead spoke of something deeper. He seemed to realise that an explanation was needed, and addressed himself to both of us in tones that were low and pleasant.
"Excuse me, gentlemen, but I could not help overhearing you speak of a Mr. Karswell and his residence, Lufford Abbey. Both names are known to me, which accounts for my surprise, particularly when I hear them from the lips of Mr. Sherlock Holmes. And you, sir"-he nodded his head towards me-"must be Dr. Watson." He noted my look of surprise, and added with a gentle smile, "I heard your friend address you by name, and it was not difficult to identify you from your likenesses in The Strand Magazine."
"You have the advantage of us, sir," said Holmes politely, "as well as the makings of a detective."
"My name is Flaxman Low," said our companion, "and I am, in my small way, a detective, although I do not expect that you will have heard of me."
"On the contrary," answered my friend drily, "I was speaking of you only this morning."
"Not, I fear, with any favour, to judge by your tone," replied Low. "No, Mr. Holmes, I do not take offence," he continued, forestalling my companion. "A great many people share your view, and I am accustomed to that fact. You and I are, I suspect, more alike than you think in our approach and methods. The difference lies in the fact that where I am Hamlet, you, if I may take the liberty of saying so, prefer the part of Horatio."
For a moment I feared, from the expression on my friend's face, that he would not take kindly to this remark; but after a moment his features relaxed into a smile, and he laughed.
"Perhaps that is no bad thing, Mr. Low," he remarked, "for at the end of the play Horatio is one of the few characters still in the land of the living, while the Prince of Denmark is, we presume, learning at first hand whether or not his views on the spiritual world were correct."
Flaxman Low laughed in his turn. "Well said, Mr. Holmes." Then his face turned grave. "You mentioned Lufford Abbey. May I enquire as to your interest in that house and its late owner?"
Holmes shrugged. "As to its late owner I admit of no knowledge, save for the fact of his death last year. The house, however, is our destination, hence my interest in any particulars relating to it." He gazed at Low thoughtfully. "I am not mistaken, I think, in stating that Lufford Abbey is your destination also, and that you have been summoned thence by Mr. John Fitzgerald, to look into a matter which has been troubling him."
"You are quite correct, Mr. Holmes," acknowledged Low. "Mr. Fitzgerald wrote and asked if I would be available to look into a series of events which is proving troubling to his household, and appears to be beyond the capabilities of the local police force."
"And we have received a similar letter from Mrs. Fitzgerald," said Holmes. "It appears, Mr. Low, that we shall have a practical means of comparing our methods; it will be interesting to see what results we achieve."
"Indeed." Low paused, and looked from one of us to the other. "You say that you know nothing of Julian Karswell, save for the few facts surrounding his death. Perhaps, if you will allow me, I can give further elucidation as to the character of the late owner of Lufford Abbey."
"By all means," said Holmes. "At present I am working in the dark, and any information which you can provide would be of the greatest interest."
"I am not surprised that you know little of Julian Karswell," said Low, settling back into his seat and clasping his hands behind his head, "for while I, and a few others who knew of him, felt that he had the makings of a distinguished criminal, he never committed any crimes which broke the laws of man as they currently stand."
Holmes raised his eyebrows. "Are you saying that he committed crimes which broke other laws?"
"Yes, Mr. Holmes. Karswell was interested in the occult, or the black arts-call it what you will-and he had the means to devote himself to his studies, for he was reputed to be a man of great wealth, although how he acquired this wealth was a question for much speculation. He used to joke about the many treasures of his house, although no one that I know of was ever permitted to see them. He wrote a book upon the subject of witchcraft, which was treated with contempt by most of those who bothered to read it; until, that is, it appeared that Mr. Karswell took a somewhat more practical approach to the occult than had been suspected."
"Practical?" I interjected. "In what way?"
Our companion paused before replying. When he did, his tone was grave. "Certain people who had occasion to cross Mr. Karswell suffered fates which were… curious, to say the least. A man named John Harrington, who wrote a scathing review of Karswell's book The History of Witchcraft, died under circumstances which were never satisfactorily explained, and another man, Edward Dunning, made what I consider to be a very narrow escape."
It was my turn to utter an exclamation, and both Holmes and Low turned to look at me. "Edward Dunning, who belongs to the--Association?" I asked.
"Yes," replied Low in some curiosity, while Holmes gazed at me quizzically. "Why, do you know him?"
"As a matter of fact I do," I replied. "He came to me on the recommendation of a neighbour-oh, eighteen months or so ago-and we struck up a friendship of sorts; enough that when he was seriously incommoded by illness in his household I invited him to dinner."
"When was this?" asked Low, with an eagerness which somewhat surprised me.
"Why"-I paused to think-"this was in the spring of last year; April, as I recall. His two servants were struck down by a sudden illness-food poisoning, I suspect-and the poor man seemed somewhat lost, so I invited him to dinner at my club. He seemed more pleased than the invitation itself would warrant, and was reluctant to leave; almost as if he did not want to return to his house. Indeed, he was in a rather agitated state; distracted, as if he were continually turning some problem over in his mind."
"You are very close to the truth, Doctor," said Low gravely. "The agitation which Edward Dunning displayed was occasioned by Karswell, and certain steps which that person was even then taking; steps which almost led to Dunning's death."
"Death!" exclaimed my friend. "Surely that brought Karswell within reach of the law?"
"Yes and no," replied Low after a pause. "You see, gentlemen," he continued, "Karswell was a very clever man in some ways, and was familiar with practices which would allow him to exact revenge against someone while ensuring that he himself remained safe from prosecution; there were rumours that he was preparing another book on the subject, although nothing came of it. Unfortunately for him, he ran up against two people-Edward Dunning being one of them-who were prepared to use his own methods, and thus escape harm by throwing Karswell's own agents against him."
"Are you saying that you believe this Karswell used supernatural means to accomplish his ends?" asked Holmes in astonishment.
"That is precisely what I am saying, Mr. Holmes," replied Low gravely. "I agree with the words of St. Augustine: Credo ut intelligam [11]." Holmes shook his head.
"I am afraid I must side with Petrarch: Vos vestros servate, meos mihi linquite mores [12]. It has been my experience that no case, no matter how bizarre or otherworldly it may seem when it commences, cannot be explained by entirely natural means. Surely your own experiences, Mr. Low, will have shown you that man is capable enough of evil, without ascribing its presence to the supernatural."
"As to your last point, Mr. Holmes, we are in complete agreement. Where we differ, it seems, is in our willingness to accept that not everything we see or hear or experience can be rationalised. I enter every case I undertake with a perfectly clear mind, and no one is more pleased than I when it can be proved that something which appears to be supernatural has a completely logical explanation that would stand up in a court of law. And yet it is my belief that we are standing on the frontier of an unknown world, the rules of which we do not comprehend and can only vaguely grasp, in flashes, as our unready senses catch broken glimpses of things which obey laws we cannot understand. One day, perhaps, this other world will be understood, and mapped as fully as any known country on earth; until then we can only advance slowly, storing away pieces of the puzzle in hopes that they can be fitted together in the fullness of time."
It was an extraordinary speech to hear in the prosaic surroundings of a first-class carriage rattling through the placid English countryside; but Flaxman Low's earnest face and steady voice carried a conviction that it was impossible to ridicule. I could tell that my friend was impressed despite himself, and when he replied it was in a tone more restrained and conciliatory than would have been the case only a few minutes earlier.
"Well, Mr. Low, we must agree to disagree on certain points; but I look forward to the experience of working with you on this case. Perhaps, if you would be so good, you might tell us more of Mr. Karswell."
"But what can he have to do with this?" I interjected. "He died almost a year ago, and surely can have nothing to do with the matter in hand."
"Possibly not," said my friend, "but the fact remains that a man who appears to have died in questionable circumstances, and who himself may have been involved in the death of at least one person, has left behind him a house which is now, in turn, the scene of mysterious occurrences. This may prove to be mere coincidence, but it is not something an investigator can ignore. The more facts with which we are armed, the more likely that we shall bring Mr. and Mrs. Fitzgerald's case to a speedy-and satisfactory-conclusion."
I will not try the patience of my readers by detailing the events which Flaxman Low laid before us; Dr. James of King's College has since provided his own account of the case, which is readily available. Suffice it to say that Mr. Julian Karswell appeared to have been a deeply unpleasant person, quick to anger, sensitive to criticism both real and imagined, and with the fire of vengeance burning within him, so much so that any who crossed his path appeared to have very real cause to fear for their safety. He was, according to Low, responsible for the death of John Harrington, and very nearly killed Edward Dunning, although Holmes refused to believe that he used supernatural means to accomplish his ends; nor did he believe that Karswell's sudden death at Abbeville was anything other than the accident the French investigators deemed it to be. "For if a man will go walking about in a site where extensive repairs are being carried out, we cannot be surprised to hear that some mischance has befallen him," he said, while Flaxman Low shook his head but said nothing.
Our companion had scarcely finished narrating his story when our train began to slow, and our stop was announced. We were among only a handful of passengers who alighted, and before the train had pulled away we were approached by a coachman, who nodded his head respectfully at us.
"Mr. Holmes, Dr. Watson, and Mr. Low, is it?" he enquired. "You are all expected, gentlemen; I'll see to your baggage if you will kindly follow me."
We left the station and found a carriage awaiting us, a fine team of horses standing harnessed in front of it. Holmes ran his keen eyes over them.
"I see that we have not far to go to Lufford Abbey," he remarked, and the coachman glanced at him.
"No, sir, little more'n a mile or so. You've been here before, then?"
"No," interjected Low, before my friend could reply, "but the horses are fresh and glossy, which would indicate that they have not travelled far to get here."
Holmes's lips twitched in a slight smile. "You evidently see and observe, Mr. Low. Excellent traits in a detective."
"I have learned from a master," replied Low, giving a small bow. "Indeed, I may say that it was reading the early accounts of your cases, as penned by Dr. Watson, which first gave me the thought of applying your methods to the investigation of that frontier which we were discussing during our journey here. Indeed, one day it might come to pass that you are acknowledged as being as great a forerunner in that field as you are in the science of more ordinary detection."
Our bags had been loaded in the carriage, and we climbed in. The coachman called out to the horses and we were on our way, rumbling through the main street of a pretty village crowded with half-timbered buildings which spoke of a more peaceful way of life than existed in the bustling metropolis which we had left. The tranquillity around us contrasted so sharply with the story Flaxman Low had told us in the train, and the dark deeds hinted at in Mrs. Fitzgerald's letter, that I could not help shivering. Low, who was sitting opposite me, caught my eye and nodded.
"Yes, Doctor," he said, as if in answer to my thoughts, "it is difficult to believe that such things can exist when the evidence of our senses shows us such pleasant scenes. I hope, in all honesty, that our clients' case may prove to have an entirely logical and rational solution; but given what I know of the late owner of Lufford Abbey, I confess I fear the worst."
It seemed that we had scarcely left the village behind us when the carriage turned through a set of massive iron gates, and we found ourselves driving through beautifully maintained grounds. Bright clumps of yellow daffodils were dotted about a wide sweep of grassland, which led in turn to a thick plantation of trees on both sides of the drive. Ahead of us lay Lufford Abbey itself, an imposing building of mellow stone which seemed to glow in the warm afternoon sunlight. I did not have time to contemplate the house, however, for as soon as the carriage drew up the front door opened, and our host and hostess came out to greet us.
They were an interesting study in contrasts, Mr. and Mrs. Fitzgerald. He was tall and slender, with dark eyes set in a pale face, and an unruly shock of black hair, a lock of which he was perpetually brushing back from his forehead. His wife, while almost as tall as her husband, was more sturdily built, and her blue eyes looked out from a face which I guessed was, under normal circumstances, ruddy-complexioned and clear, as of one who spends a good deal of time in the open air. Now, however, it wore a look of anxiety, an expression shared by Mr. Fitzgerald, who stepped forward with short, nervous steps, wringing his hands together in an attitude of embarrassment.
"Mr. Low?" he enquired, looking from one of us to another, and our companion nodded his head.
"I am Flaxman Low, and these gentlemen are Mr. Holmes and Dr. Watson. We understand from your coachman that we are all expected."
"Yes, yes, of course… oh dear, this is really most awkward. I do not know how I came to make such a terrible mistake. The dates-of course, I put the wrong one in my letter to you, Mr. Low, and it was only when I spoke with my wife after that I realised what had happened. We did not intend… that is to say, we meant… such a dreadful mix-up… "
His words trailed off, and he wore a look of contrition that was almost comical. His wife stepped forward firmly and placed a hand on his arm.
"My husband is correct in saying that this is an awkward situation, gentlemen; but such events happen in the best-regulated of households, and I believe that when you hear our story you will excuse us. Matters have been somewhat"-she paused, as if in search of the correct word-"fraught here in recent days, and we were both so anxious of a solution that we proceeded independently of each other, with the result that you now see. We will, of course, understand perfectly should one of you decide that he would rather not stay."
"Explanations are unnecessary," replied Holmes, and Low nodded. "My friend and I were not previously acquainted with Mr. Low, but a fortuitous chance has ensured that we had an opportunity to discuss the matter-so far as we know it-on the way here, and I think I may safely say that we see no difficulty in combining our efforts."
"Mr. Holmes is quite correct," added Low. "While we may differ in certain of our beliefs, we are united in our determination to put an end to the difficulties which you face."
"Thank you, gentlemen," said our host, relief sweeping across his face. For a moment the look of anxiety left him, and I was able to see traces of the good humour which I suspected his countenance usually wore. "I cannot tell you how relieved we both are to hear this. Of course, we really must explain why it is that-"
"Yes, we must," interrupted Mrs. Fitzgerald, firmly but kindly. "However I do not think, John, that the front drive is the place for explanations."
"Of course; you are quite right, my dear." He turned and smiled at us. "Forgive me once more; my manners have quite escaped me. The maid will show you to your rooms, and then we will lay all the facts before you, in hopes that you will see light where we see only darkness."
Less than half-an-hour elapsed before we were assembled in a pleasantly furnished sitting-room with our host and hostess, and provided with refreshments. Both Mr. and Mrs. Fitzgerald seemed to take pleasure in the everyday ritual of pouring tea and passing cakes, and for a moment their cares and anxieties seemed to fade in the flow of casual conversation around them.
"Yes," said Mr. Fitzgerald, in answer to a question of Low's, "there was an abbey here, although nothing of it now remains apart from a few relics housed in the parish church. Most of it was destroyed in 1539, and what little was left-mainly stables and the Abbot's lodging, from what I gather-has long since vanished. Some outlying domestic buildings were the last to go; according to village gossip there was an old man who, early in the eighteenth century, could still point out the sites of some of the buildings, but this knowledge appears to have died with him. I cannot think of another similar monastic house which has disappeared so completely from the ken of man."
"You are a student of such things, then?" enquired Holmes.
"In a very modest way. Being a gentleman of leisure, I have the time and opportunity to indulge myself in that way; and have a natural inclination towards such subjects, tinged with melancholy as they are. Parts of this house were built very shortly after the abbey was dissolved, and I suspect that many of the stones from the original monastic building found their way into the construction of it, hence the house's name. Inigo Jones added to it in the seventeenth century, so we find ourselves in possession of a very interesting piece of our country's history."
"And in possession of something else, it appears," said Low. "Your letters, however, provided little by way of information on that point."
Mr. Fitzgerald's face clouded, and there was a sharp clatter as his wife placed her teacup somewhat unsteadily in its saucer. "Yes," our host replied after a moment's pause, as if summoning up strength. "The truth is, gentlemen, that I-we-found it very difficult to convey the facts of the case in a letter."
"What my husband means, I think," said Mrs. Fitzgerald, "is that the recent… events here sound, on paper, so inconsequential that they would appear laughable to someone who has not experienced them."
"I assure you, Mrs. Fitzgerald," said Low earnestly, "that none of us are inclined to laugh. I know something of the man who lived here before you, and informed Mr. Holmes and Dr. Watson of the facts surrounding him, and the manner of his death. It is not a laughing matter."
Husband and wife glanced at each other. "We are agreed," said Mrs. Fitzgerald, "that Julian Karswell-or rather something to do with him-is in some way responsible for the events which are taking place; but we do not agree as to how or why this should be. My own feeling is that there is a logical explanation behind everything, whereas my husband feels that-" Here she stopped, as if uncertain how to proceed, or unwilling to give voice to what her husband thought. Mr. Fitzgerald took up the thread.
" Elizabeth is trying to say that I feel Mr. Karswell, although dead, is still influencing the events in his former house." He gave a somewhat hollow laugh. "My father was Irish and my mother Welsh, gentlemen, so I have inherited more than my fair share of willingness to believe in what others disdain."
"Perhaps," said Holmes, with a touch of asperity, "we might hear of these events, so that we may have some idea of why, precisely, we have been invited."
"Of course, Mr. Holmes," said Mrs. Fitzgerald. "Shall I begin?"
"Please do, my dear," replied her husband. "We are in no disagreement as to the facts, and you will tell the story so much better than I."
Low and Holmes both leaned back in their chairs; Low with his hands clasped behind his head, Holmes with his fingers steepled in front of him and his eyes half-closed. I settled back into my own chair as Mrs. Fitzgerald began her tale.
"As you gentlemen know, we have not lived here very long. My family comes from Warwickshire, and I longed to return here, and when we heard that Lufford Abbey was available-well, we fairly jumped at the opportunity. It did not take us long to realise that there was considerable ill-feeling in the village towards the previous owner, about whom we knew little more than that he had died, suddenly, while on holiday in France, and that in the absence of next of kin his house and effects were being sold. We attended the sale of his possessions, as did many of the people from the immediate neighbourhood; largely, I suspect, in order to see the house for themselves, as the late owner had guarded his privacy to a quite extraordinary extent, and had not been known for his hospitality towards his neighbours. There was also, I believe, some talk of great treasures in the house, although nothing that was sold struck us as being deserving of that name.
"When Mr. Karswell's things had been disposed of we were, quite naturally, anxious to take up residence, but events conspired to make this impossible. The house, while in good repair for the most part, needed a certain amount of work done to it, particularly the rooms in which it was apparent that Mr. Karswell chiefly lived. He appeared to have kept a dog, or dogs, and they had scratched quite badly at the panelling in one of the rooms, so much so that it needed to be replaced. Some of the furnishings, too, proved difficult to dispose of; more than one person who had purchased items had a change of mind after the event, and declined to remove them, so in the end we kept one or two of the larger pieces and disposed of the rest as best we could."
"And the workmen, my dear; do not forget them."
Mrs. Fitzgerald shuddered. "How could I forget? We had no end of difficulty with the workmen we had employed to carry out the repairs. What should have been a very straightforward piece of work, according to the man who was in charge, became fraught with difficulty. Some of the men took to turning up late, or not at all, and there were delays with some of the material, and scarcely a day went by without some accident or other. Oh, they were very minor things, we were assured, but troubling nonetheless, and at one point it seemed the work would never be completed. At last we resorted to offering a larger sum than initially negotiated, and eventually all was finished and we were able to take up residence."
"One moment," said Low, at the same time that Holmes interjected with "A question, if I may." The two detectives looked at each other; then Low smiled and waved his hand towards my friend. "Please, Mr. Holmes."
"Thank you." Holmes turned to the Fitzgeralds. "The workmen who were employed: were they local men, or from further afield?"
"There were a handful of local men, Mr. Holmes," replied Mrs. Fitzgerald, "but the man in charge had to obtain most of the workforce from further away, some as far as Coventry. As I mentioned, there was some considerable ill-feeling towards the late owner of Lufford Abbey."
"Considerable indeed, if it extended even after his death," remarked Holmes. "Were you both here while this work was being carried out?"
"No; it would have been far too inconvenient. We had regular reports from the man in charge, and my husband would come by on occasion to check on the progress-or rather the lack of it."
"Thank you," said Holmes. "Mr. Low?"
"I was going to ask about the dogs," said Low, "the ones which you felt were responsible for the damage. Do you know for a fact that Karswell kept dogs?"
"No," replied Mr. Fitzgerald slowly. "Indeed, it did strike me as odd, as from what we knew of him he seemed unlikely to be a man who kept pets."
"This damage they caused; was it general, or confined to one particular place?"
"Again, it is very odd, Mr. Low. One would not expect dogs to be particular as to where they caused damage, yet it all seemed to be located in the one room, on the first floor. It is a very fine room, with views out over the park, and we understood that Karswell used it as his study."
"What sort of damage was caused?"
"Well, as my wife said, it appeared that the animals had clawed around the base of the wooden panelling in the room. Quite deep gouges they were, too, which is why the wood needed to be replaced."
"Do any of the marks remain?"
Mrs. Fitzgerald drew in her breath sharply, and Mr. Fitzgerald's already pale face seemed to go a shade whiter. It was a moment before he answered.
"When we took up residence my answer would have been no, Mr. Low; none of the marks remained. However, since then they… they have returned."
"Returned?" said Holmes sharply. "What do you mean?"
"I will come to that in a moment, Mr. Holmes," said Mrs. Fitzgerald. She paused, as if to gather her thoughts, then continued with her tale.
"As I say, we took up residence; that was in early March. At first all was well; we were busy settling in, and there were a hundred-and-one things to do and be seen to, and anything odd we put down to the fact that we were in a very old house that was still strange to us.
"Gradually, however, we became aware that things were happening which were not at all usual. It began with a sound, very faint, in the room above us… " She broke off with a shudder, and Mr. Fitzgerald looked at her with concern.
"Margaret, would you like me to continue?"
"Yes please," she said in a quiet voice, and her husband took up the tale.
"At first we both thought that it was one of the maids, cleaning; it was only later that we realised the sounds were heard at times when there should not have been anyone in the room. You will forgive us, gentlemen, for being somewhat slow to remark on this fact, but at first it seemed such a trifling matter that we gave it little thought.
"The next thing that occurred was a cold draught, which always seemed to play about the room. Now one must, I fear, expect draughts in a house as old as this, but we did not notice such a thing anywhere else; indeed, the house was, as my wife said, very sound, which made it all the more odd that it should be confined to this one room. We examined the windows and walls and around the door, and could find nothing to account for it. It began to be quite uncomfortable to be in the room, which I used, as Mr. Karswell had, as a study. I had hoped that as the spring approached the draughts would stop; but if anything they seemed to get worse.
"The sounds had continued all this time; not constant, by any means, but frequent enough to become unnerving. We told ourselves that it was some trick, perhaps related to the draughts; but one evening we heard the sounds more distinctly than before. They seemed changed, too; if we had heard them like that from the first we would not have mistaken them for the footsteps of a person. It was a dull, heavy, dragging sound, rather as if a large dog was moving with difficulty about the floor. I would go to investigate, but I never saw anything, although I found that I did not care to be alone in that room.
"Then one day one of the maids came to us, almost in tears, poor thing, because she said that she had been in the room to fill the coal scuttle and had heard what she thought was a growl, as of a large dog. She said that she had a careful look around the room, thinking that perhaps some stray animal had got in, but could see nothing untoward, and was continuing with her work when she distinctly felt something large and soft brush heavily against her, not once but twice, as if a dog had walked past her quite close and then turned back.
"Of course we went to look-it was all we could do to persuade Ellen to go back in, even though we were with her-but found nothing. We reassured the girl as best we could, and my wife took her down to the kitchen so that she could have a cup of tea, and I took one last look round; and it was then that I saw the marks on the wall."
"These are the claw marks to which your wife has alluded?" asked Holmes.
"Yes. As we explained, the panelling in that room was ripped out and completely replaced, and I remember thinking to myself what a fine job the men had done. So you can imagine my surprise and consternation when I saw marks on the woodwork. At first I thought that perhaps they had been caused by something being bumped against the wall accidentally, but when I examined them I saw that they were quite deep, and identical in every way with the marks which had been there before. I must admit, Mr. Holmes, that I was startled, to say the least, and I was glad that my wife had left the room, particularly in light of what happened next. For as I stood there, trying to make sense of it, I heard a soft, shuffling noise, such as a dog or other large animal might make, getting up and shaking itself. And then, before I could move, I felt something brush against me; something heavy, and soft."
"Did you see anything?"
"No, I did not; nor, I will say, did I stay to look about more closely. I was on the other side of the door, and had closed it, before I could think clearly once more. When I did, I locked the door, and later told the servants that we would not be using that room for a time, and that they need not bother with it unless we told them otherwise."
"The servants," said Holmes thoughtfully. "Have they been with you for some time, or did they work for Mr. Karswell?"
"None of Mr. Karswell's servants stayed on, Mr. Holmes," said Mrs. Fitzgerald; "they were dismissed immediately upon his death. From what I heard of them I would not have wished to employ any of them. A queer, secretive lot, apparently, who were disliked almost as much as their master. No, the servants here have all been with us for some time, and I trust them implicitly."
"Has anything else untoward happened?" asked Holmes. "Have either of you noticed any signs of your things having been tampered with, or has anything gone missing that you cannot account for?"
"No, Mr. Holmes," said Mrs. Fitzgerald. "The-disturbances-seem confined to that one room."
"I think, then, that we should take a look at this rather singular-sounding room," said Holmes, rising. "Will you show us the way?"
We followed the Fitzgeralds out of the room and made our way up the stairs. The spring day was drawing to a close, and the lamps were lit throughout the house. Was it my imagination, or did the hall seem a trifle darker outside the door before which our host and hostess halted? Such a thought had, I felt, occurred to Flaxman Low, for I noticed that he glanced sharply up and down the hall and then up at the light closest to us, which seemed dimmer than its fellows. Before I could remark on this, however, Mr. Fitzgerald had produced a key from his pocket, unlocked the heavy door in front of us, and pushed it open.
A sudden cold draught played around my ankles with a force which startled me, as if a tangible presence had pushed at me from within the room. I could see from the looks on the faces of my companions that they had felt what I did, and I confess that I hesitated for a moment before entering the room.
It was a large room, and I imagined that it would have been pleasant in the daylight, with its wide windows looking out over the expanse of lawn, and the panelling on the walls creating a warm, rich glow. However, in the evening dusk, with lamps the only source of illumination, and the strange tale we had been told still ringing in my ears, it presented an aspect almost of malignancy. I had a sudden feeling that we were intruding in a place which contained dark secrets, and if one of my companions had suggested we leave I would have followed willingly. However, both Holmes and Low advanced to the centre of the room and stood looking about with penetrating glances, taking in every detail. Holmes turned to Mr. Fitzgerald.
"Where are these marks of which you spoke?"
"Over here, Mr. Holmes." We followed him to one side of the room, where he knelt and pointed to a section of wall beside the fireplace, which was surmounted by a carved mantelpiece embellished with leaves and branches. We could all see plainly the deep scores running along the wood; they did, in truth, look like the claw marks of a large dog, although I would not have liked to meet the beast that made them. As Mr. Fitzgerald went to stand up, he glanced to one side of him, and uttered a soft exclamation.
"There are more!"
"Are you sure of that?" Low's voice contained a note of urgency which was not lost on Mr. Fitzgerald.
"I am positive! The last time I looked they extended no further than this panel"-he pointed-"but now you can see for yourselves that they continue further along the wall, up to the fireplace itself. I don't understand it! The room has been locked for the last week, and no one has entered it, of that I am sure. What could be doing this?"
"I have an idea, as I am sure Mr. Holmes does," said Flaxman Low quietly; "although whether or not these ideas will agree remains to be seen." He straightened up from where he had been crouching by the wall, running his hand along the marks, and looked around the room. His gaze seemed to be held by a large, ornately carved desk which stood close by. "You said that you purchased one or two pieces from the estate of Mr. Karswell. May I ask if that desk was one of those pieces?"
Mrs. Fitzgerald gazed at Low in astonishment. "Yes, it is; but how did you know?"
"Tsk, tsk," said Holmes, approaching the desk, "it is quite obvious that while the other pieces in the room were chosen by someone with an eye for symmetry and comfort, this desk was not; it does not match anything else in the room. Furthermore, it is one of two desks in the room; the other is quite obviously used extensively, to judge by the papers, pens, ink, books, and other items on its surface, whereas this one is singularly clear of any such items. Not, therefore, a piece of furniture which is in regular use, which rather suggests an afterthought of some sort, here on sufferance only."
"You are quite right," said Mr. Fitzgerald. "That was one of the items we bought from Karswell's estate, as the original purchaser unaccountably decided against buying it. At the time it seemed a reasonable enough purchase, but for some reason… " His voice trailed off.
"You found yourself unwilling to use it, and uncomfortable when you did," supplied Low.
"Precisely," said Mr. Fitzgerald gratefully. "It is, as you can see, a handsome piece, and I had some thought of making it my own desk; but for reasons that I cannot articulate I always felt uncomfortable when working at it, and it was not long before I abandoned it altogether in favour of the other desk."
Flaxman Low walked over to the carved desk and ran his hand over it. "Karswell's desk," he murmured to himself. "That is certainly intriguing."
"Yes," said Holmes crisply. "For there are few things which can tell us more about a man than his desk. Tell me, did you find anything in it?"
"That is a curious thing, Mr. Holmes. When we purchased it the desk was, as we thought, quite empty, and I made sure that nothing had been left in it; there could have been something valuable which his executors should know about. I found nothing; but a few days later, I happened to be opening one of the drawers, to place something within it, and it stuck. I pulled and pushed, and gradually worked it free, and found a small piece of paper at the back of it, which had obviously fallen out and become wedged in behind."
"Do you still have this paper?" asked Holmes eagerly, and Mr. Fitzgerald nodded towards his desk.
"I put it with my own papers; although I confess I do not know why, as it seemed without value." He moved to the other desk, where he rummaged around in one of the drawers. The rest of us stood close together, as if by common consent, and waited for him to return. When he did he was holding a small piece of yellowed paper, which he handed to my friend, who held it out so that we could all read it. There, in a neat hand, we saw the following:
Nonne haec condita sunt apud me et signata in thesauris meis.
Mea est ultio et ego retribuam in tempore ut labatur pes eorum iuxta est dies perditionis et adesse festinant tempora.
"What on earth does it mean?" I asked in some puzzlement.
"Well, I wondered that myself, Dr. Watson. My own Latin is not, I am afraid, as good as it once was, but after a little thought I realised it was from the Vulgate-Deuteronomy 32, verses 34 and 35-and translates as 'Is not this laid up in store with me, and sealed up among my treasures? To me belongeth vengeance and recompense; their foot shall slide in due time: for the day of their calamity is at hand, and the things that shall come upon them make haste.'"
Both men gave a start, and I could see that they were thinking furiously. "Treasures," said Holmes thoughtfully, while Low murmured "Vengeance and recompense." Both turned at the same moment and gazed at the section of wall where the claw marks were most visible. My friend glanced at Flaxman Low.
"I believe our thoughts are moving along the same lines, Mr. Low," he said quietly.
"Yes," replied the other, "although I suspect that our conclusions are slightly different." He turned to the Fitzgeralds, who were gazing from one man to the other with a bewildered air, and addressed our host. "Will you kindly bring an axe and a crowbar? This may prove a difficult job."
"Why, yes, of course," replied Mr. Fitzgerald. "But what is it that you are going to do?"
"I-that is to say we, for I believe Mr. Low and I have come to the same conclusion-believe that there is a concealed space hidden behind that section of wall. That is an outer wall, I take it?"
"Yes; yes, it is," said Mrs. Fitzgerald. "Do you mean… do you think that… "
"It is too early yet to say what I think," replied my friend grimly. "But I believe that the solution to this mystery lies behind that wall, and the sooner we investigate the sooner we will put an end to the events which have puzzled you both."
Mr. Fitzgerald departed to find the required implements; but in the end they proved unnecessary. While he was gone both Holmes and Low searched the fireplace, running their hands along the carvings, and within a few moments of our host's return Holmes gave a small cry of satisfaction. "Here we have it, I think," he said triumphantly, and we all heard a click which, slight as it was, seemed to echo throughout the room, so still were we all. Our gaze turned to the section of wall which we had previously examined, and I do not know which of us was the most startled to see a section of the panelling move slightly, as if it were being pushed from behind by an unseen force. Indeed, this very thought must have occurred to each of us, for we all remained motionless for some moments. It was Low, followed closely by my friend, who finally stepped towards the disturbed section of wall, and together the two men grasped the edge of the piece of panelling which, we could now see, had moved. I stepped forward with a lamp, as did Mr. Fitzgerald, while his wife stood behind us, peering anxiously over our shoulders.
The two men pulled at the wood panel, and for a moment it did not move, as if it were being held from the other side. Then, with a sound very like a sigh, the panel pulled away from the wall, leaving a rectangle of inky darkness behind it.
We all stepped back as a blast of icy air came from out the space thus revealed. After a moment we moved closer, and I held the light up in order that we could see inside.
I do not know what I expected to see, but it was not the sight which was presented to my eyes. A small table, like an altar, had been erected inside the space, which was barely wide enough to accommodate a man, and hanging above it was an inverted cross made of some dark wood, which Low dashed to the ground with an exclamation of disgust. A set of what looked like vestments was draped over one edge of the table, on the top of which was a book bound in cracked and faded black leather, and several vials of dark liquid, while the topmost of the two drawers contained pens, ink, and several thin strips of parchment. When the bottom drawer was opened Low gave an exclamation which mingled surprise with satisfaction, and withdrew a series of notebooks tied together with string, which he slit with a penknife. He glanced through the books and looked up at us.
"It is as I thought," he said quietly, and Holmes nodded.
"Yes," said my friend, "we have found what I expected to find," and he gestured to his left. Twisting our heads and looking down the narrow aperture, we saw that a set of rough stone steps was carved into the floor of the chamber, and apparently carried down between the inner and outer walls. "I have no doubt," continued my friend, "that when those stairs are examined they will prove to communicate with a hidden door on the outer wall of the house, or perhaps a tunnel which leads to some secluded spot."
We were all silent, gazing down into the black depths which seemed to swallow the light afforded by our lamps. As we stood clustered together, there came again that blast of icy air, and a faint sound, as of padding footsteps. Low immediately moved back from the opening, and motioned for us to do the same.
"I think," he said gravely, "that we would do well to close this now, and seal the room until morning. Then we can take the necessary steps to prevent any further disturbances."
By common, unspoken consent we refrained from discussing the matter that was uppermost on our minds all through supper, when servants were in and out of the dining-room. After supper Mrs. Fitzgerald retired to the sitting-room and we gentlemen were not long in following her, as we knew that she was as anxious as her husband and I to hear what the two detectives had to say. When coffee and brandy had been poured and Holmes and Low had lit their pipes, we sat back and waited for them to begin. Low motioned for my friend to go first, and Holmes addressed himself to us.
"My reading of the case began with the character of the late, and apparently unlamented, former owner of Lufford Abbey, Mr. Julian Karswell. Shorn of melodrama, what I knew of him amounted to this: that he was a man of some wealth who had a good many enemies, who chose to live in seclusion, and who died in circumstances which, though certainly out of the ordinary, could not be considered overly mysterious. Shortly after arriving I learned that his house, Lufford Abbey, was built during a time when, for various reasons, it was thought expedient by some families to have a secret room or chamber built, in order to conceal a person or persons from over-zealous eyes.
"That Karswell knew of this chamber is obvious, judging by the effects we found there; and I suspect that at least one of his servants would also have known of the existence of the room, in order to prevent a mishap should the master of the house find himself locked in and unable to emerge. In my experience, even the most secretive and close-mouthed of servants will, under the correct circumstances, divulge information of a sensitive nature, perhaps to secure esteem or reward, and I would not be surprised to find that Karswell's secret chamber was not, perhaps, the secret he thought it was amongst some of the villagers. Hence we have a man of secretive nature and some wealth, who dies suddenly, and whose household is scattered to the four winds almost immediately. That there was considerable ill-feeling towards him locally has been established, and I think it probable that some of the locals amongst the workmen who came here discovered the hidden chamber during the course of their repairs, and then found it expedient to delay work on the house, so that they might have time to examine it for more secrets.
"As to the noises of footsteps you heard, and the cold wind: all this can be explained by some person or persons-as the footsteps sounded like those of two distinct people-using the stairs and the secret chamber as a means of entering and leaving the house in order to search for something of value that they felt might be hidden; for you spoke of treasure, Mr. Low, as did you, Mrs. Fitzgerald, and these views are borne out by the passage which we found in Karswell's desk, which specifically mentions treasure. It was stated, however, that no treasures had been amongst Mr. Karswell's effects. This would suggest that his treasures were well hidden, and that someone knew-or suspected-as much, and decided to continue the search. I wager that there are more hiding spaces in this house than the one we found tonight, and that a careful search will reveal Mr. Karswell's treasure; while blocking up both entrances to the hidden chamber will eliminate the noises, and sounds, which have troubled you so much."
"But what of the feeling of something rubbing against me, Mr. Holmes?" enquired Mr. Fitzgerald. "Ellen the maid felt it too, yet neither of us saw anything."
"I suspect that the maid was imagining things, Mr. Fitzgerald; she was overwrought, as your wife stated. When you went up to the room you remembered her words, and something as simple as a draught of air became a phantom shape."
"What of the claw marks, and that odd note we found in the desk?" asked Mrs. Fitzgerald. She had brightened considerably over the past hour, as if a terrible burden had been lifted from her; but her husband, I noted, still wore a worried and drawn expression.
"Those are very easily explained. The note was, I think, meant as a taunt for any who presumed to look for Karswell's treasure, by mentioning it particularly; and I daresay that if one were to take a chisel to the panelling, one would make very similar marks to those we saw. When a person is looking for what he thinks is hidden treasure, he is not apt to be overly concerned about leaving traces of his handiwork on the walls, particularly if they are being ascribed to supernatural means which allow him to search without fear of being discovered."
Holmes sat back in his chair, and Mrs. Fitzgerald clapped her hands together softly. "Thank you, Mr. Holmes," she said quietly; "you have taken a great weight from my mind. I felt sure that there was a perfectly natural and logical explanation for these strange events, and I have no doubt but that you have hit upon the correct solution. I am sure that if we take your advice and seal up the chamber properly, there will be no further disturbances at Lufford Abbey."
"By all means seal up the chamber," said Flaxman Low, who had listened attentively to my friend's explanation, "but not before you destroy all the items found within it-as well as the desk, and any other items which belonged to Karswell-by burning them, and with as little delay as possible."
"Why do you say that, Mr. Low?" asked Mr. Fitzgerald. He, too, had listened attentively to Holmes's speech, but did not seem as convinced as did his wife.
"Because I believe that Julian Karswell was an evil man, and that anything associated with him carries that stamp of evil, and will continue to do so until it is destroyed by the purifying element of fire. Only that will put an end to your troubles." He glanced towards my friend. "Both Mr. Holmes and I agree that the cause of the disturbances in this house is Karswell; but I am prepared to grant him a much larger part than is my colleague here.
"Karswell made it his life's work to not only study and document the black arts, but to dabble in them himself. He believed, as many others have before him, that he was capable of controlling that which he unleashed; and as so many others have found, too late, he was greatly mistaken.
"We know him to have been a man both subtle and malicious, and one who desired to protect and keep secret what belonged to him. He had written a book on witchcraft, and was rumoured to have written-if not completed-a second volume. For a man such as Karswell, would this manuscript not have been a treasure beyond price? The years of work poured into it, and the price that was doubtless extracted from him for the knowledge he received, would have made him value this above all else, and I believe that he would have ensured that it was… well guarded during his absence in July of last year. That this absence was to prove permanent did not, of course, occur to him; and once set in place, the guardian appointed by Karswell would continue to do its duty, neither knowing nor caring of the death of its master."
"You speak of a guardian, Mr. Low," said our host in a low voice. "What precisely do you mean?"
Flaxman Low shrugged. "Guardians can take many shapes and forms," he replied, "depending on the skill and audacity of those who call them up. That Karswell was an adept in the field of magic is not, I think, in dispute; we have the death of one man, and the near-death of another, to attest to this. I believe that Karswell summoned a guardian that was in a shape known to him; possibly something not unlike a large dog. It was this guardian which was responsible for the claw marks on the walls, and the soft, padding sound which you heard, and the cold draught which you felt: manifestations of this sort are frequently accompanied by a chill in the atmosphere, sometimes quite severe. I also think it unlikely that the workmen discovered the chamber; there were no signs of anything within it being disturbed, and I am sure that its discovery could not have been kept a secret. The door was, as we saw, quite cleverly built, and I believe the workmen did not realise it was there."
"But why did this guardian not venture outside that one room?" asked Mr. Fitzgerald. Like his wife a few minutes earlier, he now looked considerably more relieved than he had been since we arrived; the prospect of putting an end to his troubles by following Low's advice had obviously taken a weight from his shoulders.
"Without knowing the specifics of what Karswell did to conjure it up in the first place, I cannot say. I do know, however, that very powerful constraints must be laid on these creatures, lest they turn on those who create them. It could well be that Karswell's guardian was restricted to that place, near its master's treasure." He paused, and gazed thoughtfully at his hosts. "From the manner in which the sounds it made changed, I should say that it was growing stronger as time passed, and that it is as well that we arrived when we did, before it grew even more powerful."
"And what did you make of the note, Mr. Low?" asked our host. Low smiled gently.
"I, too, took it as a taunt, although I interpreted it somewhat differently to Mr. Holmes. He seized on the word 'treasure,' whereas I was struck by the use of the word 'vengeance,' and the reference to 'the things that shall come upon them.'"
There was silence then, as we all pondered what we had just heard. Looking upon the faces of Mr. and Mrs. Fitzgerald, I could see that their troubles were, if not quite at an end, at least fading rapidly. Mr. Fitzgerald, it was clear, was prepared to believe Flaxman Low's interpretation of events, while his wife believed that Holmes had hit upon the correct solution. I caught the latter's eye as I thought this, and he must have read my thoughts, for he laughed and said, "Well, we have two solutions, and three listeners. I know that two of you have already made up your minds, so it remains for Dr. Watson to cast the deciding vote. Which shall it be, friend Watson? Tell us your verdict."
I glanced from the one detective to the other: both so alike in their methods, so sure of their case, yet so different in their explanations. I took a deep breath.
"I am glad of my Scottish heritage at this moment," I said, "for it allows me to answer, quite properly, 'Not Proven.'" And further than that I would not be drawn.
There remains little to tell of this strange case. The following morning, as soon as it was light, a proper investigation of the secret chamber was made. Nothing more was found beyond what we had already seen; and the stone steps did, as surmised, lead down through the thickness of the outer wall to a tunnel which stretched away from the house and emerged in a small outbuilding some distance away. The tunnel was in surprisingly good repair, leading Holmes to believe that his theory of treasure-seekers was correct. Low said nothing, but I noted that he spent some time scrutinising the floor of the tunnel, which was, I saw, free from any marks that would seem to indicate the recent passage of any corporeal trespasser. The entrances to both chamber and tunnel were sealed shut so as to make both impassable; but not before everything had been removed from the chamber, and everything of Karswell's taken from the study, and burned.
I have not heard that the Fitzgeralds have been troubled since that time; nor did I ever hear of any treasures being found in the house.
One other item, perhaps, bears mentioning. Low had been invited to travel back to London with us, and we found ourselves with some time to spare in the village before our train was due to arrive. We walked, by common accord, over to the small parish church where, we recalled, some of the items salvaged from the original Abbey of Lufford had been stored, and spent a pleasant half-hour therein, admiring the church and its relics. Holmes, indicating that it was time to leave for the station, went outside, and I looked around for Flaxman Low, whom I found staring intently into a glass case which contained some of the remains of the old Abbey. As I paused by his side he turned and smiled at me.
"Ah, Dr. Watson," he said; "or should it be 'Gentleman of the Jury'? Do you still find for 'Not Proven,' or have you had any second thoughts?"
I shook my head. "I do not know," I said honestly. "I have worked with Holmes for many years, and am rather inclined to his viewpoint that there is nothing that cannot be explained logically and rationally. And yet… " I paused. "I am not, I think, more imaginative than my fellow man, nor a person inclined to foolish fancies; yet I confess to you that as we stood outside the door of that room, I would have given a good deal not to go in there; and all the while we were inside it, I felt that there was… something in the room with us, something malignant, evil." I shook my head. "I do not know," I repeated, "but I am prepared to weigh the evidence and be convinced."
Low reached out and shook my hand. "Thank you," he said quietly. Then his eyes returned to the case which he had been studying, and he pointed at an item within it. "I was reading this before you came over," he said. "It is one of the relics from the Abbey of Lufford, a tile that dates back to the fifteenth century. The original is in Middle English, and rather difficult to make out, but a translation is on the card beside it. I wonder if Karswell ever saw it; in the unlikely event that he did, he certainly paid no heed to the warning."
I gazed at the card, and read the following words from Lufford Abbey:
Think, man, thy life may not ever endure; what thou dost thyself, of that thou art sure; but what thou keepest for thy executor's care, and whether it avail thee, is but adventure.
Murder to Music by Anthony Burgess
Anthony Burgess is the world-renowned author of the dystopian novel A Clockwork Orange. His other novels include Inside Mr. Enderby (et seq.), Earthly Powers, and The Long Day Wanes trilogy. Several of his short stories, including this one, can be found in his book The Devil's Mode. Although most readers probably know Burgess because of his fiction, he was a prolific writer of non-fiction and criticism, and he worked on a number of screenplays and as a translator. Burgess was also a composer of music, which, as you might guess from the title, served him well in writing this tale.
***
The first wife of prolific author Isaac Asimov once chided him for spending so much time working, saying, "When you're on your deathbed, and you've written a hundred books, what'll you say then?" To which Asimov replied, "I'll say, 'Only a hundred!'" In point of fact, Asimov had written or edited closer to five hundred books by the time he died. In a world of poseurs and dilettantes, of people who chatter constantly about the art they intend to create "someday" or "when I have time," it can be inspiring to see people who are so dedicated to their work that the terms art and life become inseparable, and who keep on working right up until the end. The legendary Japanese artist Hokusai, known for masterpieces such as Thirty-six Views of Mt. Fuji, is said to have exclaimed on his deathbed, "If only Heaven will give me just another ten years… Just another five more years, then I could become a real painter." If you're one of those people who's moved by the idea of an artist practicing his art right up until the moment of death, you may find this next tale highly inspirational. Or maybe not, given the circumstances.
***
Sir Edwin Etheridge, the eminent specialist in tropical diseases, had had the kindness to invite me to share with him the examination of a patient of his in the Marylebone area. It seemed to Sir Edwin that this patient, a young man who had never set foot outside England, was suffering from an ailment known as latah-common enough in the Malay archipelago but hitherto unknown, so far as the clinical records, admittedly not very reliable, could advise, in the temperate clime of northern Europe. I was able to confirm Sir Edwin's tentative diagnosis: the young man was morbidly suggestible, imitating any action he either saw or heard described, and was, on my entrance into his bedroom, exhausting himself with the conviction that he had been metamorphosed into a bicycle. The disease is incurable but intermittent: it is of psychical rather than nervous provenance, and can best be eased by repose, solitude, opiates and tepid malt drinks. As I strolled down Marylebone Road after the consultation, it seemed to me the most natural thing in the world to turn into Baker Street to visit my old friend, lately returned, so the Times informed me, from some nameless assignment in Marrakesh. This, it later transpired, was the astonishing case of the Moroccan poisonous palmyra, of which the world is not yet ready to hear.
I found Holmes rather warmly clad for a London July day, in dressing gown, winter comforter and a jewelled turban which, he was to inform me, was the gift of the mufti of Fez -donated in gratitude for some service my friend was not willing to specify. He was bronzed and clearly inured to a greater heat than our own, but not, except for the turban, noticeably exoticised by his sojourn in the land of the Mohammedan. He had been trying to breathe smoke through a hubble-bubble but had given up the endeavour. "The flavour of rose water is damnably sickly, Watson," he remarked, "and the tobacco itself of a mildness further debilitated by its long transit through these ingenious but ridiculous conduits." With evident relief he drew some of his regular cut from the Turkish slipper by the fireless hearth, filled his curved pipe, lighted it with a vesta and then looked at me amiably. "You have been with Sir Edwin Etheridge," he said, "in, I should think, St John's Wood Road."
"This is astonishing, Holmes," I gasped. "How can you possibly know?"
"Easy enough," puffed my friend. " St John's Wood Road is the only London thoroughfare where deciduous redwood has been planted, and a leaf of that tree, prematurely fallen, adheres to the sole of your left boot. As for the other matter, Sir Edwin Etheridge is in the habit of sucking Baltimore mint lozenges as a kind of token prophylactic. You have been sucking one yourself. They are not on the London market, and I know of no other man who has them specially imported."
"You are quite remarkable, Holmes," I said.
"Nothing, my dear Watson. I have been perusing the Times, as you may have observed from its crumpled state on the floor-a womanish habit, I suppose, God bless the sex-with a view to informing myself on events of national import, in which, naturally enough, the enclosed world of Morocco takes little interest."
"Are there not French newspapers there?"
"Indeed, but they contain no news of events in the rival empire. I see we are to have a state visit from the young king of Spain."
"That would be his infant majesty Alfonso the Thirteenth," I somewhat gratuitously amplified. "I take it that his mother the regent, the fascinating Maria Christina, will be accompanying him."
"There is much sympathy for the young monarch," Holmes said, "especially here. But he has his republican and anarchist enemies. Spain is in a state of great political turbulence. It is reflected even in contemporary Spanish music." He regarded his violin, which lay waiting for its master in its open case, and resined the bow lovingly. "The petulant little fiddle tunes I heard in Morocco day and night, Watson, need to be excised from my head by something more complex and civilized. One string only, and usually one note on one string. Nothing like the excellent Sarasate." He began to play an air which he assured me was Spanish, though I heard in it something of Spain 's Moorish inheritance, wailing, desolate and remote. Then with a start Holmes looked at his turnip watch, a gift from the Duke of Northumberland. "Good heavens, we'll be late. Sarasate is playing this very afternoon at St James's Hall." And he doffed his turban and robe and strode to his dressing room to habit himself more suitably for a London occasion. I kept my own counsel, as always, concerning my feelings on the subject of Sarasate and, indeed, on music in general. I lacked Holmes's artistic flair. As for Sarasate, I could not deny that he played wonderfully well for a foreign fiddler, but there was a smugness in the man's countenance as he played that I found singularly unattractive. Holmes knew nothing of my feelings and, striding in in his blue velvet jacket with trousers of a light-clothed Mediterranean cut, a white shirt of heavy silk and a black Bohemian tie carelessly knotted, he assumed in me his own anticipatory pleasure. "Come, Watson," he cried. "I have been trying in my own damnably amateurish way to make sense of Sarasate's own latest composition. Now the master himself will hand me the key. The key of D major," he added.
"Shall I leave my medical bag here?"
"No, Watson. I don't doubt that you have some gentle anaesthetic there to ease you through the more tedious phases of the recital." He smiled as he said this, but I felt abashed at his all too accurate appraisal of my attitude to the sonic art.
The hot afternoon seemed, to my fancy, to have succumbed to the drowsiness of the Middle Sea, as through Holmes's own inexplicable influence. It was difficult to find a cab and, when we arrived at St James's Hall, the recital had already begun. When we had been granted the exceptional privilege of taking our seats at the back of the hall while the performance of an item was already in progress, I was quick enough myself to prepare for a Mediterranean siesta. The great Sarasate, then at the height of his powers, was fiddling away at some abstruse mathematics of Bach, to the accompaniment on the pianoforte of a pleasant-looking young man whose complexion proclaimed him to be as Iberian as the master. He seemed nervous, though not of his capabilities on the instrument. He glanced swiftly behind him towards the curtain which shut off the platform from the wings and passages of the administrative arcana of the hall but then, as if reassured, returned wholeheartedly to his music. Meanwhile Holmes, eyes half-shut, gently tapped on his right knee the rhythm of the intolerably lengthy equation which was engaging the intellects of the musically devout, among whom I remarked the pale red-bearded young Irishman who was making his name as a critic and a polemicist. I slept.
I slept, indeed, very soundly. I was awakened not by the music but by the applause, to which Sarasate was bowing with Latin extravagance. I glanced covertly at my watch to find that a great deal of music had passed over my sleeping brain; there must have been earlier applause to which my drowsy grey cells had proved impervious. Holmes apparently had not noted my somnolence or, perhaps noting it, had been too discreet to arouse me or, now, to comment on my boorish indifference to that art he adored. "The work in question, Watson," he said, "is about to begin." And it began. It was a wild piece in which never fewer than three strings of the four were simultaneously in action, full of the rhythm of what I knew, from a brief visit to Granada, to be the zapateado. It ended with furious chords and a high single note that only a bat could have found euphonious. "Bravo," cried Holmes with the rest, vigorously clapping. And then the noise of what to me seemed excessive approbation was pierced by the crack of a single gunshot. There was smoke and the tang of a frying breakfast, and the young accompanist cried out. His head collapsed onto the keys of his instrument, producing a hideous jangle, and then the head, with its unseeing eyes and an open mouth from which blood relentlessly pumped in a galloping tide, raised itself and seemed to accuse the entire audience of a ghastly crime against nature. Then, astonishingly, the fingers of the right hand of the dying man picked at one note of the keyboard many times, following this with a seemingly delirious phrase of a few different notes which he repeated and would have continued to repeat if the rattle of death had not overtaken him. He slumped to the floor of the platform. The women in the audience screamed. Meanwhile the master Sarasate clutched his valuable violin to his bosom-a Stradivarius, Holmes later was to inform me-as though that had been the target of the gunshot.
Holmes was, as ever, quick to act. "Clear the hall!" he shouted. The manager appeared, trembling and deathly pale, to add a feebler shout to the same effect. Attendants somewhat roughly assisted the horrified audience to leave. The red-bearded young Irishman nodded at Holmes as he left, saying something to the effect that it was as well that the delicate fingers of the amateur should anticipate the coarse questing paws of the Metropolitan professionals, adding that it was a bad business: that young Spanish pianist had promised well. "Come, Watson," said Holmes, striding towards the platform. "He has lost much blood but he may not be quite dead." But I saw swiftly enough that he was past any help that the contents of my medical bag could possibly provide. The rear of the skull was totally shattered.
Holmes addressed Sarasate in what I took to be impeccable Castilian, dealing every courtesy and much deference. Sarasate seemed to say that the young man, whose name was Gonzáles, had served as his accompanist both in Spain and on foreign tours for a little over six months, that he knew nothing of his background though something of his ambitions as a solo artist and a composer, and that, to the master's knowledge, he had no personal enemies. Stay, though: there had been some rather unsavoury stories circulating in Barcelona about the adulterous activities of the young Gonzáles, but it was doubtful if the enraged husband, or conceivably husbands, would have pursued him to London to effect so dire and spectacular a revenge. Holmes nodded distractedly, meanwhile loosening the collar of the dead man.
"A somewhat pointless procedure," I commented. Holmes said nothing. He merely peered at the lowest segment of the nape of the corpse's neck, frowned, then wiped one hand against the other while rising from a crouch back to his feet. He asked the sweating manager if the act of assassination had by any chance been observed, either by himself or by one of his underlings, or, failing that, if any strange visitant had, to the knowledge of the management, insinuated himself into the rear area of the hall, reserved exclusively for artists and staff and protected from the rear door by a former sergeant of marines, now a member of the corps of commissionaires. A horrid thought struck the manager at once, and followed by Holmes and myself, he rushed down a corridor that led to a door which gave on to a side alley.
That door was unguarded for a very simple reason. An old man in the uniform trousers of the corps, though not, evidently because of the heat, the jacket, lay dead, the back of his grey head pierced with devilish neatness by a bullet. The assassin had then presumably effected an unimpeded transit to the curtains which separated the platform from the area of offices and dressing rooms.
"It is very much to be regretted," said the distraught manager, "that no other of the staff was present at the rear, though if one takes an excusably selfish view of the matter, it is perhaps not to be regretted. Evidently we had here a cold-blooded murderer who would stop at nothing." Holmes nodded and said:
"Poor Simpson. I knew him, Watson. He spent a life successfully avoiding death from the guns and spears of Her Imperial Majesty's enemies, only to meet it in a well-earned retirement while peacefully perusing his copy of Sporting Life. Perhaps," he now said to the manager, "you would be good enough to explain why the assassin had only poor Simpson to contend with. In a word, where were the other members of the staff?"
"The whole affair is very curious, Mr. Holmes," said the manager, wiping the back of his neck with a handkerchief. "I received a message just after the start of the recital, indeed shortly after your good self and your friend here had taken your seats. The message informed me that the Prince of Wales and certain friends of his were coming to the concert, though belatedly. It is, of course, well known that His Royal Highness is an admirer of Sarasate. There is a small upper box at the back of the hall normally reserved for distinguished visitors, as I think you know."
"Indeed," said Holmes. "The Maharajah of Johore was once kind enough to honour me as his guest in that exclusive retreat. But do please go on."
"Naturally, myself and my staff," the manager continued, "assembled at the entrance and remained on duty throughout the recital, assuming that the distinguished visitor might arrive only for the final items." He went on to say that, though considerably puzzled, they had remained in the vestibule until the final applause, hazarding the guess that His Royal Highness might, in the imperious but bonhomous manner that was his wont, command the Spanish fiddler to favour him with an encore in a hall filled only with the anticipatory majesty of our future King Emperor. Thus all was explained save for the essential problem of the crime itself.
"The message," Holmes demanded of the manager. "I take it that it was a written message. Might I see it?"
The manager drew from an inner pocket a sheet of notepaper headed with the princely insignia and signed with a name known to be that of His Royal Highness's private secretary. The message was clear and courteous. The date was the seventh of July. Holmes nodded indifferently at it and, when the police arrived, tucked the sheet unobtrusively into a side pocket. Inspector Stanley Hopkins had responded promptly to the summons delivered, with admirable efficiency, by one of the manager's underlings in a fast cab.
"A deplorable business, inspector," Holmes said. "Two murders, the motive for the first explained by the second, but the second as yet disclosing no motive at all. I wish you luck with your investigations."
"You will not be assisting us with the case, Mr. Holmes?" asked the intelligent young inspector. Holmes shook his head.
"I am," he said to me in the cab that took us back to Baker Street, "exhibiting my usual duplicity, Watson. This case interests me a great deal." Then he said somewhat dreamily: "Stanley Hopkins, Stanley Hopkins. The name recalls that of an old teacher of mine, Watson. It always takes me back to my youthful days at Stoneyhurst College, where I was taught Greek by a young priest of exquisite delicacy of mind. Gerard Manley Hopkins was his name." He chuckled a moment. "I was given taps from a tolly by him when I was a callow atramontarius. He was the best of the younger crows, however, always ready to pin a shouting cake with us in the haggory. Never creeping up on us in the silent oilers worn by the crabbier jebbies."
"Your vocabulary, Holmes," I said. "It is a foreign language to me."
"The happiest days of our lives, Watson," he then said somewhat gloomily.
Over an early dinner of cold lobster and a chicken salad, helped down by an admirable white burgundy well chilled, Holmes disclosed himself as vitally concerned with pursuing this matter of the murder of a foreign national on British soil, or at least in a London concert room. He handed me the presumed royal message and asked what was my opinion of it. I examined the note with some care. "It seems perfectly in order to me," I said. "The protocol is regular, the formula, or so I take it, is the usual one. But, since the manager and his staff were duped, some irregularity in obtaining the royal notepaper must be assumed."
"Admirable, Watson. Now kindly examine the date."
"It is today's date."
"True, but the formation of the figure seven is not what one might expect."
"Ah," I said, "I see your meaning. We British do not place a bar across the number. This seven is a continental one."
"Exactly. The message has been written by a Frenchman or an Italian or, as seems much more probable, a Spaniard with access to the notepaper of His Royal Highness. The English and, as you say, the formula are impeccable. But the signatory is not British. He made a slight slip there. As for the notepaper, it would be available only to a person distinguished enough to possess access to His Royal Highness's premises and to a person unscrupulous enough to rob him of a sheet of notepaper. Something in the configuration of the letter e in this message persuades me that the signatory was Spanish. I may, naturally, be totally mistaken. But I have very little doubt that the assassin was Spanish."
"A Spanish husband, with the impetuousness of his race, exacting a very summary revenge," I said.
"I think the motive of the murder was not at all domestic. You observed my loosening the collar of the dead man and you commented with professional brusqueness on the futility of my act. You were unaware of the reason for it." Holmes, who now had his pipe alight, took a pencil and scrawled a curious symbol on the tablecloth. "Have you ever seen anything like this before, Watson?" he puffed. I frowned at the scrawl. It seemed to be a crude representation of a bird with spread wings seated on a number of upright strokes which could be taken as a nest. I shook my head. "That, Watson, is a phoenix rising from the ashes of the flames that consumed it. It is the symbol of the Catalonian separatists. They are republicans and anarchists and they detest the centralizing control of the Castilian monarchy. This symbol was tattooed on the back of the neck of the murdered man. He must have been an active member of a conspiratorial group."
"What made you think of looking for it?" I asked.
"I met, quite by chance, a Spaniard in Tangiers who inveighed in strong terms against the monarchy which had exiled him and, wiping the upper part of his body for the heat, disclosed quite frankly that he had an identical tattoo on his chest."
"You mean," I said incredulously, "that he was in undress, or, as the French put it, en deshabille!"
"It was an opium den in the Kasbah, Watson," Holmes said calmly. "Little attention is paid in such places to the refinements of dress. He mentioned to me that the nape of the neck was the more usual site of the declaration of faith in the Catalonian republic, but he preferred the chest, where, as he put it, he could keep an eye on the symbol and be reminded of what it signified. I had been wondering ever since the announcement of the visit to London of the young Spanish king whether there might be Catalonian assassins around. It seemed reasonable to me to look on the body of the murdered man for some indication of a political adherence."
"So," said I, "it is conceivable that this young Spaniard, dedicated to art as he seemed to be, proposed killing the harmless and innocent Alfonso the Thirteenth. The intelligence services of the Spanish monarchy have, I take it, acted promptly though illegally. All the forces of European stability should be grateful that the would-be assassin has been himself assassinated."
"And the poor old soldier who guarded the door?" Holmes riposted, his sharp eyes peering at me through the fog of his tobacco smoke. "Come, Watson, murder is always a crime." And then he began to hum, not distractedly, a snatch of tune which seemed vaguely familiar. His endless repetition of it was interrupted by the announcement that Inspector Stanley Hopkins had arrived. "I expected him, Watson," Holmes said, and when the young police officer had entered the room, he bafflingly recited:
"And I have asked to be Where no storms come,
Where the green swell is in the havens dumb, And out of the swing of the sea."
Stanley Hopkins gaped in some astonishment, as I might have myself had I not been long inured to Holmes's eccentricities of behaviour. Before Hopkins could stutter a word of bewilderment, Holmes said: "Well, inspector, I trust you have come in triumph." But there was no triumph in Hopkins 's demeanour. He handed over to Holmes a sheet of paper on which there was handwriting in purple ink.
"This, Mr. Holmes, was found on the dead man's person. It is in Spanish, I think, a language with which neither I nor my colleagues are at all acquainted. I gather you know it well. I should be glad if you would assist our investigation by translating it."
Holmes read both sides of the paper keenly. "Ah, Watson," he said at length, "this either complicates or simplifies the issue, I am not as yet sure which. This seems to be a letter from the young man's father, in which he implores the son to cease meddling with republican and anarchistic affairs and concentrate on the practice of his art. He also, in the well-worn phrase, wags a will at him. No son of his disloyal to the concept of a unified Spain with a secure monarchy need expect to inherit a patrimonio. The father appears to be mortally sick and threatens to deliver a dying curse on his intransigent offspring. Very Spanish, I suppose. Highly dramatic. Some passages have the lilt of operatic arias. We need the Frenchman Bizet to set them to music."
"So," I said, "it is possible that the young man had announced his defection from the cause, possessed information which he proposed to make public or at least refer to a quarter which had a special interest in it, and then was brutally murdered before he could make the divulgation."
"Quite brilliant, Watson," said Holmes, and I flushed discreetly with pleasure. It was rarely that he gave voice to praise untempered by sarcasm. "And a man who has killed so remorselessly twice is all too likely to do so again. What arrangements, inspector," he asked young Hopkins, "have the authorities made for the security of our royal Spanish visitors?"
"They arrive this evening, as you doubtless know, on the last of the packets from Boulogne. At Folkestone they will be transferred immediately to a special train. They will be accommodated at the Spanish embassy. Tomorrow they travel to Windsor. The following day there will be luncheon with the prime minister. There will be a special performance of Messrs Gilbert and Sullivan's Gondoliers-"
"In which the Spanish nobility is mocked," said Holmes, "but no matter. You have given me the itinerary and the programme. You have not yet told me of the security arrangements."
"I was coming to that. The entire Metropolitan force will be in evidence on all occasions, and armed men out of uniform will be distributed at all points of vantage. I do not think there is anything to fear."
"I hope you are right, inspector."
"The royal party will leave the country on the fourth day by the Dover-Calais packet at one twenty-five. Again, there will be ample forces of security both on the dockside and on the boat itself. The home secretary realizes the extreme importance of the protection of a visiting monarch-especially since that regrettable incident when the Czar was viciously tripped over in the Crystal Palace."
"My own belief," Holmes said, relighting his pipe, "is that the Czar of all the Russias was intoxicated. But again, no matter." A policeman in uniform was admitted. He saluted Holmes first and then his superior. "This is open house for the Metropolitan force," Holmes remarked with good-humoured sarcasm. "Come one, come all. You are heartily welcome, sergeant. I take it you have news."
"Beg pardon, sir," the sergeant said, and to Hopkins, "We got the blighter, sir, in a manner of speaking."
"Explain yourself, sergeant. Come on, man," snapped Hopkins.
"Well, sir, there's this kind of Spanish hotel, meaning a hotel where Spaniards go when they want to be with their own sort, in the Elephant and Castle it is."
"Appropriate," Holmes interjected rapidly. "It used to be the Infanta of Castile. Goat and Compasses. God encompasses us. I apologize. Pray continue, sergeant."
"We got there and he must have known what was coming, for he got on the roof by way of the skylight, three storeys up it is, and whether he slipped or hurled himself off, his-neck was broke, sir." The printing conventions of our realm impose the employment of a dash to indicate the demotic epithet the sergeant employed. "Begging your pardon, sir."
"You're sure it's the assassin, sergeant?" asked Holmes.
"Well, sir, there was Spanish money on him and there was a knife, what they call a stiletto, and there was a revolver with two chambers let off, sir."
"A matter, inspector, of checking the bullets extracted from the two bodies with those still in the gun. I think that was your man, sergeant. My congratulations. It seems that the state visit of his infant majesty can proceed without too much foreboding on the part of the Metropolitan force. And now, inspector, I expect you have some writing to do." This was a courteous way of dismissing his two visitors. "You must be tired, Watson," he then said. "Perhaps the sergeant would be good enough to whistle a cab for you. In the street, that is. We shall meet, I trust, at the Savoy Theatre on the tenth. Immediately before curtain time. Mr. D'Oyly Carte always has two complimentary tickets waiting for me in the box office. It will be interesting to see how our Iberian visitors react to a British musical farce." He said this without levity, with a certain gloom rather. So I too was dismissed.
Holmes and I, in our evening clothes with medals on display, assisted as planned at the performance of The Gondoliers. My medals were orthodox enough, those of an old campaigner, but Holmes had some very strange decorations, among the least recondite of which I recognized the triple star of Siam and the crooked cross of Bolivia. We had been given excellent seats in the orchestral stalls. Sir Arthur Sullivan conducted his own work. The infant king appeared to be more interested in the electric light installations than in the action or song proceeding on stage, but his mother responded with suitable appreciation to the jokes when they had been explained to her by the Spanish ambassador. This was a musical experience more after my heart than a recital by Sarasate. I laughed heartily, nudged Holmes in the ribs at the saltier sallies and hummed the airs and choruses perhaps too boisterously, since Lady Esther Roscommon, one of my patients, as it happened, poked me from the row behind and courteously complained that I was not only loud but also out of tune. But, as I told her in the intermission, I had never laid claim to any particular musical skill. As for Holmes, his eyes were on the audience, and with opera glasses too, more than on the stage proceedings.
During the intermission, the royal party very democratically showed itself in the general bar, the young king graciously accepting a glass of British lemonade, over which, in the manner of a child unblessed by the blood, he smacked his lips. I was surprised to see that the great Sarasate, in immaculate evening garb with the orders of various foreign states, was taking a glass of champagne with none other than Sir Arthur Sullivan. I commented on the fact to Holmes, who bowed rather distantly to both, and expressed wonder that a man so eminent in the sphere of the more rarefied music should be hobnobbing with a mere entertainer, albeit one honoured by the Queen. "Music is music," Holmes explained, lighting what I took to be a Tangerine panatella. "It has many mansions. Sir Arthur has sunk, Watson, to the level he finds most profitable, and not only in terms of monetary reward, but he is known also for works of dreary piety. They are speaking Italian together." Holmes's ears were sharper than mine. "How much more impressive their reminiscences of aristocratic favour sound than in our own blunt tongue. But the second bell has sounded. What a waste of an exceptionally fine leaf." He referred to his panatella, which he doused with regret in one of the brass receptacles in the lobby. In the second half of the entertainment Holmes slept soundly. I felt I needed no more to experience the shame of an uncultivated boor when I succumbed to slumber at a more elevated musical event. As Holmes had said, somewhat blasphemously, music has many mansions.
The following morning, a hasty message from Sir Edwin Etheridge, delivered while I was at breakfast, summoned me to another consultation in the bedroom of his patient on St John's Wood Road. The young man was no longer exhibiting the symptoms of latah; he seemed now to be suffering from the rare Chinese disease, which I had encountered in Singapore and Hong Kong, known as shook jong. This is a distressing ailment, and embarrassing to describe outside of a medical journal, since its cardinal feature is the patient's fear that the capacity of generation is being removed from him by malevolent forces conjured by an overheated imagination. To combat these forces, which he believes responsible for a progressive diminution of his tangible generative asset, he attempts to obviate its shrinkage by transfixation, usually with the sharpest knife he can find. The only possible treatment was profound sedation and, in the intervals of consciousness, a light diet.
I very naturally turned onto Baker Street after the consultation, the fine weather continuing with a positively Hispanic effulgence. The great world of London seemed wholly at peace. Holmes, in dressing gown and Moorish turban, was rubbing resin onto his bow as I entered his sitting room. He was cheerful while I was not. I had been somewhat unnerved by the sight of an ailment I had thought to be confined to the Chinese, as I had been disconcerted earlier in the week by the less harmful latah, a property of hysterical Malays, both diseases now manifesting themselves in a young person of undoubtedly Anglo-Saxon blood. Having unburdened myself of my disquiet to Holmes, I said, perhaps wisely, "These are probably the sins visited by subject races on our imperialistic ambitions."
"They are the occluded side of progress," Holmes said, somewhat vaguely, and then, less so, "Well, Watson, the royal visit seems to have passed without mishap. The forces of Iberian dissidence have not further raised their bloody hands on our soil. And yet I am not altogether easy in my mind. Perhaps I must attribute the condition to the irrational power of music. I cannot get out of my head the spectacle of that unfortunate young man struck lifeless at the instrument he had played with so fine a touch, and then, in his death agony, striking a brief rhapsody of farewell which had little melodic sense in it." He moved his bow across the strings of his violin. "Those were the notes, Watson. I wrote them down. To write a thing down is to control it and sometimes to exorcise it." He had been playing from a scrap of paper which rested on his right knee. A sudden summer gust, a brief hot breath of July, entered by the open window and blew the scrap to the carpet. I picked it up and examined it. Holmes's bold hand was discernible in the five lines and the notes, which meant nothing to me. I was thinking more of the shook jong. I saw again the desperate pain of an old Chinese who had been struck down with it in Hong Kong. I had cured him by countersuggestion and he had given me in gratitude all he had to give-a bamboo flute and a little sheaf of Chinese songs.
"A little sheaf of Chinese songs I once had," I said musingly to Holmes. "They were simple but charming. I found their notation endearingly simple. Instead of the clusters of black blobs which, I confess