---
---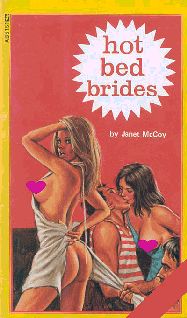 Janet Mccoy
Hot bed brides
CHAPTER ONE
Ken Tate pushed himself away from his typewriter and went to the front window. He had had enough of writing for one day. His latest spy thriller was going well. He was pleased. With any luck, he'd have it off to the publishers in another couple of weeks.
Right now, Tate had no heart left for spy plots and secret weapons and bodies in alleys. His thoughts were turning to fair damsels, and the building distress in his aching balls.
His wife Annie would be home soon. Tate had plans for her. Just the thought of her lush young body jerked his cock up to half-mast inside his pants.
Tate would be forty-five next birthday. He was in the midst of respectable middle-age. The big muscular writer congratulated himself on the zest for life that had kept him free of the chains that usually went with his age… a nagging, middle-aged wife, screaming kids; a mortgaged house; headaches and more headaches.
Instead of wallowing in misery, Tate was looking forward to the return home of his beautiful nineteen-year-old wife. Annie was in college, and she was always bursting with energy and ideas when she got home from school. He enjoyed listening to her. She was so lovely, with her flushed pink cheeks, her sparkling eyes, her bubbly personality that kept Tate thinking young.
Tate considered himself a very lucky man.
Just this morning, Tate had had a letter from an old buddy. Sam and he had been in college together. They had renewed their acquaintance on and off over the years. It had been a good five years since they had seen each other. Sam had just returned from Europe with a brand-new French wife. They would be arriving for a visit in a couple of days.
Tate could hardly wait to see his friend, and to show off his own beautiful wife. He could not help gloating at the thought that Sam would be jealous. French mam'selle or no, Tate was sure Sam's wife couldn't be any more spectacular than his own sexy Annie.
He forgot everything else as he caught sight of her through the window. She had a way of bouncing when she walked that made her large round tits reach out and grab a man's attention.
---