---
antique
Mary
Daheim
Silver Scream : A Bed-and-breakfast Mystery
en
Mary
Daheim
calibre 0.7.49
23.3.2011
e4ce7a51-0711-4efc-992e-ca9f2fc7235f
1.0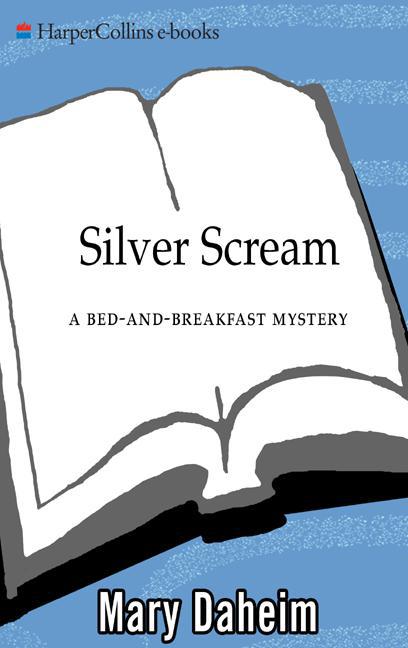 SILVER
SCREAM
A BED-AND-BREAKFAST MYSTERY
To Dave—
As they say in Hollywood,
I couldn't have done this book
without him. Or done much else, either.
Contents
ONE
JUDITH MCMONIGLE FLYNN twitched in
the kitchen chair, jumped up…
1
TWO
JUDITH RECOILED FROM the obscenity
screamed into her ear by…
18
THREE
RENIE AND ARLENE seemed to have
everything under control. Arlene already…
34
FOUR
"RENIE!" JUDITH CRIED, pulling on the
handle of the door…
53
FIVE
"WIN?" 71
SIX
WHEN JUDITH GOT back downstairs,
five early young trick-or-treaters came…
89
SEVEN
JUDITH DIDN'T HEAR Joe come
running down the hallway. She…
109
EIGHT
"LET'S GET OUT of here," Joe whispered
to Judith. "We'll…
125
NINE
"THAT'S RIDICULOUS," JUDITH declared.
"How is it our fault that…
142
TEN
RENIE ALL BUT fell into the pew. By now,
several…
153
ELEVEN
HAVING BEEN PRIVY to two, possibly
three, murders at her…
169
TWELVE
JOE HADN'T YET detached the garden
hoses or covered the…
186
THIRTEEN
JUDITH STOOD ROOTED TO the spot,
staring at the tape…
204
FOURTEEN
"GIVE ME A clean piece of freezer wrap,"
Judith said…
225
FIFTEEN
"WHAT IS THIS?" Renie demanded when
the maître d' had left…
240
SIXTEEN
JUDITH WANTED VERY much to see
Heathcliffe and Amy Lee…
253
SEVENTEEN
SLOWLY, SHE OPENED the door and peered
into the hallway.…
269
EIGHTEEN
"I DON'T GET it," Judith said, stopping
herself from gnawing…
284
NINETEEN
"THE AIRPORT'S STILL closed," Joe
announced as he brought in…
303
TWENTY
THERE WAS NO time for Judith to explain.
The
battalion…
322
About the Author
Praise
Other Books by Mary Daheim
Cover
Copyright
About the Publisher
First Floor
Toolshed
Living
Kitchen
Room
Patio
Garage
BathBedroom
room
Walkway
Back Porch
Basement Stairs
Pantry
French Doors
Back
Stairs
Kitchen
Living Room
Bay Window
Fireplace
Window
Seat
Rankers' Hedge
Dining Room
Driveway
Powder Landing
Entry
Room
Hall
alkway W
Main
Front Parlor
Stairs
Fireplace
Landing
Front Porch
Front
Door
N
W
E
Cul-de-sac
S
Second Floor
Back Stairs
Room 6
Bathroom
Storage
Room 5
Stairs to
Bathroom
3rd Floor
Room 4
Bathroom
Room 3
Main
Settee/
Stairs
Phone
Room 2
Room 1
Landing
N
W
E
S
Third Floor
Guest
Bedroom
Storage
Master
Bedroom
Joe's
Bathroom
Den
Storage
N
W
E
S
ONE
JUDITH MCMONIGLE FLYNN twitched in the kitchen
chair, jumped up, paced the floor, and leaned her
head against the cupboard by the sink. Desperately,
she tried reason, argument, and, finally, bad grammar in an attempt to fend off Ingrid Heffelman from
the state bed-and-breakfast association.
"I don't want none of those crazy people at Hillside Manor," she shouted into the phone. "I mean,
any of them. They're Hollywood types, and they're
nuts."
"Just because they make movies doesn't mean
they're crazy." Ingrid huffed. "Look, I know this is
a big favor. But you had only two other reservations
for the last weekend of October besides the producer, Bruno Zepf. I can put those non–movie people
up somewhere else to make room for the additions
to Mr. Zepf's original guest list."
Since Bruno Zepf had made his reservation two
weeks earlier, Judith knew she was on shaky
ground. Like many Hollywood big shots, Zepf was
as superstitious as he was successful. Ten years earlier, his career as an independent producer had been
launched at a film festival in the Midwest. At the
2
Mary Daheim
time Zepf couldn't afford a hotel; he'd had to stay in a
bed-and-breakfast. The movie had won the top prize,
launching his Hollywood career. Ever since, he had
stayed at B&Bs before premiering a new production.
But other members of his company wanted to stay in
the same B&B, hoping that Bruno's good luck would
rub off on them. Magnanimously—egotistically—the
Great Man had allowed at least a half-dozen associates
to join him at Hillside Manor.
"Please, Ingrid," Judith pleaded, moving away from
the cupboard, "I'm stuck with Mr. Zepf, but I've had
my fill of so-called beautiful people, from opera
singers to gossip columnists to TV media types. I've
had gangsters and psychos and—"
"I know," Ingrid interrupted, her tone suddenly cold.
"That's one of the reasons you're going to accept this
deal. You've managed to have some very big problems
at Hillside Manor, and while they don't seem to have
hurt your business, they give the rest of the B&Bs a
black eye. Look what happened a year or so ago—your
establishment was included in a sightseeing tour of murder sites, and you ended up on TV with a dead body."
"The body wasn't at Hillside Manor," Judith retorted as the cupboard door swung open all by itself.
She took her frustration out on the innocent piece of
wood, slamming it shut. "And it certainly wasn't my
fault. Besides, I got the tour group to take Hillside
Manor off the sightseeing itinerary, didn't I?"
"You still looked like an idiot in that television interview about your so-called sleuthing," Ingrid countered. "It was embarrassing for innkeepers all over the
state. You owe me—and the rest of the good people
who run B&Bs around here."
SILVER SCREAM
3
"That was the editing," Judith protested. "I didn't
ask to be on TV. In fact, I begged them not to do the
piece. I hardly consider myself a sleuth. I run a B&B,
period. I can't help it if all sorts of weird people come
here. Look, now you're the one who's setting me up.
Who will you blame if something happens while these
movie nutcases are staying at Hillside Manor?"
There was no response. The line was dead. Ingrid
had hung up on her.
"Damn," Judith breathed. "Ingrid's a mule."
"She always was," Gertrude Grover responded.
"Fast, too. She wore her skirts way too short in high
school. No wonder she got into trouble."
Judith stared at her mother. "This is a different Ingrid. She runs the state B&B association. She's my
age, not yours."
Gertrude's small eyes narrowed. "You just think she
is. Ingrid Sack's been dyeing her hair for years. Had a
face-lift, too. More than once, I heard."
"Mother," Judith said patiently, "Ingrid Sack—I believe her married name was Grissom—has been dead
for ten years."
Now it was Gertrude's turn to stare. "No kidding? I
wonder how she looked in her casket. All tarted up, I
bet. Funny I didn't hear about it at the time."
There was no point in telling Gertrude that she'd undoubtedly read Ingrid's obituary in the newspaper.
Read it with glee, as the old lady always did when she
discovered she'd outlived yet another contemporary.
Judith was used to her mother's patchy memory.
"I'm stuck," Judith announced, flipping the pages of
the American art calendar she'd been given by her
cousin Renie. August's Black Hollyhock, Blue Lark-
4
Mary Daheim
spur by Georgia O'Keeffe was a sumptuous sight compared with the stark, deliberately mundane realism of
Louis Charles Moeller's Sculptor's Studio, which heralded October. Vibrant natural beauty versus taxing,
gritty work. Maybe the painting was an omen. "Come
Halloween, we're going to be invaded by Hollywood."
Gertrude pulled a rumpled Kleenex from the pocket
of her baggy orange cardigan. "Hollywood?" she
echoed before gustily blowing her nose. "You mean
like the Gish sisters and Tom Mix and Mary Pickford?"
"Uh . . . like that," Judith agreed, sitting down at the
kitchen table across from her mother. "A famous producer is premiering his new movie here in town because it was filmed in the area. He's bringing his
entourage—at least some of it—to Hillside Manor."
"Entourage?" Gertrude looked puzzled. "I thought
you didn't allow pets."
"I don't," Judith replied. "I meant his associates.
Speaking of pets," she said sharply to Sweetums as the
cat leaped onto the kitchen table, "beat it. You don't
prowl the furniture."
Sweetums was batting at the lid of the sheep-shaped
cookie jar. The cat didn't take kindly to Judith's efforts
to pick him up and set him down.
"Feisty," Gertrude remarked as Sweetums broke
free and ran off in a blur of orange-and-white fur. "You
got to admit it, Toots, that cat has spunk."
Judith gave her mother an ironic smile. "So do you.
You're kindred spirits."
"He gets around better than I do," Gertrude said,
turning stiffly to watch Sweetums disappear with a
bang of the screen door. The old lady reached into her
SILVER SCREAM
5
pocket again, rummaged around, and scowled.
"Where'd my candies go?"
"You probably ate them, Mother," Judith said, getting up from the table. "There are some ginger cookies
in the jar. They may be getting a bit stale. It's been too
warm to bake the last few days."
The summer had indeed been warm, though not unbearable. As a native Pacific Northwesterner, Judith's
tolerance for heat dropped lower every year. Fortunately, there was only a week left of August.
"I should call in person to cancel the displaced
guests' reservations," Judith said, scrolling down the
screen on her computer monitor. "Let's see—the Kidds
from Wisconsin and the Izards from Iowa."
"Those are guests? They sound like innards to me."
Gertrude was struggling to get out of her chair. "You
got two lonesome old cookies in that jar," she declared.
"I suppose that hog of a Serena was here and gobbled
them up."
Judith reached out to give her mother a hand. "It
wasn't Serena," she said, referring to her cousin who
was more familiarly known as Renie. "It was little
Mac. Remember, he was here with Mike and Kristin
and Baby Joe the day before yesterday."
Gertrude paused in her laborious passage from the
kitchen table to the rear hallway. "Baby Joe!" she exclaimed, waving a hand in derision. "Why did Mike
and his wife have to name the new kid after
Lunkhead?"
"Lunkhead" was what Gertrude called Judith's second husband, Joe Flynn. "Lunkhead" was also what
she called her daughter's first husband, Dan McMonigle.
Mac was the nickname of the older grandson, whose
6
Mary Daheim
given name was Dan, after the man who had actually
raised Mike. Though Judith had first been engaged to
Joe, she had married Dan. It was only in the last year
that her son had come to realize that Joe, not Dan, was
his biological father. Thus, Mike had honored both
men by giving their names to his own sons.
"Mike thinks the world of Joe," Judith replied, escorting her mother to the back door. She didn't elaborate. Gertrude had never admitted that her daughter
had gotten pregnant out of wedlock. To Judith's
mother, sex before marriage was as unthinkable as
chocolate without sugar.
They had reached the porch steps when Joe Flynn
pulled into the driveway in his cherished antique MG,
top down, red paint gleaming in the late afternoon sun.
"Ladies," he called, getting out of the car with his cotton jacket slung over one shoulder. "You're a vision."
"You mean a sight for sore eyes," Gertrude shot
back.
"Do I?" Gold flecks danced in Joe's green eyes as
he kissed his wife's cheek, then attempted to brush his
mother-in-law's forehead with his lips.
Gertrude jerked away, almost throwing Judith off
balance. "Baloney!" the old girl cried. "You just want
to get my goat. As usual." She plunked her walker on
the ground and shook off Judith's hand. "I'm heading
for my earthly coffin. Send my supper on time, which
is five, not six or six-thirty." Gertrude clumped off
toward the converted toolshed, her place of selfimposed exile since she had long ago declared she
wouldn't live under the same roof as Joe Flynn.
"Ah," Joe said, a hand under Judith's elbow, "your
mother seems in fine spirits today."
SILVER SCREAM
7
"I can't tell the difference," Judith muttered. "She's
always mean to you."
"It keeps her going," Joe said, hanging his jacket on
a peg in the hall. "Beer would do the same for me.
Have we got any of that Harp left or did Mike drink it
all?"
"He didn't drink as much as Kristin did," Judith
replied, going to the fridge. "But I think there are a
couple of bottles left. Kristin, being of Amazonian proportions, has a much greater capacity than other mortals." She glanced up at the old schoolroom clock,
which showed ten minutes to five. "You're early. How
come?"
"I found Sir Francis Bacon," Joe responded, sitting
down in the chair that Gertrude had vacated. "How the
hell can you lose an English sheepdog? They're huge."
"Where was he?" Judith asked, handing Joe a bottle
of Harp's.
"In their basement," Joe said, after taking a long
swallow of beer. "He was trying to keep cool, and in
the process, managed to get into the freezer. He found
some USDA prime cuts and ate about a half dozen,
which gave him a tummy ache. Then he went behind
the furnace and passed out. He was there for two days."
"Sir Francis is okay?" Judith inquired, after pouring
herself a glass of lemonade.
"He will be," Joe said. "They trotted him off to the
vet. I hate these damned lost pet cases, but the family's
loaded, it took only a couple of hours to find the dog,
and they paid me a grand." He patted the pocket of his
cotton shirt. "Nice work, huh?"
"Very nice," Judith said with a big smile. "All your
private detective cases should be so easy. And prof- 8
Mary Daheim
itable. Maybe we can use some of that money to have
Skjoval Tolvang make some more repairs around
here."
"How old is that guy anyway?" Joe asked with a bemused expression on his round, florid face.
"Eighties, I'd guess," Judith replied, "but strong as
an ox. You know how hearty those Scandinavians are."
"Like our daughter-in-law," Joe acknowledged,
opening the evening paper, which Judith had retrieved
earlier from the front porch.
"Yes," Judith said in a contemplative voice. Kristin
was not only big and beautiful, but so infuriatingly
competent that her mother-in-law was occasionally intimidated. "Yes," she repeated. "Formidable, too. What
is she not?"
The front doorbell rang, making Judith jump. "The
guests! They're part of a tour, here for two nights. I
didn't think they'd arrive until five-thirty." She dashed
out through the swinging doors between the kitchen
and the dining room to greet the newcomers.
The tour group, consisting of a dozen retirees from
eastern Canada, were on the last leg of a trip that had
started in Toronto. Some of them looked as if they
were on their last legs, too. Judith escorted them to
their rooms, made sure everything was in order, and informed them that the social hour began at six. To a
man—and woman—they begged off, insisting that
they simply wanted to rest before going out to dinner.
The bus trip from Portland had taken six hours, a result
of summer highway construction. They were exhausted. They didn't need to socialize, having been
cheek by jowl with each other for the past three weeks.
Indeed, judging from some of the glares that were ex- SILVER SCREAM
9
changed, they were sick of each other. Could they
please be allowed to nap?
Judith assured them they could. Cancellation of the
social hour meant that she, too, could take it easy. Following hip replacement surgery in January, Judith still
tired easily. But before taking a respite, she had to call
the Kidds and the Izards to inform them that their
reservations were being changed because of unforeseen circumstances.
Joe had just opened his second Harp when Judith returned to the kitchen. She observed the top of his head
behind the sports section and smiled to herself. There
was more gray in his red hair, and in truth, there was
less of either color. But to Judith, Joe Flynn was still
the most attractive man on earth. She had waited a
quarter of a century to become his wife, but the years
in between seemed to have faded into an Irish mist. On
the way to the computer, she paused to kiss the top of
his head.
"What's this rash outbreak of affection?" Joe asked
without glancing up.
"Just remembering that I love you," Judith said lightly.
"Do you need reminding?"
"No."
She noted the Kidds' number in Appleton, Wisconsin, and dialed. They were repeat customers, having
come to Hillside Manor six years earlier. Judith hated
to cancel them.
Alice Kidd answered the phone on the second ring.
Judith relayed the doleful news and apologized most
humbly. "You'll be put up at a lovely B&B which will
be convenient to everything. Ms. Heffelman will contact you in a day or two with the specifics."
10
Mary Daheim
"Well, darn it all anyway," Mrs. Kidd said with a
Midwestern twang. "We so enjoyed your place. How is
your mother? Edgar and I thought she was a real doll."
A voodoo doll perhaps, Judith thought. "Mother's
fine," she said aloud. "Of course her memory is sometimes iffy."
"Yes," Mrs. Kidd said in a quiet voice. "Edgar's
mother is like that, too. So sad. My own dear mother
passed away last winter."
"I'm sorry to hear that," Judith said.
Alice Kidd acknowledged the expression of sympathy, then paused. "You're certain we'll be staying in as
nice a B&B as yours?"
"Definitely," Judith declared. Ingrid wouldn't let her
down. She'd better not. An inferior establishment
wouldn't be a credit to Judith or to the association Ingrid guarded like a military sentry. "Maybe even
nicer."
"I doubt that," Mrs. Kidd said as if she meant it.
"You're very kind," Judith responded. "We'll be in
touch."
Next she dialed the number of Walt and Meg Izard
in Riceville, Iowa. A frazzled-sounding woman answered the phone.
"Mrs. Izard?" Judith inquired.
"Yeah, right. Who is this? We're watching TV."
"I'm sorry," Judith said, then identified herself as
the owner of Hillside Manor.
"What's that?" Mrs. Izard snapped. "A rest home?
Forget it."
"Wait!" Judith cried, certain that Meg Izard was
about to slam down the receiver. "I own the bed-andbreakfast you're staying at in October. The nights of
SILVER SCREAM
11
the twenty-ninth, thirtieth, and thirty-first. I'm afraid
there's been a change."
"A change?" Meg Izard sounded perplexed. "In
what? The dates? We can't change. We're celebrating
our twenty-fifth anniversary."
"The change affects your lodgings," Judith explained. "I'm afraid I won't be able to accommodate
you that weekend."
"Why not?" Meg's voice had again turned harsh.
"You got the Queen of England staying there?"
"Not exactly," Judith replied. "I've had to rearrange
my schedule. Unfortunately, there's a movie crew
coming for a big premiere."
"Movies!" Meg exclaimed. "Who'd pay five dollars
to see a movie when they can watch it on TV a year
later? Who cares? We like our sitcoms better anyway.
They make Walt laugh, which isn't easy to do these
days."
Riceville, Iowa, must indeed be rural if they only
charged five bucks for a first-run film, Judith thought.
"It's a big event," she said, with a need to defend herself. "Bruno Zepf is opening his new epic, The Gas-
man, here in town."
There was a long pause at the other end. Finally,
Mrs. Izard spoke again: "Never heard of him."
"I don't know much about Mr. Zepf, either," Judith
admitted in an effort to appease the disgruntled Mrs.
Izard. "You'll be hearing from Ingrid Heffelman soon
to make sure you're put up in a very nice inn."
"Hunh." Meg paused. "Okay, we'll stay tuned. But
this Heffelbump woman better call soon. October's not
that far away."
It was two months away, Judith thought, but didn't
12
Mary Daheim
argue. She was beginning to feel grateful that the Izards
wouldn't be staying at Hillside Manor. Trying to remain
gracious, she rang off. The Kidds and the Izards had
been disposed of; she needn't worry about Bruno Zepf
and his movie people for two months. The waning summer and the early fall should be relatively uneventful.
It was typical of Judith that, as Cousin Renie would
say, she would bury her head in the sand. On that warm
August evening, she dug deep and tried to blot out
some of life's less pleasant incidents.
One of them was Skjoval Tolvang. The tall, sinewy
old handyman with his stubborn nature and unshakable
convictions had already made some improvements to
Hillside Manor. He had repaired the sagging front
steps, replaced the ones in back, rebuilt both chimneys,
which had been damaged in an earthquake, inspected
the electrical wiring, and put in what he called a
"super-duper door spring" to keep the kitchen cupboard from swinging open by itself. What was left involved rehanging the door to the first-floor powder
room and checking the toolshed's plumbing.
Judith came a cropper with the bathroom repair. On
the first day of September, Mr. Tolvang showed up
very early. It was not yet six o'clock when he banged
on the back door. Joe was in the shower and Judith had
just finished getting dressed. The noise was loud
enough to be heard in the third-floor family quarters,
and thus even louder for the sleeping guests on the second floor.
"Damn!" Judith breathed, hurrying down the first
flight of stairs. "Double damn!" she breathed, taking
the back stairs to the main floor as fast as she could
without risking a fall.
SILVER SCREAM
13
"By early," she said, yanking open the back door, "I
thought you meant seven or eight."
"Early is early," the handyman replied. "Isn't this
early, pygolly?"
"It's too early for me to have made coffee," Judith
asserted. "You'll have to wait a few minutes."
But Skjoval Tolvang reached into his big toolbox
and removed a tall blue thermos. "I got my medicine to
get me going. I vas up at four."
Coffee fueled the handyman the way gasoline propels cars. He never ate on the job, putting in long, arduous days with only his seemingly bottomless
thermos to keep him going.
"I'm a little worried," Judith said, pouring coffee
into both the big urn she used for guests and the family coffeemaker. "Having a bathroom just off the entry
hall may no longer be up to city code."
"Code!" Skjoval coughed up the word as if he'd
swallowed a bug. "To hell vith the city! Vat do they
know, that bunch of crackpot desk yockeys? They be
lucky to find the bathroom, let alone know vhere to put
it!"
"It was only a thought," Judith said meekly.
"You vorry too much," Skjoval declared, putting the
thermos back into his toolbox. "I don't need no hassles. I quit."
It wasn't the first time, nor would it be the last, that
the handyman had quit over some quibble. Skjoval
never lacked for work. He was good and he was cheap.
But he was also temperamental.
Judith knew the drill, though it wasn't easy to repeat
at six-ten in the morning. She pleaded, groveled, cajoled, and used all of her considerable charm to get
14
Mary Daheim
Skjoval to change his mind. Ultimately, he did, but it
took another ten minutes.
Luckily, the rest of the week and the Labor Day
weekend went smoothly. It was only the following Friday, when Skjoval was finishing in the toolshed, that
another fracas took place.
"That mother of yours," Skjoval complained, wiping sweat from his brow as he stood on the back porch.
"She is Lucifer's daughter. I hang the bathroom door
yust fine, but vhy vill she not let me fix the toilet?"
"I don't know," Judith replied. Indeed, she had been
afraid that Gertrude and Mr. Tolvang would get into it
before the job was done. Given their natures, it seemed
inevitable. "Did she give you a reason?"
"Hell, no," the handyman shot back, "except that
she be sitting on the damned thing."
"Oh." Judith frowned in the direction of the toolshed. "I'll talk to her."
"Don't bother," Skjoval snapped. "I quit."
"Please, Mr. Tolvang," Judith begged, "let me
ask—"
But the handyman made a sharp dismissive gesture.
"Never you mind. I don't vant to see that old bat no
more. She give me a bad time all veek. Let her sit on
the damned toilet until her backside falls off." Skjoval
yanked the painter's cap from his head and waved it in
a threatening manner. "I go now, you call me if she
ever acts like a human being and not a vitch." He
stomped off down the drive to his pickup truck, which
was piled with ladders, scaffolding, and all manner of
tools.
Judith gritted her teeth and headed out under the
golden September sun. Surely her mother would coop- SILVER SCREAM
15
erate. The toilet needed plunging; Gertrude threw all
sorts of things into it, including Sweetums. It was either Skjoval Tolvang for the job or a hundred bucks to
Roto-Rooter.
Gertrude wasn't on the toilet when Judith reached
the toolshed. Instead, she was sitting in her old mohair
armchair, playing solitaire on the cluttered card table.
"Hi, Toots," Gertrude said in a cheerful voice.
"What's up, besides that old fart's dander?"
"Why wouldn't you let Mr. Tolvang plunge the toilet?" Judith demanded.
"Because I was using it, that's why." Gertrude
scooped up the cards and put them in her automatic
shuffler. "When's lunch?"
"You ate lunch two hours ago," Judith responded,
then had an inspiration. "Why don't you come inside
with me? I'm going to make chocolate-chip cookies."
Gertrude brightened. "You are?"
"Yes. Let me give you a hand."
Judith was helping her mother to the door when
Skjoval Tolvang burst into the toolshed.
"You got spies," he declared, banging the door behind him. "Building inspectors, ya sure, you betcha."
Judith's dark eyes widened. "Really? Where?"
"In the bushes," Skjoval replied. "Spying."
"Here," Judith said, gesturing at Gertrude, "help my
mother into the house. I'll go check on whoever's out
there."
But Gertrude balked. "I'm not letting this crazy old
coot touch me! He'll shove me facedown into the barbecue and light it off."
"Then stay here," Judith said crossly, and guided her
mother back to the armchair.
16
Mary Daheim
"Hey!" Gertrude shouted. "What about those
cookies?"
But Judith was already out the door. "Where is this
inspector or whoever?" she asked of Mr. Tolvang.
"By them bushes," the handyman answered, nodding at the azaleas, rhododendrons, and roses that
flanked the west side of the house. "Making trouble,
mark my vords."
"I wonder," Judith murmured, heading down the
driveway.
There was, however, no one in sight. She moved on
to the front of the house. An unfamiliar white car was
parked in the cul-de-sac. There were no markings on it.
Judith moved on to the other side of the house.
A tall man in a dark suit and hat stood between the
house and the hedge that divided Judith and Joe
Flynn's property from their neighbors, Carl and Arlene
Rankers. The man had his back to Judith and appeared
to be looking up under the eaves.
"Sir!" Judith spoke sharply. "May I help you?"
The man whirled around. "What?" He had a beard
and wore rimless spectacles. There was such an oldfashioned air about him that Judith was reminded of a
character out of a late-nineteenth-century novel.
"Are you looking for someone?" Judith inquired,
moving closer to the man.
He hesitated, one hand brushing nervously against
his trouser leg. "Well, yes," he finally replied. "I am. A
Mr. Terwilliger. I was told he lived in this cul-de-sac."
Judith shook her head. "There's no one by that name
around here. Unless," she added, "he intends to stay at
my B&B." She made an expansive gesture toward the
SILVER SCREAM
17
old three-story Edwardian house. "I run this place. It's
called Hillside Manor. There's a sign out front."
The man, who had been slowly but deliberately
backpedaling from Judith, ducked his head. "I must
have missed it. Sorry." He turned and all but ran around
the rear of the house.
Judith's hip replacement didn't permit her to move
much faster than a brisk walk. Puzzled, she watched
the man disappear, then returned to the front yard. He
was coming down the driveway on the other side of the
house, still at a gallop. A moment later he got into the
car parked at the curb and pulled away with a burst of
the engine.
"Local plates," she murmured. But from where Judith stood some ten yards away, she hadn't been able
to read the license numbers. With a shrug, she headed
back to the toolshed. She'd mention the stranger's appearance to Joe when he got home. If she remembered.
Five hours later, when Joe arrived cursing the dead
end he'd come up against in a missing antique clock
case, Judith had forgotten all about the man who'd
shown up at Hillside Manor.
It would be two months before she'd remember, and
by that time it was almost too late.
TWO
JUDITH RECOILED FROM the obscenity screamed into
her ear by Cousin Renie. The four-letter word was
rapidly repeated before Renie cried, "You're not
911!" and hung up.
Shaken, Judith stared at her cleaning woman,
Phyliss Rackley. "Oh, dear. What now?" she
breathed to Phyliss.
"What 'what now'?" Phyliss inquired, scarcely
missing a beat as she scoured the kitchen sink.
"My cousin—Serena," Judith said, her high forehead wrinkled in worry. "I think she was trying to
call 911. I don't want to call her back in case she's
on the line with them. Maybe I should go over to her
house to see what's happened."
"You got those Hollywood sinners due in two
hours," Phyliss pointed out. "Besides, that cousin of
yours is probably in Satan's clutches. I always said
she'd end up in the hot spot."
Judith's gaze darted to the old schoolhouse clock.
It was two on the dot. Friday, October 29. The day
when Bruno Zepf and his Hollywood entourage
would arrive for the premiere of The Gasman on the
following night.
SILVER SCREAM
19
But family came before filmdom. "I've still got
some spare time. I'm going to Renie and Bill's. I don't
dare call in case she's tied up on the phone with 911."
"Keep away from Lucifer!" Phyliss warned as Judith rushed out the back door. "He'll come after you
when you least expect him!"
Judith was used to her cleaning woman's fundamentalism. But like Skjoval Tolvang's obstinacy,
Phyliss Rackley's religious mania could be tolerated
for the sake of a reliable, thorough work ethic.
Traffic on Heraldsgate Avenue was relatively light
for a Friday afternoon. It was just a little over a mile
from Hillside Manor to the Joneses' residence on the
north side of Heraldsgate Hill. Six minutes after she
had left Phyliss in the kitchen, Judith was at the door
of her cousin's Dutch Colonial. So far, there were no
signs of emergency vehicles outside. Judith didn't
know if that was a good or a bad portent.
When Renie and Bill had moved into their home
thirty years earlier, the doorbell had been broken. Bill
was a psychologist and a retired college professor, a
brilliant man in his field, but not adept at household repairs. The bell was still broken. Judith pounded on the
solid mahogany door.
No one responded. Anxiety mounting, Judith started
to go around to the back but was halted at the corner of
the house by a shout from Renie.
"Hey! Come in. I've got this junk all over my
hands."
Judith returned to the porch. Renie stood in the
doorway, her hands and lower arms spattered with
what looked like the insides of a pumpkin. Bill came
down the hall from the kitchen. His head was covered
20
Mary Daheim
with the same orange clumps and he'd left a trail of
yellow seeds in his wake.
"What on earth . . . ?" Judith began, her jaw dropping. "I thought you had a catastrophe!"
"We did," Renie replied, moving back to the
kitchen, where she ran her hands and arms under the
tap. "Bill got a pumpkin stuck on his head."
Judith looked at Bill. Bill shrugged, then took a
towel from the kitchen counter and began to wipe himself off. Judith then looked at what was left of the
pumpkin. It lay on the floor in several pieces. Only the
top with its jaunty green stem remained intact.
Putting a hand to her breast in relief, Judith leaned
against the refrigerator. "Good grief. You scared the
hell out of me."
"Sorry," Renie said, rinsing her hands. "I hit your
number on the speed dial instead of 911."
"Then," Bill put in, his voice muffled by the towel,
"she punched the button for her hairdresser. By that
time I'd gotten the pumpkin off my head."
"I don't suppose," Judith said slowly, "I ought to
ask why you were wearing a pumpkin on your head,
Bill?"
Removing the towel, he shrugged again. "It was for
your Halloween party tomorrow. I planned to go as
Ichabod Crane."
Judith shook her head in wonder, then frowned. "It's
not my party, it's Bruno Zepf's. I'm merely catering
the damned thing."
"I'm helping," Renie said, looking a trifle hurt.
"That's why we're coming, isn't it? We thought it
would be more fun if we wore costumes like everybody else."
SILVER SCREAM
21
"What," Judith asked Renie, "were you going as?
Ichabod's horse?"
"A tree," Renie said with a lift of her short chin.
"You know—the scary kind with a twisted trunk and
clawlike branches."
"Don't," Judith advised. "You'll hurt yourself."
She glanced at Bill. "One of you already has. I'm
going home now. In fact, I might as well stop at Falstaff's Grocery on the way to stock up for the party.
Bruno Zepf gave me a list. Some of the items had to
come from specialty stores. I hope he can pay all
these bills."
"He can," Bill said, his clean-cut Midwestern features finally free of pumpkin debris. "The man's
movies make millions. The Gasman may hit a billion."
"Good for him," Judith said on a bitter note. "I just
wish he wasn't staying at Hillside Manor."
"It's only two nights," Renie soothed. "Look at it as
an adventure. A big-time Hollywood producer. Glamorous stars. A famous director. It'll be like having
Oscar night in your living room."
"That's what I'm afraid of," Judith said, making her
way to the door. "Glad you're not dead. See you tomorrow night."
"I'm coming to help at five," Renie announced. "I'll
change into my tree suit later."
"Goody," Judith said in a lifeless voice. "Maybe I'll
turn into a pumpkin."
"Hey!" Bill called after her. "I'm wearing the pumpkin!"
Judith glanced back at the orange glop that littered
the kitchen. "You mean, you were."
*
*
*
22
Mary Daheim
An hour later Judith arrived at Hillside Manor with
fourteen grocery bags and an entry on the debit side of
her checking account for almost four hundred dollars.
"What are you feeding?" Phyliss asked as she put on
her shapeless black raincoat. "An army?"
Judith gazed at the paper-in-plastic bags and shook
her head. "The problem is, I don't know how many
will come here after the premiere and the costume ball
at the Cascadia Hotel. Most of the movie people are
staying at the hotel. But Mr. Zepf had one of his staff
members send me a list of what he'd like served at the
midnight supper party. I don't want to run short. He's
also been shipping some things that I wouldn't be able
to find here in town."
Phyliss gave a toss of her gray sausage curls. "More
money than sense," she declared. "What's wrong with
meat and potatoes? As for all this shipping, at least two
more express trucks showed up today. There may have
been another one, but I was upstairs and my lumbago was
giving me fits, so I didn't bother myself to come down."
Judith eyed Phyliss. "Are you sure?"
"No, I'm not sure," Phyliss answered crossly. "I've
no time for all this fancy-pants stuff. It's gluttony, if
you ask me. That's one of the Seven Deadly Sins. I
wonder how many of the others they'll commit while
they're here."
Judith winced, and based on past history, hoped
murder wasn't one of them.
The doorbell rang at precisely five o'clock. By that
time Judith had finished organizing and storing the
groceries. Feeling nervous, she hurried to greet her
first guests.
SILVER SCREAM
23
The middle-aged couple who stood on the front
porch didn't look much like Hollywood to Judith. In
fact, they seemed more like Grant Wood, or at least his
famous painting of American Gothic. The thin sourlooking woman with her fair hair pulled back in a bun
and the balding gaunt-faced man needed only a pitchfork to complete the image.
"May I help you?" Judith inquired.
"You sure didn't help us before," the woman asserted, "so I don't expect you can help us now."
The voice sounded familiar, but Judith couldn't
place it. "I'm sorry, I don't understand. This is a B&B.
Have you been a guest here on a previous occasion?"
"Hell, no," the man responded in a deep bass. "We
tried, though."
"We need to find the place where they put us instead," the woman said. "Some fool sent the directions
to your B&B instead of the one we got changed to."
"Oh!" Judith exclaimed in relief, noticing what appeared to be a rental compact car out in the cul-de-sac.
"You must be the Izards. Of course, come in, let me
figure out how you can get where you're going."
City maps and guidebooks were kept at the registration desk in the entry hall. Walt Izard showed Judith
the address of the substitute inn, which was located
about four miles away, near the zoo. She gave him directions while Meg Izard wandered around the big living room.
"I'd like to check out your place," she declared, returning to the entry hall. "I want to make sure we're
not getting cheated in case this other B&B isn't up to
snuff. We'd stay with my brother, Will, but his place is
too small."
24
Mary Daheim
"Well . . ." Judith hesitated. "All right, but don't take
too long. My guests are due at any moment."
Meg gave a snort. "Movie folks, right? Think
they're big stuff. Bunch of phonies, if you ask me."
Judith hadn't asked, so she didn't comment. "The
guest rooms are on the second floor. They're unlocked
at present, but please just take a quick look. I have to
stay downstairs."
"Will do," Walt replied in the deep voice that
seemed too large for his skinny frame.
Judith stayed by the front door, but the phone rang
just as the Izards disappeared around the corner of the
second landing.
It was Alice Kidd, the wife of the other displaced
couple. "We're at Cozy Fan Tutte," she said, "and I
wanted to let you know it's not nearly as nice as Hillside Manor."
Judith knew the establishment, which was located
north of the university. It was a veritable stately mansion, Georgian in design, and featured amenities not
possessed by Hillside Manor, including a sauna and a
whirlpool.
"That's very kind of you," Judith said, hearing the
Izards' footsteps overhead. "I'd love to have you come
to Hillside Manor again. I can't say how sorry I am
about the inconvenience."
"I suppose," Alice Kidd said in a slightly wistful
voice, "the filmmakers have been given a warm welcome."
"They're not here yet," Judith replied, jumping
slightly as the back door banged open. "Excuse me,
Mrs. Kidd, but someone has just arrived. Remember us
the next time you visit the area, and enjoy your stay."
SILVER SCREAM
25
Clicking off, Judith saw Renie charge out of the dining room. "I'm here. Where's Hollywood?"
"They're late," Judith noted, glancing at her watch,
which told her it was almost five-fifteen. "They probably got stuck in Friday rush-hour traffic coming from
the airport."
"Probably," Renie remarked, opening the oven. "No
appetizers?"
"No guests," Judith said. "I'll wait until they arrive.
Hey, what are you doing here? I don't need help until
tomorrow night."
"Yes, you do," Renie insisted, pointing a finger at
her cousin. "You're already twitching. You're agitated,
uneasy, even a little scared. Hollywood descends upon
Hillside Manor. You have to be nervous."
"I guess," Judith admitted, "I am."
"So," Renie said, extending her arms in a gesture of
goodwill, "I'm at your disposal."
"But what about dinner for Bill and the kids?" Judith inquired.
"Incredibly," Renie said, removing a can of Pepsi
from the fridge, "Bill informed me that the kiddies are
making dinner tonight. Very brave of them."
"It would be," Judith said dryly, "if they were still
kiddies. But since they're all in the thirtysomething
range and still living at home . . ."
Renie waved a hand. "Don't remind me. They're
merely a bit slow to develop a sense of independence."
"Leeches," Judith said under her breath as footsteps
emanated from the front hall.
Renie looked startled. "Who's that? Is Joe home already?"
"No," Judith replied, heading out of the kitchen. "It's
26
Mary Daheim
my ex-guests, the ones I had to cancel to make room for
the movie people. Hang on while I say good-bye."
Renie, however, wandered out behind Judith, but
stopped in the archway between the dining room and
the entry hall. The Izards were at the door, city map in
hand.
"This place isn't too bad," Meg Izard allowed.
"Maybe next time we come through here, you'll actually let us stay."
"I hope so," Judith said, not quite truthfully.
Walt Izard opened the door. "Lousy weather,
though." He gestured outside. "It's started to rain. Does
it really rain here all the time?"
"Often," Judith answered, this time with honesty.
"Especially this time of year. Windy, too," she added.
"Halloween weather, all right," Meg said with a grimace. "That's too bad. I hoped we'd have some sun to
celebrate our silver anniversary."
"Drive safely," Judith cautioned, moving closer to
the Izards in an effort to get them out of the house and
into their compact rental. "These streets can be slippery when—"
She stopped, staring into the cul-de-sac as a pair of
limos glided to the curb.
"Well, well," Meg Izard muttered, "here come the
rich and famous. Let's get out of their way, Walt. We
wouldn't want to give them any just-plain-folks
germs."
Judith was too flustered to protest. As the limo doors
were opened by their drivers, a third car pulled up and
stopped in front of the Steins' house at the corner.
"Hey," called one of the other drivers as a diverse
group of people began to emerge from the chauffeur- SILVER SCREAM
27
driven cars, "will somebody move this crate?" The
young man gestured at what Judith assumed was the
Izards' rental.
Both Meg and Walt froze momentarily on the
threshold. "Big-shot bastards," Walt muttered. "To hell
with 'em."
But Meg had already started for the car. With an annoyed shrug, Walt followed his wife. The couple drove
away as Arlene Rankers appeared from the other side
of the hedge and the first of the celebrities made their
way toward Hillside Manor.
Although at least a half-dozen people were approaching the front porch in styles ranging from a
brisk trot to a languid lope, Judith's gaze was fixated
on just one man, who held a cell phone to his ear: He
was almost bald, with a short grizzled beard and a fireplug build. What little hair he had left had grown out
and was tied with a black ribbon into a thin, foot-long
ponytail. His cheeks were pitted with old acne scars,
and while his movements were controlled, energy exuded from him like sparks from a faulty toaster. Judith
realized that she recognized him from casually
glimpsed photographs. He was Bruno Zepf,
megaproducer and Hollywood legend-in-the-making.
"Mr. Zepf," Judith said, putting out her hand.
"Mr. Zepf," echoed Renie and Arlene, who had
joined Judith on the porch. Renie looked as if she were
trying very hard not to be impressed; Arlene appeared
close to bursting with unbridled gush.
Zepf clicked off the cell phone and zeroed in on Judith, his shrewd blue eyes narrowing a bit. "You're
Mrs. . . . Flynn?"
"I am." To her horror, Judith dropped a slight curtsy.
28
Mary Daheim
"Welcome to Hillside Manor," Arlene burbled, grabbing the hand that Judith had just released. "This is a
wonderful B&B. This is a wonderful neighborhood.
This is a wonderful city." She lowered her voice only a
jot. "That's why we're thinking of moving."
Judith and Renie were used to Arlene's contradictions. Judith flinched, but Bruno apparently hadn't
heard Arlene. He had already moved on to shake
Renie's hand without ever looking right at her, and was
now in the entry hall, surveying his new surroundings.
Such was his air of possession that Judith felt as if
she'd not only rented Bruno a room but sold him the
entire house.
Judith had to force herself to take her eyes off the
great man and greet the other guests. She immediately
recognized Dirk Farrar and Angela La Belle, whose famous faces had appeared in a series of hit movies. Judith had actually seen two of their films, on video. Just
as the pair reached the porch, Judith noticed that
Naomi Stein had come out of her house on the corner
and Ted Ericson was pulling into his driveway across
the street.
As Ted got out of his car, Dirk Farrar also saw the
newcomers. "Beat it, scumbags!" he yelled. "No paparazzi!" Pushing past Angela La Belle and the threewoman welcoming team, he disappeared into the
living room.
With a faint sneer on her face, Angela La Belle ignored the gawking neighbors along with her fellow
actor and proceeded up the front steps.
"Ms. La Belle," Judith said, gathering her aplomb,
"I so enjoyed your performance in"—her mind went
blank—"your last movie."
SILVER SCREAM
29
Angela's face, which seemed so angelic on the screen,
wore a chilly smile. "Thanks. Where's the john?"
"Straight ahead," Renie said, pointing to the new
door that Skjoval Tolvang had recently installed.
Judith was left to confront a somewhat less familiar
face. She racked her brain to recall who else was on
Bruno's guest list.
"Hi, Mr. Carmody," Renie said, coming to the rescue. "My husband and I were sorry you didn't win
Best Supporting Actor this year. You were a really
great villain in To Die in Davenport."
"Thanks," Ben Carmody replied with what appeared
to be a genuine smile. "Face it, I was up against some
pretty tough competition."
Judith was startled by Carmody's benign appearance. She was so used to seeing him as the embodiment of evil that she scarcely recognized him. He was
tall and lean, much better looking in person than on the
screen. Judith shook Ben Carmody's hand and also received a warm smile.
Like Dirk Farrar, the next arrival ignored Judith and
the others. Unlike Dirk, the pencil-thin black woman
in the gray Armani suit glided over the threshold as if
she had wheels on her Manolo Blahnik pumps. Once
inside, she joined Bruno Zepf, who had migrated into
the front parlor. The woman closed the parlor door behind her, leaving the cousins and Arlene staring at each
other.
Last but not least was a small, exotic creature who
apparently was communing with the squirrels in the
maple tree near the front of the house.
"Who is that?" Arlene inquired, her pretty face perplexed. "She reminds me of someone."
30
Mary Daheim
"Ellie Linn-MacDermott," Renie said. "Except I
think she's dropped the MacDermott."
"Y-e-s," Arlene said slowly, "that's who she reminds
me of. Ellie Linn-MacDermott. I've seen Ellie in two
or three movies. Funny, this girl's a dead ringer for
her."
"She is Ellie Linn," Renie responded, making way
for the chauffeurs, who were carrying in the luggage.
"She has a role in The Gasman."
"Oh!" Arlene's hand flew to her mouth and her blue
eyes widened in surprise. "Of course! The actress! Or
is it hot dogs?"
"Both," said Renie, then jumped out of the way as
the wheels of a large suitcase almost ran over her foot.
"Her father, Heathcliffe MacDermott, is the Wienie
Wizard of the Western World."
Arlene again looked puzzled. "But this girl . . ." She
waved an arm toward the young woman who was trying to coax one of the squirrels down from the maple
tree. "She looks Chinese."
"Her mother's from Hong Kong," Renie said. "Or
Shanghai. Or someplace like that."
Judith excused herself to show the drivers where to
stow the luggage upstairs. When she started down
again, Angela La Belle met her on the second landing.
"Where's my room?" she asked, blinking big brown
eyes that were offset by long lashes that might or might
not have been her own. The lashes, like the eyes, were
dark, and made a striking contrast with the actress's
waist-length blond hair.
"Um . . ." Judith hesitated. "Let me get the room
chart. I'll be right back. There's a settee in the hallway
and a phone, if you need it."
SILVER SCREAM
31
Without any response, Angela passed on to the second floor. Judith hurried to fetch the room chart, which
she'd left on the entry-hall table. The only thing she remembered was that Bruno Zepf had the largest room,
Number Three, to himself, though he shared the bathroom with Room Four. Judith couldn't believe that she
was so rattled by a bunch of Hollywood hotshots. After
ten years in the hostelry business, she thought she'd
met just about every type of person from every level of
society. Maybe she was more impressionable than she
realized.
Swiftly, Judith tabulated the guests who had arrived
so far. Unless she was mistaken, at least one of the
members of Bruno's party hadn't shown up yet.
"Psst!" Renie hissed from the hallway. "We're on
the job."
Judith turned sharply. "You are? Doing what?"
"Plying your guests with adult beverages," Renie
replied. "Or, in some cases, the freshest of springwaters and a vegetable drink that looks like a science
experiment."
"Thanks, coz," Judith said with a grateful smile.
"Thank Arlene for me, too. I'll be right with you."
Checking the chart, Judith noted that Winifred Best,
Bruno's special assistant, was slotted for Room One.
Since there were only three women in the party and Judith had recognized the two actresses, Winifred must
be the Armani-clad black woman who had sailed into
the house and closeted herself with Bruno.
Dirk Farrar and Ben Carmody were sharing Room
Four. Judith wondered how—and why—they'd put up
with such an arrangement. The same could be said for
Angela La Belle and Ellie Linn, who would be staying
32
Mary Daheim
in Room Six. Of course it was only for two nights. Perhaps the proximity to Bruno was worth the sacrifice.
Still, Judith wasn't accustomed to such self-effacement
among the Well-Heeled.
Room Five had been assigned to The Gasman's director, Chips Madigan; the film's screenwriter, Dade
Costello, was set for Room Two, the smallest of the
lodgings. Chart in hand, Judith went back upstairs to
find Angela La Belle.
"Room Six," Judith said with a cheerful smile.
Angela was sprawled on the settee in the hallway,
leafing through one of the magazines Judith kept
handy for guests. "Okay." The actress didn't look up.
"Your key," Judith said, reaching into the pocket of
her best black flannel slacks. "I'll give the other one to
Ms. Linn."
"Fine." Angela still didn't look up.
"Your baggage is right there," Judith said, pointing
to the piled-up suitcases and fold-overs the drivers had
placed in front of Grandma and Grandpa Grover's old
oak book shelving. "Only Mr. Zepf's has been put
away because I wasn't exactly sure who was staying
where. Some of his belongings arrived earlier today
via UPS."
Angela yawned. "Right."
Judith gave up and headed past Rooms Four, Five,
and Six to the back stairs. She wanted to pop the appetizers into the oven before she joined her other guests.
Halfway down, she realized she hadn't given Angela
the front door key along with the one to her room.
Though her hips were growing weary, Judith hurried
back to the second floor.
The settee was empty, the magazine that Angela had
SILVER SCREAM
33
been perusing lay on the floor. Judith frowned. Could
Angela have already collected her luggage and gone
into Room Six so quickly?
The stacks of baggage sat untouched. But the door
to Room Three, Bruno's room, was ajar.
"Hunh," Judith said to herself. When she picked up
the copy of In the Mode magazine, she noticed that it
was open to a spread on a recent Hollywood gala. The
large color photo on the left-hand page showed Dirk
Farrar and Angela La Belle with their arms around
each other. The caption read, Super Hunk and the Ul-
timate Babe get cozy at the annual Stars for Scoliosis
Ball. Are Dirk and Angela hearing La Wedding Belles?
Judith wondered if Angela and Dirk had no intention of staying in different rooms.
THREE
RENIE AND ARLENE seemed to have everything under
control. Arlene already claimed to have formed a
fast friendship with Ellie Linn, and insisted that Ben
Carmody would be the perfect husband for her unmarried daughter, Cathy.
"They're not snooty," Arlene declared, putting
another batch of puff pastries into the oven. "You
just have to go about it the right way when it comes
to asking questions. For example, when I spoke to
Dirk Farrar about the paternity suit that was in the
news a year ago, I mentioned how wonderful it was
to be a parent. Then I asked how he liked being
called Daddy. So simple."
"What did he say?" Judith inquired.
"Oh, it was very cute," Arlene replied breezily.
"He sort of hung his head and mumbled something
about 'mother' and 'Tucker.' I think he said
'Tucker.' That must be the little fellow's name."
The cousins exchanged bemused glances before
Judith carried a tray of French pâté and English
crackers into the living room. Dirk Farrar, with a cell
phone affixed to his ear, lazed on one of the matching sofas by the fireplace while Ellie Linn and
SILVER SCREAM
35
Winifred Best sat opposite him. Winifred was also
using a cell phone. Ben Carmody was examining the
built-in bookcases next to the bay window. A big shambling man in khaki cargo pants, plaid shirt, and suede
vest had his back turned and was staring out through
the French doors. There was no sign of Bruno Zepf.
Judith cleared her throat. "I'll be serving the hors
d'oeuvres in just a few minutes," she announced.
Only Ben Carmody looked at her. "Sounds good.
I'm kind of hungry."
Winifred Best's head twisted around. "You should
have eaten more of Bruno's buffet on the plane. You
know he always serves excellent food."
With an off-center grin, Ben shrugged. "I wasn't
hungry then."
Renie, who had been out in the kitchen with Arlene,
joined Judith. "Hey, coz," she said brightly, "have you
met Dade Costello, the screenwriter for The Gasman?
He's been telling me all about the script."
Judith nodded toward the big man by the French
doors. Renie's nod confirmed his identity.
"I'll introduce myself," Judith murmured. Passing
through the living room, she caught a few cutting remarks:
". . . worse than that no-star hotel in Oman . . ."
". . . If I'd wanted to stay in a phone booth, I'd prefer it was in Paris. . . ."
". . . bath towels like sandpaper. Whatever happened
to plush nubbiness? Atlanta was nubby, but Miami was
the nubbiest . . ."
Wincing, Judith arrived at Dade Costello's elbow
before he turned around. "I'm Judith Flynn," she said,
putting out a hand. "Your innkeeper."
36
Mary Daheim
"That right?" Dade shook Judith's hand without enthusiasm. Or maybe because he was so big, he'd
learned to be gentle with somewhat smaller creatures.
"Yes." Judith's smile felt false. "I'm interested in
the story behind The Gasman. Your story, that is."
Dade's ordinary features looked pained. He had
bushy dark hair dusted with gray, and overly long sideburns. "It's not my story," he said, with a trace of the
Old South in his voice.
"Oh." Judith's phony expression turned to genuine
confusion. "I thought you wrote the script."
"I did." Dade stuck his hands in his pockets. "But
the story isn't the script."
Judith waited for an explanation, but none was
forthcoming. "You mean . . . you adapted the story?"
Dade nodded. "My script was based on a novel."
"I see." Judith understood that this was often the
case. "Did the book have the same title?"
Again, Dade nodded, but offered no details. For a
man of words, Dade Costello didn't seem to have
many at his command in a social situation. Maybe, Judith thought, that was why writers wrote instead of
talked.
"I never heard of the book," she admitted. "Was it
published recently?"
This time, Dade shook his head. "No. It's been
around awhile."
"Oh." Now Judith seemed at a loss to make conversation. She was about to excuse herself when Dade
rapped softly on one of the panes in the French doors.
"There's a head in your backyard," he said.
Judith gave a start. "What?"
Dade's thumb gestured out past the porch that
SILVER SCREAM
37
flanked the rear of the house. "A head. It's been sitting
there for at least five minutes."
Judith tried not to shriek. "Where?"
"There." Dade pointed to a spot almost out of their
line of vision. "See it? On top of those bushes."
Judith stared. "Oh!" she exclaimed in relief. "That's
not a head, it's my mother. I mean . . ." With a rattle of
the handle, she opened the French doors. "Excuse me,
I'd better see what she's doing out there."
Despite the rain, Gertrude wore neither coat nor
head covering. She stood next to the lily-of-the-valley
bush, leaning on her walker and panting. At the foot of
the porch steps, Bruno Zepf hovered in the shelter of
the eaves with his head cocked to one side.
"So," Bruno was saying to Gertrude, "you actually
survived the Titanic' s sinking?"
"You bet," Gertrude replied, catching her breath.
"It's a good thing I could swim."
"Mother!" Judith spoke sharply as she moved to
take Gertrude's arm. "It's raining. What are you
doing out here?" She darted a glance at Bruno. "Excuse me, Mr. Zepf, but my mother shouldn't be outdoors without a coat or a rain hat. I'll take her back
inside."
But Gertrude batted Judith's hand away. "Stop that!
I'm not finished yet with this fine young Hollywood
fella."
Bruno, however, held up a hand. "That's all right,
Mrs. . . . ?"
"Grover," Gertrude put in and shook a crooked finger. "You remember that when you make the movie
about me."
Bruno forced a chuckle as Judith tried to move her
38
Mary Daheim
mother along the walk toward the toolshed. "The problem is," Bruno called after them, "someone else already made a movie about the Titanic not very long
ago."
Gertrude refused to move another inch. "What?"
"Yes," Bruno responded, backing up the porch
steps. "It was a big success, an Oscar winner."
"I'll be," Gertrude muttered, allowing Judith to
make some progress past the small patio. Then the old
lady suddenly balked and turned around to look at
Bruno Zepf. "Hey! Did I tell you about being on the
Hindenburg?"
"Keep moving," Judith muttered. "We're both getting wet."
"You always were all wet," Gertrude grumbled, but
shuffled along the walk under her daughter's guiding
hand. "Who was that guy? Cecil B. DeMille?"
"No, Mother," Judith replied as an agonized scream
erupted from behind her. She turned to see Bruno Zepf
clutching at the screen door and writhing like a madman.
"I can't get in! I can't get in!" he howled.
Abandoning Gertrude, Judith rushed to the back
porch. "What's wrong? What is it?"
Bruno swung his head to one side. "There! By your
foot! It's a spider! Help!"
Judith peered down at the tiny arachnid that was
scooting toward the edge of the porch. A moment later
the spider disappeared into the garden.
"It's gone," Judith said, over Bruno's wails. "That
is, the very small spider has left the building."
Bruno's head jerked up. "It has? Are you sure?"
Judith was about to reassure Bruno when Winifred,
SILVER SCREAM
39
with Dirk Farrar right behind her, opened the back
door. Bruno all but collapsed into Winifred's arms.
"What's going on?" she demanded.
Judith grimaced. "Mr. Zepf saw a spider on the
porch."
"Oh, no!" Winifred looked aghast. Dirk snickered.
"Does Mr. Zepf have arachnophobia?" Judith asked
as Bruno's shudders subsided.
"Not exactly," Winifred replied, patting Bruno on
the back as if he were a frightened child. "They're bad
luck." She managed to disentangle herself and took
Bruno's hand. "Come inside, it's quite safe."
Dirk lingered at the door. "Twerp," he muttered.
"Chickenhearted twerp."
"Why are spiders bad luck?" Judith asked.
Dirk shrugged his broad shoulders. "Something to
do with a spider during the shooting of Bruno's first
picture. Somehow, one got on the camera lens and ruined a perfect take. The crazy bastard's never been the
same since." He stopped and turned quickly to look
over his shoulder. No one was there. "Crazy like a fox,
maybe I should say." With another shrug, Dirk Farrar
moved down the hallway.
Judith went back to the toolshed, where her mother
was still standing in the doorway.
"What caused that commotion?" Gertrude asked in
her raspy voice.
"The guest you were talking to doesn't like spiders,"
Judith explained, steering her mother inside. "He's
okay now. Say, what were you doing out in the rain?
Were you trying to come into the house?"
"Of course not," Gertrude huffed. "Why would I do
that?"
40
Mary Daheim
Judith eased the old lady into the overstuffed chair
behind the card table. "You do sometimes."
"When Lunkhead's not there, maybe," Gertrude allowed, then gave Judith a sly look. "I don't see his car.
Maybe I wanted to meet those movie stars, like Francis X. Bushman and Clara Bow."
Judith didn't feel up to adding her mother to the already motley mix. "How about seeing them tomorrow
when they're all dressed up and ready to leave for the
premiere?"
Gertrude flopped into the chair. "Tomorrow? I could
be dead by tomorrow."
"You won't be," Judith assured her mother. "Besides, not all of them have arrived yet."
Judging from the pinched expression on Gertrude's
face, the effort to reach the house had tired her.
"Well—okay. Who's still coming? Theda Bara?"
Judith gave her mother's shoulder a gentle squeeze.
"Someone more recent. I'll be back with your supper
in just a bit."
The truth was, Judith hadn't even begun to prepare
the family meal. Gertrude didn't mind a TV dinner, but
Joe was another matter. As soon as the hors d'oeuvres
were served, she would start the evening meal.
Arlene, however, had already brought the appetizers
out to the guests: crab cakes, mushrooms stuffed with
shrimp, teriyaki beef on skewers, tea sandwiches with
smoked salmon, and—courtesy of Bruno—an exotic
caviar from a shop and a city Judith had never heard of.
"Thanks, Arlene," Judith said when the two women
were back in the kitchen. "You saved my life. Now I
can get dinner."
"No need," Arlene said, opening the oven. "I made
SILVER SCREAM
41
a chicken casserole this afternoon. It's heating right
now. I put the green salad in the fridge. The homemade
rolls can be heated up in five minutes."
Judith beamed at her friend and neighbor. "Arlene, I
could kiss you. In fact, I will." She leaned forward and
gave Arlene a big smack on the cheek.
"It's nothing," Arlene said, her expression suddenly
gone sour as it always went when she was complimented for her charity. "I knew you'd have other things
on your mind. By the way, the last guest just arrived.
Serena took him upstairs to his room."
"The director, Chips Madigan," Judith murmured.
"I'd better say hello."
But Renie and Chips were already coming back
down the stairs when Judith reached the entry hall.
"Hey, coz," Renie called from over the balustrade,
"meet the Boy Wonder of the movies."
Startled by Renie's familiarity with the famous director, Judith was even more startled to see the Boy
Wonder. With his red hair, freckles, and gawky manner, Chips Madigan looked like a college freshman.
Half stumbling down the stairs, he grinned at his hostess, put out a hand, and almost knocked over a vase of
flowers with his elbow. He wore a viewfinder around
his neck, which he put to his eyes as soon as he
reached the landing.
"Wow!" Chips cried in excitement. "A great tracking shot into the living room. Bookcases, silver tea
service, lace curtains—this angle reeks of atmosphere." He let the viewfinder dangle from his neck
and loped over to Judith.
"Hi," he said with a big smile. "You're Mrs. Flynn,
right? This is one swell place you've got here." Chips
42
Mary Daheim
got down on his haunches, the viewfinder again at his
eyes. "Great elephant's-foot umbrella stand. It doesn't
have a bad angle."
Recalling the critical comments she'd overheard
from some of the other guests, Judith grinned back.
"Thank you, Mr. Madigan. I appreciate that."
"Hey," Chips responded, "my mom runs a bed-andbreakfast in Nebraska, right on the Missouri River. It's
an old farmhouse. I'll bet the two of you would get
along real well."
"I'll bet we would," Judith agreed. Up close, she
could see that Chips wasn't as young as he looked. The
red hair was thinning and there were fine lines around
his eyes and mouth. Maybe behind the camera he
coaxed rather than commanded his actors. Certainly he
emanated no aura of Hollywood's legendary directors.
Judith found Chips Madigan's friendly, boyish demeanor refreshing. Even endearing, she thought as he
turned toward the living room, tripped on the Persian
area rug, and sent his long, lanky frame sprawling
across the floor.
"Whoa!" Chips cried. "You'd never know I got my
start directing musicals!"
Though both Judith and Renie offered to help, he
politely brushed off their outstretched hands and
scrambled to an upright position on his own.
Judith noticed that none of the guests made the
slightest move to aid their fallen comrade. Indeed,
Chips Madigan's unorthodox arrival was virtually ignored. Perhaps that was because Bruno Zepf was
standing in front of the fireplace, obviously over his
fright and looking like Napoleon about to rally his
generals.
SILVER SCREAM
43
Chips, however, seemed undaunted. With a cocky
air, he strolled into the living room and plopped down
on the window seat next to Angela La Belle, who had
also joined the company. At least three cell phones
were swiftly turned off. Judith was beginning to wonder if the devices were permanently attached to their
owners.
The director's arrival was apparently a signal for
Bruno to shift gears. He took a cigar out of the pocket
of his denim shirt, rolled it around in his pudgy fingers,
and stuck it in his mouth, unlit.
"We're assembled here on an historic occasion in the
annals of the motion-picture business." The producer
paused to gaze around the long living room, from the
plate rails to the wainscoting. Several of his listeners'
expressions of distaste indicated that Hillside Manor
wasn't worthy of so momentous a pronouncement.
"As you all know," he continued after a sip of the
thirty-year-old Scotch he'd brought with him, "when I
first conceived The Gasman, most people in the business told me it would be an impossible film to make.
The scope was too big, the concept too ambitious, the
goal too lofty, and the movie itself far too expensive
given the audience we're aiming for." He paused again,
this time gazing at the cousins, who were standing
under the archway between the entry hall and the living room. "Excuse me, ladies. This is a private meeting. Do you mind?"
"Not very well," Renie shot back before Judith
could interfere.
"I'm sorry," Judith broke in, yanking on her cousin's
arm. "We were just checking to make sure you had
everything you needed for the social hour."
44
Mary Daheim
Winifred Best glanced at Judith in amusement. "The
social hour. How quaint."
Bruno made a little bow to Judith and Renie. "We
have everything for now. You may go."
Judith shoved Renie back into the entry hall. Renie
dug in with her heels and came to a dead stop at the
head of the dining-room table.
"That egotistical dork is treating us like slaves!" she
railed. "Who the hell does he think he is? I've faced off
with bigger fish before he came along!"
Judith knew that her cousin could back up her bluster. In Renie's graphic design business, she had gone
up against everybody from Microsweet to the mayor.
She didn't always win, but even if she lost, she still
managed to save face. Renie's small, middle-aged matron's appearance was deceptive. It concealed an abrasive manner that, upon occasion, could get physical.
Which was all the more reason why Judith had to keep
her cousin out of Bruno's sight.
"Don't even think about it," Judith said under her
breath. She loomed over her cousin by a good five
inches, outweighed her by some forty pounds, yet Judith knew she was outmatched. Renie had had shoulder surgery on the same day that Judith had undergone
her hip replacement. If nothing else, Renie could still
run.
"Hey!" Joe Flynn's voice cut through the kitchen
and into the dining room. "What's going on? Still
fighting over who has the best Sparkle Plenty doll?"
Judith backed away from her cousin. Renie's ire
evaporated, as it often did after the initial outburst.
"Not exactly," Judith said, meeting her husband at
the swinging doors and giving him a big kiss on the
SILVER SCREAM
45
lips. "Boy, am I glad to see you. I'm not sure I'm ready
for the movies."
"What's wrong?" Joe inquired. "Aren't your guests
behaving themselves?"
"It's attitude," Renie said, joining Joe and Judith
just inside the kitchen. "These creeps are loaded with
attitude, and some of it's bad."
"Relax," Joe urged. "Years ago, I made big bucks
working security for location companies shooting
around town. I could keep the rabid fans and the
celebrity seekers and the nutcases away, but I couldn't
offer the kind of security they really needed. The problem with these movie types is that they're basically insecure."
"That's true," Renie agreed. "Bill says that because
of the capricious nature of the business and the personalities involved in moviemaking, they're constantly
seeking reassurance that they're loved and wanted. Bill
sometimes uses feature films to study the behavior
of—"
Renie's latest parroting of her husband's expertise
was mercifully interrupted by Arlene, who poked her
head in the back door. "I took your mother's supper out
to her. I've got to go home now and feed my darling,
patient Carl. To the dogs," she added with a sinister expression.
"Thanks again, Arlene, I really appreciate . . ." But
Arlene was gone before Judith could finish the sentence.
"Have a drink on me, ladies," Joe offered, taking
down a bottle of Scotch and a bottle of Canadian
whiskey from the cupboard. "What are the guests up
to?"
46
Mary Daheim
Judith slumped into one of the kitchen chairs. "Listening to how wonderful Bruno is, from Bruno's own
lips."
"And," Renie put in, opening the cupboard door by
the sink to get three glasses, "listening to Bruno tell
them how marvelous The Gasman is, which I assume
they already know, having been involved in the making
of it." Handing the glasses to Joe, she closed the cupboard door behind her. Or tried to. "Damn! What's
with this thing? It won't stay shut."
Judith heaved a sigh. "Mr. Tolvang supposedly fixed
it when he was here, but the door still swings open on
its own." She gave Joe a plaintive look from under her
dark lashes. "I don't mean to nag, but I have mentioned
that you might look at it. I hate to ask Mr. Tolvang.
He's so stubborn, he'd probably tell me I was imagining the problem."
"I'll give it a go," Joe answered airily, handing Judith her Scotch. "I've been kind of busy lately."
Judith didn't respond. While Joe was slightly more
adept at household repairs than Bill, the Flynn to-do
list was never a priority.
"So what's this movie about anyway?" Joe asked.
"A public utility?"
"Not exactly," Renie replied. "Dade Costello—the
screenwriter—explained the basic plot to me."
"That's more than he did for me," Judith remarked.
"Maybe you used the wrong approach," Renie said.
"He's kind of touchy. Sullen, too. Of course I'm used
to moody writers. Freelancers are the worst. They can't
bear to have their precious copy rearranged so it will fit
the graphics. Anyway, the bare bones Dade sketched
out for me involve the entire history of the world as
SILVER SCREAM
47
seen through the eyes of a simple gasman. That is, an
employee who works for a gas company somewhere in
the Midwest." Renie paused for effect. "Get it? Everyman in the middle of the country, the center of the universe."
"I got it," Joe murmured into his Scotch.
"Anyway," Renie continued, sitting on the counter
with her glass of Canadian whiskey cradled in her
lap, "Bruno shows the viewer how certain periods of
history contributed to our evolution as a civilization.
He puts a positive spin on it, concentrating on early
forms of writing, the invention of paper, the printing
press, and so forth. Thus, he jumps from ancient
Egypt and China all the way up to the present. The
only problem that I can see is that it takes him four
hours to do it."
"Wow," said Judith. "I knew it was a long movie, but
isn't that too long?"
"There's an intermission," Renie responded. "I
gather Bruno wanted to do a real epic, sort of the upside of D. W. Griffith's Intolerance."
"I'll wait for the video," Joe said. "I prefer scheduling my own snack and bathroom breaks."
"I don't blame you," Renie said, "except that you'll
miss the spectacle unless you see it on a big screen."
Joe shrugged. "I'll use my imagination. Besides,
how spectacular can it be watching Gutenberg set type
in his basement?"
The question went unanswered as Winifred Best entered the kitchen. "Where are the truffles?" she demanded. "Bruno must have his truffles. Served raw, of
course, with rosy salt. I assume you know how to prepare rosy salt?"
48
Mary Daheim
Joe's expression was benign. "Three parts salt, two
parts paprika, one part cayenne pepper."
Judith was always amazed by her husband's knowledge of fine cuisine. But she looked blankly at
Winifred. "I don't recall seeing any truffles. Were they
shipped with the caviar and the other delicacies?"
Winifred's thin face was shocked. "No! They were
shipped separately. Périgord truffles, from France.
They should have arrived this afternoon."
Judith thought back to Phyllis's comment about the
delivery truck that may or may not have stopped at
Hillside Manor. "I'll check," she said.
"You certainly will," Winifred snapped. "And you'll
do it now. Do you have any idea how rare, how delicate, and how expensive those truffles are?"
Judith didn't, but refused to admit it. She immediately dialed the number of FedEx's tracking service.
They had made all the previous deliveries, so she assumed they had—or hadn't—shipped the truffles.
"Yes," the woman at the other end of the line said,
"that parcel arrived at your house and was signed for
by a Mrs. Gertrude Grover."
Judith sucked in her breath, barely managing to
gasp out a thank-you. "Could you wait here?" she
asked Winifred. "I think I know where the truffles are."
Winifred was aghast. "You think?"
Judith didn't pause for further criticism. She rushed
out to the toolshed, where Gertrude was watching TV
and finishing supper. The volume was so loud that Judith cringed upon entering the tiny living room.
"You'll never guess what I saw on one of those talk
shows," Gertrude said. "Men who love men who love
monkeys. What next?"
SILVER SCREAM
49
The query was ignored. Judith picked up the remote
and hit the mute button. "Mother, did you sign for a
package this afternoon?"
"A package?" Gertrude looked blank, then scowled
at her daughter. "Hey, turn that thing back on. I can't
hear the news. There's a bear loose in a used-car lot on
the Eastside."
Judith put the remote behind her back. "Did someone deliver a package to the toolshed this afternoon?"
"Oh." Looking distressed, Gertrude tried to sit up a
little straighter. "Yes, they did, and I've never seen anything so disgusting in my entire life. Who'd play such
an awful joke on an old lady? If you can call it a joke,"
she added in a dark voice.
Judith realized that her mother was serious. "The
package—where is it?"
Gertrude's expression was highly indignant. "Where
it ought to be—down the toilet. At least it didn't stink.
Much."
"Oh, no!" Judith gasped. "That was . . . that
wasn't . . . what did it look like?"
"I told you," Gertrude said. "Like . . . you know
what. It was dark brown and all bumpy. It was just . . .
horrible. Now who would play such a filthy trick?"
Judith recalled seeing truffles in Falstaff's delicacy
section. They had been grayish white and came from
Italy. Maybe French truffles were different. If their appearance was as loathsome as Gertrude had described,
she couldn't blame her mother for flushing them down
the toilet.
"It wasn't a joke," Judith said, patting Gertrude's
shoulder and handing over the remote. "It was a box of
truffles—sort of like mushrooms—and it was intended
50
Mary Daheim
for the Hollywood guests. I've never eaten them, but I
guess they're extremely delicious."
Gertrude gave Judith an elbow. "Go on with you!
Nobody, not even those movie people, would eat anything that looked so foul."
"I'm afraid they would—and do," Judith replied. At
least they would if the truffles weren't floating somewhere in the city's sewer system. "Don't worry about
it, Mother. It's not your fault."
"Of course it isn't," Gertrude huffed. "What are they
having for supper? Bacteria?"
Judith couldn't discuss the matter further. She
headed back into the house, trying to come up with one
of her well-intentioned fibs to stave off the wrath of
Winifred and the rest of Bruno's party.
As Judith entered the kitchen, Joe was answering
the phone. She gave him a questioning look, but he
shook his head. "It's Bill," he said, handing the receiver to Renie.
Winifred was waiting under the archway between
the entry hall and the living room. "Well?" she demanded, tapping a toe on the bare oak floor.
"The truffles were stolen," Judith said. "A bushyhaired stranger burst into my mother's apartment and
grabbed them off the table. He fled through the hedge
on foot."
"What?"
Judith nodded several times. "I'll notify the police at
once."
Winifred looked homicidal. She also seemed incredulous. And, in fact, she was speechless.
Ben Carmody came to her side. "The truffles were
SILVER SCREAM
51
stolen?" he inquired in a mild voice. "That's too bad.
But then I don't like them." As soon as the words were
out of his mouth, he shot a furtive glance at Bruno,
who was still standing by the fireplace. "I mean," Ben
explained, "they're not my favorite."
Bruno eyed Judith, Ben, and Winifred with curiosity. "Did someone mention the police?"
Winifred pointed a long, thin finger at Judith. "She
claims the Périgord truffles were stolen."
Bruno frowned. "Really?" He hesitated. "Calling
the police is a bad idea, even for a thousand dollars'
worth of truffles. We don't need that kind of publicity."
Chips Madigan jumped up from the window seat.
"How about a private detective?"
Bruno looked dubious, but before he could speak,
Judith broke in: "That's a good idea. I know just the
man." She paused and gulped. "I mean, my husband is
a private detective. I'm sure he can clear this up."
Bruno shrugged. "Then let him do it."
Winifred gave Bruno an inquiring look. "Are you
certain you want to do that? What do we know about
Mrs. What's-her-name's husband?"
All eyes were on Bruno. He scratched his bearded
chin before responding. "Why not? Maybe losing the
truffles isn't our biggest problem."
Nobody spoke, but there was much shifting of
stances and staring at the floor.
Finally, Winifred turned to Judith. "Very well. Let's
have a word with your private detective husband."
Judith tried not to grimace. Joe would not take well
to supporting his wife in one of her bold-faced lies.
"I'll get him," she said in a weak voice.
52
Mary Daheim
She went back through the dining room and into the
kitchen. As she opened her mouth to explain the situation to Joe, Renie dropped the phone, let out a highpitched shriek, crawled under the kitchen sink, and
slammed the cupboard door behind her.
FOUR
"RENIE!" JUDITH CRIED, pulling on the handle of the
door beneath the sink. "Come out right now!"
"What the hell is she doing?" Joe demanded.
"She's in shock," Judith replied as the door—or
Renie—resisted her tugs. "I've seen her do this before. Once, when she found out she was pregnant
the third time, and again when she got the kids' orthodontist bill."
Joe bent down to pick up the receiver, but heard
only the dial tone. "So what is it?" he asked with a
worried expression. "Has something happened to
Bill?"
Placing the receiver on the counter, he nudged
Judith aside and gave the cupboard door a mighty
yank. Renie was folded up inside, pale of face, with
her chestnut curls in disarray, her mouth agape, and
her eyes almost crossed.
"Coz!" Judith urged, hampered by the hip replacement in her effort to kneel down. "What's
wrong? Is it Bill?" Maybe he had another pumpkin
stuck on his head, Judith thought wildly. Maybe he
was suffocating. Maybe he had suffocated. Maybe
Bill was dead.
54
Mary Daheim
But Renie shook her head. "No," she finally
croaked, struggling to crawl out of the small, cramped
space. "Where's my drink?"
"You dropped it in the sink," Joe replied, giving
Renie a hand. "The glass isn't broken. I'll make you
another."
"Make it strong," Renie said, then got to her feet and
half fell into one of the kitchen chairs. "After all these
years . . ." Her voice trailed off.
Judith sat down next to Renie. "Coz, if you don't tell
us what's happening, I'm going to have to shake you."
"I'm already shaken," Renie replied. "Down to my
toes."
Joe gave Renie her drink, then reverted to his role as
detective. "Bill told you something. Therefore, he must
be alive and telephoning. Bill doesn't like talking on
the phone. Thus, he must've had urgent news. Come
on, what was it? Something about your mother?"
Judith's aunt Deb was the same age as Gertrude.
She, too, was in frail health and had been virtually confined to a wheelchair for many years. Judith knew that
it wouldn't be surprising if Renie's mother had . . .
But Renie was shaking her head. "No," she said
after taking a deep swallow from her glass. "It's our
kids. It's why they made dinner. They thought I'd be
there, along with Bill."
Joe frowned. "Your kids? All three of them?"
"All three of them," Renie replied after another
quick quaff. "Tom, Anne, and Tony."
"What about them?" Judith asked, beginning to
calm down. If the Jones offspring could make dinner,
they must be in one piece.
Renie set the glass down and wrung her hands.
SILVER SCREAM
55
"They're getting married. All three. I think I'll faint."
She put her face down on the table.
"They're getting married?" Judith cried. "Are you
serious?"
"Of course I am." Renie's voice was muffled.
"Why, that's wonderful!" Judith beamed at Joe. "It's
what you hoped for, dreamed of, wanted to . . ."
Renie's head jerked up. "But it's such a shock. I
don't know any of these people they're marrying. Our
kids have had romances that went on and on and on,
then they all broke up at one time or another. But
these . . . future in-laws . . . are strangers. What if
they're crazy or wanted by the police or . . . poor?"
Renie wrapped her hands around her neck and made a
strangling gesture.
"Oh, good heavens!" Judith exclaimed. "Don't be
such a snob! Why, when Mike and Kristin got engaged
I never cared for one minute if she or her family had a
dime."
"Mike had a job," Renie pointed out. "This is different. This is . . ." She swigged down the rest of her
drink and stood up. "I have to go home. Poor Bill. Poor
me. Good-bye." Grabbing her jacket on the way out,
Renie dashed off into the rainy night.
"I hope she's okay to drive," Judith said with a worried expression.
"She only had one serious drink," Joe responded.
"She'll be fine." He patted Judith's shoulder. "Hey, can
I do anything to help with dinner?"
"Oh!" Judith jumped up. "Arlene did everything for
us. I just need to heat the rolls."
"Sounds good," Joe said. "I'll wander out to peek in
on the guests."
56
Mary Daheim
Judith clapped a hand to her head. In all the excitement over Renie, she had forgotten about the proposal
to hire Joe as a private detective.
"Joe," she said with her back to the oven, "wait.
Bruno Zepf wants to hire you."
Joe's round face was puzzled. "Me? Why? Didn't
they bring their own security?"
"If they did, they're at the Cascadia," Judith replied.
"I mean, they'd want their own people for the premiere
and the costume ball, right?"
Joe gave a nod. "So they want me to watch out for
them while they're here?"
"Sort of," Judith hedged. "They also want you to
find out what happened to their thousand-dollar truffles."
"Good God!" Joe paused, taking notice of Judith's
jittery movements with the oven door. "What did happen to the truffles?"
The answer came not from Judith but from Winifred
Best, who had reentered the kitchen. "They were
stolen by a bushy-haired stranger."
Judith froze with her hand on the oven door. "I think
I'll let Ms. Best explain it." Putting the rolls on to heat,
she scooted out of the kitchen and into the pantry,
where Sweetums was sitting by the shelf that contained his cans of food.
But try as she might, Judith couldn't hear the conversation between her husband and Winifred Best.
Winifred had lowered her usually sharp voice a notch
or two; Joe always spoke softly when he was in his
professional mode.
Instead, Judith heard other voices, loud and angry,
coming from the backyard. The pantry had no win- SILVER SCREAM
57
dows, so she tiptoed into the hall to look out through
the door. Sweetums followed, meowing pitifully.
The wind, which was coming from the north,
splattered rain against the glass and blurred Judith's
vision. Ignoring Sweetums's claws, which were affixed to her slacks, she carefully opened the back
door.
In the darkness, she could make out two male figures near the driveway. They were arguing loudly, and
it looked as if they were about to come to blows.
The wind caught just a few words, sending them in
Judith's direction: ". . . trashed what was a solid piece
of . . ."
". . . bitching when you got paid as if you'd come up
with the whole . . ."
". . . Why not? I had to virtually rework the damned
thing . . ."
The door blew shut, clipping Judith on the arm.
Sweetums continued to claw her slacks. With an air of
resignation, she opened a can of Seafarers' Delight and
spooned it into the cat's dish.
"Enjoy it," she muttered. "It looks better than the
way Mother described those blasted truffles."
There was a sudden silence in the kitchen. Winifred
must have returned to the living room. Judith took a
deep breath before rejoining Joe.
"Why?" The single word was plaintive.
Judith flinched. "I had to tell them something."
Joe took a long sip of Scotch. "What really happened?"
Judith explained about the disgusting appearance of
the truffles and how Gertrude had—not without reason—flushed them down the toilet.
58
Mary Daheim
"Great." Joe leaned against the counter. "How about
telling the truth for once?"
Judith sighed. "I know," she said, taking the green
salad out of the refrigerator. "Maybe I should have. But
I didn't want to be liable for the loss of the truffles and
I didn't want to get Mother in trouble."
"You could have explained that your mother is
gaga," Joe said. "That would have been the truth."
"Well . . ." Judith swallowed hard. "It's hard for me
to admit that sometimes she is gaga. And in this case,
what she did made sense." Taking silverware out of the
drawer, she gave Joe a bleak look. "What did you tell
Winifred?"
"That I'd check around," Joe replied. "Without
charge. Tomorrow, I'll them what really happened."
"Oh." Judith arranged the place settings, then
started out of the kitchen. "I want to check on something, too."
Peeking around the corner of the archway into the
living room, she counted noses. Everyone was there.
But Chips Madigan and Dade Costello looked as if
their clothes were half soaked by rain.
Judith kept out of the visitors' way as they lingered
over the social hour. Hillside Manor's rule, though
never hard-and-fast, was that the hour was just that—
from six to seven. Most guests were anxious to leave by
then for dinner reservations or the theater or whatever
other activity they planned to enjoy during their stay.
The visitors from Hollywood were different. Apparently they dined later. Or maybe they never dined at
all. Perhaps they really were lotus-eaters, as depicted
by the scribes.
SILVER SCREAM
59
But they did leave eventually. Sometime between
eight-thirty and nine, the company trooped out to their
limos and disappeared into the October night. Joe
helped Judith tidy up the living room, which looked
not very much worse than it usually did after a more
conventional gathering of guests.
There was something different about the downstairs
bathroom, however. It wasn't obvious at first. Judith,
who had started sneezing after dinner and fervently
hoped she wasn't catching cold, sneezed again as she
rearranged the toiletry articles by the sink. A bit of
white powder floated up into the air and made her
sneeze again.
Judith looked at herself in the mirror. Ellie Linn had
almond-colored skin. Winifred Best's complexion was
the color of milk chocolate. Angela La Belle was fair,
but not that fair. None of them would have worn such
a pale shade of face powder.
"Joe," she called from the entry hall, "come here. I
want you to see something."
Joe, who'd just dumped what he estimated to be
about three hundred dollars' worth of uneaten hors
d'oeuvres into the garbage, came in from the kitchen.
"What is it?" he asked.
"You used to work vice years ago," Judith said,
pointing to a small film of white powder at the edge of
the sink. "Is that what I think it is?"
Joe ran his finger in the dusty residue, then tasted it.
"Yes," he said. "It's what you think it is. Cocaine."
"Damn!" Judith swore. "I suppose it's to be expected."
Joe nodded. "I'm afraid so. Too many Hollywood
types get mixed up with this stuff."
60
Mary Daheim
She sighed. "Well, it's only for one more night."
He chucked his wife under the chin. "That's right.
Face it, they're probably not the first guests you've
hosted who've had a habit."
"That's true." Judith gave Joe a weary smile. "I'll
just be glad when they're gone. I prefer normal people."
Joe lifted an eyebrow. "Like the gangsters and superstar tenors and gossip columnists you've had in the
past?"
Since all of the guests that he mentioned had been
murdered or involved in murder, Judith shuddered.
"No, not like that. I was thinking of the Kidds and even
the Izards. They're the ones who should be here this
weekend, not this crew from L.A."
Joe shrugged. "As you said, it's only for one more
night. What could possibly happen?"
Around two A.M., Judith was awakened by muffled
noises from somewhere in the house. The guests, she
thought hazily, returning from their revels. When the
Flynns had gone to bed around eleven, the Hollywood
crew had not yet come back. But, as with all Hillside
Manor guests, they had keys to the front door. Judith
rolled over and drifted off again.
But moments later louder noises made her sit
straight up in bed. She glanced at Joe, who was snoring softly. He'd put in a long day; there was no need to
rouse him. Judith donned her robe and slippers, then
headed down to the second floor.
The lights were on in the hall. Bruno, clad only in
underwear decorated with Porky and Petunia Pig figures, was collapsed on the settee. Winifred and Chips
SILVER SCREAM
61
Madigan stood over him while Dirk Farrar peered out
from behind the door of Room Four. Angela, Ellie,
Ben, and Dade were nowhere to be seen.
"What's going on?" Judith asked, noting that Bruno
was shuddering and writhing just as he had done on the
back porch.
Dirk opened the door a few more inches. "Another
damned spider. Big as a house. Or so he says." He
smothered a smile.
"No!" Judith couldn't believe it. In late summer,
harmless, if imposing, wood spiders sometimes
crawled into the basement, but it was too late in the
year for them to show up. She marched to Bruno's
room, where the door was ajar.
Ben Carmody was standing by Bruno's bed, laughing so hard that his sides shook. "Look," he finally
managed to say. "It's a spider, all right, but . . ."
Judith charged over to the bed, then gave a start.
"Ohmigod!"
A black, long-legged creature with a furry body lay
on the bottom sheet just below the pillows. Judith
stood frozen in place until Ben picked the thing up by
one leg and bounced it off the floor.
"It's fake," he said, still chuckling. "It's one of those
rubber spiders kids have for Halloween. Where's your
garbage? I'll take it outside and dump the thing in
there."
"Oh!" Judith put a hand over her wildly beating
heart, then reached out to Ben. "I'll get rid of it. You
tell Mr. Zepf that the spider wasn't real."
Ben had grown serious. "Some prank. It could have
given old Bruno a heart attack."
Judith stuffed the rubber spider in the pocket of her
62
Mary Daheim
bathrobe and went back into the hall. No one except
Dirk seemed to notice her passage as she headed for
the back stairs. Five minutes later she returned to the
second floor, where Ben and Chips were helping a
rubber-legged Bruno back into his room. Winifred had
already disappeared and Dirk had closed his door. Judith continued up to the family quarters. She didn't get
back to sleep for almost an hour.
Meanwhile, Joe continued to snore softly.
As usual, Judith had breakfast ready to go by eight
o'clock. Since it was a Saturday, and Joe had the day
off, he didn't come downstairs until eight-fifteen.
"No-shows, huh?" he inquired, pouring himself a
cup of coffee.
"So far," Judith replied. "I think they were out very
late." She then recounted the incidents with both the
real and the fake spiders. "Bruno certainly is superstitious."
"Typical," Joe remarked. "Bill once said that Hollywood types were like gamblers. It makes sense. People
who make movies are gamblers."
An hour passed before Judith heard anyone stirring
upstairs. Finally, Winifred Best appeared, her thin face
drawn.
"Very black coffee, please. With heated rusk."
Judith didn't recall that rusk had been on the list of
required grocery items. Still, Winifred wasn't the first
guest to ask for rusk instead of toast. With considerable
effort, she got down on her knees and foraged in the
cupboard next to the sink.
"Ah!" she exclaimed. "Here it is." She got up
slowly, which was fortunate because the temperamen- SILVER SCREAM
63
tal cupboard door had swung out on its own. Judith hit
her head, but not very hard. Muffling a curse, she
looked around for Joe, then remembered that he'd
gone to the garage to tinker with his beloved MG.
"This coffee isn't strong enough," Winifred announced from the dining-room table. "Please make another pot, and double the amount."
Winifred Best wasn't the first demanding guest that
Hillside Manor had ever hosted, so Judith calmly put a
percolator on the stove. She kept reminding herself
that the current visitors were no worse than many she'd
had stay at the B&B. It just seemed that this bunch was
a wide-screen version in Dolby sound.
Moments later the rusk had been warmed in the
oven. Judith brought it out to the dining-room table.
"Has Mr. Zepf recovered from his latest fright?" she
inquired.
"Yes," Winifred responded, giving the rusk a suspicious look, "though the rubber spider was a bit much."
"Do you know who put it in Mr. Zepf's bed?"
Winifred shot Judith a withering glance. "I do not.
Was it you?"
Judith recoiled. "Of course not! Why would I do
such a thing?"
"Because," Winifred said with ice in her voice, "no
one else would dare."
"Well, I certainly didn't do it," Judith huffed. "Nor
would anyone else around here. In fact, my husband
and I are the only residents in the house."
"As you say." Winifred took a small bite of rusk.
"The coffee will be ready shortly," Judith said in
stilted tones.
"I should hope so," Winifred said. "Rusk is hard to
64
Mary Daheim
wash down with weak coffee. By the way," she added
as Judith started back to the kitchen, "we'll bring the
costumes down later so that you can press them."
Judith turned on her heel. "I don't do ironing. I have
a cleaning woman who takes care of the laundry."
"Where is she?" Winifred asked with a lift of her
sharp chin.
"She doesn't work weekends," Judith replied, fighting down her annoyance. "If you want something
pressed, you'll have to take it up to the cleaners at the
top of the hill."
Winifred's dark eyes snapped. "We're not running
errands. Since you don't have a laundry service today
and it seems you're the innkeeper and concierge, taking care of the costumes falls on you. The costumes
must be back by four. Don't worry, you can send the
bill to Bruno."
For a long moment Judith stared at Winifred, who
was again attired in Armani. Her only accessory was a
slim gold bracelet on her left wrist. If she wore
makeup, it was too discreet to be noticeable. Late thirties or maybe forty, Judith guessed, and a life that may
have been difficult. The Hollywood part, anyway. Judith wondered what it was like for a woman—a black
woman especially—to wield such power as assistant to
the biggest producer in filmdom.
Nor were Winifred's demands entirely outrageous.
If it hadn't been for Bruno's superstition about staying
in a B&B before a premiere, Winifred and the others
would be ensconced in luxury at the Cascadia Hotel
with every convenience at their fingertips.
"Okay," Judith said. "I'll take the stuff up to Arlecchino's. It's a costume shop, so they'll know exactly
SILVER SCREAM
65
how to handle the garments and whatever other items
need to be fluffed up."
The faintest look of relief passed over Winifred's
face. "Thank you," she said.
Judith thought the woman sounded almost sincere,
though that was a word she knew she probably
shouldn't apply to anyone from Hollywood. The coffee, which looked strong enough to melt tires, was
ready just as Chips Madigan loped into the dining
room.
"Hey, Win, hey, Mrs. Flynn," he said with a cheerful expression. "Hey—that rhymes! I should have been
a writer, not a director." Abruptly, the grin he'd been
wearing turned down. "I guess," he muttered, pulling
out one of the chairs from Grandpa and Grandma
Grover's oak set, "I shouldn't say stuff like that."
"No, you shouldn't," Winifred said with a warning
glance.
The guests trickled down for the next hour and a half,
creating a frustrating breakfast service for Judith. Normally, she prepared three basic items and offered appropriate side dishes. But the menu requirements for the
Hollywood people were vast and varied. Angela La
Belle desired coconut milk, kiwi fruit, and yogurt. Dirk
Farrar requested a sirloin steak, very rare, with raw eggplant and tomato slices. Ellie Linn ordered kippers on
toast and Crenshaw melon. Ben Carmody preferred an
omelette with red, green, and yellow peppers topped
with Muenster cheese. An apparently restored Bruno
Zepf downed a great many pills, which may or may not
have been vitamins, shared the strong coffee with
Winifred, and ate half a grapefruit and a slice of dry
whole-wheat toast. Chips Madigan asked for cornflakes.
66
Mary Daheim
Dade Costello never showed. The moody screenwriter had gone for a walk, said Ellie Linn. He wasn't
hungry. Nobody seemed curious about his defection.
The omnipresent cell phones were in use again, especially by Bruno, Winifred, and Ben. Somehow they
all seemed capable of talking to whoever was on the
other end of the line and to members of the party at the
table. Between rustling up the various breakfast items
and making what seemed like a hundred trips in and
out of the dining room, Judith caught snatches of conversation. Most of it dealt with the logistics of the premiere and how to deal with the media. It struck Judith
that the only topic of conversation the group shared
was the movie business. Maybe it was the only thing
that really mattered to them. She tuned her guests out
and got on with the task of running Hillside Manor.
As soon as she finished clearing up the kitchen, Judith called Renie. "Give me the details," she requested.
"Who's marrying whom?"
An elaborate sigh went out over the phone line.
"I'm not sure I've got all this straight myself. Tom's fiancée is the daughter of a local Native American tribal
chief. Her name's Heather Twobucks, which is symbolic, since that's about all the money Tom has managed to save over the years. But at least she's got a
job—she's the attorney for the tribe."
"That sounds very good," Judith put in.
"She's also one of seven kids and does most of her
work pro bono," Renie said. "As for Anne, the man of
her dreams is in medical school. You know what that
means. Anne will have to get a real job instead of making jewelry out of volcanic lava and selling it at street
fairs."
SILVER SCREAM
67
"Mmm—yes, she probably will," Judith agreed.
"What's the future doctor's name?"
"Odo Mann," Renie replied. "She'll become Anne
Mann. Personally, I wouldn't like that."
"Mmm," Judith repeated. "And Tony?"
Renie let out another big sigh. "Tony's beloved just
returned from Tangiers, where she was Doing Good.
She works for a Catholic charity and makes just about
enough to pay Tony's monthly milk bill. She—her
name is Cathleen Forte—wants Tony to join her in the
leper colony over there."
"Oh, dear."
"That's what I said," Renie responded. "Except not
quite those words and much louder. Bill's in a daze."
"Yes, I can see that he might be," Judith allowed.
"Have any of them set the date?"
"Not yet," Renie said, "though Anne and Odo are
talking about next spring."
"That gives you some time," Judith remarked.
"Time for what?" Renie demanded. "Time to kidnap
our own children and seal them in the basement?"
"I mean," Judith said, "to . . . um . . . get used to the
idea."
"You're no help," Renie snapped. "I'm hanging up
now. Then maybe I'll hang myself." The phone went
dead in Judith's ear.
It was noon before Winifred began bringing the costumes downstairs. Judith was astonished by the detail.
They had come, Winifred informed her, from one of
the big L.A. rental warehouses that stocked thousands
of garments, many of them worn in movies from fifty
and sixty years ago and lovingly restored.
68
Mary Daheim
"Bruno and I considered using the costumes from
The Gasman, " she explained, "but only Angela, Ben,
Dirk, and Ellie appear in the film. We could have
drawn from Wardrobe's collection for bit players and
extras, but we decided it would make a statement if we
used older costumes. More in keeping with the picture's theme, you see."
Judith thought she recognized Ellie's outfit. It
looked very much like one of Elizabeth Taylor's gorgeous gowns in Cleopatra. Angela's was familiar, too,
though seen only briefly on the screen—Scarlett
O'Hara's honeymoon ensemble from Gone With the
Wind.
Pointing to the flowing robes and burnoose for
Bruno, Judith made a guess: "Lawrence of Arabia?"
"Khartoum," Winifred replied.
"Is this yours?" Judith gestured at a nun's white
habit.
"Yes." Winifred's expression was rueful. "It's a
generic nun's costume, depicting the growth of the
monastic movement. We're representing the eras the
movie focuses on. I preferred wearing something
closer to my own heritage, maybe Muslim dress, from
the period of Muhammad. But Bruno insisted that he
be Muhammad." She waved a slim hand at the Khar-
toum robes. "So I end up being a nun, and I'm not even
Catholic."
"I am," Judith said, "and I think it's a lovely habit.
Very graceful. You'll look terrific."
Winifred gave an indifferent shrug. "Whatever. Dirk
Farrar symbolizes the early Renaissance while showing off his manly physique in that silver-and-goldslashed doublet and tights. Tyrone Power wore it, I
SILVER SCREAM
69
think. The less lavish doublet and the fur-trimmed surcoat came from an MGM historical epic. Or maybe it
was Fox. Dade Costello's wearing that for the era of
the printing press. The nineteenth-century frock coat
and top hat belong to Ben Carmody. The industrial revolution, of course. And Chips Madigan gets to dress as
the computer whiz kid."
Judith smiled at the suntan pants, the flannel shirt,
the horn-rimmed spectacles, and the box of Twinkies.
Living in the land of Microsweet, she was familiar
with the outfit.
"What about the rest of the movie company? What
will they wear?" she asked.
"Whatever suits The Gasman, " Winifred replied.
"We left everybody else pretty much on their own.
They'll conform, of course."
The statement seemed to reflect the general attitude
of Bruno Zepf's circle. Winifred had no need to add,
"Or else."
Pointing at a stack of garment bags that lay on the
living-room floor, Winifred commented, "We'll put
them in those. Remember, they have to be back by four
o'clock. The premiere is at six."
Carefully, Judith picked up the Scarlett O'Hara costume. "I understand that the ball is at ten. What time do
you think you'll be back here for the midnight supper?" She dreaded the idea of putting on such a late
event, but Bruno had consented to pay an extra two
grand, and Judith couldn't refuse the money.
"A midnight supper is just that," Winifred replied,
tucking her nun's habit into one of the garment bags.
"We should return shortly before twelve."
Judith gave an absent nod as she fumbled with the
70
Mary Daheim
silks and taffeta that made up Angela's post–Civil War
era gown.
"Careful!" Winifred cried. "Watch out for the decorative trim!"
"Right, okay," Judith agreed. "Maybe I should turn
it over to protect the front of the outfit."
Since Winifred didn't argue, Judith did just that.
And stared.
The long black-and-white silk skirt and taffeta petticoat had been slashed in a half-dozen places from the
waist to the hem.
Winifred screamed.
Judith couldn't stop staring, but a cold shiver crawling up her spine set off a familiar, terrifying alarm.
FIVE
"WIN?"
Ellie Linn was standing at the bottom of the
stairs, gazing into the living room. She saw Judith
and Winifred's horror-stricken faces, and moved
quickly, if softly, to join them.
"What's wrong?" Ellie glanced down at the torn
costume. "Oh, wow, that looks bad! What happened?"
Winifred was kneeling on the floor, pounding her
fists on the carpet. "Sabotage, that's what happened!
Angela's gown is ruined! Who would do such a
thing?"
Ellie rocked back and forth in her expensive
cross-trainers. She was wearing jeans and a longsleeved tee that didn't quite cover her midriff. Judith
figured her for a size three at most.
"Golly, I don't know," Ellie said, gazing at the
ceiling. "Couldn't Angela wear a bedsheet, cut two
eyeholes in it, and go as a ghost?"
"Ellie!" Winifred's voice was sharp, then she
turned to Judith. "Do you think your local costume
shop could fix this?"
Judith studied the garment. "They'd have to replace the overskirt. I'll ask them."
72
Mary Daheim
"The skirt—or what's left of it—will have to be
saved," Winifred declared, finally regaining control of
her emotions. "It's the original." She paused, tapping a
finger against her smooth cheek. "Yes, maybe an overskirt will do. But make sure it matches."
Judith promised that she would. "By the way," she
asked, "were these costumes still in Bruno's room
where I had the UPS man deliver them?"
"Yes," Winifred replied. "He was the only one who
had enough space."
Ellie was kneeling down to study her Cleopatra outfit. "You know, this really looks okay," she observed.
"Don't you love the gilded headdress? It'll look way
cool with my long black hair." For emphasis, she ran a
hand through her raven tresses. "Hey, Win, where are
the masks?"
"They're still in Bruno's room," Winifred said, exhibiting the delicacy of a neurosurgeon in placing the
damaged Scarlett O'Hara costume into a garment bag.
"The masks are ready. Yours is marked with your name
on the inside."
"Great." Ellie stood up. "Wow"—she giggled—
"Angela's going to be wild! I'll tell her what happened
to her costume. You know—it'll save you the trouble,
Win." This time, her giggle sounded slightly sinister as
she headed for the entry hall.
"Ellie," Winifred called after her, "don't be mean!
Angela has enough problems as it is."
Halfway up the stairs, Ellie leaned over the banister.
"Hey, Win, that's not entirely my fault, is it?" The
young actress skipped up the steps, long hair swinging
behind her.
"I suppose," Judith said in a musing tone as she put
SILVER SCREAM
73
Dirk Farrar's doublet and hose into another garment
bag, "there's bound to be jealousy between actresses
like Ellie and Angela."
Winifred shot Judith a sidelong look. "Oh, yes.
You've no idea."
Judith dared to risk a thorny question: "Enough that
Ellie would slash Angela's gown?"
"No," Winifred said flatly. "Ellie Linn doesn't have
to resort to cheap stunts like that."
Emboldened, Judith was about to ask why not when
Renie gave a shout from the kitchen.
"I'm here. I'm early. I'm out of my mind."
Judith looked at her cousin, who had come into the
hallway and definitely appeared a little deranged. Her
hair, which was rarely combed unless she was attending a business meeting or a social event, was going off
in every direction of the compass. A smudge of dirt
stood out on one cheek and a pair of red socks peeked
through the holes in her shoes. Even the rattysweatshirt-and-baggy-pants combination that made up
Renie's working ensemble was more disreputable than
usual. And old. The sweatshirt featured the Minnesota
Twins World Series victory in 1991.
"Good grief," Judith breathed, "you do look sort of
awful."
"I know." Renie, who was carrying a large suitcase,
offered Winifred a desultory wave. "I had to get out of
the house. The children are arguing about who should
get married first. Bill left early for a very long walk,
maybe all the way to Wisconsin."
Judith pointed to the suitcase. "Is that your costume?"
"Mine and Bill's," Renie replied. "We dumped the
74
Mary Daheim
pumpkin idea. Bill's glasses kept getting steamed up.
Oh!" she exclaimed, showing a spark of animation.
"Look at those costumes. They're beautiful, and they
look familiar."
Judith and Winifred explained how and why the
costumes had been chosen, then told Renie about the
damage that had been done to Angela's.
Renie was genuinely upset. "That's horrible. Bill
and I watched a special on TV a while ago about movie
costume restoration. It was criminal the way so many
of those gorgeous outfits had been left to deteriorate
and rot. If I hadn't become a graphic artist, I might
have been a costume or a dress designer."
"Then maybe you can help your sister here with getting these costumes to wherever she's taking them,"
Winifred said briskly. "It's almost twelve-thirty. We
don't have much time, especially if Angela's is to be
ready."
Renie had bristled over the commanding tone in
Winifred's voice, but Judith intervened, putting a hand
on her cousin's arm.
"We're not sisters," she explained with a smile.
"We're cousins. But we've always been as close as sisters. Closer, perhaps, without the sibling rivalry."
"Lovely," Winifred remarked, putting the last costume into a bag. "I'll see you later." She marched
toward the stairs and out of sight.
Driving to the top of Heraldsgate Hill, Judith allowed Renie two minutes to vent her ire about
Winifred's high-handed manner. As they unloaded the
car in Arlecchino's small parking lot, Judith gave her
cousin another three minutes to complain about the
Jones children. Then Judith insisted that Renie stay in
SILVER SCREAM
75
the car while she dealt with the costume store's owner.
The cautions about the valuable ensembles and the discussion of how to repair Angela's Scarlett O'Hara
gown took a full ten minutes. By the time she got back
to her Subaru, Renie was fuming again.
"You should have let me help you in there," Renie
declared. "I'm not exactly a dunce when it comes to
color and fabric."
"No, you're not," Judith acknowledged, "but it
would have taken twice as long with two of us. Time is
of the essence. Besides, I want to tell you about some
weird things that have been happening. Let's drive to
Moonbeam's, where we won't be overheard by my
very peculiar guests."
Moonbeam's, however, was jammed and there were
no empty parking spots. On the Saturday before Halloween, the Heraldsgate Hill merchants had opened
their doors to all the trick-or-treaters in the area.
"I could have told you that," Renie grumbled.
"While I was wasting away in the car, I counted eight
Harry Potters, four bunny rabbits, six fairy princesses,
three crocodiles, and two skunks. Not to mention assorted ghosts, witches, and skeletons. This part of the
avenue is a zoo—almost literally."
Judith, who was stalled at the four-way stop between Moonbeam's and Holliday's Pharmacy, watched
the passing parade in awe. Not only were the children—from infants to teenagers—in costume, but so
were many of the parents. Adults dressed as prima ballerinas, football players, sheikhs, African warriors, Argentine gauchos, and a very realistic-looking gorilla
were strolling the sidewalks and filling the crosswalks
along with their offspring.
76
Mary Daheim
"I forgot about all this," Judith said. "They only
started doing it a couple of years ago. I guess I've been
too caught up with my guests to think much about Halloween."
"You'd better have treats in store for tonight," Renie
said. "I understand some of the kids will be going out
a day early because Sunday is a school night."
"I bought all my candy a week or so ago," Judith
replied. "Hey, where are we headed?"
"Let's go down to the bottom of the hill," Renie suggested. "I haven't had lunch. How about you?"
"I forgot about lunch," Judith admitted. "Okay, I'll
turn off by M&M Meats and we'll take the back way
out of here."
Ten minutes later, the cousins were sitting in a
wooden booth at T. S. McSnort's. Even there a handful
of customers were dressed for the holiday.
"Would it be terrible to have a drink?" Judith asked.
"I could use one."
"So could I," Renie responded. "It's been a rough
outing at our house the past few hours."
The cousins ordered screwdrivers, telling themselves that the orange juice would provide them with a
healthy dose of vitamin C. To Judith's surprise, Renie
didn't even bother to study the menu.
"Aren't you hungry?" Judith asked. Renie was always hungry. Her metabolism could have permitted
her to gobble up at least two aisles of Falstaff's Grocery in a single day.
Renie shook her head. "I've lost my appetite. Besides, Bill and I can't afford food anymore. We have to
pay for all of Anne's wedding and pony up for our
share of Tom and Tony's. Are you forgetting how
SILVER SCREAM
77
Kristin's parents tried to fleece you and Joe when Mike
got married?"
Judith hadn't forgotten, but as usual, she tried to be
charitable. "I think it was mostly a misunderstanding."
"Ha." Renie looked up as their waitress brought the
drinks and asked if they wished to order their meal.
"I'm having just a cup of clam chowder," Renie said.
Judith quickly perused the menu. "That sounds
good. Your chowder is so delicious. I'll have the small
Caesar with it."
Renie looked at the waitress again. "Yes, I should
eat some greens. I'll have the Caesar, too. You can put
smoked prawns on it along with the anchovies. Oh, and
maybe I'll make that a bowl of chowder."
The curly-haired waitress smiled. "Got it. Anything
else?"
Judith shook her head, but Renie held up a hand.
"How about the lox platter with the thin slices of rye
and onion and cream cheese and capers? That should
give me some strength."
"Gee," Judith said as the waitress trotted off, "I'm
glad you're not hungry."
"I'm not." Renie sighed. "But I can't allow myself
to become frail. Now tell me what's going on at the
B&B."
Judith complied, relating the rubber-spider incident
as well as the quarrel between Dade Costello and
Chips Madigan.
"Chips?" Renie said. "He doesn't seem like a
fighter."
"He's tougher than he looks," Judith said. "He has
to be, to deal with all those inflated egos when he's directing a movie."
78
Mary Daheim
Renie tipped her head to one side in a gesture of assent. "Could you catch any of the exchange between
Chips and Dade?"
"Not much," Judith admitted. "It sounded as if they
might be arguing about the script. They disagreed
about something or other. Maybe interpretation?
Would that make sense?"
"Yes," Renie said slowly, "it could. Dade told me
The Gasman is based on a novel."
"He told me the same thing." Judith paused as the
salads arrived and the waitress sprinkled black pepper
over them. "Have you ever heard of it?"
"No," Renie replied, attacking a plump pink prawn.
"I got the impression it was published years ago."
"The concept for the movie sounds kind of weird,"
Judith said, "though I'm no film expert."
Renie nodded. "I thought so, too. But I guess we'd
have to see it first. Bruno Zepf is a remarkable filmmaker. Remember his last movie, They All Had In-
fluenza?"
"I remember when it came out," Judith said, savoring the tangy dressing on her salad. "But I didn't see
it."
"Neither did I," Renie responded, buttering a slice
of Irish soda bread. "I heard it was a big hit, though,
and I think the critics liked it. It was about the terrible
flu epidemic of 1918, with imagery of the Black
Death. Or so Bill told me. He watched it on video one
night while I was at a baby shower for one of Anne's
girlfriends." Renie's face fell. "Oh, gosh—do you suppose I'll end up being a grandmother after all?"
"Why so glum?" Judith queried as the rest of their
order arrived. "I thought you envied my status."
SILVER SCREAM
79
"I did. I do." Renie sprinkled salt and pepper on her
bowl of chowder, then broke up a handful of water
crackers. "It's just that . . . it's kind of a shock somehow. All of this is a shock," she said, dumping the
crackers into the chowder. "What if our kids all get
married at once?"
"That would save money," Judith said dryly.
Renie brightened. "That's a great idea. It would cut
down on arrangements, too. Anne's already talking
about where she wants to have the reception."
"Are you going to suggest a triple wedding?" Judith
asked.
Renie grimaced. "It sounds a little like the Reverend
Moon extravaganzas. I don't know that the kids would
go for it."
"It's an idea," Judith said as a familiar figure at the
bar caught her eye. "Hey—coz," she said in a whisper,
"turn around as discreetly as you can to see who just
showed up for a drink."
"Let's try this," Renie said, dumping her knife on
the floor. "I prefer using my hands when I eat anyway."
She bent down to pick up the knife, then glanced up to
see Ben Carmody a mere ten feet away.
"Why isn't he swilling down Bruno's expensive
stash of alcohol at the B&B?" Judith murmured, noticing that some of the other customers were trying not to
stare at Ben. "Why is he here, alone?"
"Because," Renie replied, loading a slice of rye with
lox, "he wants to be just that—alone. You know, like
Garbo."
"I suppose." Judith kept her eye on the actor. "He's
ordering what looks like straight vodka. Two, in fact.
Uh-oh. Here comes Ellie Linn. Now what?"
80
Mary Daheim
"Maybe the second vodka is for her," Renie suggested.
Between bites of salad and spoonfuls of chowder,
Judith watched the couple at the bar, who were now
being eyeballed by at least a dozen other customers.
Typical of a city known for its good manners, none of
the oglers approached the famous pair.
A glass of white wine was placed before Ellie; Ben
downed both shots of vodka.
"They're having a very serious conversation," Judith
said. "I'm trying to read their body language. Oddly
enough, Ellie seems to be in control. She's all business.
That strikes me as peculiar. I figure her for no more
than twenty or twenty-two at most."
Renie had lapped up her chowder and almost finished the lox plate. "The control factor is money," she
said. "Her dad, Heathcliffe MacDermott, is the hot-dog
king, remember? I heard he put money into The Gas-
man."
"Why? To ensure that Ellie got a good part?"
"I suppose," Renie replied, breaking up more crackers. "I don't think she's made more than two or three
movies before this."
When the cousins had finished their meal and paid
the bill, Ben and Ellie were still head-to-head. Ben was
on his third vodka, though Ellie had barely touched her
wine. Unnoticed, Judith and Renie left T. S. McSnort's
and headed back to Hillside Manor.
Joe met them in the driveway. "Nobody's home except that writer, Costello. I tried to tell him about your
mother's mistake, but he blew me off. I still think that
it serves them right. A grand for a bunch of mushrooms. Sheesh."
SILVER SCREAM
81
"I know." Judith started for the back door with
Renie behind her.
"Do you need some help?" Joe called after them.
"Not yet," Judith replied. "You and Bill and Carl
Rankers will be waiters at the midnight supper, remember?"
Joe looked amused. "I remember. I'm dressing as a
choirboy."
"So you are." Judith sighed. "I'm dressing as a
Roman slave. It fits my role to a T. Oh," she added as
an afterthought, "you'll have to pick up the costumes
from Arlecchino's before four." Keeping it brief, she
explained the damage that had been done to Angela's
Scarlett O'Hara outfit.
"Sabotage?" Joe said. "What's with this bunch?"
"Jealousy, hatred, malice, hostility," Renie put in.
"All the usual Hollywood emotions."
Joe shrugged. "I'm glad I never wanted to be a
movie star. Being a cop seems like a breeze by comparison. Perps aren't nearly as vicious as people in the
movie business. Though," he continued in a musing
tone, "I suppose a cop's life is always interesting to
filmmakers."
Judith scowled at Joe. "What are you thinking of?"
Joe gave Judith an innocent look. "Nothing. Not
really."
"Good," said Judith, and went into the house.
For the next hour the cousins worked in the kitchen,
preparing the supper dishes that could be made ahead.
Joe finally came in from the garage around three. He
was carrying a battered FedEx package.
"The deliveryman just brought this," he said. "Shall I?"
82
Mary Daheim
"Go ahead, open it," Judith replied, wiping her
hands off on a towel. "It must be more exotic items for
tonight, though I thought we already had everything on
hand."
"Whatever it is, it's marked perishable," Joe said,
using scissors to cut the strong paper wrapping. "In
fact, I guess this was supposed to arrive yesterday. The
driver apologized, but explained that because it came
from overseas—" He stopped cold as he saw the box.
"It's French truffles."
Judith stared at the embossed gold lettering. "Périgord truffles. Dare we?" She cut away the tape that
sealed the box and lifted the lid. "Yuk! No wonder
Mother threw the other box out!"
Renie peered around Judith's arm. "Oh, for heaven's
sake, it's just a bunch of brown truffles! I wouldn't
mind tasting one."
"Bleah!" Judith stuck out her tongue. "Go right
ahead. I wouldn't touch those things with a ten-foot
pole." But even as Renie picked up a paring knife, Judith smacked her hand. "No, you don't! These are for
the guests, and now that they got here, Joe can pretend
he found them."
"Hey," Joe cried, "that would be a lie! I'm not accepting a fee on false pretenses."
"Ooh . . ." Judith ran an agitated hand through her
salt-and-pepper hair. "It just seems to me that after all
the—" She stopped and sighed. "You're right, we'll
tell them the truth. The truffles got held up because
they came from"—she looked at the mailing label on
the wrapper—"Bordeaux."
"Makes sense," Renie remarked.
Judith turned to her cousin. "What does?"
SILVER SCREAM
83
Renie held out her hands. "That it would take longer
than if they came from Butte, Montana."
Judith blinked at her cousin, then looked at Joe.
"True," she said in a distracted voice. "But would they
send two boxes? I wonder what was in the package that
Mother flushed down the toilet?"
Judith offered up a prayer of thanksgiving when Joe
brought the costumes back from Arlecchino's at threefifty. The Scarlett O'Hara costume had been mended,
if not restored. While Judith and Renie were examining it, Angela La Belle wandered into the living room.
"Oh," she said in a disinterested voice, "that's mine,
isn't it?"
"Yes," Judith replied. "I had the costume shop put
on a different skirt. It looks rather nice, doesn't it?"
Angela barely glanced at the costume. "I guess.
Where's Dade? Bruno's looking for him."
Judith said she hadn't seen him, but understood that
he was the only member of the Zepf party who hadn't
gone out that afternoon.
"Well, he's not down here, and he's not in his
room," Angela declared. "Maybe he flew back to Malibu." With a languid toss of her long blond hair, the actress wandered out to the front porch.
Renie gave Judith an inquiring look. "She doesn't
seem very upset about her costume, does she?"
"No," Judith said. "I thought she'd pitch a fit."
Renie got up from her kneeling position. "What
time do they leave for the premiere?"
"Five," Judith replied, heading for the kitchen.
"That doesn't give them much time to dress," Renie
pointed out.
84
Mary Daheim
"They're dressing at the hotel with the others," Judith said, putting a mixture of salmon pâté into the
food processor. "The movie theater is just a minute's
walk from the Cascadia, but they'll still show up in
limos, so I suppose they'll drive around the block a
couple of times first."
"It'll be a mob scene," Renie remarked, cutting up
scallions. Her gaze traveled to the American artists'
calendar she'd given Judith for Christmas. "Say, how
much have you learned about twentieth-century
painters from that? I hoped it would be a teaching
tool."
"I've learned there are a lot of them I don't like," Judith replied. "I must admit, though, September taught
me something. I didn't realize that John Singer Sargent
painted anything but portraits."
Renie went over to the wall and flipped back a page.
"Ah— Spain. Sunlight and tiled roofs and fat green
plants in terra-cotta pots. Done with daubs and blobs.
Very different from Madame X." She returned to dicing
vegetables. "How many are coming for the midnight
supper?"
"The current guest list," Judith said, "plus a few others connected with the film."
"Not the entire Hollywood crew?"
Judith shook her head as she went to the pantry to
get a jar of mayonnaise. "This bunch will mingle with
the others at the costume ball in the hotel."
"I hope they don't stay late," Renie called after her
cousin. "You know how Bill likes to make an early
evening of it."
"He'll have to tough it out tonight," Judith said,
holding the jar of mayo and glancing out the back-door
SILVER SCREAM
85
window. "I really appreciate—" She stopped. "There's
Dade Costello. He just came out of the toolshed."
The screenwriter shambled along the walk, indifferent to the rain that had begun to fall again. Judith
opened the door for him.
"Hi," she said. "Were you visiting my mother?"
"Mrs. Grover?" Dade nodded. "Interesting woman."
"She is?" Judith bit her tongue. "I mean, you found
her interesting."
"Yes." Dade proceeded down the hall, through the
kitchen, the dining room, and disappeared.
"Good grief," Judith muttered. "I hope Mother
wasn't telling Dade a bunch of tales like she did with
Bruno."
"I wouldn't put it past her," Renie said.
Half an hour later the limo drivers arrived, along
with a small van in which the other costumes were
loaded. The guests straggled downstairs, Bruno and
Winifred first, then Dirk Farrar, Chips Madigan, and
Angela La Belle. Ben Carmody came next, apparently none the worse for his three shots of vodka.
Ellie Linn descended the stairs backward, humming
to herself. Finally, Dade Costello appeared. As usual,
he seemed to detach himself from the others as the
limos filled up.
Judith and Renie watched from the entry hall. At
precisely five o'clock, the trio of sleek white cars
pulled out of the cul-de-sac like so many ghosts floating just above the ground. Blurred by the rain, even the
headlights seemed ethereal in the gathering darkness.
"To work!" Renie exclaimed, holding up a finger
and marching into the kitchen.
But Judith paused at the foot of the stairs. "Now that
86
Mary Daheim
they're gone, I'll straighten their rooms. Arlene should
be here to help in about twenty minutes."
The state of the guest rooms was no better and no
worse than when they were used by more ordinary
mortals. Indeed, Dade Costello's small quarters looked
as if it had never been occupied. The bed was made,
the bureau was bare, and no clothes had been hung in
the closet. Everything that Dade had brought with him
appeared to be contained in a suitcase and a briefcase.
Both were locked.
Though it showed signs of human habitation,
Winifred's room was also orderly; so was that of Chips
Madigan. The bathroom that Chips shared with Ellie
and Angela was another matter. Hairdryers, curling
irons, magnifying mirrors, and at least two dozen
beauty products were strewn everywhere. Judith
looked around the sink for any signs of what Joe had
deemed to be cocaine. There were none.
Room Six, where the two actresses were bunking
together, was as untidy as the bathroom. Clothes were
everywhere, all casual, all bearing designer labels. At
least ten pairs of shoes littered the floor. Upon closer
scrutiny, Judith saw that except for some size-four
cross-trainers and strappy sandals, the rest belonged to
Angela's size-seven feet.
In Room Four, Dirk and Ben's movie stardom was
made known by a pile of scripts and a file folder
marked projects. Judith glanced at the script on top
of the stack. All the Way to Utah, by Amy Lee Wong.
Flipping through the script, she saw severe editing
marks on almost every page as well as derogatory
comments, some of them obscene. She replaced the
script, then dared to look inside the project file,
SILVER SCREAM
87
which contained loose newspaper and magazine clippings.
Judith extracted one of the clippings, which was
printed on slick paper. The headline read, MUCHO
MACHO COSTS FARRAR A GAUCHO.
Hunkster Dirk Farrar's two-fisted attack on Mighty
Mogul Bruno Zepf has cost the actor the lead role
in Zepf's Argentine epic, El Gaucho Loco O No.
The brouhaha occurred outside a restaurant last
week in Marina Del Rey when producer and actor
got into an argument over who would star in All the
Way to Utah, a project Zepf has temporarily put on
the back burner.
Judith slipped the clipping back into the file. She
shouldn't be wasting her time snooping. There was
work to be done. Briskly, she went into Bruno Zepf's
room. On the nightstand were at least ten pill bottles
along with a couple of tubes of ointment, an inhaler,
and two small brown-paper packets that felt as if they
held some kind of tablets. A tiny scrap of paper that
looked like part of a prescription lay on the floor. Judith picked it up, but could only make out the words
pharmacy and thalidomide. She looked at the medications on the nightstand, but their labels were intact.
With a shrug, she put the little scrap in the wastebasket, then returned to her tasks.
Straightening the bed, Judith noticed a thick book
with a tattered cover and frayed pages slipped under
one of the shammed pillows. She picked it up, barely
making out the sunken lettering on the cover.
The Gasman.
88
Mary Daheim
Opening the book, she noted the author's name—C.
Douglas Carp. The copyright was 1929. The publisher,
Conkling & Stern of St. Louis, was unfamiliar to her.
What struck Judith was not the density of the prose but
the well-fingered pages. It reminded her of an aged,
much-loved, well-thumbed family Bible. Fragile
pieces of leaves and flowers, brittle with age, had been
placed between some of the pages. There was a small
lock of hair so fine it could have belonged to a baby.
Then, as she riffled through the last chapters of the
nine-hundred-page novel, a photograph fell out onto
the bedspread. It was a wallet-size picture of a young
woman, perhaps still in her teens. Like the book, the
photo was well-worn, but the girl's face was fresh, innocent, pretty. Judith thought it might be a high-school
yearbook picture. She flipped it over, but nothing was
written on the back. The blond bouffant hairstyle indicated the sixties. Judith stared at the photo in fascination. She'd seen that face somewhere else, not so
young and definitely not so innocent.
But she couldn't remember where. Or who.
SIX
WHEN JUDITH GOT back downstairs, five early young
trick-or-treaters came to the front door. While Renie
doled out candy to the zebra, the gorilla, the fairy
princess, and two wizards, Judith welcomed Arlene,
who had just reported for duty.
"I watched everyone leave for the premiere," Arlene said, rolling up her sleeves to pitch in with the
cooking. "I hope Ben Carmody will like Cathy. I've
asked her to stop by for the midnight supper."
Judith's mouth fell open. "You have? But it's supposed to be strictly for the movie people."
"That's all right," Arlene replied. "Cathy's going
to tend bar. She's dressing as a panda."
"Surely," Renie remarked, "that costume will
conceal her charms."
"And hide her flaws," Arlene replied. "Mystery,
that's what intrigues men. Ben will be able to see
her very attractive hands. She can't wear paws if
she's going to mix drinks."
Judith didn't contest Arlene's decision. If Cathy
Rankers played bartender, Judith and Joe would not
have to share her duties. For the next few hours the
90
Mary Daheim
women worked side by side until eleven o'clock when
all was in virtual readiness.
"I'm already exhausted," Renie announced, leaning
against the sink. "Is Bill still napping on the sofa?"
"Yes," Judith replied. "So's Carl. On the other sofa.
Joe's watching TV upstairs. He should be down in a
few minutes. Unless he's napping, too."
"Hey," Renie said, suddenly rejuvenated and jumping away from the sink. "Let's turn the TV on to
see—"
The cupboard door behind her sprang open, narrowly missing her head.
"Oops!" Renie exclaimed, then firmly closed the
door. "I wish you'd fix that thing."
"Me too," Judith agreed. "If Joe doesn't give it a go,
I'll have to call Mr. Tolvang next week. Say, do you
think the premiere is on the news?"
"Probably," Renie replied, testing the cupboard door
to make sure it was shut.
Judith clicked on the small color set she kept on the
counter near her computer. Mavis Lean-Brodie, a familiar face from murders past, was making dire predictions about a storm blowing down from the north.
". . . with winds gusting up to forty-five miles an
hour and heavy rains. Small-craft warnings are out on
the . . ."
"She changed her hair again," Renie remarked.
"Now it's pink."
"I hope the rain lets up," Arlene said in a doleful
voice. "It always seems to be nasty when the trick-ortreaters are making their rounds."
"That's because it's late October," Renie replied.
"We get some of our worst wind storms about now."
SILVER SCREAM
91
". . . For more on the weather," Mavis was saying,
"our own Duff Stevens will be along later in the broadcast. But," she added, now all smiles, "despite the rain,
the stars were out tonight downtown. Here's KINETV's entertainment editor, Byron Myron, with more
on that big event."
Byron Myron was a jolly-looking black man whose
appearance belied a rapierlike tongue. He was shown
outside the movie theater holding an umbrella.
"The Gasman arrived here this evening," Byron
said, "and blew out the main line." The camera traveled
to the glittering marquee, followed by clips of the
celebrity arrivals. "Bruno Zepf's four-hour, hundredmillion-dollar extravaganza proved that money can't
buy you love—or a good movie."
"There's Angela in her Gone With the Wind costume," Renie whispered as the female lead was shown
entering the theater.
"How can you tell?" Arlene whispered back. "She's
wearing a mask."
"I saw the costume here," Renie said. "In fact,
somebody ripped—"
Judith waved a hand to shush the other women.
". . . story which was based on an obscure novel of
the same name," Byron Myron was saying, "doesn't
merit four minutes, let alone four hours. As for the acting, the performers are in the unenviable position of
creating several different characters during the various
historical periods Zepf has chosen to make his statement about humanity's progress over four millennia.
Or was it five? I'm not sure. The movie seemed to take
almost that long. This is Byron Myron, reporting
from—"
92
Mary Daheim
Judith switched off the set. "Goodness. That doesn't
sound so good for Bruno."
"Maybe," Renie suggested, "Byron Myron feels he
ought to trash the movie because it was filmed on location around here and the city hosted the premiere.
He may feel that if he praised it, he'd sound like a
homer."
"Maybe," Judith allowed, then started turning on
ovens and putting dishes on to heat. "The Zepf gang
will be back here in a little over half an hour. We
should get into our costumes. So should the husbands."
As the three women changed in the third-floor bedroom, they could hear the wind begin to pick up in the
trees outside. The rain was coming down harder, too,
spattering the windows and running out of the downspouts.
Judith stared at herself in the mirror. She looked
more like a noble Roman lady than a humble slave.
The off-white gown was held on one shoulder by a
brooch that had belonged to Grandma Grover. An old
drapery cord served for the belt, and the scarf that hung
from her head was anchored by an ivory comb that was
a castoff from Auntie Vance.
"Gee, coz," Renie said, "you look pretty hot."
Judith had to admit that the long, graceful gown
suited her statuesque figure. "Thanks," she said. "I
wish I could say the same for you."
Renie tucked the head of her Daisy Duck costume
under her arm. "I thought my tail feathers were kind of
sexy."
"Not as sexy as your big webbed feet," Judith said,
then turned to Arlene, who looked somewhat more enchanting as Gretel, complete with long golden braids and
SILVER SCREAM
93
a gingerbread cookie embroidered on her apron. "How
does Carl feel about wearing Hansel's lederhosen?"
"He loves it," Arlene declared as a knock could be
heard on the door.
"We're decent," Judith called out.
Carl stuck his head in. "I hate lederhosen. Why
couldn't I wear pants?"
"There's nothing wrong with your legs, Carl," Arlene retorted. "Just don't walk like you're knockkneed. And don't forget your hat with the feather."
The women joined the men, who had been changing
in Joe's den. Judith thought Carl looked cute in his
Hansel outfit. With his round face and ruddy cheeks,
Joe made a presentable, if aging, choirboy. And Bill
certainly looked like Donald Duck. He couldn't appear
otherwise, since he had his head in place along with
the rest of his costume.
"Quack, quack," said Bill.
"Yes, you look terrific," Renie replied, giving Bill's
bill a tweak.
"You understood that?" Judith asked in surprise.
"Of course," Renie answered. "Bill and I have been
married so long we can communicate in any language."
Downstairs, Cathy was pounding at the back door.
Arlene let her daughter in. It was a tight squeeze, the
panda suit being very round and very wide.
"The head ruined my hair," Cathy complained, batting at her blond locks with the hand that didn't hold
the head itself. "This thing is hot. And now it's wet
from the rain. I smell like a sheep, not a panda."
"What does a panda smell like?" Renie inquired in
a musing tone.
94
Mary Daheim
"Not as bad as I do," Cathy complained.
"Now, dear," Arlene soothed, "we all have to suffer
for love." She gave Carl a sharp glance. "Think of what
I've had to put up with over the years."
"Stick it in the oven, Gretel," Carl shot back.
Bill waddled over to the cupboards by the work
area. "Quack, quacky, quack?" He addressed Renie.
"In here," Renie replied, opening a cupboard underneath the counter. "Judith has four kinds of cocoa. You
choose."
"Quack," Bill said, pointing to the German chocolate brand, then to a row of cereal boxes on the bottom
shelf. "Quack," he said, indicating the Cheerios.
"Quack," he continued, tapping the Grape-Nuts.
"Quack," he concluded, nudging a box of bran.
Renie placed her Daisy Duck head on the counter.
"You should have had your evening snack at home,"
she said in mild reproach. "I'll have to heat the cocoa
in the microwave. All the burners are in use."
"Quack," said Bill.
Judith shook her head. She'd never understood how
her cousin, who was usually so fractious, could wait on
Bill hand and foot. At least some of the time. But
Renie was equally willing to spoil their children. It
seemed out of character, and therefore illogical. And
logic was the cornerstone of Judith's thought
processes.