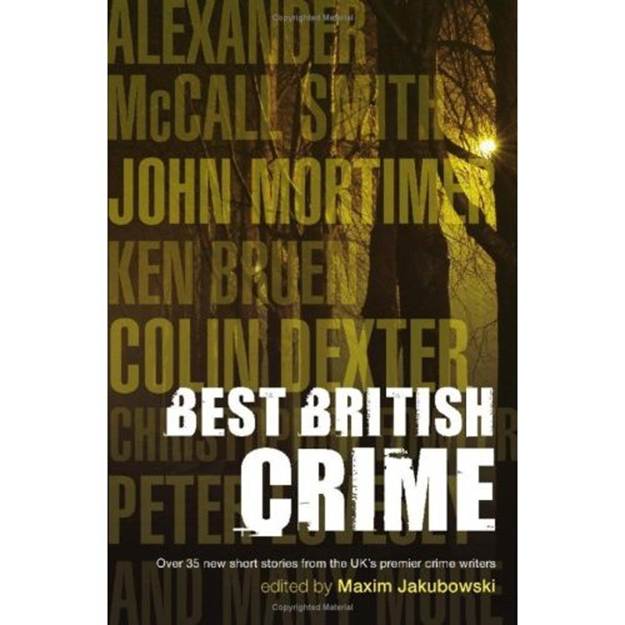 / Language:
English
/ Genre:
detective,
The Mammoth Book of Best British Mysteries 6
Maxim Jakubowski
---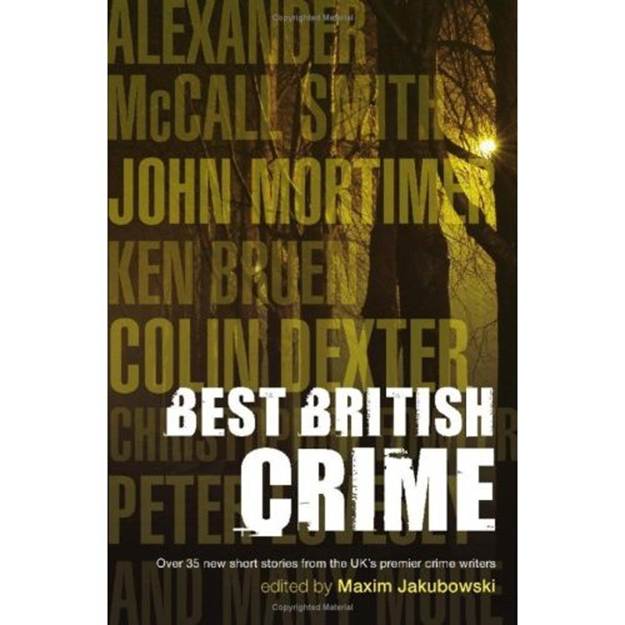 Maxim Jakubowski, John Mortimer, Ray Banks, Amy Myers, Brian McGilloway, Natasha Cooper, Keith McCarthy, Alexander McCall Smith, Judith Cutler, Kevin Wignall, Kate Ellis, Ann Cleeves, Peter Tremayne, Stella Duffy, Marilyn Todd, Bill James, Nicholas Royle, Michael Pearce, Danuta Reah, John Rickards, Zoë Sharp, Martin Edwards, Roz Southey, H. P. Tinker, Peter Turnbull, Ken Bruen, Robert Barnard, David Bowker, Donna Moore, Margaret Murphy, Allan Guthrie, Anne Perry, Chris Simms, Edward Marston, Colin Dexter, Martyn Waites, Andrew Taylor, Andrew Martin, Peter Lovesey, Christopher Fowler
The Mammoth Book of Best British Mysteries 6
INTRODUCTION by Maxim Jakubowski
Welcome to this attempt to gather the best crime and mystery stories written by British authors during the course of the preceding calendar year.
Look up either the British or the American bestseller lists on any given week, and you are guaranteed to find them in majority occupied by crime, mystery and thriller titles. The genre continues to be wonderfully popular all over the world, and will ever continue to thrive. I will not bore you here with a discourse about the reasons why crime writing enjoys such a worldwide appeal, but suffice it to say that it invariably presents us with stories that go from A to B, strong characters, puzzles, action and a rainbow of strong emotions.
Crime short stories are for me a perfect gift, encapsulating as they do all the ingredients to be found in novels, but in a miniature format that retains all the pluses and none of the possible negatives of novels. Commentators often complain about the relative lack of publishing outlets for short stories, but I am pleased to say this is not the case when it comes to crime and mystery. The tales I have harvested this year come from established and newer magazines, thematic anthologies and widely diverse sources both in print and on radio and the internet. It's just a matter of knowing where to look.
Since I completed this year's selection, one of the stories (by Marilyn Todd) has been shortlisted for an American award. The previous year's volume resulted in a Crime Writers' Association award for Martin Edwards' short story; the year before that it was, similarly, Peter Lovesey. In fact, all but two volumes so far in the series have resulted in a Crime Writers' Association award for best short story of the year.
Both Martin and Peter are on board again this year, as is Danuta Reah, winner some years back, but I am also proud to introduce many new names to the series on this occasion. New that is, of course to us, but naturally already well-known outside of the series for their previous books and stories. I am hopeful not only thousands of readers will enjoy the tales in these pages, but maybe also certain judges, so we can make it three prize-winning years in a row!
Popular series characters like Rumpole and Charlie Fox are here to entertain you, and Colin Dexter, now having forsaken Inspector Morse, is still with us, as are many fabulous writers from all the generations past and present of British crime writing.
Savour these stories (but do not try any of the criminal acts scattered across the pages of this volume at home…)
Maxim Jakubowski
RUMPOLE'S SLIMMED-DOWN CHRISTMAS by John Mortimer
Christmas comes but once a year, and it is usually preceded by Christmas cards kept in the prison officers' cubby holes round the Old Bailey and "Away In A Manger" bleating through Boots, where I purchase for my wife Hilda (known to me as She Who Must Be Obeyed) her ritual bottle of lavender water, which she puts away for later use, while she gives me another tie which I add to my collection of seldom worn articles of clothing. After the turkey, plum pudding and a bottle or two of Pommeroy's Chateau Thames Embankment, I struggle to keep my eyes open during the Queen's Speech.
Nothing like this happened over the Christmas I am about to describe.
Hilda broke the news to me halfway through December. "I have booked us in for four days over Christmas, Rumpole, at Minchingham Hall."
What, I wondered, was she talking about? Did She Who Must have relatives at this impressive sounding address? I said, "I thought we'd spend this Christmas at home, as usual."
"Don't be ridiculous, Rumpole. Don't you ever think about your health?"
"Not really. I seem to function quite satisfactorily."
"You really think so?"
"Certainly. I can get up on my hind legs in court when the occasion demands. I can stand and cross-examine, or make a speech lasting an hour or two. I've never been too ill to do a good murder trial. Of course, I keep myself fortified by a wedge of veal and ham pie and a glass or two of Pommeroy's Very Ordinary during the lunch time adjournment."
"Slices of pie and red wine, Rumpole. How do you think that makes you feel?"
"Completely satisfied. Until tea time, of course."
"Tea time?"
"I might slip in to the Tastee-Bite on Fleet Street for a cup of tea and a slice of Dundee cake."
"All that does is make you fat, Rumpole."
"You're telling me I'm fat?" The thought hadn't really occurred to me, but on the whole it was a fair enough description.
"You're on the way to becoming obese." She added.
"Is that a more serious way of saying I'm fat?"
"It's a very serious way of saying it. Why, the buttons fly off your waistcoat like bullets. And I don't believe you could run to catch a bus."
"Not necessary. I go by Tube to the Temple Station."
"Let's face it, Rumpole, you're fat and you're going to do something about it. Minchingham Hall is the place for you." She said, sounding more and more like an advert. "So restful, you'll leave feeling marvellous. And now that you've finished the long fraud case…"
"You mean," I thought I was beginning to see the light, "this Minchingham place is a hotel?"
"A sort of hotel, yes."
Again I should have asked for further particulars, but it was time for the news so I merely said, "Well, I suppose it means you won't have to cook at Christmas."
"No, I certainly won't have to do that!" Here She Who Must gave a small laugh, that I can only describe as merciless, and added, "Minchingham Hall is a health farm, Rumpole. They'll make sure there's less of you by the time you leave. I've still got a little of the money Auntie Dot left me in her will and I'm going to give you the best and the healthiest Christmas you've ever had."
"But I don't need a healthy Christmas. I don't feel ill."
"It's not only your health, Rumpole. I was reading about it in a magazine at the hairdresser's. Minchingham Hall specializes in spiritual healing. It can put you in touch with yourself."
"But I've met myself already."
"Your true self, Rumpole. That's who you might find in 'the restful tranquillity of Minchingham Hall'," She quoted from the magazine.
I wondered about my true self. Had I ever met him? What would he turn out to be like? An ageing barrister who bored on about his old cases? I hoped not, and if that was all he was I'd rather not meet him. And as for going to the health farm, "I'll think it over," I told Hilda.
"Don't bother yourself, Rumpole," She said. "I've already thought."
* * * *
"Tell me quite honestly, Mizz Probert," I said in the corridor in front of Number 6 court at the Old Bailey, "would you call me fat?"
Mizz Liz, a young barrister and my pupil, was defending Colin Timson who, in a pub fight with a rival gang, the Molloys, was alleged to have broken a bottle and wounded Brian Molloy in the arm.
"No, I wouldn't call you that."
"Wouldn't you?" I gave her a grateful smile.
"Not to your face, I wouldn't. I wouldn't be so rude," Mizz Liz Probert replied.
"But behind my back?"
"Oh, I might say it then."
"That I'm fat?"
"Well, yes."
"But you've nothing against fat men?"
"Well, nothing much, I suppose. But I wouldn't want a fat boyfriend."
"You know what Julius Caesar said?"
"I've no idea."
"Let me have men about me that are fat;/ sleek headed men and such that sleep o'nights."
Mizz Probert looked slightly mystified, and as the prosecuting counsel, "Soapy" Sam Ballard QC, the head of our chambers approached, I went on paraphrasing Julius Caesar. "Yond Ballard has a lean and hungry look; he thinks too much. Such men are dangerous."
As Ballard came up I approached him. "Look here, Bollard, I've been meaning to talk to you about the Timson case" I said. "We all know the bottle broke and Brian Molloy fell on to it by accident. If we plead guilty to affray will you drop the grievous bodily harm?"
"Certainly not."
"But surely, Bollard, you could be generous. In the spirit of Christmas?"
"The spirit of Christmas has got nothing to do with your client fighting with a broken bottle."
"Good will and mercy to all men except Colin Timson. Is that it?"
"I'm afraid it is."
"You should go away somewhere to have your spiritual aura cleansed, Bollard. Spend Christmas somewhere like a health farm."
The result of all this was that the young Timson went to prison and I went to the health farm.
On Christmas Eve we took a train to Norwich and then a taxi across flat and draughty countryside (the wind, I thought, blew directly from the Russian Steppes, unbroken by any intervening mountains).
Minchingham, when we got there, appeared to be a village scattered round a grey walled building that reminded me, irresistibly, of Reading Gaol. This was Minchingham Hall, the scene of this year's upcoming Christmas jubilations.
The woman at the reception desk was all grey – grey hair, grey face and a grey cardigan pulled down over her knuckles to keep her hands warm.
She told us that Oriana was giving someone a "treatment" and would be down soon to give us a formal welcome and to hug us.
"Did you say 'hug'…?" I couldn't believe my ears.
"Certainly, Mr Rumpole. People travel here from all over England to be hugged by Oriana Mandeville. She'll suffuse you with 'good energy'. It's all part of the healing process. Do take a seat and make yourselves comfortable."
We made ourselves uncomfortable on a hard bench beside the cavernous fireplace and, in a probably far too loud whisper, I asked Hilda if she knew the time of the next train back to London.
"Please, Rumpole!" she whispered urgently. "You promised to go through with this. You'll see how much good it's going to do you. I'm sure Oriana will be with us in a minute."
Oriana was with us in about half an hour. A tall woman with a pale beautiful face and a mass of curling dark hair, she was dressed in a scarlet shirt and trousers. This gave her a military appearance – like a female member of some revolutionary army. On her way towards us she glanced at our entry in the visitors' book on the desk and then swooped on us with her arms outstretched.
"The dear Rumbelows!" Her voice was high and enthusiastically shrill. "Helena and Humphrey. Welcome to the companionship of Minchingham Hall! I can sense that you're both going to respond well to the treatments we have on offer. Let me hug you both. You first, Helena."
"Actually it's Hilda." Her face was now forcibly buried in the scarlet shirt of the taller Oriana. Having released my wife her gaze now focused on me.
"And now you, Humphrey…"
"My first name's Horace," I corrected her. "You can call me Rumpole."
"I'm sorry. We're so busy here that we sometimes miss the details. Why are you so stiff and tense, Horace?" Oriana threw her arms around me in a grip which caused me to stiffen in something like panic. For a moment my nose seemed to be in her hair, but then she threw back her head, looked me straight in the eye and said, "Now we've got you here we're really going to teach you to relax, Horace."
We unpacked in a bedroom suite as luxurious as that in any other country hotel. In due course, Oriana rang us to invite us on a tour of the other, less comfortable attractions of Minchingham Hall.
There were a number of changing rooms where the visitors, or patients, stripped down to their underpants or knickers and, equipped with regulation dressing gowns and slippers, set out for their massages or other treatments. Each of these rooms, so Oriana told us, was inhabited by a "trained and experienced therapist" who did the pummelling.
The old building was centred round the Great Hall where, below the soaring arches, there was no sign of mediaeval revelry. There was a "spa bath" – a sort of interior whirlpool, and many mechanical exercise machines. Soft music played perpetually and the lights changed from cold blue to warm purple. A helpful blonde girl in white trousers and a string of beads came up to us.
"This is Shelagh," Oriana told us. "She was a conventional nurse before she came over to us and she'll be giving you most of your treatments. Look after Mr and Mrs Rumbelow, Shelagh. Show them our steam room. I've got to greet some new arrivals."
So Oriana went off, presumably to hug other customers, and Shelagh introduced us to a contraption that looked like a small moving walkway which you could stride down but which travelled in the opposite direction, and a bicycle that you could exhaust yourself on without getting anywhere.
These delights, Hilda told me, would while away the rest of my afternoon whilst she was going to opt for the relaxing massage and sun-ray therapy. I began to wonder, without much hope, if there were anywhere in Minchingham Hall where I could find something that would be thoroughly bad for me.
The steam room turned out to be a building – almost a small house – constructed in a corner of the Great Hall. Beside the door were various dials and switches, which, Shelagh told us, regulated the steam inside the room.
"I'll give you a glimpse inside," Shelagh said, and she swung the door open. We were immediately enveloped in a surge of heat which might have sprung from an equatorial jungle. Through the cloud we could see the back of a tall, perspiring man wearing nothing but a towel round his waist.
"Mr Airlie!" Shelagh called into the jungle. "This is Mr and Mrs Rumpole. They'll be beginning their treatments tomorrow."
"Mr Rumpole. Hi!" The man turned and lifted a hand. "Join me in here tomorrow. You'll find it's heaven. Absolute heaven! Shut the door, Shelagh, it's getting draughty."
Shelagh shut the door on the equatorial rain forest and returned us to a grey Norfolk afternoon. I went back to my room and read Wordsworth before dinner. There may have been a lot wrong with the English countryside he loved so much – there was no wireless, no telephone, no central heating and no reliable bus service. But at least at that time they had managed to live without health farms.
Before dinner all the guests were asked to assemble in the Great Hall for Oriana to give us a greeting. If I had met myself at Minchingham Hall I also met the other visitors. The majority of them were middle aged and spreading, as middle aged people do, but there were also some younger, more beautiful women who seemed particularly excited by the strange environment and a few younger men.
Oriana stood, looking, I thought, even more beautiful than ever as she addressed us. "Welcome to you all on this Eve of Christmas and welcome especially to our new friends. When you leave you are going, I hope, to be more healthy than when you arrived. But there is something even more important than physical health. There is the purification of our selves so that we can look inward and find peace and tranquility. Here at Minchingham we call that 'bliss'. Let us now enjoy a short period of meditation and then hug our neighbours."
I meditated for what seemed an eternity on the strange surroundings, the state of my bank balance and whether there was a chance of a decent criminal defence brief in the New Year. My reverie was broken by Oriana's command to hug. The middle aged, fairly thin, balding man next to me took me in his arms.
"Welcome to Minchingham, Rumpole. Graham Banks. You may remember I instructed you long ago in a dangerous driving case."
It was the first time in my life that I'd been hugged by a solicitor. As it was happening, Oriana started to hum and the whole company joined in, making a noise like a swarm of bees. There may have been some sort of signal, but I didn't see it, and we processed as one in what I hoped was the direction of the dining room. I was relieved to find that I was right. Perhaps things were looking up.
The dining room at Minchingham Hall was nowhere near the size of the Great Hall but it was still imposing. There was a minstrels' gallery where portraits hung of male and female members of the Minchingham family, who had inhabited the Hall, it seemed, for generations before the place had been given over to the treatment industry.
Before the meal I was introduced to the present Lord Minchingham, a tall, softly spoken man in a tweed suit who might have been in his late fifties. His long nose, heavy eyelids and cynical expression were echoed in the portraits on the walls.
"All my ancestors – the past inhabitants of Minchingham Hall," he explained and seemed to be dismissing them with a wave of his hand. Then he pointed to a bronze angel with its wings spread over a map of the world as it was known in the seventeenth century. "This is a small item that might amuse you, Mr Rumpole. You see, my ancestors were great travellers and they used this to plan in which direction they would take their next journey," and he showed me how the angel could be swivelled round over the map. "At the moment I've got her pointing upwards as they may well be in heaven. At least some of them."
When we sat down to dinner Hilda and I found ourselves at a table with Graham Banks (the solicitor who had taken me in his arms earlier) and his wife. Banks told us that he was Oriana's solicitor and he was at pains to let me know that he now had little to do with the criminal law.
"Don't you find it very sordid, Rumpole?" he asked me.
"As sordid and sometimes as surprising as life itself," I told him, but he didn't seem impressed.
Lord Minchingham also came to sit at our table, together with the corpulent man I had last seen sweating in the steam room, who gave us his name as Fred Airlie.
Dinner was hardly a gastronomic treat. The aperitif consisted of a strange, pale yellowish drink, known as "yak's milk". We were told it is very popular with the mountain tribes of Tibet. It may have tasted fine there, but it didn't, as they say of some of the finest wines, travel well. In fact it tasted so horrible that as I drank it I closed my eyes and dreamt of Pommeroy's Very Ordinary.
The main course, indeed the only course, was a small portion of steamed spinach and a little diced carrot, enough, perhaps, to satisfy a small rodent but quite inadequate for a human.
It was while I was trying to turn this dish, in my imagination, into a decent helping of steak and kidney pie with all the trimmings that I was hailed by a hearty voice from across the table.
"How are you getting on, Rumpole? Your first time here I take it?" Fred Airlie asked me.
I wanted to say "the first and I hope the last" but I restrained myself. "I'm not quite sure I need treatments," was what I said.
"The treatments are what we all come here for," Airlie boomed at me. "As I always say to Oriana, your treatments are our treats!"
"But fortunately I'm not ill."
"What's that got to do with it?"
"Well, I mean it's bad enough being treated when you're ill. But to be treated when you're not ill…"
"It's fun, Rumpole. This place'll give you the greatest time in the world. Anyway, you look as though you could lose half a stone. I've lost almost that much."
"Ah! Is that so?" I tried to feign interest.
"You've come at a fortuitous moment," Airlie said. "Oriana is going to give us a special Christmas dinner."
"You mean turkey?"
"Turkey meat is quite low in calories," Airlie assured me.
"And bread sauce? Sprouts? Roast potatoes?"
"I think she'd allow a sprout. So cheer up, Rumpole."
"And Christmas pud?"
"She's found a special low calorie one. She's very pleased about that."
"Wine?" I sipped my glass of water hopefully.
"Of course not. You can't get low calorie wine."
"So the traditional Christmas cheer is 'Bah Humbug'."
"Excuse me?" Airlie looked puzzled.
"A touch of the Scrooge about the health farm manageress, is there?" It was no doubt rude of me to say it, and I wouldn't, probably, have uttered such a sacrilegious thought in those sanctified precincts if Oriana had been near.
For a moment or two Airlie sat back in his chair, regarding me with something like horror, but another voice came to my support.
"Looking round at my ancestors on these walls," Lord Minchingham murmured, as though he was talking to himself, "it occurs to me that they won several wars, indulged in complicated love affairs and ruled distant territories without ever counting the calories they consumed."
"But that was long ago," Airlie protested.
"It was indeed. Very, very long ago."
"You can't say Oriana lacks the Christmas spirit. She's decorated the dining room."
There were indeed, both in the dining room and the Great Hall, odd streamers placed here and there and some sprigs of holly under some of the pictures. These signs had given me some hopes for a Christmas dinner, hopes that had been somewhat dashed by my talk with Airlie.
"In my great-grandfather's day," Minchingham's voice was quiet but persistent, "a whole ox was roasted on a spit in the Great Hall. The whole village was invited."
"I think we've rather grown out of the spit-roasting period, haven't we?" Airlie was smiling tolerantly. "And we take a more enlightened view of what we put in our mouths. Whatever you say about it, I think Oriana's done a wonderful job here. Quite honestly, I look on this place as my home. I haven't had much of a family life, not since I parted company with the third Mrs Airlie. This has become my home and Oriana and all her helpers are my family. So, Mr Rumpole, you're welcome to join us." Airlie raised his glass and took a swig of yak's milk, which seemed to give him the same good cheer and feeling of being at one with the world as I got from a bottle of Chateau Thames Embankment.
"And let me tell you this." He leant forward and lowered his voice to a conspiratorial whisper. "When I go all I've got will go to Oriana, so she can build the Remedial Wing she's so keen on. I've told her that."
"That's very good of you." Minchingham seemed genuinely impressed. "My old father was very impressed with Oriana when he did the deal with her. But he wasn't as generous as you."
"I'm not generous at all. It's just a fair reward for all the good this place has done me."
He sat back with an extremely satisfied smile. I've always found people who talk about their wills in public deeply embarrassing, as though they were admitting to inappropriate love affairs or strange sexual behaviour. And then I thought of his lost half stone and decided it must have had enormous value to bring such a rich reward to the health farm.
Thomas Minchingham left us early. When he had gone, Airlie told us, "Tom Minchingham rates Oriana as highly as we all do. And, as he told us, his father did before him."
Whether it was hunger or being in a strange and, to me, curiously alien environment, I felt tired and went to bed early. My wife Hilda opted for a discussion in the Great Hall on the "art of repose", led by two young men who had become Buddhist monks. I had fallen asleep some hours before she got back and, as a consequence, I woke up early.
I lay awake for a while as a dim morning light seeped through the curtains. My need for food became imperative and I thought I might venture downstairs to see if breakfast was still a custom at Minchingham Hall.
When I turned on the lights the dining room had been cleared and was empty. I thought I could hear sounds from the kitchen but I was stopped by a single cry, a cry of panic or a call for help. I couldn't tell which. I only knew that it was coming from the Great Hall.
When I got there, I saw the nurse Shelagh, already dressed, standing by the door to the steam room. The door was open and hot steam was billowing around. Looking into the room I saw Fred Airlie lying face down; a pool of blood had formed under his forehead.
Shelagh came towards me out of the mist. "Is he hurt badly?" I asked her.
"Is he hurt?" she repeated. "I'm afraid he's dead. He couldn't get out, you see."
"Why couldn't he? The door opens…"
Shelagh bent down and picked up a piece of wood, about a foot long; it could have been part of a sawn-off chair leg. As she held it out to me she said, "Someone jammed the door handle with this on the outside. That's how I found it when I came down."
She showed me how the wood had been jammed into the oval circle of the door handle. Fred Airlie had been effectively locked into a steam filled tomb and left there to die.
"I think you'd better call someone, don't you?" I asked Shelagh. She agreed and went at once to the small closet that held the telephone. I waited for her to come back and, once she arrived, told her that I was going to my room and would make myself available if needed.
It was Christmas morning. The bells of the village church rang out the usual peals of celebration. The sun rose cheerfully, flecking the empty branches of the trees with an unusually golden light. In our bedroom Hilda and I exchanged presents. I received my tie and socks with appropriate gasps of surprise and delight and she greeted her lavender water in the same way. It was difficult to remember that, in the apparently peaceful health farm, a man had been done horribly to death while we were asleep.
"I don't know what it is about you, Rumpole," She Who Must Be Obeyed told me, "but you do seem to attract crime wherever you go. You often say you're waiting for some good murder case to come along."
"Do I say that?" I felt ashamed.
"Very often."
"I suppose that's different," I tried to excuse myself. "I get my work long after the event. Served up cold in a brief. There are names, photographs of people you've never met. It's all laid out for a legal argument. But we had dinner with Fred Airlie. He seemed so happy," I remembered.
"Full of himself." He had clearly failed to charm She Who Must Be Obeyed. "When you go downstairs, Rumpole, just you try to keep out of it. We're on holiday, remember, and it's got absolutely nothing to do with you."
When I got downstairs again there was a strange and unusual quietness about the Great Hall and the dining room. The steam room door was closed and there was a note pinned to it that said it was out of order. A doctor had been sent for and had gone away after pronouncing Airlie dead. An ambulance had called and removed the body.
Oriana was going round her patients and visitors, doing her best to spread calm. As I sat down to breakfast (fruit, which I ate, and special low calorie muesli, which I avoided) Graham Banks, the solicitor, came and sat down beside me. He seemed, I thought, curiously enlivened by the night's events. However he began by accusing me of a personal interest.
"I suppose this is just up your street, isn't it, Rumpole?"
"Not really. I wouldn't want that to happen to anyone." I told him.
Banks thought this over and poured himself a cup of herbal tea (the only beverage on offer). "You know that they're saying someone jammed the door so Airlie couldn't escape?"
"Shelagh told me that."
"They must have done it after midnight when everyone else was asleep."
"I imagine so."
"Airlie often couldn't sleep so he took a late night steam bath. He told me that, so he must have told someone else. Who, I wonder?"
"Yes. I wonder too."
"So someone must have been about, very early in the morning.''
"That would seem to follow."
There was a pause then, whilst Banks seemed to think all this over. Then he said, "Rumpole, if they find anyone they think is to blame for this…"
"By 'they' you mean the police?"
"They'll have to be informed, won't they?" Banks seemed to be filled with gloom at the prospect.
"Certainly they will. And as the company's solicitor, I think you're the man to do it," I told him.
"If they suspect someone, will you defend them, whoever it is?"
"If I'm asked to, yes."
"Even if they're guilty?"
"They won't be guilty until twelve honest citizens come back from the jury room and pronounce them so. In this country we're still hanging on to the presumption of innocence, if only by the skin of our teeth."
There was a silence for a while as Banks got on with his breakfast. Then he asked me, "Will I have to tell them what Airlie said about leaving his money to Oriana?"
"If you think it might be relevant."
The solicitor thought this over quietly whilst he chewed his spoonful of low calorie cereal. Then he said, "The truth of the matter is that Minchingham Hall's been going through a bit of a bad patch. We've spent out on a lot of new equipment and the amount of business has been, well, all I can say is disappointing. We're not really full up this Christmas. Of course, Oriana's a wonderful leader, but not enough people seem to really care about their health."
"You mean they cling to their old habits, like indulging in turkey with bread sauce and a few glasses of wine?" I couldn't resist the jab.
He ignored me. "The fact is, this organization is in desperate need of money."
I let this information hang in the air and we sat in silence for a minute or two, until Graham Banks said, "I was hungry during the night."
"I know exactly what you mean." I began to feel a certain sympathy for the solicitor.
"My wife was fast asleep so I thought I'd go down to the kitchen and see if they'd left anything out. A slice of cheese or something. What are you smiling at?"
"Nothing much. It's just so strange that well-off citizens like you will pay good money to be reduced to the hardships of the poor."
"I don't know about that. I only know I fancied a decent slice of cheese. I found some in the kitchen, and a bit of cake."
"Did you really? Does that mean that the kitchen staff are allowed to become obese?"
"I only know that when I started back up the stairs I met Oriana coming down." He was silent then, as if he was already afraid that he'd said too much.
"What sort of time was that?" I asked him.
"I suppose it was around one in the morning."
"Had she been to bed?"
"I think so. She was in a dressing gown."
"Did she say anything?"
"She said she'd heard some sort of a noise and was going down to see if everything was all right."
"Did you help her look?"
"I'm afraid not. I went straight on up to bed. I suddenly felt tired."
"It must have been the unexpected calories."
"I suppose so."
Banks fell silent again. I waited to see if there was going to be more. "Is that it?" I asked.
"What?"
"Is that all you want to tell me?"
"Isn't it enough?" He looked up at me, I thought pleadingly. "I need your advice, Rumpole. Should I tell the police all that? After all, I'm a friend of Oriana. I've known her and been her friend for years. I suppose I'll have to tell them?"
I thought that with friends like that Oriana hardly needed enemies. I knew that the solicitor wouldn't be able to keep his story to himself. So I told him to tell the police what he thought was relevant and see what they would make of it. I was afraid I knew what their answer would be.
Someone, I wasn't sure who at the time, had been in touch with the police and two officers were to come at two thirty to interview all the guests. Meanwhile two constables were sent to guard us. Hilda and I wanted to get out of what had now become a Hall of Doom and I asked for, and got permission to walk down to the village. The young officer in charge seemed to be under the mistaken impression that barristers don't commit murder.
Minchingham village was only half a mile away but it seemed light years from the starvation, the mechanical exercises and the sudden deathtrap at the Hall. The windows of the cottages were filled with Christmas decorations and children were running out of doors to display their presents. We went into the Lamb and Flag and made our way past a Christmas tree, into the bar. There was something here that had been totally absent at Minchingham Hall – the smell of cooking.
Hilda seemed pleased to be bought a large gin and tonic. Knowing that the wine on offer might be even worse than Pommeroy's, I treated myself to a pint of stout.
"We don't have to be back there till two thirty," I told her.
"I wish we never had to be back."
I felt for She Who Must in her disappointment. The visit to Minchingham Hall, designed to produce a new slim and slender Rumpole, had ended in disaster. I saw one positive advantage to the situation.
"While we're here anyway," I said, "we might as well have lunch."
"All right," Hilda sighed in a resigned sort of way. "If you don't mind being fat, Rumpole."
"I suppose I could put up with it," I hoped she realized I was facing the prospect heroically, "for another few years. Now, looking at what's chalked up on the blackboard, I see that they're offering steak pie, but you might go for the pizza."
It was while we were finishing our lunch that Thomas Minchingham came into the pub. He had some business with the landlord and then he came over to our table, clearly shaken by the turn of events.
"Terrible business," he said. "It seems that the police are going to take statements from us."
"Quite right," I told him. "We're on our way back now."
"You know, I never really took to Airlie, but poor fellow, what a ghastly way to die. Shelagh rang and told me the door was jammed from the outside."
"That's right. Somebody did it."
"I suppose it might be done quite easily. There's all that wood lying around in the workshop. Anyone could find a bit of old chair leg… I say, would you mind if I joined you? It's all come as the most appalling shock."
"Of course not."
So his lordship sat and consumed the large brandy he'd ordered. Then he asked, "Have they any idea who did it?"
"Not yet. They haven't started to take statements. But when they find who will benefit from Airlie's will they might have their suspicions."
"You don't mean Oriana?" he asked.
"They may think that."
"But Oriana? No! That's impossible."
"Nothing's impossible," I said. "It seems she was up in the night. About the time Airlie took his late night steaming. Her solicitor, Graham Banks, was very keen to point out all the evidence against her."
Minchingham looked shocked, thought it over and said "But you don't believe it, do you, Mr Rumpole?"
"I don't really believe anything until twelve honest citizens come back from the jury room and tell me that it's true." I gave him my usual answer.
* * * *
The Metropolitan Police call their country comrades "turnips", on the assumption that they are not very bright and so incapable of the occasional acts of corruption that are said to demonstrate the superior ingenuity of the "townees".
I suppose they might have called Detective Inspector Britwell a turnip. He was large and stolid with a trace of that country accent that had almost disappeared in the area round Minchingham. He took down statements slowly and methodically, licking his thumb as he turned the pages in his notebook. I imagined he came from a long line of Britwells who were more used to the plough and the axe than the notebook and pencil. His side-kick, Detective Sergeant Watkins, was altogether more lively, the product, I imagined, of a local sixth form college and perhaps a university. He would comment on his superior's interviews with small sighs and tolerant smiles and he occasionally contributed useful questions.
They set up their headquarters in the Great Hall, far from the treatment area, and we waited outside for our turns.
Graham Banks was called first and I wondered if he would volunteer to be the principal accuser. When he came out he avoided Oriana, who was waiting with the rest of us, and went upstairs to join his wife.
Thomas Minchingham was called in briefly and I imagined that he was treated with considerable respect by the turnips. Then Shelagh went in to give the full account of her discovery of Airlie and the steam room door.
Whilst we were waiting Oriana came up to me. She seemed, in the circumstances, almost unnaturally calm, as though Airlie's murder was nothing but a minor hitch in the smooth running of Minchingham Hall. "Mr Rumpole," she began. "I'm sorry I got your name wrong. Graham has told me you are a famous barrister. He says you are something of a legend round the courts of justice."
"I'm glad to say that I have acquired that distinction," I told her modestly, "since the day, many years ago, when I won the Penge Bungalow murder case alone and without a leader."
There was a moment's pause as she thought it over. I looked at her, a tall, rather beautiful woman, dedicated to the healing life, who was, perhaps, a murderess.
"I'm entitled to have a lawyer present, when I'm answering their questions?"
"Certainly."
"Can I ask you to be my lawyer, Mr Rumpole?"
"I would have to be instructed by a solicitor."
"I've already spoken to Graham. He has no objections."
"Very well then. You're sure you don't want Graham to be present as well?"
"Would you, Mr Rumpole," she gave a small, I thought rather bitter, smile, "in all the circumstances?"
"Very well," I agreed. "But in any trial I might be a possible witness. After all, I did hear what Airlie said. I might have to ask the judge's permission…"
"Don't let's talk about any trial yet." She put a slim hand on mine and her smile became sweeter. "I would like to think you were on my side."
I was called next into the dining room and the turnip in charge looked hard at me and said, without a smile, "I suppose you'll be ready to defend whoever did this horrible crime, Mr Rumpole."
"In any trial," I told him, "I try to see that justice is done." I'm afraid I sounded rather pompous and my remark didn't go down too well with the Detective Inspector.
"You barristers are there to get a lot of murderers off. That's been our experience down here in what you'd call 'the sticks'."
"We are there to make an adversarial system work," I told him, "and as for Minchingham, I certainly wouldn't call it the sticks. A most delightful village, with a decent pub to its credit."
When I had gone through what I remembered of the dinner time conversation, the DI said they would see Oriana next.
"She has asked me to stay here with her," I told the DI, "as her legal representative."
There was a silence as he looked at me, and he finally said, "We thought as much."
Oriana gave her statement clearly and well. The trouble was that it did little to diminish or contradict the evidence against her. Yes, the Minchingham Hall health farm was in financial difficulties. Yes, Airlie had told her he was leaving her all his money, and she didn't improve matters by adding that he had told her that his estate, after many years as a successful stockbroker, amounted to a considerable fortune. Yes, she got up at about one in the morning because she thought she heard a noise downstairs, but, no, she didn't find anything wrong or see anybody. She passed the steam room and didn't think it odd that it was in use as Airlie would often go into it when he couldn't sleep at night. No, she saw nothing jamming the door and she herself did nothing to prevent the door being opened from the inside.
At this point the Detective Sergeant produced the chair leg, which was now carefully wrapped in cellophane to preserve it as the prosecution's Exhibit A. The DI asked the question.
"This was found stuck through the handle of the door to the steam room. As you know, the door opens inwards so this chair leg would have jammed the door and Mr Airlie could not have got out. And the steam dial was pushed up as far as it would go. Did you do that?"
Oriana's answer was a simple "No."
"Do you have any idea who did?"
"No idea at all."
It was at that point that she was asked if she would agree to have her fingerprints taken. I was prepared to make an objection, but Oriana insisted that she was quite happy to do so. The deed was done. I told the officers that I had seen the chair leg for a moment when the nurse showed it to me, but I hadn't held it in my hand, so as not to leave my own prints on it.
At this DI Britwell made what I suppose he thought was a joke. "That shows what a cunning criminal you'd make, Mr Rumpole," he said, "if you ever decided to go on to the wrong side of the law."
The DI and the DS laughed at this and once more Oriana gave a faintly amused smile. The turnips told us that they planned to be back again at six p.m. and that until then the witnesses would be carefully guarded and would not be allowed to leave the Hall.
"And that includes you this time, Mr Rumpole," Detective Inspector Britwell was pleased to tell me.
Oriana made a request. A school choir with their music master were coming to sing carols at four o'clock. Would they be allowed in? Rather to my surprise DI Britwell agreed, no doubt infected by the spirit of Christmas.
As I left the dining room I noticed that the little baroque angel had been swivelled round. She was no longer pointing vaguely upward, and her direction now was England, perhaps somewhere in the area of Minchingham Hall.
* * * *
The spirit of Christmas seemed to descend on Minchingham more clearly during that afternoon than at any other time during our visit. The Great Hall was softly lit, the Christmas decorations appeared brighter, the objects of exercise were pushed into the shadows, the choir had filed in and the children's voices rose appealingly.
"Silent Night," they sang, "Holy Night, All is calm, All is bright. Round yon Virgin, Mother and Child, Holy Infant so tender and mild, Sleep in heavenly peace."
I sat next to Shelagh the nurse, who was recording the children's voices on a small machine. "Just for the record," she said. "I like to keep a record of all that goes on in the Hall."
A wonderful improvement, I thought, on her last recorded event. And then, because the children were there, we were served Christmas tea, and a cake and sandwiches were produced. It was a golden moment when Minchingham Hall forgot the calories!
When it was nearly six o'clock Detective Inspector Britwell arrived. He asked me to bring Oriana into the dining hall and I went with her to hear the result of any further action he might have taken. It came, shortly and quickly.
"Oriana Mandeville," he said. "I am arresting you for the willful murder of Frederick Alexander Airlie. Anything you say may be taken down and used in evidence at your trial."
I awoke very early on Boxing Day, when only the palest light was seeping through a gap in the curtains. The silent night and Holy night was over. It was time for people all over the country to clear up the wrapping paper, put away the presents, finish up the cold turkey and put out tips for the postman. Boxing Day is a time to face up to our responsibilities.
My wife, in the other twin bed, lay sleeping peacefully. Hilda's responsibilities didn't include the impossible defence of a client charged with murder when all the relevant evidence seemed to be dead against her. I remember her despairing, appealing look as Detective Inspector Britwell made her public arrest. "You'll get me out of this, won't you?" was what the look was saying, and at that moment I felt I couldn't make any promises.
I bathed, shaved and dressed quietly. By the time I went downstairs it had become a subdued, dank morning, with black, leafless trees standing against a grey and unsympathetic sky.
There seemed to be no one about. It was as if all the guests, overawed by the tragedy that had taken place, were keeping to their rooms in order to avoid anything else that might occur.
I went into the echoing Great Hall and mounted a stationary bike and I started pedaling on my journey to nowhere at all. I was trying to think of any possible way of helping Oriana at her trial. Would I have to listen to the prosecution witnesses and then plead guilty in the faint hope of getting the judge to give my client the least possible number of years before she might be a candidate for parole? Was that all either she or I could look forward to?
I had just decided that it was when I heard again in that empty hall, the sound of the children's voices singing "Once In Royal David's City". I got off the bike and went to one of the treatment rooms. Nurse Shelagh was alone there, sitting on a bed and listening to her small tape recorder.
When she saw me she looked up and wiped the tears from her eyes with the knuckles of her hands. She said, "Forgive me, Mr Rumpole. I'm being silly." And she switched off the music.
"Not at all," I told her. "You've got plenty to cry about."
"She told me you're a famous defender. You'll do all you can for her, won't you, Mr Rumpole?"
"All I can. But it might not be very much."
"Oriana wouldn't hurt anyone. I'm sure of that."
"She's a powerful woman. People like her are continually surprising."
"But you will do your best, won't you?"
I looked at Shelagh, sadly unable to say much to cheer her up. "Could you turn me into a slim, slender barrister in a couple of days?" I asked her.
"Probably not."
"There, you see. We're both playing against impossible odds. Is that what you used to record the children?" I picked up the small recording machine. It was about as thick as a cigarette packet but a few inches longer.
"Yes. Isn't it ridiculous? It's the dictaphone we use in the office. It's high time we got some decent equipment."
"Don't worry," I said, as I gave it back to her. "Everything that can be done for Oriana will be done."
The dining hall was almost empty at breakfast time, but I heard a call of "Rumpole! Come and join us." So I reluctantly went to sit down with Graham Banks, the solicitor, and his wife. I abolished all thoughts of bacon and eggs and tucked into a low-calorie papaya biscuit. I rejected the yak's milk on this occasion in favour of a pale and milkless tea.
"She wants you to represent her," Banks began.
"That's what she told me."
"So I'll be sending you a brief, Rumpole. But of course she's in a hopeless situation."
I might have said, "She wouldn't be in such a hopeless situation if you hadn't handed over quite so much evidence to help the police in their conviction of your client's guilt," but I restrained myself and only said, "You feel sure that's what she did?"
"Of course. She was due to inherit all Airlie's money. Who else had a motive?"
"I can't think of anyone at the moment."
"If she's found guilty of murdering Airlie she won't be able to inherit the money anyway. That's the law, isn't it?"
"Certainly."
"I'll have to tell her that. Then there'd be no hope of the health farm getting the money either. Tom Minchingham's father made the contract with her personally."
"Then you've got a bundle of good news for her." I dug into what was left of my papaya biscuit.
"There is another matter." Banks looked stern. "I'll also have to tell her that the prosecution will probably oppose bail because of the seriousness of the offence."
"More good news," I said, but this time the solicitor ignored me and continued to look determinedly grave and hopeless. At this point Mrs Banks announced that they were going straight back to London. "This place is now too horrible to stay in for a moment longer."
"Are you going back to London this morning, Rumpole?" Banks asked me.
"Not this morning. I might stay a little while longer. I might have a chat with some of the other people who were with us at the table with Airlie."
"Whatever for?"
"Oh, they might have heard something helpful."
"Can you imagine what?"
"Not at the moment."
"Anyway." Graham Banks gave me a look of the utmost severity. "It's the solicitor's job to go round collecting the evidence. You won't find any other barrister doing it!"
"Oh yes, I know." I did my best to say this politely. "But then I'm not any other barrister, am I?"
It turned out that She Who Must Be Obeyed was of one mind with Mrs Banks. "I want to get out of here as quickly as possible," she said. "The whole Christmas has been a complete disaster. I shall never forget the way that horrible woman killed that poor man."
"So you're giving up on health farms?"
"As soon as possible."
"So I can keep on being fat?"
"You may be fat, Rumpole, but you're alive! At least that can be said for you."
* * * *
I asked Hilda for her recollection of the dinner table conversation, which differed only slightly from my own memory and that of Banks and his wife. There was another, slim, young couple at our table, Jeremy and Anna, who were so engrossed in each other that they had little recall of what else had been going on. The only other person present was Tom Minchingham.
I obtained his number from Shelagh and I rang him. I told him what I wanted and suggested we discuss it over a bottle of wine in the dining hall.
"Wine? Where do you think you're going to find that at the health farm?"
"I took the precaution of placing a bottle in my hand luggage. It's vintage Chateau Thames Embankment. I feel sure you'd like it."
He told me that it would have to be in the afternoon, so I said that would suit me well.
After lunch was over and the table had been cleared I set out the bottle and two glasses. I also moved a large and well covered potted plant nearer to where we were going to sit.
Then I made a brief call to Shelagh and received a satisfactory answer to the question I should have asked earlier. I felt a strange buzz of excitement at the almost too late understanding of a piece of the evidence in Oriana's case which should have been obvious to me. Then I uncorked the bottle and waited as calmly as I could for the arrival of the present Lord Minchingham.
He arrived, not more than twenty minutes late, in a politely smiling mood. "I'm delighted to have a farewell drink, with you, Rumpole," he said. "But I'm afraid I can't help you with this ghastly affair."
"Yes," I said. "It's very ghastly."
"It's terrible to think of such a beautiful woman facing trial for murder."
"It's terrible to think of anyone facing a trial for murder."
"You know, something about Oriana has the distinct look of my ancestor Henrietta Ballantyne, as she was before she became Countess Minchingham. There she is, over the fireplace."
I turned to see the portrait of a tall, beautiful woman dressed in grey silk, with a small spaniel at her feet. She had none of Oriana's features except for a look of undisputed authority.
"She married the fourth Earl in the reign of James the Second. It was well known that she took lovers, and they all died in mysterious circumstances. One poisoned, another stabbed in the dark on his way home from a ball. Another drowned in a mill stream."
"What was the evidence against her?"
"Everyone was sure she was guilty."
"Perhaps her husband did it."
"He was certainly capable of it. He is said to have strangled a stable lad with his bare hands because his favourite mare went lame. But the Countess certainly planned the deaths of her lovers. You're not going to defend her as well, are you, Rumpole? It's a little late in the day to prove my dangerous ancestor innocent?"
"What happened to her?"
"She lived to the age of eighty. An extraordinary attainment in those days. Her last three years were spent as a nun."
"As you say, a considerable attainment," I agreed. "Shall we drink to her memory?"
I filled our glasses with the Chateau Thames Embankment that I had thoughtfully included in my packing. His Lordship drank and pulled a face. "I say, this is a pretty poor vintage, isn't it?"
"Terrible," I told him. "There is some impoverished area of France, a vineyard perhaps, situated between the pissoir and the barren mountain slopes, where the Chateau Thames Embankment grape struggles for existence. Its advantages are that it is cheap and it can reconcile you to the troubles of life and even, in desperate times, make you moderately drunk. Can I give you a refill?"
In spite of his denigration of the vintage Lord Minchingham took another glass. "Are you well known for taking on hopeless cases, Rumpole?" he asked me, when his glass was empty.
"Some people might say that of me."
"And I should think they may be damned right. First of all you want to defend my ancestor, who's dead, and now I hear you've taken on the beautiful Oriana, who is clearly guilty."
"You think that, do you?"
"Well, isn't it obvious?"
I poured myself another glass and changed the subject. "You're devoted to this house, aren't you?"
"Well, it does mean a lot to me. It's the home of my ancestors. Their portraits are on the walls around us. If they could speak to us, God knows what they would say about the present occupants."
"You don't think that the health farm should be here?"
"You want me to be honest, Rumpole?"
"Yes," I said. "I'd like you to be that."
"This house has been in my family since Queen Elizabeth made one of her young courtiers the first Earl of Minchingham, probably because she rather fancied him. I don't say that my ancestors had any particular virtues, Rumpole, but they have been part of British history. We fought for the King in the Civil War. We led a regiment at Waterloo. We went out and ruled bits of the British Empire. One was a young Brigadier killed on the Somme. I suppose most of them would have fancied Oriana, but not as a marriage proposition. But as for the rest of the people here, I don't think there's a chance that any one of them would have received an invitation to dinner."
"Do you think they would have invited me to dinner?"
There was a pause and then he said, "If you want me to be completely honest, Rumpole, no."
"Didn't they need lawyers?"
"Oh yes. They needed them in the way they needed gamekeepers and carpenters and butlers and cooks. But they didn't invite them to dinner."
I considered this and refilled our glasses. "I suppose you think your old father did the wrong thing, then?"
"Of course he did. I suppose he became obsessed with Oriana."
"Did you argue with him about it?"
"I was away in the Army at the time. He sent me a letter, after the event. I just couldn't believe what he'd done."
"How did he meet Oriana?"
"Oh, she had some sort of health club in London. A friend recommended it to him. I think she cured his arthritis. It couldn't have been very bad arthritis, could it?"
I couldn't help him about his father's arthritis, so I said nothing.
"I imagine he fell in love with her. So he gave her this – all our history."
"But she must have been paying for it. In rent."
"Peanuts. He must have been too besotted when he signed the contract."
We had got to a stage in the conversation where I wanted to light a small cigar, Lord Minchingham told me that I was breaking all the rules.
"I feel the heart has been taken out of the health farm," I told him.
"Good for you. I hope it has."
"I can understand how you must feel. Where do you live now?"
"My father also sold the Dower House. He did that years ago, when my grandmother died. I live in one of the cottages in the village. It's perfectly all right but it's not Minchingham Hall."
"I can see what you mean."
"Can you? Can you really, Rumpole?" He seemed grateful for my understanding. "I'm afraid I haven't been much help to you."
"Don't worry. You've been an enormous help."
"We all heard what Airlie said at dinner. That he was leaving his fortune to Oriana."
"Yes," I agreed. "We all heard that."
"So I suppose that's why she did it."
"That's the generally held opinion," I told him. "The only problem is, of course, that she didn't do it."
"Is that what she's going to say in court?"
"Yes."
"No one will believe her."
"On the contrary. Everyone will believe she didn't do it."
"Why?" Lord Minchingham laughed, a small, mirthless laugh, mocking me.
"Shelagh told me what she found. The steam turned up from the outside and a chair leg stuck through the door handle to stop it opening from the inside."
"So that's how Oriana did the murder."
"Do you really think that if she'd been the murderer she'd have left the chair leg stuck in the handle? Do you think she'd have left the steam turned up? Oriana may have her faults but she's not stupid. If she'd done it she'd have removed the chair leg and turned down the steam. That would have made it look like an accident. The person who did it wanted it to look like a murder."
"Aren't you forgetting something?"
"What am I forgetting?"
"No one else would want to kill Airlie."
"Oh, Airlie wasn't considered important by whoever did this. Airlie was just a tool, like the chair leg in the door handle and the steam switch on the outside. If you want to know which victim this murderer was after, it wasn't Airlie, it was Oriana."
"Then who could it possibly be?"
"Someone who wanted Oriana to be arrested, and tried for murder. Someone who would be delighted if she got a life sentence. Someone who thought the health farm wouldn't exist without her. I haven't seen the contract she signed with your father. Did his lawyer put in some clause forbidding indecent or illegal conduct on the premises? In fact, Lord Minchingham, someone who desperately wanted his family home back."
The effect of this was extraordinary. As he sat at the table in front of me Tom Minchingham was no longer a cheerful, half-amused aristocrat. His hand gripped his glass and his face was contorted with rage. He seemed to have turned, before my eyes, into his ancestor who had strangled a stable lad with his bare hands.
"She deserved it," he said. "She had it coming! She cheated my father and stole my house from me!"
"I knew it was you," I told him, "when we met in the pub. You talked about the chair leg in the door handle. When Shelagh rang you she never said anything about a chair leg. She told me that. I suppose you've still got a key to the house. Anyway, you got in after everyone had gone to bed. Airlie told us at dinner about his late night steam baths. You found him in there, enjoying the steam. Then you jammed the door and left him to die. Now Oriana's in an overnight police cell, I suppose you think your plan has been an uncommon success."
In the silence that followed Tom Minchingham relaxed. The murderous ancestor disappeared, the smiling aristocrat returned. "You can't prove any of it," he said.
"Don't be so sure."
"You can invent all the most ridiculous defences in the world, Mr Rumpole. I'm sure you're very good at that. But they won't save Oriana because you won't be able to prove anything. You're wasting my time and yours. I have to go now. I won't thank you for the indifferent claret and I don't suppose we will ever meet again."
He left then. When he had gone I retrieved, from the foliage of the potted plant on the table, the small dictaphone I had borrowed from Shelagh. I felt as I always did when I sat down after a successful cross-examination.
Going home on the train Hilda said, "You look remarkably pleased with yourself, Rumpole."
"I am," I said, a little cheered.
"And yet you haven't lost an ounce."
"I may not have lost an ounce but I've gained a defence brief. I think, in the case of the Queen versus Oriana, we might be able to defeat the dear old Queen."
MONEY SHOT by Ray Banks
I'd thought about it.
Jesus forgive me, but I'd actually thought about it.
Mel Gibson in Lethal Weapon. Muzzle to the forehead, the temple, wedged between teeth. He'd lost his wife, same as me. Unlike Mel, though, my wife was still alive. At least I thought so. The flickering image of her on my telly kept her alive. That moan she'd make, hot breath in my ear as I beat myself into submission, the tears coming five seconds after I did.
Then I wanted to bite down on the barrel of a gun. Because there was no beauty left in the world once the semen started to dry.
My nights were spent like this. Too many to count, far too many to admit. I had a flatmate but I waited until he'd gone to bed. Daryl spent his days watching Trisha and old movies, smoking his weight in tack. Sometimes I'd join him for the movies, the old black and whites. Burt Lancaster shaking in his boots because The Killers were after him.
Daryl: "They don't make 'em like they used to."
And then he'd stick Lethal Weapon in the video. A lot of people forget, he told me, that Mel Gibson is the lethal weapon of the title. He's the nutcase. He's crazy. Look at him jump off that building; watch him try and get the stubbly guy to shoot him. He's fucking bat-shit. Look at him in his trailer with that gun. The hollow point bullet so he'd be sure to take the back of his skull clean off.
"You know why I don't do it? The job. Doing the job…"
Daryl: "Franco Zeffirelli offered him Hamlet because of that scene."
(Daryl was the one who got me the gun.)
Daryl: "You're not gonna do this."
Me: "You don't know that."
Daryl: "I know it. I know you. You're not that fucking mental. You're trying to draw a psycho pension."
Like a movie. He even pointed. I even turned away. The light from the telly cast dark shadows over my eyes, I'm sure. I lit a cigarette while he puffed on the joint.
I heard someone say: "God hates me. That's what it is."
And I said: "Hate him right back. Works for me."
Daryl said: "You talking to the telly again, mate?"
But I was already out the door.
I'd shaved my head. Did it as a ritual, like a monk. Had a Bernard Herrman accompaniment as I did it, watching the hair fall to the floor, my skull prominent in the stained mirror. I took a Bic to the rest, made sure I was clean by the time I'd finished. She wouldn't recognize me; nobody would. I'd spent most of my life with curtains in front of my face; now I had nothing to hide behind. I ran a hand over my head. It felt weird. And cold.
Most cities in the world, they have a porn district. There was a hooker pub up on City Road before they turned it into a media watering hole, but there was no real porn district. We didn't have pornographers in Newcastle. Something about the Geordie accent that put people off their wanking stride.
I caught the Metro into town, sat near the back. Fat girls on a night out further up the carriage, singing a song I'd never heard of. Not that I would've recognized it, anyway. There was the clink of WKD and Breezer bottles, the high-pitched squeals after a dirty joke. There were plenty of dirty jokes. I pretended not to notice them, but I was watching them all the same. Thinking all of them naked and gagged and going down on each other. Thinking if they refused, there really was a gun in my pocket and I wasn't just pleased to see them. Screaming and lapping and shuddering all at the same time.
Fuck them.
I said we didn't have pornographers in Newcastle. That wasn't right. We did. They called themselves something different. They toted the monikers of "indie film producer", "adult entertainment CEO" and "erotica entrepreneurs". Like a turd covered in gold leaf.
I got headaches. Bad ones. Like when you have too much ice cream or milk and you have to close one eye if you're going to get any relief. We all have bloody thoughts. Morality's like some twisted fucking thing you never get to understand because no matter what you do, there's always someone waving a pamphlet, denouncing you as an animal. There was always someone, thought they knew better than you, lived more than you, understood the ways of the world more than you. What did they understand? They understood fuck all, just meshed their experience into some kind of bullshit ethos. The parents who despised corporations, booking their kids into a McDonalds party because they were too fucking weak to say no, had no way of explaining it. Fighting for multi-culturalism and crossing the street when they saw a gang of pakis coming.
I loved curry. Loved the pakis. Hated what they did to me.
This bloke I was going to see, he was a paki. I think. He looked like a paki, dressed like a paki, but he could've been Turkish, Somalian, whatever the fuck refugees we were letting into the country this fucking week without the proper papers. That's why they bombed us, I thought. They bombed us because they could. It was the same reason the big smiling clown kept poisoning the kids, making them fat and useless. Because we were too scared to stop them.
Sometimes fear only gets you so far. Then you crawl out the other side angry as fuck.
And then you get a weapon.
Didn't take too much persuading. Daryl got off on the idea of playing a Leo Getz ("You get it? Leo… gets!") or Morgan Freeman in Shawshank, the kind of bloke, you want something, anything, he's the bloke to go to. He'll hunt it down, he'll be your finder.
I mumbled: "This is a real badge, I'm a real cop, and this is a real fucking gun."
And it was a weight against my rib cage, that recommissioned replica. Daryl knew this guy on the Leam Lane who sold them for a tonne apiece. I thought it was a bit steep at the time, but feeling the heft of the gun, I knew I'd spent wisely.
Daryl: "You want a proper pistol, you pay proper money. You want something to scare the fucker with, then you're better off with a replica."
Me: "I don't want a fucking replica. I want a real one."
Got off the Metro at Monument. I had to walk through the Saturday night orgies on the streets. Orca girls in tight tops that didn't cover a thing. Screaming, screeching in the shadows, like a feeding frenzy. The low humping noise of a dozen blokes in that same check-shirt-gold-chain combo coming up the street. Red faced, stinking of alcohol, itching to slap some cunt because he's looking at them fuckin' funny, like he's a fuckin' poof or a fuckin' nonce or something.
I kept my head down as I walked. Started towards the Bigg Market and the crowds got heavy, packed together. A sudden yell at my left and I saw this young lad get dragged out of a club across the ground. He was shirtless. The bouncer dragging him made sure he went over a pile of broken glass. Planted a fist in the lad's throat.
"I TELT YEH NOT TO FUCKIN' COME BACK, YA CUNT!"
Put my head down again, cradled the gun in my coat. The heavy throb of bass underfoot, I ducked into an alley, passed by All Saint's Church, lit up. Fucking incongruous to have a church here. I crossed myself, pushed down to the Quayside. There was a God. He was away on business, but he'd come back.
What was it? The meek shall inherit. Aye. The meek and the armed.
Up towards City Road now, where the office buildings jostled for attention with the council flats. Building new student accommodation up here, another push to get the undesirables out. Ship 'em off to the West End. Let 'em breed like the fucking pigs they were, then shut 'em in and drop the pellets.
A ratty woman with knock knees under a street light. She had a mobile pressed against her ear.
"I telt yeh yeh had to pick us up, didn't I telt yeh… ya fuckin' cunt, divven't… divven't LIE to us… yez're a fuckin' LIAR… a FUCKIN' LIAR CUNT… how, me fuckin' battery's gannin', it's gannin'… pick us up… yer not at yer mam's, I fuckin' knaa yer not at yer mam's… CUZ I PHONED YER FUCKIN' MAM THAT'S HOW I FUCKIN' KNAA… Aye… Aye… pick us up… pick us up… fuckin'… howeh, pick us up, ya cunt… me fuckin' battery… PICK-US-UP."
She pulled the phone from her ear and threw it against a partly-built wall. It smashed. She let out a noise like she'd been punched, started with: "Ahhhh, nooooo."
I passed her and she spun my way.
Her: "How, yeh gorra tab, mate?"
I shook my head.
Her: "Howeh, yeh got any spare change, like?"
She got in my way.
I smiled at her, showed her all my teeth. Nodded like I was going to give her something, like I was reaching for my wallet. Should've seen her eyes light up at that. Like, fuckin' hell, he's gonna givvus fuckin' NOTES.
I showed her the gun.
Took her a moment to realize what it was, still matching my smile.
When I clicked the barrel against her rotting teeth, her eyes took on the sheen of the newly-weeping. And I opened my mouth wide in a silent scream, felt my jaw click with the effort.
Hers wasn't silent.
But I let her run. It was funny. A heel snapped off and she almost went pocked arse over sagging tit. I laughed.
Just another cracked skeleton in this fucked up town, disappearing into the night.
And then I walked some more, made sure to replace the gun under my armpit. I knew I could draw easily now. Something that'd bugged me up till now. Because I needed to be swift when the time came.
God, my wife. Why was she my wife?
Hair: Blonde.
Eyes: Blue.
Same as an angel. Same as an angel was supposed to look.
Stood about five foot eight in heels. Had a walk to her that made the trousers tight.
She was my wife. I was bound to think that. But everyone thought that. Could turn a bender straight, make a dyke out of a cocklover. But she was an angel, too. You couldn't look at her and not see that. She wasn't about the fucking sex. That wasn't her. She was about love. Beauty.
And look what he did to her. Look what he made her into.
I found the place easily enough. Been by here enough times to know this was his office. I'd phoned ahead to make sure he was in, too. When I pressed the buzzer on the intercom, a gruff voice answered:
"What?"
"Here to see Harry Grace."
"He expecting you?"
"I phoned."
"Right."
The buzzer sounded again. I went in. Couldn't see much in the corridor. Might've been the giant with the square head blocking out the strip light. Looked like a huge clone of Tor Johnson.
Big Tor: "Go upstairs."
Me: "Right."
I went upstairs. Knocked on the door to his office. It smelled bad in here, like aftershave from the seventies.
A voice from inside: "Come in."
I did.
Set the scene, make it plausible. A huge office, like the entire top floor of the building. Like someone took an entire safari park and buckshot the fucking lot across the walls. Leopard print, tiger stripes, that dull yellow fur of the lion, the black and white zebra. The lot. Scatter cushions and a fucking glitter ball hanging from the ceiling. Along the walls posters of straight-to-video releases: Airtight Bitch; Hot Fudge Sunday; Lesbos Lactation. Bean bags. Somewhere a stereo plays classical music, throwing my synapses out of whack.
Silvia Saint sitting on a bean bag in a yellow bikini. Except it wasn't Silvia Saint. It was an older version of Silvia Saint. Covered in downy blonde fluff. Looked closer and her fingernails were filed to points. Something wrong with her eyes, and they were cat contact lenses. Blonde hair scooped back to reveal two pointed ears and when she opened her kewpie mouth to hiss at me, she had fangs.
"Easy, Kitty."
Coming from the end of the office, waaay down there. A massive desk, shining. Covered in leather. The man liked his animals. Loved skinning them, making them into decorations. Flash on Ed Gein and understand the whole fucking room.
"You come to audition?"
Every inch the erotic entrepreneur. Cypriot, I thought. Something not English, anyway, but he had a plummy accent that sounded like he'd learned the language from Charles Hawtrey. Had a belly on him, straining at his dress shirt. A Nehru jacket hanging on a stand behind him. Big cuffs, bigger cuff links catching the light and throwing it in my face.
Me: "No, I've not come to audition."
Him: "You sure? You look like the type."
"What's the type?"
"You."
Kitty hissed some more. Heard the rustle of the bean bag. Wanted to put that gun in her fucking face and pull the trigger. Wound up? Aye. Wound up like a fucking spring.
Me, squinting, my best Clint: "I've come about Liz Fairbride."
Him: "Who the fuck's Liz Fairbride? And what you packing there, son?"
"You what?"
"What you got? You able to rise on cue?"
"I'm not auditioning. Liz Fairbride."
"I don't know her."
"You know her."
"I don't."
Kitty growled.
Me: "Put a leash on your pussy."
Him: "Kitty. Stay put, love."
Harold Grace, all fifty-seven years of him, pulled himself around his desk and knocked on a cabinet. As he opened the top, music played and his face illuminated. He pulled out a crystal decanter filled with something yellow. "You want a drink?"
I shook my head.
"Amber Raines."
He poured himself a drink and turned. Said: "What?"
"Amber Raines. You made her change her name."
"Amber Raines." He sipped his drink. His lip retreated up his gums as he swallowed. "I know Amber Raines. She's the pisser."
I started unzipping my jacket.
"She was a good little actress. You sure you don't want to audition?"
"Getting comfortable. Go on."
"She was a good actress. Wasn't pretty enough to be a star, but she had talent in the watersports. Give as well as receive. She got off on it."
"No, she didn't."
"Nice tits. Nipples like tent pegs."
Kitty growled some more, ended it with a loud hiss.
Grace: "You like Kitty?"
Me: "No."
Another drink, another show of teeth. "Kitty's a star. Feral Pink. Big market for it. Kinkier the better. Some men… Some men like their women hirsute. That's all real, all that hair on her. She grows it herself. I don't go for the fake stuff. Like my movies, they're all real tits. None of the silicone shite. Can't stand it. So you're a fan of Amber Raines?"
I shook my head.
"I didn't know her real name was Liz, like."
Keep talking.
He kept talking.
"Blast from the past, Amber Raines. Christ, what is she now? Like forty or something? But she was fucking good and a good fuck, know what I mean? What, you like the vintage shite? I got plenty of classic stuff for you. Thinking about-"
– thinking about pulling the gun now-
"- a line of retro-movies. You got all this coverage of Deep Throat and Debbie Does Dallas, people get these movies thinking they're gonna be real-"
– DEAD real DEAD-
"- hardcore stuff and it's all tits and arse, know what I mean?"
YOU KILLED HER
Me, softly: "You killed her."
Harold Grace stood there with his glass halfway up to his lips. A pause, then he drank. More teeth, this time bared like a wild animal.
Him: "Who are you?"
Wanting him to know.
Telling him now.
Me: "I'm her husband."
He spluttered. Laughed. HA HA HA. You're joking, mate. You're out of your mind. I didn't know Amber had a fucking HUSBAND. She got a husband, Kitty? You hear that? And Kitty made a noise like a cat laughing, a weird choo-choo-huff sound. And you're her husband. What are you, fucking twenty or something? And you're her hus-
First shot cracked like a bullwhip, like Indy Jones' whip, WAP.
Caught Grace in the whisky glass, smashed it, stuck him in that round belly. Blood in the hand that held the glass, blood flowering thick and fast on his dress shirt. Him wondering what the fuck just happened.
Second shot in the eye, right from across the room. WAP.
Didn't snap his head back like I thought it would. Harold Grace standing there, mouth hanging open, tongue rested on his bottom set of capped teeth.
Then he dropped.
And Kitty went wild. The rustle from the bean bag gave her away, but I didn't turn too quick – still wanted to marvel in that one dead eye looking at me – and she sank those filed teeth into my leg. Pain shook me back to the present, stench of piss in the air. The warm feeling of blood on my ankle. I looked down. There was Kitty. Screeching. I pressed the gun to her scalp and pulled the trigger. More warmth against my leg, but it wasn't my blood this time.
I kicked her crumbled head away, hobbled to the door as Tor Johnson threw it open and filled up the doorway. His eyes wide and bulbous, I stuck the gun in his nose and pulled the trigger. Muffled, but still loud.
Tor's head did snap back.
Fucking glorious. Finally.
I climbed over his body and took the stairs two at a time, both hands on the walls to throw myself down. Landed heavily at the bottom. On the bad ankle. Yelled. Partly out of pain, partly out of release.
Lunged my way down to the Quayside, hugging my open jacket around the gun. There was blood on me and I couldn't run, but I saw a cab and pushed a slapper out of the way to get to it. Her face turned in on itself and she grew a forked tongue, but I made the driver pull away before she could slam on the side of the cab.
Pulling away in a big car with lots of windows. Hearing the sounds of the night. Looking out of the side window like it was Jurassic Park.
"The point is… you're alive when they start to eat you…"
"You what, mate?"
"Nothing."
You're not her husband. How old are you?
Doesn't matter. I'm her husband.
She must be forty by now.
Well out of it. She's dead.
You killed her, Grace. You made her into this fucking beast.
And you made me into the same kind.
Just fucking shut up.
I paid the cab with some notes and some change that I managed to scrape out of my jacket. He saw the gun, I'm sure. I didn't care. He dropped me three streets away from my flat. I limped the rest of the way. Rain started to fall. It felt cold and good against my shaved head. Cleansing.
I got into the flat, bumped into Daryl.
Daryl: "You did it?"
Me: "Aye."
Daryl: "You're not trying to draw a psycho pension. You really are crazy."
I nodded and limped through to the living room. Daryl said he was going to bed. I didn't answer him.
Just went over to the video and put on a movie. One of Liz Fairbride's early works. My wife. That blonde angel, moaning just for me. And I wasn't old enough to be her husband, but maybe back then I would've been. I put the gun on the floor, sat cross-legged. Something white against the black blood.
Kitty's tooth.
I pulled out the canine and turned it in my fingers as my wife breathed. The slap of flesh against flesh, getting quicker now.
Then I flicked the tooth to one side, unzipped my combat trousers and wept silently as both me and my wife came together.
That was love. That was beauty even after the semen dried.
WHERE THERE'S A WILL… by Amy Myers
I'm a wicked old man, so all my dearly beloved relations fondly tell me. They don't know the half of it. They've got a shock coming their way when I'm finally hauled kicking and screaming into the afterworld. Not yet awhile. I'm a hundred years old today, and in full possession of all my faculties. Silas Carter at your service. Just like that creepy old bore Humphrey Bone claims he's at mine. Who needs lawyers? Death and di-vorce is all they're good at. Just as well-he's got a shock heading his way, too.
Look at that marquee out there. No need for it at all. A little bit of rain never hurt anyone. Anyway, it's always sunny on my birthday; that's what darling niece Mary coos at me, bending over me with all her cleavage showing-as though there were anything to look at. Thank the Lord I never had kids of my own. I'm at liberty to see my relations as clear as God made them, and an ugly sight they make. She with her holier-than-thou simper, Don with his knobbly knees, shorts, and binoculars, always twittering on about birds (the feathered kind, alas), and "young" Nigel, Mr. Artsy-Craftsy himself, and more of the craft than art if you ask me. A long-haired skinny white wiggling grub, he is. Never see any of them except when they're crawling here on pilgrimage to my bank account.
Now they've had the nerve to stay in my house, without so much as a by-your-leave to me. "We've fixed it all with William," Mary beams, as though they expect me to leap up in my wheelchair and cry out, "Oh, whoopee!" because my servants and family have saved me the trouble of organising my own birthday. Leap? That I should be so lucky. It's no fun being old, being wheeled everywhere. You have to work hard to make your own fun when you're a hundred years old.
So, believe me, I have.
"It's high time you updated your will," Mr. Humphrey Bore Bone snuffled to me some weeks ago.
"You're right, Humphrey," sighed I, pretending to be all tired and weary, though only ninety-nine at the time.
I'm not only wicked, you see. I'm also very rich. Perhaps that's the reason for it. Never had a wife, well, not for the last seventy years, so I can please myself what I do with my money. Oh, the pleasure of freedom. I've only mentioned these particular relations, but I've a vast family out there. All the Christmas cards check in dutifully once a year, but now they're all screaming down on me like vultures licking their lips in person at the thought of a slice of my golden pie when I hop it.
"How about charities?" Humphrey said dolefully to encourage me on my will updating.
"How about them?" I said rudely.
"Have you no favourite causes?"
"Only one. Mine," I snapped. Then I relented. Humpity-Humph is a boring old stick but he means well. Perhaps. "Tell you what, Humphrey, you find me a charity that looks after blind atheist stamp collectors with moles on their cheeks or aged aunts who run homes for stray elephants and I'll support them."
He couldn't, of course, so when he sent his bill in I didn't pay him-don't believe in encouraging failure. And, I informed him, I'd be writing my own will, and sending it to him in due course.
Humphrey's eyes had glinted, the first sign of life I'd seen for a long time. He told me that one day my jokes would take me too far. Maybe he's right. Jolly good. Nothing like living dangerously when you're a hundred-in your mind, at least. Fat chance I've got of fighting off sharks or climbing Everest from this chair.
The vultures have landed. I can see them all outside in the garden, gathering for the big feast at my expense. Why should I have to pay for my own birthday party? You'd think if they all loved me so much they'd be queuing up to treat me. No way. I reckon that everyone in that mob below flatters himself he's entitled to walk in and help himself to my money the minute I'm dead. Well, I've scotched that little plan. I've outlived my brothers and sisters-told them all I would, and I did-so it's the next generation and the one after that I have to watch. Mary's in the former category, Nigel and Don in the latter. They march together in the vanguard of the "Why don't you leave it all to me?" brigade. The Three Gargoyles, I call them: always goggling at me with their ugly faces and nothing but water running in their veins.
They'd no sooner arrived yesterday than they bounded up to me to ask if I'd like a trip to my old home next month. Bah, humbug. I grew up in a two-up two-down terrace house in Huddersfield. No, I'll stay here in my Surrey mansion, thanks very much, where Woeful William answers my every whim. Most of these are to press Venus's boobs. I've got a bar behind the library books; one touch on the carved lady's tender parts on the panelling underneath and out floats nectar-or whisky, if you prefer its real name. And that's one thing the Three Gargoyles don't know about. Let 'em stick to water. They're welcome to it. If any showed up in my veins they'd burst with shock.
Here come the Gargoyles now. I can see them marching purposefully from the marquee towards the house, and-oh, goodie-Humphrey Bone the Bore is with them. Only William to collect on the way and we're off. Mary's at the front, of course, mutton dressed as lamb, or as I like to think of it, soggy shepherd's pie with a white topping. Don's on one side-trousers today, I see! Even a sporty blazer. I am honoured. I can do without the sight of his knees on my birthday. And I can glimpse darling Nigel's supercilious nose poking out on Mary's other side, as he struts along in his artsy pale cream suit. No artist starving in a garret, he. Nothing but the best for him-especially if it comes courtesy of my bank account. Any one of them would see me dead tomorrow if it wasn't for the fact they can't be certain who's in my will because I might change it. If only I could see their faces when they find out…
Ah well, time for my big appearance. I've been smothered with cards and presents today. Even the Queen sent a card via a minion. She's the only unselfish one amongst them, and she's not getting a slice of anything. Her blinking government will get their paws on anything coming her way in the way of tax. Perhaps I'll send her a lump of stale birthday cake in compensation.
"Well, Uncle Silas, are we all ready?" Mary beamed.
Of course I am, you silly old cow, I wanted to reply, but I could see Humphrey looking at me in that way of his, so I decided to behave. "Hallo, Mary," I quavered. "Think I'd be late for my one glass of champagne?" Not on your life, I thought. Or more pertinently, on mine, which is a great deal more valuable to me.
"Happy birthday, Uncle," Don said heartily, peering at me as though I was a wounded goldfinch.
"Sorry. I'm still alive," I said tartly, and seeing Humphrey's compressed lips, added, "Just my little joke, darling boy." Boy? He looks like an antiquated frog. No, frogs are too lively for our Humph. Toad's more like it. Sits on its bottom and blinks-waiting for the fees to roll in.
Nigel must have been nervous for once. "Many happy returns," he bleated, pumping my hand up and down.
"As a ghost?" I retorted politely, but seeing my grin, the party took this as a witticism in which everyone could join. Even Woeful Willie, looming over me with first-aid kit in hand in case I pass out with pleasure at their company, giggled, although Toad Humphrey remained solemn-faced.
So here we go. Off to my hundredth-birthday party. As I was wheeled into the tent the crowds parted like the Red Sea for Moses. Quite right, too. I could see the place was packed, with all those Christmas cards having sprung to life and put their happy, happy faces on, while they waited for the champagne. I decided to make them all listen to me for an hour at least before they got their reward.
At the end of the first half-hour of my speech, I beamed at their now flagging faces. I was wiping their smiles away splendidly.
"And now, my dears," I announced, "I'm going to tell you something very important."
The whole assembled company leaned forward very hopefully. But it wasn't going to be about my will. Oh no. That's going to be a sweet surprise. I didn't talk about money at all. I lectured them on the importance of happiness in families, how nice it was to see them all together getting on so well. Poppycock. My brothers and sisters used to quarrel like a pack of hyenas, and their offspring followed suit. Even Mary, Don, and Nigel couldn't stand the sight of each other normally. They are only united today by a common hope that they alone will be my sole heir. I have, I admit, been teasing each of them separately that he or she is the person to whom I've left all my money. And it's the truth-in a way.
I do like teasing people.
I'm even teasing you, whoever reads this. You're all expecting me to drink my glass of champagne, gag, clasp my throat, and fall gasping for air, poisoned by one of my dearest and nearest kinfolk, unable to wait a minute longer for my millions.
Well, I've news for you. The party's over, and I'm still alive.
* * * *
"Good morning, Mr. Bone." William opened the door of the manor to me, and led me into the late Mr. Silas Carter's library cum living room. Once it was a dark and sombre place, but no longer. The blinds were up and sunlight streamed in, as if glad to reach the previously forbidden places. I approved. I had always dreaded coming here, but it made my unwelcome task of this morning much easier if the sun was fighting on my side. Silas Carter was, I regret to say, a wicked old man, with a sharp, if lively, tongue. He was no judge of character, however. Assuming the role of boring old lawyer is a useful device for me (and never more so than with Silas Carter) and would be so again in the meeting about to take place.
"My condolences, William," I said formally. Might as well stick to being Humphrey the Bore for the moment. "What will you do once everything is cleared up?" It had obviously been sensible for me as executor-at least as apparent executor-to ask his carer to stay on while the disastrous mess of the estate was being sorted out.
"I daresay I'll find something. I've always dreamed of a cottage of my own, but it won't be the same." William looked sad. "I've been here over twenty years now."
I could see his point. Being ill-treated in a palace might be more palatable than loneliness in a cottage, and William must be over fifty now. Not an age to go searching for new Silas Carters to tend.
"I've prepared coffee for you all, Mr. Bone. I'll be in the kitchen if you want me. Just ring."
He'd be used to that, all right, I thought as he left me. Everything in its place: cups, saucers, coffee keeping warm. If only my life had been as simple over the estate of Silas Carter: Instead it had presented me with The Great Muddle. Not a word that lawyers take kindly to. We prefer words-and wills-that are cut-and-dried, not muddled. Especially where the family of the deceased are concerned. I was ready to implement my plan, and I was only awaiting the three most vocal of them over their demands to know how matters stood with the will. I fear-no, that is not the word I should be using-in the case of these three, I am delighted to tell them. Indeed, I shall relish it. As the old rhyme has it, I do not like thee, Dr. Fell, the reason why I cannot tell. For Dr. Fell, read Mary Simpkins, Donald Paxton, and Nigel Carter. I never have liked them on the rare occasions we have met, but since the events of Silas's hundredth birthday, I have added deep suspicion to my dislike.
These three had stayed in the house the night of Silas's birthday; the latter was also the night of his death. Accidental death, the coroner had concluded, and for someone not personally acquainted with Silas that would be the obvious conclusion. However, I did know the old skinflint well. The doctor had been sufficiently imbued with the notion that Mr. Carter would live forever to notify the coroner at his unexpected death. Poor Silas had proved to be stuffed full of his sleeping pills, with only his fingerprints on the bottle and water beaker. Natural enough, the coroner must have thought, for him to be overcome with the excitement of his birthday party and the glass or two of champagne he had drunk there, and not realise the number of pills he was taking.
That old boozer? I knew better. Silas Carter was far too well accustomed to alcohol to be thrown off his usual careful habits by a mere five or six glasses of champagne-I lost count of the number I saw him drink. If ever I saw a man heading for being pickled for posterity by the whisky inside him, it was Silas Carter.
No, it's far more probable that one of the gruesome threesome helpfully crushed his pills up for him and saw them safely down his throat. Which, though? One of them? All three? Did I care? I most certainly did. Someone might have cheated Silas out of years of life. I began to look forward to this meeting with some eagerness.
The three hopefuls were on time-indeed, some minutes early-and I decided I would play doddering lawyer as well as a boring one while I fumbled with serving coffee and biscuits and fussed about sugar and milk. By the time I'd finished, they were all twitchy. Ever since I'd seen early Hollywood films with lawyers solemnly reading out wills to the assembled company, I'd wished we had the same tradition here in England, and now I was to get my opportunity-at least to some of those most concerned in this mess. Those who, as Silas had kindly explained in the letter he sent me with "the will," had had expectations. Expectations, as opposed to hope, I suppose. Every Carter in Christendom must have been eagerly searching their family tree on the news of Silas Carter's death.
I wouldn't be reading out the will today, but at least I could enjoy my position of temporary power. Not that Silas had demanded to be buried in Siberia or anything like that. Oh no, he was too cunning.
The trio sat on the huge sofa opposite me like the three monkeys: Hear No Evil, See No Evil, Speak No Evil. And I, when I wish, can be very evil.
"It seems to be taking a remarkably long time to clear up dear Uncle Silas's estate," Mary began jovially. I noticed she'd worn a smart(ish) black suit, clearly hoping to impress me with how businesslike she could be. She needn't have worried; most people get very businesslike when it comes to inheriting money. Donald was more cunning; he had decided on a simple countryman's approach: anorak, casual trousers, and sport shirt. As if to pretend he wasn't interested in sordid lucre. Nigel plainly didn't care. He was playing man about town, with long hair and linen suit and sunglasses. I rather wished the blinds had been down. It would have punctured his ego to have to take them off.
"And will take longer," I said gravely, looking at them over the top of my glasses. Instant panic.
"Why?" Nigel ceased to be mysterious, and became very focussed. "It's a simple will, I'm sure. Everything was left to me. He told me so."
Mary looked reproachful. "You misunderstood. It was to me, Nigel. Uncle told me so."
A polite cough from Donald, as though he wished to impress me that he was the reasonable one of the three. He might be right. "To me, actually."
A pause while they summed each other up. "He wanted the family name to continue," Nigel snapped, a trifle more uncertainly now. "So it must be me. You two come through the female line."
Time for the boring lawyer to put a word in. "Might I enquire when he told you this?"
"Several times. The last occasion was the evening he died," Mary said triumphantly as if she'd played an ace. "I went to his room to say goodnight, and he told me I was a good girl and could look forward to a happy, rich retirement."
"What time?" Nigel demanded.
"About eight o'clock," Mary replied with dignity.
Nigel chuckled. "He clearly changed his mind after you left. I went at eight-thirty, and he told me the same."
"That you were a good girl?" Donald sneered. "In fact, you're both barking up the wrong tree, because I went about nine-fifteen, and he told me I was the sole heir. So, if, Aunt Mary, you are telling the truth, or even you, Nigel, Great-Uncle Silas was clearly planning to change his mind and write a new will."
They fell to squabbling, then, until I put in my boring Humphrey cough. "Mr. Silas Carter's confusion that evening could have been induced by the sleeping pills. Was he already feeling sleepy, perhaps, and so didn't know what he was saying?"
"No!" The word was spat out unanimously-hardly surprisingly.
"It's obvious," Mary appealed to me, "he was clearheaded when he spoke to me, and then he either took, or was helped to take," she said meaningfully, "the pills later."
"Are you implying, Auntie Mary-" Nigel emphasised the word, probably to help me get the message that she was ancient and therefore out of her tiny mind-"that either Donald or myself administered a fatal dose of sleeping pills to Uncle?"
"If the cap fits…" Mary said belligerently.
"Did any of you notice the pills on his bedside table?" I asked firmly. I needed control here.
A pause, while they all thought about their own best interests. "I saw his water glass and a flagon of water. I didn't notice the pills. Did you, Donald?" Mary asked stiffly.
Nigel instantly chimed in to say he hadn't, either, and Donald claimed the moral high ground. "I did, as a matter of fact. I noticed the bottle was nearly empty. Thought I should mention it to William in case Great-Uncle Silas needed a new prescription."
Mary retorted with a stage gasp. A hand flew to her throat. (Nice one, I thought.) "And you didn't think dear Uncle might have taken too many?"
"I didn't know how many pills dear Uncle had left from the night before," Donald snapped back. Perhaps his birds never gave him this trouble. "And might I point out, Aunt Mary, that if he had already taken all those pills he wouldn't have been compos mentis enough to talk to any of us."
"Unless one of you is lying," Mary said brightly. "As I was the first there, it's clearly not me."
Nigel retaliated. "How do we know you went at eight, not ten?"
"Because I say so." Mary stood up angrily, then must have realised this was hardly going to help, so she sat down again.
Divide and rule, I thought. An excellent maxim. I had them all on the run now. Or did I?
"Just a minute, Mr. Bone." From the look on his face Donald was trying to metamorphose into Hercule Poirot. "Why on earth should any of us want to bump dear old Great-Uncle Silas off, even if we did each of us think we were his sole legatee? Not to put too fine a point on it, we'd be getting our money pretty soon anyway in the natural course of events. Moreover, even if he'd left his money among the three of us, we'd get a fair amount each."
The other two rapidly appreciated his point and nodded solemnly. "Quite a few million each, I imagine," Nigel remarked hopefully.
He was right. More than a few, in fact. The three of them smiled at me.
Time for me to puncture their little balloon. I too can be a wicked old man. I sighed heavily. "Do you know how many times Mr. Carter has either changed his will or threatened to?"
There was instant silence.
"I see you do," I continued. "Your point is answered. Need I say more?"
Apparently not.
"All right, then," Nigel said at last, not nearly so belligerently, "what did the blasted will say? Which of us did he leave it to?"
My big moment. Hollywood, here I come. I remembered the delightful letter Silas had written to me with the will. "You're blasted well going to work for your money, Humphrey, since I shan't be here to see you squander my money." And then he'd told me why.
Uproar had broken out again as they each debated the merits of their own case for sole inheritance.
I cleared my throat then: "Silence," I roared.
Startled, the three of them instantly obeyed.
"I am sorry to say," I continued blandly, "that none of you is the sole beneficiary."
A silence of a different sort. "You mean we have to share it?" Donald asked warily.
"In a way."
"What the devil does this will say, then?" Nigel was getting very edgy. What a shame, poor lad.
"It's a question of which will," I answered.
"What the hell do you mean?" Nigel roared. "You mean he wrote more than one? That's no problem. The relevant one is the one with the later date. When did-"
"Please!" I held up my hand, looking very grave indeed.
"Which will?" Nigel's voice went satisfactorily out of control. No pretensions to being artsy-craftsy now. "Were there three of them?"
"No."
"How many, then?" Mary squeaked impatiently.
"Seventeen."
Puzzlement at first, then:
"Seventeen? You mean drafts?" Donald asked weakly.
"No, Mr. Paxton. Seventeen wills all fully signed and witnessed and in order. All different in content."
Nigel broke the stunned silence. "The latest is the valid one, you fool. Which is it?"
I was delighted to tell him. "All seventeen wills are dated the same day. All posted that day, too."
"But there must be a way of telling which was signed last. Weren't you present? What the hell were you playing at?" Donald was growing squeaky, Nigel and Mary gaping like goldfish.
"I was not present. All the signatures are valid; all of them, Mr. Carter informed me, were witnessed together by the same two people, a postman and the gardener. Just the signatures; they weren't told what the documents were, I gather." You bet they weren't. They might have spoiled his fun.
"But who are the beneficiaries?" Nigel yelped.
"Each will leaves everything to a different person."
A nice moan from Mary now, but Nigel's brain was meeting the challenge admirably. "You mean there are seventeen people all thinking they're sole legatees?" A short laugh. "Of course the old chap was out of his mind. We can overthrow this easily if-" a glance at the other two-"we stick together."
Good. Another excellent line coming up for me to deliver. "Certainly, Mr. Carter. Provided, of course-"
Instant attention now. "Provided what?" he snarled.
"You have no objection to risking your inheritance. The will asserts that Mr. Silas Carter is writing this in full possession of his faculties-"
"So what? That means nothing-"
"And," I continued happily, "that-to translate into lay terms-if anyone disputes this and tries to upset the will, they lose their inheritance."
"So what the hell happens now? It goes to court? They'll see it's nonsense…" Nigel suddenly saw the problem.
"Indeed. Which will be the valid will out of the seventeen?" I took up the reins again. "In such cases, it is usually far more effective to present the court of probate with a way out of the dilemma."
"Which would be?" Mary asked eagerly.
"All seventeen of you have to meet to agree to a solution, the most obvious of which is that the net estate be divided among all of you."
"But even we three never agree on anything," Donald wailed.
"Perhaps that is what Silas had in mind," I murmured, although at a rough guess a million or so after tax would provide quite a few feathers to adorn their nests.
The gruesome three looked at each other. "All right." Nigel obviously spoke for all of them. "We'll have to go along with it, I suppose. Who are the other fourteen lucky devils?"
I paused. Now for my best line, which I flatter myself I then delivered with elegance and simplicity:
"I don't know."
They didn't quite follow me at first. Then reality struck. "What do you mean, you don't know?" Donald yelled, in a tone he would never have used within a mile of one of his feathered friends.
"Just that," I replied. "All Mr. Carter sent me was a letter telling me the situation, and just one will. He did not tell me who the other beneficiaries were or where the relevant wills might be found."
A terrible silence now.
"Then how do we know there were any more?" Mary was excelling herself. "It could be an elaborate joke. Dear Uncle was so fond of teasing people. He obviously just wrote the one will-to me. Of course."
Nigel glanced at Donald. "Who was the legatee in the will you hold, Bone?"
Now, I don't like being addressed as Bone, and it was therefore with particular pleasure that I put on my best boring-lawyer look of reproof. "I regret I am unable to say. It would be unethical until I have either gathered in the other wills or established whether this is indeed a practical joke."
Donald's lip was trembling. "Then we don't know-" he warbled.
"Precisely." I could not help it. I beamed. "None of you knows whether you have inherited a single bean. It could all, as you yourselves have pointed out, be Mr. Carter's little joke."
* * * *
After speaking to the family, it did not take long for me to realise how Silas Carter had met his end. At first I had remained inclined to the view that the gruesome threesome had conspired to bring about his death, but discarded this notion. Those three couldn't agree on anything, much less to keep mum about murder. For I had no doubt at all that's what it was. I decided to have one last look at the scene of this crime, and having visited Silas Carter's bedroom with William at my heels, we then repaired to the living room.
"Only those three knew about their presumed inheritance, of course," I said casually. "He'd told them, but none of the others." I paused. "Certainly not you, William."
He flushed. "He didn't leave me one, the rotten skinflint."
"So that's why you murdered him, didn't you?"
He went very white, and I quickly pressed Venus's left breast for the whisky. The estate had been paying to keep the supply going. "Me?" he squeaked.
"He told you he wasn't leaving you a penny, and you knew he meant it, didn't you? When you found out about those new wills, you saw your opportunity to get your revenge. If by bad luck the death was queried, there would be plenty of more likely suspects than yourself in the frame."
"How could I have known about those wills?"
"Easily, William. He could get all those wills signed without you, but he couldn't post them without you. You wheeled his chair, you saw them go into the box even if you didn't put them in yourself. You probably stamped them, too. Envelopes with wills inside are a distinctive shape, and each one was addressed to a firm of lawyers. So after that you asked him what he was going to do for you, who'd looked after him so faithfully for all those years."
"That don't mean I murdered him."
"Someone did, and it could only be you. The others all assumed the pills were in the water, and only you knew Silas never drank water at night, only whisky. You crushed them up in the whisky glass, removed it in the morning, and put traces of crushed pill in the water beaker."
"There's no proof." William watched me carefully. "You can't go to the rozzers."
"No proof, but I could stir the waters, so to speak. With a murder investigation, probate on those wills could be held up for a long time."
"So what? Nothing coming to me." He looked at me uncertainly when I did not comment. "What are you going to do, then?" he asked.
"I'll tell you what I'm going to do, William." And I did.
* * * *
Now here we sat two years later, enjoying our last glass of whisky together at Silas's expense. My fees had added up nicely. It had taken nearly all this time before we had finally sorted out the truth, and then we had to hold the meeting for those of the seventeen who wished to attend, and negotiate the agreed division with those who didn't. Two had died in the meantime, leaving further complications with their estates; three preferred not to attend the meeting, but the other twelve met at a most interesting and lively gathering. The Court of Probate duly agreed the resulting settlement, and at last I was free of my obligations to Mr. Carter.
William is a rich man-and so am I-for William was a beneficiary of Silas's will. Indirectly, that is. In fact, through me.
There never was a seventeenth will, not a genuine one anyway. Silas only wrote sixteen. With so many other wills before them, all with the same text and signatures, save for the legatee's name, how likely was the court to notice that one was forged? Or that, faced with such overwhelming evidence of the letter's truth, the signature to that too was forged. Silas's original letter had stated only sixteen wills. I myself added the seventeenth.
I developed many useful skills during that period of work. I could hardly make the forged will out to myself, but in William I had seen the opportunity I was waiting for. We have gone fifty-fifty on the proceeds. Can I trust him to hand over my share? Of course. He isn't going to risk his inheritance going up in smoke if the will is declared a forgery. Can he trust me not to blackmail him for more? Of course he can… I'm a lawyer.
I told you I was a wicked old man.
THE STOLEN CHILD by Brian McGilloway
The cry, when it came, was not what she had expected. For five months she had sat, night after night, her legs gathered beneath her on the sofa, the baby monitor resting on the arm of her chair, waiting, hoping to hear a cry. But, what she heard was not so much a cry as a ghost of a cry, like an echo without a source, its presence confirmed more by the flickering of the lights on the monitor than the tinny sound it produced. It was enough, certainly, to make her shiver involuntarily, to rub the goose-bumped skin of her arm with her palm. The second cry, though, was stronger, building in intensity then cutting short with a strangled yelp.
Thoughts tumbling, Karen stumbled to the foot of our stairs, staring up at the nursery door, willing herself to go up. Gripping the banister rail with whitened knuckles, she attempted to lift her foot onto the first step, but her legs weakened and she staggered. The floor seemed to shift beneath her and she had to grab the other banister rail in order to lower herself onto the step. It was there that she was sitting, her face bleary with tears when I got in from work later.
"What's wrong?" I asked.
"I heard a baby crying. In the monitor. Will you check?" she urged. "I can't go up; it might be Michael."
I took the stairs two at a time, opened the nursery door and flicked on the light, but the room was quiet. A teddy bear had fallen off the dresser and lay on the floor, face down. I picked it up, smelt the newness of its fur.
"Is everything ok?" she called up, her mouth a tight white line.
"Fine," I muttered, closing the door behind me.
She looked at me quizzically. "You don't believe me, do you?" she said. "I did hear it. He cried so hard. Why would he cry so hard?"
I stared at her, but could think of nothing adequate to say.
* * * *
"There was a cry," she said, one week later. "I know you don't believe me but I did hear a child. And I don't think it was Michael."
"I know it wasn't Michael," I replied.
"Where did it come from?" She looked at me pleadingly.
"There must be a simple reason for it," I suggested. "I'll find out."
I dug out the box for the baby monitor on which was a help line number.
"Can I help you?" The voice was female, English, young.
"We have your monitor system," I explained. "My wife heard a baby cry in it."
A pause. "Is that not what the monitor is meant to do?"
"Yes. Sorry. I understand," I said, a little flustered. "It wasn't our baby. She heard someone else's baby crying through our monitor."
"Are you sure it wasn't your own child?"
"Certain."
"It could be that someone else in your street has the same monitor as you. If they are operating on the same frequency, you'll hear their baby and they'll hear yours."
"I see," I said.
"Can I help you with anything else today, sir?" English asked.
"I'm afraid not."
* * * *
One week later, Karen was sobbing when I came home, her arms gathered around her, her left hand at her mouth, her small teeth worrying her thumbnail.
"He's been crying all night," she whispered. "It's Michael. He needs me."
As I opened my mouth to speak, the monitor crackled with static. The lights registered the sound briefly, and subsided. But, when the crying started, there could be no doubt. It developed from a raw scream into coughing sobs, as if the child was tiring. But no one responded to its cries.
Karen, initially elated with vindication, began to cry. "Make it stop," she said balling her fists against the side of her head. "Do something."
* * * *
I followed the curve of our street, pausing outside each house, straining to hear a child crying. At the second-last house, I believed that I did. I rang the doorbell. Through the door's frosted glass I could see a figure move into the hallway, then retreat back into the room from which he had come. I heard something slam. Heard a cry seconds later.
But the cry was from the wrong direction. Karen was out of our house.
"I heard it," she shrieked. "I heard it being killed." "What?"
"The baby was crying. I heard a smack and it stopped," she screamed. "You let it be killed." She pulled back from me. "You let him be killed," she repeated, then spat in my face.
The police officer squeezed into our armchair. "Devlin," he'd said, by way of introduction.
"And it couldn't have been your own child?" Devlin asked after listening to Karen's story. "No," she said.
"Where is your child?" he said, glancing around the room. "He's Michael," Karen answered.
"Can I see him, please?" he asked, putting down his notebook.
"No," Karen said.
"I'd like to see your child, Ma'am."
"You can't, Inspector," I replied, moving to my wife. "You see we… we don't… we don't actually have a child."
* * * *
Devlin returned a few moments later, having walked down to the house where I had heard the baby crying. I stood out on our pathway as we spoke, out of earshot of Karen, my hands in my pockets.
"Anything?" I asked him.
He shook his head.
"Did you check?"
He hesitated, glancing towards our doorway to check that Karen wasn't listening. "I can't check someone's house on the word of your wife. I mean no disrespect, but she needs help."
"She getting all the help she needs," I said, defensively.
"It's not working," he replied. He stared at me a moment, as if deciding something. "What happened to her?"
So I told him about Michael. I told him about how he died at birth. I told him about Karen's therapy, how she had set up the nursery as if Michael was alive, how she sat with the baby monitor we'd bought, hoping some night to hear her son. I told him everything because he was the first person in five months to ask. Because it's the woman who's affected in these things. Not the father. But then, I'm not a father.
Devlin considered all I said. "Do you know your neighbour up there?" he asked finally.
I shook my head.
"I do," Devlin said. "Trevor Conlon. Collects old clothes for charities." He fished in his jacket pocket and handed me a folded green flier. "Funnily enough," he continued, "he also runs a second-hand retro clothes shop. He has no children." He paused. "None of his own, anyway."
* * * *
The phantom child slept in our bed, with us, alongside our dead son, Michael, whose presence was never more physical than that night, when he filled the space between us.
At dawn I sat in the kitchen, staring out at the grey pall of rain that hung over the city, misting the windows, clinging to the red brick of the houses opposite. I read the charity flier Devlin had given me. Clothes Wanted. Will collect. No donation too small. What had the policeman said? "He has no children." Yet I had heard the child crying; it wasn't just Karen's imagination. There was a child in that house, looking for someone. Looking to be found.
I phoned the number on the flier just after nine o'clock. The man who answered sounded groggy. I told him I had a donation to make; suggested he call after eight that evening, gave an address far enough away to keep him out of his house for a good half hour. Long enough for me to search his house myself.
* * * *
I watched his van leave at seven forty five, then went down the alley behind our houses, and climbed over his back wall. His house was like my own. A sash window at the back, the clasp so loose a bank card could flick it open. I slid the window up, the blistered paint flaking off on my hands. I stepped down into his sitting room. Black bags lined one wall. The settee was covered with clothes, labelled and priced.
To my right, the kitchen, dishes piled on the white work top, beer cans, bent doubled on the floor.
I crept out into the hallway and listened. The house sounded empty.
The staircase seemed to creak louder the more carefully I trod. The bathroom faced me at the top of the stairs, a toilet roll tube lying on the floor. There were no toys in the bath, no small tooth brushes in the scum-stained glass on the sink.
The other two rooms were likewise empty – no children, no toys, or clothes. One room was being used as a store. The other was the main bedroom. A duvet lay gathered on the floor, beside it an ashtray spilt butts onto the carpet.
The next set of stairs led to the attic room, filled with junk. The curtains were drawn, but the windows so dirty, the light from the street lamps made little difference. I scanned the room quickly. It was only when I turned to leave that I heard the soft thumping. It seemed to be coming from the cupboard. My stomach flipped as I approached the door, hand out. Hesitated. Opened the door.
The child had black hair. His blue eyes were wide, his mouth covered with brown parcel tape, a slit cut in the middle to allow him to breath. He looked up at me in terror. He kicked his foot against the bottom of the cardboard box in which he had been placed. It thumped softly against the inside of the wardrobe. He was the length of my forearm, maybe four or five months old. He reached out his arms to me, his small fists balled as I lifted him.
At that moment the door downstairs slammed shut, the window in the attic room shuddering with the force. I heard Conlon swearing as his footsteps thudded on the stairs. I tried to crouch down, hide behind the piles of lumber, but the child in my arms was squirming now, kicking to be free. He cried lightly; the sounds stopped below and I heard Conlon come to the stairs leading up to us.
"Who's up there?" he shouted. I imagined his foot on the step. I heard thudding and it took me a moment to realize it was someone banging on the front door.
Conlon didn't move for a second. More banging at the door, insistent. Finally I heard his footfalls as they retreated down the hallway.
* * * *
I listened to the muffled conversation beneath us. Momentarily I heard someone mount the stairs.
"Just to keep you happy, Trevor," a voice I recognized said. The policeman – Devlin. His bulk appeared in the doorway for a second.
"All empty," he called without looking in.
Several minutes later I heard them leaving the house.
* * * *
Weeks later we were at Sunday Mass. Afterwards, Karen stopped to light a candle for Michael, our stolen child. In the porchway I met Devlin again. He was waiting for us, a plastic bag in his hand.
"I saw you in there," he said. "Thought you might be interested. We got a tip off a week or two ago. Saw someone breaking into your neighbour Conlon's house. When we arrived, we arrested him labelling clothes from charity bags for his shop. He claimed there was someone in his house. When we went back later, we found birth certificates for a number of children. Turns out Trevor's been smuggling children into Ireland for illegal adoption."
Karen and I looked at him. He paused, as if waiting for us to speak, before continuing. "He brought in five children in all. We've traced four. One seems to have vanished."
I had to swallow several times, before speaking. "What happened to him?"
"Well, I hope whoever has him will look after him a hell of a lot better than Conlon did. Or than the state would. Maybe he'll be lucky."
Karen placed her hand on my arm. "We need to go."
Devlin nodded. "I understand." He turned to leave, then faced us again. "I almost forgot," he said, taking a small teddy bear from the plastic bag he was carrying. "I picked up this for your wee boy. Michael's his name, isn't that right?"
I could not respond. Karen, however, replied in a clear voice. "No. Paul's his name. After his father."
"Of course," Devlin said, leaning into the pram. He placed the toy beside the sleeping child, rubbed his index finger against the child's cheek. "You be sure to spoil him, now." He straightened up, smiled mildly, scrunched the empty plastic bag into a ball which he stuffed into his coat pocket and walked away from us. He did not look back.
As Karen fixed Paul's blanket, I dipped my finger into the water font and said a prayer to Michael. I prayed he would not mind our taking our second chance. I prayed he would not resent Paul's place with us. I promised him that he still owned a piece of my heart that would never stop being his.
Then I stepped out into the sunlight with the rest of my family.
THE PEOPLE IN THE FLAT ACROSS THE ROAD by Natasha Cooper
It had been a ghastly day. I'd decided to work at home so I could finish the proposal for our biggest client's new campaign. The copy was urgent, you see, because they'd pulled back the meeting by three days. My boss and I were due to make the presentation at ten next morning, and the designers were waiting in the office to pretty up my text and sort out all the PowerPoint stuff for us.
The trouble was, I hadn't expected the interruptions: far more at home than in any office; and worse because of having no receptionists or secretaries to fend them off.
First it was the postman. Not my usual bloke but a temp who couldn't tell the difference between 16 Holly Road, where I live, and 16 Oak Court, Holly Road, which is a flat just opposite. Even so, I shouldn't have shouted. It wasn't his fault he couldn't read much; or speak English, either.
And he wasn't to know how many hours I've wasted over the past year redirecting all the mail I get that obviously isn't meant for me. Letters and packages with all sorts of names. I never pay much attention to the names once I've seen they're not mine, so I couldn't tell you what they were now.
I opened one parcel by mistake, not having read the label before I ripped off the brown packing tape. Wondering why someone was sending me a whole bunch of phone adapters and wires and stuff, I turned the package over and saw it was meant for the flat. That was when I crossed the road and made my third attempt to introduce myself and sort it out. The funny thing was, you see, that in all the months I'd been dealing with their mail I'd never actually seen any of them. Once or twice, there'd been a hand coming through the net curtains to open or shut a window, but that was all.
As usual, I got no answer, even though all the lights were on and there was a radio or TV blaring. I thought I heard their footsteps this time too, and voices, but I suppose it could have been imagination.
Anyway, I was so cross they couldn't be bothered to do their neighbourly bit that I stopped bothering to take their mail across the road. I didn't even correct the wrongly addressed stuff (some of the senders missed out the Oak Court bit too; it wasn't only the postmen who got it wrong). Instead I'd scrawl "Not Known Here" or "No one of this name at this address" on the packages and envelopes before stuffing them back into the postbox on my way to work. If the packages were too big, which happened occasionally, I'd stomp round to the post office on Saturday mornings and dump them at the end of the counter. It took much longer than carting them across the road and leaving them on the flat's doorstep, but it was way more satisfying.
Which maybe explains-though of course it doesn't excuse-the way I shouted at the poor stand-in postie this time round. He took three steps backwards and muttered some kind of apology, so of course I had to join in and explain I hadn't meant to yell.
Anyway, he was only the first. When it wasn't people collecting for charity-decent, kind, clean, well-spoken people, who didn't deserve to be glared at and sent away empty-handed-it was miserable, hopeless-looking young men trying to sell me ludicrously expensive low-grade dusters I didn't want. Or Jehovah's Witnesses. How was I supposed to flog my brain into producing light-hearted, witty sales copy with all this going on? I was ripe for murder, I can tell you.
And then there was the small man in decorator's overalls who had the cheek to ring my bell and tell me my neighbours had been complaining about my overhanging hedge. He offered to cut it back and take away the debris for some even more ludicrous sum. He got all the insults I'd been choking down all morning, and no apology, and I still think I was justified. Almost. At least I didn't lay a hand on him.
When I'd slammed the door in his face, I went back to my copy and re-read the pathetically little I'd managed to write. I had to delete the whole lot. You can imagine how I felt. I bolted some yogurt for lunch and spilled most of it down my T-shirt, so I had to change that and fling it in the washing machine, which wasted yet more time.
Then it was the end of the school day and there were shrieks from all the little darlings who'd been pent up in their classrooms for too long, and the exasperating heavy slap-slap of a football being kicked up and down the road. And chat from the little darlings' attending adults, who all seemed to want to stand right outside my front windows, either talking to each other or jabbering into their mobiles.
When they'd all gone and the street was blessedly quiet once more, the doorbell went again. I shrieked out some filthy word or other (actually, I know quite well what it was, but I don't want to shock you) and ran to the door, wrenching it open and snarling, only to see my ten-year-old godson, looking absolutely terrified.
I apologised again, of course, and discovered he'd only come to return the tin in which I'd delivered his birthday cake. He's great, and on normal days I enjoy his company. He has an interesting, offbeat take on the world, and his talk of school and sports and music often gives me ideas I can use for work when we're pushing children's products. So I had to ask him in and offer him some Diet Coke, which was the only suitable thing I had in the house. Still looking scared, he shook his head and scuttled away like Hansel escaping from the wicked witch's gingerbread house.
I managed a quiet hour after that, and I had about twenty-five percent of the copy written when the early evening crowd started: the meter readers, more charity-collectors, and then the party canvassers. Apparently we were going to have a by-election the next week. I eventually got down to real work at about eight, which was the time I'd have got back from the office on an ordinary day. I was spitting.
Still, I got the copy finished in the end-and it had just the right edgy but funny tone for the product. I was pretty sure the clients would like it. But when I saw it was half eleven, I knew the poor designers weren't going to be happy. I'd kept them hanging on for hours. I hoped they wouldn't be so angry they screwed up. We needed the presentation to look brilliant as well as sound it.
So I e-mailed my text to them with a genuine apology, and asked them to get it back to me by eight the next morning with all the pix and whatever stylish tarting-up they could manage. Then I copied everything to my boss, with an e-mail to say I'd meet him at the clients' at nine forty-five. That would give me plenty of time to have the crucial six hours' sleep and get my hair sorted and pick the best clothes to say it all: cool; monied; efficient; sexy.
As you can imagine, I was pretty hyper by this time, so I took a couple of sleeping pills. Only over-the-counter herbal stuff. I think they're mainly lettuce, and the label on the packet always makes me laugh: "Warning: May Cause Drowsiness."
I was calming down a bit. I chased the pills with a glass of wine and a bit of bread and cream cheese with a smear of mango chutney, which reminds me of the sandwiches my mother used to make me when I was ill as a child.
So, fed, wined, and drugged to the eyeballs with lettuce, I took myself to bed. Just to be sure, I opened The Unbearable Lightness of Being, which hardly ever fails to send me to sleep. It did its stuff pretty soon. I ripped off my specs and turned out the light, to find myself in that state where you fall hundreds of feet through the air, while still being plastered to the mattress. Heaven, really.
Through the lovely muzzy feeling, I thought I heard the phone ring once or twice. I ignored it and it stopped long before the answering machine could've cut in.
The next thing I knew I was floating on twinkling turquoise waves in warm sunlight with dolphins leaping in the distance and a raucous London voice yelling, "Go, Go, Go." I'd barely got my eyes open when there was this almighty crash downstairs and thundering feet and cracking wood as my bedroom door burst open, spraying splinters and bits of the lock all over the place. I got chips of wood in my hair and all over my face.
I'd always been a coward. But I'd never been afraid before. Not like this.
I couldn't breathe. It was as if I'd been hit in the throat. My heart was banging like a pneumatic drill. And I thought I'd throw up any minute. Or pee in my bed.
The worst of it was I couldn't see anything much. There seemed to be dozens of sturdy thighs in jeans at eye level and stubby black things that looked like gun barrels.
It seemed mad. But it's what they looked like. All I could hear was panting: heavy, angry panting. Whatever they were going to do, I knew I had to be able to see, so I reached for the specs on my bedside table. A voice yelled at me to f-ing stay where I was and not move. I couldn't. I mean, my arm was way too heavy. It crashed down on the table and knocked the specs to the floor with the lamp and my book. It made them jam one of the black things nearer my face and yell at me to stay still.
It really was a gun.
Then a hand came and grabbed the edge of the duvet. I hadn't got anything on under it, but that didn't strike me until they ripped the duvet off me and let the cold air in. I twitched. I couldn't help it, in spite of the guns. But nothing happened. Except that one of them swore. I don't know what he thought he'd see under my duvet except me.
"What?" said one of the others. He moved his head a bit. At least, I think it was his head. All I could see was a kind of furry pink mass where his face must be. He raised his voice: "What've you got?"
"Nothing," called another man from further away. "There's no one else. Only a kind of study, with a computer and filing cabinets and magazines and things."
"Magazines? What magazines?"
"Women's stuff. Cosmo. Vogue. Things like that."
He came closer and bent right down into my face. That's when I saw he had a dark-blue peaked cap with a chequered headband and POLICE in neat white letters.
I began to breathe again.
"God, you scared me," I said, and my voice was all high and quavery. I tried to toughen it. "Can I have my glasses, please? And a dressing gown?"
"Don't move." Three gun barrels came even closer to my face. And I heard the scrunch of glass. I don't suppose they did it deliberately, but one of them mashed my new Armani specs under his heavy great feet.
That was enough to make me more cross than scared. Or maybe it was reaction. Shock or something. Anyway, whatever it was, I forgot their guns and not having any clothes on and I just yelled at them, in a voice even my grandmother would have admired. And no one was grander than my grandmother.
"Stop being so damned silly. You've got the wrong sodding address, like the sodding postman. You want the people in the flat across the road. Now let me get up and get my dressing gown. And stop playing silly buggers with those idiotic guns."
The nearest man took a step back and I knew I'd won. After a bit, another of them handed me my dressing gown, smiling and nodding in a sloppy apologetic kind of way, like a bashful terrier. A minute ago he'd been holding a gun to my face; now he wanted to be friends? Mad.
MANDELBROT'S PATTERNS by Keith McCarthy
He was sitting in the bathroom looking at her corpse, as if it were the most normal thing in the world…
The phone's call was magnified by the dark of the night, a demanding intrusion that was not going to be ignored.
First there was a sigh, then a hand reached out for the phone and a deep, almost husky male voice asked, "Yes?" There was a pause. "Yes, that's right… Where?" Another of the same. "Who?" This with some interest. "You're sure?… Okay." Once more, nothing was said, before, "No, don't worry. I'll contact her. I think she's visiting her mother."
The phone was placed back on its stand and there was silence again, as if the room were empty.
Then softly…
"Trouble?" This voice was female.
"Dead woman. Found in the bath. Apparently her wrists were slit."
"Suicide? What's it got to do with us?"
"It's Kate Reed, the wife of Dr. Phil Reed."
For the first time, there was a sense of interest in the room.
"Reed? The forensic pathologist?"
"The same. He was actually the one who phoned in with the call."
After a moment, "I still don't see why they have to phone a detective sergeant in the middle of the night."
"They were after his detective inspector."
"So they found her, although they don't know that. I still don't see why they were after either of us."
An unearthly yowling sounded in the distance as fox called to fox between the dustbins, and with a sigh, the answer was given.
"Apparently he sat there and watched her do it."
* * * *
They spent the remaining hours of darkness at a very plush five-bedroom detached house in the suburbs, feelings of déja vu fighting with feelings of boredom. They had seen the body naked in the bath, the rose-pink water almost completely hiding her embarrassment, a pallid face showing a degree of relaxation that no living human could ever hope to assume. There was no evidence of a fight, nothing even to suggest an argument, a row, or even a small tiff. Their examination of the house had revealed no money problems, no evidence of extra-marital affairs, nothing that suggested anything other than an ordinary marriage.
* * * *
"I still don't believe it."
"Believe it, Hannah. Believe it."
"Phil Reed is not a murderer."
Sam had learned to have great respect for Hannah Angelman's abilities in the seven months he had known her, but this time he thought that she was wrong.
"But when she was found, he was sitting in the bathroom just looking at her corpse, as if it were the most normal thing in the world. The scalpel was on the side of the bath. He'd been drinking wine-had a couple of glasses. There was even a half empty glass of wine on the side of the bath by the body, as if to make out that she'd joined in."
"But has he admitted to murder?"
"He hasn't said anything much. He wants to talk to you."
She leaned back in her chair, looking toward Sam as he stood in front of her desk, yet not seeing him.
"Are we sure the house was secure?"
"Completely."
"So there was no possibility of third-party involvement?"
"None whatsoever."
Another possibility excluded, she reflected that the options were running out for Dr. Philip Reed.
Outside the window of her office some seagulls, ranging far from their usual home around the Gloucester docks, called raucously as they hovered in the swirling spring air. As if called by them, she rose from her chair and went to stare out the window at the constant traffic of Lansdowne Road; the morning rush into Cheltenham was just beginning.
"It's an odd way to murder someone… maybe it is suicide."
"With him watching? Anyway, his fingerprints are all over the handle of the scalpel, which is clear evidence that he took an active part in things. I don't know what else you need. Accept it, Hannah. He killed her."
"Other than the cuts to her wrists, was there any evidence of trauma to the body?"
"The pathologist says the only thing he can find are two tiny puncture marks, one by each of the cuts."
"Nothing else? No ligature marks? No head injury?"
"No."
"That would suggest that she allowed him to do it."
"Unless she was drugged. Perhaps that's what the puncture marks mean; or perhaps he put something in her wine. We'll only know for sure when we get the toxicology back in a day or two."
Hannah turned back to him. "No, she was complicit. At worst this was assisted suicide."
Sam snorted. "Assisted and spectated, then. She was naked in the bath, Hannah. He must have sat there and watched her die."
"Poor sod."
He couldn't believe what he had heard. "Why do you say that? After what he's just done, I don't think he deserves any sympathy."
"There's a lot of history in that marriage, Sam."
"I think he drugged her while she was in the bath-hence her glass of wine-then slit both her wrists and sat and watched her while she bled to death. That's horrible, that's unforgivable. No amount of history comes anywhere near to excusing that."
"It might explain it, though."
"I don't see how."
She turned abruptly around. "Why don't we go and find out? Where is he?"
"Room three. Fisher's with him."
* * * *
As they walked down the stairs to the interview rooms, Sam said, "He had everything. Large house, big car, beautiful wife, and now he's thrown it all down the drain. What drives a man to do that? Surely it can't just have been a row."
"Which is why I'm having a problem with this. Something tells me that there's more to this than is at present apparent."
It was when they had nearly reached the interview room that Sam asked, "What did you mean by 'history'?"
"They had a child, but it died after a few weeks. Internal abnormalities or something. It was a blessing, really."
"Oh."
"They never had any more luck. Phil and his wife had many good things in their lives, but I don't think they ever considered them adequate compensation. I look at Phil and I see a lovely man who's as crippled as effectively as if he were paraplegic."
It was the tone as much as the words that impressed Sam. He asked with a slight smile that hid concern, "Have you got a thing for him, Hannah?"
She laughed. "There's no need for jealousy, Sam."
For Sam's liking, this was altogether too public a place for such sentiments. "Not so loud. I thought we were being discreet. You know what this place is like. There's always someone listening."
"Oh, of course." She lowered her voice to a stage whisper. "Mustn't have a D.I. sleeping with her sergeant. The world might end."
"It might… for us."
She stopped quite abruptly so that he had to turn slightly to face her. She asked, "Would that bother you?"
"Of course it would."
"I'm not just another conquest?"
He looked around, as if the painted stone walls might hide camouflaged eavesdroppers. "Of course not!"
She examined him for a brief moment, twitched a smile, then sighed, "Good."
He stepped toward her and said in a low tone, "I mean it, Hannah."
A nod, but one that was not as certain as it might have been. "Good."
She began walking again and he fell into step. "So why are you so convinced about Phil Reed's innocence?" he asked.
She had to think about that one. Eventually, all she could produce was: "I've just known him a long time. He's not a killer."
"Wasn't maybe. He is now."
* * * *
"Is that steak okay? It certainly looks good."
Her mouth full, Kate nodded at once. "Mmm… delicious."
He thought, You're beautiful. Even a blind man would be able to tell that.
"And the wine? You like the wine?"
"I certainly do."
Reed smiled. "So I should hope, considering the price."
He hadn't really been able to afford the restaurant-if truth be told, he felt out of place in it-but he had things to say tonight.
"Well it's very good… mmm… very good indeed."
"I thought so."
The couple at the table next to them were in their late sixties and would not have looked out of place at an imperial ball; he suspected that they were looking secretly askance at the whippersnappers so uncomfortably close to them, perhaps unable to believe that they had let people in who were not related to the Lord Lieutenant of the County.
"So what's the excuse for such extravagance?"
"Do I need an excuse?"
"Well… it's hardly in character."
He pretended outrage. "How dare you! I'll have you know, I've been known to spend three pounds on a bottle of wine."
"And the rest!" Her smile gilded a lily and somehow improved it.
"Anyone would think I'm a cheapskate."
She leaned forward conspiratorially. "Wouldn't they just?"
"Oh! So that's what you think, is it?" He turned his face away, corners of his mouth turned downward. If he hoped for sympathy, it was a hope that was doomed from the off.
"Me and a few thousand others…"
There was no background music in the restaurant, no violins. As he let the silence between them grow, the chattering around them intruded.
His timing was good, though.
"So you wouldn't want to marry me?" The tone-hurt innocence-was also good.
"What?"
Feigned surprise. "You wouldn't want to marry me. What with me being a cheapskate."
As she realized what he had said, her face erupted with bright delight. "Oh… Oh, God…"
"Fair enough," he went on, apparently oblivious of her reaction. "I'll strike you off the list and then move on…"
"You mean it?"
He shrugged. "It was only an idea. It doesn't matter."
She reached out, grasped his hand, as if to make him realize that she had something to say. "Of course I do! My God! Of course I do. I thought you'd never ask."
He continued in the same slightly distracted tone, "Only, now that I've got a consultant's job…"
"You what?" Her voice rose appreciably, and Lord and Lady Muck next door did not like it.
"Didn't I tell you? I've been appointed as consultant pathologist at Saint Benjamin's. I start in three months."
"That's fantastic!"
"Is that a 'yes' to marriage, then?"
"Of course it is!"
He shook his head. "You just want to marry a doctor. You're a gold digger."
At last he smiled, and after a moment's pause, she sighed huge relief.
"You bet," she said.
* * * *
"Interview commencing at eight twenty A.M., Friday, the seventh of June 2006. Present are Dr. Philip Reed, Detective Sergeant Sam Rich, and Detective Inspector Hannah Angelman. Dr. Reed has been cautioned but has declined to take up his right to have a solicitor present."
Hannah smiled at the man across the desk. "Hello, Phil."
He bowed his head. His demeanor was one of exhaustion, but his smile was genuine. "Hannah."
I'm only the pathologist, the one who has to come face to face with whatever atrocity someone has brought upon another."
"You know Sam?"
"I think we've met a couple of times."
She relaxed back in her chair as if she were in a coffee shop, as if this were a meeting between old mates from university. "I must say, I never expected to find us in this position."
His head bobbed from side to side. "A life without surprise would be a poor life indeed. It might, though, be marginally better than one that contains too many of them."
"Or ones that are too big."
He acknowledged this graciously. "Indeed."
"How long have we known each other, Phil?"
"Oh, I suppose it must be seven, maybe eight years."
She nodded. "I thought I knew you."
"No human being ever truly knows another."
"But I think I can usually tell the killers. God knows I've known a few."
Reed closed his eyes. Sam thought that he looked ready to sleep for a thousand years. His jacket was creased and looked tired, his shirt collar grimed. He said slowly, didactically, "Killing and killers aren't a specific type, Hannah. Even I know that, and I'm only the meat man, the poor blood infantry, the pathologist. I'm only the one who has to come face to face with whatever atrocity someone has brought upon another."
"So what happened last night?"
He explained with brutal simplicity, "My wife died."
"That we know. It's what we don't know that I need you to tell me, and you're the only one who can."
Sam thought for several seconds that he was showing no emotion at all, but then he realized his mistake. Reed's eyes were aqueous, sparkling despite the gloom of the surroundings. "No one on the outside knows what goes on between four walls."
"But you were on the inside."
He sighed, and with perfect timing a single tear tracked down his right cheek. "Yes."
"So tell me what happened."
Now he drew in breath, a ragged, almost juddering sound. "I thought it would all be straightforward. I thought that it would be an ending."
"And isn't it?"
"No."
Sam said in a low tone, "It was for your wife."
Reed seemed surprised that anyone else was in the room. "Yes," he agreed.
Hannah asked, "How do you feel about that, Phil?"
"How do you expect me to feel? My wife's dead."
"Who's fault is that?"
He even managed to smile. "On the face of it, mine."
"Is that a confession?"
At which he was given pause. "Ah, thereby is suspended a very interesting tale."
"Did you kill Kate?"
His reply might have been to a question about the answer to number twenty-one down. "I've been thinking long and hard about that. I suppose, taking everything into account, I would have to admit that I bear some responsibility for her death, yes… Yet, no. There was a degree of inevitability about the events that culminated in Kate's death."
"So you admit that you slit her wrists?"
He took this, considered it, then admitted, "Yes, she asked me to."
Sam was incredulous. "She asked you to? She asked you to grab hold of her hands and slice through her wrists?"
"Something like that."
"And then you sat there? You're asking us to believe that she was quite happy for you to watch her die?"
Reed protested. "We talked. We remembered the good times that we'd had together."
Sam had heard stories on Jackanory that were more believable. "You're asking us to believe that you just sat there while she sat in a bath of water, completely naked, and bled to death?"
"She was my wife. I had seen her sans culottes before."
"You know what I'm saying."
"Yes, Detective Sergeant, and I am asking you to believe what I'm saying. I loved Kate. I wouldn't murder her."
"Yet you admit that you slit her wrists."
"That's right."
"What reason would she have for suicide? An attractive woman, a happy marriage… it was a happy marriage, wasn't it?"
Reed smiled. "Are any truly happy?"
"We're talking about yours."
Reed looked up at him, tears still bright in his eyes. "Well, since you ask, no it wasn't… But that wasn't because we didn't love each other. Far from it."
Sam thought that he was onto something. "Why was it unhappy? Was it money? Or was she having an affair? Were you, perhaps?"
"No, nothing like that."
"Then why did you kill her?"
"I…"
Sam wasn't interested in his protestations. "Come on, Doctor. There's no point in refusing to tell us. You're going to be convicted of murder whether you say anything or not. The only difference is whether you get parole sooner rather than later. The Parole Board don't like people who refuse to accept guilt."
Reed turned to Sam's boss. "I didn't murder Kate, Hannah. I loved her."
Hannah raised her eyebrows. "So you what? Put her out of her misery?"
Reed might have been about to protest, but instead he paused, then said, "That would be a fair description."
"But why? What misery did Kate have to be put out of?"
Reed had begun to weep again. For protracted seconds he said nothing, his head bowed low, then he said sadly, "Death."
* * * *
"That went well, I think."
Reed, who was tired, raised a smile as he brought a tray of dirty crockery out to the kitchen. "It was superb. The desserts were brilliant."
"Thank you. I thought so."
"Mind you, it was obvious that Will and Ruth preferred my main." He decided this with perfect seriousness, apparently after considered study.
Kate was outraged. "You think? You really think?"
Careful not to smile. "I know."
She shook her head. "You sad man."
He had put down the tray and was helping his wife unload the dishwasher. "Where does this go?"
"Don't you know?"
"Obviously not."
"You should be ashamed of yourself. It just goes to show how little you do around here."
"Thank you for that. I'll tell you what, I'll give up the day job-and the money it brings in-and become a househusband. You can support us."
She straightened up. She was wearing a figure-hugging bright blue, almost iridescent evening dress. "I may only be a humble publisher," she pointed out, "but I think you'd notice it if I packed it in tomorrow."
"I seriously doubt it."
And, abruptly, her demeanor changed and became almost fearful. "You really think so?"
"What does that mean?"
A slight hesitation now came upon her. "It's still supposed to be a secret, but Ruth's just found out that she's pregnant. She told me this evening."
"Really?"
"She's thrilled."
For a moment, he was blind to her thinking. "I'm not surprised…" It was at this point that he came to realization. "Oh…"
"Wouldn't it be wonderful? To have a baby?" Something joyous had come into her face, something that frightened him.
"Well… I suppose so."
"Maybe twins," she rushed on. "At any rate, we could eventually have two, or maybe three."
He held up his hands. "Whoa. Hang on there. We've haven't decided on having one yet. We've only been married three years."
"But you want children, don't you? You've always said that you did."
He felt buffeted by her passion, wanted to swim to shore. "Yes…"
"Well, then."
He gestured with his hands that she should slow down. He was fully aware that if he just refused she would be upset, there might even be a row, and he didn't want that. At the same time, he wanted her to calm down, think rationally, where now he was sure that she was driven by instinct. "I just wasn't expecting things to change quite so quickly. We've got a good life together."
"And we'll have an even better one when we're parents. You'll see."
"This is all a bit sudden, Kate."
She couldn't see it. "After three years?"
"I hope we're going to be married a long time."
Despite his wish to avoid confrontation, she was plainly becoming angry at his intransigence. "But what's the point of marriage without children?"
"For Christ's sake, marriage is more than just a means of making babies, Kate."
"But it's also more than just two people enjoying themselves." Her voice was rising, a frown beginning to form on her face. "It's more than just dinner parties, holidays, and good sex." She stopped. Her next sentences were dug out of a very deep pit of emotion. "I want a child, Phil. I want a baby."
And before such depth of passion he found too late that he had nowhere to swim to, no safe haven to find. Before it, he was powerless. "Oh, God… Come here, Kate."
As they held each other, she said through tears against his shoulder, "I didn't realize before how much I wanted children, but I've been unable to get the idea of babies out of my head. And then when Ruth told me…"
Even then, he knew not only that she would have her way, but also that her way would be costly.
* * * *
"About five months ago, Kate was diagnosed with glioblastome multiforme."
"And what's that?"
Reed smiled sadly. "It's a lovely name, isn't it? Sounds properly scientific, suitably imposing. Much more impressive than words like cancer, or brain tumor."
"Is that what it is? Cancer?"
He sighed. "Oh yes. It's a brain tumor, but it's a brain tumor and a half… a supercharged brain tumor. A really nasty, aggressive one. Down the microscope, it looks beautiful, but then all the really vicious diseases look like that. It's one of God's little jokes." He paused, then with intense sourness he added, "Full of jokes, is God. Full of them. A right comedian."
Hannah glanced at Sam, then asked Reed, "But she was being treated…?"
"She was being palliated."
"What does that mean?"
"It's a euphemism. Have you noticed how we live in a euphemistic society? Everything has to be disguised, hidden, pushed away. Call it by another name and then all will be better. The trouble is, deep down they're still the same. The unpleasant is still unpleasant, the vicious is still vicious, the untreatable is still untreatable."
"She was going to die?"
"Oh yes. She was going to die, and how. Maybe in three months, maybe in six."
Sam thought that he understood. "So you killed her."
"So I did as she asked," Reed said with justifiable pedantry.
Sam, though, seemed less impressed by Reed's aspiration to mercy. "Why like that? Why naked in a bath? Why not tablets? You must have access to any number of tablets."
"I know about death, Sergeant. It's my job, God help me. You have to be careful with tablets. They can make you sick, they can make you fit, they can give you unendurable stomach pains. Whereas lying in a warm bath, your lifeblood slowly draining away… there is no pain or vomiting or convulsion. Just slow, lazy unconsciousness from which you never wake up."
"You say you slit her wrists and that she was quite happy for you to do it. I can't believe that. It must have hurt like hell. No one would willingly allow someone else-no matter how much they love them-to put a blade through their flesh."
Reed's demeanor suggested that he was in front of a particularly dense medical student. "You're right, of course… unless you use local anaesthetic first."
Hannah understood. "The puncture marks on her wrists."
Despite everything, Reed seemed impressed by this piece of professionalism. "They were noticed? Good. Who's your pathologist?"
"Colin Browne."
He nodded, then said gently, "Tell him to treat her with dignity."
"I'm sure he will."
Sam remained untainted by sentimentalism and intruded on the moment. "Forgive me for being dense, but you're asking us to believe that you sat there and watched her die? Isn't that a bit ghoulish?"
"What was I supposed to do? Go and make a cup of tea? Perhaps watch Countdown on the telly?"
"But just to sit there? To watch your own wife, who you claim to love, dying?"
Reed was distracted, the last hours of his wife still playing in his mind. "She didn't want to die alone. Who does?"
"Is that the only reason?"
"Yes. Why shouldn't it be?"
"Because I think you enjoyed sitting there while she died."
He shook his head. "It's a funny thing. I know all about death. I'm totally familiar with what it does in all its forms; so much so I can work back from the traces that it leaves on the corpse to deduce what form it took when it visited. That's my skill." He paused, then said, "Yet I know nothing about dying. That's as alien to me as the surface of Jupiter."
Sam thought he understood. "So you treated your own wife's death as some sort of peep show?"
"No, Sergeant. I did not enjoy the experience one bit."
"I think you're sick, Dr. Reed. I think you drugged your wife, slit her wrists, and then sat there drinking wine and enjoying her death."
At which Reed gave up on his student. "I don't really care what you think, Sergeant Rich."
"It's bad enough that you were willing to cut your wife's flesh yourself, but then to watch her bleed to death…"
Reed's head was bowed, as if penitent. "I didn't want to do it, but when the time came, she couldn't do it herself." In a slightly louder voice he asked, "You don't think I enjoyed doing it, do you?"
"You were fascinated, weren't you? A little experiment: Slit the wrists and then sit back and watch. Did you make notes? Did you get off on it? Was it worth-"
"Shut up!" Reed suddenly looked up at Sam and rose slightly from his chair, so that they were face to face in a posture of animal aggression.
Hannah said mildly, "Well, perhaps we've got as far as we're going to get for now. Come on, Sam." They stood up, then to Reed she said, "We're going to have to charge you, I'm afraid."
"Of course."
"I'll need to discuss with the superintendent whether it's manslaughter or murder."
"Perhaps-"
She failed to notice that Reed had something more to say. "And of course, when we get the toxicology and the full autopsy reports back, they may change matters."
"No doubt, but-"
"Even if you were acting from the best of motives, I'm afraid that what you did was illegal. Manslaughter is the very best you can hope for."
Reed smiled. "You think so? I would have said that the best would be redemption."
"Redemption for what, Phil? You claim that what you did was some sort of act of kindness, don't you?"
"I suppose so."
"Well, then…" She shrugged. "I think you can switch the tape off now, Sam."
But at this, Reed said suddenly, "No!"
"No? Why not?"
He took a deep breath. "I want to tell you something more."
She looked at him, then sat back down slowly. "Really? We don't often get such voluble people in here."
"It's your lucky day, then."
"What do you want to tell us about, Phil?"
"The swirling patterns."
This non sequitur found her lost. "I'm sorry?"
Slowly he repeated the phrase. "The swirling patterns." His tone was dreamy, almost awe filled. "As I cut Kate's wrists, the blood dripped into the bath water and made swirling pink patterns that faded as they curled around and around…"
She looked again at Sam, saw that he was as intrigued as she. "What about them?"
But Reed, it seemed, was in a circumlocutory mood. "It wasn't a happy marriage-hadn't been for some time-but we still loved each other, and as we sat together while she died, we both realized just how much." His voice trailed away for a moment, before, "Of course, happy marriages are made, not born, and ours was made unhappy by only one thing."
"Which was?"
"Children. When they're born, they keep you awake at night, they scream and they puke and they dribble. The lie in their own excrement, and they live entirely for themselves. They suck you dry and then come back for more. They drive you beyond the limits that you thought you could endure, and with a heartlessness that not even the most evil dictator in the world would ever show, they come back for more of you." And with surprise they saw that there were tears in his eyes, and more than that, for he was crying almost uncontrollably. His last words were almost lost in this flood of sorrow, were uttered in a soft moan. "And we could not have them."
* * * *
Over the sound of a late-night news program on the radio, Reed heard what might have been the sound of weeping coming from the en suite shower room. He sat forward in bed. "Kate? Are you all right?"
There was no response. "Kate? What's wrong?"
The door opened. Kate, dressed only in a long nightdress, came out. Her eyes were red, her manner combative. "What do you think is wrong? The usual, of course. Another bloody period."
"Oh." He relaxed back into the pillows. As she climbed in beside him he said gently, "Don't worry, Kate. It doesn't matter…"
Which was precisely the wrong thing to say. "Of course it matters! It matters to me anyway."
"And to me."
She was on the edge of tears again, but these were not just the tears of sadness and frustration, these were also of anger and suspicion. "Really?"
"Yes, of course."
She stared at him, examined him as if she had caught a pickpocket. "You've never been keen on having a baby." This had been an unspoken accusation for some months now, the elephant in the corner that was, until now, ignored by both of them.
"Yes, I am." He protested his innocence as vehemently as he could, but the effect was spoiled when he went on, "It's just that I'm a bit scared. It's a big step. And there's a lot going on at work… I'm under a lot of stress at the moment."
Kate pounced. "Oh, that again." In a caricature of his voice she said, "I'm tired, Kate. I've had a stressful day."
"That's not fair."
She grabbed hold of the duvet, clenched it as if she could squeeze from it life, life that could be poured into a child. "I want a baby, Phil. I need one."
He reached across to her, held her. "And we'll have one, Kate. We just need to be patient."
She remained stiff in his arms. "We've been patient for two years now."
"Well… sometimes it takes that long."
His words had no effect. "I'm running out of time, Phil."
"Nonsense. You're only thirty-five."
But she was implacable-or rather, the idea that had been growing inside of her was implacable.
"I want to see someone."
"What?" Despite asking the question, he knew exactly what she meant. He drew back from her.
"I want to see someone. See if there's a problem."
"Of course there isn't a problem."
"How do we know that?"
"I told you, it's just a question of time and patience."
"But it won't be long before we run out of time." She changed subtly from an accuser to a supplicant. "We have to make sure that everything's all right now."
"Oh, Kate."
"Please?"
Every instinct told him that this was a mistake, that he was heading for consequences that he would regret.
But he loved her. Loved her more and more as the anguish within her grew.
After a long while, he said, "Okay, okay. You win. We'll see someone… make sure everything's all right."
* * * *
"So we went to a specialist. Professor Carter. Nice chap. Bumbling and hearty. Should have been an oncologist-no one would have minded the bad news hearing it from him. I certainly didn't."
Hannah asked, "What was the bad news?"
"Kate's ovaries were misfiring badly. She wasn't producing many eggs, and even if by some chance she managed to throw one down her fallopian tubes, it was extremely unlikely it would do any good. You see, I'm not up to scratch. I can stand to attention when required, but my little chaps, my storm troopers, are not of the best. A sick and weedy bunch, not at all the kind of recruits who held the British Empire together for so long. I am, to use Professor Carter's oh-so-charming expression, subfertile."
"So?"
"So we couldn't have children, not without help."
Sam asked tentatively, "But I thought-"
"That we had a child?" Reed's question was sour enough to scald.
"Yes."
"We live in a modern society, Sergeant. There are always ways and means, if you have enough money."
"IVF."
Reed nodded just once. "In vitro fertilization." He laughed, this time shaking his head. "Do you know what that entails, Hannah?"
"Tell me."
"Pots and pots of money, for a start. And pain-mustn't forget the pain. Injections, examinations, operations. Then there's the humiliation. Oh, there's a great big, excruciating, toe-curling dollop of that; it doesn't stop, either. You think you're over the worst, and then they find some other way to make you feel like a laboratory rat, like the useless excuse for a man that you really are."
"But you were successful," she pointed out.
Reed, though, wasn't listening. "And even that's not really the worst."
"What was the worst?" she asked, although she might just as well have not bothered.
"Five times we went through it. For two long years we counted out our lives with injections and blood samples and disappointments, soaring to the summit of expectation, then plunging into the deepest and darkest of despairs. That was the worst. The continual disappointments."
"Eventually it worked, though."
"Yes." He paused, then sighed. "Eventually we had a child."
* * * *
Reed only remembered to ring at the last moment. He had his overcoat on as he waited for her to answer.
"Kate? Listen…"
But Kate had news of her own. "No, Phil. Listen to me. I've got-"
"Kate? I'm sorry. I haven't got much time. I'm afraid I won't be home until late tonight. They've found a body in Nettleton Woods. A teenage boy, and he's naked."
Reed's growing reputation as a forensic pathologist meant that occasions like this were becoming increasingly common. He was aware that it was impinging on Kate, hoped that she understood.
"But-"
"I'm on my way there now, and the police want the autopsy done tonight, so I'll be lucky if I'm home much before two tomorrow morning."
He was sure that she understood. The income was not inconsiderable, after all.
"Oh, but-"
"I know, I know. I'm sorry, but it can't be helped. I really am going to have to go now. Bye, love."
"But I've got some news, Phil-"
Reed, though, was already out of the office, the line already dead. Slowly, Kate pulled the phone away from her ear, then looked at it. In a low voice she said sadly, "Wonderful news… I'm pregnant."
* * * *
"We rowed the next day. No, we battled. Nuclear warfare broke out. I was tired-knackered-and Kate, not surprisingly, was crushed. She had planned a big celebration, which I had ruined. Yet how was I to know that she had bought champagne, that for her she had achieved the ultimate, that her sole ambition had been realized? I tried to explain, and then I tried to apologize, but I couldn't get the tone in my voice right; no matter how hard I tried, it always sounded petulant, defensive, even to my ears. Eventually, of course, my reserves of compassion ran out, and I entered combat. I said that she was being pathetic, that it didn't matter which day we celebrated. And, in turn, she questioned my commitment to parenthood, said that I had never really wanted a child.
"We sank deeper and deeper into the fray, rummaging into the far corners of our arsenals for older and older weapons to use, ancient slights and mistakes real and imagined resurrected." He paused for a moment, then as if he had been drinking in a well of memory, he went on, "It lasted all day, and I think that that was the point at which our marriage started to perish, a fruit that had lost its bloom, that had gone beyond the point of maximum sweetness, had slipped into sourness… And you know the worst of it?"
"Tell me."
"She was right. The news that she was pregnant made me realize that I didn't want a child. I had enough responsibility in my life, without the worry that a newborn would bring. It had always been Kate's desire, not mine, and I had deceived myself into thinking that it was a wish that we shared because I loved her, because I wanted to please her."
"That's only natural."
"Maybe, but it's not enough. I appreciated consciously then for the first time that a baby would only widen the crack that had been gradually appearing between us. I think it was at that moment that I realized how bleak our future was together."
Sam asked, "So you killed her?"
Reed was tired of Sam's hostility. "Is one of us being stupid? I told you-she had an incurable brain tumor. That's why I helped her to die."
With unmistakable sarcasm, Sam said, "Oh yes. I forgot."
Hannah asked, "Did you ever come to blows?"
"Never."
"But the marriage broke down."
He gave this deep consideration. "No, not really. It just changed. The reality hit me. If I wanted Kate, I would have to accept a baby as well. Without a baby, there would be no Kate."
"Did that upset you?" This from Sam.
"You keep trying to suggest that Kate and I lived in some sort of conflict, but we didn't. I had no hatred for Kate, never did have." He turned to Sam's superior. "I loved her, Hannah. Surely you understand that?"
Sam pointed out, "Most people who love someone don't help them to die."
"There is no greater love. I gave away that which I prized above all else."
"Which is a jolly useful excuse for a killer."
Reed made a disgusted noise at the back of his throat, refusing to respond. It was Hannah who asked, "What happened when you realized that things had changed?"
"For the next six months a kind of truce prevailed; no written terms, but in the back of our minds, I think, was the fear that another such skirmish and we might go too far for redemption. For my part, at least I knew that I still loved Kate with just as much conviction as before, and after last night, I know that she still felt the same about me. It was just that we had different needs, wanted different things from our relationship.
"Then her water broke just before Christmas. She was only twenty-five weeks. Until then we had dared to hope that everything was going to be all right, that we would at least be spared a difficult pregnancy."
"But you weren't," guessed Hannah.
"Fat chance." He took a long breath. "She had to be induced, for fear of infection. What came out was a girl, not obviously deformed…"
"But?"
"Alice was a weak and pathetic thing, which made it worse. The intensity of Kate's love for her was difficult to witness…"
"Why difficult?" Sam's question interrupted his intense reverie.
"Have you ever been in love, Sergeant?"
"Well…"
"Of course you have, and you should appreciate this terrible thing called jealousy. Jealousy, not envy, although perhaps there was some of that as well."
"What's the difference?"
"Envy is the desire to possess. Jealousy is the fear of losing something precious. When I looked at Kate, at how she became completely encased by her relationship with Alice, I saw no room for me, saw that I had lost her. In turn, I envied the love that Alice received, wanted a share, thought that I was entitled to one."
"Yet you've stayed with Kate, even after Alice died."
"Oh yes. You see, jealousy is born of love; the stronger the love, the greater the jealousy. When Alice died, only the jealousy was gone." He paused to reconsider. "But not, I see now, the guilt."
"Guilt?"
But Reed did not hear. "It soon turned out that Alice had terrible internal abnormalities. Her lungs failed to develop as they should, and she was functionally blind, probably also deaf although they could never be sure. She had cardiac abnormalities too. She could breathe, but only on near-pure oxygen. She had one kidney, and most probably malformation of her genital tract… In the six weeks that she lived, she had five bouts of pneumonia."
"Is that what killed her?"
Once more, Reed failed to hear, or at least react. "I knew the neonatologist in charge of her care-have done since medical school. I could see that when he took me to one side, sat me down in his office, he was having a hard time. His voice trembled slightly as he told me that he doubted Alice would live much more than another four weeks, that even if God granted us a miracle, Alice's quality of life would be intolerable…" Reed seemed to become lost in the past. Certainly he seemed to be disoriented because his next remark was disjointed. "It was the swirling patterns, I remember best…"
Sam breathed. "Swirling patterns again."
Hannah silenced him angrily, but it didn't matter because Reed wasn't listening. "I know the reason for them. It's because you're mixing two liquids of different densities and one flows through the other for a short while before they become totally and perfectly mixed. But it's the beauty of the patterns that I can't get over. Benoit Mandelbrot described it mathematically, talked about partial dimensions, fractals, making it sound like science fiction, as if there were creatures from another place doing something to make them."
"What about the swirls, Phil?"
But Reed was a long way back in his past.
* * * *
The music of critical care, symphonic variations on life and death, on dying and surviving, on fading into and coming out of a coma. He'd never felt comfortable in an intensive therapy unit, even one decked out with tinsel and with a Christmas tree in the corner. As a pathologist he was of the opinion that what the medical staff did was too far removed from normal medical and nursing practice. Here, it wasn't patients that were treated, but measurements; they worried about the central venous pressure, the blood gas levels, blood biochemistry. The patients were often deliberately sedated, the victims of multiple puncture wounds where tubes entered wounds in the neck and the feet and even in the groins. The patients became not human, but manufactured entities, biomedical organisms, human fused with machine. In a neonatal intensive care unit, however, the victims fought back. Despite being almost overwhelmed by the enormity of the medical intervention to which they were subjected, their humanity was, if anything, magnified. They evoked even greater compassion because they were so small, so apparently incapable of overcoming this adversity.
Alice was intubated again because of the pneumonia, her breathing dictated by a machine. She was still so small, still so sickly, so raw. The nurse and doctors were at a hand-over session, their attention as usual on readouts and test results.
Reed stopped in front of the incubator, a small bag of saline dripped slowly into a tube extending from his dying daughter's right ankle. It was nearly nine o'clock at night, and as far as Kate was concerned, Reed was working late, another bloody postmortem.
He looked around. No one was paying attention to him-they were used to one of them (usually Kate) hanging around, getting in the way, unwanted but unassailable, given their part in the drama-and it was all over in ten seconds.
* * * *
"What was over?" Hannah could sense something terrible and needed to break through Reed's cage of recollection.
"I was planning to turn, walk out at once… certainly not hang around…"
"What was over?"
"They caught my eye. They were so beautiful, I had to stop and watch them…"
"What was over, Phil?"
"It's obvious when you know. Two liquids of different densities…"
"What did you do?" She remained patient, though God knew that it was difficult.
"So beautiful, yet so deadly." His voice had taken on a singsong quality.
"Was it the bag of saline? Did you do something to that bag of saline?"
He came to, saw her again. "She was going to die, Hannah, and her death would not have been good. She had nothing to look forward to, no memories to comfort her. She was in limbo…"
"What did you put in the bag?"
But Mandelbrot's patterns had caught him again. "The patterns were translucent, like liquid crystals, precious jewels that were slowly dissolving as they moved, dissipating, becoming another small part of the whole."
"I know why, Phil. I need to know how."
"And having done it, I walked away. I went to the desk, told them how grateful I was, told them to ring if anything happened, then walked out, past Alice's incubator, past the bag of saline, now looking as clean and pure as it had before… I hated myself for that, for the hypocrisy and the lies that I had to tell those doctors and nurses, for pretending not to know what I knew." He paused for breath, then, "The phone call came an hour later, and all hell broke out…"
Hannah would have kept asking the question until doomsday. "What was it? What did you put in the bag of saline?"
He looked at her, challenged her almost. "Potassium chloride. Just a 20 ml ampoule, but quite enough…" He frowned. "We need potassium, but not too much. A dangerous thing to play with. Too much and the heart stops. No PM will find it, not given those clinical circumstances, and there was no puncture mark, at least none that the medical staff hadn't made."
She asked her next question with studied calm. "You know what you're saying, Phil? You're admitting to the murder of your baby."
"I admit that I gave peace to Alice, Hannah, but I didn't murder her. To murder, you have to take life and Alice never had any. No power on Earth was ever going give her that."
Sam said sarcastically, "Another doctor playing God."
"Another father having to do something terrible for the greater good."
"Who's good? Yours?"
"No," contradicted Reed. "Kate's."
"You're kidding! You did it for yourself. You've admitted to being jealous of your own child."
"You don't understand, Sergeant, and perhaps you never will. Just pray tonight that you're never in a similar position."
"I know that I won't commit murder, and I know that I won't destroy my wife's life."
"Do you think that I enjoyed what I did? That I took some sort of pleasure in seeing Kate's distress? Yet all the while I knew also that what I had done hadn't caused it; what I had done had only brought it forward, and at the same time I had ended Alice's awful life."
"You needn't have told us, you know."
"All these years I have wanted to confess to Kate, but never dared. What would have been the point? As she lay there and died, I nearly said something maybe half a dozen times, but held back. I wanted her last hours on Earth to be as happy as possible." He suddenly straightened up in his chair, assumed some dignity. "And I think that I would have continued the silence had I not seen the blood drop into the water, had I not seen it swirl down into nothingness. Dr. Mandelbrot has a lot to answer for, you know."
Hannah sounded almost depressed as she said, "We'll almost certainly have to charge you with murder."
"You think I care about that? You think I care about anything anymore?"
She shook her head. Sam just stared at Reed, who in turn had his head bowed. She said in a formal tone, "Interview terminated at ten thirty-six."
Then she stood up, Sam following her lead. "I'll pray for you, Phil, but they'll roast you alive. They'll chew you up, spit you out, and then smear you into the pavement."
And all Reed said was, "Do me a favor, Hannah."
"What's that?"
"Don't pray for me. Pray that there's no afterlife, that after death, there's nothing."
"Why?"
"Because if there is something that follows life, if by the slightest of chances there is a heaven or hell or something like that, then Kate's there now. She's there even as we speak, and she knows." He suddenly shivered, as if a cold wind had blown past him, as perhaps it had. "She knows, Hannah. She knows what I did. I can't cope with that thought."
"Don't count on me in that quarter, Phil. I'm sorry."
She walked to the door, then turned. "We'll be back shortly."
* * * *
As they walked back to Hannah's office, Sam said quietly, "He deserves everything he's going to get."
"Probably."
He was surprised by the doubt in her voice. "Probably?"
They were on the stairs before she spoke again. "Do you love me as much as that?"
"What do you mean?"
"Do you love me enough to do what he did?"
He couldn't see what she was talking about. "He murdered two people. You want me to copy him?"
She halted, turned to him. "Sam, he threw away his soul-and not just his soul, his whole earthly being, as well-for the woman he loved. Would you do that for me?"
"Don't be stupid, Hannah. He just did what he did for himself."
"You think so?"
"How else can you explain it? You surely don't believe that crap he fed us about loving her."
"Hatred's not the only reason for killing… in fact, it's quite a rare one. Love's a far commoner motive."
"I'd never kill for love."
She looked at him long and hard, then continued walking up the stairs. There was a small smile on her face.
"No," she said. "I can see that you wouldn't."
NO PLACE TO PARK by Alexander McCall Smith
It started as a challenge, the unforeseen outcome of an absurd conversation at a writers' festival in Western Australia. There was the usual panel on stage, and an audience made up of the sort of people who frequent crime panels-predominantly women with a sprinkling of men, highly educated, highly literate, and highly imaginative. They were a group bound together by a fascination with the gory details of behaviours in which they themselves would never engage. These people would never commit murder, not in their wildest dreams. Nor would they mix with people who did such things, no matter how fascinating they might find their company on the page. But they loved to read about murder, about the sudden, violent termination of human life, and of how it was done.
The panel was discussing realism in crime fiction. Two practitioners of the art, writers of well-received Policières, had been pitted against the literary critic of a local paper. The critic, who read very little of such fiction expressed the view that there was a surfeit of realistic gore in the contemporary mystery.
"Look at the average crime novel these days," he pointed out, stabbing at the air with an accusing finger. "Look at the body count. Look at the compulsory autopsy scenes. Some actually start with the autopsy, would you believe it! The autopsy room, so familiar, so comforting! Organs are extracted and weighed, wounds examined for angle-of-entry, and it's all so… well, it's all so graphic." He paused. From the audience came a brief outbreak of laughter. It could not be graphic enough for them.
The critic warmed to his theme. "But there are crimes other than murder, aren't there? There's fraud and theft and extortion. There's tax evasion, for heaven's sake! And yet all we read about in books of this genre is murder. Murder, murder, murder." He paused, then looked accusingly at the two authors beside him. "Why not write about more mundane offences? Why not write about things that actually happen? Murder's very rare, you know. Not that one would think so to read your books."
One of the authors grinned at the audience. "Weak stomach," he said, gesturing to the critic. "Can't take it."
The audience laughed. They had no difficulty taking it.
"Seriously, though," said the critic. "How about it? How about a realistic crime novel dealing with something day-to-day, some commonplace low-level offence."
"Such as?" asked one of the authors.
The critic waved a hand in the air. "Oh, anything," he said lightly. "Parking violations, perhaps. Those happen all the time.
Everybody joined in the laughter, even the critic. "Go on," he said to the authors. "Why don't one of you people do something like that? Give up murder. Get real. Start a new genre."
One of the authors, George Harris, a successful crime writer from Perth, stared at him. He had been laughing, but now he looked thoughtful.
George shared a small bungalow with his girlfriend, Frizzie, who ran a tie-and-dye tee-shirt store in Fremantle. They had lived together for five years now, in a narrow house near Cottesloe Beach. George liked to surf and Cottesloe was a good place for it, as the Indian Ocean broke directly on the broad expanse of sand there, hindered only by the tiny sliver of Rocknest Island.
Whenever he went surfing nowadays, thoughts of what might be in the water beneath him were always on his mind, nagging fears, repressed but still there, somewhere below the surface. Eight months earlier somebody whom he knew, although only vaguely, had been taken by a great white within a stone's throw of the edge of the beach. The incident had brought home to him the fact that surfing in Australia had its perils-one was in their habitat, after all-and it had also given him an idea for his next book. The plot would involve rivalry amongst surfers-something having to do with a lover or a motorbike-which would lead to one surfer planning to dispose of another. And what better way to do so than to fake a shark attack? The killing strike would be administered from below the waves by a large knife which the murderer had specially made in his garage. The knife would have a number of serrations along the edge, each carefully honed to the shape of a shark's tooth, in order to leave just the right wounds for the coroner to come to the inevitable conclusion-death by shark attack. It would be carried out at a time when nobody else was about and certainly nobody would see the diver down below, with his knife glinting in the water like a silver fish. It was a good plot, even if it would not make comfortable reading for surfers, or comfortable writing, for that matter, for a crime novelist who also happened to be a surfer.
He had barely started this new novel, this surfing story, and was tempted to give it up. He had once before persisted with a book his heart was not in, and he had wasted eight months in the gestation of something that did not work and that had to be abandoned. Determined not to make the same mistake again, he had been open to new ideas when the critic at the panel had made his comments. The suggestion that a crime novel should concern itself with something as minor as illegal parking had been made in jest, of course, but when one thought about it, why not? It was such an outrageously silly idea that it could well end up making its mark in a genre of fiction that was becoming increasingly crowded. It was different, and people wanted something different. There were so many police procedural, all dealing with hard-bitten homicide squads on the mean streets. Here was something that was at the completely opposite end of the spectrum, and it would register with people. They needed a smile, and he would give it to them. It would be gentle, whimsical stuff, devoid of violence and mayhem.
He could set it in Western Australia, on his own doorstep, and it could be full of local color.
As he warmed to the idea, he began to imagine a plot. There would be tension within the parking department. There would be rivalry as to who managed to give motorists the most tickets. There would be a budding love affair between two parking officers which would be frowned upon by the police superintendent. The lovers would have to meet in secret, at the busy end of the street, perhaps, where motorists were always parking in the wrong places and getting ticketed.
George smiled at the thought of it. But there was a serious matter to consider-he would have to get the world of parking officers right. He would have to go to the traffic department at his local police headquarters and get permission to tag along for a day or two with one of the officers. He should have no difficulties there. The Perth police had always cooperated with him and he, in turn, had always painted a flattering picture of them. In George's books, the Perth police always outsmarted visiting detectives from Sydney or Melbourne. They liked that.
He told his Frizzie about his new plot. She was the only person who he discussed his stories with before they were published. She was a surfer, like him, and they would sometimes lie on their boards, out beyond the waves, talking about the ins and outs of whatever book he was working on at the time. It was a comfortable relationship. As they chatted, the water lapping against their boards, George hoped that there was nothing down below, listening, so to speak.
The police department arranged for him to go out with a parking officer on a Friday. Fridays were good days, they explained to him, as farmers often came into town then and parked illegally.
"They forget that they're in a city," joked the officer he was with. "They think they're still out in the bush and can park anywhere! We sort them out for sure!"
George noted the vindictive edge to his remark. Farmers deserved sympathy, he thought, with their struggles against drought and pests and low agricultural prices. But he did not say anything; he just filed the comment away for future use. He looked at the officer. He was a small man with a rather defeated look about him. Obviously parking duty was not for the high flier. High fliers went to homicide, he imagined.
They spent the morning going up and down a busy shopping street. The officer took note of several violations, explaining each of them to him in great detail.
"This driver is a serious offender," the officer said, pointing to a battered Holden. "Tax disc is out-of-date. He hasn't even bothered to put money in the machine, and…" The 'and' was stressed, as the final word in a litany of sins might be given extra weight. ''And he's way over the line. Look at that! Creating a hazard for other drivers. Shameless!"
"What are you going to do?" asked George, staring at the offending car. It was a homely vehicle, much-loved, he suspected. On the back seat was a child's toy, a teddy bear.
"I'm going to book him for the lot," said the officer, taking out his notebook and beginning to write down the list of violations.
After the officer finished his paperwork, they moved off, on foot, down a side street. It was a narrow access lane with prominently displayed signs stating that parking was forbidden. Yet there was a car parked halfway down the street.
"Look at that," said the officer. "Blatant. And they're sitting in the vehicle too. Bold as brass."
The two men in the car, deep in what appeared to be a heated conversation, had not seen them and started in surprise when the officer tapped smartly on the half-lowered window on the driver's side.
"Do you realise that you're illegally parked, sir?" said the officer firmly. "Would you show me your driver's license, please."
The driver opened his mouth to say something, but no sound came out. He looked shocked.
"Come on, sir," said the officer. "Don't hold me up."
Things happened rather quickly after that. The driver reached forward, started the engine, and thrust the car into gear. Then, with a roar, he pulled away. George reeled back in surprise, while the officer fumbled for his radio.
It was then that they saw the body under the car, lying with arms stretched out, an ugly red-black stain on the front of the shirt. It was the sort of body which crime writers like to describe in graphic detail. Eyes open but unseeing. Fingers clenched. Hair tousled. Feet at an odd angle. And so on.
The officer had managed to get the registration number of the car, which helped the police make a rapid arrest. The driver and his companion, it emerged, were well-known members of the Perth criminal underworld. One of them, the passenger, was in fact the brother of somebody from George and Frizzie's surfing circle. He sometimes helped Frizzie take her board off the car if George was not around, and George had seen him exchange a few casual words with her from time to time on the beach. Perth was like that. It was a friendly city, intimate. People could get to know one another.
George was called as a witness in the murder trial. There was not much that he could say, of course, other than that he had seen the two men at the scene of the crime. This was enough to worry the passengers surfer brother, however, who came to George and asked him whether he would be kind enough not to give evidence.
"But I have to," said George. "It's my civic duty. I have to give evidence. I'm sorry it's your brother."
"In that case, mate," said the surfer, "watch your back. Something unpleasant could happen to you, you know, if you do my brother in. Just remember that."
George contemplated going to the police to report that rather unsubtle attempt at intimidation, but decided against it. It would be difficult to prove that a threat had been made, as there were no witnesses to the occurrence. He knew all about that particular problem, having used it once as a plot device in a novel. It was strange, he thought, how truth sometimes emulated fiction.
Frizzie was uncomfortable. She urged him to either not give evidence, or to be a bit vague about the identification.
He said to her, "Anyone would think that you wanted that guy to get off just because his brother helps you with your surfboard. What am I to think? That you're having an affair with him or something?"
"Don't be ridiculous," she said.
Two weeks before the trial was due to take place, he went surfing. It was early in the morning, the time he liked best, when there was virtually nobody around at Cottesloe Beach other than the occasional dog owner taking a dog for a run along the sand. Such beauty, he thought. The sky so wide. The sea. The sand. Such beauty in this country. All around one.
He paddled out and rode one or two waves in. The surf was quite high and the water was warmer than usual. He spotted another surfer, some way off, then lost sight of him. It was very quiet. George paddled his board back out, looked up at the perfect pale blue sky, and sighed with contentment.
Then he looked down. His heart gave a lurch as he caught a glimpse of something in the water. He peered into the depths. It was easy to mistake shadows or fronds of seaweed for something they were not. One had to control one's imagination. He searched the water. A flash of metal, from down below it seemed. Impossible, he thought. Impossible. I told nobody.
And he thought, as he slipped into the water, that life was not supposed to be like this, that it was absurd that parking of all things should have this result. Absurd and unlikely. But now there was only water, and regret.
GIRL'S BEST FRIEND by Judith Cutler
When a guy presents you with an engagement ring, a socking great oval ruby surrounded by diamonds, it might seem a tad ungrateful to subject it to scrutiny with a jeweller's eyepiece.
Griff, my adoptive grand-father, business partner, and antique-dealer extraordinaire, wouldn't ever soil his lips with expressions like looking a gift-horse in the mouth. But he did ask, as he prepared supper that evening, "Surely that breaches all rules of etiquette, my darling Lina?"
I slipped the ornate jewel back onto my ring finger, which I wiggled so that it picked up the candlelight. Griff always made meals an occasion, even worrying about the niceties of what cutlery to use when serving Thai stir-fry in an Elizabethan cottage at the heart of a Kentish village. "I think I was a bit bowled over," I conceded slowly. "All that bended-knee stuff and the promise of a round-the-world cruise for our honeymoon. For me, Lina Townend!"
"And there I thought chivalry had died out in your generation," he said.
"Apparently not," I said coolly. But how could I snub my dearest friend? "Griff, what was I doing? This is Piers Hamlyn, for goodness' sake!"
"Piers Hamlyn, who, despite his predilection for cords and bodywarmers, is a most dashing piece of manhood," Griff burbled. "Those shoulders! That neat bum!"
"Those cornflower-blue eyes, perfect complexion, and honey-coloured hair," I added.
"And second cousin once removed of your own father, Lord Elham," Griff reflected, with distinctly less enthusiasm.
"Which doesn't say much for him, does it?" I asked quietly.
"Just because Lord Elham-how strange that neither of us ever refers to him as anything more intimate-is not the purest diamond in the tiara doesn't mean his cousin is flawed. Though I must admit," he continued, allowing a tiny quaver to creep into his voice, and sinking into his frail-old-man mode, "it has been what we used to call a whirlwind romance."
It had. And considering that women of my generation tended not to demand courtship and rings and weddings before-as Griff gracelessly put it-hopping into bed, it was a very romantic romance. Flowers; candlelit dinners; the question popped within two weeks of our first meeting at a big and classy antiques fair at a vast country pile-it belonged to another of his cousins-and no attempt to go beyond a not terribly passionate snog.
What on earth had I been doing? The ring said, in a very snide voice, "Doing pretty well for yourself, considering."
I whipped it off and peered closely at it again.
"Oh, Griff, why didn't I tell Piers to ask you for my hand? You could have asked him about his prospects and how he meant to maintain me!" Which would have given me time to think.
"I take it you wouldn't want me to go so far as to reject him as a suitor?"
"Yes. No. I wish I knew." I gave the ring another squint. What was wrong with me? Or rather, what was wrong with it? What had got all my divvy's antennae a-twitch?
Its provenance, for one thing. Every dealer likes to know where an item's been before it comes to him. You might think it's enough to know the maker, but forging manufacturer's marks is easy-peasy to a master, as is copying a painter's signature on a faked masterpiece. So you want to know who bought it and from whom, all through its life. In the case of a picture, the number of times it's been exhibited and where. As for a ring like this, it's tricky and hardly worth bothering, so long as you can see the hallmark on the band, in this case one declaring it was made in Birmingham, that City of a Thousand Trades, way back in 1879. So it was the right age to have a silver mount for the stones, as opposed to the stronger platinum claws used later.
Everything was right about it.
Or not.
"I'd love you to take a look at it," I said. "After all, it's not exactly my area, is it?"
"At our level, dear heart, we have to be Jacks and Jills of all trades. I know you can beat most people hollow when it comes to Victorian china, but that doesn't mean you shouldn't turn your hand to other things. I know, I know. You were spot-on with the date-but then," he added, "I'd have been disappointed if you hadn't been. You worked hard to learn the assay marks." He smiled, and tucked a lock of my hair in place. "There's a good brain between those ears of yours, my child. For all you worry about having no paper qualifications, you're a very bright young woman."
I didn't argue. But school and I had been relative strangers to each other, thanks to my life in care after my mother's death. You'd have expected my father to take me in, maybe. But not my father, Lord Elham, of Bossingham Court. Lord Elham, old rogue that he was, had taken no more notice of me than he'd taken of my other thirty siblings. But then, he claimed he'd never known about any of us, not in any detail. And indeed, it was me who'd found him, not the other way round. ("I who'd found him, dear heart," Griff would have told me gently.) And he hadn't been especially keen on me, at least not until I'd dug him out of a particularly nasty hole and managed to cast him in the light not of a greedy criminal but of a public benefactor. My father called himself a gentleman-but since I'd always believed in the adage gentleman is as gentleman does, I'd yet to see him deserve the term. Or the title Noble Lord. Lord Elham. And no, that didn't make me Lady anything, since I was born on what Griff would call the wrong side of the blanket. Well, with all those brothers and sisters in the picture, you'd probably worked that out for yourself. He'd taken the huff when I'd refused to leave Griff and go and live at Bossingham Hall, but that's another story.
"Now, do I look at this bauble as if admiring your betrothed's taste, or as if valuing it for auction?"
"As my dearest friend," I said humbly. "And under a very strong lamp."
"Tomorrow morning, then."
Before I washed up I hung the ring on a little Edwardian ring-tree that for as long as I could remember Griff had kept beside the kettle. That was Griff for you. Forward planning. Or, more likely, seeing a charming little item going cheap and giving it a good home. Most of the stuff we bought we had to sell, of course-that's how dealers make a living. But Griff made it a rule that we only bought what we ourselves liked. Usually.
"If you like something, you find out about it," he'd told me when he'd first employed me. "And the more you know about something the more people regard you as an expert and come to trust you. Trust is like virtue-it's its own reward."
"And it doesn't damage your prices."
He'd chuckled. "Clearly, dear heart, you are a dealer in the bud."
Over the next two or three years, I'd blossomed a bit. What I was best at was restoring damaged Victorian china, and not passing it as perfect. Unlike some I could name. So people trusted me when I said something was good, you see. And my prices rose accordingly. Occasionally other dealers would come to me when they found something hard to shift. If it was pukka, and only then, I'd pop it on our stall and sell it at the usual commission. Not that I would be selling Piers's ring on my stall, for goodness' sake!
"What worries me," Griff said as he wiped up, "is that despite his lineage Piers works at the lowest end of the market. Collectibles, indeed! Junk, in other words."
"There's room for all sorts-and we're not exactly at the top end ourselves."
I wished the words back: What Griff was really afraid of was that I'd abandon him.
If only I could have talked Piers over with a woman. But I hadn't many women friends my own age, thanks to my miserable upbringing, and Griff, though he was dearer to me than anyone seemed able to imagine, was hardly a role model for someone as young and romantic as me (or should that be I?): He'd been in a settled if semidetached relationship for more years than he cared to remember.
Washing-up done, I dried my hands and slapped on some cream. As beauty routines went, it didn't go far, and Griff tended to nag when I didn't use sunblock or moisturiser. I had to admit that the ring looked better on well-tended mitts than it would have done on my pre-Griff paws. Or did it look too good? Despite Griff's offer, I took it and the eyeglass up to my workroom and switched on the strong spotlight I need for the most delicate restoration work. And then I called Griff.
"You've got better eyes than I have," he said, somewhat grudgingly since I'd hauled him from his favourite television program, a docudrama about civilians being tested to SAS standards. "But you're right. Those two stones aren't exactly the same as the others. Pretty close. But a ring that age is bound to have been repaired."
"Cleaned and repaired?"
"Why not? The young man wants to impress his beloved."
"Piers didn't say anything about a repair. He said it came straight from a sale-he'd only cleaned it up a bit to see what he'd got."
"He's cleaned it very well indeed. To professional standards," Griff mused. "So why didn't he come clean-as clean as this ring, in fact-and simply tell you it had come with two stones missing and he'd had them replaced?"
"Why indeed?"
* * * *
Next time we met, this time in a church hall in the Cotswolds so cold that Griff's knuckles turned bluey-white, the rest of his fingers purple, Piers presented me with another ring.
"I'm not asking you to choose between them," he said pettishly as I slipped it admiringly onto my right hand: It was a sapphire version of my ruby, with a lovely Sri Lankan stone, much lighter than you get these days, that put it back into the Victorian period.
I bit my lip: I'd better not tell him I preferred it.
"I'm asking you to sell it. It's too good for my stall: It'll just disappear amongst all the collectibles. But you've got nice, classy stuff. Everything guaranteed antique, with nothing less than a hundred years old."
I nodded. We were totally out of place at this fair, as Griff bitterly acknowledged, to which we'd only come because Griff had a Thespian friend in the area and because I could meet up with Piers.
"China, glass, and treen," I said. "No jewellery."
"Then it'll stand out all the better, especially with a spotlight trained on it. And your hand to model it." He kissed it with enough passion to tempt me.
"I'll have to ask Griff," I said.
"He lets you fly solo with your restored china," he pointed out. "I can't see how he could object if you want to branch out into jewellery, particularly stuff as nice as this."
"I'll ask," I said coldly, "because I value his opinion." He should have known by now never to argue about anything concerning Griff.
* * * *
"Do I recollect that you come of age shortly, my child?"
"You know I do. And we agreed to have no fuss." Largely because Griff was increasingly terrified by his own birthdays, and in any case celebrating being twenty-one was a bit old-fashioned these days.
"It occurs to me that you are so attracted to that sapphire ring that it would make an ideal gift."
I looked him in the eye. "Not so much attracted as suspicious, Griff. You look." I passed the lovely thing to him.
"The sapphire's exquisite," he sighed. Then he stopped. "How many dodgy stones do you make it?"
"Three this time. I shall have to mark it sold as seen."
"And the price? If you do that it'll never reach what he's asking. And I have an idea you were relying on the commission to buy your wedding dress."
"Wedding, shmedding." I took the ruby ring off as well. The two big stones blinked enticingly at me. The diamonds surrounding them didn't.
* * * *
"Shame," Piers greeted my confession that we'd not been able to sell the ring. "But why don't you keep trying? And I was hoping you'd shift these earrings for me." He produced an elaborate case, fine leather and watered silk, containing a dazzling pair with free-hanging emeralds and diamonds on tiny springs.
"Victorian again." They were so fine I'd have expected to see them at Christie's.
"Got this aunt who's fallen on hard times. Doesn't want anyone to know." He tapped the side of his nose. "Noblesse oblige, and all that."
My eyes widened at the price he wanted. "That's well above our usual range-but still not enough for such a lovely set." I braced myself. "Are you sure these aren't off the back of some lorry, Piers?"
"From the collection of Lady Olivia Spedding." He looked coldly down at me, rather like the Duke of Wellington, now I came to think of it, holding out his hand for the earrings.
I returned them, shrugging. "No skin off my nose," I informed him, my voice at its most common, all accent and attitude.
I wasn't so much surprised as taken aback when, as we packed up at the end of a not especially profitable day, Piers sidled up, dropping the familiar jeweller's box on our stall. "Usual commission," he said, and disappeared.
It was Griff who got first look at them with the eyeglass this time. "Continental," he said. "And all good stones."
"You mean-?"
"What do you think?"
I peered. "Beautifully clean. Everything hunky-dory for the period. Feel the weight-they wouldn't half stretch the old ear-lobes. Lovely quality stones-all of them. I'd be honoured to sell these."
I thought I heard Griff mutter something about sprats catching mackerel, but perhaps I was mistaken.
* * * *
A couple of weeks later I handed over the cash for the earrings in the traditional brown envelope. It was hardly out of my hand when another slightly battered jewel case appeared, purple leather outside, purple silk in, showing off a diamond pendant and matching earrings to perfection. Victorian, again, and perhaps a bit fussy for modern tastes.
It was all so low-key we might have been business partners, not engaged to become life partners. Theoretically engaged. Anyone who could palm off a piece with stones I could feel in my bones were false was no longer my fiancé. I said nothing yet. Grassing someone up was something not to be done lightly. But in a trade that totally depended on trust, what else could I do?
* * * *
Griff removed the eyepiece and rubbed his face. "And what four-letter word, first letter S, last letter M, springs to your suspicious mind?"
"Scam," I said flatly.
"A profitable one, too. You buy a couple of these so-called man-made diamonds for a song, remove two decent-sized but not particularly noticeable stones from pieces where no one will immediately notice the exchange, replace them with the fakes, and pocket the difference. If you got brave enough to replace a one-carat diamond, say, with a fake one, you could profit by four or five thousand pounds."
I nodded. "To get away with it, you really need someone totally reliable like us. If by any chance people found they'd bought a wrong 'un they'd hotfoot it back to us and complain. And we could only say we'd had them from someone else and terribly sorry and here's your money back."
"And you complain to Piers, who laughs in your face. Or says his great-aunt or whatever must have replaced them to raise cash for her gambling habit. Or his aunt's dead, and he reminds us it's caveat emptor."
There weren't many Latin phrases I knew but that was one of them. "To my mind it's more a case of caveating Trading Standards or even the police."
"Oh, dear one, you can't use caveat like that," he sighed. "But you're right about the legal implications. To my mind, the only question is how much Piers knows about it."
"If his genes are anything like Lord Elham's, a lot. But we need proof: You and I know there's something wrong, but neither of us could stand up in a court of law and say what these stones actually are. And surely, Griff, in that thick Filofax of yours, you've got the number of a-whatsit-a jewel expert."
"Gemologist, angel heart. Yes, I'm sure I have. One, moreover, I can trust implicitly. Now, that chicken should be cooked to perfection."
Over supper we debated long and loud what we should do next. My initial impulse was to pack up the pendant and earrings and send them straight back to Piers. With both gorgeous rings. But if we did, he'd certainly try to palm them off on someone else less canny than us.
"Equally, of course, Piers might be an innocent dupe of someone to whom he'd innocently taken old items to be cleaned," Griff observed resignedly. "And it's the cleaner who's at fault."
I pulled a face. But it was of course true. "So how do we find out-any of this?"
* * * *
I might have known who would do the dirty work. Yours truly, of course. Well, not for anything would I have put Griff at risk. His arthritis was better since he'd cut down the drink and was downing measures of an evil-looking liquid prescribed by an alternative therapist, but he tended more and more these days to let me go to sales while he stayed at home and ran the shop. That way he had more energy to go to the very taxing antiques fairs we set up our stall at. So there was no argument. Especially as I didn't tell him what I was planning.
He and Lord Elham had disliked each other at sight. Lord Elham loathed Griff's campiness, Griff Lord Elham's dishonesty. At bottom, I suspect Lord Elham wanted to wrest me from Griff's care, for no better reason than that he needed a skivvy. Griff wanted to keep me with him because he loved me. There was no point in forcing them into each other's company: I'd sussed out that getting to know each other would only make matters worse. The main reason why I'd spend occasional days at Bossingham Hall was because Lord Elham had rooms full of the most amazing junk, some of it extremely saleable. Since his favourite tipple-indeed, his only tipple-was Champagne, my skill in sorting out items I could sell for him was called for quite often. This time, on the principle of setting a thief to catch a thief, I popped round at a time when daytime TV was at its nadir, taking with me a couple of homemade casseroles he could warm up in his new microwave. He looked worse than ever: Though he was ten years younger than Griff, his complexion was purply-grey and very dry looking. At least since I'd come on the scene his hair looked better: He'd seen some terribly expensive product in a TV advert and I now bought some whenever I shopped for his Champagne. If only I could get him to exercise something other than his zapper thumb and drinking elbow.
"Piers Hamlyn!" he exploded. "Going to marry Piers Hamlyn! And why didn't the young bastard seek my permission?"
I ignored the term "bastard," quite restrained of me in the circumstances. "I don't think young men do, these days." It was one thing wishing I'd asked Griff to vet my choice, quite another letting Lord Elham in on the act. "In any case, I said I was engaged to him, not that I was going to marry him." I explained about the dodgy diamonds.
He slammed his fist on the Sheraton occasional table beside his chair. I winced. "Any young man who puts fake diamonds on my daughter's hand will not marry her."
All that Champagne was making him a bit slow. Or it might have been his diet, mostly Pot Noodles, with the odd frozen ready-meal thrown in.
"He doesn't know I know they're fake," I said, taxing his limited abilities.
"If you say they are, they are," he declared loyally, topping up my 1860 cut-crystal flute.
"I need to prove it. And I want to know if it's his scam, or if he's a victim, like me. He's brought a few things for me to sell-from the collection of Lady Olivia Spedding, he says."
"Olivia Spedding! Good God! I didn't know she was still alive."
"Fallen on hard times; having to sell bits and pieces. Would she have had a few stones replaced here and there?"
"More likely to have the whole lot exchanged for paste," he mused. "You sure she's still alive?"
"He ought to know: He's her nephew. Great-nephew."
"Is he indeed? That must mean I'm related to her. Are you sure?" He peered at me, then, more hopefully, at the bottom of his glass.
"It's what he says. Anyway, what shall I do?"
A familiar expression of piggy greed settled on his puffy features. "Sell that sauceboat for me and I'll make a few enquiries."
It may have looked like a sauceboat, but it was in fact an eighteenth-century ladies' urinal-a vessel for ladies to wee into during long sermons or ceremonies. But that made it more, rather than less, valuable. I hoped that the women in the family had more sense of hygiene than my parent, or I couldn't have sworn that anyone had washed it before it had come to its present use.
* * * *
Even with my ten-percent commission, I was able to return a week or so later with four cases of Champagne.
"That Piers Hamlyn chappie still sniffing after you?" he greeted me, though his eyes were on the cardboard boxes in the back of our van.
"He's in Ireland," I said. "Doing a few sales." Which was unlikely, come to think of it, given his stock in trade, which last time I saw him included a couple of Ty Beanie Bears. If he'd taken me, with my divvy skills, I'd have made us a mint. But for some reason he'd never suggested it, and I was too sure I didn't want to marry him to ask. And then I cursed myself for being so damned moral-maybe Ireland was where he got his dodgy gems.
Lord Elham sniffed. "Not good enough for you, my girl. Not good enough."
Not good enough for the illegitimate daughter of a drunken old lecher like him? Griff referred to him fastidiously as a reprobate, which sounded nicely eighteenth-century.
"The man's a fraud. At least that tosh about Olivia Spedding is. Popped her clogs years ago: no stamina, those Speddings. So wherever he's getting it from it's not Olivia. In any case, she spent all her dosh on the gee-gees: never wore a diamond in her life. You sure you got the name right?"
I didn't see how I could have misheard a name like that, but until I got all that booze into his domain and a glass of it in his hand, I'd get no more sense out of him.
When he was settled at last, I asked, "Has Piers any other relations who might have asked him to sell the jewellery?"
"That was the respectable branch of the family. Have you met Hamlyn's family yet?"
I shook my head. I had an idea it was because he was afraid I wouldn't pass muster, and would start dropping aitches and eating my peas with a knife. Or was it only the middle classes like Griff who worried about such niceties?
"Or his friends?"
Another shake of the head.
"Are you sure he's kosher?"
I looked him straight in the eye. "That's what I'm hoping you'd tell me."
He took the sort of pull on his Champagne that I can only manage on water, and then it gives me hiccups. "Tell you what, you sell those plates for me and get me some more bubbly, and I'll see what I can do."
I nodded. I knew of old that the plates were a pretty tatty collection, mostly more Piers's sort of price range than mine, but for the information he might come up with I'd buy him a case of fizz myself.
In the event, I didn't have to. I found a red anchor mark Chelsea plate at the bottom.
* * * *
"Ireland!" Griff repeated, when I reported back our conversation as word for word as I could make it. "Why didn't you tell me the little rat had gone to Ireland?"
"Because I know you don't like me talking about him, and I thought you'd think I was upset not to be invited."
He frowned as he worked out what I meant. That was the trouble with not finding words easy: Sometimes they shuffled themselves into clumsy lumps. "And you weren't upset?"
"Glad not to be. I wouldn't want to sleep with him under false pretences."
"God knows where you got your moral principles from-not Lord Elham."
"Mostly from you!"
I could see he was pleased. But he added, quite seriously, "On the other hand, think of the stuff you could have picked up over there. Anyway, Ireland. And Dublin in particular. Diamond merchant."
"Not Amsterdam? Or Hatton Garden?"
"We're not talking about real diamonds, are we, petal? Not according to my contact." He touched his nose.
"They are fakes?"
"As true as a six-pound note. As we always suspected."
"But that doesn't get us any further forward with Piers. For my own satisfaction, Griff, I need to know if he's running the show or if he's a dupe. I may suspect… but I need to know."
"For that, my love, unless you wish to involve the police, you may have to rely on Lord Elham."
"Set a thief to catch a thief, you mean."
* * * *
"Not in your trade vehicle!" Lord Elham insisted.
"I'm not going to turn up advertising it's me, am I? We'll do what Griff and I always do if we want to go to London. We catch the train, and after that take a cab. There's nothing more incognito than a cab, surely."
"And you're happy to lurk outside the establishment-in that cab, for preference-while I Do the Deed?"
I wasn't, but I didn't see my getting admitted into what called itself a massage parlour but sounded more like a high-class brothel, except as an employee. And I'd always drawn the line at that, even when I was at my lowest, before Griff came to my rescue.
So when the day came, and Lord Elham had had the nod and the wink he'd hoped for, I collected him in my Fiesta and drove us to Ashford International Station.
"Travel first class? Dear me, I can't afford that!" was his reaction to my offer, but I could tell he was sacrificing himself. However, he perked up considerably when he saw even the second-class areas were comfortable and our seats even had a little table on which to place our Champagne, which I was determined to ration. To my amazement, he showed me how to tackle Sudoku, rattling through the Times's fiendish puzzle as if he were a child with an abacus. The journey passed surprisingly quickly.
"Now," I prompted him, "you remember how that little tape recorder works? And you won't have more than one bottle?"
"Shampoo at six hundred pounds a pop? You jest!"
* * * *
All three faces were serious as we sat around Griff's dining table. He'd made a huge effort, not to impress Lord Elham, but to show me how generous-spirited he was, entertaining a man he still saw as his rival under his own roof. To be honest, the delicate soup, tender guinea fowl, and exploding meringues were wasted on my father. But he too was on his best behaviour, praising as judiciously as if we didn't know that Spicy Beef Pot Noodles were his real preference, and gossiping about the famous faces he'd seen at the brothel. I'd spotted, from the depths of my cab, a further couple he'd missed. One face we'd both seen was Piers Hamlyn's.
At last Lord Elham extended a spatulate finger and pressed the Play button. We could hear Piers's voice quite clearly, against the chink of glasses and the raucous voices of the rich. He was boasting about his fence, how it was like taking candy from a baby.
And then we heard Lord Elham's voice: "Young man, it happens to be my baby from whom you are taking the confectionary. My little girl Lina. She will not be marrying you, of course. And, unless you want an exposé that would shock even your family to the roots, I suggest you listen very carefully to what I say…"
* * * *
"The Falklands!"
"I do wish, my love, you wouldn't squeak," Lord Elham reproached me, just as if he were Griff. "Yes, the Falklands. I believe he will find his niche out there: sheep or mineral rights, whichever interests him more. Not forever. Just long enough for you to mop up all the fake gems he's scattered about the country." He laid a wad of notes on the table. "That should suffice. You will keep any change." He looked at my ringless finger. "You should find enough there to purchase genuine stones for the two rings in your keeping." He sat back, belched, and looked as his watch. "Now, I always watch Big Brother at this time. And then, my child, you can run me home."
THE PREACHER by Kevin Wignall
Hector could see that one apology wasn't going to be enough. Either that or the old man hadn't really believed his first apology, which was understandable because it hadn't been genuine. But then, Hector had only been flippant because he'd thought the old man had to be joking. Because who took offence over stuff like that in this day and age? Hector's grandmother was nearly ninety and she could probably teach this old guy some new words. Even so…
"Hey look, I really am sorry, man, I didn't realize. I'll be more careful." He didn't get a response so he looked across at him.
"Just keep your eyes on the road."
Hector faced forward and made a show of looking out at the night-time streets.
Sidney, the old man, had the feeling he and the young punk wouldn't become friends. It wasn't just the cursing and the profanity, it was an air the punk had about him, like no standard was too low. And he just didn't shut up, either – he just never ran out of things to say.
Of course, Mr Costello had asked Sidney to take him under his wing, felt he just needed a little guidance, that he'd come on with the right role model, so here they were, driving out to Nolan's house to sort out a little company business. And because Mr Costello had asked him to take the punk along, he was taking the punk along, that's the guy he was.
He could tell the punk was thinking about something now, that he was itching to speak yet again.
Hector had kept turning the word over in his mind, the word that had upset the old man. Having said that, the old man was such a stickler, he probably got upset if someone pronounced "oregano" in the wrong way. But the word that had actually upset him also upset a lot of people, and the more he thought about it, that hardly seemed fair, because it was a good word.
"You know," said Hector, "that word I just used, you know, the word you didn't like, I mean, the F word…"
"I know which word you mean," snapped Sidney.
"Yeah, well that one. I mean, why is it a bad word? I don't mean, why is it like a curse word, I mean, why do people use it to talk about bad things, because it's a good thing. You know, to fu… What I'm saying is, to do that thing is a good thing, enjoyable, so why do people use the word to describe bad things?"
It was a twenty minute drive to Nolan's place, forty minutes there and back, and Sidney wasn't convinced he'd be able to do the whole trip without shooting the punk just to shut him up. He wouldn't mind if he said anything that made the slightest bit of sense, but it was all this rambling stream-of-consciousness weirdness.
"Are you on drugs? I mean, are you high right now?"
Hector laughed and said, "I'm serious, man. You know it's like… well, let's call it the C word, you know, to describe a woman's er…"
"I know which word you mean."
"I would hope so," said Hector with a knowing smile that made Sidney want to slap his face. If the punk hadn't been driving he'd have done just that. "It's a bad word, the worst word, but it describes one of the greatest things ever. Haven't you ever wondered, why that is?"
"No, Hector, I haven't, just like your parents probably never wondered why you didn't get into Harvard." Sidney thought he'd try to change the subject and said, "How d'you end up with a name like Hector, anyway?"
"My dad was half Spanish."
"Which half?"
"On his mother's side, obviously." He glanced across at the old man and said, "My name's Murphy." The old man nodded his understanding and pointed forward, telling him to keep his eyes on the road.
The old man was senile, that was clearly the problem. Or else he'd done loads of coke or something back in the day. He acted all prim and proper, but these guys were all young in the '70s and he'd seen Casino, he'd seen Scarf ace - they were all the biggest cokeheads.
"Oh, man, this friend of mine had a cousin called Tamara and she'd get wasted at parties when she was, like, sixteen, and let us play Tamara's Ti… Well, I won't say the word, I know you don't like words like that, but I'm referring to her, you know, her bre…" Hector wasn't sure if even breasts would be out of bounds. "Her chest things, packets, whatever."
Sidney was staring at him, dumbstruck. It was bad enough when his nonsense was actually related to the here and now, but this new story had apparently been plucked out of the ether.
"I know the word you're looking for, but that still doesn't make it any clearer. What on God's good earth are you talking about?"
"Give me a minute, man. This game. See, she'd strip naked to the waist and lay on a table and let all us guys snort coke right off her… you know, the things we were just talking about." He was overcome briefly by the memory of the last such party, the summer before last. "And she was loaded up top, if you know what I'm saying. She was nice."
"Why would you tell me that story?" Sidney was wondering if this kid had frazzled something in his brain and had lost any sense of discernment or understanding of what might be an appropriate story for the company he was in. "Seriously, what is it about me that made you think I might want to hear that story? Better than that, tell me what suddenly inspired you to share it with me! I'm curious, Hector, I really would like to know… Actually, forget that, I don't want to know what's going on in your mind, but I'd like to know why you thought that was an appropriate story to tell on this occasion."
Hector had changed his mind. Clearly, the old man hadn't done enough drugs back in the day. If he had, he wouldn't be quite so uptight now. And man, was he uptight.
"It's just a story, you know. Just something I thought of. I mean, isn't that what we're supposed to do? Like, we're two buddies on a job together, talking about stuff, swapping stories."
"You hear me telling any stories?"
"I bet you could tell some stories, things you did back in the day." He was about to give the old man a playful punch on the arm but didn't, thinking he probably wouldn't go in for that kind of thing, either. Besides, he was old, really old, and a playful punch on the arm could be bad news – it could cause a blood clot or something serious like that.
"Back in the day! You don't know what you're talking about. And we're not buddies, and we're not on a job together – you're tagging along to watch me, to learn some people skills. That'll actually involve you watching and keeping your mouth shut."
"I'm all eyes and ears, no mouth, trust me." With an afterthought, he said, "Does that mean no stories at all?"
Sidney had to hand it to him, the kid was persistent. "It means no stories like that one. I have a daughter who's sixteen."
"Is her name Tamara?"
"If her name was Tamara I'd be chopping you into pieces in a dumpster right now."
"Hey man, I was only joking." Though clearly, it was completely wasted because the old man's sense of humor had been sucked out of his nose by aliens or something – they probably had it in a jar on their home planet right now, realizing they'd stolen the wrong one. "I knew Tamara wasn't your daughter. For one, she's eighteen now, not sixteen, and she's my friend's cousin, you know."
"I was joking too," said Sidney, realizing that even the broadest brush strokes of humor were wasted on the punk. "I haven't chopped anyone up in a dumpster in nearly twenty years."
Now they were getting somewhere. "You really did that!"
"No, I'm still joking." He remembered what Mr Costello had said about showing him the ropes, giving him the right moral guidelines. "Hector, you have to understand that we're in a serious business, and you don't run a serious business on threats and violence. Sure, sometimes threats and violence are necessary, just to make people understand how serious you are about your business ethic, but it is always the option of last resort."
Hector waited a couple of beats, wondering if the old man was finished. For someone who didn't like talking, he was good at churning out the boring speeches. God help them all when his daughter got married. On the good side, he guessed the old man was talking about the job, Nolan – the option of last resort.
"Can I do him?"
It was pointless, thought Sidney. He didn't know if there was such a thing as a clinical moron, but this kid Hector was about as close as anyone was ever likely to get.
"Can you do who?"
"Nolan. The option of last resort."
"Kid, you don't know what you're talking about. You just leave everything to me when we get to Nolan's place. You just watch and learn, remember?"
"Sure, I remember," said Hector. It was pretty frustrating though, knowing he'd have to watch this fossil blow Nolan's brains out when he was itching to do it himself. That was how people learned, by picking up the gun and pulling the trigger.
"I had someone pull a gun on me once. Threatened to shoot me in the… well, you know, he threatened to shoot me so I wouldn't ever have kids, in the groin-type area."
The guy with the gun had clearly been a generation too late, but Sidney decided to play this one straight, giving the punk the benefit of the doubt, offering him the opportunity to give a little background. "So he wasn't a friend?"
"He's not a friend anymore," said Hector. "He was my best friend until he pulled a gun on me. Never seen him since, and if I saw him again, I'd pop a cap in his… well, I'd hurt him. He was a motherfu… He wasn't nice, if you know what I'm saying."
"What did you do?"
This guy was just like his parents. Hector couldn't believe it. Old people were always just too quick to jump on top of them. What did you do? You must have done something. There's always two sides to every story. Always the same thing.
"I didn't do anything. Why would you assume I'd done something?"
"Hector, I'm not a cop, I'm just asking what happened. If it helps, why did your friend pull a gun on you?"
"It was nothing. I was doing his girlfriend, that's all."
"You were doing his girlfriend?"
"Yeah, you know, I was… that word, the word I apologized for, I was…"
"Hector, I know what you mean. I was just questioning how that constitutes nothing at all." The kid looked baffled and Sidney wondered if he was just so completely out of step, that morals had disappeared completely. He hated to think any of his own children would end up like this. "Do you consider it normal to date your friend's girl?"
"I wasn't dating her, I was…"
"Hector, I know!"
"Well, yeah." The old man obviously thought he'd been around the block a couple of times, but Hector could clearly teach him a thing or two. "Let me tell you, this had always been my policy and I've had more girls in more ways than you could imagine. See, for one thing, you don't have any of the responsibility – no taking them out, no buying them stuff. For another, it's easier, you know, because there's only one other guy. With a single girl, you're up against all the other guys in the world. So ask yourself, why be in competition with every guy when you can just be in competition with just one?"
The punk looked pleased with himself, like he was only one step away from being awarded the Nobel Prize in some newly created category. Sidney waited, thinking he'd own up to it being another not very funny joke, but he kept looking smug and in the end, Sidney said, "What about loyalty and honour, doesn't that mean anything to you?"
"Of course! I'm the most honourable and loyal guy you'll ever meet." Hector didn't know where the old man was getting off – what was he doing trying to connect girls and stuff with loyalty and honour. It just didn't make any sense.
Sidney thought of his wife and daughter and how much he'd rather be with them right now, not heading out to Nolan's place with this deranged punk. Still, he'd be back with them soon enough, and he knew one thing, if either one of them ever had to deal with someone like Hector, he wouldn't be responsible for his actions.
He could see Nolan's house on the tree-lined street up ahead of them so he said quickly, "That joke I made about the dumpster. It wasn't a joke, it was 1983, and if you're ever so much as in the same room as my daughter, I won't even hesitate."
"You're pretty scary," said Hector, flattering the old man, because in truth, he reckoned it was all front, like a lot of these guys from the past.
"I know," said Sidney, but he wondered if Hector had the slightest idea how scary he'd been and could still be. "It's that house on the left. Pull over."
"Nice place," said Hector as he parked, looking across the lawn at the double-fronted house with ivy growing all the way to the roof.
"Remember…"
"I know, listen and learn."
They got out of the car and walked up the path, then up the three steps to the front door. Hector was faster up the steps and rang the bell, then cursed under his breath because he knew the old man would get all precious about it. Sidney let it go, the punk was just eager, but he couldn't see him ever coming to anything.
Nolan opened the door. He was in his shirt sleeves and was either wearing contacts or just didn't bother with his glasses in the house. He stared at Hector first, but then fixed on Sidney with the shock of recognition and said fearfully, "You're the preacher."
Hector looked at the old man. He'd heard a couple of people talk about a guy called the preacher, but he'd never realized they were talking about him. The old man had just nodded in response and now Nolan looked like he was about to cry and wet himself all at the same time.
"Please, I'll do anything, I'm begging you please." He put his hand up, changing his plea, as he said, "Okay, but look not here, not in front of my family."
This was cool, thought Hector, the old man was the preacher and this guy Nolan was about to be dog food.
"Mr Nolan, you don't understand," said Sidney, reaching inside his jacket.
Nolan started sobbing, his words almost inaudible, but something about mercy. What was it with people nowadays, thought Sidney, that they never listened? He held the envelope, fat and pleasing in the hand, out towards Nolan, who looked at it like Sidney had just offered him a pineapple.
"What's this?"
"Mr Nolan, if you'd let me finish, Mr Costello wanted me to tell you that there had been a misunderstanding and that he's very sorry for any distress this might have caused to you or your family. He's been completely happy with your legal work on his behalf, he completely understands if you won't want to work with him in the future, and this is just a small compensation. We're really very sorry."
Sidney might as well have let Hector do the talking because Nolan was staring at him like he'd explained the visit in Swahili. He took the envelope in slow motion and opened it to look at the bundle of notes inside. He looked up again, and stared in confusion at Sidney.
He laughed then, and said, "I thought, I mean…"
"I know," said Sidney, sympathetically. He heard someone coming down the stairs behind Nolan then, and said quietly, "Dry your eyes, Mr Nolan."
Nolan took a handkerchief and dried his eyes and blew his nose, and looked grateful to Sidney for thinking about how he'd look in front of his family.
Hector was struggling to connect here, like the aliens had been and sucked something out of his brain and suddenly nothing made sense. He'd just heard the old man named as the preacher, one of the most fearsome men ever talked about, and they'd come all the way out here to apologize to someone! What next, helping old ladies across the road?
Then he got distracted. The old man and Nolan were saying something to each other when the most beautiful girl appeared on the stairs in the hallway, dressed in one of those skinny-rib T-shirts – they did it for him every time, and she didn't have much going on up there, but she was nice.
Sidney saw the girl and heard Hector's tongue hit the floor, even though she had to be fourteen at most. He really was a sick puppy. "Okay, Mr Nolan, we have to be going. Once again, sorry for the distress."
"Thank you. Thank you very much."
"Let's go, Hector."
The door closed quickly and the two of them headed back to the car. Hector wasn't happy. Not only had they not killed anyone, or even given anyone a beating, just as things had been getting interesting, the old man had called it a day.
"That was one beautiful piece of…"
"Don't say it, Hector."
Sidney took his gun out and gave Hector a sharp little crack across the top of the head.
"Fu… Fiddle! What did you do that for!"
"You're a degenerate. I'm trying to knock some decency into that thick skull of yours."
Hector got into the car, rubbing his head, but couldn't help laughing. "My grandfather used to do that. Not with a gun obviously, but he used to crack me on the head and say he'd knock some sense into me."
He pulled away and Sidney said, "I'm guessing he either hit you too hard, or not hard enough."
Hector laughed. It was all on a pretty weird wavelength but the old man was actually pretty funny, even if it was a pain in the posterior that he couldn't curse or use profanity around him, or talk about sex or drugs. Had he just thought the word posterior? That was something – he was even censoring his thoughts around the old man.
"Say, anyway, why do they call you the preacher?"
Sidney looked at him and said, "Take a wild guess," and the punk started to laugh. Sidney laughed too. He wasn't sure they were both laughing at the same joke, but they were both laughing at the same time, and he guessed that was a start. Maybe he'd show him the ropes yet.
THE ANGEL OF MANTON WORTHY by Kate Ellis
I felt his tight grip on my arm as I slumped into the passenger seat and when my hand went up to the blindfold he ordered me not to touch it. I did as I was told and clung to the soft leather of the seat, trying to work out where we were heading.
We travelled for hours on a fast, straight road and I guessed that we must be well out of London. When the roads started to wind I sensed that we were out in the country somewhere and we seemed to drive for miles before I felt the car swing sharply to the left. I heard the crunch of gravel beneath the tires as though we were on some sort of driveway, and when we stopped he told me to take the blindfold off. I could see my surprise at last.
I untied the blindfold and sat there blinking as my eyes got used to the light. I'm sure I swore when I realised where I was. But then I saw the excitement on Paul's face-like a little boy at Christmas-and I forced my mouth into a smile until the muscles began to ache. I think I managed to say what he wanted to hear. I could hardly have let him know the truth.
I managed to keep the smile in place when he told me the house was called the Old Rectory, and I rushed up to the front door, forcing out enthusiastic oohs and aahs as he pointed out each new desirable feature. He expected excitement and that's what he got. He had the Merc, the million-pound apartment in London, and now he had the place in the country he'd been promising himself for years. To have poured cold water on his triumph would have been like snatching away a kid's birthday present… and I couldn't have done that to him. Not when I saw how thrilled he was.
He was twenty years older than me and too many business lunches meant that what he'd lost in hair he'd gained in weight. But I was fond of him-I suppose I might even have said I loved him if I believed in love, which I don't. We stayed in a hotel in Exeter that evening and he ordered a bottle of champagne to toast our new country life. After the bubbles had booted some of my inhibitions out of the window I asked him if he realised what life was really like in a place like Manton Worthy. But he just laughed and said he'd bought the best house in the village so the peasants could kiss his arse. People in the restaurant looked round and I felt myself blushing. Paul never worried about what people thought… unless he was doing business with them.
Looking back, I couldn't complain about the house itself. It was like an oversized doll's house to look at… symmetrical with long, square-paned windows painted in gleaming white. Paul said it was Georgian and it had a long gravel drive and a shiny black front door you could see your face in, with bright brass fittings. It had belonged to a TV executive from London who had spent a fortune on the place and only used it on weekends. Inside, the previous owners had kitted it out with gold and silk drapes and thick cream carpets. It hadn't always been like that, of course-once it had been a draughty, rambling place where the old vicar lived; where the parish bigwigs held their long, boring meetings and where the vicar's skinny wife organised her fetes and good works. But times change.
Paul had lived in London all his life and what he knew about the country came from watching old episodes of Miss Marple and reading the colour supplements. He said I should get to know the area, perhaps chat up a few locals… there was no harm in cultivating useful contacts. But I said no, thanks, I had better things to do, and began to paint my nails. There was no way I was going out there. Not in Manton Worthy.
I had an uncomfortable feeling that it wouldn't be long before things began to go wrong… and it turned out I was right. The cockerel next-door started it: cock-a-doodle-bloody-doo over and over again at five o'clock every morning. I knew Paul would take it badly… he needed his sleep, and by the third day he was threatening to throttle the bird with his bare hands. I told him that crowing is what cockerels do… that it was all part of the country experience. But there was no reasoning with Paul when something annoyed him.
He dealt with it, of course… like he dealt with everything. He stormed round to see the farmer, who was called Carter-"an inbred lump in a flat cap and waxed jacket," according to Paul. As soon as I heard Carter's name I knew I had to take care not to get caught up in Paul's little feud.
When the cockerel carried on I tried to convince Paul that you couldn't stop the forces of nature. But he said he'd have a bloody good try if they kept him awake at night. I suggested moving into one of the bedrooms at the back of the house and to my relief he agreed. I started to hint about spending more time at the London apartment, but Paul said that no inbred yokel was going to drive him out of the home he'd worked his backside off for. He always had a stubborn streak.
So there we were, stuck in the middle of nowhere, and as I stared out of our old bedroom window across the rolling green landscape, the sight of Carter's farmhouse squatting there in the field nearby made me shudder. I should have got out then… I know that now with hindsight. But how could I have hurt Paul?
Another thing that spoiled the rural peace Paul thought he'd bought was the noise of the church bells. They rang on Tuesday evenings and woke us up every Sunday morning. One Tuesday Paul fetched a pair of shears from the garden shed and I feared the worst. But I thought quickly and said that I loved the sound of the bells and how glad I was that we lived so near to the church. Paul looked at me as though I were mad, but the shears were returned to the shed.
When the bells stopped that evening, I walked to the bottom of the garden and hid myself behind the hedge to watch the ringers leave the church. I saw Carter, leading them down the church path-probably to the pub-and my body started to shake at the sight of him. He had hardly changed. He still had the slicked-down hair I remembered so well-although it was grey now rather than black-and he'd put on weight. I watched him until he disappeared round the corner, then I hurried back into the house, taking deep breaths, trying to still my trembling hands. I made for the downstairs cloakroom, where I threw up, scared that Paul would hear me… but he didn't. I told him that I had been outside putting something in the bin and he seemed to believe me. I hated lying to him, but I had no choice.
From then on I made sure we stayed indoors on Tuesday evenings and the change of bedroom had dealt with the cockerel problem. After a couple of weeks I was becoming more confident that I could manage the situation. But being in Manton Worthy still made me nervous, and I woke up each morning dreading what the day ahead would bring. And yet I put on a smile for Paul's sake.
Paul had decided to spend less time in London and run the business from the Old Rectory. I offered to act as his PA-after all, we'd met when I'd started work as his secretary… just as he was becoming bored with his first wife. And doing my bit for the business gave me the perfect excuse not to go out.
But I suppose it was inevitable that I would meet someone from the village sooner or later, and one Monday morning, as I was getting dressed, the doorbell rang. I let Paul answer it while I stood hidden at the top of the stairs, peering down into the hallway to see if the caller's face and voice were familiar. Once I was sure that I had never seen the visitor before in my life, I walked down the stairs, smiling graciously, and invited her in. She introduced herself as Mandy Pettifer and she seemed nice enough in her way, although she wasn't really our type… all floral dress and flat sandals. But I knew that a contact on the outside might be useful.
I took her through into the lounge-or the drawing room, as Paul insisted on calling it-and offered her a coffee. This was my chance to discover the lie of the land. Who was who now and what was what in Manton Worthy.
Mandy was the chatty type. In fact, once you started her on the subject of the locals it was hard to shut her up. She'd lived in Manton Worthy for ten years and she was married to an IT consultant who worked abroad a lot. She taught part-time at a primary school in the nearby town of Ashburn, the local school having closed down years ago, and I guessed that she had come visiting because she was at a loose end in the school holidays. She was one of those people who'll tell you her life story before you can get a word in edgeways.
"I expect most people in the village have lived here for years," I said when she paused to take a sip of coffee.
She looked disappointed, as though she wanted me to reveal as much about myself as she had… but I wasn't playing that game.
"Actually the nice thing about Manton Worthy is that most of the people are newcomers like you and me." She leaned forward, as if she was about to tell some great secret. "To tell you the truth, I don't think most of the locals can afford the house prices. I know the people who used to have our cottage live in Ashburn now. In fact, I only know of one person who's lived here all her life, apart from some of the local farmers, of course."
"Who's that?" I asked, trying to sound casual.
"Miss Downey: She lives next-door to me. She's in her seventies now but she used to teach in the village school when there was one."
"Nobody else?"
Mandy shook her head.
"What about the bell ringers?"
Mandy looked surprised, as though she'd never considered that human beings rang the church bells. "I've no idea. Perhaps they come in from Ashburn. Most of the cottages were owned by a local estate and when they were sold off the tenants couldn't afford to buy at the prices they were asking. Most of them moved to the estate in Ashburn."
"And the cottages?"
"Bought as second homes or by people like us."
"So there's nobody apart from Miss Downey?"
Mandy laughed… a tinkling, irritating sound. "You'll have to meet her; she knows a lot about local history and all that. If you ever want to know what's gone on in Manton Worthy in the past, she's the person to ask."
I smiled but didn't answer. That afternoon I went for a walk through the village. It nestled in rolling, patchwork fields; chocolate-box pretty with its thatched cob cottages and ancient stone church next-door to the pub-everyone's ideal English village. Perhaps I had been wrong to be afraid. Perhaps everything would be okay… as long as I avoided Carter.
Over the next weeks I became bolder. I walked through the village-well away from Carter's land-and I even took Mandy up on her invitation to call round anytime for a coffee. Perhaps I needed to see someone other than Paul. Or perhaps I just felt I needed to know what was going on in the outside world.
One afternoon I found myself sitting in Mandy's front room overlooking the main village street. She had done it up nicely, I'll give her that. There was an old-fashioned inglenook fireplace and she'd taken up the carpet to reveal the original stone floor which she had promptly covered up again with a large abstract rug in shades of grey. There was a whiff of minimalism in the air, which surprised me as Mandy hadn't seemed the type for that sort of thing. She talked at length about interior design… and I listened. She had gone for a fusion of old rustic and modern, she said. I nodded and let her rabbit on. But I had more important things to worry about.
She mentioned the murder just as I had bitten into a Danish pastry. I felt myself choking and grabbed at the mug of coffee. By the time Mandy had fetched me a glass of water from her new beech kitchen with its slate-tiled floor, I had composed myself, although my heart was still pounding against my ribs. Who could have thought that the mere mention of it would bring back all the old terrors? But Mandy can't have noticed anything was wrong because she kept on talking, telling me how the girl had been found up by the woods, on the site of the old gallows. She'd been strangled, Mandy told me, enjoying every detail of the story. Strangled with a bell rope from the church. The police knew who'd done it, of course, but they could never prove anything. The boy had had learning difficulties and his mother had given him an alibi.
I asked her where she'd heard all this and she tapped the side of her nose. "A woman I work with used to live here. She told me."
"Did she mention Mr. Carter who has the farm next-door to us?" I regretted the question as soon as I'd asked it. But Carter was on my mind. In fact, if Paul knew how scared I was of Carter, he'd have done something about it, so I kept quiet. Trouble was the last thing I wanted in Manton Worthy.
Mandy looked puzzled. "No, I don't think she did. I can ask her about him if you like." She leaned forward, eager to please. She reminded me of a dog we had once owned, a stupid animal who was all enthusiasm and no sense. It had been put down and we'd buried it in the back garden.
"No. It's okay. It's not important." I hoped she couldn't sense the fear in my voice.
We got through three cups of coffee before I looked at my watch and realised how late it was getting. Paul would start to worry if I wasn't home soon. Perhaps it was the age gap between us that made him treat me like a child sometimes. Mandy tried to persuade me to stay-she was probably lonely there in that cottage, that cage of rustic minimalist chic, with her husband away so much-but I had to get away. She was beginning to get on my nerves.
Now that I knew the village was full of incomers like myself I felt more comfortable walking back. But as I hurried back down the main street towards the Old Rectory I heard a voice behind me.
"Karen? It is Karen, isn't it?"
I stood there frozen to the spot for a few seconds before I took a deep, calming breath and turned round. I tried to smile but I felt my mouth forming into an expression more of pain than pleasure.
The woman was small, bent with age. Her hair was snowy white and her flesh looked like thin parchment stretched over the bones. But her sharp eyes hinted at an agile brain behind that mask of age. I heard myself saying, "Sorry, you've made a mistake. My name's Petra."
But the woman's bright grey eyes were focussed on mine like searchlights. She hesitated, a knowing smile playing on her lips. "I'm so sorry, my dear, you just reminded me of one of my old pupils. I'm Edith Downey. I live in Beech Cottage… just over there." She waved a gnarled finger in the vague direction of a row of thatched, pastel-painted cottages straight off a picture postcard. I shuffled my feet, anxious to get away. "So you've moved here recently?"
"Yes." She looked at me expectantly. She wanted more. "We've moved into the Old Rectory… me and my husband… Paul. We've come from London." I tried to smile but I don't think I quite managed it.
Miss Downey took a step closer. Her eyes were still on mine, as though she were reading my thoughts. "It's all new people now… apart from the Carters and myself. I taught at the village school… when there was a village school."
"Really." I tried to sound interested but I felt the adrenalin pumping around my body as I prepared for flight.
"Have you been to the church yet?"
I shook my head.
"It's worth seeing. It has a medieval screen with some fine angel carvings. Some of the people who used to live here still come for Sunday service… most of them live in Ashburn now but they still feel they have ties here."
There was a hint of recrimination in her voice; a subtle criticism, as though she was hinting that I was personally responsible for driving up the village house prices and evicting people from their homes. But I said nothing. I wanted the encounter to be over. I wanted to get back to Paul.
I remember running back to the Old Rectory as though the hounds of hell were after me. I sank three large gin and tonics before I began the supper. Paul was busy in his office so I don't think he noticed.
It was awhile before I summoned up the courage to walk through the village again. I made excuses to myself: I had to use my new Range Rover because I wanted to do some shopping in Exeter or visit a supermarket ten miles away… I didn't dare risk the one at Ashburn. I was making any excuse not to walk past Miss Downey's cottage. But how could I avoid the woman forever?
Somehow I had to persuade Paul that moving to Manton Worthy had been a mistake. But as I wondered how to go about it, I carried on day after day, driving through the village in the Range Rover wearing my dark glasses. The days passed, and before I knew it the lanes were filled with farm vehicles and the fields hummed day and night with the noise of combine harvesters. When Paul complained, as I knew he would, I took my chance and said that farms were noisy places and we might be better off somewhere else. But he was determined to stay put. Once Paul had made a decision, he would never admit he was wrong.
Soon after that a leaflet came through the door. It was an invitation to the church's harvest festival, followed by a hot-pot supper in the church hall. Naturally I threw it straight in the bin and I had the shock of my life when Paul found it there and said he wanted to go. He said he'd decided it was about time we became part of the community. My mouth went dry and my hands began to shake. This was the last thing I wanted.
I was thinking how to talk Paul out of it when I went out into the hall and found the note lying on the doormat.
* * * *
"Miss Downey was knocked down and killed on Wednesday night… hit-and-run driver." Mandy leaned forward, anxious to share this juicy piece of gossip.
"That's awful," I said. "Have the police any idea who…?"
"Well, I've heard that an old Land Rover was seen speeding around the village earlier that evening. Someone said the police have questioned Mr. Carter, who has the farm next-door to you… it's said he often takes his Land Rover to the Wagon and Horses. These country people sometimes think they're above the law where drunk driving is concerned, you know."
"So they think it was Carter?"
Mandy shrugged. After virtually accusing the man, she couldn't bring herself to deliver the final verdict. She leaned forward confidentially. "Remember I told you about that murder… the girl who was found strangled? Well, I asked about it and apparently she was Carter's daughter… and he was questioned about it at the time."
"Was he?" I felt my hands shaking.
"There were rumours going round that he was abusing her, but the police never found any evidence… that's what I was told anyway. Don't repeat it, will you?"
"No." I could hear my heart beating. "Of course I won't." I hesitated. "What happened to the boy the police suspected?"
"I think his family left the area. Why?"
"No reason," I said, as casually as I could manage. "Just curious."
I stood up. I wanted Mandy to go. I wasn't in the mood for company. I was wondering how to stop Paul from going to the harvest supper… how I was going to keep him away from Carter. But then I realised that I didn't have to go with him. I could develop a strategic headache. As long as I didn't come face-to-face with Carter and the nightmares of my childhood, I'd be all right.
"You're shaking. What's the matter?" Mandy's voice was all concern.
"Nothing." I tried to smile.
It was half an hour before she left and as she was leaving she asked me if I was going to Miss Downey's funeral. I said no. After all, I didn't know the woman.
As soon as she'd gone I rushed upstairs and opened my underwear drawer. I felt underneath the layers of flimsy lace for the note, and when I found it I took it out and read it.
Dear Karen,
I've been thinking about our meeting the week before last and I've been wondering what to do for the best. I do understand your feelings but I think it would be helpful to talk. Perhaps you would call on me one day for tea.
Yours sincerely,
Edith Downey
I tore it into tiny pieces and put it down the waste disposal unit in the kitchen. I was stupid to have kept it, but I vowed not to make any more mistakes. That evening I told Paul that I wanted to go back to London but his response was that it was still early days… and the harvest supper was just what I needed to get to know people.
The next day I heard from Mandy that Carter had been released without charge.
* * * *
I lived in a strange state of limbo for a week, pretending to Paul that I was looking forward to the harvest supper… and all the time making plans to avoid it at all costs. The most worrying thing was that Paul seemed to have reached some understanding with Carter. He had taken to visiting the Wagon and Horses some evenings and one night when he returned, he said that he had been talking to Carter and he seemed all right, really: You couldn't always judge by first impressions.
The change in Paul shocked me: He claimed that the slow pace of country life was lowering his blood pressure and making him feel calmer. Why run around like a headless chicken in London when you could enjoy the simple pleasures of a small community and open spaces? Paul seemed hooked and, like converts the world over, he began to enter into his new enthusiasm with a gusto lacking in the born-and-bred countryman. He talked of learning to ride, maybe joining the local hunt. To my horror, he even suggested inviting Carter round for lunch one Sunday as he was on his own, an idea which sent me straight to the bathroom to throw up.
Paul was going native and with every new development I became more and more certain that I had to get back to the city… any city… anywhere away from Manton Worthy. I had to get out before it was too late.
On the night of the harvest supper I developed a headache as planned and told Paul to go on his own. He looked disappointed, like a kicked puppy, but I had no choice. After some persuasion he went, and once I was alone I locked all the doors and settled down to an evening by the telly with some interior design magazines-I wanted to do something with the en suite bathroom so I found myself a pair of scissors to cut out any pictures that might provide me with some inspiration. I opened a bottle of Chardonnay, too-I needed something to steady my nerves.
At half-past nine it was pitch dark outside. Darkness in the countryside is nothing like darkness in the city and I could see nothing outside the windows, as though someone had hung black velvet drapes on the other side of the glass. But with the curtains drawn and the telly on I felt cosy and safe. Until I heard the noise of our polished brass doorknocker being raised and lowered three times.
I froze. The telly still babbled on, oblivious to the crisis, as three more knocks came. Then another three. I went through all the possibilities in my mind. Could Paul have forgotten his key? Could Mandy be calling to see how I was? I crept along the hall in the darkness, making for the front door. There were no windows in the door but the TV executive had installed a spyhole and security lights. I stood on tiptoe to look through the spyhole, but although the front step was flooded with halogen light, there seemed to be nobody there.
I was about to return to the safe warmth of the lounge when the knocking began again. My body started to shake and I tried to peer out of the spyhole but again there seemed to be nobody there.
I know now that I shouldn't have opened the door, but it was an automatic reaction-and I suppose I assumed that I could just close it against any danger if the worst happened. But things are rarely that straightforward. As soon as I had turned the latch, the door burst open and I fell backwards. I think I screamed. I think I tried to lash out. But it was useless. It was dark in the hallway and I could see very little, but I felt strong arms dragging me towards the lounge. I tried to kick, but it was as though I was caught in a web like a fly… at the mercy of some monstrous, unseen spider. I screamed again, but then I realised that this was the countryside. There was nobody there to hear me.
We were in the lounge now and Carter was bundling me onto the sofa. I could smell his waxed jacket as he held me… the same smell I remembered from all those years ago. And I could see his face… full of hatred.
"I saw you." He spat the words like venom. "I saw you run her over."
I tried to wriggle free, but he held me tight.
"But you were too late. She'd told me already that you were back."
"I don't know what you're talking about." The words came out as a squeak, unconvincing even to myself.
"Miss Downey, that's what I'm talking about. I got talking to that husband of yours. Funny how you didn't tell him much about yourself. He's no idea, has he?"
I felt his breath on my face and I tried to push him away. But it was no use. He was stronger than me.
"Why, Karen?" he hissed, putting his face close to mine. "Just tell me why. What had she ever done to you?"
"I don't know what you mean."
"My Jenny… why?"
"Luke Fisher killed Jenny. Everyone knew that."
His hands began to tighten around my neck. "Once you'd gone, Luke told the police what he saw. They didn't believe him-just because he wasn't all there they thought he was making it up. But I knew he was telling the truth. You were always a sly little bitch… a bully. You made my Jenny's life a misery. No wonder your mam and dad moved away so bloody quick after she died. Did they know, eh? Always looked so bloody innocent, didn't you… face like one of them angels in the church. Did they know what you were really like? Did they know what you'd done?"
With an almighty effort I pushed him off and sprang up. I don't remember much about what happened next. Only that there was a lot of blood and I felt that same strange detachment I'd felt after I had killed Jenny Carter… when I looked down and saw her dead, bulging eyes staring up at me.
The memory returned like a tidal wave, everything that had happened that day all those years ago. The bell ropes in the church had been replaced and the old ones had been left lying in the back pew, perfect for the game I'd made up… the game of dare. I dared Jenny Carter to go to the old gallows and put the rope around her neck. Luke followed us: He was hard to get rid of… older than us, big and soft and too simple to know when he wasn't wanted. But I hadn't known he was watching when I tightened the rope around Jenny's neck, just to see what it would be like to kill somebody… to have the power of life and death. Once I'd started pulling on that rope I couldn't stop. I'd watched, fascinated, as her face began to contort and her eyes started to bulge. I was all-powerful, the angel of death; just like the angels on the screen in the church… only different. As I stood over the body of Jenny's father, I felt the same elation… the same thrill. But when I heard a voice calling in the hall the feeling disappeared and my brain began to work quickly.
I began to sob and I sank to the floor. The scissors I'd grabbed from the coffee table were in my hand and I threw them to one side. I was shaking and crying hysterically by the time Paul entered the room. And when he took me in his arms I slumped against him in a dead faint.
I pretended to be unconscious when the doctor and the police arrived. I thought it was best. And when I came round, in my own good time, I told my story in a weak voice. Carter had arrived and pushed his way in, then he had tried to… I hesitated at this point for maximum effect, but the policewoman with the sympathetic eyes knew just what I meant. Women alone in the countryside were so vulnerable and hard-drinking men like Carter, sensing weakness, knowing a woman would be alone… She was the sort of woman who believes all men are potential rapists and she believed every word I said. I was the victim, she said, and I mustn't feel guilty. I never liked to tell her that I didn't.
We left Manton Worthy soon after, of course, and made a tidy profit on the Old Rectory, which we sold to a city broker who wanted it for a weekend retreat. I told Paul that I couldn't bear to stay there after what had happened and he was very sympathetic: He even blamed himself for getting too pally with Carter. The day before we left I wandered into the church and I looked at the angel on the screen, the one with the sword, and I couldn't help smiling. I was Manton Worthy's angel of death… and nobody would ever know.
Once we were back in London I resumed my old life. I was Petra, Paul's wife; a lady who lunched and did very little else. Karen was dead.
It was six months later when Paul was found dead at the foot of the stairs in his office. He'd been working late and I'd been at the gym, working out with Karl, my personal trainer. Of course, when I say working out, I use the term loosely: What we were doing had very little to do with exercise bikes and weights. Karl had a girlfriend, but I wasn't worried about that: He was just a bit of fun, a way of passing the time… and Paul would never get to know.
The policeman who came to tell me about Paul's death wasn't very sympathetic. He questioned me for hours about where I'd been and about my relationship with Paul. I said nothing about Karl, of course. And when he asked me how much I stood to inherit on Paul's death, I told him the truth. Five and a half million, give or take a few quid. Of course I'd assumed that Paul's death was an accident, cut and dried. But it just shows you how wrong you can be.
The police said that Paul hadn't fallen; there were signs of a struggle and fibres from my coat were found under one of his fingernails. I told the police that he'd caught his nail on my coat that morning. And I told them he had some pretty dodgy business associates… he'd even moved to Devon once to get away from them. But they wouldn't listen, and when they charged me with Paul's murder even Karl turned his back on me and refused to give me an alibi because he was scared of his cow of a girlfriend.
I was convinced it would never come to trial. After all, I hadn't done anything. But every time I tried to convince the police of my innocence, they wouldn't listen. My defence barrister told the court how six months ago I'd been the victim of an attempted rape, but even that didn't seem to earn me much sympathy. The jury was full of brain-dead idiots who found me guilty by a majority of ten to two, and as the police bundled me past the crowds waiting outside the Old Bailey, someone flung a coat over my head and pushed me into a van that smelled of unwashed bodies and urine.
Even when they took the coat off my head the windows in the van were too high to see out of and I couldn't tell where we were or what direction we were driving in. We seemed to drive for hours on a fast, straight road, then we slowed down and the roads started to wind.
I asked the sour-faced woman I was handcuffed to where we were going and she turned to me and smiled, as though she was enjoying some private joke.
"Oh, you're going to Gampton Prison. You'll like it there. It's in the country… right in the middle of nowhere."
When she started to laugh I screamed and banged on the side of the prison van until my hands were sore.
GOING BACK by Ann Cleeves
Susan had thought she would recognise the place immediately. The pictures in her head were solid and precise. She revisited them regularly, saw them like photos. The grey line of houses surrounded by grey hills. The school playground only separated from fields by a low stone wall, so the wind blowing across it chapped their lips and turned their fingers blue. The tubular steel climbing frame where she'd hung from her knees, her skirt falling over her upper body and the three girls in the corner of the yard sniggering and pointing, shouting at the boys to look. We can see your knickers! We can see your knickers! The chimney-shaped stove in the junior classroom, which the caretaker filled with coke and which belched out sulphur-tasting fumes. Her mother's mouth crimped in disapproval.
But everything was different. The village had become a fashionable place to live, within easy commuting distance of Leeds. You could tell that rich people lived here. The school had been converted into a picture from a glossy magazine. Through plate-glass windows you could see a pale wood mezzanine floor and exposed beams. Susan wondered if there was any chance of seeing inside, of smelling the wood and touching the heavy fabric of the curtains. Changes to the School House, where she'd lived, were more modest, but the lines of the severe square box had been softened by a conservatory and hanging baskets. In her memory she saw the house through drizzle and fog. Her mother's resentment at being forced to live there had imposed its own microclimate. Today there was the pale, lemon sunshine of early spring.
And she was back. A fiftieth birthday present to herself. What did they call it? Exorcising ghosts.
So she stood for a moment trying to find her bearings. She sensed Tom's impatience, but this was her time. Let him wait. She stared fiercely down the road, then closed her eyes and laid the pattern of houses over the landscape of her memory.
"They've widened the lane," she said. "The verge was deeper then."
He kept quiet. He knew it was important not to say the wrong thing.
When they'd moved here from Leeds, her mother had called it a cultural desert. It had been her father's first headship and he'd had no real choice in the matter. He hadn't fitted in at his previous school and had been told by the director of education to apply. He had no vocation for teaching. In the war he'd been happy, had hoped the fighting would go on forever. Afterwards, what could he do? The government needed teachers and would pay him to train.
Her mother had met him when he was a mature student and had rather liked the idea of marrying a teacher. It was a respectable profession. Perhaps she pictured him in a gown taking assembly in an oak-panelled hall. Susan thought she couldn't have been aware then of the reality-the poor pay, the grubby children who wet their pants and carried nits. Her father didn't have the academic qualification to teach in a grammar school. He was reduced to drilling the times tables into the heads of bored seven-year-olds, to supervising the half-dressed prancing to Music and Movement on the wireless. It was no job, he said, for a grown man.
And this, he had to admit, was no real headship. There were only thirty children, fifteen infants and fifteen juniors. He took the juniors in one classroom and Miss Pritchard took the infants in the other. Susan's mother never liked Miss Pritchard, who was plump, comfortable, and vacuous. She liked nothing about the village at all. All she could think of was moving back to the city.
The house was always cold. Even in summer the damp in the walls and the floor seeped into your bones. The wind blew over the Pennines and under the doors. Susan remembered the building in black and white, like the fuzzy pictures on the television in the corner of the front room. Her parents sat every evening in silence watching television, surrounded by their utility furniture, the few good pieces of china her mother had inherited from a well-off aunt, an inscribed tankard which had been given to her father when he left his last school. And always, sometimes even drowning out the voices on the TV, there was the sound of the sheep on the hill. Like a baby crying in the distance.
Susan had escaped outside, to ride her bike down the lane and play on the climbing frame in the schoolyard. Always on her own. Nobody wanted to be friends with the teacher's lass. They were frightened she'd tell on them. She saw them sometimes, the other girls, Heather and Diane and Marilyn, sitting on the pavement outside the council houses down the hill, their heads together over some game. She never went to join them. She knew she wouldn't be welcome and besides, her mother didn't like her mixing. But she watched them. She always knew what they were up to.
She had been so strong then, so easy in her body. She'd walked miles across the hills. There'd been handstands against the wall, reckless slides across ice on the playground, cartwheels. Her mother hadn't approved. If she saw her daughter on the climbing frame she'd rap on the kitchen window to call her into the house.
"What's the matter?" Susan knew how to play the innocent. She'd had to learn.
"Behaving like that. Showing your underwear to that boy." The boy was Eddie Black, a slow, gentle fifteen-year-old who lived in the cottage next to the school. He spent much of his time in the garden, in a wire mesh aviary, caring for his birds.
Susan wondered why that was so wrong. Why was that different from doing Music and Movement in front of her father? Or his coming into her bedroom when she was dressing? But she said nothing. She knew it was impossible to argue with her mother when her mouth was stretched in that thin-lipped way. When the sherry bottle was uncorked on the kitchen table and the first glass was already empty.
One evening stuck in her memory. It had been just before Easter and her mother had gone into Leeds to a concert. The Messiah. She'd driven herself in the black Morris Minor. An adventure, but an ordeal. She'd never enjoyed driving. When she returned she was a different woman. Susan thought, if she'd bumped into her in the street, she wouldn't have recognised her, the colour in her cheeks, the way she stood. It was like coming back to the village today and not recognising it. Susan had sat on the stairs wrapped up in the candlewick dressing gown listening to her mother's voice.
"Let's move, Philip. Please can we move back? A fresh start."
She hadn't heard her father's answer, but the next day nothing had changed and the move was never mentioned again. She couldn't tell if anything was different between them.
And me? Susan wondered. What was I feeling in this house I don't know anymore? Nothing. I crept around on the edge of their lives, frozen and silent, trying above all not to make things worse. In school it was the same. Making myself invisible so they wouldn't poke and pinch and jeer. I only felt alive when I was outside, when I was running or climbing. Or watching.
"Well?" Tom asked, breaking into her memories.
"The gate into the field's in the same place."
It could even be the same gate. It was green with lichen and sagging on its hinges. The same sound of wind and sheep. The quarry had finished working even before her day. Now only a tractor would go through occasionally. This was rough grazing and took little work.
"We used to have Sports Day in that field, the flat bit near the gate. The quarry's up the hill."
She said used to but as far as she could remember it had only happened once. Her father must have made some arrangement with the farmer. They'd all trooped out through the open gate. No uniform sports kit. It wasn't that sort of school. She was the only one with an Airtex shirt and navy blue shorts. Heather wore a cotton dress, very short. The fashion. She was in her last year of juniors and already had breasts, which bounced as she ran. Not that she'd put much effort into the running. It had been a simpering show. She'd looked around her making sure they were all watching. But Susan had won the race. She'd crossed the line even before the boys. That'll show them, she'd thought. Flying across the field, she'd felt triumphant. This small world was hers. Let the other girls say what they liked. And of course they'd had plenty to say. Real girls didn't run. Not like that.
Now, middle-aged, she felt the first twinges of arthritis in her shoulders and her knees. She was overweight and unfit. All her movements were tentative. She'd never have that freedom again. The confidence to balance, arms outstretched, on the top bar of the farm gate. That sense of running over the uneven grass. She caught her breath to prevent a wail of loss and regret.
Soon after Sports Day, Heather Mather had gone missing. At first everyone thought she'd run away, hitched a lift into Leeds or sneaked onto the Secondary Modern bus. She was a flighty thing. "Too old for her years," said Mrs. Tillotson, the widow who took the Sunday school and played the out-of-tune organ in the church. A policeman came to the school and talked to them all in turn, looking very big and clumsy sitting on one of the children's chairs, his bum hanging over each side. They hadn't laughed at him. They knew he was trying to be friendly. Her father had stood at the front of the class, watching and frowning. Even if Susan had wanted to tell the policeman what she knew about Heather Mather and where she was, it would be quite impossible with her father listening in.
Then, when Heather didn't return, the word in the village was that Eddie Black had taken her. Eddie lived with his mother and though he'd left school, he didn't work. Susan knew Eddie hadn't taken Heather. He wouldn't know how to hurt her. He was painfully careful when he held his birds, and once when Susan had tripped and fallen, grazing her knee so it bled, he had cried. But everyone in the village said he'd taken her. One night someone threw a rock through Mrs. Black's bedroom window. The next morning Eddie woke up to find that two of his birds were dead. Their necks had been twisted. He stood in his garden and looked round him, bewildered, his mouth slightly open, as if he couldn't really understand what had happened.
Heather never turned up and her body was never found. The police wanted to charge Eddie with her murder, but decided that they had insufficient evidence. Even in those days, more was needed than neighbourhood gossip and a gut feeling that the boy was odd. They needed a body.
Beside her, Tom coughed. He didn't want this to last all day. He wanted to be home in Durham before it got dark. He knew it was important, but he was a great one for routine. He liked to get his dinner on time. Susan untied the frayed baler twine which attached the gate to the post, lifted it on its hinges over the long grass, and they walked through.
"This way," she said. "Mind, though, it's a bit of a walk."
Heather Mather had boyfriends nobody knew anything about. Not a real boyfriend. Not a lad her own age to have a giggle with, holding hands on the way down from the hill. Games of doctors and nurses in the shed at the bottom of the garden, brief forbidden kisses and flushed red faces. The other girls played games like that, but not Heather. She was too old for her years, as Mrs. Tillotson had said, and when she thought no one was looking she had a watchful, wary look. Sometimes Susan thought if she hadn't been the teacher's daughter, they might have been friends. Heather's boyfriends were older. They were men, not boys. She got into their cars and drove off with them and when she got back she lied about where she'd been. Even to Marilyn and Diane.
Uncle Alec took me to the pictures in town.
And Uncle Alec lied about it, too.
It were a good film, weren't it, love?
His arm around her, protective, as they stood on the short strip of pavement, the only pavement in the village, outside her house. Alec Mather, her dad's brother, who worked as gamekeeper on the big estate, who was tall and strong and carried a gun. Who had a dog that would do anything Alec told it, that would go through fire for him, everyone said, but that snarled and bared its teeth at anyone else. Susan tried for a moment to remember the name of the dog. Why wouldn't it come to her, when everything else was so clear? Soon she gave up. She had other, more disturbing memories.
It hadn't been Alec's car Heather had climbed into, her skirt riding up so she nearly showed her knickers, the first time Susan had watched her. It could have been one of Alec's friends who was driving. He was about the same age, dark hair greased back, a tattoo on the back of his hand. And later, when he dropped Heather back in the lane down to the church, Alec was there to meet them. When Heather wasn't looking (though Susan was, hiding at the top of a high stone wall which surrounded the churchyard) the stranger handed him a five-pound note. Alec slipped it quickly into the pocket of his jacket. The wall was nearly three feet thick, covered with ivy and overhung with branches. Susan could remember the smell of the ivy even now, as they walked across the field, up the hill towards the quarry. This was the first of several encounters she witnessed over the months. Sometimes the men were strangers and sometimes she recognised them. Money usually changed hands.
Would she have described this to the friendly policeman when he came to the classroom to ask about Heather if her father hadn't been there, listening in? Perhaps she would. Then everything would have been different. Her whole life. She wouldn't be here walking up the hill with Tom on an April afternoon.
After that day she watched Heather more closely. She listened to the women talking after church. Heather's father had gone away to work. He'd got a job as a cook in the merchant navy. Alec spent a lot of time with the family to keep an eye on things. It only made sense.
And one afternoon Susan watched Heather climb into her father's car, the teacher's car. It was soon after Sports Day, at the start of the school holidays, one of those rare hot, still days. In the house there had still been a chill caused by the rotting walls and her parents' antagonism. Her father said he had an NUT meeting in Leeds and her mother wanted a lift into town. He'd told her it wasn't possible. He'd promised a lift to colleagues from the villages on the way. There wouldn't be room in the Morris for Sylvia, too. She'd sulked, fetched the sherry from the sideboard, which she only did at lunchtime when she was severely provoked. Outside it was airless. Susan felt the sun burning her bare arms and legs, beating up from the tarmac of the playground. She went to her nest on the churchyard wall not to watch but to find some shade.
She saw Heather first. She was on her own. No Alec. No Marilyn and Diane. She walked slowly down the lane, her head bent, looking down at her sandals. In September she'd move on to the big school and already Susan could sense that gulf between them. It was very quiet. There was a wood pigeon calling from the trees behind the church and the distant, inevitable sheep. Then a car engine and the Morris Minor, squat and shiny as a beetle, drove slowly past. It stopped just beyond Heather. She didn't change her pace or look up, but when she reached the passenger door, she opened it and got in. Despite the sun reflected from the car's bonnet, which made her screw up her eyes, Susan was frozen. She wanted to shout out. Hello. Heather. Look at me. Come and play. Anything to stop her climbing into the car. But the words wouldn't come. The car pulled slowly away, backed into the church entrance to turn, then drove off.
Alec was there when it returned. He was leaning against the wall, turning his face to the sun, so close to Susan that she could almost have reached out and touched his hair. The dog was with him, lying on the road, its tongue out, panting. Her father was alone in the car. The window was open and she could see his face, very red. He was furious.
"You cheated me," he said. It was a hiss, not a whisper. Alec hadn't moved from the wall and if her father had spoken more softly he wouldn't have been heard. Susan thought he sounded a bit like one of the little boys in the infants' class, complaining about a stolen toy. It's not fair. That was what her father meant, even if he didn't say it.
"She came with you, didn't she?" Still Alec leaned against the wall, his arms folded against his chest, that smile on his face.
"But she wouldn't even let me…"
"That were down to you, weren't it? She's only a slip of a thing."
"For Christ's sake, man."
"Anyway, that were the deal. Ten pounds. No going back now. Any road, it's already spent. Where is she?"
"Up on the hill. Near the quarry. We went for a walk. I thought…" He didn't finish the sentence.
"Aye, well, I reckon she'll come down in her own time. I'll have a word. Make her see sense. You can fix up to take her out later, if you like."
Her father didn't reply. He didn't mention the money again, though money was always tight in their house. It was one of the things her parents fought about. He wound up the window and drove off. She wondered where he went. Not to the union meeting. He wouldn't have had time to get to Leeds and back. Later, though, when it was dark outside and they were watching the television, he talked about the resolutions they'd discussed at the meeting and the men he'd met. Susan would have been entirely taken in if she hadn't known he was lying. She wondered how many times he'd lied to them before. It was as if everything was a game and nothing was real anymore.
Heather didn't go home that night. That was the day she disappeared.
Susan thought she couldn't have been the only person in the village to know about Heather's men friends and how Alec organised it all. They must have seen the strangers' cars, realised there were nights when the gamekeeper had cash to spend in the pub. But nobody spoke. When the police asked questions the villagers talked about shy Eddie Black. Otherwise they kept their mouths firmly shut. Alec's dog had a mad eye and Alec had a fierce temper, even when he was smiling. They didn't want to know what had really happened to Heather.
Susan knew. When her father had driven off and Alec had sauntered back to the village, towards the house he shared with Heather's mum, she'd scrambled down from the wall, pulling away the ivy in her haste. Despite the heat she'd gone to the hill, running all the way. She hadn't opened the gate into the quarry field that day, she'd climbed it. Then, she'd been young and strong. From halfway up the hill, she'd seen Heather lying flat on her back at the edge of the old workings. At first she'd thought she was asleep, but as she approached, scattering the sheep in her path, she'd realised that the girl's eyes were open and there were tears on her cheeks.
Heather heard her coming. She must have done. By then Susan was out of breath, panting, and there'd be the sound of her footsteps and the sheep loping off. But she didn't sit up until the very last minute.
"Oh," she said. "It's you."
"Who were you expecting?" Susan demanded. "Alec? My dad?"
"Your father? He's pathetic."
That was what they always called her. It was the jeer that followed her around the playground. You're pathetic, you are. Shouted in turn by Marilyn, Diane, and Heather. It was the word that made her fight back.
"Not as pathetic as your dad. Moving out and letting Alec take up with your mam. Not as pathetic as you, going off with all those men, just because he tells you."
She was shocked by her own courage. She'd never stood up to one of them before. Heather was stunned too. She got to her feet but didn't say anything. Susan thought she might run down the hill and home. But she didn't. She just stared.
At last Heather spoke. "If you say anything at school, I'll tell them about your father. I'll tell them he made me go off with him."
"I wouldn't tell them!" Susan moved forward. "I never would." In her head she had a picture of the two of them, sitting on the pavement outside the council houses, friends brought together by the shared secret. Besides, who would she tell?
Heather must have seen the step towards her as a threat. She backed away, lost her footing, slipped. Susan might have been able to save her. She was strong. And there was a moment when she almost did it. When she almost reached out and grabbed the girl's arm. If she saved Heather's life, wouldn't she have to be her friend? But she decided not to. She wanted to see what it would look like. What Heather would look like rolling down the steep bank until she reached the overhang and fell into nothing. What sound she would make when she hit the stones below. It was as if all the watching had been leading up to this moment. And it was all very satisfactory, very satisfying. There was the expression of panic when Heather scrabbled to save herself and realised it was useless, the moment of flight, the dull thud. And then her undignified resting place amongst the rubble of quarry waste, her skirt around her waist, her legs spread out. Susan would have liked to leave her there for everyone to see.
But that wouldn't do. Someone might have seen Susan get over the gate into the field. Then there'd be questions she didn't want to answer. And Susan wanted to get closer to the body. She was curious now to see what it looked like. She peered down over the lip of the cliff to the face of the quarry where the stone had been hacked away. It was a difficult climb, but not impossible for her, not so very different from scrambling down from the churchyard wall. Only in scale. At the bottom she took a minute to catch her breath. She stood over Heather, who didn't really look like Heather at all now. Then she rolled her close into the cliff face and piled her body with the loose rocks which lined the quarry bottom. That was more exhausting than the climb back. When she reached the top the sun was very low. She took one last look down the cliff. Because of the angle it was hard to see where Heather was lying and even if you could see the place it would look as if there'd been a small rock fall.
When she got in her mother told her off for being so filthy. When are you going to start acting like a girl? Her father talked about the union meeting. They watched television. There was shepherd's pie for tea.
The policeman came into school to ask his questions and later she wished she'd told him what had happened. She could have explained that it was an accident. She could have said she'd panicked. They'd have had to accept that. They'd have given her help. But perhaps by then it was already too late. The trouble was, she'd enjoyed it. The moment when Heather fell had been so exciting. It had the thrill and the power of running across the field on Sports Day, of crossing the line first. It had caused sparks in her brain. She'd wanted to recreate that buzzing sensation. She'd thought of nothing else. That was why she'd killed Eddie's birds. But birds aren't like people. It wasn't the same.
Tom wasn't much more fit than she was and it took them longer than she'd expected to walk up the hill to the disused quarry. Since her time they'd put up a fence and a couple of notices saying it was unsafe. It wasn't as deep as she'd remembered.
"That's where she is," she said. "Under that pile of rubble at the bottom of the cliff. That's where you'll find Heather Mather."
"So," he said. "The scene of your first crime."
"Oh no." She was offended. "Heather was an accident. Not like the others."
She liked Tom. He was her named officer at the prison. She'd refused to speak to the detectives and the psychiatrists who'd tried to persuade her to tell them where Heather Mather was. Her first victim, as they called her. The first of four before she was caught. All pretty girls who simpered and pouted and made up to older men.
Tom spoke into his radio and she could already see the police officers who'd been waiting in the van coming through the gate. She let him take her arm and steer her down the hill. He'd be ready for his dinner.
THE FIERY DEVIL by Peter Tremayne
A curse upon the fiery devil, thundering along so smoothly… He loitered about the station, waiting until one should stay to call there; and when one did, and was detached for water, he stood parallel with it, watching its huge wheels and brazen front and thinking what a cruel power and might it held. Ugh! To see the great wheels slowly turning and to think of being run down and crushed!
Chapter 55, Dombey and Son, Charles Dickens, 1848
"Captain Ryder?"
Mr Josiah Plankton peered myopically at the business card that the young man had offered and glanced up with a quick bird-like motion of his head. Then he adjusted his gold-rimmed pince-nez and turned his gaze back to the card.
"Captain Ryder of the Detective Department of the Metropolitan Police?" There was a slight inflection of incredulity in his tone.
"Exactly so, sir," nodded the young man who stood before him with a pleasant smile on his tanned features.
"You'll excuse my momentary consternation, sir," Mr Plankton said as he motioned his visitor to a seat in front of the large ornate desk he occupied. "I was unaware that the members of the Detective Department of the London Metropolitan Police held military rank."
The young man appeared unabashed as he seated himself in the chair.
"My captaincy was in the 16th Lancers, sir. I was…" He shifted his weight slightly to adjust his position to one of greater comfort. "I was wounded last year at the Battle of Mudki during the Sutlej Campaign and thus, being unable to serve the colours further, I was persuaded by Colonel Rowan to join the Metropolitan force in the newly established Detective Department. The colonel considered that I had a talent in that direction."
Mr Plankton laid the young man's card on the ink blotter before him and glanced quizzically at the detective.
"Commissioner Sir Charles Rowan, eh? I have had the pleasure of his acquaintance, for he helped some years ago with the framing of the Solicitors' Act in Parliament. I then represented the Incorporated Law Society of England and Wales. So, do I presume that you are here in an official capacity on behalf of the Commissioner?"
"Your presumption is correct, sir, in that I am here representing the Metropolitan Police."
"Then how may the firm of Scratch, Nellbody and Plankton assist you?"
"I am given to understand that you are solicitors acting for Dombey and Son, the shipping company?"
Mr Plankton gave a sad smile. "I am not sure that such a state of affairs will last many days longer. You have doubtless heard the news from Threadneedle Street?"
Captain Ryder made a faint motion of his hand.
"Then there is truth in the story that the company may soon go into liquidation? Or at least Mister Paul Dombey is to be declared a bankrupt?"
Mr Plankton was serious.
"In any other circumstances, Captain Ryder, I would have replied to you that I am bound by my client's confidence, but the news is all about the town. Dombey and Son will soon cease to trade. Mister Dombey may well be able to call on some reserves but if the firm lasts out a twelve-month, I will be surprised."
"As Dombey and Son are a considerable trading company that, surely – and if I may be so bold to say so – will impinge on the business connection with your own firm, sir?"
Mr Plankton smiled wryly and gestured to his office with an encompassing sweep of his hand. Captain Ryder became aware of several boxes and cases in various stages of being packed. Even some pictures had been taken off their wall hanging in preparation to be crated.
"I am about to retire. The few remaining accounts that exist are being placed elsewhere by my chief clerk, who is also moving to another practice."
"But Messrs Scratch and Nellbody…?"
"Have been deceased these last ten years, sir. I am sole partner and now it is time for me to have some peaceful retirement. My intention is to move to France. I think the sun and wine of Provence will be conducive to my constitution after the smog of the City. London is no place for retirement."
"I see, sir," nodded the young man. He paused and then cleared his throat. "I am, sir, placed in a delicate position for my duty persuades me that I need to trespass into what you may deem as the confidential matters of your client."
Mr Plankton replied with a thin smile.
"In which case, sir, I shall decline to answer your questions. However, if you place those questions before me, I will be better able to judge to what extent you may trespass or not."
Captain Ryder gave an apologetic grimace.
"Speaking for the Metropolitan force, our jurisdiction scarcely reaches to Woolwich. We have only recently been requested to extend our policing to that area of the Arsenal. Therefore it is as a special matter of government intervention that we have been asked to pursue some inquiries pursuant to an incident that took place further abroad."
Mr Plankton looked bewildered.
"Government intervention, sir? I am not sure that I am following you."
"We have been asked to intercede in a matter following a request by no less a person than Mister Cudworth of South Eastern Railways who has the ear of… of certain government officials."
Mr Plankton spread his hands, still mystified.
"I am at a loss sir. South Eastern Railways? I know of no business dealings between Dombey and Son and South Eastern Railways and…"
The solicitor suddenly paused and looked thoughtful.
"Just so, sir," the young man smiled briefly, noting the change of expression. "Two weeks ago today there was an incident at the railway station of Paddock Wood. It used to be called Maidstone Road Halt until a few years ago. It is, as you doubtless know, a station on the main railway line running from London Bridge to Dover. A man was killed at that station. South Eastern Railways, of course, own that line."
A look of understanding began to form on Mr Plankton's features.
"Your client, Mister Paul Dombey, was a witness to this incident," added Captain Ryder as if to clarify matters.
"The incident being when a former employee of Mister Dombey fell in front of the express train from Dover to London," sighed Mr Plankton, shaking his head as though it was distasteful to be reminded of the unpleasantness.
"You are correct in that particular, sir. Except that this was no mere employee but a certain James Carker who had been manager of Dombey and Son and who had recently run away with Mrs Edith Dombey, the wife of his employer."
Mr Plankton made a disapproving sound by clicking his tongue against the roof of his mouth.
"I am aware of these unhappy circumstances, sir, but I hardly see the relevance of any inquiry…"
"Furthermore," went on Captain Ryder, interrupting, "certain charges had been laid against James Carker as a suspect in embezzling large sums of money from the company. It is that embezzlement that, in my understanding, has brought the company to the verge of ruin."
"I fail to see in what capacity Mr Cudworth of South Eastern Railways has asked for the inter… the intervention of the Detective Department of the Metropolitan force in this matter? Surely the local coroner has dealt with the matter?"
Captain Ryder shook his head in admonishment.
"The inquest is delayed, sir. The running over and killing of a man at a railway station by an express train is not a matter to be dismissed without consequence, sir. South Eastern Railways can be charged with felonious homicide. Naturally, they wish to clear the name of their company and employees. There are many matters to consider. There are those who would like to see South Eastern Railways suffer misfortune. Considerable wealth has changed hands with that company now attracting a near monopoly on the transportation of goods. Until the line opened four years ago, shipping companies had sent goods by barge along the Medway. Those who invested in such waterway transport would like nothing better than to see this railway forced to close. So this is why we must ask, did the man stumble accidentally under the wheels? Was his death as a result of some negligence by an employee of the railway? Or…?" The young man shrugged and left the question hanging in the air. "I have already made initial enquiries and certain sinister facts emerge."
Mr Plankton looked startled, his body more erect in the chair.
"Pray, what manner of sinister facts?" he demanded.
"That the late James Carker was a former manager of Dombey and Son, that he had apparently been accused of embezzlement from the firm for not inconsiderable sums, and that he had run away with Mrs Edith Dombey, the wife of his employer." Captain Ryder ticked the points off on the fingers of his right hand. "These facts lend a certain – shall we say? – interest to his sudden demise. What lends the sinister element is the fact that no less a person than Mr Paul Dombey himself was on the railway platform at the time. The coincidence is singular, to say the least. And there was another, as yet unidentified, person there with him at the precise moment that Carker fell to his death."
"Are you implying that Mister Dombey…?"
"It is not my task to imply, sir. I merely state the facts."
"Yet from the facts you seem to speculate…"
"Speculation, sir, is a fruitless task. Facts must breed more facts, sir. And it is facts that I come in search of."
"I will say nothing that may harm my client," replied Mr Plankton firmly, folding his hands on the desk before him. "Mister Paul Dombey is a worthy gentleman and already faced with shame and ruin by the deeds of this man Carker and, may God forgive me, but I must say that it is a just recompense for his evil deeds that he has departed life in this manner."
"It is not in the brief of my official capacity to indulge myself in moral judgements," murmured Captain Ryder, "but simply to gather the facts for presentation to be assessed by judge and jury."
Mr Plankton shook his head.
"What I meant…" He paused.
"Precisely what did you mean?"
"Simply, that in the demise of James Carker, the world has no cause to grieve. However, his death is little compensation for the financial and emotional loss that Mister Dombey has suffered."
"Again, you express a moral judgement, sir, which I am not at liberty to comment on."
There was an uncomfortable pause.
"What is it that you want from me?" asked the solicitor, finally breaking the silence.
"I believe that you knew James Carker?"
"He was, as you have correctly stated, the manager of Dombey and Son and so we knew each other in a business capacity."
"And in a social capacity?"
"Certainly not," snapped Mr Plankton. "He was sharp of tooth, sly of manner with a watchful eye, soft of foot and oily of tongue. He was, to sum up, sir, a most disagreeable creature. A thorough-going scoundrel. I did not trust him, sir, and certainly would not include him among my social acquaintances."
"Did you ever mention your views to Mister Dombey?"
"It was not my place to question Mister Dombey's judgment of the men that he employed. Mr Dombey was a man not to be trifled with so far as his business dealings were concerned."
"Yet you were his legal adviser?"
"And legal advice I gave him when he requested it."
"Did you also know Mrs Dombey?" the young man asked so abruptly that Mr Plankton blinked.
"I have, on occasion, met her." The reply was more guarded.
"I am given to understand that she was formerly the widow of a Colonel Granger before she became Paul Dombey's second wife. Were you aware of that?"
"I was. Mister Dombey's first wife had died in childbirth when his son was born. The son was a weak child and eventually died, leaving Mister Dombey a widower with a daughter who he neglected. He decided to marry again and, as you say, Mrs Granger was thought a suitable match. Again, should you seek a personal opinion, I did not share that view. I once represented her mother, the late Mrs Cleopatra Skewton, over a matter of a small land purchase some years ago. It was not an experience that provided me with esteem for her or her daughter."
"So you knew Mrs Granger before she married Mister Dombey?"
"Briefly, sir, briefly. Never more than a nod, an exchange of polite pleasantry."
"She eloped, if I might apply the word to this matter, with James Carker and they both fled to France?"
"That is so. The facts are not unknown to me as well as to several others in the City. Alas, sir, such scandals are never kept secret for long."
"Indeed. The facts are given in a statement made by Mister Dombey taken down by the superintendent of police at Maidstone. The parish constable at Paddock Wood felt he needed more expert guidance after the incident when the basic facts were known."
Mr Plankton coughed delicately.
"As I say, the facts are not unknown to me. You will have seen from the statement that I was attending on Mister Dombey at the time that he gave his statement to the superintendent. I acted in the capacity of his legal adviser, of course."
"Of course, sir. Which begs the question. How was it that you were on hand when the statement was made? The accident happened at four o'clock in the morning when the Dover to London Express was passing through Paddock Wood station. The same day at precisely noon, you were with Mister Dombey at Paddock Wood. Mister Dombey had passed the night at the Forester's Arms, the inn there, indeed, as had the victim of the accident, James Carker. How were you alerted to the incident and able to travel down to Kent so quickly? The accident prevented any train running on that line until midday. You'll forgive me, sir, but I do so dislike a question unresolved."
Mister Plankton smiled thinly, an almost habitual expression before answering a question.
"Then pray do not trouble yourself, for the resolution is simple. I was already staying at Maidstone where I had proceeded to settle some legal business with an old client preparatory to my retirement."
"Indeed?" Captain Ryder sighed reflectively. "That places you within eight miles of Paddock Wood. How did you…?"
"I had booked into the hotel in King Street on the afternoon before the accident. On the morning… I left the hotel for a walk, it being my custom to take a stroll every morning. As you may know, sir, the Maidstone police station is also situated in King Street, and at that time I encountered the superintendent of police, with whom I had a passing acquaintance. He told me that a James Carker had fallen under a train at Paddock Wood and the local parish constable was troubled by the circumstances. He had sent to the superintendent to interview a Mister Dombey who had witnessed the incident. I was astonished and felt obliged to point out my connection with Mister Paul Dombey. The superintendent suggested that I should accompany him in his horse and fly to Paddock Wood."
The young detective sat nodding slowly.
Then he said quickly: "So, we have Mister Paul Dombey and James Carker, both having stayed at the Forester's Arms in Paddock Wood. How did they come there on that precise night? Both had just returned from France and separately, with Mister Dombey a few hours behind James Carker."
Mister Plankton sat back, toying for a moment with a silver letter opener that he had picked up from his desk.
"You make it sound extremely sinister, sir. Do you imply that Mister Dombey was following Carker?"
The young man shook his head as if suddenly bewildered.
"Mister Dombey admits to travelling to Dijon in France to confront his wife and Carker after they had eloped together. He had discovered where they were staying on the intelligence of a Mrs Brown. Mister Dombey admits that a confrontation took place but that he left Carker and his wife unharmed and returned via Paris. The fact is that Mister Dombey did board a ferry sailing from Calais only a few hours after the ferry on which Carker had sailed. That both men wound up at the same railway halt to which they were strangers when both might have logically proceeded directly to London is rather singular, is it not? What conclusion would you draw from these facts?"
Mr Plankton's brows drew together.
"Implications do lead to speculation, sir, and I thought that you denied the habit?" he observed dryly.
When Captain Ryder did not respond, the solicitor added defensively: "I have said that I will not say anything which impugns the good name of Mister Dombey."
"You do not have to, sir. However, Mister Dombey admitted during my subsequent inquiry that these were the facts. Therefore I was able to ask my colleague Monsieur Caissidiere, at the Prefecture de Police in Paris, to contact a police officer in Dijon to take a statement from Mrs Dombey. She confirms the essentials; that she had run off with Carker on a whim to spite her husband whom she thought little of. But she thought even less of Carker. Dombey came to see them in the apartment she had taken in Dijon. There was an altercation but not of a violent kind. Verbal blows were all that were struck. Dombey then left to return to England, leaving his wife to her chosen path. Mrs Dombey then told Carker what she really thought of him and he, in a rage, also took his baggage and left. She further alleged that, while doing so, he had muttered something about settling with someone in London with whom he had business. His parting taunt to her was that she would be sorry, for he was a rich man."
There was a silence while Mr Plankton studied the face of the young officer before offering a comment.
"You will have read Mister Dombey's statement that he spent a day or two in Paris and so we must conclude that it was purely by chance that he arrived at Dover soon after Carker had landed."
"And a further coincidence that Mister Dombey took a local train and decided to alight at Paddock Wood, the very place where Carker had also alighted," responded the young man sceptically. "Another coincidence that both men stayed the night at the Forester's Arms? Come, sir, one coincidence might be acceptable but surely…?"
Mr Plankton shrugged.
"I represent to you the facts as told to me by Mister Dombey and which he placed in his statement. I do not comment on them. All I say is that I have never known Mister Dombey to add dishonesty to the fault of poor judgment of character."
Captain Ryder smiled a trifle sadly.
"If that is so, sir, then we must believe there is a logical explanation for these coincidences. Let us proceed with what we know. I can add that my friend Monsieur Caissidiere was thorough on my behalf. He checked Mister Dombey's movements in Paris and found that he had paid a visit to the Agence Havas."
Mr Plankton raised an eyebrow slightly.
Captain Ryder leaned forward in his chair.
"Ah, sir, are you acquainted with the Agence Havas?"
The solicitor shook his head at once.
"The Agence Havas is known even in London, Captain. It is what is called a news agency; a place for the dissemination of news. Monsieur Havas formed it some ten years ago. He has what are called correspondents in each capital who send news items to him in Paris; items from the newspapers that are translated and passed on by the Agence Havas. By use of carrier pigeons they are able to get stories from London morning newspapers so that they can be published in the Paris afternoon editions. It is, indeed, amazing how small the world is growing."
"Exactly so."
"The fact is interesting, sir. But I fail to see…?"
"But what would Mister Dombey have to do with a news agency?" smiled Captain Ryder. "Did he not mention his visit to you?"
"Not at all."
"Strange that he did not. Do you know Monsieur Solliec, the Agence Havas correspondent in London?"
Mr Plankton frowned.
"I do not, sir. Oh, I have met him a few times in the coffee house I frequent at luncheon but I cannot say I know him."
"Then have you had any business dealings with a Mister Morfin?"
There was a moment's hesitation before Mr Plankton replied.
"Naturally. Mister Morfin was the assistant manager of Dombey and Son and, since Mister Carker went to France, Mister Morfin has acted as manager. A worthy young man, but he shares the fault with Mister Dombey of not being the best judge of character."
"Perhaps you could elucidate?" Captain Ryder raised an eyebrow.
"He is enamoured of Miss Harriette Carker."
"Ah, you speak of James Carker's sister?"
"Just so, sir. Just so. There is bad blood in that family, sir. Bad blood."
The young man looked thoughtfully at the solicitor.
"I presume that you refer not only to James but to his older brother, John Carker, who also is employed by Mister Dombey?"
"You have carried out a thorough investigation, sir," Mr Plankton observed, nodding quickly. "Do you know of the background of John Carker?"
"I know from my inquiries that he admitted to embezzling money from the firm when he was a young man but claims he immediately reformed and paid it back. However, his younger brother, the late James Carker, never let him forget the matter and mistreated him badly."
Mister Plankton sniffed.
"Reforms do occur, sir. Paul on the road to Damascus and all that. Personally, I place no faith in reformed characters nor in reformers."
"Did you know that Mister Morfin sent John Carker to Dover to meet Mister Dombey from the boat?"
Mr Plankton frowned.
"How did he know when Mister Dombey was arriving?"
"As I have said, Mister Dombey called in at the Agence Havas in Paris. He paid a clerk there to send one of the carrier pigeons that the agency uses to keep in touch with its correspondents in each of the European capitals to Monsieur Solliec in London. The intelligence was that Mister Dombey aimed to arrive in Dover at a particular time. Monsieur Solliec was acquainted with Mister Morfin and was able to pass this on. John Carker was therefore despatched to Dover to meet Mister Dombey. This step was taken because Mister Morfin wanted to give news of the extent of the embezzlement, which had then been fully uncovered. Now, sir, here we have another mystery. There is no mention of John Carker in the statement given by Mister Dombey and which you were witness to."
Mr Plankton was looking astonished.
"I, also, had no knowledge of him at the scene," he replied quietly. "Mister Dombey did not mention him."
"Yet John Carker met Paul Dombey at Dover and they both caught a local train to Paddock Wood, there being no direct trains to London. Unable to further their journey, they stayed at the Forester's Arms, presumably with the intention of remaining there until the first London train the next morning. Now, sir, it seems a coincidence that they both stayed in the same inn as James Carker."
"How do you learn that John Carker was actually with Mister Dombey at the inn, sir?"
"The landlord, naturally."
"But when I went to Paddock Wood…"
"Yes, sir? Tell me what transpired?"
"The superintendent from Maidstone and I found Mister Dombey in the inn, fortified by the solicitations of the landlord with some whisky, but was very shaken and horrified by the incident."
"And there was no sign of John Carker?"
"None at all, sir."
"And Mister Dombey's account?"
"As I said, he did not mention John Carker to me. It could be the shock had momentarily caused a lapse in memory. As he put in his statement, he had left the inn to await the arrival of the London train. The express train came through first. It was, of course, dark and he could see little. He was aware of someone entering the station after him and moving to one end of the platform. He took no further notice. The express came through and it was only when he heard a terrifying scream and the train came to a stop a little further along the line that he was aware of the tragedy. It was only some while later that the station master and parish constable identified the person who had been killed, a name recognized by Mister Dombey who fainted in shock. But, surely, Captain Ryder, all this you have already read in Mister Dombey's statement, which I witnessed?"
"I have, indeed, sir. It is the things that are not in the statement that concern me. We know from Mister Morfin that John Carker was sent to meet Mister Dombey at Dover and we know from the innkeeper that two men alighted at Paddock Wood from the Dover train to await the London connection the next morning. Why did they alight there and go to the inn where James Carker was? How is it, sir, that John Carker seems to have disappeared from an account of these events?"
Mister Plankton sat back and his fingers drummed a tattoo on his desk top.
"I should think, sir, that even I – who am not a detective -might postulate a probability."
"Which is?" pressed the young man.
"I have already said, there is bad blood in the Carker family. Both brothers have embezzled. But James Carker has embezzled such sums as will bring the firm of Dombey and Son into bankruptcy and liquidation. Consider this, sir… who are the beneficiaries from Carker's demise?"
Captain Ryder examined him carefully.
"John and Harriette Carker?"
"Exactly so, sir."
The young man nodded.
"Indeed, indeed. They stand to inherit whatever funds stood to the credit of their brother at his death. But we have already examined his accounts and, do you know the strangest thing? James Carker certainly left a small sum of money but nowhere near the sums that Mister Morfin and the firm's accountants show that he embezzled during his period as manager."
Mr Plankton thought for a moment and then he smiled grimly.
"I have already mentioned that Mr Morfin is devotedly attached to Miss Harriette Carker. Have you checked his accounts? Perhaps…?"
Captain Ryder sighed.
"You suggest a conspiracy, sir."
Mr Plankton bent forward intently.
"Have you questioned Mister Dombey about John Carker?"
"We would be poor detectives had we not tried to do so. He claimed he did not think it of pertinence at the time and that he was, in any case, in a state of agitation. But he tells a story that brings forward other questions."
"I do not follow."
"Mister Dombey confirms that John Carker met him at Dover. John Carker then revealed the extent of his brother's embezzlement. Furthermore, he told Dombey that before he had left his lodgings in London a boy delivered a note from Mr Morfin informing him that he should break his return journey at Maidstone, where he should repair to a certain warehouse. There, the note said, John Carker would find goods and materials that were the property of Dombey and Son. He was to ensure their safe transportation to the London warehouse. Dombey himself was unaware of such matters but agreed that the two men should travel from Dover to Paddock Wood, where, a few years prior, the branch line to Maidstone had been opened. However, on arrival, there were no trains continuing to Maidstone until a local train at a quarter to four o'clock the next day. Seeing no reason to spend a further lengthy period at Maidstone, Mister Dombey decided to await the London train at Paddock Wood while his companion, John Carker, went on to Maidstone to deal with the business matters. John Carker left Paddock Wood at a quarter to four, leaving Dombey to await the London slow train at a quarter past the hour. In the intervening time, at precisely four o'clock, came the express, at which time James Carker emerged on the platform and met his death."
Mr Plankton was shaking his head.
"An amazing coincidence of circumstance, sir."
"Even more amazing in a singular manner was the fact that when John Carker reached the warehouse to which he had been directed, no one had heard of any goods or materials for Dombey and Son. Nor did Mister Morfin later admit to sending any such note to John Carker."
"A curious convenience, sir," commented Mr Plankton dryly.
"Convenient, indeed. Leaving Mister Dombey alone on the railway platform with James Carker."
"I refuse to believe the implication. I would presume there is now a warrant out for John Carker? It is clear that there was some base deception here of which Mister Dombey is wholly innocent. As I suggested, the Carkers are a bad lot and I would remind you that Mister Morfin wishes to marry into that family. Conspiracy, sir. It smacks of conspiracy."
Captain Ryder grimaced.
"We have now recovered the note sent to John Carker." He touched his breast pocket lightly. "Which brings me to other matters that worry me. From the start, the facts that have brought me to conclusions of a sinister nature seemed to point to the fact that James Carker's life was taken in unnatural fashion. The evidence now confirms it. His death was brought about by contrivance and terrifying premeditation. He was pushed under the express train but not for reasons of revenge but for gain. You, yourself, have suggested the motive. He had embezzled such a large sum from Dombey and Son that would be an attractive enough proposition. The person who committed the heinous crime of pushing James Carker in front of the express train was clearly a confederate… a partner in crime. He was the banker, if you like, of the monies embezzled over the years."
Mr Plankton pulled a face expressing his scepticism.
"But there are several problems with this story. Firstly, you have explained how it was known when Dombey was arriving at Dover. But how did the murderer know James Carker was returning to London and that the arrivals would be close together? If not coincidence, then by wizardry. How did the murderer know James Carker would be at Paddock Wood? It would be an impossible crime without such knowledge."
Captain Ryder sat back, nodding slowly.
"In fact, the murderer knew the movement of James Carker a few days before he knew those of Paul Dombey. The entire set of events was manipulated from the first. The murderer knew both Dombey and Carker would be at Paddock Wood at the same time and his plot was to involve them in his gruesome plan."
Mr Plankton sniffed.
"I don't see how… unless we return to suspecting Mister Dombey himself."
"Perhaps we don't have to go that far. The mail system between Dijon and here is remarkably good. We tend to think of France as back in the days of the poste aux chevaux but such is not the case. Indeed, sir, they are in advance of us. It is known that three years ago the French introduced a designated wagon on their trains from city to city in which the mail is sorted after it is collected. It saves an entire day in transportation. Mail is collected and delivered every second day in every municipality in France. Before he left Dijon, James Carker wrote a short letter to his confederate telling him that he was en route to London. He told him when he was expected to arrive and that he would call on his confederate for his share of the money."
Mr Plankton leaned back with a frown. "Do you say so, sir? Do you have the note?"
"I do say so," confirmed Captain Ryder without responding to the second question. "The confederate did not want to share the riches he had hidden in his accounts with Carker. What is more, the confederate in London wrote care of the harbour master at Dover asking that the note be delivered into the hands of Carker when he arrived. That note suggested that Carker break his journey at the Forester's Arms where he would be met and the matter sorted. Paddock Wood was a quiet spot outside of London and suitable for such a transaction as the murderer had in mind. James Carker obeyed without suspicion."
Captain Ryder paused for a moment before continuing.
"Then came the news from Paris by carrier pigeon as to when Paul Dombey was arriving and – this is the only coincidence – it was to be that same night as James Carker. It so happened that the correspondent of the Agence Havas, Monsieur Solliec, met the murderer, whom he knew by means of the fact that they sometimes frequented the same coffee house. Having discovered that John Carker was being sent to Dover, it was then easy to send a messenger with a note purporting to be from Mister Morfin to John Carker's lodging before he left, a message knowing that it would bring him and Paul Dombey to the inn at Paddock Wood."
"As a solicitor, I see several problems with the story," declared Mr Plankton.
"Let me continue, first. James Carker did not find his confederate at the inn. The landlord said Carker drank a lot of wine with his dinner and displayed various signs of impatience. He then went to his room and fell asleep, having asked to be roused in time to get the early morning train to London, due at four fifteen in the morning. A short time after, Dombey and John Carker arrived. The murderer had arrived in the darkness of the night and was awaiting his opportunity. We know how the opportunity came about. By the way, the note making the rendezvous was found on the bloody remains of James Carker."
"Amazing, sir. Simply, amazing. By whom was the note signed?"
Captain Ryder shook his head.
"Alas, the hand that penned the note added no signature. One thing, however, was apparent – it was the same hand that penned the note to John Carker instructing him to break the journey at Paddock Wood."
Mr Plankton raised his eyebrows. "By my soul, sir. What a fascinating story you tell. So it was all a plot. A plot to incriminate John Carker in the murder of his brother?"
"It would seem so, sir. A very ingenious plot, if I may say so."
"No one could deny you saying so, sir. Yet I still see some questions that need resolution, sir. If the murderer's plot was to meet with James Carker in the inn and kill him, why wait hidden away until early morning, when John Carker had left for Maidstone on the milk train, and when he had to follow James Carker to the station and hope there were no witnesses to watch him being pushed under the train? It seems a messy plot to me, sir."
"An improvised plot is sometimes a messy one, Mister Plankton."
"Improvised?"
"But the murderer had neglected the fact that an early train would leave Paddock Wood for Maidstone bearing John Carker away from the scene. However, it left Mister Dombey on the platform both as suspect and witness."
"Mister Dombey? Indeed, there is only one person in this tale that would then be the culprit other than John Carker… no, no… I cannot believe it. It means that it could only be Paul Dombey himself who pushed James Carker to his death."
Captain Ryder leant back with narrowed eyes.
"On the contrary, sir. There was one other person who had the opportunity. Who arranged this entire charade, who actually helped James Carker embezzle and bank the money, using his business connection with Dombey and Son? Indeed, that person's connection with Monsieur Solliec, the correspondent of Agence Havas, allowed him to pick up the intelligence as to the fact that John Carker was meeting the boat at Dover. There was only one person here in London who had access to the information and who James Carker had mailed that he was coming to settle with him and this person was able to stage the meeting at Paddock Wood. I do not have to tell you who that person is, sir."
Mr Josiah Plankton was sitting back with a dreamy look on his face, nodding slightly. He was smiling but there was an expression of vindictive passion on his features.
"You had gone to Maidstone because, for obvious reasons, you did not want to be identified at Paddock Wood," went on Captain Ryder grimly. "You probably waited until well after midnight and perhaps walked or more likely rode the ten miles to the Forester's Arms. You had not realized that John Carker would take the first morning train to Maidstone, a local milk delivery train. And when you reached the inn, you observed some movement. There was Paul Dombey on the station platform. Then came James Carker. You took your opportunity and after the deed was done you vanished into the darkness. You return to Maidstone and arriving there in time for breakfast as if out for an early morning walk. And when you emerged from the hotel… that was then you fell in with the superintendent of police. Perhaps that had not been part of your plan, to be forced to go as Paul Dombey's lawyer to the scene of your crime. Yet it was all quite clever. Too clever. But there were too many coincidences to make it believable."
Mr Josiah Plankton did not answer.
In his mind's eye he saw the onrushing black engine with its red warning lights, the shriek of its whistle and pounding roar of its wheels; saw the figure in front of him, soundlessly shrieking against the noise of the great engine, as, like some rag doll, the body was caught up, whirled away upon a jagged mill, struck limb from limb and cast into mutilated fragments in the air. He smiled as he remembered the blood soaked ashes spread across the tracks. How he hated the idea of having to share the wealth with a man like James Carker. But now he was rich. Now he did not have to share those riches with anyone.
He was still smiling absently when Captain Ryder rose, moved to the door and beckoned in the two uniform constables who had been waiting patiently outside.
UN BON REPAS DOIT COMMENCER PAR LA FAIM… by Stella Duffy
The journey from London to Paris is easy. Too easy. I need more time, to think, prepare, get ready. Security, supposed to be so important now, these days, ways, places, is lax to the point of ease. I love it, welcome the apparent ease. I believe in fate, in those big red buses lined up to knock us over, in your number being up, the calling in of one's very own pleasure boat. I do not believe that taking off our shoes at airports will save us. I show my ticket and my passport, walk through to the train, and get off at the Gare du Nord. Too easy. Too fast.
Less than three hours after leaving London I walk straight into a picket line. It seems the French staff are less fond of the lax security than I. Or perhaps they just don't like the nonessential immigrants they say Eurostar is employing. I accept the badly copied leaflet thrust into my hand and put it in my pocket. Bienvenue en France.
I can't face the Metro. Not yet, this early, it is not yet mid-morning. In real life I would choose to be asleep, safe in bed -not always achieved, but it would be my choice. I like my Metro in the afternoon and evening, a warm ride that promises a drink at the other end, a meal maybe, lights. In the morning it is too full of workers and students, those interminable French students, segueing from lycée to university with no change of clothes between. Ten years of the same manners, same behaviour day in day out, week after week of congregating in loud groups on footpaths where they smoke and laugh, and then suddenly they're in the world and somehow those ugly duckling student girls are born again as impossibly elegant Parisiennes, fine and tidy and so very boring in their classic outfits. French and Italian women, groomed to identical perfection and not an original outfit among them. So much more interesting naked. Round the picket line, out into the street. Road works, illegal taxi drivers offering their insane prices to American tourists doing London (theatre), Paris (art), Rome (Pope). The Grand Tour as dictated by the History Channel.
I cross the street in front of the station, head down, heading down towards the river. There is something about traversing a map from north to south that feels like going downhill, even without the gentle slope from here to the water. Where I'm headed it certainly feels like going downhill. I don't want to look at this city, not now. I see gutters running with water, Paris prides itself on clean streets, on washing every morning, a whore's lick of running cold to sluice out the detritus. Two young women with their hands held out sit at the edge of businessmen's feet, rattling coins in McDonalds cups. I try to pass but their insistence holds me, I say I don't speak French, they beg again in English. I insist I don't speak that either, they offer German, Italian and Spanish. I have no more words in which to plead either ignorance or parsimony, I scavenge in three pockets before giving them a dollar. It's my only defence against their European polyglossary.
Still too early. Still too soon.
Paris is small. The centre of Paris I mean. Like every other city with a stage-set centre, there are all those very many suburbs, the ones Gigi never saw, where cars burn and mothers weep and it is not heaven accepting gratitude for little girls. It is not heaven I am thanking now. I continue my walking meditation, past innumerable Vietnamese restaurants, and countless small patisseries where pain au chocolat and croissants dry slowly on the plates of high glass counters, and bars serve beers to Antipodean travellers who really cannot believe this city and call home to tell loved ones readying for bed about the pleasures of a beer in a cafe at ten in the morning. That glass pyramid can wait, this is art, this is the life.
It is a life. Another one.
There are no secrets. This isn't that kind of story. Nothing to work out. I can explain everything, will explain everything. But not yet. There are things to do and it must be done in order and the thing is, the thing is, we always had lunch first. She and I. She said it was proper, correct. That French thing, their reverence for food, an attitude the rest of the world outwardly respects and secretly despises. It's just food for God's sake, why must they make such a fuss? The linen the glass the crockery the menu the waiters with their insistence on pouring and placing and setting and getting it all right. Pattern, form, nothing deviating, nothing turning away, nothing new. Like the groomed women and the elegant men and the clean, clipped lapdogs. Nothing to surprise. So perhaps more than a reverence for just food, a reverence for reverence, reverence for form. Female form, polite form, good form, true to form. Formidable. Hah. Polyglot that.
(So strange. I can walk down the street, give money to a beggar, I can make a play on word form. I am able to buy a train ticket, sit in a bar, order wine and slowly drink the glass as if nothing has happened, as if life just goes on. Even when I know how very abruptly it can stop.)
So. Lunch. Dinner. From the Old French disner, original meaning: breakfast, then lunch, now dinner. Because any attempt to dine, at whatever time of day, will of course break the fast that has gone before, whatever time period that fast encapsulated, night, morning or afternoon. Whenever I broke my fast with her, for her, she insisted we dine first.
Some time ago I spent a weekend with friends in London. At their apartment, their flat, my London friends talk about words. The English are very good at discussing words, it lessens their power, words as landmines, easily triggered, makes them readable, understandable. Stable. My friends discussed lunch or dinner, dinner or tea. If the difference were a north/south divide or a class construct. In London they talk about north and south of the river, here it is left and right. The faux-bohemian sinister and the smooth, the neat, the adroit. I prefer north and south, it's harder to get lost. Apparently they've found her. Marie-Claude. Found her body. It's why I'm here.
When I tear my eyes from the gutters and the beggars and the street corners designed to frame a new picture with every stone edge, I look to high chimneys. I am not keen to see shop doors and windows, avenues and vistas, not yet. There is something I need to see first. One thing. I can manage right up and far down, to the far sides, I have the opposite of tunnel vision. There is graffiti, very high, on tall chimneys and cracked walls where one building has been leaning too long on another. This is not what they mean when they talk about a proper view, a scene in every Parisian glance, but it's diverting enough. I am eager to be diverted. I take a left turn and a right one and another left, still closer to the river, nearer the water, but a narrow road uphill now, heading east, there are more people on the street, or less space for them to walk, they touch me sometimes, their clothes, coats, swinging arms. I do not want to be touched, not like this anyway, not dressed, covered, hidden. It will all be open soon.
These side streets, those to the left and the right, east and west, are not so pretty as the views the tourists adore. She and I sat together once, in the restaurant, and listened to an old Australian couple discuss the difference between London and Paris. The woman said Paris was so much prettier, the French had done very well not to put the ugly modern beside the old beautiful. Her husband agreed. And then he said, in a tone calculated to reach the walls of stone, that the French had capitulated during the war. That is why their city was not bombed, why Paris was prettier than London. Though he agreed, the weather was better too, which helped no end. The afternoon progressed, the Australian man drank more wine, and he went on to eat every course the waiters placed before him. I cannot begin to think how much of the waiters' saliva he must also have enjoyed.
The street I find myself in now is not that pretty. It is poor and messy. Here they sell kebabs and Turkish slippers and cigarettes, and the bread in these shops was not freshly baked on the premises first thing this morning, and the fruit has not been raised lovingly in a farmer's field with only sunshine and rain to help it on its way, there are no artisans here. But this is Paris too, regardless of how few tourists see these sights. Marie-Claude showed me these streets, brought me here to explain that there were worlds where no one cared if the Pyramid was appropriate or not, that the walls around Rodin's garden were too high for locals to climb, that even one euro for a good, fresh, warm croissant is too much for too many. She insisted she knew these streets well and they knew her and that what I read as amused tolerance in the faces of the half-strangers she greeted was friendship and acceptance to her. It may well have been. She is not here now for me to compare the look in her eyes against theirs and I do not have the courage to lock eyes with these men. These shopkeepers are all men. I have thought about this many times. Where are the women shopkeepers? Can they really all be at home with so many children and so much housework and such a lot to do that they do not want to run their own family business, stand alongside their loved one, work hand in hand? Or perhaps they do not have the skill to sell all this stuff? These lighters and batteries that will die in a day. These shoes made by God knows how many small children in how many village factories. Perhaps it is simply that women are better with fruit and vegetables, the items that were once, more recently, living. Maybe this is why the women run market stalls while their husbands and sons and fathers run shops. Or perhaps the women are afraid of bricks and mortar, always ready to pick up their goods and run.
She did not like to run, Marie-Claude, said it made her too hot, sticky. Sticky was not good. Cool and calm and smooth and tidy and groomed and perfect. These things were good, right, correct. To be that way, held in, neat, arranged, arrayed, that was appropriate, proper. Propre. Which is clean. And it is also own, as in one's own. Thing, possession, person. One word, two meanings. So many ambiguous words. Yes. No. The things that can be read into any phrase. And accent makes a difference of course, culture, upbringing. We often fail to understand those we grew up with, our brothers and sisters, mistaking their yes for no, truth for lies, despair for hope. How much harder to understand total strangers, when they stand at shop doors, form a picket line, love you, leave you, cheat, lie, misbehave.
It was the drugs of course. It always is. She simply couldn't say no, non, nyet, nein, ne. That's what I hate about all those heroin chic films – one of the many things I hate about all those heroin chic films – how they always make the users look so dirty. Messy. Unkempt. She, as I have explained, was the opposite. Our media, those stupid cop shows and the angry young men films made by angrier (but so much duller, and often older than they admit) young men, has convinced us that the drugs make you ugly, your hair lank, eyes glazed, skin grey. Which could not be further from the truth in her case, her metabolism loved it, thrived on it. Yes, she might not have been able to keep going at this rate for more than another decade, she'd have had to slow down eventually, but careful, planned use, clean equipment and good veins, hungry lungs, open mouth, eager nose – her body loved it all. Loved all her body. I did. He did. They did. She did. We did. Maybe you did. I don't know, it doesn't matter, this is my side of the story. Yes. Yes. In my own time, taking your time to explain. I apologise, I know you value your time…
I do not mean explain as in excuse. I mean as in reason. There are always reasons.
There was the habit of course, the way ex-smokers regret the loss of a packet to open, cellophane to rip off, mouth to hold, match to strike. I know she liked the accoutrements, the little bit of this and little bit of that, the choice of vein, the pick of needles – in her job she had the pick of needles – the choice of drug too of course. For up or down or round and round.
Here it is. He was her husband, is her husband, and I her lover. Then he found out, talked to me, told me some of her other truths, and now she is dead. That's why I'm here, to help with the confirmation. She is drowned, was drowned, has been drowned. Which makes sense. She adored her bath, Marie-Claude, sadistic marquise in soothing warm. The bathroom was her shrine. It was the right place to do it, to stop, in the shrine to herself and her form and her desire. Always her desire. Not for her the current vogue for minimalist white, cool and plain. She chose the palest pale apricots and soft barely-there peaches and tiniest hints of warm flesh to tint her warm room, the warmer shades coloured her own skin tones better. Only very tiny babies look good in white, she once said, it suits their newborn blue, the veins that are not yet filled out with warm blood, blue and white and the clean absence of colour suit only a learner heart, lungs in practice. The rest of us need warmth on our skin, colour in our light. Cold winter mornings were her hardest time. Although that must have been hard too, the night last week, a warm evening and her face held under the water, nose and grasping mouth under the water, until her lungs exploded and she breathed a mermaid's breath just once.
There is a plan here. I have followed it to the letter. His letter.
I go to her restaurant, our restaurant, their restaurant. I ask for her table. The waiter, clearly a part-timer, one I have not seen before, raises an eyebrow, the maitre d', just turning from seating a couple of regulars, sees me, hurries over. Pushes the foolish young man aside, takes both my hands in his, takes my jacket, takes my arm, takes me. He is so very sorry. I must be tired. Here, here is my seat, here is her table, there are tears in his eyes. They will feed me he says, it will be their pleasure, they are so sorry. I expect they are. She was here almost every day. Not always with me. Of course the staff here are sorry.
I eat my meal. Three courses. I do not need to order, the patron himself tells the waiter to say that this is his recommendation, I agree. The patron does not come to speak with me, not yet, not now. He has work to do, and so do I. And anyway, he and I should not be seen together, not yet. Wine. Water. Coffee. Armagnac. She thought it was very foreign of me to ask for a liqueur with my coffee. The kind of thing only tourists or old ladies might do. Apparently it was inelegant, childish. I did it despite her disapproval. I do it to spite her now, despite her now.
A classic French meal, in a classic Paris restaurant. Sun shining through the mottled glass windows, lead light yellow and green and red. A businessman dines alone across from me. He too has three courses and wine and coffee, and will go to the office after his three-hour break and work steadily until dark. A wealthy tourist couple argue over the menu, which is entirely in French, it makes no concession to their cash, demands they rack their misspent youth for lost words. To my right a young couple, run from their work for half an hour here and an hour in bed, then back to run the world. To my left a middle-aged gay couple and their sleeping dog. This is civilized Paris, the dog is as welcome as the homosexuals. Everyone should eat well, taste is all. I could sit here all afternoon and stare around me. I could never go to my next appointment. I have no choice. It is fortunate that the young man who places the burning plate in front of me with a low "attention Madame" annoys me, draws me back to this place, this time, to what happens next. He annoys me in two ways. One, as he too clearly stated, I am Madame, not Mademoiselle. He could have been kinder, generosity is always welcome. Two, I didn't think it was just the plate he was suggesting needed care. This I understand as well. Those that fed her knew her. There are many things of which I must be careful.
They are well-trained though, these young men. Young men only of course, no waitresses, the food too precious to be tainted by women's hands. These are the best. There is the waiter who, hearing a lighter fail to strike three times across the room, arrives with another lighter, working correctly. The customer wishes to light his own cigar and the waiter leaves it beside him. Two minutes later, cigar lit and smoking, the customer continues to strike again and again at his own lighter, striking against hope, the failure of his own tool still a problem despite the waiter's speedy solution to the immediate problem. And where any normal person might laugh at the man, or think him a bloated fool, too occupied in his missing flame to pay attention to his charming dinner companion, she who sits bored and irritated by his attention to pointless detail, the waiter senses the man's distress as well as the woman's slow fury, takes away the offending lighter, there is fuel in the kitchen he says, and returns just moments later, the fresh flame a bright torch to lead him on.
I love these windows, in summer they slide back to tables on the street, in winter they hold back, with their coloured glass, the worst of the grey. Today they keep me in warmth, for now. Cheese. Time is passing. Time is near. I feel it, waiting, demanding. I wonder if she felt it, if she knew her time was near. I doubt it. She had such an exquisite sense for food, for wine, for sex, for fabric – a perfect cut, an ideal line. But very little awareness at all of the kind of day-to-day passing of time that most of us understand once we have left youth behind, once we are Madame not Mademoiselle. One of the perfectly trained young men takes a short stout knife and digs me out a crumbling chunk of Roquefort. It is not what I asked for. I did not ask. In his wisdom he decided this was the correct coda to my meal. It is perfect, both creamy and crystalline, aggressive in my mouth. I also requested goat's cheese. His disdain is too well trained to show a customer of my long standing. In contrast to the Roquefort it is a smooth bland paste. The young man is right, it is no doubt wrong to eat the two together, yet, in my mouth, where they belong, the blend is perfect. The one all flavour and bite, the other a queen of texture, of touch. Marie-Claude and I were no doubt wrong together, actually perfect. No doubt perfect, actually wrong.
Through the hatch at the back of the room, I watch the only black man in the building. Daoud has spent the past hour washing dishes, will give hours yet. Sweat falls in a constant drip from his face to the scalding greasy water, his bare hands plunge repetitively, constant action, disregarded heat, all movement, all moment. I am fond of Daoud, my French is poor, his English non-existent, we have smiled to each other through his hatch, during a hundred or more lunches. I have always thanked him too, for his work. Marie-Claude said that in Algeria he had his own restaurant. She dismissed it though, said the food could not be of any standard. I am not especially fond of North African food myself, often find it cloying, heavy. But Daoud is a generous man and, much as I suspect he found her non-recognition easier to bear than my typical foreign civility to all, he did not repel my need to patronise, to charm. Today he has not once looked towards me. He must know I am here, but he has not offered me a glance. In the time-honoured tradition of silent servants and slaves everywhere, I assume he knows what was done. Or maybe he's just pissed off I haven't been here for so long. I doubt many of the customers here feel enough white liberal guilt to specifically insist that some of the tip must be shared with the dishwasher. I wonder which annoys him more? My need to expiate the colonialist's guilt with ten-euro notes or my part in the death of his boss's wife? Fortunately I do not speak his languages. He will never be able to tell me.
Near the end of the service the man himself comes out from the kitchen, the patron. A big man, with the hair-cut he fell in love with at the age of eighteen and hasn't cared to change for forty years, his broad body held into the black shirt and trousers beneath the stained apron, not a traditionally good-looking man by any means, but his food is beautiful. His staff must have told him I was here the moment I entered the building, but he has waited until after the meal, as always, to come and be among his guests. He walks the room, greeting customers and friends as if they were all alike. He does not come to my table, to me at her table. I understand. This is a public place, he must be careful. We must be careful.
I drain the last of my armagnac, an oil slick of golden liquid clinging to the side of the glass. I am tempted to run my finger in the residue, lick it up. I don't. I pay my bill, leave the room, I have an appointment near the river.
I leave the restaurant in the quiet street with no river view, full of food and wine and apprehension. I enjoyed the meal, it was always good to eat there, but as so often, on leaving, I wonder if a meal in an elegant room with subdued lighting and quiet conversation can ever be as ripe or delicious as the proverbial chunk of bread and lump of cheese in the fresh air with a river view? Certainly it is not that much more expensive, the river view comes at such a cost these days, every modern city in the world having finally realized the pleasure of water and priced their dirty old riverside or waterfront or sea wall or boardwalk accordingly. In the old days, when rivers were full of filth and traffic and we could not control their tides, the choice for those who could afford it was to look away from the water, to turn the backs of their buildings to it. In time though, roads became our dirty passageways and now the water is the view of choice. It is the place where people stand, gazing out and down, demanding explanation from a flow that has existed long before us and will, global warming notwithstanding, continue. The river will always continue, no matter what gets in its way. Which is how I come, at the appointed time, in the correct place, with due formality and careful ceremony, to be staring down at the bloated body of my lover.
The Seine was not made for death, there has been the occasional broken princess at its side, but by and large Parisians have done well to keep their bloodied and often headless corpses firmly in the squares, on dry land – not easy when the square is an island – but they've done pretty well. The polite man in a white coat is telling me they pulled her from the river just over a day ago, then brought her here. She had no bag, no wallet, no phone, no identifying tags. She had my name and number, written small, folded smaller, in the discreet gold charm on her discreet gold bracelet. My French is schoolgirl French at the best of times, good for menus and directions and, once, for flirting with young soldiers in New Caledonia, drunken conversations with Spanish relations where French is our only common language – confronted with Marie-Claude's bloated body and seaweed hair, the best I could do was stutter no, non, encore non, and eventually oui, c'est elle – Marie-Claude.
After that came a long time of asking questions, her home, her details, her family. I suggested they call her husband, he'd know these answers. I gave them her home number, a junior was sent to call, returned saying there was no reply. Well, no, he was probably still at work. Why did she carry my number on her? I didn't know. I didn't know she did. Were we good friends? Yes we are. Were. Were we lovers? Yes. We had been. A long time ago. When did I last see her? It has been a month, I was due to visit next week. We both have lives of our own, we did not see each other all that often. Just enough. They said they would probably have more questions for me later, there were certain things they didn't understand. I expect one of them was that the water in her lungs was not the same as the water in the river. I didn't suggest this though, if they hadn't figured it out yet, they would in time. They asked me for my passport and requested I didn't leave the city. I told them I understood. I would be as helpful as I possibly could. I cried. Both in truth and for effect. I was – am – sad for her. They were very grateful for my help. And I think they believed me, it's always hard to be sure of the truth in translation.
More than four hours had passed by the time I left. I assumed they'd have someone follow me, if only to make sure I didn't jump in the river as well. She didn't jump, they must know that. I walked a long time by the water and it was cold and damp, but that felt right. I had expected her to look bad, to look dead. I hadn't thought about her being ugly, dirty, unsuited to the place. Marie-Claude could never have been suited to that place. The light was far too white. Eventually, when I had walked far enough and long enough I found a bar and began to drink. I drank to my good health and her bad death. I drank to a night in Paris when I came here with a girlfriend and left with a drunken Glaswegian squaddie. I drank to the birthday lunch I ate once in a half-broken mausoleum in Pere-Lachaise, wet and alone and angry. I drank to the day I showed my mother Paris, she who never thought she'd visit the city of light and found it pretty, but wanting. She could not abide tourists, and I did not know what else to show her, not then. I did not know Paris so well then, did not have Marie-Claude's desire to guide me. I drank to him, the husband, how good he had been, how useful, how loving, how lovely. What a good husband and what a good lover. And I drank to her and to me.
Late that night, very late, I have no idea exactly how late, I was not looking at watches or clocks, paying attention to opening hours or closing, I took a taxi to a hotel I remembered from many years ago, a hotel that had nothing to do with her or with me. I leaned against the door and rang the bell until a furious night porter let me in and I bribed him with a fifty-euro note to give me a bed for the night. The young woman who had been shadowing me since I left the mortuary waited on the other side of the road until I was shown to a room, drunkenly closed my curtains and, half an hour later, turned off my light. She waited an extra fifteen minutes to be sure, and then trod wearily home. I expect she thought police work might be more fun.
And now I am sober. I am no actress, I admit that, but it is easy to persuade a young woman watching at a distance of twenty feet that grief is drunkenness, lust is love, despair merely an absence of hope.
I arrange my bag, collect my things. I was in this hotel last week, left a case with the friendly night porter. He is a better actor than his work record would show, I thought he really was angry when he answered the door. Or perhaps it was just a way for him to demand the fifty I gave him instead of the twenty we had agreed. Either way, he has done as requested. It is all here. The case with my new clothes and the wig, glasses and keys. The keys to her apartment, our apartment, the home in which I loved Marie-Claude. Our Paris home. I had thought it special and separate, I did not know there were two other keys she also kept as well as the one home she shared with her husband, other apartments she maintained. She was very good at it, the hiding, the lies. Me too. I get changed as quickly as I can, leave the front door looking like a different woman. Even if the watcher has stayed longer than I believe she has, she will not see me now.
Those people complaining at the Gare du Nord are right, it is easy to get in and out of the country. It is easy not to have your passport checked on leaving Britain when you journey to Bilbao in a friend of a friend's yacht. When you arrive in a tiny seaside village early in the morning where no one cares where you've come from, as long as you are prepared to spend money. It is simple to take one train to Barcelona and then another through to Toulouse and buy a car and drive to Paris to meet your lover's furious husband. I don't suppose, however, that entirely white group of protestors at the Gare du Nord were complaining about the travel plans of someone like me. A woman growing older becomes more and more anonymous. A wig with more grey than brunette, make-up carelessly applied, dull clothes that don't quite fit, plain and low-heeled shoes – the mask of a middle-aged mother is not a difficult disguise and the vanity pangs when passing a mirrored shop front are a price well worth paying for the gift of near-invisibility in the eyes of the young men who man the passport and customs desks.
I hurry away. To a place he has told me of. We meet there in secret, in case he too is being watched. We burn her diaries. I do this as myself, wig and false clothes removed. The light of the small fire keeps me warm, as does his skin. We are careful. It is too good to spoil, this being together. When the work is done, her words burned, he turns to the little case he brought with him, takes out a picnic of bread and cheese and wine, and we toast each other. Our very good fortune to have found each other. And we thank her, for the introduction. In an hour it will be time for me to hurry back to the hotel, hide this other me, he will need to get to the markets, to carry on, as a good widower, and a better restaurateur, in dependable grief.
It began six months ago. He called and asked me to come. So I did. He made the travel arrangements, explained what he had decided needed to happen. We met at the restaurant, late, when only Daoud was still there, hosing down the floor, sluicing away bread and blood and grease so the kitchen would be clean for the morning. Daoud was surprised to see me and, I quickly understood, disappointed. His boss shouted at him for staying so late, taking so long, told him to fuck off, there were plenty of other illegal immigrants hungry for work. I said I did not know that Daoud was illegal, the patron did not either, not for sure, but the way his employee ran from the building suggested he had made the right guess.
We had a drink. One then another. He explained how he found out, the confrontation, the confession. First she told him about us and then, horrible and painful, for me to listen to, and – so he said – for him to explain, about the other lover. And the other. Her one husband and her three lovers. A third drink. There is a peculiar sadness in finding yourself one of many, we are human, we search for the tiny spark of difference. I was the only woman in her selection of lovers, for that I was grateful, a little.
Her latest conquest was a young man, totally besotted, telling all and sundry apparently, not aware of the rules of engagement, the tradition that his attitude ought to have been quiet and careful. The husband was worried for his wife. Worried that other people would realize what she'd been doing, uncover her lies. That they too would see her for the beautiful whore she was. I said I did not think her a whore, he said we were the ones who paid for her charms. In kind, in love, in our constant waiting for her to return. It was not a financial transaction, but a debt paid was still a debt paid. I began to see his point of view.
I had known about her drug habits, had thought them part of her charm really, a hint of access to a world I had never understood, touching the glamour of oblivion when I touched her. He told me it was worse than that, the new young man fed her habits, enjoyed them with her. He said it was becoming a problem, she only saw me once a month, she was able to make her use look as tidy as I believed it was, but in truth, she was further gone than I realized. Further away than I realized.
He fed me that first night. After all the talking and the tears, took me out to the kitchen and fed me. A mouthful of this, half a slice of that. A little more wine, another bite, a sip again, bread, cheese, water, wine, meat, bread, wine, wine, wine, him. Fed me himself. I think now I must have known that would happen. I must have walked into the meeting that night and seen him and known we would fuck. Perhaps I had always known, right back when she first took me to the restaurant and ordered my meal for me and made my choices and fed me his food and paraded me in front of his staff. I was complicit in their married games from the beginning and maybe it was inevitable I would switch sides. Certainly it did not feel as if I made a choice that night. He fed me well, I fucked him well, we were both sick with jealousy and love for her. He was a good lover though, as was she. I am not a French woman, either classic or modern. I do not take an absurdly inflated interest in grooming or diet or accessories – she did, we were her accessories – I am, though, inordinately interested in passion. Food and passion. He was skilled in both. Both take careful preparation, he was well planned.
He became my lover, she continued as my lover. She continued with her other lovers. She became increasingly indiscreet as the fervour for her young man increased. As I explained, she did not look like the classic televisual drug addict, the more she played with the young man though, the more he enjoyed her illicit largesse, the wider her mouth, spilling secrets. Eventually her husband decided the time had come. Aux grands maux les grands remèdes. Cliché is so French.
I would come to visit her, tell her I knew about her young lover. We would arrange to meet him. There would be a scene, somewhere public. I would force from her confession of their desire. Then I would reveal I also knew of the other lover. Daoud, the washer of filthy dishes in her husband's kitchen. She would deny, fight, shout, and finally, worn down by my heartbreak, agree. Admit. Admit in front of the young man, who would not be sober or clean, who would vow to do something about it. And when her body was found, a day or a week later, the mark of suspicion would be ready on his brow.
It was complicated, uncertain, not at all possible to guarantee what would happen. And yet, in the hotel room bed, in his wide arms, with his food in my belly and his kiss in my mouth, I was persuaded it could all work out. If not exactly as planned, then at least go some of the way towards making the potential true. All we really needed was for her to admit and for him to become angry.
I suppose I could have said no. At any time really, I could have taken my jealousy and fury home with me, travelled away from that city and never seen her again, left them to their desire and bitterness and passion. But I agreed with him, it wasn't fair, she wasn't fair. One understands the role of spouse, or of mistress, either of these makes sense. And a spouse knows there is the chance to be cuckolded, a mistress understands she is not first. But a third lover? A fourth? He was right. She was taking the piss. And besides, after just a short while, I quite liked the idea of having him to myself. He was – is – a very attractive man. If not conventionally so. But then I am not, unlike so many French women, a lover of convention.
And it appears the plans of her husband, my lover-chef, have worked. I dressed in the disguise he chose for me, travelled as another woman, hid in this city and drowned another woman. Now she is dead and she is not beautiful, the drowned are not beautiful. I have been here a week. First the police came to speak to Daoud, but he had an alibi, he was washing dishes. Plenty of people saw him doing so. The husband had an alibi – he was working, in the kitchen, talking to his customers, creating art from raw ingredients, feeding the discerning masses. The young man did not have an alibi. He was sitting at home that night, alone, shooting up with the heroin substitute she brought him from her office, using the syringe she brought him from her office. Her husband told the police about her lovers, her drug habits, her hidden life. He did not tell the police how we parcelled her up in restaurant waste bags and carried her to his van, more often used for transporting sides of beef and mutton, and we took her to the river and we let her fall. So much is hidden under cover of darkness. And London has more CCTV cameras than any other city in Europe. But not Paris, those ugly cameras spoil the view. I told the police about our relationship. They were surprisingly ready to believe a respected medical professional could behave in such a manner, for them, the addition of lust to substance multiplied readily into disaster. It made it simple too, for them to understand the jealousy of her young lover, his head swimming, his hands holding her beneath the water. Crime passionnel is no longer a defence of course, but I trust his time in prison may help him with his addiction problems. Tout est bien qui finit bien.
I did not have an alibi. But then I was not in France. My passport proves it, the strong security both our countries now pride themselves on proves it. There may have been a middle-aged woman in a grey wig and ill-fitting clothes at some point. She may have been in France, in Paris, but she was not noticed.
I miss her, of course, though not too much, I suspect we were nearing the end of our time anyway, everything has its time. And I have my new lover now, he who feeds me so well. Too well almost. It is lucky my own husband and children demand so much energy at home, keeping me busy, I might get fat otherwise. Family is so important, isn't it?
ROOM FOR IMPROVEMENT by Marilyn Todd
I looked at the couple hovering in the doorway, him in Savile Row, her all blue Chanel and pearls, and thought: so rich, so wholesome. So unhappy.
"Mr and Mrs Cuthbertson," he said by way of introduction, and there were enough plums in his mouth that I could have made jam, were I that way inclined. "We…" he cast a sideways glance at his wife, who had found a sudden need to check that the buttons on her jacket were in line. "We have an appointment with Mr Hepburn."
"Please come in."
I made a point of glancing at the diary on my desk, then smiling at the clock on the wall in a way that commended their promptness. They were on the dot. And had no idea how the rough end of the law worked.
"I'm afraid Mr Hepburn's been summoned to an urgent court appearance," I lied, shaking Mrs Cuthbertson's limp white calfskin glove. "But he briefed me on your situation before he left, and asked me to run through the details with you."
This is the point where I bring out my most reassuring smile, proof that all those lengthy visits to the dentist do pay off.
"I'm his daughter, Lois." Ouch. Mr Cuthbertson's handshake wasn't only solid, though. I detected a distinct Freemason squeeze. "I guarantee you the same level of confidence and discretion that my father would give you."
They glanced at each other, still a little uneasy. But they hadn't travelled all this way just to take the next train home.
"That's perfectly all right," Mrs Cuthbertson said, and whatever her other faults, she was a terrible liar.
"Yes, indeed." Her husband, now, he scored a little higher, but only a fraction, I'm afraid. "Y'see, Miss Hepburn, we would like this… business organized as quickly as possible."
And that indeed was the truth.
"Absolutely." I ushered the pair into my fictitious father's office before taking a seat behind my fictitious father's desk. After all, the year might be 1959 and Brighton might be Britain's most sophisticated town outside of London, but the world still wasn't ready for single female private investigators. To be honest, I'm not sure I was, either.
"My solicitor informs me that you can help speed up our divorce," Mrs Cuthbertson said, in a manner that made it sound as though Stratton, Hall and Stratton might yet be playing a practical joke.
"I can." This time I didn't smile, but steepled my fingers. "Though you need to understand what's involved."
Mr Cuthbertson was the shuffling-in-his-chair kind. His wife was the avoid-direct-eye-contact type. I really did feel for them both.
"On the contrary, Mr Stratton was specific," she said, toying with the clasp on her matching Chanel handbag. "Indeed, he went to some pains to explain how one of the very few grounds for a rapid divorce is adultery, and that providing proof can be given that one party has been indiscreet…" Her voice trailed off, and I noticed two bright red patches had sprung up to mar her immaculately rouged cheeks.
"Then there is a certain acceleration in the severance of the marriage that cuts years off the waiting time, yes," I finished for her. "But this isn't Reno, Mrs Cuthbertson." Someone needed to point this out, and trust me, it was never going to be some posh, pin-striped solicitor. "One of you-" (usually the man, gentlemanly conduct and all that) "- needs to be photographed in what the courts like to describe as a compromising position."
"But you do the… uh… groundwork?" her husband asked.
"If you mean by booking a hotel room and hiring a corespondent, then yes, Mr Cuthbertson. This agency takes care of that."
As succinctly as possible, I ran through the procedure. The time for details was later, but this young couple needed to know here and now that evidence of not just a one-night stand but a long-standing, ongoing affair needed to be established. In practice, this was simply a matter of the man changing his tie for each of the photographs. The girls carried a change of clothing as a matter of course. I'd make lunch appointments every half-hour at different restaurants, dinner appointments in the evening, so there'd be wadges of photographs to lay before the court. The lovebirds holding hands between courses. The naughty couple toasting each other, whispering sweet nothings across the salt cellar, swanning in and out of hotels, that sort of thing.
"I will provide a back-dated contract that shows Mrs Cuthbertson approached this agency three months ago, asking us to investigate her husband's infidelity," I said, "but all this proves is that her husband has been meeting another woman over a period of time."
To grant her a divorce, the courts need meat on their bones.
"At a prearranged time, one of our agents -" I truly hoped I'd made it sound as though there was more than one of me – "goes to the hotel room, and because the courts require the corroboration of an independent witness, persuades the housekeeper to unlock the door." I paused. "Then we snap the client in as compromising a position as they can muster."
The men were uniformly reserved, but the girls had no such qualms. At the required moment, they threw caution and their brassieres to the wind. No wonder the husbands looked so startled in the photos.
"Jolly good." Mr Cuthbertson was relieved that his input to the arrangements would be minimal.
Mrs Cuthbertson didn't even try to hide her joy at being left out of it completely. "That is excellent, Miss Hepburn," she gushed, and I swear that little feather in her hat perked up. "Really excellent."
I wasn't convinced excellent was the word.
"Are you quite sure this is what you want?" This time I spoke to Mr Cuthbertson directly. "There's no going back," I told him. "You'll be publicly branded an adulterer, your name will be blazoned across the newspapers-"
"Miss Hepburn," his wife interrupted gently, "my husband and I married in haste, we have already repented. We have no desire to add to the leisure."
I wondered whether they always did their arguing in such civilized terms, or whether they'd simply passed beyond that stage.
"The thing is, Miss Hepburn, both Margaret and I have met someone else," Mr. Cuthbertson said. "We just want this marriage ended as quickly as possible, so we are free to marry again."
It all seemed so gracious and polite that I imagined the four of them round the Cuthbertson's elegant dining table, discussing it over a bottle of Margaux and a nice fillet steak. I thought it was about time someone added the mustard. "You are aware of the costs involved?"
"My family's in tractors and my husband is in baby foods," Mrs Cuthbertson said, carelessly rubbing her diamonds, "Money is no object, Miss Hepburn."
"Then you're also aware of why this fast-track divorce ploy is so expensive?" I leaned across the desk and looked her husband squarely in the eye. "If anything goes wrong, it's not just you," I told him. "We could both end up in jail."
They glanced at each other, gulped, then nodded. Of the two, the wife's nod was the least grim, I decided.
But then she wasn't the one looking at porridge.
* * * *
I want to make it very clear that what I do has no connection whatsoever with prostitution. Quite the opposite, in fact, because the girls I hire are usually married themselves and lead otherwise normal, respectable lives. It's just that, like me, they need the money – and for this kind of money, people take risks. Wouldn't you?
And it's because there's so much at stake, fixing up fake adultery cases, that I (a) charge exorbitant fees and (b) plan to the very last detail – then go over it time and again. That way, should anything go belly up, at least I have the satisfaction of having some money behind me to take care of Susan, plus I can wile away my stretch in the sure and certain knowledge that I did the best I could, which is all anyone can ask. Even crooked female private eyes.
So my confidence was pretty high as I took the elevator to the Belle Vue's second floor. Of course, that had as much to do with the hired mink as my meticulous forward planning, because even though I'd never earn enough to buy one for myself, you really do feel a million dollars wrapped inside real fur. And a girl certainly needs the right clothes in a hotel like the Belle Vue. For one thing, it's the best hotel by a mile, and that's where several of my competitors tripped up. They'd tried to cut costs, and realized too late that judges, especially divorce-court judges, aren't lemons. No man who has his shirts handmade in Jermyn Street books into a cheap hotel with an even cheaper floozy. So that's the first rule. Horses for courses, and since you only get the one chance in a place like the Belle Vue, you need to convince the housekeeper with a single glance that you're a bona fide guest who's foolishly left her key behind.
"Here we are, madam. Two-two-three."
The housekeeper made to knock, but I pointed to the "Do Not Disturb" sign hanging dutifully on the doorknob, and you'd be surprised how far a five-pound note still goes in the middle of an afternoon in 1959. While she jiggled the master key in the lock, I whipped my camera out of a vanity case designed for rather more feminine and undoubtedly more trivial activities, then checked the corridor for the billionth time. Still deserted, but on these carpets, you wouldn't hear a herd of wildebeest charging down on you. The lift whirred gently in the background.
"Say cheese," I breezed, as the housekeeper flung open the door.
"Jeez," the housekeeper said.
So used to all this, I'd taken the photo before I even realized. It was a man on the bed, all right, but he wasn't undressed and there was no sign of Mavis or her hired fox fur. (For the same reasons, I can't have Mavis wandering round the Belle Vue without looking the part, either). But to be honest, I wasn't surprised she'd done a bunk. His head lay at a horribly unnatural angle.
My first thought was for Mrs Cuthbertson.
My second was to get the hell out of there.
"This situation needs to be handled with the utmost discretion," I told the housekeeper, backing carefully out of the room. "You fetch the manager. I'll wait here, to make sure no one goes in."
The trouble was, I couldn't hear myself speak, there was this terrible din in the background. Not what one expects from the Belle Vue, I thought idly. What on earth was the place coming to? Then I turned round.
So much for keeping it quiet, I realized, and so much for slipping away.
That din was the housekeeper's scream.
* * * *
With no quick or easy way out, it was now a case of damage control. At the first screech, the lift boy, two chambermaids, some straight-backed, po-faced security manager, and a fat room-service waiter appeared out of nowhere, while there I was, camera in hand, pretending to be Mrs Two-two-three. My gut instinct said play up the distraught widow thing, who's to say what grief will do, why shouldn't the poor wife run off, the girl's in shock? But it only goes to show. In the past, on the very few occasions I'd ever ordered room service, the waiters proved aloof and snooty specimens. Trust me to pick the breed's only bleeding heart. And then there was the Belle Vue's director.
"Drink this," he insisted, pushing a cognac into my hand, having personally escorted me down to his office.
"How kind," I sniffed, thinking, good, I can sneak away now, but compassion, it seems, has no bounds at plush hotels. He left a desk clerk as a deposit, and you wouldn't believe how fast the police can move, either. When they try.
So there I was, surrounded on all sides by red velvet and gilt while the piano in the foyer tinkled Gershwin, computing a multitude of likely stories. I pictured Mrs Cuthbertson, fiddling with her handbag, fiddling with her pearls, and realized that I couldn't maintain the pretence of being her. Her marriage might be failing, but her husband had been willing to put his upper-crust reputation on the line for her, and in any case, a murder investigation would quickly reveal that I wasn't the genuine article. No, I'd have to be someone else who'd gone out without her damn room key. I warmed the cognac in my hand and sipped. Ultra smooth, but what else would one expect of the Belle Vue. And the more I thought about it, the better this scenario played out. If I was a woman who was stupid enough to forget her room key, I was certainly stupid enough to get the numbers muddled up. I finished off the brandy and pasted on my coy-but-nonetheless-ravishing smile for the benefit of the desk clerk. After all, who better to probe about the current guest list?
Within ten minutes, I was Mrs Henry Martin, newlywed bride, because if honeymoons don't make a girl jittery, what the hell does? Not the sex. The fact that she's committing to a lifetime with someone, bearing his children, washing his socks. That would scare the pants off me, I can tell you. So. Providing the police didn't interrogate me in the presence of the desk clerk (300-1), there was no way of being caught out on my story, especially since the Martins had gone sightseeing in Eastbourne and would not be back before supper (7:30 onwards, dinner jackets only). Yes, indeed. Between the mink and the cognac, my confidence was restored and while the desk clerk answered the director's phone, I whipped the film from my camera and stuffed it behind my suspender.
"Inspector Sullivan is on his way down to see you," he announced, but even before he'd finished, the door had opened and the entire gap was filled by a man with a mop of unruly dark hair and a face that looked like it had come second in a fight with a brick wall.
I stood up, though if I wasn't to be at a height disadvantage, I'd really need to stand on a chair. Still, I was ready, and I ran through the key points in my head. Mrs Martin. Just married. Nervous. Excited. Definitely light-headed. Then-
"Don't I know you?" Inspector Sullivan asked, and his voice was rough from too many cigarettes, too little sleep. "Mrs Hepburn, right?" I hate conscientious policemen.
"Miss."
"You run Hepburn Investigations?"
No point in stalling. I brought out my card. "Clients with confidence," I said with none.
"Hm." He chewed his lip, rubbed his jaw, ran his hand through his hair. And all the time his eyes were fixed on my camera.
My thoughts were of Susan. Growing up with her aunt. Visiting her mother in jail. Rapidly becoming estranged…
"If I didn't know better," Sullivan said at length, "I'd say you were fixing up one of those phoney divorce cases."
I said nothing for the simple reason that the next person I intended talking to was my lawyer.
"Only the problem there," he said, "is that Mr Hall wasn't married."
Mr Who? Then the penny dropped. I may have booked room two-twenty-three for Mr Cuthbertson and the lovely Mavis, but now I started to think about something other than covering my own backside, I realized that Mr Cuthbertson wouldn't have been seen dead (pardon the pun) in a pale blue check suit. Relief made my knees tremble.
"So do you mind telling me why you burst in on an unmarried commercial traveller to take his photograph, Miss Hepburn?"
In fact I was so overcome with relief that I nearly blurted out the truth.
* * * *
"That new road-safety officer came to the school again today."
Susan was sitting on my lap braiding my hair, and although she's a little too old and (dare I say it) a little too heavy, such moments are rare. For this reason alone, they are precious.
"He's a scream," she gushed. "Ever so funny."
I really, really didn't want to talk about policemen right then, but children can be immeasurably cruel.
"Do you know what happens if you don't look right?" she persisted, using my spiky, mismatched plaits as handlebars. I shook my head as best I could. "You go wrong," she squealed.
Maybe I would also have found this excruciatingly funny if I'd been nine years old. Somehow I doubted it.
"Do you have a crush on this teacher of yours?" Because suddenly there was me just turned seventeen, Mr Rolands my old maths master, and the only good thing to come out of that affair weighed seven and a half pounds and has his beautiful, soft golden hair.
"Oh, Mum!" Susan rolled her eyes. "The road-safety man's not a teacher, and anyway he's old."
What constitutes old to a nine-year-old? Mr Rolands turned out to be thirty-six, and even now, I still wonder how I fell for that old I'll-leave-my-wife line.
"So's Rock Hudson," I pointed out, "but his face is plastered all over your bedroom wall."
"That's different, he's a film star." She stopped braiding and sighed. "If I had a daddy, I'd like him to be like the road-safety man. He's ever so handsome."
If I had a daddy...? Next she'd be pulling out my fingernails with pliers.
"More handsome than Elvis?" I asked, because all good mothers know how to change the subject, and within no time we were jiving round the living room to "Jailhouse Rock", "Blue Suede Shoes", and generally getting "All Shook Up".
It was only later, with Susan tucked up in bed and me patiently untangling the knots in my hair, that the enormity of what I'd risked today hit me. I could have lost everything, and I do mean everything, on the turn of a door key. I needed to think seriously about the future. When the next solicitor telephoned, asking could I help out, would I? Would I risk it? I let Elvis run through "Don't Be Cruel" and thought, damn right I would. My daughter is not going to end up an unmarried mother at the age of seventeen. Susan's a bright kid, on course for the grammar school, and what's more, she's desperate to go. But. I reached for as wide a toothed comb as I could find. Grammar schools are expensive. There's the uniforms, the tennis racquets, the hockey sticks, the music lessons, not forgetting innumerable bus trips and a million other extra hidden costs. Truly, though, I do not care. My daughter will never be forced to earn her living grubbing through dustbins, following faithless husbands down lover's lanes, or tracing children who've run away because their home life's so damned wretched. Never. I will do whatever it takes to keep Susan from violent men and abusive women, and she will never need to take covert shots of homosexuals or men with prostitutes simply to pay the rent. Maybe, once she starts attending the grammar school, she'll be ashamed of me. Of what I do and what I am. I hope not, I really, really do. But that's another risk I am prepared to take.
All the same, I don't sleep well. I worry.
* * * *
"Miss Hepburn."
I recognized that distinctive gravel without needing to look up. "Inspector."
He lumbered into the inner office where I was typing up a perfectly legitimate infidelity assignment, but did not sit down. I wished to God I'd locked the filing cabinets, or even closed that open drawer, but Sullivan didn't glance at them. To be honest, I would have rifled through every last one, had I been in his shoes.
"Room two-two-three," he said, leaning with his back against the wall and folding his arms over his chest. "Rented one night to Stanley Hall, aged twenty-six, commercial rep in motor oil."
I didn't know Stanley Hall, had never heard of Stanley Hall, could swear on a stack of Bibles that I was not involved with anything connected to Stanley Hall, and with great enthusiasm, I imparted this knowledge. "I know sod all about motor oil, too," I added with gusto.
"Hm." Sullivan scratched his cheek and stared at the sparrows pecking at the crumbs along the windowsill. "What about a Mr and Mrs Cuthbertson?" he asked, still not bothering to look at me. "Know anything about them?"
At times like this there's nothing else a girl can do but drop her file on the floor. "Name doesn't ring a bell," I said, although my voice was a tad muffled, seeing as how my head was stuck under the desk.
"No?" His suddenly appeared on the other side, and for large hands, they were surprisingly deft at picking up foolscap. "Only Mrs Cuthbertson made a reservation yesterday morning, specifically asking for that particular room."
I like that room, I wanted to say. It faces the sea front, and from the bandstand you can, if you stand on the furthestmost bench to the right, get a half-decent snap of anyone in the bay window. The courts liked that sort of thing, especially when they were presented with photos of the clients closing the curtains. Furtive always goes down well with a judge.
"Really?" I scrabbled for an imaginary paper clip.
"It probably doesn't mean anything," he said, actually finding one. "Maybe they'd stayed there on their honeymoon, maybe she just liked the view."
"Maybe," I said and, still on my knees, pretended to arrange the scattered papers, even though I knew I'd never find anything in this damned file again.
"Who knows?" If he wasn't craggy when he smiled, how come the wolf in Little Red Riding Hood suddenly sprang to mind? "But it seems they were so disappointed that the guest in two-twenty-three hadn't booked out as expected that when the Cuthbertsons were given three-one-seven, they hardly stayed more than a couple of hours."
"Oh?" I murmured, rubbing the bump where I'd brought up my head sharply.
"I expect it's a class thing," he said, straightening up and brushing the dust off his trousers. "All the same, though." He paused. "Don't you think it's strange they didn't check in until two-thirty-five, yet were gone by the time I went to question them at half-past four?"
Was that squeak as noncommittal a squeak as I'd hoped? Because here's the thing. I'd agreed to supply the Cuthbertsons with evidence for a quick divorce. Their deposit was already earning interest in Susan's trust fund. So the minute Sullivan had finished questioning me the day before, I'd flown upstairs to three-one-seven, stuffed a new film in the camera, and grabbed the nearest chambermaid.
At this point, I want to tell you about Mavis. She's nowhere near as common as her name suggests, and very pretty with it, in a busty sort of way. But her husband left her for a bus conductress last September and… well, to cut a long story short, Mavis gets what I suppose you'd call lonely. I guess Mr Cuthbertson got bored waiting for my knock.
I think it's safe to say that this was one set of evidence the divorce courts would not be querying.
* * * *
"Can I go to the park with Lynn and Josie, Mum?"
"Yes, of course." I know the park warden. The girls will be fine. He beat that last flasher to a pulp.
"There's a bag of bread for the ducks," I said, nodding towards the table. "But take a scarf, love, it's cold."
"Mum!" She dragged it into two syllables. "It's summer."
"It's the second of October. Take a scarf."
I couldn't help but smile, hearing her belt out "Hound Dog" at the top of her little off-key voice while she skipped upstairs to fetch it. You keep that crush on Elvis, I thought happily. You dream about Rock Hudson, girl.
"You look over your shoulder,
Before you stick your right arm out.
When it's clear, then you manoeuvre…"
"That's not Elvis."
"It's what the road-safety officer taught us. He says that if you sing it to your favourite song, then you ain't gonna get mown down…"
As I stuffed sage and onion into a chicken, I consoled myself with the fact that the RSO was "old", and that if she did have a crush on him, she'd soon grow out of it. Lightning surely can't strike twice?
"And you wrap it round your neck," I insisted.
My daughter knows when she is beaten. She might have stuck her tongue out, but that scarf went round twice.
"Mummy, what's a bastard?"
Four pounds of poultry slid straight through my fingers. Nine years I'd been waiting for this moment. Every single day for nine years I'd braced myself. And I still wasn't ready.
"It's… someone whose parents aren't married, darling." I have a feeling my voice was rather quaky as I explained the intricacies of illegitimacy, the fact that there was still a stigma attached to such children, though there shouldn't be because it certainly wasn't their fault, and that anyone who called children by that name ought to be shot.
"So when Peter Bailey called Jimmy Tate a little bastard, he was being horrid?" she asked, tipping her head on one side.
"P-Peter Bailey?"
"In the playground yesterday. Jimmy took his penknife and dropped it down the drain, so Peter called him a dirty little-"
"Hey! That's enough bad language out of you, my girl!"
Relief rushed through me like water down a flood drain, and my knees were still imitating aspens as the door banged behind her, so much so, I didn't even yell at her for slamming. But as she wheeled her bike adroitly through the gate then pedalled down the road, it wasn't really Susan I was seeing. It was maths teachers. It was schoolgirl crushes, sleepless nights, schoolgirls growing into typists, then bumping into her old teacher one summer's day.
Why, Mr Rolands! Those same old palpitations.
Please. It's Stephen, now.
I should have stuck with "Mr", because images of stolen kisses, secret meetings, declarations of true love flashed through at breakneck speed, and no doubt it was the pain of that damned chicken landing on my toe, but my eyes were watering like crazy. All I could think of were promises and reassurances that were as empty as his heart.
And over the kitchen chair draped casually, as if by chance, hung Susan's scarf.
* * * *
"Are you busy, Lois?"
Lois. He calls me Lois now. "I'm always busy, Sullivan. It's how I pay the rent."
I shoved the incriminating photographs of Mr Cuthbertson back in the envelope, and thought, Really, Mavis! That's no way to treat a hired fox fur! And that's when you realize that, civilized or not in the way rich people handle things, the cracks in that marriage were very wide indeed.
"I know how you pay the rent," Sullivan rumbled, and there seemed twice as much gravel in his mouth this time. "That's why I want to talk about the camera you were waving round room two-two-three." He made himself comfortable perching on the edge of the desk and I thanked God it was solid oak. "You're sure there was no film in it?"
"I showed you. It was empty." I can do innocent. You just bulge your big brown eyes. "I even let you go through my handbag and pockets at the time."
"Women have a surprising number of storage facilities," he said in a way that suggested the species was foreign to him. "Tell me you're not holding back on me, Lois."
"But I explained."
"Yes." He nodded patiently. "You were visiting an old school friend, a Mrs Martin, on her honeymoon, in your hired mink, of course-"
"Who says it's hired?" I asked indignantly.
"Lois, you rent a ground-floor flat on Albert Street, which is not a prime location, where you live with your daughter and no husband, and you also pay the rent on these offices, which are in a prime location but which are far too large for you, in order to sustain the fiction that this is a much bigger business than it is. Does a woman in that position really splash out on furs?"
"I wanted to impress my friend." It sounded weak, even to me.
"I'm sure bursting in unannounced with a blank camera would have been very impressive indeed. Had Mrs Martin ever heard of you. Had you not asked the housekeeper to open room two-two-three with her master key. Had-"
"All right, that was a lie." What else could I do, but admit it? "But I'm going to claim client confidentiality here, Sullivan, and you'll just have to take my word that it has nothing to do with Stanley Hall's murder."
That grunt sounded unconvinced, but he didn't follow up.
"As for the film," I said, "There were a dozen witnesses who can swear I never touched that camera, including the Belle Vue's director, his security manager, and that stuffy little desk clerk."
"I know." There it was again. That wolf-from-Little-Red-Riding-Hood smile. "Which is why I'm asking you directly."
"Then trust me." I'm also very good at lying directly. "There was no film in the camera and no photograph of Mr Hall sprawled with his neck at right angles on that bed."
"Right angles, eh." He looked at his watch. Looked at the clock on my wall. Checked with the church clock over the street. They all read eight minutes to one. "Get your coat, Lois."
My heart sank. This meant police stations, formal questioning, warrants to search my offices and home and, even as he held the door open for me, I was frantically working on ways to weasel out of the lie.
"I don't know why you women wear high heels, if walking in them makes you limp," he said, in the street.
"It's not the shoes. I dropped a chicken on my foot."
"Hm," he said, and I'm not sure at what point he linked my arm through his, but the support certainly made walking easier. "Right, then. Here we go."
I thought he meant the car, although I wouldn't normally have associated beige sports models with police cars. Instead, he meant the restaurant, decked out in red, white and green stripes.
"Surprised?"
"You could say that." Italian, too. "You struck me as the sort who only eats at the police canteen."
"You struck me as the sort who doesn't eat at all," he said, looking me up and down as if I were a racehorse, and I must admit I do lose track of time when I'm working, but was I honestly that bony? I looked at my wrists and thought, damn.
"How did you get into the PI business?" he asked, over antipasti of sardines and tomatoes.
It seemed an innocuous enough question, so I explained how I'd been temping as a shorthand typist in a solicitor's (no one offers unmarried mothers permanent employment), and how, during the course of my assignment, I was privy to various telephone conversations between the partners and firms of private eyes. It didn't need Einstein to calculate the difference between shorthand typing and the amount of money that could be made from divorce. Strangely, it took me right through the saltimbocca and halfway into my tiramisu to explain all this, though I omitted to mention that this was the first time I'd ever told anyone my history.
"You never wanted to get married?"
"To the father of my child? Of course I did!" What kind of strumpet did he take me for? "Unfortunately, he never had any intention of leaving his wife and at the first sniff of the word pregnancy, he dropped me like a brick."
No offer of child support. In fact, no support of any kind. And he knew I was far too sweet to go blabbing to his wife.
"Dammit, Sullivan, he even denied the baby was his!"
"I, er, meant afterwards. The last few years."
Oh. "Too busy," I said, and then, in another burst of unaccustomed frankness (I blame the Chianti), I admitted that no one had ever asked me. "Men aren't exactly tripping over themselves to put a ring on an unmarried mother's finger."
Instead they think of us as easy, which is why I took up judo and why I make Susan go to classes every Tuesday.
"What about you?" I asked, calming down over the coffee. "Are you married?"
"Nope." He shrugged. "Engaged once, but she didn't like the hours I kept and married a nine-to-five accountant. Then again." He grinned. "It might have been because I'm so damned ugly."
Not handsome, that's for sure. Craggy/rugged/lived-in, call it what you will, that face was never going to end up on an advertising poster. But ugly…?
"We'd better go," he said. "The restaurant is closing."
Was it? I hadn't realized we'd been sitting there so long, and though I can't remember how we ended up going from trattoria to cinema, I have vague recollections of someone saying something about Cary Grant, which led to the fact that North by Northwest was playing at the Odeon, which in turn led to there being just enough time to catch the matinee before I met my daughter after tap class.
I knew full well what Sullivan was playing at. Softening me up, winning me over, drawing me into his confidence. It wouldn't work, I didn't care. It was the first time I'd been to the pictures in a decade. I'd forgotten what popcorn tasted like. It tasted bloody good.
* * * *
October turned to November. Sunshine turned to rain. The nights began to draw in really fast. From time to time, like twice a week, Sullivan would drop by my office to discuss the Belle Vue murder – or at least vent his frustration at the lack of leads and progress – and invariably we'd end up having lunch or taking in a film. Ben-Hur. Rio Bravo. Some Like It Hot with Jack Lemmon and Marilyn Monroe.
"I just wish I could find a motive," he would say, spiking his fingers through that dark, unruly mop. "The door was locked, there was no key on the inside, and commercial reps in motor oil can't break their own necks, that's for sure."
"Not and lock the door afterwards," I'd agree, and trust me, I did feel sympathy. Needless to say, had I believed that holding back that photograph prevented him from bringing the perpetrator to justice, I'd have mailed it to him – anonymously, of course. Okay, he'd know it was me (even though I'd have denied it with my dying breath), but there was still the possibility, however remote, that someone else had snapped the dead man in that hotel bedroom. But I'd studied that picture over and over. It was just a dead man in a hotel bedroom, end of story.
"He'd stayed at the Belle Vue several times, that's the silly part."
The first time Sullivan kissed me was during the chariot race in Ben-Hur, and if anyone ever tells you that's exciting, believe you me, it was nothing compared to the thrill of that kiss. I decided there and then that I liked being softened up, won over, drawn into a policeman's confidence. Torture me all you like, Officer, I still won't tell.
"I guess he made enemies in Brighton -"
"Motor oil is a dangerous business," I grinned.
"But legitimate," he said. "I checked, and he had genuine appointments in Brighton on every occasion that he stayed at the Belle Vue, even though the company he worked for didn't spring for their uncompromising rates."
That was odd, I thought. Usually reps stayed at fleapits and charged the higher allowance to make a bob or two, not the other way around. I was about to point this out, even though I'm sure Sullivan was way ahead of me, but then he leaned over the table and kissed me full on the mouth and in public, and it went straight out of my head. I had other things to worry about.
"My daughter has a crush on her road-safety officer," I said. Lately we'd taken to having lunch on Saturdays, when Susan went to Josie's. "She thinks he's handsome, clever, funny, a real scream-"
"That doesn't sound like a crush." The gravel in his throat churned up in laughter. "It sounds to me like she's found a friend, but in any case, where's the harm? She's nine."
"Hero worship? Nothing." I downed half a glass of wine in a single swallow. "Providing she grows out of it."
And there it was again, too much damned Chianti, because suddenly I was blurting out my own stupidity at falling in love with an older, married man-
"Whoa." His hand covered mine and half the table. "Why do you keep blaming yourself? The bastard knew exactly what he was doing, Lois. He's the one who preyed on your youth and innocence. He's the one who led you on, lied to you, and cheated. And Lois, he's the one who bailed when you got pregnant."
I'd never really thought of it like that, any more than I'd imagined Stephen Rolands as a child molester, who ought to be locked up and the damn key thrown away for good. If Sullivan ever got his hands on him, so help him, he said, Rolands would need a bloody plastic surgeon. What odds the bastard was still doing it today?
"Is he still teaching?"
"Long Road Secondary Modern, but-"
"But nothing. You said yourself, you'd only just turned seventeen, but times have changed in ten years, Lois. Rock and roll has taken over, Teddy boys are in, girls are wearing make-up, looking older. I'll bet you a pound to a penny Rolands is targeting fifteen-year-olds or younger."
I wanted to do something, say something, be really grown up about this business of scales dropping from the eyes. Instead I burst into tears.
"Don't worry, we'll stop him," Sullivan said softly. "He won't ruin any more lives, you have my word."
"It's not that," I blubbed. In fact, it wasn't even the thought of Susan's father rotting in jail – nothing half so noble.
The thing is, right up till that moment, I'd genuinely believed that I was special.
* * * *
It's surprising how businesslike you become when there are no illusions left. How detached you feel snapping adulterous husbands with mistresses/call girls/rent boys and in places most decent people couldn't imagine, or how disconnected you become furnishing cast-iron proof of wives with gambling addictions, drug addictions, lovers, or just a love affair with the bottle. After all, who was I to judge what constitutes an unfit mother? I only needed to take one look in the mirror.
As a result, shades of grey no longer figured in my life. My job was to secure Susan's future, and whereas before, when it came to runaway children, my heart was torn between finding them and reporting their whereabouts to their parents, I simply reminded myself that if I hadn't intended to return them, I shouldn't have taken the job in the first place. Black and white worked well. With the cheque from Mrs Cuthbertson's solicitor, for instance, I could send Susan on a foreign-exchange visit, maybe two. Her life would never be like mine.
So Guy Fawkes Night came and went. We roasted potatoes in the bonfire, let off rockets from a milk bottle, tied Catherine wheels to the next-door neighbour's shed, and frightened his dog with our jumping jacks. Susan took up ice skating and fell in love with horses, and since cases didn't come in any faster, I found myself with more time on my hands than I'd ever known.
That's what comes from being too efficient.
Which is why I was sitting at my desk one Wednesday afternoon, poring over the photograph of Stanley Hall's dead body.
Someone broke his neck with one clean snap, Sullivan told me, shortly after the results of the postmortem had come through. That, to me, suggested someone who'd been in the army. You can't kill that cleanly and that swiftly without training and (I'm sad to say) without practice. Then there was the trunk. Commercial representatives in motor oil don't lug around huge amounts of samples. There are no demonstration models to tuck away in cases. For one night's stay, he wouldn't need much in the way of change of clothing, and as a lowly rep aged twenty-six from a council house in London's notorious East End, he was unlikely to be sporting a tuxedo.
I made myself a cup of tea and dunked a ginger nut. Why the Belle Vue, either? I'd never met Stanley Hall and maybe it was unfair to judge, but somehow I wasn't getting the impression that this was his own special personal treat. That blue check suit was more at home on a bookie's runner than at Brighton's top hotel. If Hall was pampering himself on the sly, subsidizing the room rate out of his own pocket, surely he'd have treated himself to more apposite attire? Or at least, like me, rented something suitable? Questions, questions, questions. I could see why Sullivan was so frustrated. The difference was, he had a dozen other cases to work on, while I had nothing to distract me except a bit of filing and maybe window cleaning. (It's Christmas that widens the gulf in marriages to the point of irrevocability. Not the run-up).
More tea. More ginger nuts. And I guess it's all that osso bucco and fettuccine, but I noticed the other day that my hips have got some shape at last, and those poached eggs on my chest no longer need so much cotton wool inside their bra. And I thought of Stanley Hall. His body still not released for burial. What his poor mother must be going through-
* * * *
"Sullivan, it's me. Well, no, it's not me, of course, it's the security manager. That's who killed Stanley Hall."
"Lois, slow down. You're running all your words into one."
"Then listen faster, Sullivan. Why didn't Stanley Hall check out on time?"
"Because he was dead, darling."
"Yes, but why didn't someone go and check? He was supposed to have vacated the room by 9:30 in the morning, yet the "Do Not Disturb" sign was still hanging on the doorknob after lunch. Someone either told Housekeeping that this was fine-"
"She says cleaning two-twenty-three wasn't on her list."
"Exactly. Or, if you'd only let me get a word in edgeways, someone deleted that room number from her roster. And the only other person who has access to the housekeeper's room is the manager of security!"
After eight years in the PI business, I know hotels inside out.
"The very first thing that struck me about him was his military bearing," I continued firmly, before he could interrupt again. "I can't be sure, but you check his army records and if he didn't serve in Korea and have experience of one-to-one combat, I'll eat my brand-new pedal pushers."
"Please don't, you look unendurably sexy in them." I could hear his pencil scratching down the line. "So assuming you're right, that's taken care of means and opportunity. How about a motive?"
"Don't CID ever talk to ordinary people?"
All it needed was a few discreet enquiries of the staff at the Belle Vue – and okay, I admit it, a few discreet ten-pound notes as well – to drag out the fact that three or four times in the past year, some of their clients had been robbed.
"The desk clerk confirmed – incidentally, I'm expecting Her Majesty's police force to reimburse me for these expenses – but anyway, he confirmed that these robberies coincided with every one of Stanley Hall's visits."
That's why that loud check suit didn't matter. He never intended leaving the room. It was the security manager who had both keys and access. He who stole money, jewels, various other valuables.
"Just a few bits here and there, and never enough to justify the Belle Vue's guests calling the police, but enough to launch an in-house investigation."
In which their upright, vetted, army veteran was hardly going to investigate himself.
"Stanley Hall was the fence?"
"If you've ever been to the East End, Sullivan…"
I didn't tell him this was where I was born, or that, council house or not, my family still disowned me, not just for being an unmarried mother, but for being a PI to boot. The shame is just too much to bear.
"That's why he needed such a large trunk, and I'll bet that's why he was killed."
"He started to get greedy?"
It would have been the perfect murder, had it not been for me and the Cuthbertsons' divorce. Because having calmly hung the "Do Not Disturb" sign on the door he'd locked behind him, the security manager was waiting until the mid-afternoon lull before removing his accomplice's body, and in the victim's own trunk, too. No wonder he'd arrived so quickly on the murder scene. No wonder he'd looked so bloody grim. But equally… I stared into the telephone. If it hadn't been for me hanging on to evidence, he could have got away with it. I tried to console myself with the fact that at least now Mrs Hall could bury her son in time for Christmas. Tried is the operative word.
"By the way, Sullivan, one other thing."
"What's that?"
"Did you just call me darling?"
* * * *
Susan was wheeling her bike down the hall on her way to Josie's when I heard her call out, "Hello, Mr Sullivan."
I blinked. I hadn't associated him with either ice skating or pony rides.
"Hello, Susan." He tapped her on the head with a rolled-up page of foolscap. "Still practising what I taught you?"
She laughed, in a happy, friendly, offhandedly familiar sort of way before bursting into song in the front doorway.
"You look over your shoulder
Before you stick your right arm out.
When it's clear, then you manoeuvre…"
She was still Hound-Dogging away as the door slammed in her wake, and if she leaves that scarf behind one more time, I'll throttle her with the bloody thing.
"You're the road-safety officer?"
It was the first time he'd come to the flat, and I'd reckoned on Susan being gone by eleven-thirty. She's usually pretty prompt. Else I dock her pocket money.
"That's me. Handsome, funny, clever… and what was that other thing again?"
"Old," I snapped. "And you could at least have the decency to look sheepish."
"Why? Susan and I hit it off straightaway, it's how I knew who you were, remember? You're all she talks about, you know."
"Really?" It takes pathetically little to make a mother's heart swell.
"Uh-huh." His nose wrinkled. "Until Rusty the pony came along, anyway."
It's only a small flat and he seemed to fill up most of it. "Here," he said, handing me the sheet. "I thought you'd like a copy of the security manager's confession." He glanced at me from the corner of his eye as he made us both a cup of coffee. "Are you sure you didn't write it for him? It's almost word for word what you told me."
I was so busy reading that it took me a few minutes to realize how quickly he'd made himself at home. Or how right it felt.
"Female intuition," I said glibly.
"And a good memory," he said, concentrating surprisingly hard on stirring coffee that contained neither milk nor sugar. "The size of that trunk? The colour and design of his suit? Neck at right angles to the body? One might almost say photographic."
In a book, I'd have had the grace to blush. In real life, I stared him out.
"A word of advice, though, Lois." When he leaned back in the chair, I heard it creak. Then again, it could have been a low chuckle in the back of his throat. "Next time, either tuck the roll into the inside of your stocking or wear a less figure-hugging skirt. By the way, happy birthday," he said, tossing a box across the table.
No point in asking who had told him. "What is it?"
"What does it look like?"
It looked like a diamond solitaire. "A reward from the Belle Vue?"
"Are you kidding? Those people won't even give their fleas away." His craggy face grew serious. "Lois, please say you're not going to make me go down on one knee."
I dropped the box. We banged heads picking it up.
"You're asking me to marry you?"
"Why not?" He ran his hand over his jaw. "I get free housing through my job, which would save you rent on this place, for a start. Then it's not like Susan and I don't get on." If I had a daddy, I'd like him to be like the road-safety man. "And… well…"
"Well what?" This time I was determined he would do it.
"And I love you."
I loved him too, but I was holding that one up my sleeve. "I won't change what I do, Sullivan. I'll still be Hepburn Investigations with seedy divorces and even seedier clients."
"It never occurred to me that you would change, Lois, and I don't want you to. Not ever."
"I still bank my cheques in Susan's trust fund?"
"Absolutely."
I told him I supposed it was a deal, only on this occasion we didn't seal it with a handshake. Afterwards, and once you could wipe the grin off my face, because that's something else I hadn't done in a decade, I have to admit that committing to a lifetime with someone didn't seem half so scary.
Slowly, the world turned back to a million shades of grey.
MAKEOVER by Bill James
Of course, the murmur went around the Monty Club in Shield Terrace more or less immediately and-also, of course-reached its owner, Ralph Ember. Versions did vary in detail, but all said a club member, Cordell Maximillian Misk, known mostly as Articulate Max, somehow wangled himself into the team who did the copycat bank raid on International Corporate Diverse Securities and came away with a very delightful individual share in untraceables. So when Articulate turned up with his mother and great-aunt Edna at the club, asking to see Ralph personally, he had an idea what they wanted, even before any conversation began. Ralph was in his upstairs office at the time testing the mechanisms of a couple of Heckler & Koch automatics. A barman called on the intercom to tell Ember they would like a conference.
It was the press, not Ember, who gave the International Corporate Diverse Securities raid this "copycat" title, because it seemed so accurately modelled on that huge suction job done at the Northern Bank in Belfast, maybe by the IRA, in December 2004. Although the takings from I.C.D.S. in Kelita Street, Holborn, London, were not up to the Belfast haul of (pounds)26 million, the methodology looked similar: basically, get among the bank executives' families and keep them hos-tage until the managers opened up the vaults and let the money go. Ralph thought the idea might have come from an American novel and film, The Friends of Eddie Coyle.
The I.C.D.S. product, as Ralph heard it, varied from (pounds)21 million to (pounds)12 million. Even the larger amount did fall short of Belfast, but both these lesser figures were clearly satisfactory millions, all the same, and so were the eight between-that is, 13, 14, 15, 16, 17, 18, 19, and 20. Ralph and most other people familiar with Misk would have considered this sortie beyond his class, even in a dogsbody role. Some accounts said he'd been lookout, others that he ran the phone link at one of the hostage homes. But the rumours putting him on the operation in some sort of job persisted. And as soon as Ralph came down to meet the three, he did notice a new jauntiness in Articulate. That was how Ralph would describe it, "jauntiness." In his view, jauntiness in an established Monty member such as Max often meant a whack of recently obtained safe loot, "safe" indicating two factors: (a) it had been lifted from someone's safe, for example a Holborn, London, bank's, and (b) the notes were old and, therefore, reasonably safe to spend.
Usually, Ralph saw in Articulate the standard niggly, comical, defeated self-obsession of a small-time crook who believed unwaveringly that next week he'd be big-time, and who'd believed unwaveringly for an age he'd be big-time next week, these next weeks having slipped long ago into the past. Max's nickname came the satirical way some blubber lump weighing three hundred pounds might be called "Slim." More than any other quality, Articulate lacked articulateness, so, joke of jokes, label him with it. People mocked his taste for sullen silence. And, until now, in Ember's opinion, Misk had been the feeble sort who put up with mockery, possibly even expected it, not someone formidable and esteemed enough to get asked on to an enterprise like the I.C.D.S, all expenses paid, retrospectively.
One major point about Ralph Ember was he wanted to hoist the Monty to a much higher social level very soon, and people like Articulate and his relations would obviously be the first to get permanently kicked out. Ralph hoped to polish up the Monty to something like the prestige glow of big London clubs such as the Athenaeum or the Garrick, with their memberships of powerful and distinguished people-bishops, editors, high civil servants, TV faces, company chairmen. Articulate did not really suit. In fact, most of the present Monty membership did not really suit. Ralph would have bet the Athenaeum rarely staged celebration parties for jail releases, turf-war victories, suspended sentences, parole and bail successes. These happened regularly at his club.
Just the same, while Articulate and folk like him remained on the Monty's books, Ralph regarded it as a prime duty to treat them with all politeness and decency and, yes, friendliness, as if they truly counted for something. Membership of the Monty was membership of the Monty and entailed absolute recognition from its proprietor. Articulate and the two women called in the afternoon, when the club was quiet, so he could allow them some of his time. Ralph came to the Monty at these off-peak periods more often than previously, because he liked to do a thorough, undisturbed daily check on club security. Ralph naturally had enemies, and lately they had begun to look and sound a few troublesome degrees more focused. Anyone who collected (pounds)600,000 a year untaxed from drugs commerce, besides profits from the Monty and some entrepreneurial commissions, was sure to have envious enemies, well-focused envious enemies. Hence the H & K's. Hence, also, the shield fixed on one of the internal pillars and intended to give Ralph protection from gunfire when he sat behind the bar at a little shelf-desk checking on stock and sales. He'd had the shield covered with a collage of illustrations from The Marriage of Heaven and Hell, a work by the poet William Blake, so that it would look like part of the décor and, in fact, add some class. But it was thick steel. In Shield Terrace he needed a shield. For instance, a lad called Luke Apsley Beynon had begun to get very bothersome. Something terminal might need to be done there before too long.
Mrs. Misk said as soon as Ralph joined them in the bar now: "Considerable legacies have recently come to us-to Edna, Max, and me-from my side of the family, Ralph."
"Always I'm confused in such cases about whether to offer congratulations or commiserations, since a legacy clearly implies a death, perhaps of a greatly loved one," Ember replied. He gave this ample solemnity, but not too much, in case the legacies mattered more to them than the loved one, who might have been hardly loved at all, just loaded. That is, supposing there had been a loved one to confer the legacies, and not simply the emptied Holborn bank. "I reconcile such opposites by thinking that the departed, although much missed, would wish his/her bequests to affect positively the future lives of those so favoured. This would be his/her motive, surely, in selecting them as beneficiaries." Before coming down from the office, Ralph had put the guns away and washed the cordite smell from his hands. These H & K's were necessary because of people like Beynon, but Ember hated any association of firearms with the club. Almost certainly no Athenaeum member carried a piece on the premises, unless, possibly, the head of MI5 belonged.
Articulate, his mother, and great-aunt would probably want to use Ralph and some of Ralph's connections to launder Misk's gains, now charmingly fictionalised as three legacies. Ralph could increase the Monty booze and cigarette orders, using their money to cover the additions. They would then resell the goods to clubs, pubs, off-licences. Plainly, they'd take an account-book loss, because Ralph required a commission, and the people they sold to would want good profit possibilities. But that was the standard way the market worked for difficult money, even untraceables. Also, as the currency for such trading had been stolen, it became crazy to speak of a loss. This amounted to a loss on treasure Articulate should never have had. Crucially, the wealth must not be spent in a style that drew attention or people would start asking how he and his family grew so rich so fast. Such people might be police people, such as Iles or Harpur. Dangerous. Or they might be villain people who'd decide that if Articulate had a lot they'd get some of it, at least some of it. Dangerous.
But drink and tobacco rated only as marginal elements in this type of business plan. Where there was real, lavish money, the lucky holders might, for instance, think about investing in properties, maybe for occupying themselves, or for renting out, or because, even in tricky economic times, most buildings kept their value or moved up. However, if Articulate and his mother and great-aunt Edna approached a normal estate agent and tried to buy four deluxe, five-bed, heated-pool, Doric-pillared, golf-village houses in the Algarve, Portugal, at 750,000 euros each, offering payment in cash, there would be some surprised, sharp intakes of professional breath and, afterwards, some sharp outgoings of professional breath in gossip about these potential customers who could cough approaching two million pounds sterling in suitcased notes. Potential customers might be as far as it went. Many-most?-normal estate agents would refuse to handle that kind of deal, despite longing for it and their cut, because they'd fear the wealth came from where it did come from, a bust, and that the culprits might one day be identified and their spending projects identified also. These potential customers could make them potential accessories, and possibly destroy the firm's reputation as upholders of that venerable, wise, holy code of behaviour laid down for estate agents.
But it was fairly generally recognised among Monty members that Ralph Ember knew certain professional people-solicitors, food inspectors, planning officials, and, especially, estate agents-who would find a way around venerable, wise, holy codes of behaviour if those codes seemed malevolently and perversely to be operating against the interests of buoyant trading in special markets. Such services were costly, yes, and so were middleman skills like Ralph's. Folk who collected heavy legacies could afford the best, though, and should expect to pay for it.
"These legacies we wish to be used positively," Mrs. Misk said.
"If I may say, this is what I would expect of your family," Ralph answered. "Positivism."
"Not frittered," she said.
This did sound to Ralph like property. Purchase of sizable villas in Portugal could not in any fashion be termed frittering.
"Or to put it briefly, Ralph, we want to share in your vision," Edna said. Fervour touched her voice.
"In which respect?" Ralph replied. So, not property. He thought he could guess what she might mean instead, but prayed he had this wrong.
"Yes, to be a part of it," Mrs. Misk said.
"In which respect?" Ralph replied.
Articulate had always seemed a bit passive as well as tongue-tied. His mother, and especially Great-Aunt Edna, handled family policy. Mrs. Rose Misk would be over sixty and Edna well over seventy. Their combined life experience left Articulate trailing. Even now, although Articulate somehow gave off the impression of a new confidence and bounce, he did not speak very much. The women dominated, maybe domineered. Edna almost always wore flashy red or green leather-trousers and tasselled jacket-including to major, formal Monty events such as celebrations of a christening or acquittal on a technicality. Today, red. She said: "We know you have wonderful ambitions for the Monty, Ralph-makeover ambitions."
"These inspire us," Rose Misk said.
"Yes," Articulate said. "Oh, definitely."
"This is why, as Rose remarked, we wish to be part of it, Ralph," Edna said.
Hell, he'd been right.
"The money-the legacies, that is-could be so vital here," Rose Misk said.
"Definitely," Articulate added.
"Your plan, your brilliant plan, will cost you a bit, Ralph," Edna said. "I hope you won't regard this as presumptuous, but we could help bankroll the transformation-would be proud to help bankroll the transformation."
"Exactly what I meant by not frittering," Rose said. "A worthwhile and, in our view-Edna's, Max's, and mine-a magnificently promising commitment."
"Definitely," Articulate said.
Edna said: "Without, I hope, being cruel, Ralph, we look at the club as it is now-the type of member, the need for a bulletproof slab up there to guard you-we look at all this and cannot believe the Monty today satisfies someone of your taste and refinement."
"No, no, not a shield," Ember said, with a fair show of amusement. "It's a board to maximise ventilation by helping control air currents. But please don't ask me how!"
"All right, all right, we can understand why you don't want the Monty thought of as a pot-shot range," Rose said.
"We're talking of an infusion to the Monty development funds of at least hundreds of thousands, Ralph," Edna said. "As starters."
"That's it," Articulate said. New self-belief still brightened his features, but a kind of misery clothed these words.
"Your first move has to be expulsion of nearly all the present Monty membership, hasn't it, Ralph?" Edna said. "You won't draw the type of people you want while the club still looks like Lowlife Inc. Initially you'll have to take some mighty losses-ending of membership fees and, obviously, a collapse of bar profits. This could be where our funds became useful."
Edna's survey of the problems was spot-on, and Ralph vastly resented it. To him there seemed something indelicate about describing his cull plans with such disgusting accuracy. This was exactly the kind of crude approach to sensitive things that ensured Edna in her damn gear would be an early victim of a Monty clear-out, along with Articulate and his mother. Did Edna, this pushy, leathery, and leather-garbed old intruder, imagine she and the other two were "the type of people" he wanted? Did she think they could buy their way into not just assured membership of the new Monty with their bank loot, but perhaps take a share of the ownership and the profits through the size of their investment? She had her scheming eye on a partnership. Ralph regarded that as farcical, but it infuriated him.
He said with a happy lilt to his tone: "Many people come to me with ideas of development of the Monty, and I'm heartily grateful to them. And I'm heartily grateful to you now, Edna. These approaches-so positive and well-meant-show how fondly some members regard the club."
"The Monty's underachieving on its possibilities, Ralph," Rose Misk said.
And did they imagine he hadn't realised this? Did they think they could advise him about his own cherished club, cherished even in its present roughhouse state? "To all these proposals I listen with full interest and, as I say, gratitude," he replied. "It is encouraging to know there's a groundswell of creative ideas among the Monty's faithful. I ponder all these ideas, let me assure you, and at some stage ahead I might act on one of them, or perhaps a mixture of several. But at present those ideas have to remain as such-ideas only." He gave a small, regretful, but determined smile.
"This is the moment for it, Ralph," Edna said.
They were sitting at a table near the snooker alcove and Ralph had brought a bottle of Kressmann armagnac and glasses. He did some refilling. The club remained fairly quiet. A small group talked at the bar. Nobody played snooker.
Ember stood. "I have to get to my chores now," he said. "I'll leave the bottle. You chat on, by all means."
"But we haven't really got anywhere," Rose said.
"I certainly would not say that," Ralph said. "I've filed away in my head the very promising suggestions you've given me tonight. In due course, or even sooner, I will bring that file out and consider it properly in context."
"What does that mean?" Edna said.
"What?"
"'In context,'" Edna said.
"Yes, true, Edna. That has to be the way of it-in context," Ember replied.
"Part of the context now, Ralph, is that we have the funds entirely available and entirely ready," Edna said. "This might not be so 'in due course.' We wish to apply these legacies in forward-looking, rewarding fashion as an immediate priority, not 'in due course.' There are other openings for investment. We chose to put you and the Monty first on our schedule. If this does not attract an instant response, we might feel it right to turn elsewhere."
"I've come to learn that in this kind of business, the context, a review of all options, is vital," Ralph said. He left them and did an inspection of the snooker tables' baize to make sure there were no snags or rips. He felt proud of his management of the meeting with those three. At no point had he allowed his rage at their gross cheek and clumsiness to show itself. Snarls had ganged up inside him ready for use, but he had suppressed them.
He went home to his manor house, Low Pastures, for a sleep and stroll around the paddocks, and, as was routine, returned to the club just after one A.M. to supervise closedown for the night at two o'clock, unless extra merrymaking broke out. He sat at his shelf-desk behind the bar with another glass of Kressmann's, admiring the wild-looking William Blake pictures on the metal screen. Articulate Max, alone now, and in a fine, made-to-measure pinstripe suit and wide silver-and-yellow tie, came and took a high stool opposite him on the other side of the bar. He had a glass of what might be Kressmann's in his right hand. Perhaps he thought this a way to acceptance and fellow-feeling from Ember. "They won't give up, Ralph."
"Who?"
"Great-Aunt Edna and my mother."
"They're real Monty fans, I'll say that for them," Ember replied with an admiring chuckle.
"Such out-and-out rubbish," Articulate replied.
"What?"
"That idea-to put money into the club."
"I appreciated their affection for the Monty," Ember replied.
"Idiotic."
"Oh?"
"Like throwing money down an old coal pit."
"Oh?"
"You know, I know, and so does everyone else with any trace of a brain that the Monty is never going to change, Ralph. Not change as they meant, anyway. I suppose the police might shut it down one day because of your drugs link."
Ember thought about hitting this jerk. He could stand and lean forward quickly and reach him across the bar. Ralph had never heard him put so many words together before, and now, when he did grow verbal, it was to insult Ralph and the Monty. "I wouldn't say your great-aunt Edna or your mother lacked brain, Articulate," he replied.
"The money has shoved them off-balance."
"The legacies?"
"That's it, the legacies. Yes, the legacies," Articulate said. "As if they feel they have to compensate for something."
"Compensate for what-for receiving a legacy?"
"That's it, Ralph. For receiving a legacy."
"A sort of guilt?"
"Yes, like guilt."
"Guilt because they and you have profited from a death? This does happen to legatees sometimes, I know. Guilt over where the money comes from."
"Yes, over where it comes from. So, to rid themselves of this shame, they want to find some noble project where they can put the lucre-and get a return. Some noble, mad project."
"I don't see it like that," Ember replied.
"No, I shouldn't think you do. Why I had to come tonight for a chinwag, on our own."
Ember found the Kressmann bottle and topped both of them up.
"Look, you're getting aggro, aren't you, Ralph?"
"Aggro?" Ember said, giving a real, puzzled smile.
"You wouldn't have stuck The Marriage of Heaven and Hell up there otherwise, would you?"
"Much misunderstood," Ember replied. "That baffle board is to-"
"As I hear it, you've been on the end of very forceful invitations to take out a protection policy for the club, an invitation from Luke Apsley Beynon and his firm. That's the buzz."
And, as so often, the buzz had things wonderfully correct. The shield might help against Luke and his cohort. The H & K automatics might help against Luke and his cohort. The increased security visits by Ralph to the Monty might help against Luke and his cohort. Or none of them might help against Luke and his cohort. "Luke is getting to fancy himself a bit, I gather," Ember said with no tremor at all.
"Obviously someone of your calibre, Ralph, is not going to cave in to protection threats from an apprentice lout like Luke."
"Hardly. That is, if there'd been any threats."
"You'll turn down his invitations. And, that being so, there could be some grim events at the Monty to prove that you actually need the protection of Luke and his firm. Events such as gunfire or incendiarising or bad affrays and blood in the bar. Well, I don't need to describe it. You know how club protection works."
Ralph said: "It's kind of you to look in, Max, but I don't really think someone like Luke Beynon could-"
"Here's the bargain, then, Ralph," Articulate replied. "I'll get rid of Beynon if you promise you won't ever pick up on that offer from my mother and Great-Aunt Edna." He became intense. "Listen, Ralph, all due respect to you and the Monty, but I'm not going to have my money squandered like that by two old dames suddenly gone ga-ga. You said you'd file their notion away for another consideration sometime. I want you to keep it filed away, or, even better, ditch it."
"Your money? It wouldn't all be yours, would it? I thought there were three legacies."
"Yes, well, let's not play about any longer, all right? My money. My earned money. Mine but… Ralph, I've always let my mother and Great-Aunt Edna organise the big things in my life, you know."
"That so?"
"Look at me, Ralph."
"Yes?"
"I'll tell you what you see, shall I?"
"What I see is-"
"You see a bloke of thirty-two in a suit that cost over two grand, physically sound, and suddenly very successful."
"Successful. You mean getting the legacy?"
"Right, getting the legacy."
The description Articulate gave of himself was not bad, although it didn't deal with the wide shoulders on a thin body and his longish, deadpan face, as if purposefully manufactured to defeat interrogation. He had a large but unmirthful mouth, skimpy fair eyebrows, and bleak blue eyes.
"I respect Mum and Great-Aunt Edna, naturally. That will never alter. But I can't be run by them anymore. I'm grown-up, Ralph."
The bank raid had transformed him. This was not just a matter of what Ralph thought of at first as "jauntiness." That could come and go. Max had climbed a little late into maturity and would stay there. He could spiel. He fancied himself as a warrior now-a warrior who could still show gallant deference to his mother and great-auntie Edna, but who also knew that a true warrior's main and perhaps only real role was to fight and kill. He'd had a makeover.
Ember said: "There's a phrase for this-'rites of passage.'"
"Great. I could get fond of phrases." Articulate put an arm across the bar, skirting the Kressmann bottle with its striking black label. "A handshake will do for us, I think, Ralph," he said. It was clipped, matey, foursquare. "You keep turning down my mother's and great-aunt Edna's loony scheme for my funds and I see to Luke Apsley Beynon."
Ralph took his hand with wholehearted firmness. Sure. This agreement could only be a bonus. He would never have given Great-aunt Edna, Mrs. Misk, and Articulate the least financial footing in the Monty, anyway, and, yes, Luke Beynon was beginning to look more and more like severe peril.
And, because Beynon looked more and more like severe peril, Ralph went again to the Monty during the afternoon next day to do his security checks. He was touring the Monty yard to satisfy himself no mysterious packages had been left against club doors when an unmarked Volvo drove in and parked. Assistant Chief Constable Desmond Iles and Detective Chief Superintendent Colin Harpur left the car and walked towards him, Iles looking as jolly as napalm. These two often arrived at the Monty, on the face of it to see that all licensing conditions were observed, but actually, in Ralph's view, to terrorise the members and enjoy a few free drinks. "Hunting firebombs, Ralphy?" Iles said.
Ember took them to the bar and mixed a gin and cider in a half-pint glass for Harpur and a port and lemonade for Iles, "the old whore's quaff," as he described it. Today, although it was only afternoon, the club had twenty or so members in, mostly at the bar or playing snooker and pool. Iles did his usual arrogant glare about, as if he couldn't believe how some of these people, or any of them, could be out of jail.
They sat at a table, Ember again on the armagnac. Harpur said: "I gather Articulate was here last night for quite a dialogue. Has he suddenly turned really articulate? He's emerged somehow?"
"I see such one-to-one conversations with long-time members as a very worthwhile and, indeed, pleasurable experience," Ralph replied, "and an essential factor in one's job as host."
"How true," Iles replied.
"Handshaking, also," Harpur said.
"We're civilised, you know, Mr. Harpur. All the usual courtesies are practised at the Monty," Ember replied. It always hurt him to think the club had members who watched things here and straight off reported to the police, for some measly fee, most likely.
"And then Articulate and his mother and great-aunt Edna in earlier," Harpur said. He was big and thuggish-looking, some said like a fair-haired Rocky Marciano, the one-time heavyweight champion of the world. Alongside him, Iles looked dainty, but in fact lacked all daintiness.
"This sounds like real activity," Harpur said.
"What does?" Ember said.
"These visits," Harpur said.
"This is a club. People drop in," Ember replied.
Iles said: "We wondered, Colin and I, whether you could recall the gist of your talk with Articulate, or even with Articulate and his mother and great-aunt Edna."
"I talk to many members over any twenty-four hours, you know," Ralph said.
"They're lucky to have you," Iles said. "Everyone realises that. But don't muck Col and me about, Ralph, there's a chum. Just give us what Max said, what you said, what the women said, would you? Something agreed at the afternoon meeting and then Articulate comes in late to confirm? Or cancel?"
"Casual conviviality, that's all. You make it all sound very purposeful and businesslike, Mr. Iles," Ralph said, "whereas-"
"Yes, purposeful and businesslike," Iles said. "That's our impression."
"Your impression via a fink," Ember said-"as through a grass darkly."
"Wow, Ralph!" Iles said.
"It's the later conversation that really interests us," Harpur said.
"Generalities, I should think," Ember said. He did a frown to indicate he meant to try to help them and recollect. "Weather. Holidays. Cricket. The usual small talk. We try to avoid politics-too controversial. I bump into so many people in the club and have a few unimportant yet, I trust, comradely words. These little pow-wows seem to merge into one pleasant and not very significant encounter. I don't know whether Max would recall things better than I. It might be in your interests to talk to him, if you feel something significant might have come up."
"The thing about Articulate is, he's dead," Iles replied.
"My God," Ralph said. The shock was real.
"Which is why what he talked about with you might be to the point," Harpur said.
"Generalities," Ralph said.
"Shot," Harpur replied.
"My God," Ralph said.
"Our impression is that he meant to bop Luke Apsley Beynon, but got bopped himself," Harpur said.
"As most of us would have forecast," Iles said. "I mean, was Articulate Max anywhere near capable as executioner?"
"The whisper's around, isn't it, that he was in on the I.C.D.S. robbery with some sort of stooge function?" Harpur said. "Did that make him feel suddenly big and mature and competent-and free up his voice box?"
"Poor deluded prat," Iles said. "He gave himself a mission on your behalf? Luke Apsley Beynon's been breathing untender words to you, hasn't he, Ralph? This is our information."
"Luke Beynon?" Ember replied.
"Did Articulate, with his new gloss, offer to knock him over for you?" Iles said. "Suddenly he thinks he's one of Nature's hit men? Were you and he talking some kind of deal? You'll see why we're concerned about his appearances here, especially the second one, without his minders, the women. Did he need to say something they shouldn't hear?"
"Deal?" Ember said.
"Quid pro quoism of some sort," Iles said.
"Generalities," Ralph replied.
"We're charging Luke," Harpur said. "He'll go down. His firm will break up without him."
"So you don't come out of this at all too badly, Ralph, do you?" Iles said. "You won't have to cower behind the collage anymore."
Ember replenished their drinks and took more armagnac himself. "I think about his mother and great-aunt Edna," he said.
"Those two are provided for, we believe," Iles said.
"I mean their grief," Ralph said.
"You were always one for tenderness to prized Monty members, Ralphy," Iles replied.
TRAIN, NIGHT by Nicholas Royle
Alex, I never said it was you. I never said the man on the Tube was you. I said he looked like you. So much like you it was like we were back together again. And since I couldn't be with you any more, I could be with this version of you. That's what I was saying. That's what I said.
I never said he was you. I made it perfectly clear that he couldn't be you and that I understood that. His head was shaved. You would never do that. You're too proud of your hair. You wouldn't deny yourself the pleasure of wearing it long. He was also younger, ten, maybe fifteen years younger. But his bone structure was the same, his eyes were identical. You know what, I'm coming round to the idea that he was you, after all. Nor was it on the Central line that I saw him. It was the Hammersmith & City line. That's what I said and that's what it was. I got on at Shepherd's Bush, you got that bit right. I got on at Shepherd's Bush and he was already on, having boarded at Hammersmith or Goldhawk Road. There he was, in my carriage, and there was a seat right opposite him, so I took it. Because it was the Hammersmith & City line, I saw him in natural light, and natural light leaves no room for doubt. The Central line is underground at Shepherd's Bush and while I'll admit the Central line does have a peculiarly attractive light, it's not the same. I might not have been so certain. Plus, if it had been the Central line, how would I have followed him off the train at King's Cross?
I didn't say I followed him into an abandoned building either. I followed him into an art gallery, that place on Wharf Road, that big one with the exposed brick walls. I said it looked like an abandoned building. Just as the man on the train looked like you. Geddit?
Anyway, I found out who he is. OK? Maybe this will make you happy, because it should demonstrate to you once and for all that I don't think he's you. I know he's someone else. He's an actor. I know because I saw him in something on TV. I was watching this crime drama, alone in the flat, because, you know – I live alone these days, with my unwashed towels and chipped cereal bowls dusted white with crushed paracetamol. That's another thing about your email. You contradict yourself. One minute you say I walked out on you, then you're saying you left me. Make your mind up. You can't have it both ways. So I'm watching this thing. It was ITV but it was quite good. You wouldn't have given it a chance, of course. That was how I knew you wouldn't be watching it, because it was on ITV. I presume you don't watch ITV with Fareda, either. I presume you're as judgmental as you ever were. See, I don't mind writing her name, now I know what it is. I don't bear her any ill will. As a matter of fact I feel sorry for her. Are you going to do to her what you did to me? Poor girl.
There he was, in the background in one scene. Little more than an extra but he did have a line of dialogue. It was him, I was certain of it, and he looked as much like you on TV as he had on the train. His name was in the credits. Let's call him Anthony.
I discovered something else. That film you showed me shortly after we first started seeing each other - Un soir, un train - that black and white Belgian film from the 1960s. You said I looked like Anouk Aimee. Looking back, maybe you wanted me to infer that you looked like Yves Montand. I watched it again the other day. As you know, when I say the other day, I generally mean the other week. You used to find this charming. The way the film pans out is a bit like what happened to us. That village where Mathias and his two companions end up, where they can't understand a word the villagers are saying, that's a bit like us at the end. It was like we were speaking different languages, and not just different languages from the same group, like two romance languages, but two completely different languages from different origins entirely. Arabic and Hungarian, Inuit and Welsh. Although, of course, only one of us had changed the language they were speaking.
It's scary, a bit creepy, that film. Maybe you shouldn't give a copy to Fareda. Maybe you shouldn't take her dancing, either. That's when I fell in love with you, you know. When we were dancing at that party in Shepherd's Bush and every five minutes a train went by on the elevated line above the market. You grabbed me and made me watch as one went past.
"Look at them watching us," you shouted into my ear.
"They think we look good together."
I watched the figures silhouetted by the yellowish light inside the carriage, while you held me around the waist.
How I wish now I could have been one of those passengers inside the train looking out at the people dancing. You would have been no more than a frame-grab to me and I would have got off at Hammersmith and carried on with my life. A different life.
A couple of days after the party, we watched Un soir, un train for the first time.
I guess you thought the two of them – Mathias and Anne, Yves Montand and Anouk Aimee – were supposed to represent the two of us. If so, then the flashback in London is probably when they are happiest. The way they sit in the back of Michael Gough's car when he takes them on a drive through Rotherhithe, both of them in the back so they can be together, leaving the front passenger seat empty, like it was a taxi. The way they hold hands, later when they're out of the car. The look Michael Gough gives them when he sees them holding hands. I think he's envious of them because they're so happy together. Like we used to be.
The tape was recorded off Japanese TV. Do you remember that? A friend of yours had taped it for you because it was so rarely screened. So it was in French with Japanese subtitles. We had to watch it six or seven times before we knew what was going on and we laughed when we realized that Mathias and his companions couldn't understand what the people in the village were saying either.
I started looking out for Anthony on the Hammersmith & City line. After all, I'd seen him twice, so there was a good chance he worked or lived somewhere along the line. A good chance I'd see him again. I didn't carry my DV camera. I wasn't going to film him this time.
The reason the footage I sent you was so uneven and featured other people as well as him, especially the stuff I shot in the gallery, was because I was having to do it on the sly. It's not easy filming from inside a half-fastened coat.
I tried boarding the same carriage as the last time I'd seen him. Then I tried varying which carriage I got in. I still didn't see him.
I was looking out for him on TV, too, and in Time Out and online, but it seemed like he wasn't doing anything that was listed anywhere.
I watched Un soir, un train yet again, rewinding the tape endlessly to study the scenes shot in Rotherhithe. Both locations were previously unknown to me, yet notable enough to appear in The London Encyclopaedia, which you may remember buying me. I hung around the gallery on Wharf Road, but I didn't see Anthony there either.
Then one morning I got on the train and there he was again. Sitting more or less in the same place. Looking every bit as much like you as he had done before. I didn't stop to think. If I had done, I might have got tongue-tied and everything might have played out very differently. I contrived a conversation. It was easy. He was reading a script. I asked him if he was an actor and he smiled and said he was. It was so easy. Because his bone structure is the same as yours, his smile is the same as yours too. His teeth are slightly whiter, but that's OK. It really did feel like I was sitting there and talking to you. Except it felt like talking to you at the beginning, not the end. And not now. Talking to you now – writing to you now – feels very different. We talked until King's Cross, where he said he had to get off. I said I was getting off there too. I wondered if he was going to Wharf Road again, but I didn't ask him that. I said, "Where are you going?" He said he was going to a rehearsal. He had a part in a play and they were using the director's flat on Gray's Inn Road as a rehearsal space. I said that sounded exciting.
He asked me what I did. It wasn't like he'd only just thought to ask. I'd just not given him the chance.
"I'm a film-maker," I told him, as we were about to part on the street.
"Really?" he said. "Now that's exciting."
The way he said it, I could tell he meant it. I guessed he preferred film to the stage.
"Do you have a card?" he asked me. A card! Me!
"I've run out," I said, and as I scribbled my number on an old receipt, my sleeve rode up and I realized he'd be able to see the marks on my forearm.
"Well, I never had any," he said carefully, then wrote his own number in small, precise figures on an empty page of a little notebook that he produced from his shoulder bag. He tore the page out along its perforation and added: "I should probably get some." We said goodbye and I set off in the opposite direction to his, but then turned to watch him go, weaving through the commuters. He's even a similar height to you.
I waited for him to call me and when he did I said there was a location in Rotherhithe I needed to have another look at and would he like to meet there for a drink? Before leaving the house I slotted the tape into the VCR again. The thing I discovered about Un soir, un train, is that it's not actually a black and white film, after all. I looked it up to check something, and every source that lists it, from Time Out to the IMDb, has it down as colour. Maybe some incompatibility between Japanese TV and the UK standard. I couldn't – and still can't – figure out why you gave it me so close to the end. What was it – a week, two at the most, before things fell apart? Were you trying to convince yourself we still had a future? Was your butterfly mind already selecting a new film to show to Fareda?
I picked up the remote and had a last look at those London scenes. In the back of the car. Michael Gough telling Mathias and Anne how Rotherhithe is "notorious". His dialogue, of course, is in English. Their arrival at Bermondsey Wall East, walking on to Cherry Garden Pier, then the visit to the Angel pub. Some kind of balcony, sitting down, holding hands, Michael Gough remaining standing, but that's when he notices their clasped hands.
I also opened a file on my laptop and brought it up to date. When I've finished with it, I'll print it out and close the machine down.
I'll take the tube to London Bridge and walk down impossibly narrow streets between fantastically tall buildings. Converted wharves. Exclusive flats, apartments. Portered, gated. The kind of place we could have ended up sharing in another universe. I'll skirt the Design Museum, cross a bridge of wire and stainless steel. The river a constant presence on my left, tide creeping in.
Bermondsey Wall West, cut inland, along a bit.
Derelict wharves and warehouses. Gaps in the gentrification. Back towards the river. Bermondsey Wall East, Cherry Garden Pier, the first of the two static locations. I can't walk on to the pier as they did in the film. It's owned by a private company now. City Cruises plc. I'll walk up the ramp towards a blue door with a no-entry sign on it, barbed wire coiled above. A security light will flick on, blinding me.
A hundred yards further downstream, the Angel. Lights burning at the windows will turn the blue air a half-shade darker. The light won't last much longer. In the film, Mathias and Michael Gough enter the pub while Anne remains outside. Next shot, the two men are on a balcony, where Anne joins them.
I'll push open the door and go inside. The first thing I'll notice, like the last time I was there, will be the Sam Smith's logo on all the taps and bottles and I'll think to myself, as I did before, that you wouldn't have liked that. This pub has been there since the fifteenth century, and the moment you come along, you find out it's a Sam Smith's joint. Beer's just beer to me, as you know. But I remember how Sam Smith's used to provoke extreme reactions in you. I'll look around. There'll be a handful of locals in. Sam Smith's or no, it's a decent-looking old-fashioned boozer, lots of wood and brass, comfortable seats. I'll move through into the back bar and my eye will be drawn to the picture window. On the other side of the window a balcony, and out on the balcony I'll see Anthony's shaved head shining under the artificial lights. As if sensing my arrival, he will turn round.
Anthony will already have a drink. He won't be bothered by it being a Sam Smith's pub. He'll be trying their own-label wheat beer, which is OK, he'll say. I'll get him another as I buy myself one. We'll sit on the balcony overlooking the river. I'll make sure he's sitting on my right, like in the film. I'll imagine Michael Gough leaning on the handrail looking alternately out at the river traffic and back at the two of us. Anthony will ask me about "my work". I'll take out my DV camera and tell him I'm in the middle of making a short film. I'll say I'd be grateful for his help and he'll say he'd be glad to provide it.
"Samuel Pepys used to drink here," I'll tell him, "and Judge Jeffreys, the Hanging Judge, so called for obvious reasons."
"A strict disciplinarian, I presume?" he'll say.
"He would sit here and watch pirates being hanged on the other side of the river at Execution Dock," I'll tell him.
"Execution Dock?" he'll ask.
I'll point across the river to Wapping Old Stairs.
"They used to bring convicted pirates from Marshalsea Prison. The rope they used to hang them only had a short drop, which wasn't enough to break their necks, so they'd do 'the Marshal's dance' as they slowly suffocated."
"And people call us uncivilized today," Anthony will say.
"They'd be left there until three tides had washed over them," I'll say as I balance my camera on the hand rail to get a shot of us sitting side by side, me and the man who looks like you. This is the shot from Michael Gough's POV. I'll ask Anthony if we can hold hands for a moment. He'll agree. He's a professional.
I might hold his hand for slightly longer than I need to for the shot. Then I'll explain that the next shot is more complicated and that his role will be to act as cameraman. I'll tell him I'm going to disappear for a bit. I'll walk to the tube at Rotherhithe, which is only a couple of minutes from the pub. Take the East London line one stop under the river to Wapping, then walk to Wapping Old Stairs. I'll ask him to stay on the balcony and watch out for me coming down the steps on to the foreshore and then film me, zooming in for a close-up.
"Won't it be very grainy?" he'll ask. "The river's wide here."
"That doesn't matter," I'll say.
I'll produce a stamped padded envelope with your name and address on it and ask him, when the shot is complete, whatever he thinks of it, to stick the tape in the envelope and post it. He'll nod, but look puzzled.
"You'll be coming back, right? Or do you want me to come round there?" he'll ask me.
"Neither," I'll say.
Still he'll look confused.
"I want you to hang on to the camera for me. Post the tape and hang on to the camera." If he remains silent and just sort of frowns at me, I will go on: "You've heard of Dogme? Lars Von Trier? His set of rules for film-makers?"
"It's something like that?" he'll say, brightening up.
"Why didn't you say?"
"Great," I'll say. "But I want you to promise me you'll keep filming, even if it looks a bit weird. A bit extreme. Just keep filming. There's only about ten minutes' space left, in any case."
"And then I post it to this -" he'll look at the label-
"Alex guy? What's he, your editor? Your collaborator?"
"Something like that. Promise?"
He'll promise.
"OK, I'm going to go now," I'll say to him. "Thanks for your help. Thanks for everything."
I might kiss him, or I might make do with having held his hand.
When I've gone, he'll sit and wait for a bit, then start to get impatient as he watches the stairs across the river. It is a long way, almost 300 metres. He may experiment with the zoom on the camera, see if that gives him a better view. What he gains in image size he'll lose in definition. He keeps checking, both with the camera and the naked eye. He'll pick up the padded envelope and perhaps feel the outline of something already inside it. I think he'll take a look, see it's a sealed envelope bearing the same name as on the label, and quickly put it back. He'll check his watch, see it's been fifteen minutes already. How long can it take to go one stop? He'll think about having another drink, but will decide he's too nervous and mustn't risk missing me.
Eventually, just when he's about to try my mobile number, he'll see a vague shape coming down the steep slippery steps of Wapping Old Stairs. He won't be able to recognize me, but he won't question that it's me for a moment. Why should he? In a slight panic, although he'll have had almost half an hour to prepare, he'll fiddle with the camera, trying to frame the best shot. He'll press the red button before I'm quite ready, but that won't matter. He'll squint at the tiny screen, trying to work out what I'm doing. He'll wonder if I'm waving or semaphoring or doing something weird with a rope. At that distance, he won't be able to tell, not even on full zoom. He might be able to see my feet leave the ground. He'll need to rest the camera on the hand rail to keep it steady, while on the screen he'll watch a grainy, degraded image of me dancing.
THE PRINTS OF THE BEAST by Michael Pearce
It was the best of times, it was the worst of times, for such a thing to happen. Christmas Eve! When for the first time since, after the collapse of all my expectations and I had joined Herbert in the Counting House in Cairo, we had managed to take a break together, intending for once to celebrate Christmas in the traditional English style. And now this! The bottle was nothing. Even the mysterious footprints in the sand could surely be explained. But the dead man in the barn-
"Handel, old fellow," said Herbert, calling me by that pet name he had always used, "something must be done!"
It certainly must. Someone in the village must be told, no doubt the Pasha's men would have to be informed. In no time the house would be crawling with people.
But.
This was Christmas Eve. Our Christmas Eve, the one we had been planning for so many months. Enough had gone wrong already. And was it now all, at the last moment, to be spoiled?
"Herbert-" I said.
"Yes, old chap?"
"Would it make so very, very much of a difference if the body was not found for a day or two longer?"
"It is certainly very unfortunate that we should come across it just now," said Herbert, "at the very start of our holiday."
We both knew enough of the ways of Egypt to recognize that once the body was declared that would be the end of the holiday we had hoped for. Even though the body was, strictly speaking, nothing to do with us, the fact that it had been found on our property, if only our temporary property, meant that in the eyes of the villagers we would, so to speak, own it. At the very least we would have to tell our story, even if we had no story to tell. And we would have to tell it over and over again. The omda would have to hear it. It was too much to hope that he would only have to hear it once. The whole village would have to hear it. Several times. Officials from the nearest town would need to write it down. The Pasha's men would inevitably become involved and who knows what that could lead to? In their capricious way they might even incarcerate us in some scorpion-infected, plague-ridden hell hole while they made up their minds.
Herbert's mind was clearly running on similar lines to mine.
"We have responsibilities back in Cairo," he said.
"Clara!" I said. "The children!"
"The House," he said, looking grave.
"It would only be a question of postponing," I said. "We would not really be interfering with the course of justice."
"In the end it would make no difference."
"It might even help," I said, "if we were not there."
"How so, old chap?"
"It would mean that they were not distracted by unnecessary complications."
"Complications?"
"The bottle," I said. "Would they understand it? Abstinence is enjoined on them by their religion."
"True, true," said Herbert. "Let us say nothing about the bottle."
"Nor about the footprints."
"Nor about the footprints," agreed Herbert. "They might not believe us."
"It might lead them astray again. For who knows how speculation or superstition might work on their weak minds?"
"It would only be for a short time," Herbert remarked, as we moved the body.
* * * *
After some deliberation we moved it into one of the out-houses. It was a long low building dug out of the ground and lined with bricks and had once, I think, been an ice-house. It had obviously not been used for some time and sand had drifted in and now filled half the space. Yet, situated below ground as it was, and with the roof so well lined, it was still cool enough to arrest the body's deterioration, which would mean, as I pointed out to Herbert, that the investigation would not be affected.
"True," said Herbert. "True."
He seemed, however, a little uneasy.
"It does mean, of course," he said, "that it will not be possible to bury the poor fellow the same day."
It was the practice in Egypt to bury the dead on the day that they departed; a sensible, hygienic practice in the heat.
"But, then," I pointed out, "that could not have happened anyway. They will have to send for the mamur from Toukh and by the time he gets here and has heard all the depositions it will be Tuesday and by then we will have returned to Cairo."
He still seemed a little troubled, however.
"It is, perhaps, as well, after all, that Clara couldn't come," he said suddenly.
At the very last moment, even as the carriages were being loaded, one of the children had developed a stomach-ache.
"It's just excitement," Herbert had said. But Clara, a connoisseur in her children's illnesses, had shaken her head.
"It's more than that," she had said. She had suspected that it might be the onset of malaria.
"If you think that, my dear," said Herbert, "then we shouldn't go!"
"It seems a pity, though," said Clara, "when you and Pip have been so looking forward to it."
And indeed we had. We had been slaving away in the Counting House for nearly two years without a break.
"No, you must go," she said now with decision. "You go and I will stay here with the children."
Of course, we dissented vehemently.
"No," she said firmly, "you must go. I have been thinking for some time that you are both beginning to look rather peaky. And, besides," she had said, with a smile, and putting her hand on my arm, "you will enjoy recapturing the intimacy of those old bachelor days in London!"
"Just as well that she couldn't," I said now to Herbert, and we returned to the house.
Running along the front of the house was a broad verandah, on which there was a table and some cane chairs with cushions. After the sand storm of the previous day the cushions were covered with sand which had drifted in. Herbert raised the cushions to give them a shake and in doing so uncovered a pair of scorpions.
"How very annoying!" said Herbert, brushing them away. "The headman swore that the house had been cleaned!"
It had, indeed, been flooded, as was the usual custom when a house was about to be reoccupied, to rid it of any infestation.
"I suppose their attention did not extend to outside the house," I said.
"Yes, but-"
I laid my finger on my lips.
"Now, Herbert," I said, "did we not swear before we left that we would pay no attention to trifles? That we would put aside all care for the proper discharge of duties in others? Put the Counting House entirely behind us?"
"We did, old chap, we did. And we will!"
He plumped up the cushion and sat down, and I went into the kitchen to find a bottle to replace the one that had disappeared. The sand which had blown in the day before, just after we had arrived, was still there on the floor of the sitting room, and still there were the huge, bestial footprints.
I took the bottle out on to the verandah and poured out two glasses.
"Your health, dear Herbert! And a very good Christmas!"
"And to you, too, my very dear Handel!"
He put the glass down.
"If a strange one."
"You are thinking of your family," I said gently.
"I acknowledge it. Of the children especially. The Christmas stockings, you know."
"We can go back at once, if you wish."
"No, no. Clara would not forgive me."
He toyed with his glass.
"And, besides," he said, "are there not things to be done here?"
"You are still disquieted about the body, Herbert?"
"I am, I must confess. For suppose the body is not to be separated from the strange things that happened last night? If we conceal those things from them, how are they to proceed?"
"You mean, we should disclose -? But I thought we had discussed that, Herbert."
"Yes, yes. And you rightly convinced me that the strangeness of the happenings here might prey upon their weak minds. But you see where that leads to, Handel?"
"That we should tell-"
"No, no. Not at all. That we should investigate the matter for ourselves and present our findings to them when we have all the answers."
* * * *
The house we had secured was in a remote village, about fifty miles from Cairo in the Damiatta direction. It had once been a farm house and was surrounded by plantations of orange trees and fields of dourah, which is the corn they have thereabouts, and cotton. Being closer to the sea, the air was fresher than it was inland and the temperature slightly lower, a mere ninety degrees in the shade and 120 in the sun. At night the temperature fell sharply and we deliberated whether to sleep outside on the verandah or to retreat indoors where it would be warmer. In the end we decided for indoors.
That night, as I lay in my bed, I could hear through the open window as well as the singing of grasshoppers and frogs the distant cry of wolves, answered occasionally by the cries of jackals and hyaenas. Later, there appeared to be a pack of wild desert dogs circling the house. It was, as Herbert had said, a strange place to spend Christmas.
* * * *
Clara had entrusted me with a veritable mound of presents, among which I was surprised to find a not inconsiderable number for myself. We opened them over coffee on the verandah. I could see that they turned Herbert's thoughts to home so after a while I crept away leaving him there to muse. He was still sitting there an hour later, when I thought the time had come to direct his mind to other things.
"My dear Herbert-" I said.
He sat up with a start.
"You are right, my dear Handel," he said. "It is time to begin."
* * * *
The facts, such as they were, were that we had arrived the previous afternoon, just as the sun was setting in a red ball of fire above the desert. Even as we looked, it seemed to darken over.
"Is that a sandstorm?" said Herbert. "How untimely!"
We went round the house closing all the shutters. By the time we had finished, the wind was rising and fine particles of sand were beginning to seep through the slats of the shutters. We knew from long experience that there was nothing now to be done but sit it out. We gave ourselves a hasty supper and cleared the plates away before the full force of the storm hit us – there is nothing worse than sand in your food, in your wine, in your mouth. Then we sat down opposite each other and put blankets over our heads and a bottle of wine on the table in front of us. From time to time one of us would put out a hand and refill the glasses, putting a table mat over the glass as soon as it was filled, to keep out the sand. Then we would retreat beneath our blankets.
And then, I suppose, we went to sleep, for the next thing I was aware of was an exclamation from Herbert.
"The bottle, Handel! What have you done with the bottle?"
"On the table."
"No, it is not!"
I emerged from under my blanket.
"I am sure I restored it to the table. In any case, was it not you who helped last?"
There was a little silence.
"On reflection, Handel, it was. But, then, where the deuce could I have put it?"
"On the ground, perhaps."
Herbert stood up and looked around. I heard him give a startled gasp.
"My dear Handel! Look! Look!"
I stood up beside him. The floor was covered with a thin film of sand. And in the sand were some enormous footprints.
* * * *
They were of bare feet. They entered from the door, made straight across the room, passed the table and then went out through the door which led on to the verandah.
"He… she… it took the bottle," said Herbert, in a stunned voice.
It could have been any of the three. The foot was large for a man, very large for a woman. Which made one think…
Some ape-like creature? But what ape-like creature existed in the wastes of Egyptian desert? A jackal? Of that size? Preposterous! A hyaena? Ridiculous! It was not to be thought of.
A man, then. That was most likely. The bottle argued for that, too. But, then, would any man round here have a taste for the best Cypriot wine? Would not wine have been against his religious principles? Unless, of course – But the bare feet argued against the presumption that he was an Englishman or a European.
We followed the tracks out on to the verandah. The storm had died down a little now although a thin wind put grit into our mouths and stung our faces. The footprints led to the edge of the verandah and then down and across the yard. In the darkness we had no inclination to follow them.
* * * *
But the next morning they were still there on the verandah. Out in the yard, however, where the sand had blown more freely, we quickly lost them. There was a new, thick layer of sand which covered everything. Whatever footprints there had been had disappeared.
Around the farm, enclosing the buildings and the yard, was a six-foot-high wall, a barrier against the wild dogs and other unwelcome creatures. Part of the wall was sheltered by one of the outhouses and on that part we found traces of intrusion. The man, or creature, had obviously placed its hands on top of the wall – we could see the marks, although they were less clear than the footprints. The sand on top of the wall was disturbed, as if someone had clambered over. And, down on the other side, where the out-house still gave shelter against the wind and the sand, just for a few yards, were the footprints again. Only not going away from the house but coming towards it.
* * * *
So much we had seen on that first exploration. But that was not all. For, as we returned to the house, going round the side of one of the out-houses, back in the yard, we came across the body of a man lying face down in the sand. The sandstorm had blown over him and left a layer of sand all over the body. From its undisturbed thickness and from the stillness of the body we had known that the man was dead.
And had been content to leave it so. In Egypt the sight of a dead body is not uncommon: a beggar expired in the street, an infant baby dead in childbirth or abandoned shortly after birth by its mother. After a while you become hardened. You do not normally enquire too closely.
But perhaps Herbert was right. The circumstances were so strange in this instance that inquiry into them could not responsibly be left to others.
"My dear Herbert-"
It was time, yes, to begin.
* * * *
The first thing to be done was to identify the dead man and the manner of his death.
"Need we?" But Herbert answered himself. "Of course, Handel. You are right."
Which meant revisiting the ice-house. We pulled the body out into the sun and examined it. It was that of a middle-aged man, a fellah – that is to say, a peasant – from his clothes and general appearance, possibly from the village nearby.
"Where else, out here, could he be from?" asked Herbert.
But that, in my view, raised once more the question of informing the villagers, who, if, indeed, he came from the village, would be able to identify him at once.
There was, however, a powerful argument against this. Examination revealed a savage wound in the neck. The flesh was so badly torn that it was impossible to tell how it had been inflicted. A knife, perhaps? But used with an astonishing degree of violence. What, however, could not be ruled out was…
"I am afraid so, my dear Handel."
A bite.
And if so, a bite perhaps from that strange creature – if creature it was and not a man, which would have been stranger still – that had invaded our privacy two nights before.
But what effect might this have if it were revealed to the village? Would it not cause alarm and despondency? Terror, even? Might it not lead to acts of despair in a people lacking Christian philosophy?
"No, Herbert. Better to remain mute until we can present them with the answer as well as the question."
But how to advance beyond the question in the first place?
Herbert bent over the body.
"Handel."
"Herbert?"
"Do you smell what I smell?"
I forced myself to stoop closer.
"He had been imbibing."
From his lips, where now the flies buzzed incessantly, came a faint smell of alcohol.
"And consider the fingers, Handel."
"The fingers?"
They were abraded, as if he had been scrabbling at something.
"The wall?"
We went back to the wall, to the place we had found. What we saw now, inspecting it more closely were faint smears of mud, dried out, of course, but still perfectly clear.
"Handel."
"Herbert?"
"The fingers, again. Did you see the nails? They were packed with mud."
"And the knees," I said. "And the feet. Muddy also."
"A potter, perhaps?"
"Or someone working on the canal?"
The fields around the village were irrigated by a system of canals which drew water off the Nile and fed it over the surrounding land. The system worked well and to it was due the astonishing abundance of the fields. But the abundance came at a price. The canals had to be maintained as they quickly became choked with sand. Every year, in the dry season, after the Inundation, gangs of labourers descended on the system and worked to make it good again, digging out the sand, repairing the sides, and re-piling the earth on the raised banks which protected it against the wind and the sand.
The work was heavy and was not done voluntarily. A corvee had been introduced by means of which villagers were compelled to give their labour. Although the work was in their interest, the villagers saw the benefit as going largely to the Pasha, and it was bitterly resented.
We walked down to the village, passing women hoeing in the fields. One of them, an unusually tall black lady, straightened her back and looked at us. The others continued their labour indifferently.
The canal was on the other side of the village. What we had hoped to see, I do not know. What we saw were men up to their chests in water digging out sand and throwing it up on the sides while others went along moving the sand back and forming banks. Behind them, patrolling steadily, was a man with a long whip, the overseer, usually the Pasha's man, exercising the whip whenever he thought fit.
We went back to the village. It was a small one, just a few houses clustered around an open space which served as a square, one or two tebaldi trees and beneath them a well. Women were dipping a bucket into the well and filling their pitchers, and, not far away, a group of men were sitting, the village elders.
One of them rose as we went past. It was the village omda, the headman, whom we had met when we arrived. He asked us if the house was to our liking. We said it was; only the sand had blown in during the storm. He said he would send a woman up to clean through the house again. She had done it earlier, he said apologetically, only at this time of year, when there were frequent sandstorms, it was hard to keep it like that.
I said that to us, after Cairo, the village seemed very peaceful. He said that all the men were away working on the canal. He hoped they would not be away for too much longer as there would soon be a need for them in the fields.
We asked him if he found it difficult supplying the necessary labour for the corvee. He shrugged.
"They know it has to be," he said.
I asked if any of the villagers tried to evade it. He said that if they did it would fall upon the family and on the village, so on the whole people didn't.
Herbert asked if anyone at work ever tried to slip away. Seldom, said the omda, for then the whole gang was flogged. He seemed about to add something, then stopped; then burst out that in fact it had happened only a few days before. A man had disappeared. "The wound is still fresh in our minds," he said. He pointed to a woman filling her pitchers alone by the well. The other women had departed.
"That is his wife," he said. From now on, he said, or at least until he gave himself up, his wife would have to fill her pitchers alone.
"And what if he never comes back?" Herbert asked.
The headman did not answer directly. He said only that the Pasha's reach was wide.
We walked back up to the house in silence.
"We know now, at any rate, the identity of our man," Herbert said, throwing himself into one of the chairs on the verandah.
* * * *
And yet the mystery had only deepened. We now knew who the poor fellow was. But how had he met his end? And for what reason?
We could now understand, we thought, the explanation for his presence in the farm. He had fled from the gang working on the canal and, seeking refuge, climbed over the wall, believing the farm-house to be still deserted. There, at least, he would be safe from the wild beasts outside.
Was it not possible, however, that in doing so he had come face to face with a creature wilder than any of those he feared?
There were other questions. Had he been pursued to the farm? Or had he come there and inadvertently stirred an inhabitant who, or which, had turned on him perhaps in panic and killed him?
All this seemed possible and likely. What did not seem possible or likely was the tale told by the footprints: that some one or thing should enter the room while we were actually in it, our heads covered, it is true, but nevertheless there, pick up the bottle and then walk calmly out with it and disappear into the sandstorm.
* * * *
Later in the afternoon, after we had enjoyed the splendid Christmas lunch that Clara had prepared for us, the woman that the omda had promised came up to clean the house again. It was the woman we had seen on her own beside the well. Perhaps the omda had sent her up in pity, knowing that without her husband she would be in need of any recompense that we might offer.
She was a sturdy peasant women in her thirties, bare-legged and bare-footed, though without her face covered, as it would perhaps have been in the town. While we were enjoying our coffee and brandy, she set to work in the kitchen and soon had swept it clean. Then she came into the dining room with her brush. She saw the footprints, there, still in the sand that covered the floor, and stopped.
Then, without a word, she swept the floor clean and afterwards moved on to the bedrooms.
"There goes our chance," said Herbert quietly, "of keeping this from the village."
* * * *
When she had finished she went home. Herbert and I sat out on the verandah wondering what we should do. If she revealed what she had seen, the whole village would be up here. They would rout around and almost certainly come across the body in the ice-house. And then, as Herbert pointed out, it would not look good for us. We decided that in the circumstances we would have to revise our plans. We would go to the omda first thing in the morning and disclose the presence of the body.
* * * *
That night I found it hard to get to sleep. Inside the house it was insufferably hot so I moved my bed things out on to the verandah; but there the bright moon light made it almost as clear as day. I lay awake, listening to the cries of the jackals and the wild dogs, and the distant cry of a hyaena.
In the end I could stand it no more and got up. I did not wish to disturb Herbert but walked out into the yard. In my mind were strange memories – the memory of someone else who had once been fleeing from bondage and in his flight had come across a small boy. From that boy he had received a helping hand and that helping hand had stayed with him for the rest of his life. It had transformed his life, made it different not just from what it was but from what it might have been. It had put a light into the darkness of his mind, an ignis fatuus, perhaps, a false light, like those marsh gases or corpse lights that dance in graveyards, but nevertheless a light, and, on reflection, I would not have had it otherwise.
Now my mind was turning over uneasily another poor creature who had fled from bondage: for was it not bondage, where work was enforced with the whip?
Flight, flight: did we not all flee from pain? And hadn't I, too, eleven years before fled from pain by leaving England? But was not that flight a false light, too? I had thought to distance myself from a cruel but broken woman. But can one ever distance oneself from one's own heart? I knew now that if I had my chance again I would not distance myself but try, in whatever way I could, to mend what was broken. But chances, I have learned, do not come twice.
Thus musing, I turned on my heel, and, as I did so, I caught what seemed to be a movement in one of the out-houses. For a moment my blood froze. Could it be that our visitant of the first night had returned?
I roused Herbert and together we went over to the barn the noise had come from. There it was again! Something was definitely moving inside.
There were two doors. Herbert went round to the one at the rear while I stood by the main entrance. Something was coming towards it. It came very quietly, a soft padding of bare feet. It came through the door. I seized it and called for Herbert's aid.
It was not as I had expected. Smaller, softer. Weaker. It struggled in my grasp. Herbert came running. I shifted my hands to get a better grip.
And then I nearly let go! The form beneath my hands was unmistakeably that of a woman.
I pulled her out into the moonlight. Herbert came rushing round the corner of the barn, saw her and stopped.
It was the woman who had been cleaning the house for us earlier.
"What are you doing here?" he said sternly.
She spat at him.
I dragged her towards the house. She resisted for a moment and then suddenly submitted.
On the verandah she sat silently and at first would say nothing.
Then she burst out:
"Where is he?"
Herbert and I looked at each other. Could we tell her?
"Who?" I said, temporizing.
"My man."
"Your husband?" said Herbert.
She nodded impatiently.
Herbert and I looked at each other again.
"He is gone," said Herbert.
She sat there still for a moment. Then-
"So he is gone," she said. Her whole body seemed to slump. "So he is gone," she said again. She shrugged. "I knew it," she said bitterly, "I knew it when I saw-"
She stopped.
"He was not a good man," she went on, after a moment. "He used to beat me. Especially when he had been drinking. He went with other women. I complained to the omda and the omda told him he would have to leave the village if he couldn't mend his ways. But still he drank, and still he went with them. One especially. I told him I would denounce her to the omda and he would have her stoned. He begged me not to. He swore he would put her aside and be a good husband to me in future. He cried. He always cried after he had been drinking. And he said he would mend his ways. He had said it before, but this time I believed him.
"And I was right to, for he did try to put her away. And she was angry and taunted me, saying I was no good to a man, that I would never bear him children. And then she taunted him, saying that he was not a proper man. Still he would not go with her; but he went back to drink. He could not do his work properly. The Pasha's man berated him and whipped him, and one day he could stand it no longer and ran away.
"He came home to me and I said: 'If you stay here, they will find you. Hide yourself in the old farm-house and I will bring you food.' But then I heard that you had moved in, so I dared not. But when I came up this afternoon I brought food for him. But I could not find him. I thought perhaps he had fallen asleep somewhere, so tonight I came again. But again I could not find him. And now you tell me he is gone."
"Handel, old chap-" began Herbert.
I knew what he was thinking. We could not continue with our deception. It was cruel to this unfortunate woman. Let the consequences be what they would, we would go to the omda in the morning and declare all.
* * * *
The first thing in the morning we went down to the village and asked to see the omda. The villagers had sensed that something was toward and had begun to gather. The omda came out of his house and sat down on a bench in front of it. He had chairs brought for Herbert and myself. As the crowd grew deeper I grew more and more concerned about what we had to say.
But then something surprising happened. The cleaning lady stood up first.
"Omda, I have come to declare a fault," she said.
"Speak on."
"I helped my man when he fled in fear from the Pasha's man."
"So?" said the Pasha's man, who was standing at the back of the crowd, fondling his whip.
"He came to me at our house and I said: 'If you stay here, they will take you. Go to the old farm-house and hide there.' I meant to take him food."
"And did you, Amina?"
"No. At least, I did: but I could not find him. Because by then he had fled."
"Fled, Amina?"
"Yes, omda. With this woman."
She was pointing at a woman in the crowd, the big, dark woman we had noticed among the hoers.
"I?" said the woman. "I?"
"Yes, you, Khabradji."
"But I am here!"
"And he is not. But you know where he is, Khabradji."
She looked at the omda.
"That is what I have come to declare, omda," she said, and sat down.
Hands pushed Khabradji forward.
"She lies, omda. It is not so!"
Amina rose again.
"You were in the house with him."
"Not so!"
"It was so. I saw your footprints."
"What!" said Herbert and I simultaneously.
"They will confirm it," said Amina, turning to us.
I stood up.
"Certainly, we saw footprints in the sand," I said. "But whose they were-?"
"We thought they might be of some strange beast!" said Herbert excitedly.
"Strange beast?" said the omda, raising an eyebrow.
"They were large and-"
"Large, certainly," said the omda, looking at Khabradji. Everyone laughed. She looked self-conscious. Evidently her size was a by-word in the village.
"- but no strange beast!" said the omda.
The crowd laughed again.
Herbert stood up.
"It was a mistake," he said. "And yet in that mistake truth lies. Khabradji, you were certainly in the house. We saw your footprints. You came right into the room where we were sitting. And now, Khabradji, I have a question for you: did you take the bottle?"
"Bottle?" said the omda.
"Bottle?" said Amina.
Herbert turned to her-
"I know, alas, that you are familiar with bottles, Amina. Because of your husband. But was not Khabradji, too? So let me ask my question again: did you take the bottle that was on the table?"
"I – I -" stuttered Khabradji.
"I think you did, Khabradji."
"Well, what if I did?"
"What did you do with it?"
"Do with it? I – I drank it."
There was an amazed laugh from the crowd.
"No, you didn't. You took it out and gave it to Amina's husband."
"What if I did?" muttered Khabradji. "What if I did?"
"Where is he, Khabradji? cried Amina suddenly. "Give him back to me!"
Khabradji seemed to shake herself.
"Give him back?" she said. "That I cannot."
She sat down, as if she had said all she was going to.
* * * *
I rose from my place.
"But, Khabradji," I said, "that is not all, is it? You gave him the drink, yes; and then what?"
"I do not know," muttered Khabradji.
"I do. When he had drunk and was stupefied, you killed him."
"Killed him!"
There was a gasp of horror from the crowd.
"Killed him?" cried Amina, and made to throw herself at her rival. Hands held her back.
Khabradji now rose in her turn.
"Yes," she said, calmly. "I killed him. With my hoe. While he lay dulled and sleeping." She looked at Amina. "I was not going to let you take him back. While I was in the field, I saw him running and guessed where he was going. That night I went to the farm-house myself and found him. I pleaded with him to come back to me. But he would not and spoke bad words. I was angry and rushed from him. But then I looked into the house and saw the bottle and the evil thought came to me: why should not I be revenged? So I took the bottle to him and let him drink; and then I killed him."
* * * *
As we were leaving, I heard one villager say to another:
"What was all that about a beast?"
"There wasn't one."
"Odd that they should think there was. Strange minds these Englishmen have!"
"Superstition," said the other villager. "That's the problem."
* * * *
All in all it was an odd Christmas indeed. But it had one effect that was lasting. It had taken my mind back to another time when my life had become strangely bound up with that of a poor fugitive. Indeed, it was that which had ultimately led to my flight to Egypt. Reflecting on that, I realized that I had left unfinished business behind me. It occurred to me that the time had come to return to England and address it. Perhaps, too – I confess it – it was the children's Christmas stockings, bringing home to me that there was more to life than work in a Counting House. Anyway, I went back to England, expecting not great things now but very little: finding, however, when I got there more than I had ever dared to expect.
GLAZED by Danuta Reah
Anthony Richardson woke up in the spare bedroom, aware that the mattress was not the well-sprung one he was accustomed to. His back was aching. He climbed out of bed and opened the curtains, looking out on to the grey November day.
He pulled on his dressing gown and tiptoed barefoot to the marital bedroom. He pushed the door open silently. Molly was asleep, her face hidden, her red hair spilling across the pillow. Her hair had lost its brightness over the years, and her face, though it still had its delicate prettiness, was creased from sleep. At one time, seeing her like that would have been a powerful incentive for him to climb back into the bed they had shared for over twenty years, but not any more.
Quietly, he collected his clothes from the wardrobe. He would shower in the other bathroom rather than risk waking her. He'd stayed too late the night before with Olivia, falling asleep next to her perfumed softness. "You see," she'd whispered as he climbed reluctantly out of her bed, "It's time to let Molly know. It's for the best, darling. I wouldn't want to keep you in a dead marriage if it was me."
He sighed. He still cared for Molly. Of course he did. But… The image of Olivia, fair-haired, beautiful, and most of all young rose up in front of him.
Anthony Richardson had met Molly when she was twenty-one. He was handsome, in his thirties, sophisticated and successful with his own chain of exclusive designer stores. She was a graduate from St Martin's College, with a degree in ceramics and a talent for design that was yet to be fully recognized. She was beautiful, of course. She had to be. Anything less than beautiful would have done. And she wasn't just beautiful, she was one of the most talented ceramicists he had ever met. Her designs had a quality he had never seen before, designs that her current employer had dismissed because people who want cups with feet on them and smiling teapots tend to be limited in their appreciation of style. It was an added advantage that she was very young and not very confident.
It was serendipity. Molly needed a Svengali. Anthony needed her talent. His business, though successful, had reached a plateau. He worked by finding good designs and importing them, but a lot of other people were doing the same thing and there was nothing to distinguish his company, Richardson Design, from the mass. The continuing success of his shops depended on his having something new, something distinctive, something that no one else had. And in Molly, he had found it.
Molly Norman Ceramics became the cornerstone of his company, Richardson Design. RD, the discreet silver logo that marked his company, became a byword for the best in fine china.
Anthony was a good husband. He kept the business running well and provided a comfortable, even luxurious, home for her. And though any man has a need for variety that even a young, talented and beautiful wife can't entirely fulfil, he kept his infidelities low key and away from home.
The marriage was a success. Except that they didn't have children. Not really. Molly had got pregnant a few years into their marriage but the child was born defective – Down's Syndrome, the doctors said. A Mongol. Anthony believed in calling a spade a spade. He had made sure that there were no more children. He wanted no more defectives in his family.
Molly made a reasonable job of raising the boy who was now fourteen, a lumbering presence in the house. She insisted on private schooling, which was an irony Anthony found hard to bear. A real son would have gone to Eton of course, but Dominic… "He's a lot more able that you give him credit for," Molly had said sharply. "I want him to be able to earn some kind of a living." In fact, the youth would be a drain on his resources forever.
And then, just a week ago, Olivia had hit him with the bombshell of her pregnancy. "Don't worry, darling," she'd said briskly. "I can deal with it. I know you've got problems with…" Her eyes, dark-lashed, flickered sideways to the photo of Molly that stood where it always did, on his desk.
And he realized what the dissatisfaction with his life was. He had achieved the material success he craved. Now he needed the personal fulfilment of knowing there was someone to carry on that success. He wanted a son, a proper son, not one with a lolling tongue and an incoherent voice, one that only a mother could love. He wanted a son he could be proud of. He finally understood why men of his age took up with younger wives. They achieved success with their first wives and raised a family with their second and it was an unfortunate trick of nature that prevented women from doing the same.
"You were late last night." Molly came into the room, tying the cord on her dressing gown. Her hair was untidy and she looked pale.
"Yes." He didn't elaborate.
One thing that had been holding him back from the final decision was that once he'd asked her for a divorce, the company would lose Molly's talents and – at a time when he was planning a major expansion – he would have to give a large part of his wealth to her. He had discussed this with Olivia who happened to be a lawyer specializing in the divorces of the wealthy and powerful. The company, she suggested, was his. Molly was an employee, not a joint owner and she had earned a good income through the years. As for her leaving, well, the company was more than the Molly Norman range of ceramics and anyway, Richardson's had the copyright on the Molly Norman name and all the designs she'd done for the company over the years.
He could find and promote another designer. Molly was probably getting a little passé now, a little past her prime creatively as well as physically.
He'd have to get his lawyers on to it. He didn't want a prolonged fight.
He realized he hadn't heard what she was saying. "… start training Tim as an assistant today. He's really very…"
"What?"
"Tim. He's been with us for six months now. He loves the pottery – he knows the work – he's helped me often enough and…"
A few months ago, she'd taken on a youth from some charity she was involved with that looked after people with so-called "learning difficulties". The young man was another Dominic, another flat faced defective with a protruding tongue that stumbled and spluttered over the few words he could manage. The pottery needed a general dogsbody – someone to make the tea and sweep up, the kind of work he was fit for and there were grants available for companies who took these people on, so Anthony hadn't argued.
But now Molly was planning to spend good money training this man, this Tim, as an assistant in the pottery, letting him load the kiln, even let him switch it on and keep an eye on the firing. "No," he said.
He saw Molly's puzzled frown. "I told you last week. I've already promised…"
He vaguely remembered her mentioning something. It was typical of Molly to drop something important into her general chat. She probably did it, knowing he wasn't paying attention. "Then you'll have to un-promise." He saw her open her mouth to argue – she could be stubborn sometimes – and said, "I'll see you later."
He left the house, intending to go straight to the office. Instead, he drove to Olivia's. It was time they made some decisions.
* * * *
Tim Sergeant was cleaning up in the workshop. Every morning when he came in, he mopped the floor to clear up any dust that had settled in the night. At the end of each day he cleaned up all the dropped clay, all the spatters of glaze, all the wood ash and bone meal for the colours that Mrs Richardson used on her pots, leaving everything clean and scrubbed for the next day. Then in the morning, he came in early and mopped everything again so that the decks would be cleared (Mum) and ready for the beautiful things that Mrs Richardson made.
He liked the pottery in the early morning. It was quiet with no one to distract or confuse him. He liked the wheel with the seat where you could sit and make it spin with a treadle. He did that now, pretending he was throwing a pot and making it grow under his fingers like Mrs Richardson did. When he'd first started, he'd been afraid of the kilns, especially the big gas one. The first time he'd seen flames come shooting out of the little hole in the door, he'd gone away and hidden, but Mrs Richardson had explained the kiln was supposed to do that.
There were rows of pots on the table waiting to be glazed. At first, Tim hadn't understood about the glaze. Mrs Richardson had shown him a bowl of pale sludge, and she'd dipped the beautiful, fragile bowl into it, then she'd swirled her brush along the side. It didn't look like anything special to Tim. Just sludge.
But then it had gone in the kiln with all the other pots, and when it came out, it had been the most beautiful yellow, bright as the sun. "It's like Mum's canary," he had breathed. "It's magic."
Mrs Richardson had laughed, but not in a mean way. She'd been pleased. "Yes, like canary feathers. You're right." After that, she'd let him help with the glazes. She'd taught him how to use the ball mill to grind up the materials, and he helped to mix the glazes she wanted to use, carefully adding the wood ash, the flint, the felspar, the bone meal, making something ugly that somehow, miraculously became beautiful in the fire.
And today was a special day. For weeks now, he'd watched her as she'd packed the kiln and closed the heavy door, sealing it shut by turning the wheel on the outside. He'd been allowed to turn on the gas tap as she wielded the flaming wand that made the gas ignite with a whoof. And she'd taught him how to keep checking the temperature gauge hour after hour as the heat crept up and up. "Red hot" she'd say, then 'White hot," as it reached the magic number: 1300. And the last time they had done this together, she had nodded to Tim and, not able to keep the grin off his face, he had turned off the gas. Then the kiln would have to be left for a day and a night to cool down. "I think you're ready," she'd said to him, the last time they'd fired the kiln together.
Today, she was going to let him pack it by himself. She would be there in case he needed help, but she was going to let him do it, and she was going to let him use the wand to light the gas and then she was going to let him watch by himself until the time came to turn off the gas. He wouldn't be the cleaner any more. He would be Mrs Richardson's assistant. He would be a potter.
He watched from the window as Mrs Richardson's car pulled into the car park and went to make her a cup of tea in one of the teapots she designed. His hand hovered over the yellow one, but then he decided to use the one with the deep red glaze that was so fine and delicate that you could almost see the tea as you poured in the boiling water. He put a cup and saucer on the tray, and some biscuits carefully arranged on a plate.
He carried the tray through, keeping his eyes fixed on it so that it stayed level, and put it carefully down on the table in Mrs Richardson's room as she came through the door. "Tea," she said. "Just what I wanted. Thank you, Tim." But there was something in her voice that worried him. She was frowning as she poured the tea as if she was thinking about something else. She needed to be left alone to work.
"I'll go and finish sweeping," he said.
* * * *
Molly watched Tim leave, cursing herself for being a coward. She should have told him that the days of working as her assistant were over. Anthony wouldn't tolerate it. When he looked at Tim, he saw Dominic and he couldn't forgive the boy for being less than the perfect son he had envisaged. She used to fool herself, tell herself that his distance from the child was self-protection, that he didn't want to be too close to a child whose health was giving them concern. But she couldn't do that any more.
She had stayed because, for a long time, she had loved him. Later, she had stayed because Dominic needed the long term security that money could buy. He wasn't like Tim who was able to earn money and have some independence. Dominic's handicap was much more severe and he would need caring for all his life. She dreaded what would happen to him if she died, if she hadn't managed to make provision for him. She had to make certain that his future was secure.
She put on her overalls and went into the pottery to finish the designs on the new Molly Norman range. Her mind focused on her work and her worries faded into the background.
It was late morning before Anthony arrived. She was just putting the finishing touches to a special commission, something that would bring a great deal of business into the firm, if it went right. She was making a set of long-stemmed cups, fragile and beautiful that she was glazing to try and capture some essence of the fire that would create them. She could see the colour in her mind – a clear, translucent glow. She hadn't quite managed to get that in her various experimental firings, but this time – maybe this time she'd got it right.
"What's this?" Anthony's voice broke into her thoughts.
"It's the De Clancy commission."
"Haven't you got that done yet?"
"It's got to be right." She swivelled her chair to face him. "Anthony, about Tim…"
He interrupted her. "Olivia's pregnant," he said.
She felt as though something had kicked her in the stomach. "Pregnant…"
"I want a child," he said.
She could feel the anger growing inside her. "You have a child."
His jaw set. "I meant a proper child. You can't give me one. Olivia can. I want a divorce."
She could only think of Olivia pregnant, about the children she hadn't been able to have because there was only her to look after Dominic. Deep down she had always known that Anthony would be no father to his son.
He was still speaking. "You'll want to leave the firm, of course. You'll get a generous pay off, I'll make sure of that." A generous payout. That wouldn't be enough to keep Dominic, not for the rest of his life.
"I'll fight," she said.
"Then I'll fight back and we'll all lose."
Molly watched him leave and felt a black wave of despair wash over her.
* * * *
Tim felt a jump of excitement as Mrs Richardson came out of her office. He'd been getting more and more worried. It took twelve hours to fire the kiln. He'd told Mum it was one of the nights he would be late, but the day went on, and Mrs Richardson stayed in her workshop, painting the pretty cups she'd been working on for days.
When he saw her, his heart sank. She had changed out of her overalls and was carrying her bag. She was going home. She'd forgotten. "Come and sit down in the kitchen," she said. "I want to talk to you."
Slowly, he put down his brush and followed her. "Tim, you've been an excellent worker. I'm very pleased with you, you know that, don't do?"
"Yes, Mrs Richardson." He looked at her, willing her to tell him he was still her assistant, waiting for her to smile at him, but she didn't.
"I'm very sorry," she said, "but you can't be my assistant any more. Not just now. You'll still do your other work, of course you will. But Mr Richardson doesn't think you're ready. And… Tim, listen. Things are changing round here. I might be leaving." Her voice was odd and far away, and he got the impression she wasn't really seeing him at all.
"But…" He couldn't imagine the pottery without Mrs Richardson. He wanted to protest but the words wouldn't come. His tongue felt big and unwieldy in his mouth.
"I'm so sorry, Tim. You go home now. Take the rest of the day off and enjoy the weekend." She smiled then. "Don't forget to lock up."
She still trusted him to do that, but Tim's bubble of happiness had burst. He watched her as she left the pottery. He saw her walk across the car park to her car and get in. He dropped his mop onto the floor and sat down. He could feel the disappointment inside him like a knife. He'd told Mum that he'd be late tonight because he was working overtime. "I'm promoted," he'd told her.
"Promoted!" she'd said. "I'm proud of you, Tim." And now he'd have to go back and tell her, and she'd think that he'd got it wrong because he wasn't clever and he did make mistakes.
The pottery was quiet. Everyone had gone home. It was a long weekend and they wanted to get away for their holidays. There was only Tim, sitting there in the gloom, and he wasn't crying, not really, because he was grown-up now, and grownups didn't cry, but something was making his face wet. He sniffed and wiped his hand across his nose. He might as well go home.
Instead, he went into the room where the big gas kiln stood, its door open, waiting for the pots that Tim would no longer be loading in there. He'd set everything ready, the supports that would keep the shelves secure, the shelves on which each layer of pots would stand and he'd planned exactly where each pot would go.
And then he had his idea. When it popped into his mind, he couldn't believe he was thinking it, and it made him so frightened that he found it hard to breathe. He hid his face and waited for it to go away. But his mind wouldn't let it go and the more he thought about it, the less scared he became.
All the pots were ready. There was no reason why they shouldn't be fired. The weekend – the long weekend with a holiday – would be wasted otherwise. He would stack the kiln. Mrs Richardson wouldn't be there to watch him, but he would do it as slowly and as carefully as he could. Then he would light the kiln – when he thought about the flames of the gas wand, he had to hide his face again for a while – but he would switch on the gas, light the gas wand, and listen to the whoof as the burners in the kiln ignited. After that, he just had to wait. Then Mr Richardson would know that he was good enough to be the assistant.
When he went into the work room, he saw the pots for the firing were on the table, all carefully glazed, all covered with the dull, dry film that the magic of the fire would turn into glorious colours like canaries' feathers and butterflies' wings. And there, on Mrs Richardson's own work table were the long-stemmed cups that she had been working on that day, using the new glaze that Tim had ground and mixed and ground and mixed again as she tried to get it right. When they were fired, they were going to be more beautiful than anything, and Tim couldn't wait.
But if he didn't get today's firing right, then he wouldn't be allowed to assist Mrs Richardson again. He turned away from her table, and began to load the pots onto the trolley.
"What the hell do you think you're doing!"
The voice came from behind him. Tim jumped and dropped the pot he was holding, a tall jug with a delicate handle. It shattered on the floor and Tim wanted to weep. He'd never broken anything before.
Mr Richardson was standing behind him. "Where's my wife?"
"She's gone home," Tim tried to say. He could feel his legs shaking and he wanted the toilet.
Mr Richardson turned on his heel and went into the kiln room. When he came back, his face was dark with fury. "Were you going to load that kiln?"
Tim nodded.
"Does my wife know what you're doing?"
Tim always told the truth. He shook his head. He couldn't speak.
Mr Richardson's lip curled. "You're fired. Get out before I kick you out!"
Tim felt his nose clog up as his eyes filled with tears. He'd done it wrong. Mum had been so proud of him being an assistant, and now Mr Richardson had fired him.
As he stood there, Mr Richardson started shouting. "Well? Did you hear me? Are you too stupid?" He grabbed Tim's arm and started pushing him towards the door. They were near Mrs Richardson's table and he was going to knock into it and make the beautiful long-stemmed cups fall over and shatter. He panicked. He pushed Mr Richardson away, hard. The grip on his arm loosened and he waited with his eyes screwed tight shut, waiting for Mr Richardson to start shouting at him again.
Nothing happened, and cautiously, Tim opened his eyes.
Mr Richardson was lying on the floor. There was blood on the corner of the stone table, and blood on the floor coming out of Mr Richardson's head and ears. Tim felt sick. Mr Richardson would tell the police that Tim had attacked him. He was going to go to prison. He watched, frozen, and then as he saw Mr Richardson's face turn blue and bubbles come out of his mouth, he realized he was in even more trouble than he thought.
Mr Richardson wasn't going to get up at all.
Tim sank down to the floor and forgot about being a grownup. He cried.
* * * *
After a long time, he mopped his eyes. It was no good crying over spilled milk (Mum). He screwed up his face, trying to think. That was the trouble with not being clever. It took him a long time to know what to do. Usually, he asked Mum, but this time, he couldn't. And eventually, he worked it out.
It was a good job he had the trolley. Mr Richardson was heavy. He wheeled him into the kiln room, and, grunting slightly with the effort, he slid Mr Richardson into the kiln. A leg flopped out, and then another. Tim stood there, perplexed. He bent Mr Richardson's leg and then the other, and wedged it against the kiln wall. He had to try several times before Mr Richardson was safely folded in.
But now, there was no room for the pots. They were all big, heavy ones. "We'll start you off on the basic stuff," Mrs Richardson had said.
Tim screwed his face up as he thought. When the idea came, it scared him as much as when he'd thought about doing the firing on his own. He wished, now, that he'd just gone home, but it was too late for that. Look before you leap (Mum). But he didn't have time to hide his face and wait for the idea to go away.
There was just space in the kiln for one shelf of small pots. Very carefully, he set the supports. Bits of Mr Richardson kept getting in the way, and he had to remember that Mr Richardson wouldn't be there all the time to prop up the shelf. It was an hour before he'd got it right and he was confident that shelf would stay in position by itself. Then, his tongue clamped between his teeth, he picked up the long-stemmed cups, one at a time, and placed them on the shelf. He felt as though he hadn't breathed in all the time he was doing it, and when the last one was in place, he had to sit down for a while.
Then he swung the heavy door of the kiln shut, and turned the wheel to seal it. Everything was ready. He turned on the gas, lit the gas wand – he wasn't even a bit scared of it now – and slipped it into the ports where the burners were waiting to be lit. Whoof! The kiln ignited.
He went into Mrs Richardson's office to phone Mum. He was going to be out all night and he didn't want her to worry. "Will you get a lift back?" Mum asked.
"Yes." Tim didn't like telling lies, but he knew the early bus would get him home safely. All he needed to do now was wait. He sat on the floor watching the temperature gauge. It was going to take a long time. After a while, the smell of something cooking began to fill the room and Tim realized he was hungry. He went to his locker to find the sandwiches that Mum had made for him that morning.
* * * *
Anthony didn't come home all weekend. Molly hadn't expected him to. When she went into work on Tuesday morning, she expected to find him there with the details of the divorce all worked out. She was going to fight him. She wanted every penny that he owed to her to secure a future for their son, and she wanted what he owed her for other children, the ones he would never agree to and now she would never have.
His car was in the car park when she arrived, but there was no sign of him.
Puzzled, she went into the pottery. Tim was already there, down on his hands and knees scrubbing the work room floor. "There's no need to do that," she said. "Just mopping it is fine." He muttered something, and she realized that he was rigid with tension. She looked round the room and saw at once that a jug was shattered on the floor.
"Don't worry if you've…" and then she saw that the long-stemmed cups were missing.
Her eyes went back to Tim's. He dropped his gaze.
"Tim," she said. "What have you done?"
He didn't answer, but the way his eyes moved towards the kiln room told her all she needed to know. She ran through, hoping that she was wrong, but when she got there, she saw the kiln door closed. She touched it. It was still warm. "Oh, my God, Tim!" Anger fought with guilt. She should never have let him think he could do this. She should never have left him alone in the pottery. She'd have to start from scratch, the commission would be delayed…
She checked the temperature than spun the handle and dragged open the door of the kiln.
And what she saw silenced her.
She was aware of Tim, a silent presence in the entrance behind her, but all she could see were the cups. She'd never seen such a quality in a glaze. The colour had the deep translucence she had been dreaming of. Scarcely breathing, she lifted one out and held it to the light as she turned it in her hands. They were the best things she had ever done.
"Tim," she said. "What did you do?" For there had to have been something in the firing that gave it this extra quality, a quality she had never planned because she didn't know it existed.
Then she noticed that there was ash in the bottom of the kiln. She leaned forward and studied it. It wasn't just ash. There were lumps of charred…
"What's this?" she said, straightening up.
His face flooded red. "Just… stuff."
There was a pool of metal on the floor, something melted beyond recognition, something about the size of a man's watch… Her eyes met Tim's. His face was wretched with guilt. She remembered him scrubbing the workroom floor, his face tense with effort.
She looked at the pots again and found herself wondering what the effect would have been of very high levels of carbon in the kiln during the firing, carbon from-
"Fine," she said slowly. "I'll get rid of it."
* * * *
No one ever found out what had happened to Anthony Richardson. The investigation into his disappearance went on for several weeks. His car was found in the car park at his office. His secretary said that he had left shortly after six. As far as she knew, he was going home.
His wife told them that her husband had been having an affair and that they were planning to divorce. His mistress told them the same thing, but both women had alibis for the evening he had last been seen.
No one really asked Tim any questions at all. No one knew that Mr Richardson had visited the pottery before he went home, no one knew Tim had stayed late, apart from his mother, and no one asked her. Tim was pleased about that. He didn't like telling lies. He knew the best lies were the ones you never had to tell because nobody ever asked you the question.
And the long-stemmed cups that he'd fired were the best things that the pottery had ever produced. But Mrs Richardson decided to keep them. "These are special," she said. "I'm going to give them to the people I think should have them." To Tim's surprise, she gave one to Mr Richardson's lawyer, Olivia. "For drinking a toast when the baby's born."
And she picked out one for herself and one for him.
"Let's celebrate you becoming my assistant," she said. "Champagne, Tim?"
TWENTY DOLLAR FUTURE by John Rickards
It is night when the ghosts come for Abdi. He stands, as he has taken to doing, on the low pile of rubble behind their house. From the top of the mound of stones he can see the stars above mirrored by the waves on the distant sea, as if the edge of town is the edge of the world and there is nothing beyond it but the void. He stands there when the ghosts come so that he will not wake his sisters. So that if they do wake, they will not see him cry.
His mother, reaching out to him as she calls his name. Sometimes in her soft voice, a voice he only knows from dreams he was so young the last time he heard it for real. Sometimes she calls to him in the dying screams she let out giving birth to little Aisha, his youngest sister.
Yusuf and his parents, all burnt and broken. Black, staring holes where Yusuf's eyes were. Everything pinched and cracked just as it was when they found them. Yusuf s father was a big man, but this had not mattered to the militia.
Abdi's own father, blood soaking his shirt around the bullet wounds. Wordlessly mouthing something he cannot understand, some word forever frozen on his lips.
Other faces, people he never knew. Never had the time to know. Seen briefly through windshields or walking in the street. No names, but accusing faces. Blood, bullet wounds. Rape and murder. People say it is the way of things, but these ghosts ask Abdi why they died, why they suffered. They plead with him and paw at him, afraid and confused.
His father again, this time as he was before it all went so wrong. Standing tall and wise as he always did, working to provide for their family. He stands at the base of the rubble and holds out the twenty-dollar bill for Abdi to take.
Abdi knows all too well what the money means. He cannot forget the first time his father gave it to him.
* * * *
"Take this to Jama," he said, pressing it into Abdi's hand. "He will know what it is for." The money would have taken his father almost two weeks to earn. He must have arranged something very important with Jama, a trader, and Abdi was thrilled to be entrusted in this way at twelve years of age, even if all he had to do was take the money across the town. He took it and wedged it deep into one pocket.
"Good boy," his father said and patted him on the head. Abdi trotted out of the door, into the dusty African sunshine.
His good feeling lasted until he ran into the militia. Half a dozen of them, lounging by a burned-out building with walls pock-marked by gunfire. He didn't recognize them, men of another clan, and he felt fear clench his throat and his heart pounded in his ears.
"Hey, boy," one of them said as Abdi tried to pass by on the far side of the street. "This is a checkpoint. You think you can walk through here without permission? There is a tax for walking this street. Security costs money. Keeping the streets safe costs money."
"Of course," Abdi said. This was the same militia bullshit he had heard so many times. "But I do not have any. I'm sorry. I am just going to take a message to Jama in the market. I have no money."
The militia man scowled, and his friends gathered around Abdi. "You are not willing to pay for security and safety? Who would not pay for this? Maybe you are a thief or a criminal. Maybe we should arrest you. Maybe you do not want the people here to be safe and secure."
"No, no. I'm just poor. Please."
"Let's check this 'poor' boy. I don't believe him and I don't like him." The man leaned in close and stared hard at Abdi. His breath reeked.
Abdi struggled, but the militia held him pinned while their leader checked through his pockets. The man yelled in triumph when he found the twenty dollars and waved it in Abdi's face.
"You filthy liar! You try to keep this from us? The rich boy does not want to pay his taxes?"
The blow came out of nowhere. The man slammed the butt of his Kalashnikov into Abdi's chin. Pain seared through his head and he could taste blood and dust as he dropped to the floor. The kicks the man followed up with hammered into his ribcage, but he could hardly feel them. His head swam with agony and he could do nothing more than lie there until the man picked him up and threw him across the street.
As he crawled away, trying to wheeze as quietly as possible, all he could think about was that his father's money was gone. He had failed his family, and perhaps now they would face hunger and hardship.
* * * *
"Their militia are nothing but pigs," Hassan said. He was a friend of Abdi's, at thirteen, a year older than him. Two years before, his father and three other members of his family had died in a fire at a refugee centre. "They should be taught that they cannot act that way."
It was Hassan's idea to take the money back. They would steal the money back from another trader, one from the same clan as the militia, and then everything would be equal. Hassan's older brother, Osman, who had been a member of their own militia, would help them. Bring them guns and knives even though Hassan thought they could do it without any fighting, so long as they were quiet.
Osman looked up from flicking stones into the dust and nodded. "This is right," he said, with a voice like flat rock. "We don't make a sound, and we can take what we want. And if they do find us, we will be able to fight them."
And Abdi again agreed, because he couldn't face going home to his father and admitting that he'd failed him.
Hassan laughed and patted him on the shoulder. "That is good! Maybe we will even find something for ourselves there."
Abdi knew then that some people value children as fighters for their ferocity and bravery. But he also knows, now, that children do not think like men or plan like men.
When the three of them reached the trader's home and climbed in through a window, they were thinking many things. Imagining what might lie within. Worried, perhaps, that the trader would be less rich than they thought. Abdi certainly was. This could all be for nothing. But none of them expected to find his guards in the building.
Osman had not even reached the stairs when a burst of AK-47 fire cut him to pieces, the bullets shredding his body like paper. As he fell, he turned towards Abdi with a look, it seemed, of surprise and shock. He said nothing. Made no sound at all. His brother Hassan, though, screamed with horror and anguish. The guards fired again and bullets crashed into the walls around the two boys.
They chased Hassan and Abdi into a small room at the back of the building. Hassan, sobbing the whole time, turned and fired wildly through the doorway behind them. Abdi heard someone scream in pain, and someone else yell for them to cover the back. He scrambled through the narrow window.
"Hassan! Come on!" he hissed. But he did not wait for him. Instead, he ran away into the bushes before the guards could come around the outside of the building. Only once he was safe, out of sight in the dry scrub, did he hunker down and turn to look for his friend.
Hassan was still half in, half out of the opening when they caught him. Abdi heard them shouting and silently willed his brother to move faster, to break free, to run. Then he heard the gunshots and he buried his face in the dirt. When he looked back, Hassan was hanging limp, his blood washing the stones.
He stayed, staring wide-eyed at the scene, for a moment. Then he ran from the house. There were tears in his eyes and his heart was wedged like a stone in his throat.
Abdi still didn't know if the guards saw him running and recognized him. Or if Hassan was only wounded when they shot him and they hurt him so he would give up their names. It didn't matter in the end, not really.
His father was dead by the time he returned home.
He found him executed, shot three times in the doorway to their home, punished for what they had done. Abdi's world ended at that moment. He felt as though everything he had or loved or dreamed was suddenly gone, and he was empty. His sisters were hiding in a closet. The men who did it arrived in a car, they said. Abdi's father would not let them into the house, even though they had guns and he did not. So they killed him where he stood.
Little Aisha clutched his hand. "Is father hurt?" she said. "When will he be better?"
Abdi could do nothing but stare at the man lying dead on the floor. His father. The man who had raised him for so many years on his own. All gone.
"Abdi?" Aisha said, voice choking. "Why won't he stand up?"
His other sisters, Hamdi and Habiba, led her away as the tears began.
The next morning, the leader of their militia, Osman's former commander, came to the house. He told Abdi that he would need to earn money to support his family, but that the clan would not fail them, so long as he did not fail the clan. He would join the men on the road-blocks. He would carry a Kalashnikov and protect their people. He would shoot their enemies and the rewards would be shared by all.
Or he and his sisters would starve.
* * * *
They are all there now. Abdi's father. Hassan. Osman. And, at the back, another man. One he knows he will never see in this life. A kind, tall man, standing with his arms around his wife and three children, all healthy and strong. That they are all smiling is no comfort to Abdi, for he knows that the man is himself in a future he can no longer have. That his actions have destroyed everything he might have been as well as everything he was.
So Abdi stands there in the night, the ghosts all around him. And he does not fight them and he does not run from them. He stands there, a twelve-year-old man, a soldier and a killer, wishing that his father would speak to him and tell him that this is not his fault. That he does not blame him. That his life will change and he will never have to touch a gun again. That he could somehow give his father back that twenty dollars and stop any of this happening.
Then, he stands there, crying in the dark.
SERVED COLD by Zoë Sharp
Layla's curse, as she saw it, was that she had an utterly fabulous body attached to an instantly forgettable face. It wasn't that she was ugly. Ugliness in itself stuck in the mind. It was simply that, from the neck upwards, she was plain. A bland plainness that encouraged male and female eyes alike to slide on past without pausing. Most failed to recall her easily at a second meeting.
From the neck down, though, that was a different story, and had been right from when she'd begun to blossom in eighth grade. Things had started burgeoning over the winter, when nobody noticed the unexpected explosion of curves. But when summer came, with its bathing suits and skinny tops and tight skirts, Layla suddenly became the most whispered-about girl in her class.
A pack of the kind of boys her mother was usually too drunk to warn her about took to following her when she walked home from school. At first, Layla was flattered. But one simmering afternoon, under the banyan and the Spanish moss, she learned a brutal lesson about the kind of attention her new body attracted.
And when her mother's latest boyfriend started looking at her with those same hot lustful eyes, Layla cut and run. One way or another, she'd been running ever since.
At least the work came easy. Depending on how much she covered up, she could get anything from selling lingerie or perfume in a high-class department store, to exotic dancing. She soon learned to slip on different personae the same way she slipped on a low-cut top or a demure blouse.
Tonight she was wearing a tailored white dress shirt with frills down the front and a dinky little clip-on bow tie. Classy joint. The last time she'd worn a bow-tie to wait tables, she'd worn no top at all.
The fat guy in charge of the wait staff was called Steve and had hands to match his roving eye. That he'd seen beyond Layla's homely face was mainly because he rarely looked at his female employees above the neck. Layla had noted the way his eyes glazed and his mouth went slack and the sweat beaded at his receding hairline, and she wondered if this was another gig she was going to have to try out for on her back.
She didn't, in the end, but only, she realized, because Steve thought of himself as sophisticated. The proposition would no doubt come after. Still, Steve only let his pants rule his head so far. Enough to let Layla