---
---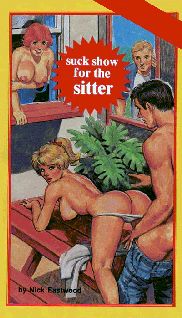 Nick Eastwood
Suck show for the sitter
.
CHAPTER ONE
Darla Adams sat absorbed in a late-night movie on TV, hoping the film would get a lot naughtier than it already was. It was a French movie, but she wasn't bothering to read the subtitles.
The petite teenager was on the edge of her seat as she watched the movie couple, a young man and woman, taking off their clothes. They started kissing and caressing, and Darla shivered with excitement.
Maybe, finally, she was going to learn all about sex.
The movie couple slipped onto a bed, and the action got even hotter. They were really kissing now, sticking their tongues in each other's mouth, and the guy was playing with the girl's tits. Darla felt her own tits swelling with arousal, her nipples going stiff.
The young man ran his hands lower down the girl's sleek body, but the movie didn't show what he was doing. Darla moaned with impatience. She was dying to know what men and women did in bed. The girl in the movie was whimpering with excitement.
Then the camera started moving lower, and Darla saw that the man was touching the girl between her legs. The pretty teen almost slid out of her chair. If the movie went an like this, she'd soon have the answer to all her questions.
---