The Passivhaus Handbook
03_copyright.html
Green Books
Dartington Space, Dartington Hall,
Totnes, Devon TQ9 6EN
© 2012 Janet Cotterell and Adam Dadeby
All rights reserved
No part of this book may be used or reproduced in any manner without written permission, except in the case of brief quotations in critical articles or reviews.
Design by Jayne Jones
All photographs not otherwise credited are by the authors. Many of these were taken at the Totnes Passivhaus.
ISBN 978 0 85784 019 6
Printed on Arctic Matt paper by Latimer Trend, Plymouth, UK
Cover image: Totnes Passivhaus. Image: Malcolm Baldwin. Back cover images: Left: Camden Passivhaus. Image: Jefferson Smith; Centre: SurPlus-Home. Image: ENERGATE®; Right: Underhill. Image: Samuel Ashfield
Disclaimer: At the time of going to press, the advice and information in this book are believed to be true and accurate. The author and publishers accept no liability for actions inspired by this book.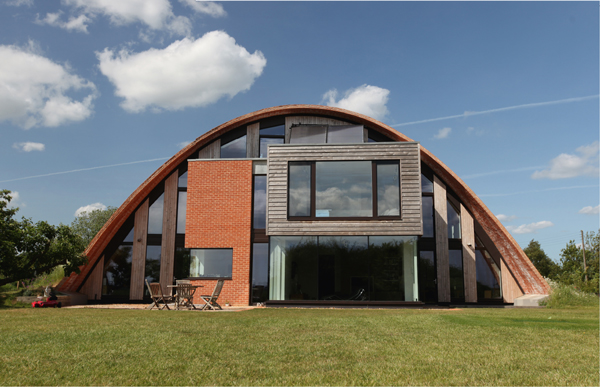 Architectural credits for UK buildings pictured in this book are detailed in Appendix D, pages 234-8. Those for non-UK buildings are as follows:
Page 10: Bilyeu Homes, Inc. Page 26: Corey Saft. Page 28: Top right: Team Germany / Technische Universität Darmstadt. Top left: Aslett Naftel and consultants BRE. Middle left: Madreiter Architects. Bottom: Simmonds.Mills. Page 82: Passivhaus Homes Ltd / CTT Sustainable Architect. Page 194: Garnet Vallentin.
Details of uncaptioned images throughout the book:
Page 2: Denby Dale, Yorkshire: Passivhaus using standard cavity-wall construction with stone outer leaf. Image: Green Building Store
This page: Crossway, Kent: Passivhaus using local materials and a parabolic vault roof, finalist in 2009 Grand Designs Award. Image: Richard Hawkes
Page 10: Rue-Evans house, Oregon, USA: Traditional house using natural materials; first Passivhaus on west coast USA. Image: Sarah Evans
Page 14: Canolfan Hyddgen, Machynlleth, Wales: Training and education centre for Powys County Council, BREEAM 'Excellent' standard. First Passivhaus building in the UK. Image: JPW Construction
Pages 88-9: Tigh-na-Cladach, Dunoon, Scotland: Affordable housing and first Passivhaus in Scotland. Image: Andrew Lee
Page 211: Image: Malcolm Baldwin
Page 213: Image: Morgan O'Driscoll Photography
Page 214: Grove Cottage: Image: Simmonds.Mills; KlimaSolarHaus: Image: Henrietta Lynch