The Passivhaus Handbook
14_chapter04.html
CHAPTER FOUR
Challenges of meeting the Passivhaus standard
UK building culture, education and employment in construction, professional expertise, risk-aversity, the planning system, vernacular styles, the team approach, the disadvantages of a Passivhaus, Passivhaus and other low-energy standards
There are some notable challenges to address if deciding to adopt the Passivhaus standard. These are outlined in this chapter and, where appropriate, possible solutions are presented. Being aware of these issues is important, and you may need to consider early on what your approach to them will be. Some challenges are more cultural in nature and as such can only be managed rather than eliminated.
The UK building culture
House building in the UK has undergone a radical transformation from local building firms in the 1930s, through regional developers in the 1960s to national house building companies from the late 2000s. The housing sector is now dominated by large-scale housing developers, with only 50 companies building more than 500 homes each annually. This is different from the situation in most other European countries, where small-scale, more localised building firms remain the norm. The self-build, or self-procurement, model currently contributes to approximately 12 per cent of total new housing in the UK (although growing slowly), while this sector is much larger in European countries: a minimum of 50 per cent. (The concept of self-build extends from those who wish to physically build the house themselves to those who purchase a plot but appoint a team to carry out the construction work.) Austrian self-builders are responsible for 80 per cent of new houses! The US also has a strong self-build sector. In the UK, the number of those aspiring to the self-build model is significantly higher than the number achieving it – with only one in four managing to secure the necessary funding.
It would be helpful to Passivhaus in the UK if the self-build sector could be expanded significantly – to double or treble in size over the next few years. In our view, it is here that the greatest potential for good-quality, new low-energy houses lies. Until government legislation enforces such a standard, it is the self-builder or smaller builder who is most likely to have the interest and motivation to learn and adapt to a new innovative approach, and to invest the additional time and care needed to be successful in achieving the standard.
The current Conservative-led government's expressed commitment to localism and empowering local communities should represent an ideal opportunity to introduce new, creative ways to encourage these smaller initiatives. The government has recognised this and in 2011 committed to doubling the UK's self-build sector over the next ten years. This can only be achieved by councils and other large landowners introducing different mechanisms for releasing land for housing, thus providing alternatives to the normal profit-driven developer model. There are already highly successful schemes in Europe, where land for release is divided up into smaller plots (including single plots) for bidding and purchase by self-builders rather than being tendered out to single large national or regional builders. The largest self-build, local-authority-led scheme to date is in Almere (The Netherlands), a scheme currently with 800 new homes and thousands more due to follow.1 There should also be greater opportunity for community schemes to build houses together in 'collectives' such as co-housing and Community Land Trusts, and much more pressure on councils and other landowners to deliver land to these groups.
At present, however, the most common pattern for delivery of houses in the UK is that house builders do not retain any long-term interest in the property they build. This means that the cost benefits of 'low energy in use' are not directly linked to the builder. It is apparent too that UK ownership patterns need to be revisited – with high house costs and high economic debt (both personal and governmental), there is an urgent need for a radical rethinking of our patterns of housing supply and ownership.
Self-build and 'custom-build' legislation
In the latest draft National Planning Policy Framework (July 2011), the UK housing minister proposed that an obligation should be placed on local councils to meet the self-build demand – a potentially positive development. The Housing Strategy paper 'Laying the foundations' (published November 2011) further supports increased self-build, here sometimes referred to as custom-build, especially when exploring self-build for multiple units. Local authorities and other land-owning government bodies, such as the Homes and Communities Agency (HCA), can now release large plots of land for custom-build developments. The HCA has, as a result, included self-build as part of its land disposal strategy. A few councils are now trialling schemes releasing self-build plots and assisted self-build, Swindon council being the first. These transactions could easily be tied into a requirement to build to an ultra-low-energy standard. We hope that these early model schemes will lead to wider adoption of such an approach.
Education and the construction workforce
We do not significantly invest in education and training of the construction labour force in the UK, and this sadly reflects a lack of recognition of the skill and value of the 'practical', hands-on professions. In the UK, our love affair with intellectual knowledge and university education has devalued many with enormous intelligence and ability who are vital to our economic resilience. The separation of practical and theoretical knowledge becomes increasingly problematic once higher performance standards are required. Currently we rely on much of the workforce carrying out their work in isolation from other skill sets, but in order to successfully achieve low-energy standards, it is essential that the whole workforce is included in an understanding of the principles of low-energy building. Without this it is highly unlikely that individuals will significantly alter their normal working practices. The need for coordination and understanding of the interfaces between packages of work becomes much more critical on a low-energy build, and is particularly relevant if attempting to achieve demanding airtightness levels. This reality is being borne out as the Passivhaus standard is applied to larger UK projects, where multiple housing units are involved and contractors are struggling to achieve the airtightness levels needed.
In some European countries, such as Germany, there are training schools for each construction trade and these are compulsory for builders. This type of educational network provides an effective framework for delivering appropriate training and for widely disseminating knowledge of best building practice. Unfortunately, in the UK we do not have such extensive training networks in place. The National House Building Council (NHBC) was founded before the Second World War to address poor building standards and now provides a warranty system, but this reflects current Building Regulations only. A national organisation such as the NHBC could again become a network for delivering the more thorough training required for very low-energy building. It is possible for the State to introduce such training programmes, as evidenced by the Canadian government, which offered training on low-energy housing delivery as far back as the 1980s. In ten years, 70 per cent of Canadian building contractors attended a voluntary R2000/ Super E training course – a notable success.
The Passivhaus Institut now offers a Passivhaus qualification for tradespeople: the first three-day PHI training course (and exam) took place in January 2012 in Germany. The course is oriented to specific trade skills for Passivhaus – mainly thermal insulation, window installation and heat supply/ventilation. There are a few certified providers of the course in the UK and Ireland.
In the UK, the AECB (the Sustainable Building Association) set up a series of modular Passivhaus training courses in 2011 through its CarbonLite Programme (see Resources, AECB), one of which, called 'Construction of Passivhaus', is for contractors. Some suppliers of low-energy products, such as airtightness tapes and membranes, will also offer on-site 'toolbox' talks, often at no extra cost. These types of initiative are essential to ensuring the successful delivery of low-energy projects. However, to reach anywhere near the level of success that the Canadian initiative achieved requires broader national policy and support.
Changes in the employment structures of workers
Economic pressures have radically reduced the numbers of construction workers (plasterers, carpenters, electricians, etc.) directly employed by building firms. Many work on day rates and rely on moving from site to site as their services are needed. The transitory nature of the workforce means that working teams do not remain static but are constantly in flux. In these circumstances, controlling day-to-day activity on-site is more difficult, as is ensuring that all are fully informed of project particulars. Individual workers are less likely to feel committed to larger construction companies when there is no long-term job security or continuity, and in these circumstances engendering team spirit becomes a greater challenge. In particular, the attention to detail required to achieve Passivhaus airtightness standards is made more difficult on-site, as each trade must be involved in protecting earlier work and avoiding subsequent damage, which requires very good levels of interaction and communication. The damage–repair cycle, a pattern very common on UK building sites, is fatal for an ultra-low-energy build.
The professional design team
Some comment on the professional design team must also be made here. The construction details proposed can sometimes lack practicality on-site – how buildable are the solutions proposed? When it comes to low-energy design, it can be argued that making traditional detailing solutions more complex can quickly become more problematic than rethinking from basic principles and proposing alternative methods of building that are then simpler and easier to replicate on-site.
Designers, architects, engineers, services consultants and quantity surveyors can simply lack knowledge of low-energy design, and be unwilling to admit a limited understanding. Training needs to be undertaken by both the professional and manual trades. Rethinking our approach to design means accepting that what we have been doing no longer meets the required standard. Low-energy design is not a one-off luxury but a step change in the quality of build. It may also be that the normal clause that allows contractors to use specified materials or 'equal and approved' ones has to be reconsidered. This has led to the common practice of sourcing alternative products on-site, often without reference back to the design team, which introduces greater risks for a low-energy building, where the performance of particular products is essential.
Risk-averse attitudes
House builders work in a difficult sector, being directly affected by house-price volatility while also having to manage various site-specific risks (land acquisition, gaining planning permission and unpredictable construction costs). For these reasons there is an understandable and general reluctance to innovate. The financial sector considers house building a high-risk activity and therefore it could be argued that a conservative, risk-averse building industry is justified. At the same time, the need for innovation is widely recognised – especially if low-energy housing is to be widely delivered. When new, unfamiliar construction methods and systems are being introduced, this creates another level of risk (both of potential failures and cost escalation) and without government pressure there will be a natural resistance to change.
The planning system
The UK planning system currently tends to inhibit the adoption of innovative design solutions. Some of the reasons for this are as follows.
• Processing of applications is slow, despite government targets, and this has a direct economic impact – in a recent review of housing case studies commissioned by the Royal Institution of Chartered Surveyors (RICS) in December 2010,2 more than half encountered substantial problems when trying to process planning applications. This tends to encourage applicants to submit tried-and-tested design solutions that can aid a smooth ride through the planning process. Investing and designing carries risk.
• Planning authorities encounter real problems in recruiting knowledgeable planners. The job is stressful and might be considered unrewarding (planners get a lot of abuse!). As yet there are few planners who are knowledgeable about how low-energy performance might impact on design.
• The guidelines and general planning approach currently lead to a tick-box mentality (although this may now be changing under the government's 'localism' agenda). There is a general presumption that what already exists is best (blend in with it), including a strong conservation bias characterised by traditional aesthetic sensibilities.
Of course, there are government planning policies that reflect the sustainability agenda, but as yet there is uncertainty as to what weight these will or should carry, especially when balanced against other planning considerations. The impact of these newer policies currently remains stifled by much more established planning policies, especially those involving aesthetics and conservation. Unfortunately, ultra-low-energy design is not a 'bolt-on' extra and as such does have aesthetic implications – in particular, deeper eave overhangs and window shading devices. The entire orientation of the building becomes much more significant, which can affect both window locations and sizes. There has to be a new consideration of what the balance should be between cultural preferences for 'blending in' with traditional styles and accepting the consequences of opting for increased energy performance. For planners to begin to make these judgements intelligently requires clearer government policy and guidance, along with a better understanding of the design principles and potential visual effects.
The planning system could play a key role in encouraging more innovative low-energy housing applications (this is further discussed in Chapter 14), although, with the current movement towards deregulation of the system, this would be more difficult and the system could become even more unpredictable. With the localism agenda, the onus will increasingly be on community interest groups to lobby and persuade the wider community of the benefits of innovative or culturally challenging projects – this process may well require increased time, energy and money from applicants. This then favours those with more power and those who can better afford financial investment with the risk of refusal. Without clear policy and regulation, low-energy design is in danger of continuing to be viewed as an optional extra and as the interest of a minority group rather than an accepted standard. Whether the current UK government continues with Labour's plan to adopt the zero carbon standard in 2016 will be pivotal to this.
Ultra-low-energy design is not a 'bolt-on' extra, and as such does have aesthetic implications
UK vernacular styles
There are strong vernacular housing styles in the UK that vary region by region, often reflecting local materials (e.g. brick or stone) and particular climatic conditions. These can sit very deeply in our collective unconscious and contribute to a general feeling of security and well-being, creating a sense of place and 'home'. Venturing into new, unfamiliar architectural styles can easily (perhaps inevitably) create waves of unsettled feelings. However, simply directing our energy into maintaining the past is not a long-term viable strategy – evolution (and cultural evolution) itself shows us the inevitability of change.
But we do not need to throw out the baby with the bathwater. There is much to be done in combining local materials and styles with new low-energy principles. Passivhaus is not a global design aesthetic, but it will bring its influence to bear on the finished design. A good designer will do this with sensitivity and not bludgeon local 'flavours' to death. (Although there must also be a place for some radical contemporary designs if the context is appropriate.) A perception of the Passivhaus approach could be that its scientific roots have not always been balanced with aesthetic finesse, and this may create an unfortunate impression that the two cannot be wedded. However, problems of poor design are not limited to Passivhaus! In the next few years we hope to see more good examples of well-applied, ultra-low-energy principles coupled with excellent design and intermingled with local or regional flavour. The images overleaf show a variety of Passivhaus projects that demonstrate the design diversity already being realised in the UK.
Top left: The Larch House, Ebbw Vale – Welsh social house scheme using a palette of local materials. Image: Jefferson Smith Top right: Y Foel – detached house set in a secluded site in Wales. The first Certified Passivhaus in the UK. Image: JPW Construction Bottom: Underhill – contemporary solution addressing the visual constraints of the site in an AONB. Image: Samuel Ashfield
Top left: Grove Cottage – the first Certified EnerPHit-standard retrofit of a solid-walled Victorian (1869) town house. Image: Simmonds. Mills Top right: Camden Passivhaus – Contemporary design. The first Certified Passivhaus in London. Image: Jefferson Smith Bottom: Totnes Passivhaus – Adam Dadeby and Erica Aslett's home. Retrofit reflecting existing styles on a 1970s estate attributed with architectural merit. Image: Malcolm Baldwin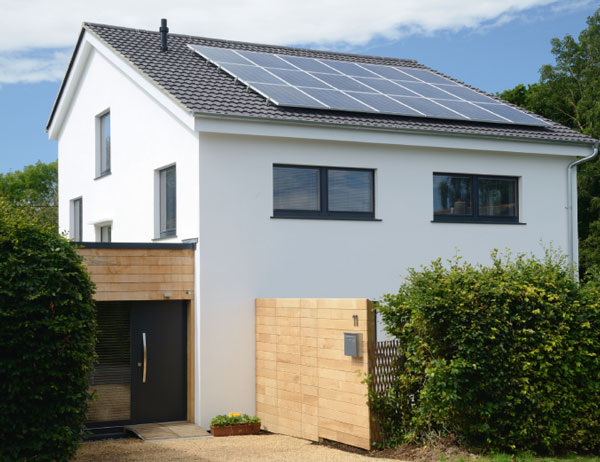 There will always be a place for some historic examples – those with particular architectural merit – to be preserved and maintained. These houses perhaps need to be lived in and upgraded in a manner that is in keeping with their original construction and design. Applying the Passivhaus standard to all buildings is not appropriate or realistic.
Bringing the right team together
If your intention is to build an ultra-low-energy home, then one of your first tasks must be to bring the right team together. These key early decisions will either set the project off on a useful trajectory or send you on a road to inevitable frustration, whereby failure can be a very real possibility. Turning round and retracing your steps becomes extremely problematic, if not impossible, as time marches on.
Make sure that someone in your design team is properly trained in Passivhaus principles and methodology. Any others who have no experience of low-energy design need to be committed to the concept (not just giving a nod to please you) and keen to put in the extra time to learn and reskill for the project. If they are, then it will be an enjoyable, if demanding, journey. Set the project up as a low-energy build from day one and spend enough time on the initial planning, on setting up the PHPP tool and working out your air leakage strategy. The more time spent here, the fewer mistakes or problems there will be on-site (these will cost you far more than extra design time). Taking all this into account, in our view you should not need to pay much more than for an equivalent conventional build (see Chapter 2). This is where tendering can be a double-edged sword – a low price seems great at the time, but when you are aiming to create a quality build such as a Passivhaus, people need to spend the time to achieve it. Corner-cutting will almost certainly create havoc with your initial aims. Bringing the right team together is an extremely important part of the project; this is covered in more detail in Chapter 6.
The disadvantages of a Passivhaus
Yes, there are some disadvantages to a Passivhaus build! These are discussed here.
Inflexibility of the ventilation system
The MVHR ventilation system is not straightforward to adapt, so if subsequently you wanted to alter the internal layout of your building you would need to invest in modifying your system and then arrange for the system to be rebalanced (some newer MVHR systems are easier to rebalance and to modify the ducts). Once the ventilation ducts (the pipes that run between the MVHR unit, the living areas and the supply/extract points) are built in, accessing them means affecting decorative finishes and making good afterwards. Of course, this is equally true for changes to plumbing and other building services.
Wanting a cooler bedroom
Some people like to sleep in cooler spaces than their general living areas, whereas Passivhaus is built on the principle of a single heating zone, with surface temperatures kept even throughout the building. The solution adopted by most is simply to open the bedroom window at night. This will carry a very small energy penalty, perhaps around 2kWh/m².a, but it will effectively reduce the temperature of the room so long as the external ambient temperature is lower than the internal.
If the space heating is being provided through the MVHR system (i.e. in the air supply), you could reduce the airflow to the bedroom in order to reduce the heat output (and fulfil the ventilation requirement by opening windows), or bypass the heating element altogether – although this would be a permanent and therefore inflexible arrangement. It will be simpler to bypass the heating element with some MVHR units than with others.
Imported components
At the time of writing, certain Passivhaus essential components are available only from companies outside the UK (and the USA), and some people will feel uncomfortable about the additional energy involved in shipping these items. All the construction materials are available in the UK, but Passivhaus-certified windows, doors and MVHR units still have to be imported in nearly all cases. However, the situation is rapidly changing and there are already companies in Ireland and Wales that are setting up to supply and manufacture these Passivhaus-certified products. (For useful links to information on products and developments, visit our related website, www.passivhaushandbook.com.) If you want to source all products from the UK and Ireland, it may be some time before there is a huge choice, but we would expect that within the next couple of years it will be possible to source all the relevant components from within a narrower geographic radius.
Hand-built from 100-per-cent locally sourced materials?
There are some who will want to commit to building their home from locally sourced, natural materials, since this both supports local economies and keeps embodied energy levels as low as possible. ('Natural materials' normally refers to materials and products that have undergone minimal processing or are in their raw state. For more on natural and low-embodied-energy materials, see Chapter 5.) Some also want to build their home with their own hands and minimise the 'professional' input of contractors and architects – perhaps motivated by a need to keep costs to an absolute minimum and/or to gain the satisfaction that such an enterprise can bring to the self-builder. There are no issues with using materials sourced locally or using natural materials for new houses, but, as noted already, there will be some elements (windows, MVHR) that will almost certainly need to be sourced from a wider geographical area. Passivhaus will not cope with low-performing windows, for example, or without the MVHR – these elements work together in an integrated approach. Furthermore, if you are carrying out a retrofit scheme, the existing fabric may necessitate using higher-embodied-energy materials to meet the thermal performance requirements. This may be for structural reasons or due to height or depth restrictions.
While professional workforces can produce surprisingly shoddy work(!), it is also true that the practical trades all carry learned skills, which are not simply picked up (unless you really are talented). Putting together an airtight building with no thermal bridges requires design-detailing skills plus the skill to execute the construction in the correct sequence and with some accuracy on-site. It is true that many self-builders pay greater attention to detail than paid construction workers, mainly because of their personal involvement and high level of commitment to their project, and Passivhaus could be well suited to such a person. However, the support of some skilled workers is, in our view, necessary for a successful Passivhaus build. A self-builder with some professional support may even be the ideal Passivhaus builder, given the realities of the current UK building culture.
However, if you want to build your home at very low cost and with minimal or no skilled support, then Passivhaus is probably not the right choice. That is not to say that it cannot be done, but such builds will always be niche and not mainstream. The concept behind Passivhaus is that it is capable of being adopted as a common mainstream standard.
The invasive and extreme nature of retrofit
If you undertake a retrofit project, it will involve a very invasive stripping-back of your building – taking down ceilings, etc., and getting down to the bare structure of the house – in order to meet the demanding Passivhaus or EnerPHit standards. The challenges of removing and minimising thermal bridges and ensuring continuity of the insulation and airtightness barrier make the project much more demanding than a superficial refurbishment would be. This inevitably pushes up costs, and with retrofit it is also difficult to accurately assess all the necessary work prior to opening up the building. The task, therefore, is not for the faint-hearted. You are aiming for a revitalised, building with a hundred-year lifespan, not a facelift lasting five to ten years.
In the case of retrofit, and especially for one-off projects, the rigours of the Passivhaus standard need to be considered in terms of economic viability. Councils and registered social landlords (RSLs) who can tackle groups of existing housing are in a better position to adopt the standard. Government incentives (particularly VAT parity with new-build for retrofit) would assist, as would changes to the planning system (see Chapter 14). However, it is possible to meet the target – for example, a single semi-detached retrofit in Ealing, London, has achieved 0.44ach in its final air test in May 2012 at favourable costs, but with a huge personal input of time and energy by the owners. With VAT set at 20 per cent for retrofits, there becomes an undue bias towards demolition, if possible, since new-build is zero-rated for VAT.
Problems in comparing Passivhaus with other low-energy standards
'Low energy' and 'eco' have become generalised terms that can refer to many types of buildings and differing philosophical outlooks. An eco-house may simply mean that a greater proportion of natural materials have been used or that a renewable energy source, e.g. a solar hot water system, has been incorporated into the design. There are no common agreed energy-performance standards for an eco-build and therefore no means of making quantifiable comparisons with the Passivhaus standard.
In the UK, the term 'low energy' is most commonly linked to and defined by the Code for Sustainable Homes (CSH). The CSH does contain parameters for energy performance, using the Standard Assessment Procedure (SAP). SAP calculations have been required for UK Building Regulations Part L1A since 1995, and the most recent version of SAP came into force in October 2010. (Building Regulations Part L1A is the standards relating to energy/carbon emissions for new dwellings). SAP is used to predict the energy used for heating, hot water and lighting, and is given as a number between 1 and 120. The rating achieved is affected by a variety of inputs (the thermal efficiency of the envelope, the level of airtightness, the choice of fuel, the efficiency rating of the hot water and heating system, and any renewable energy sources).
SAP is also used to check compliance with other more specific requirements as set out in the Building Regulations, such as minimum U-values (see Chapter 11), but most significantly it is used to predict carbon dioxide emissions. SAP results are translated into two banding or rating systems from A to G, with band A having a rating of 92+. The Environmental Impact Rating reflects the predicted carbon emissions, while the Energy Efficiency Rating translates the results into predicted running costs. The Building Regulations set the allowable carbon emission rates. A Target Emission Rate (TER) is compared with a Dwelling Emission Rate (DER). The TER is based on the emissions of a notional dwelling built to 2006 Building Regulations, less approximately 25 per cent (depending on your fuel choice). The 'less 25 per cent' comes from the 2010 Building Regulations, where the government wanted compliant buildings to be 25-per-cent better than 2006 compliant dwellings. The TER and DER are measured in CO2 kg/m².a (kilograms of CO2 per square metre [of internal floor space] per annum). From this brief account it should be clear that it is a rather convoluted assessment concept!
A to G banding for energy performance of buildings, using the Standard Assessment Procedure (SAP).
Using SAP as the tool, the UK has so far chosen to assess energy efficiency in terms of carbon dioxide emissions. Measuring CO2 emissions, as set out within SAP, further involves inputting a wide range of data, some of which requires assumptions to be made by the assessor. The fact that the carbon emission levels are influenced by your fuel choice demonstrates that the resultant DER is not a direct calculation of building fabric performance. SAP and PHPP also have different measuring rules, e.g. SAP fabric measurements for external walls use internal dimensions, while in the PHPP external dimensions are used. The treated floor areas (TFA) are also measured differently – more favourably in SAP (see Chapter 7, page 94). SAP currently requires no site-specific climate data (likely to change soon), unlike the PHPP, and climate has a profound impact on energy consumption, even within the UK.
SAP fulfils the European requirement that each member country has a single energy assessment procedure – it is essentially a compliance tool set against a notional standard (a 2006 compliant dwelling). It is not a tool for designing buildings and should be used as such only in very broad terms. It was designed for use with conventional buildings and does not demand accurate input of detail in the same way that the PHPP does – a SAP calculation on a typical modest house might take two hours, compared with a minimum of two days for the PHPP. The latter was specifically formulated for ultra-low-energy buildings and to set building performance (regardless of fuel type or use of renewable energy sources) and is both flexible and accurate. PHPP is both a design and compliance tool; SAP is not as sophisticated.
The Passivhaus low-energy target is not just about reducing emissions, it's about construction quality
There is a strong sense among many who are involved with low-energy buildings that measurements should move away from carbon-based to energy-based measurements. The primary reason for this is that a space heating target measured in kWh/m².a, such as is required for Passivhaus, directly drives construction towards better fabric performance: minimal air leakage, minimum thermal bridging and optimised contiguous (continuous) insulation of the thermal envelope. The Passivhaus methodology of using the PHPP tool to measure energy for space heating is therefore very useful to any low-energy design – up to a performance level of approximately 40kWh/m².a (assumptions made in the modelling software may not be valid above this level). You may, for example, be aiming to build a Level 5 or Level 6 home as set out in the CSH, or be using another energy/sustainability assessment system. The Passivhaus methodology will ensure that the focus is on the building fabric, not on other matters such as bolt-on renewable-energy inputs or using low-carbon-emitting fuels. For this reason, the Zero Carbon Hub (see page 66) has advised the UK government to adopt a Fabric Energy Efficiency Standard (FEES), measured in kWh/m².a, as part of the CSH standard and for Building Regulations from 2013.
It is important to understand that the purpose of the Passivhaus energy target is wider than simply reducing carbon emissions. The low-energy target drives the quality of the construction, which in turn contributes to a good interior climate and helps to eliminate potential moisture and overheating risks. Getting the fabric right is not an optional extra in a low-energy build. Even if not using the PHPP, applying basic Passivhaus techniques – designing an efficient building form, removing thermal bridges and reducing air leakage – will be valuable. We would still suggest that you include PHPP modelling as a design tool if you are intending to build an airtight home and use whole-house heat recovery ventilation (MVHR) – even if your preferred sustainable assessment system is not Passivhaus per se (see Chapter 7, page 91).
Is Passivhaus always the right choice? It certainly cannot always be the right choice, and if you do decide to adopt the standard there are a variety of challenges to be faced, including working within the prevailing building culture and the planning system, and ensuring you bring together an appropriate, committed and knowledgeable team. There are potential disadvantages of a Passivhaus build, from the invasive nature of the changes that need to be made in a retrofit project to the inflexibility of the ventilation system, but generally these can be acceptably addressed.
In terms of architectural detailing, Passivhaus is an energy standard, not a design style. Balancing function with beauty is the domain of the architect and is always a challenge, whatever the project. Adapting and integrating local vernacular styles is part of that aim.
Perhaps the biggest challenge – one that goes far beyond the specifics of a Passivhaus build but is clearly highlighted by a consideration of Passivhaus – is in finding new ways to deliver our future UK housing stock. This must include the way land and funding is made available and must broaden the housing sector out from the few large regional and national house builders.
If governments choose to adopt alternative low-energy standards, it is important that the principles of Passivhaus are understood as essential to any low-energy approach. These principles can then be intelligently incorporated within those alternative standards.